Great Britain is in the grip of a
heatwave
. With temperatures on the mainland soaring to over 30 degrees Celsius Shetlanders (well, my friends anyway) are flocking south in their droves to go soak up some summer rays. Our family, on the other hand, hid from the sun, and travelled north for our summer holiday to the remote Shetland island of
Unst
, the most northerly populated British isle.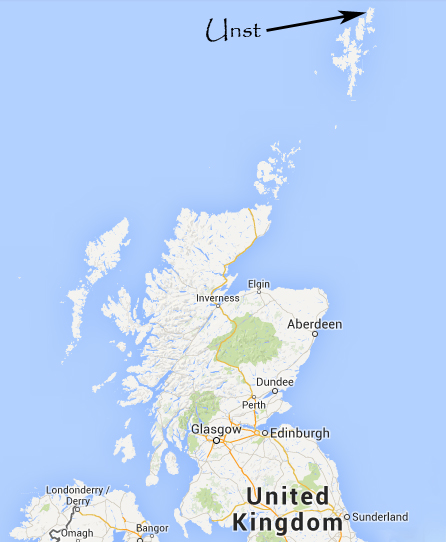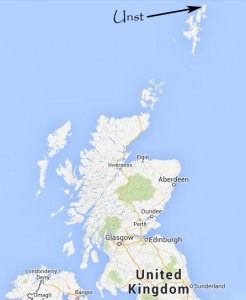 Unst is just a little bit awesome. 420 million years ago when the Earth was doing its whole continental shifty thing, the ancient Iapetus Ocean closed and two continents either side (early Europe and early North America) collided. As the two landmasses met, a section of oceanic crust was caught between them and was thrust on top of the North American continent. This stranded, exposed piece of oceanic crust is called an ophiolite.
The eastern side of Unst is such an ophiolite while the western side is made of rocks from the North American continent. Unst's ophiolite has been described as 'the most compact, best exposed, complete and accessible in the world' by Professor Derek Flinn of Liverpool University.
In addition to its geological significance (it's been designated as Site of Special Scientific Interest) Unst was once inhabited by Picts and Vikings, who have both left their marks on the island.
Closer to the Arctic Circle than it is London, we thought Unst sounded like a pretty cool place for a holiday, so we packed up our 4x4 with a tent and provisions for two children and three adults (Bestemor – Norwegian for grandmother, was visiting from Norway) and we drove north.
Day 1:
Three hours and two ferries later we arrived at our destination. After stopping at the Welcome to Unst sign next to the ferry terminal and having a good play with the xylophone boat (what a clever idea!), we headed further north for a spot of lunch and a visit to Britain's most northerly brewery.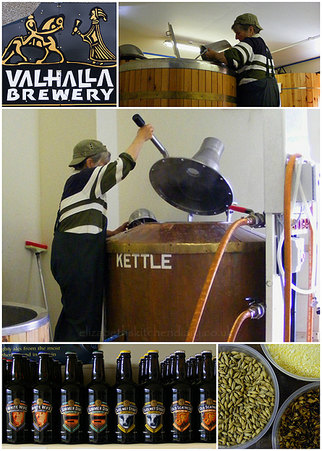 At the Valhalla Brewery we were treated to a fantastic and enthusiastic tour of the premises situated in an old RAF Saxa Vord building by Pat, a woman who is clearly very keen and passionate about what she does. She gave us a very thorough tour of the brewery, explaining in great detail the brewing process and the different grains and hops used to make each ale, including one made from bere, a heritage barley thought to be introduced to Britain by the Vikings in the 8th century. This may be the first time bere has been used in commercial brewing.
I would highly recommend this tour. Pat's passion was infectious and, even though I'm not much of a beer drinker, I was really keen to drink the bottle of ale included in the £4-50 tour fee. I picked a gorgeous Simmer Dim, a light golden bitter ale inspired by the haunting twilight between dusk and dawn during the Shetland summer, when it never truly gets dark and I thoroughly enjoyed every last drop of it come the evening.
Pat explained about the clever new single use cask they've been trialling, one which is easier to transport farther afield. If you happen to have premises with a license to sell drink why not contact Valhalla Brewery and get some fine ales from Britain's most northerly brewery on tap!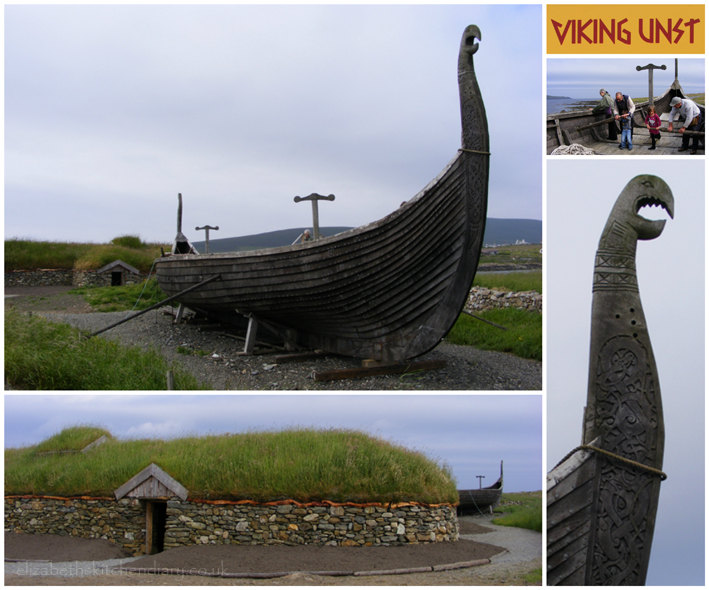 After the brewery visit the children were a little impatient and required a bit of exercise, so after stopping at one of the well-equipped play parks dotted around the island to burn off some energy we paid a visit to a replica Viking ship we'd passed on the way to the brewery. When we arrived a very friendly woman dressed in traditional Norse clothing approached us and explained what the site was.
The Viking Unst project started in 2006 with an aim to excavate Viking longhouse sites on the island. The final part of the project was to build a reconstruction of one of the longhouses found at Hamar. The site is still under construction but after the children played an old Norse stick game of kubb in the courtyard we were treated to a guided walk through the replica long house by a lovely older gentleman working on the site and we had a play on the long ship.
The ship itself, Skidbladner (pronounced she-blaadner) is a full size replica of a Gokstad ship built in Sweden but stranded in Shetland in 2000 in an aborted attempt to sail to America. The children (young and old!) loved having a go at rowing the boat. We were surprised to learn the speeds which the longship could get up to under manpower alone!
When I was in primary school  in Canada I did a history project on the Vikings, complete with a replica ship made from cardboard. I was really proud of that ship and standing in a life size replica reminded me of that project. All in all it was a fantastic experience and one the children especially enjoyed.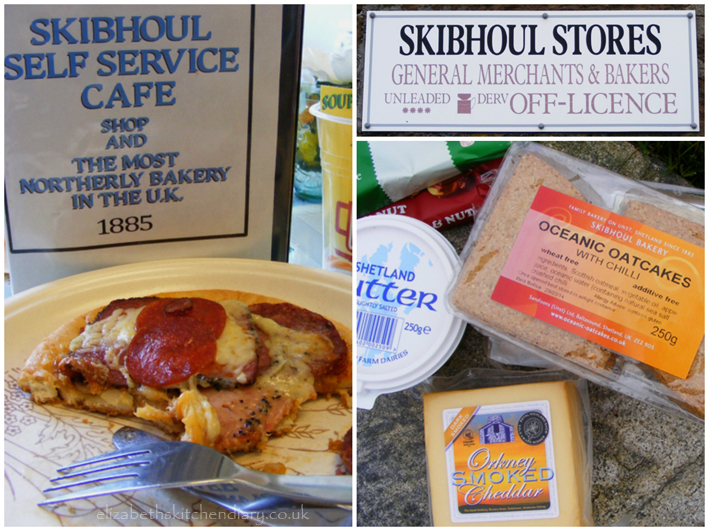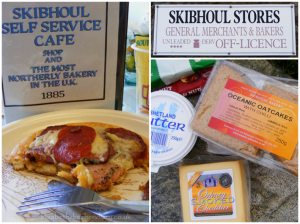 By this time we had worked up quite an appetite so we headed to the very well stocked Skibhoul Store & Bakery in Baltasound. We probably never would have come to this shop if it hadn't been for one of my Twitter followers who replied to my boasting that we were heading on a staycation to Unst and suggested we should check out the homemade pizzas at the Skibhoul bakery. Friday night is pizza night and we were told the pizzas were loaded with toppings!
That they were! Although we were a little bit later than everyone else there was still quite a range to choose from and we were able to reheat and eat the pizzas in the self service cafe at the end of the premises. I think the self-service cafe is a really clever idea – it's got everything you need, kettle, mugs, microwave, tables, books and magazines, for a quick bite. Perfect for hungry travellers who don't necessarily want the whole dining in experience before heading out adventuring again. The staff were really friendly and welcoming too, which made the whole experience so much better.
The Skibhoul Bakery also make their own range of Oceanic Oatcakes, made with only Scottish oatmeal, vegetable oil and pure oceanic water. We picked up a chilli flavoured oatcake sweetened with a little bit of apple juice for the picnic we were planning on the second day of our holiday along with some Orkney cheddar and some Shetland butter.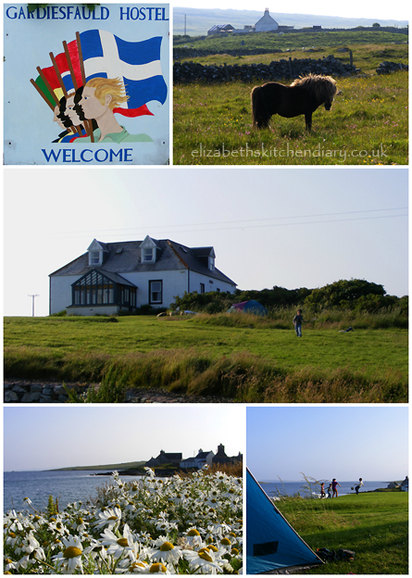 After our delicious pizzas we made our way to our accommodation. Gardiesfauld Youth Hostel in Uyeasound, on the southern coast of Unst, is the most northerly hostel in the UK. It is a community owned facility, run by voluntary trustees and is looked after by the lovely wardens, Janet and Tim. Situated right on the waterfront there is a large garden area where you can pitch a tent and there are full three star hostel facilities inside, from dorms with bedding to a fully equipped kitchen, dining room, lounge, showers, toilets and laundry facilities. Even if you are camping outside for a very, very reasonable price (£6 per night for adults and only £2 for children!) you have access to all the indoor facilities. They even have a conservatory with a table and chairs set up so you can have breakfast with a sea view!
This was the second time I've stayed at this Youth Hostel and I can't praise it enough. The wardens (and their children) are very friendly and welcoming and I always enjoy meeting other holidaymakers and hearing their stories. I can't recommend this place enough for an affordable family getaway.
Day 2:
After a well rested night (I may be exaggerating here – camping with small children is not particularly relaxing!) we started our second day of adventuring with a hearty bowl of porridge with fruit and nuts before setting off north again to the Hermaness Nature Reserve.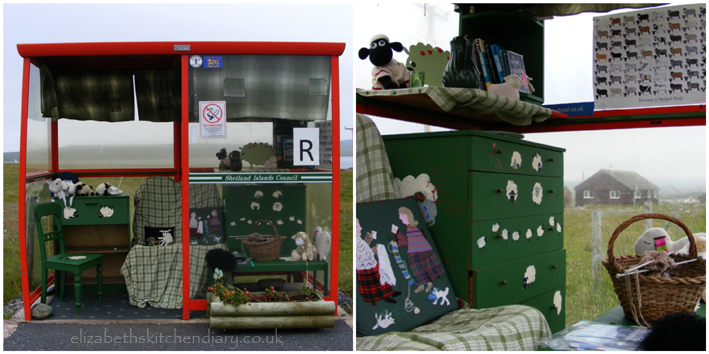 But first, a trip to Unst isn't complete without stopping off at the bizarrely decorated famous Unst Bus Shelter! Winner of the Best Bus Shelter in Britain award (Buses Monthly Magazine) it is one of the most visited tourist attractions in Shetland, recording thousands of names in the visitors book every year. This is where we found our first Unst geocache too.
If you don't know what geocaching is you don't know what you are missing. Think global treasure hunt with a GPS. There are over two million active caches hidden all over the world, from nanocaches with a tiny scroll of paper rolled up inside to sign, ammo boxes packed with all sorts of swappable treasure items for children and adults alike to Earth caches and sites of special interest, plus loads more. Geocaching takes you to all sorts of new and interesting places you'd probably never have gone to otherwise, as we soon discovered.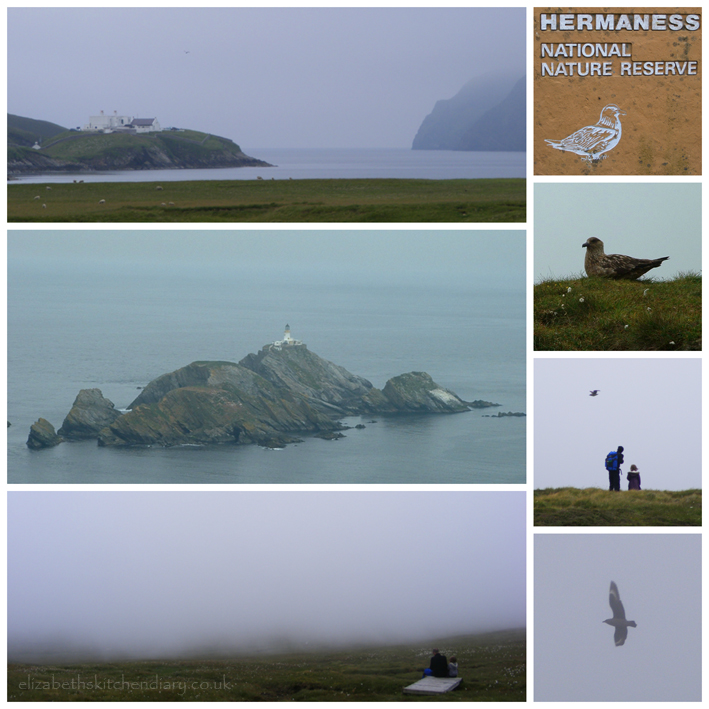 The Hermaness Nature Reserve is a wildlife lover's paradise at the edge of the world. Once you get to the end of the road you can hike for 2 miles (depending on the route you take) to the cliff edges where the raucous cries of thousands of seabirds breaks the silence. Or at least it would have for us if the fog cleared. Foggy weather conditions have been causing flight disruptions this month unseen in Shetland since July 1975. This meant that when we got to the peak of the highest hill (I wasn't going any further with two small children in tow) we saw the grand view of…… nothing! That photo of the lighthouse built on Muckle Flugga you see above? That was taken a decade ago the last time I visited Hermaness when the fog cleared just enough to be able to see it.
Still, it was a fantastic walk and the Great Skuas (local name: bonxies) appearing out of the mist certainly kept you on your toes! I know they rarely strike, but they still scare the bejeebies out of me when they get too close. Hermaness is the home to the third largest Great Skua colony in the world, and Shetland itself holds over half the world population of the magnificent birds. There are over 700 breeding pairs today after protection raised the number from only 3 breeding pairs in 1831!
Legend has it that a giant named Herma lived at Hernaness (pictured left, top photo above) and another (Saxa) lived at Saxa Vord (land mass to the right, top photo). It is said they used to lob boulders at each other across the Burra Firth. Both were said to fall in love with a mermaid and they followed her into the sea and drowned.
You won't find any giants at Hermaness, but you will find plenty of skuas and other birds should you be brave enough to get close to the cliffs. I've heard that the puffins here are quite partial to having their photograph taken!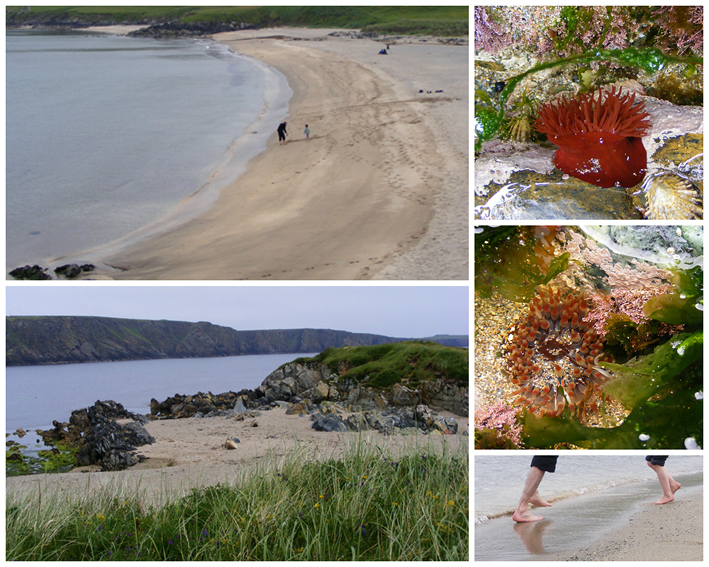 Then we were off to Norwick beach to collect our third geocache (the second was at Hermaness where we were fortunate enough to pick up two gorgeous geocoins, trackable treasures which travel from cache to cache). Norwick was a fantastic surprise – we never would have come here if it weren't for the geocache set here by the Unst Brownies and I am so glad we did – to be honest, this beach, learning about the geology and rock pooling were my favourite bits of our holiday to Unst!
As I mentioned earlier, Unst was created when two continental masses collided, squishing a piece of oceanic crust (an ophiolite) between them. The point where the ophiolite and continental crust meet are right here! Visible! One moment you're standing on rocks the ocean floor, the next on a continent! The line where they meet is just between the two rock formations you see pictured above with the oceanic crust, containing gorgeous green serpentine and talc steatite to the right and the continental crust containing phyllite to the left.
It is a geology lover's paradise! Plus, there's loads of gorgeous white sand to entertain the younger children. Arctic terns were screeching up and down the beach while some of us were brave enough to dip our toes in the cold, cold icy North Atlantic.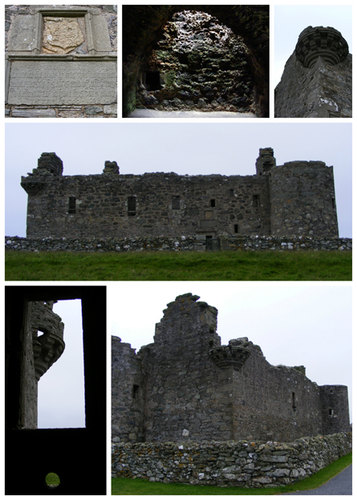 Then, after a drive around the island following the road signs pointing us in the direction of Viking long house sites, the ruins of Pictish brochs and standing stones we made our way to Muness Castle.
Muness Castle was built in 1598 and is the most northerly castle in the UK. It was not built by a Shetlander, rather, it was constructed by an incoming nobleman, Laurence Bruce.
It is quite a magnificent Z-plan towerhouse structure and the ground floor is just a little bit spooky, which the children enjoyed immensely. Historic Scotland have provided a box with torches so you can explore the darker corners of the castle in ease.
My favourite bit was the kitchen (of course!) and the massive fireplace with an inbuilt round baking oven. My imagination was running riot, imagining the fire roaring and the kitchen staff bustling about preparing meals for the nobles.

Day 3: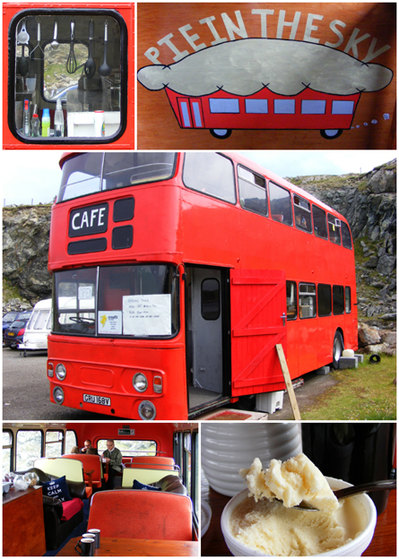 On our final morning in Unst we packed up our tent and headed back to the ferry terminal at Belmont to catch our ferry back to the mainland. Parked in the car park, conveniently situated next to the public toilets at the ferry terminal is a 33 year old red double decker bus converted into a cafe! A sign in the window advertised handmade ice cream delivered fresh from Fetlar company Craafit, so we all piled in to the bus for a taste.
What a fantastic establishment! Pie in the Sky serves both hot and cold food and is ideally situated so you can wait for your ferry to the mainland in comfort. The ice cream – wow! The children both had strawberry, my partner had mocha latte and Bestemor and I both tried the salted caramel ice cream with a cup of coffee. I can highly recommend the salted caramel ice cream, in fact, I am salivating as I am typing this, recalling the gorgeous flavour and texture. It goes really well with a cup of coffee too, and it left a pleasant after taste in the mouth during our drive all the way through Yell (the next island before you hit the mainland of Shetland).
The people of Unst were wonderful, friendly and welcoming, and we received plenty of waves by walkers as we toured the islands. We'll definitely be returning for a holiday again and I urge you to give it a visit as well.
As this is an outdoor adventure post involving children I am sharing it with Coombe Mills and their Country Kids linky which all about outdoor adventuring with children.