"With each mouthful there is a definite taste of Shetland sea air, it is like tasting the wonderful cleanliness of the Shetland coastline as it reaches the lungs. Amazing!!" Jane, taste-tester 
I have to admit it, yes, this is one of my more unusual creations. I feel the need to say I am not in any way affiliated with the Shetland Seaweed Sprinkle producers either, other than that we live on the same island and my partner delivers their post every sixth week!
Shetland seaweed is sustainably harvested by Bod Ayre (you may have seen them recently on BBC Country File!) and it is one of my favourite local ingredients to work with. I like to come up with new and interesting ways to incorporate it into my cooking. I've used it in home made pasta, fairy cakes, spiced winter meatballs, pesto, croutons  for soup and even as a special ingredient in my grand Shetland pepperkakehus I made for Christmas last year.
I think I'm getting a bit of a reputation for using seaweed in my cooking, as when I was recently asked to host a food blogging challenge which combines a specific ingredient with any ingredient of my choice they asked me, "Um, you're not going to pick seaweed, are you? Can you run your choice by me first please?!" Hee!
This ice cream recipe took two goes to develop. The first time I made it using a condensed milk base and the cooked milk overpowered the subtle flavour of the green tea, so I thought I'd best not be so lazy and just make a traditional custard base. I also discovered, during trial #1, that the seaweed needs to be soaked prior to incorporating it into ice cream or else you get little rock hard bits of seaweed that get stuck in your teeth. No fun at all! Soaking the seaweed in the warm custard mixture solves this problem and you end up with bits of seaweed with a texture similar to that of lemon zest.
This recipe has a very subtle green tea flavour and would be a refreshing ice cream to serve after a Japanese themed dinner. Matcha is a new ingredient for me. I've only recently learned that it is a type of green tea when I was looking to buy some green tea to make into ice cream! It's an expensive ingredient and I had to order it online as I couldn't find any local stockists, but I'm looking forward to experimenting some more with it. I've read online that matcha ice cream is quite popular in the far east, sold right along side traditional flavours at ice cream vendors.
Ice cream is very much a summer food and several food blogging challenges have been highlighting it recently.
I have shared this recipe with Kavey Eats' Bloggers Scream for Ice Cream challenge for June and July this year as it is all about herbs. Both green tea and seaweed can be considered herbs, one of the land and one of the sea, so I think it fulfils the challenge ingredient!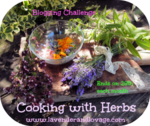 Lavender and Lovage hosts a monthly food blogging challenge which encourages us to cook and share our recipes involving herbs in her long standing but recently renamed Cooking with Herbs challenge (previously Herbs on Saturday). I've sent this recipe over to her as well.
Now, when it came time to serve this ice cream up to the family I thought I might have to jazz it up a bit for the children. I didn't need to, really, as they absolutely love ice cream in any flavour, but nonetheless, I still had some chocolate bark in the freezer left over from the OHs Black Forest birthday cake a few weeks ago. A little bit of chocolate bark is always a good thing, no?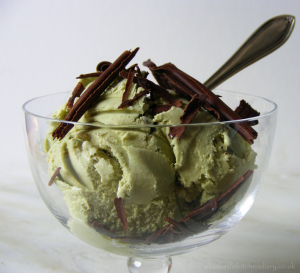 Oh my! The addition of dark chocolate took this ice cream to a whole new level. Green tea and chocolate pairs very, very well, the whole family agreed. It might be worth sticking 100 grams or so of chopped dark chocolate in the recipe itself as it is churning, or you could always sprinkle it on later as we have. You decide. 🙂
This month's We Should Cocoa food blogging challenge hosted by Choclette from Chocolate Log Blog (and alternately hosted by Chocolate Teapot) has challenged us to make ice cream using chocolate. I know I haven't quite made ice cream with chocolate here, but I've served it with chocolate and next time I make it I will certainly be adding some coarsely chopped chocolate, so I've sent this recipe over to her blogging challenge.
I'm also sharing it with the lovely Javelin Warrior and his Made with Love, Monday's from scratch recipe round up. Four different blogging challenges with one recipe? I don't think I'm doing too poorly here! 🙂
If you want to be kept up to date on my recipes, occasional craft tutorials, adventure stories and giveaways then please subscribe to my weekly newsletter; it gets sent out every Monday morning if there is new content. Your email address won't be passed on to anyone, you will never be spammed and you are free to unsubscribe at any time, no questions asked. Make sure you confirm your subscription or you won't receive the newsletter – if it hasn't arrived check your junk mail folder.
[wysija_form id="1″]