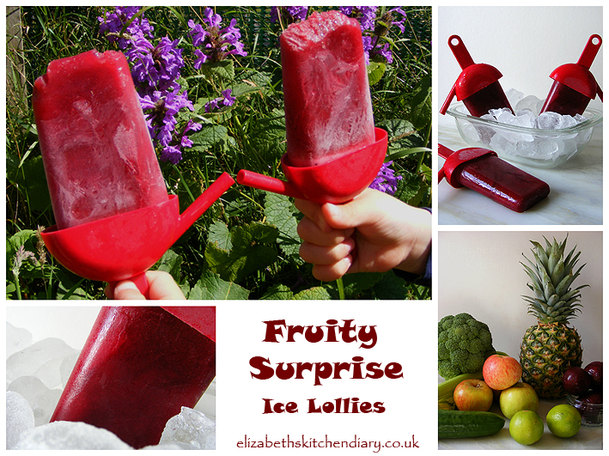 There's nothing better than an ice cold ice lolly on a hot summer's day, wouldn't you agree? But have you had a look at the ingredients lists on commercially prepared lollies? Sugar, refined sugar, and more sugar! These lollies offer a healthier alternative made from (and your children will never suspect!) fresh fruits and vegetables including cucumber, broccoli and beetroot!
If I am to be honest I made these ice lollies about ten days ago around the same time I picked up a mini paddling pool on sale from the supermarket for the children. Ice lollies in the freezer, paddling pool ready to be unpacked, I was ready and poised for when summer felt like hitting Shetland! Yesterday it did, with temperatures nearing 20 degrees Celcius! I coated the children in suncream as they played outdoors and myself, I hid inside like some sort of ginger vampire as I'm pretty sure my skin was starting to smoke with all that direct sunlight! As I learnt recently on 
a trip to Unst
, the most northerly inhabited island in the UK, I burn in the fog, so I'd best not take any chances.
Nonetheless, these lollies went down an absolute treat with the children. The lolly moulds themselves from Decor are pretty clever as they have little sucky straws in the base so you can slurp up the melted juice. I was fortunate enough to pick up a set at our local charity shop for only 50 pence!

This month's One Ingredient food blogging challenge by How to Cook Good Food and Franglais Kitchen is all about incorporating the humble cucumber in our recipes. You'd never know it from the flavour of these ice lollies, but there is a four inch segment of cucumber juiced along the other ingredients, so I am sharing this recipe with the challenge.
Fruity Surprise Fresh Juice Ice Lollies
Tastes like red berries, but it's packed full of vegetables! A perfect ice lolly for a hot summer's day!
Ingredients
1/2 large pineapple
4 apples
4 inch section cucumber
4 large broccoli florets
2 limes, peeled
2 celery sticks
4 beetroot
ice
Instructions
1. Place all the ingredients in a juicer and then pour into ice lolly moulds, drinking up any leftovers poured over ice. Leave to freeze overnight.
Details
Prep time: Cook time: Total time, including freezing: Yield: Makes 8 lollies