There are some times when cheesecake is required. Do you ever get those late night cravings sitting on the couch with a good book (Kindle) and you just want cheesecake and you want it now? This mini cheesecake pot recipe was borne out of those moments.
I've been making variations of this recipe for some time now, all running on the same theme: crushed biscuit base mixed with a little butter pressed into the bottom of one of those recycled Gu pudding dishes (I don't actually own a ramekin!) spread with cream cheese mixed with a little powdered sugar and vanilla and topped with fresh fruit, fruit compote or even lemon curd (the latter being one of my absolute favourites).
I am hosting Turquoise Lemons' No Waste Food Challenge this month and I have tasked food bloggers to reach deep into their freezers and use up the leftovers lurking in the darkest depths. I too have taken up this challenge and this particular recipe is made up mostly of leftovers.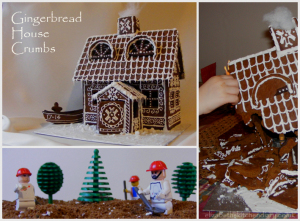 There is a bag of gingerbread house crumbs in my freezer, leftover from a gianormous Norwegian styled pepperkakehus I made at Christmas-time. There was no way we were going to be able to eat it all before it went stale, so I broke it up and turned it into crumbs in the food processor.
I also found 80 grams of rhubarb compote at the bottom of my freezer, leftover from making a rhubarb ripple ice cream with hazelnut oat clusters back in June.
Rhubarb? Ginger crumbs? Yes, yes, this was going to work!
This recipe takes only five minutes to prepare and then you sit and let it chill for at least half an hour before tucking into cheesecake awesomeness. It's not quite instant, but when you're craving cheesecake late in the evening this works really well! Tart rhubarb compote, sweet cream cheese filling and a buttery biscuit base – Mmmm!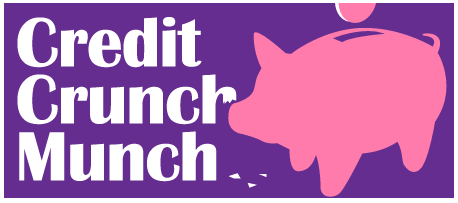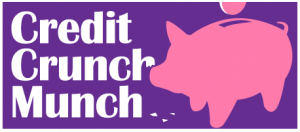 I'm sharing this recipe with the Credit Crunch Munch, a food blogging challenge by Helen from Fuss Free Flavours and Camilla at Fab Food 4 All which is all about cooking with less money. This month Fishfingers For tea is hosting this blog hop, so scroll down and see what everyone else is making on a budget.
Gu puddings are expensive, imho, and I rarely buy them because of this reason. However, if I do pick them up on a reduced offer at the supermarket I always keep the glass pots as they're too nice to throw away. I think that this little cheesecake pot recipe make a very reasonable, affordable alternative to the Gu dessert.