We've just recently received our very first delivery of an organic vegetable box from Transition Turriefield, a Community Interest Company based on the west side of Shetland. Living in rural Shetland means that most of the 'fresh' fruit and vegetables we get it several days old, if not even older. The produce grown at Turriefield without the use of pesticides and agrochemicals is usually harvested on the day the vegetable box is delivered, and at a very, very reasonable cost to the consumer.
As a community interest company any profits are invested back into the community, so everyone wins! I travelled halfway their premises to collect our veg box, stashed at a very top-secret location, with great excitement, almost like a child on Christmas morning.
They're still waiting for a lot of their produce to grow or mature, so our box this week was mostly filled with leafy things like kale, chard, chervil, coriander, dill and a glorious mixture of salad leaves. There were also chillies, the juiciest red tomatoes, courgettes, a marrow, garlic and a half dozen free range hens' eggs. There was also something in it I'd never seen before, and as a self-proclaimed foodie I was slightly ashamed to have to photograph it and ask my twitter followers for identification!
The unidentified vegetable object turned out to be a kohlrabi, a strange looking vegetable related to the cabbage. I found an excellent article on the Guardian website about kohlrabi which told me everything I needed to know, written by Hugh Fearnley-Whittingstall. The vegetable has been described as a 'vegetable sputnik' and I must confess to have played spaceships with it before peeling and cutting it up into this salad.
This salad is a recipe adapted from one found here, and it was absolutely and utterly gorgeous! One of our children even had thirds, it was that good! Both the kohlrabi and apple deliver a fantastic crunch and the apple offers a sweetness complimenting the tang of the lime juice and the heat of the cayenne pepper. It's a perfect summer salad and would be a great quick accompaniment to any barbecue table and as such, I've linked this recipe up with the Foodies 100 Summer Salad Challenge.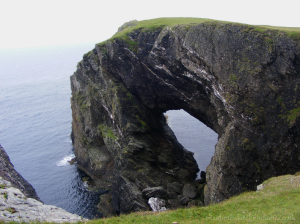 Arch at The Slap, Fetlar
There's something really satisfying about eating locally grown organic produce, I think. Everything is so much more vibrant. I used some of the veg in this box to make a delicious packed lunch to take with me on a Shetland Walking & Wildlife tour (another company based on the west side of Shetland) of the island of Fetlar, a small island off the east coast of the Shetland mainland.
After a lovely walk around the island looking for Red-necked phalaropes and dodging Great Skuas we stopped for lunch. As I was sitting there at the top of a sea cliff eating my French baguette with crisp salad, aromatic chervil and the most gorgeous and juiciest of freshly plucked red tomatoes, enjoying the warm sea breeze and the beautiful views a minke whale swam past! It was a magical moment indeed!
I can highly recommend the walking tours by Shetland Walking & Wildlife. If you're like me and you have 1001 questions about the plants or animals you see when out rambling and you wish there was someone there to answer them all then these tours are for you! I had a fantastic trip out with them and I can't praise them enough. (Please note: all these views are my own and I was not paid or asked to share them!)
Kohlrabi is in season now and so I am sharing this recipe with Jacqueline from Tinned Tomatoes and her monthly No Croutons Required vegetarian soups and salads food blogging challenge. This month we are asked to make and share soups and salads using seasonal ingredients.