This jewelled couscous recipe is a Persian-inspired dish made with spiced couscous, puy lentils, nuts, fruits, herbs and pomegranate arils. In collaboration with Indigo Herbs, suppliers of ethically and sustainably sourced superfoods, whole foods and natural health products.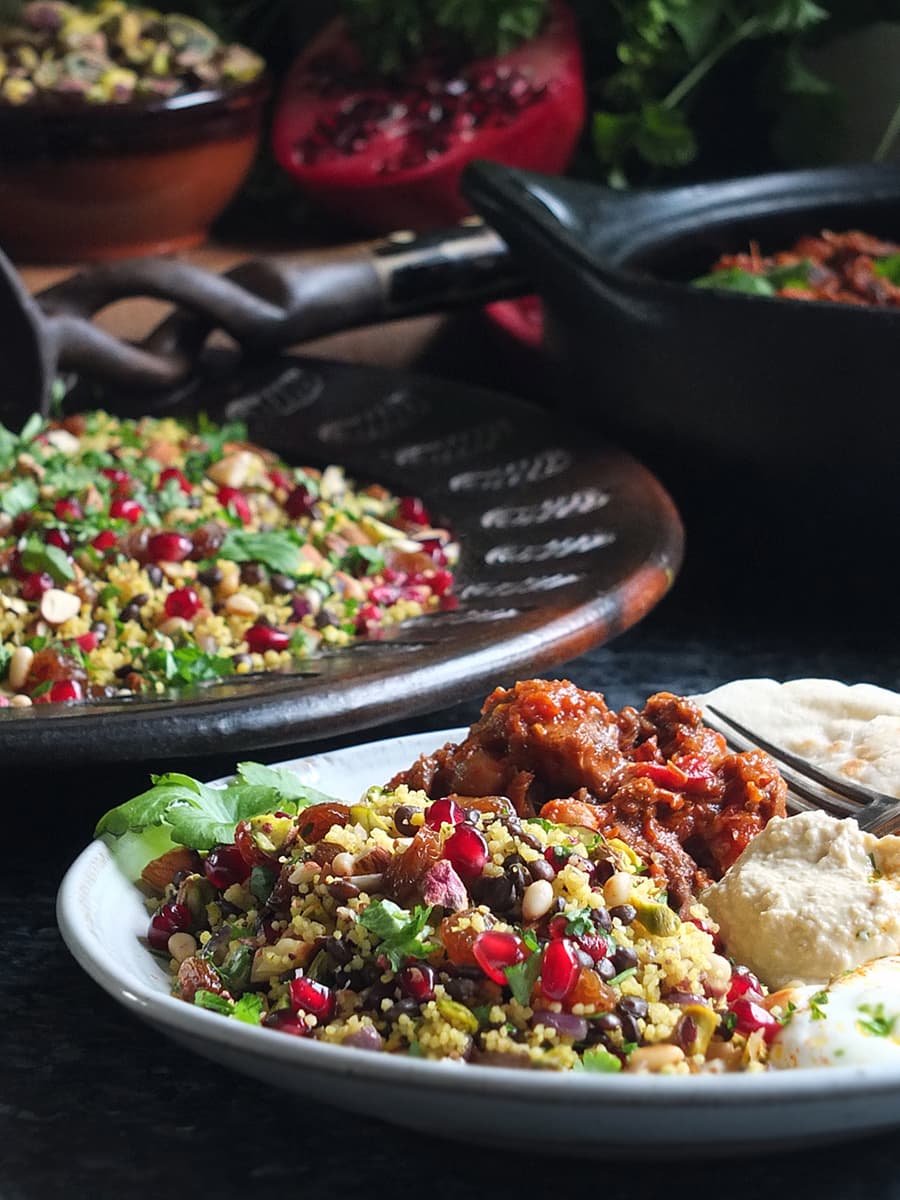 What is jewelled couscous?
Jewelled couscous is a Persian recipe made with spiced couscous, nuts, fruits, herbs and pomegranate arils. Visually impressive, it is often served on special occasions. The variety of colour and texture of the ingredients is what gives the dish its 'jewelled' name.
This is one of my recipes that's taken years to evolve, and it's never really the same twice. It's one of those use-up-whats-in-the-cupboards kinds of midweek recipes, but it's also good enough that you can serve it on special occasions, like when you're trying to make a seriously good first impression.
I began making a version of this recipe, years ago, as an easier alternative to jewelled Persian rice with tahdig, throwing in dried barberries, flaked almonds and a handful of chopped parsley and mint with the couscous.
Now, my jewelled couscous recipe is a rather gorgeous presentation of spice-infused couscous punctuated by a variety of flavours, textures and little pops of juicy colour. A proper centrepiece, I think, so much, so my couscous recipe has its own special serving dish.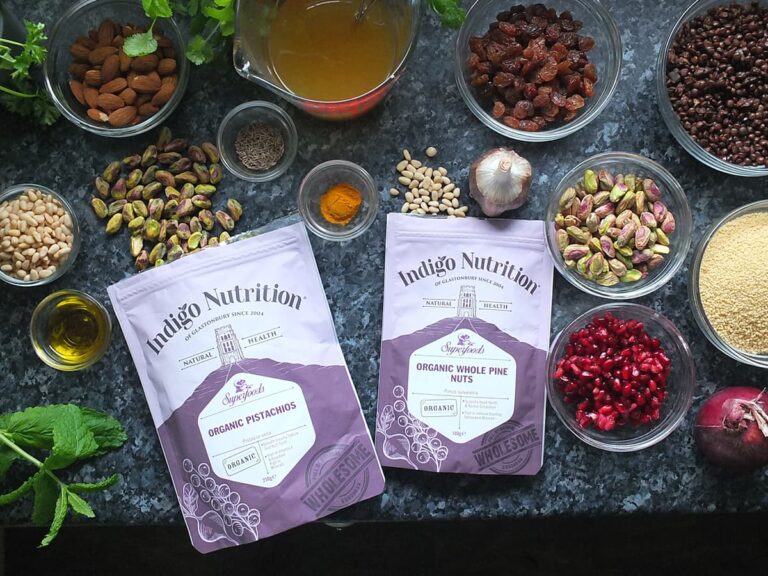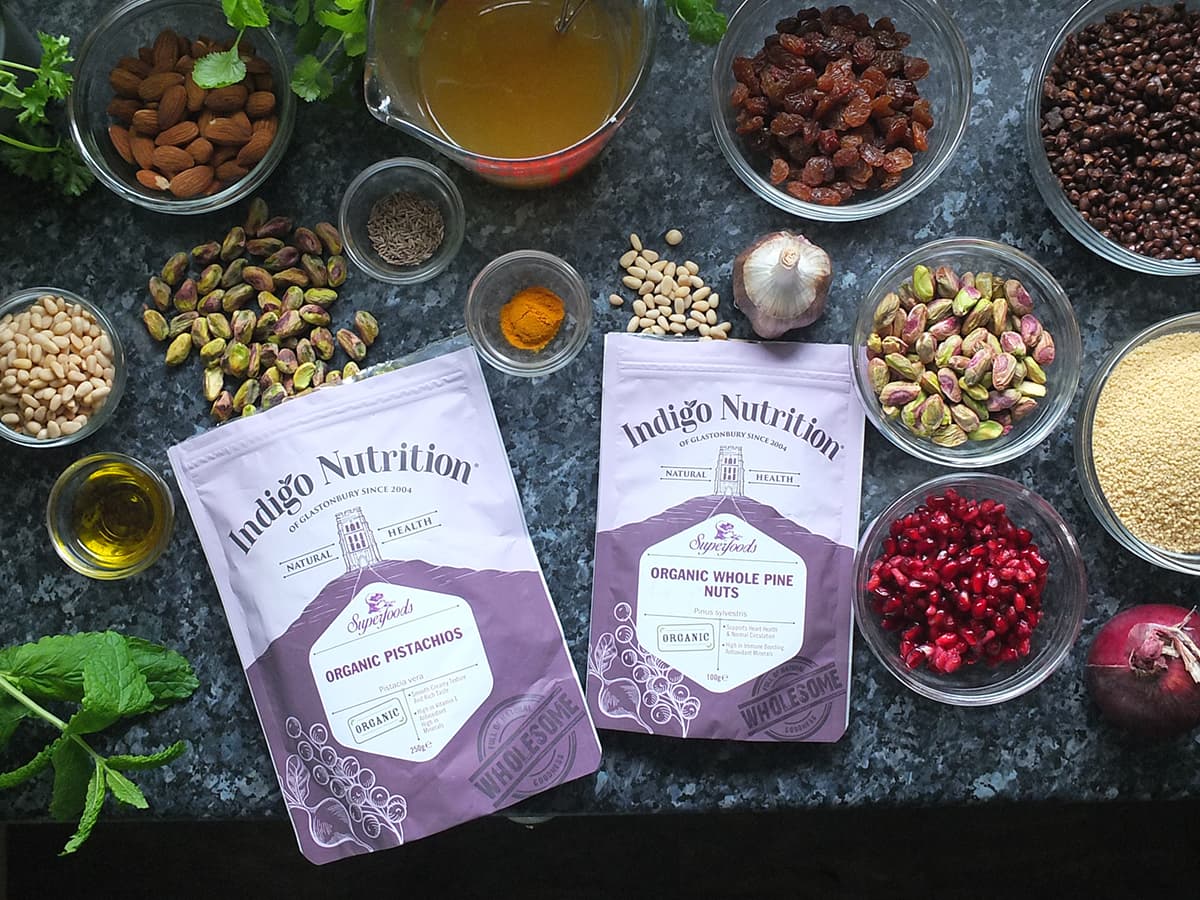 Ingredients you'll need…
200 grams of organic couscous
250 ml hot vegetable stock
1/2 tsp ground turmeric
2 tbsp olive oil, divided, plus extra to drizzle
1 medium red onion, finely chopped
2 garlic cloves, finely chopped
1 tsp cumin seeds, toasted and coarsely ground
250 grams cooked puy lentils
70 grams organic pistachio nuts, coarsely chopped
70 grams organic almonds, coarsely chopped
50 grams organic pine nuts, toasted
100 grams sultanas
80 grams pomegranate arils
a handful of fresh mint leaves
handful fresh parsley
fresh coriander leaves, to serve
juice of 1/2 lemon*
salt and pepper, to taste
optional extras: handful dried barberries and/or a few chopped spring onions
*which I forgot to add to the image above because I used lemon-infused olive oil instead!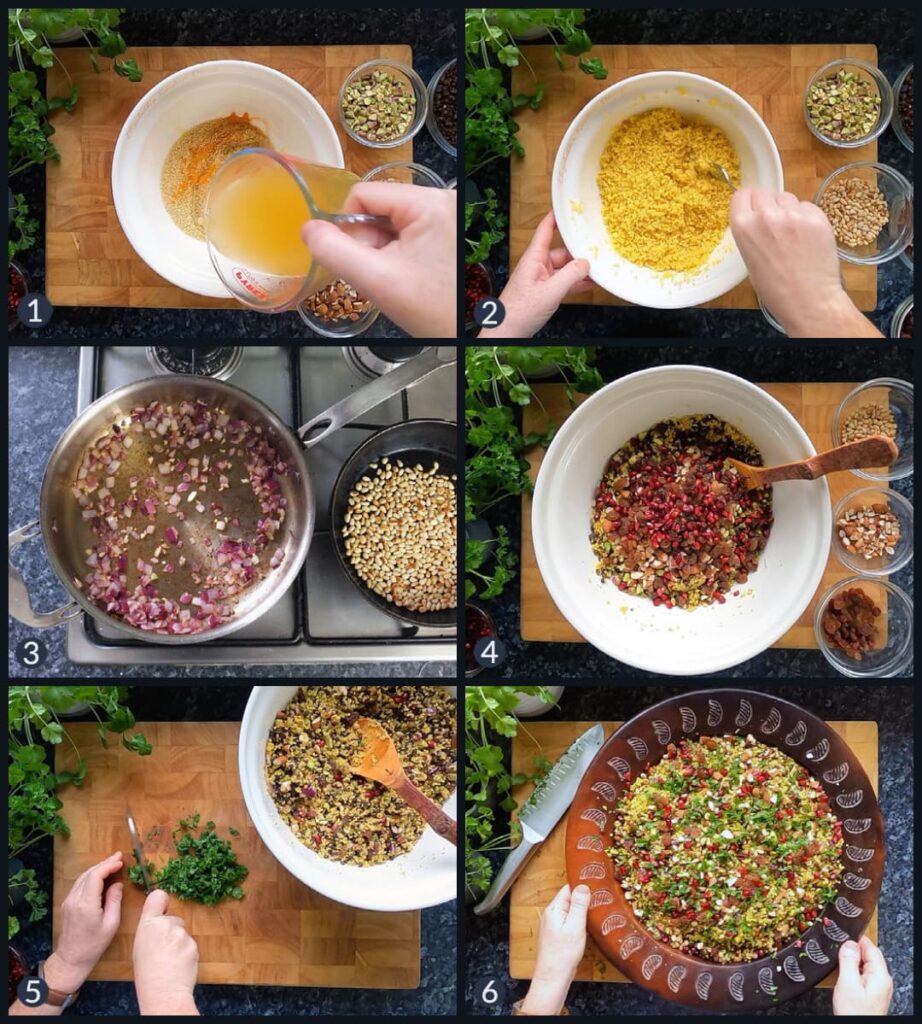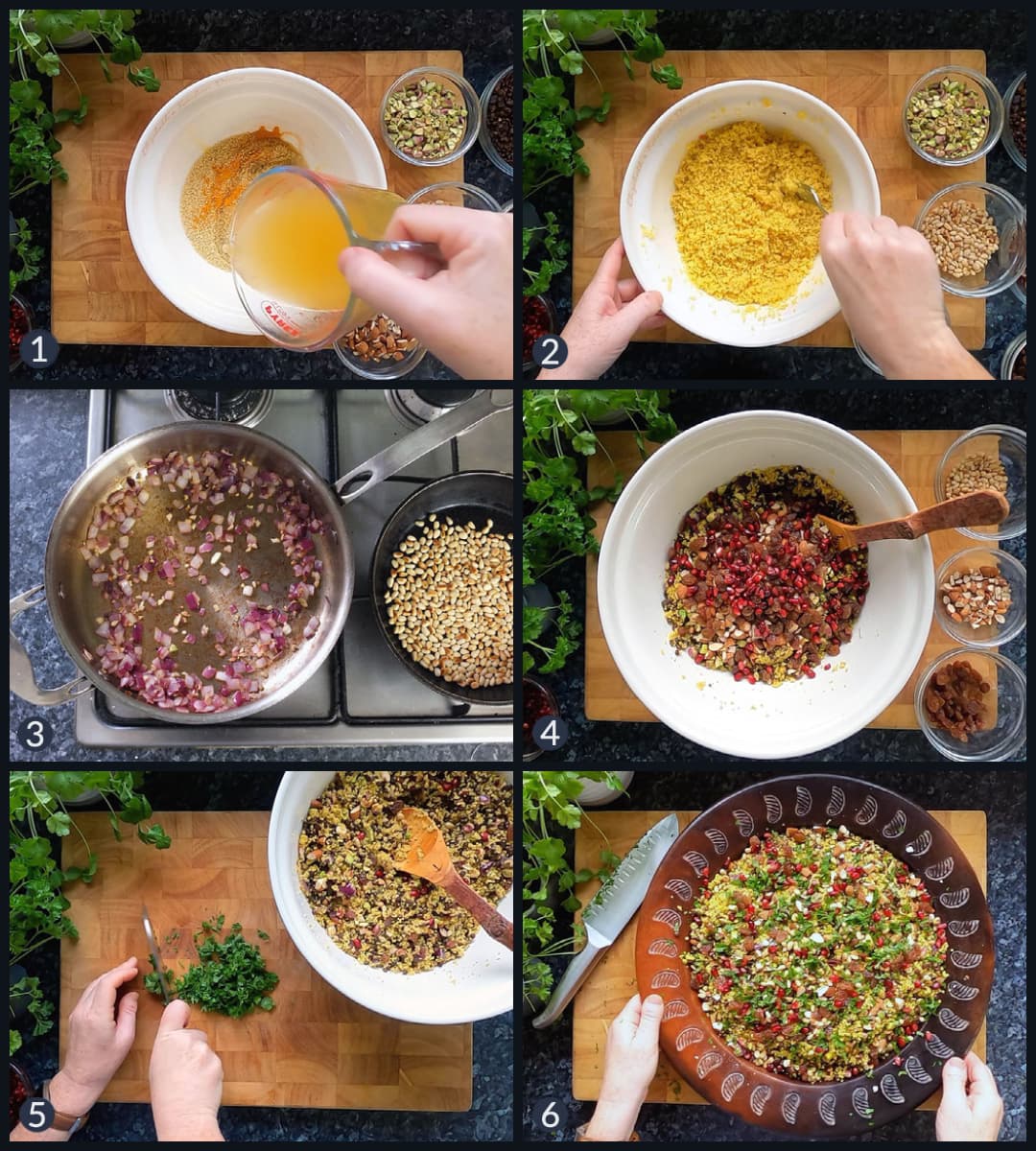 How to make this easy jewelled couscous
Place the couscous (toasted, if desired) into a bowl along with the turmeric, olive oil and vegetable stock.
Cover the bowl of couscous and leave it to sit for 10 minutes before fluffing the grains apart with a fork.
Gently saute the onion and garlic in a little olive oil until soft. Toast the pine nuts. Cool.
Stir in the toasted, ground cumin, puy lentils, almonds, pistachios, sultanas and pomegranate arils.
Add the finely chopped herbs, the lemon juice and a further drizzle of olive oil—season with salt and pepper to taste.
Transfer to a serving dish and garnish with coriander leaves and a little more toasted, coarsely ground cumin.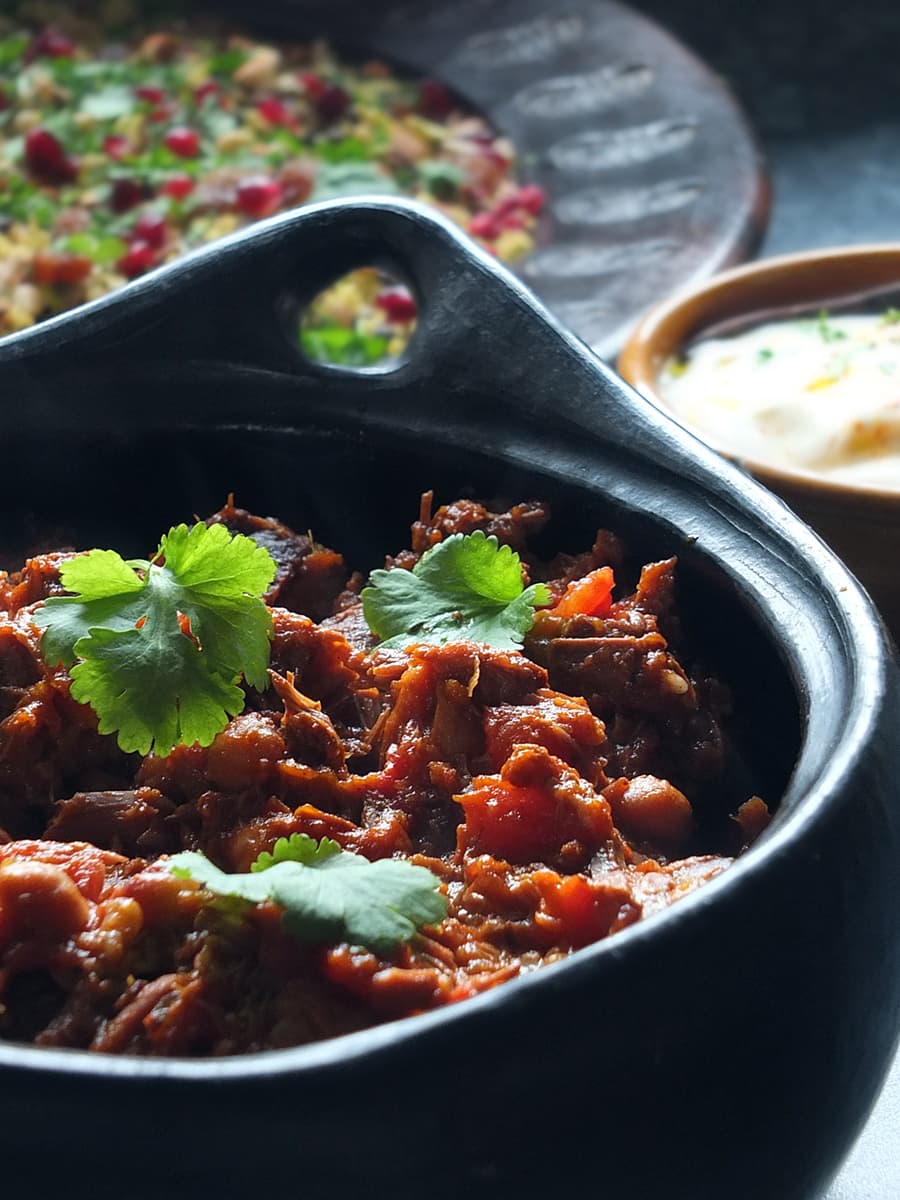 What to serve with jewelled couscous
simple creamy hummus drizzled with a little lemon-infused olive oil and sprinkled with smoked paprika
plain natural yoghurt drizzled with chilli-infused olive oil
grilled halloumi cheese with chilli
This is my most favourite kind of meal, a medley of flavours and textures. Best of all, everything can be prepared in advance, so there's very little that needs doing before serving other than plating it all up.
I like to make it look even more impressive by drizzling the side dishes with either chilli or lemon-infused olive oils, a sprinkling of smoked paprika here, a dash of crushed chilli pepper there.
To finish, chopped fresh herbs. It just looks… appealing. The presentation can mean a lot when it comes to food.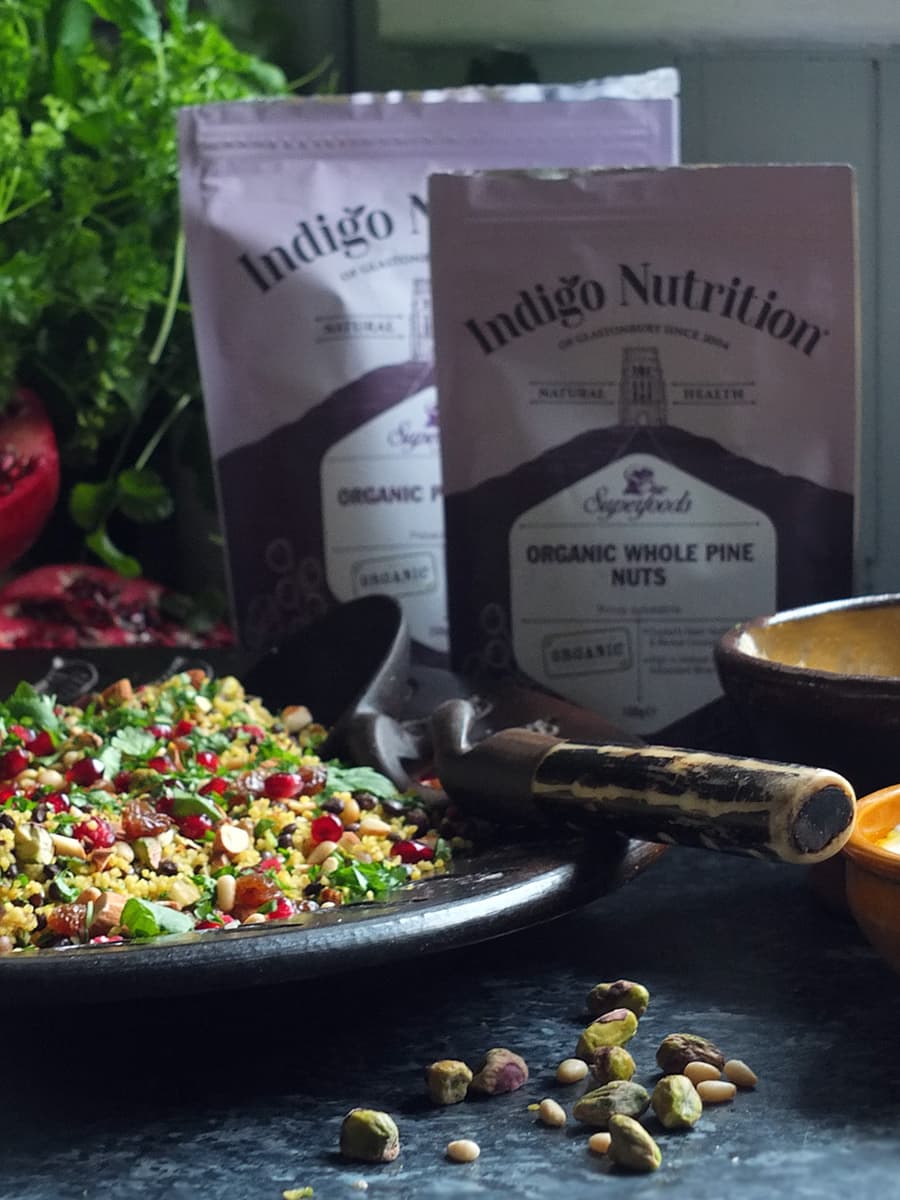 What are pistachios?
Pistachios are nuts from the tree Pistacia vera, native to hot, dry regions in Asia, Africa, the Middle East and Europe. It has a beautiful green kernel protected by a hard oval shell, and it's the kernel that we eat. You can buy them shelled (pictured above alongside some pine nuts) and unshelled.
Are pistachios good for you?
Pistachios are highly nutritious and are a good source of vitamins, minerals and healthy fats. Just one handful of pistachios a day provide over 50% of your daily recommended intake of vitamin E.
About Indigo Herbs
More and more of us are opting for mail order these days, due to the current climate. If you're looking for organic suppliers of ethically and sustainably sourced superfoods (like pistachios!), whole foods and natural health products here in the UK, then Indigo Herbs is for you!
Established in 2004, Indigo Herbs is a global apothecary based in Glastonbury. They stock a wide variety of health food products, including premium-quality pharmacopeial grade herbs and superfoods. In addition to mail order, their products are stocked in many health food stores up and down the country.
They take quality seriously and only choose to work with suppliers and growers that have genuine respect for the planet and its people. Their brand is simply packaged as they aim to make natural health products available and affordable.
Indigo Herbs also have a wide range of healthy recipes on their website. Follow them on Facebook, Twitter and Instagram for healthy living inspiration!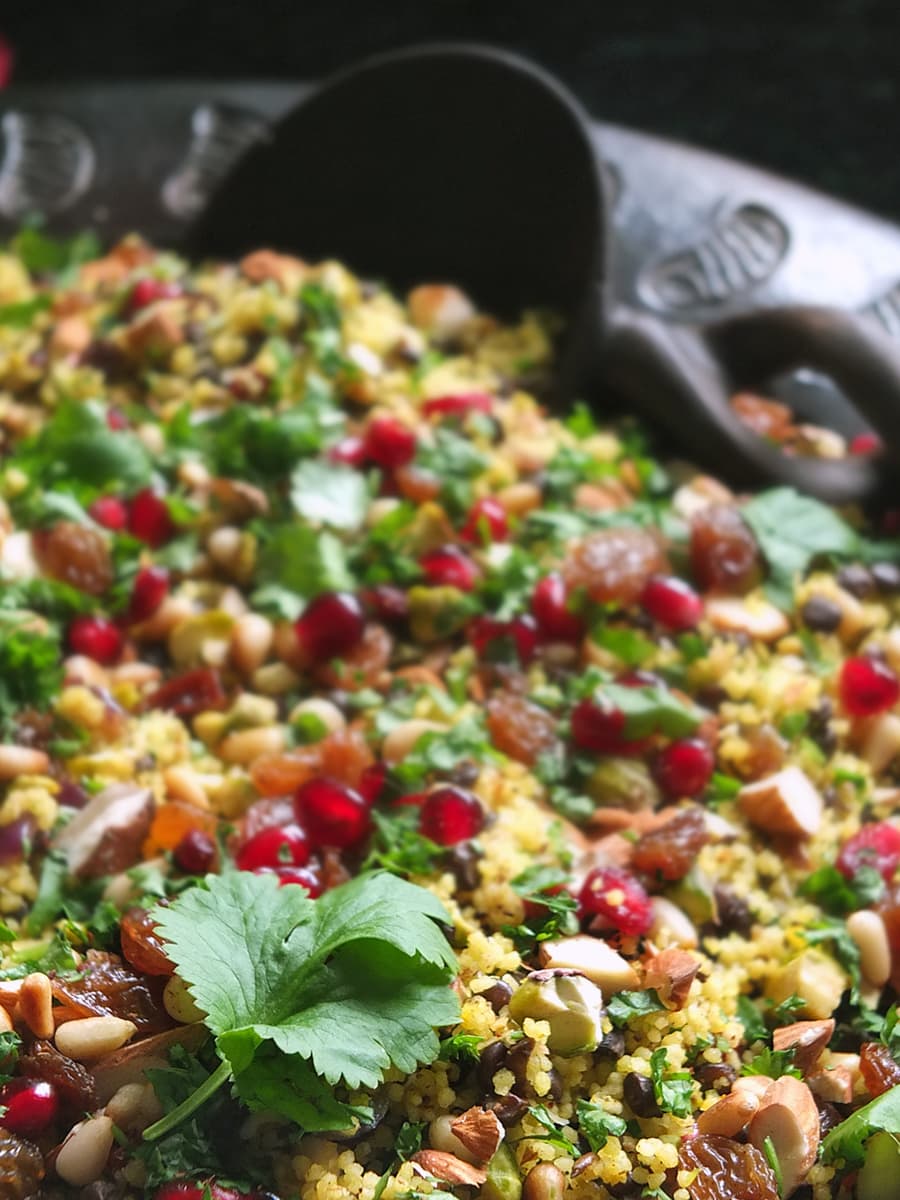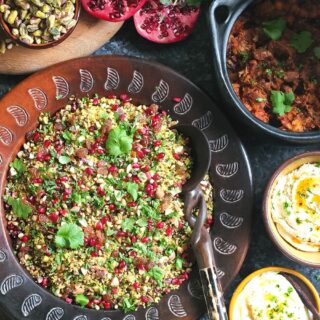 Jewelled couscous with puy lentils and pomegranate
This jewelled couscous recipe is an easy Persian-inspired dish made with spiced couscous, nuts, fruits, herbs and pomegranate arils.
Print
Pin
Rate
Affiliate Links
This recipe card may contain affiliate ingredient and equipment links. As an Amazon Associate I earn from qualifying purchases.
Instructions
Cover the bowl with a clean plate and leave to sit for 10 minutes.

Meanwhile, heat the remaining oil in a saute pan and gently cook the onions and garlic until softened. Toast the pine nuts in a separate, dry pan until lightly browned.

Fluff the couscous with a fork.

Finely chop the mint and parsley and add to the bowl. Mix well to combine. Squeeze over the juice of half a lemon and drizzle with a little extra olive oil, if desired. Season to taste with salt and freshly ground black pepper.

Transfer the jewelled couscous to a serving dish and garnish with extra fruit, nuts, herbs and fresh coriander leaves.
Notes
For extra depth of flavour, you can toast the dry couscous first, before adding the vegetable stock. Simply place in a dry pan and toast gently over medium heat until lightly browned, and then continue with step one of the recipe.
Nutrition
Calories:
441
kcal
|
Carbohydrates:
58
g
|
Protein:
17
g
|
Fat:
17
g
|
Saturated Fat:
2
g
|
Sodium:
133
mg
|
Potassium:
381
mg
|
Fiber:
15
g
|
Sugar:
12
g
|
Vitamin A:
124
IU
|
Vitamin C:
8
mg
|
Calcium:
73
mg
|
Iron:
4
mg
Environmental Information
Pin this jewelled couscous recipe for later
A festive alternative, this boneless rolled lamb shoulder is stuffed with a pistachio and orange stuffing and slow roasted until tender. Serve with jewelled couscous and flatbreads, or with roast potatoes and veg.

A recipe inspired by a meal I had in the Eiffel Tower.

Use up some of that end-of-summer courgette glut with these light and fluffy spiced courgette cupcakes topped with cream cheese frosting.

This is a sponsored post in collaboration with Indigo Herbs, although all thoughts and opinions expressed are our own. Thank you for supporting the brands who make it possible for me to do what I love: mess up my kitchen and share recipes.