A festive alternative, this boneless rolled lamb shoulder is stuffed with a pistachio and orange stuffing and slow roasted until tender. Serve with jewelled couscous and flatbreads, or with roast potatoes and veg. A recipe in collaboration with Lamb, Try It, Love It.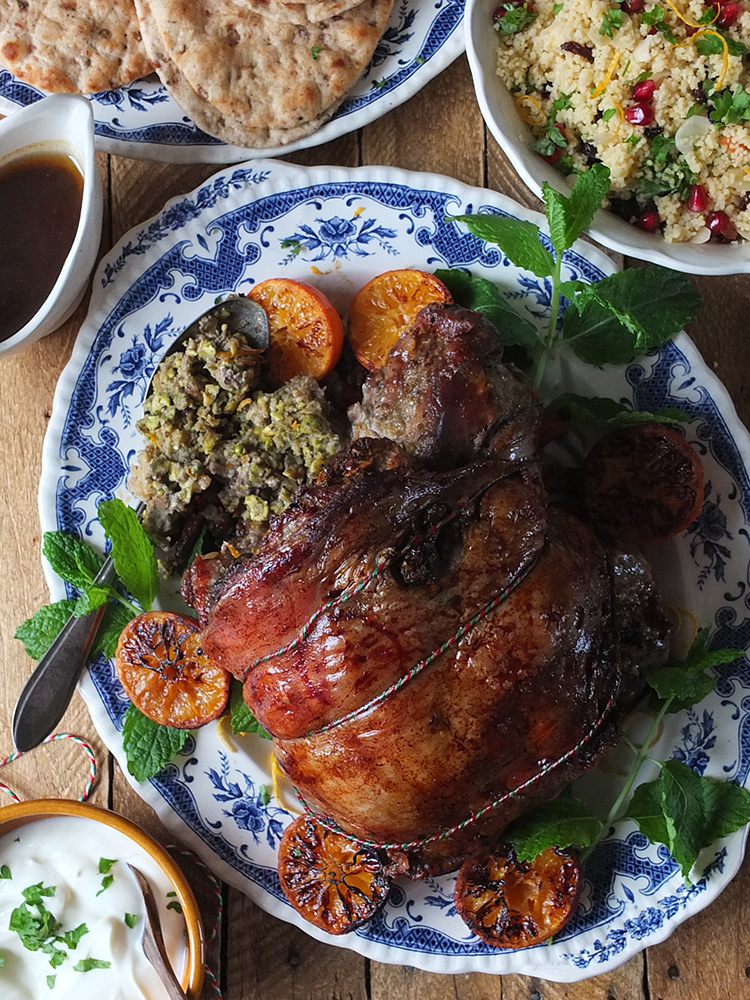 It's that time of year when friends and family are coming together to celebrate. Whether it be for Thanksgiving (I am hearing of more and more Thanksgiving celebrations happening on this side of the pond these days!), or leading up to the Christmas period – we are coming together to share good food together.
With this recipe, I'm offering a festive alternative to the traditional roast turkey, pork or ham – a super easy to prep rolled, boneless, stuffed shoulder of lamb.
It's so easy to make that the stuffing only takes a few minutes to prep (no sauteeing onions needed, just chop, mix and stuff!), tie the lamb with string and pop into the oven for several hours. You could even prep the roast the day before and leave it in the fridge overnight making for even less work the next day.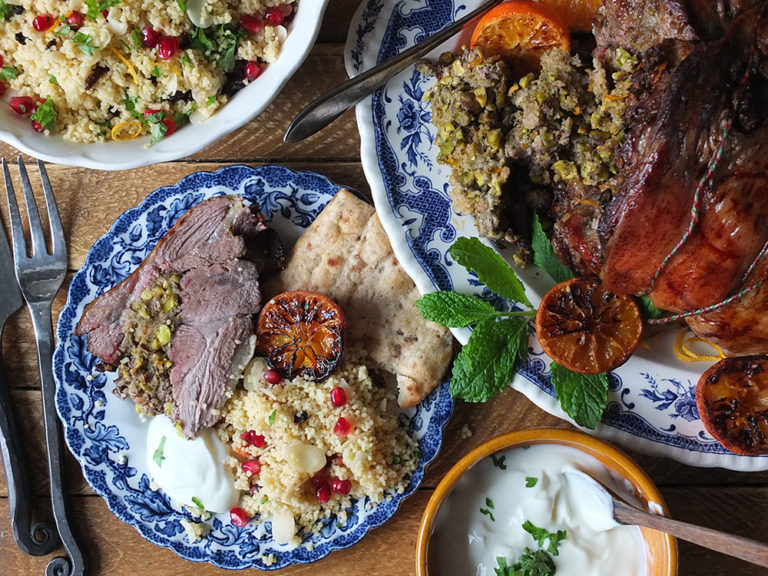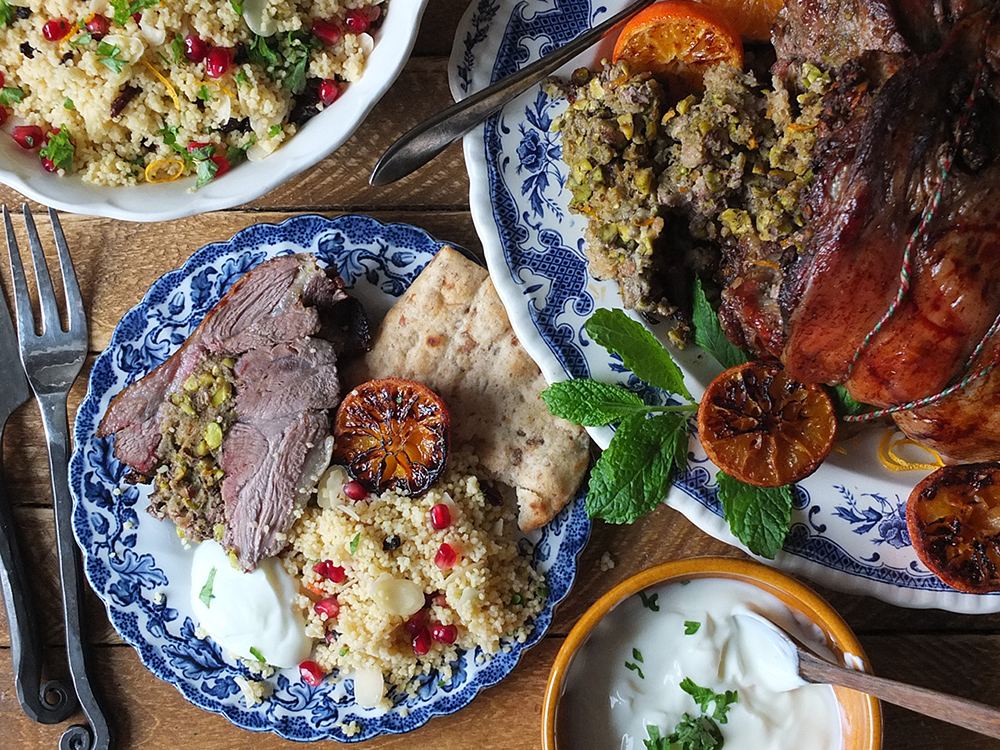 WHY TRY LAMB?
Lamb is an incredibly delicious, versatile and healthy ingredient. It's also sustainable – much more so than most other animal agriculture farming. Look out for locally reared lamb with low food miles.
Lamb is really easy to cook with too – there are many different cuts available, from lamb chops to lamb steaks, lamb mince and racks of lamb. Lamb shoulder, either bone-in or boneless, or leg of lamb, make for a rather delicious slow roast – perfect for when you're entertaining guests.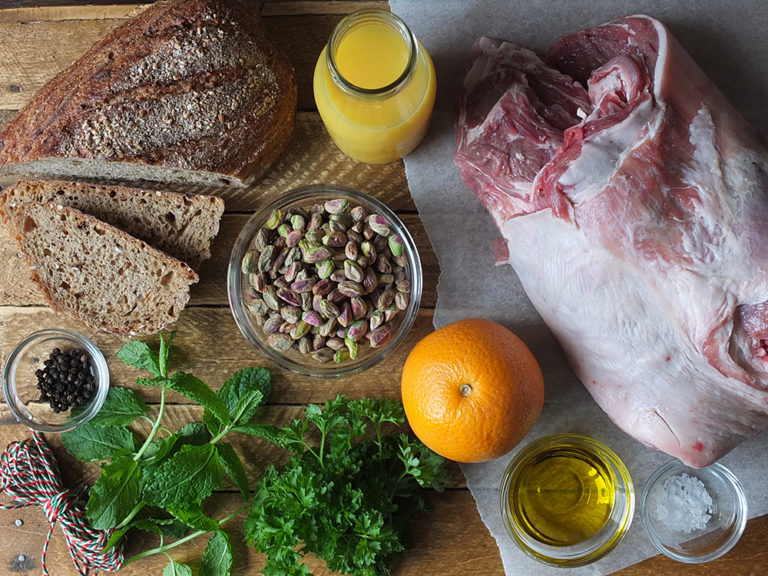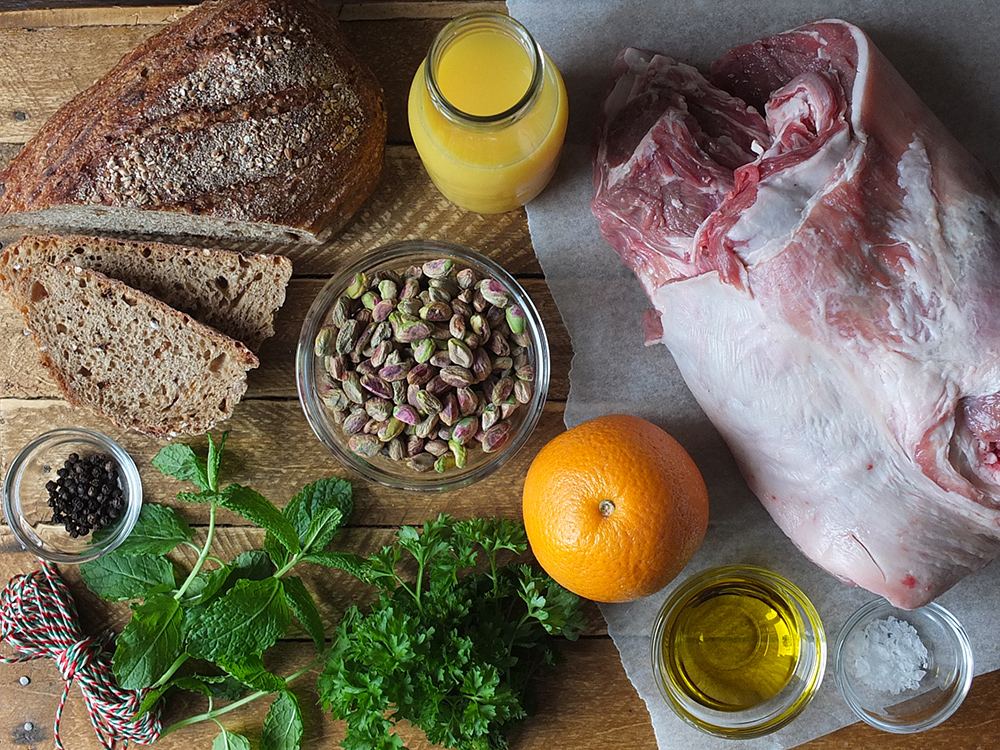 INGREDIENTS FOR THIS ROLLED, BONELESS, STUFFED SHOULDER OF LAMB RECIPE
2.25 kg boneless lamb shoulder – get your butcher to prepare this for you, and ask for the bone too – you can make a lovely bone broth from it
100 grams pistachio nuts – shelled weight, unsalted
100 grams stale bread, torn into small pieces – I used a locally baked puckle loaf
1 orange, juice and zest (about 50 ml juice)
2 tbsp olive oil
1 handful of fresh mint leaves
1 handful fresh parsley leaves
sea salt & freshly ground black pepper, to taste
1 egg – to bind it all together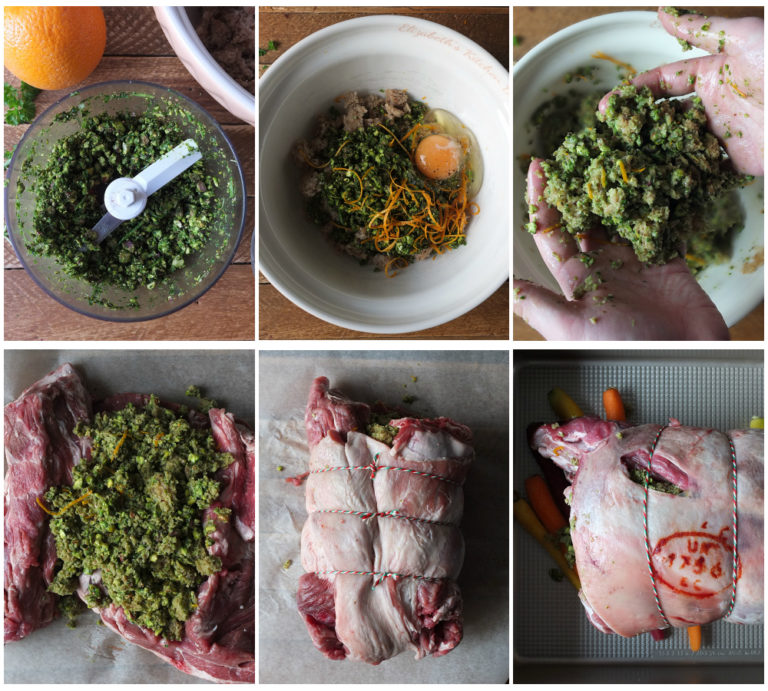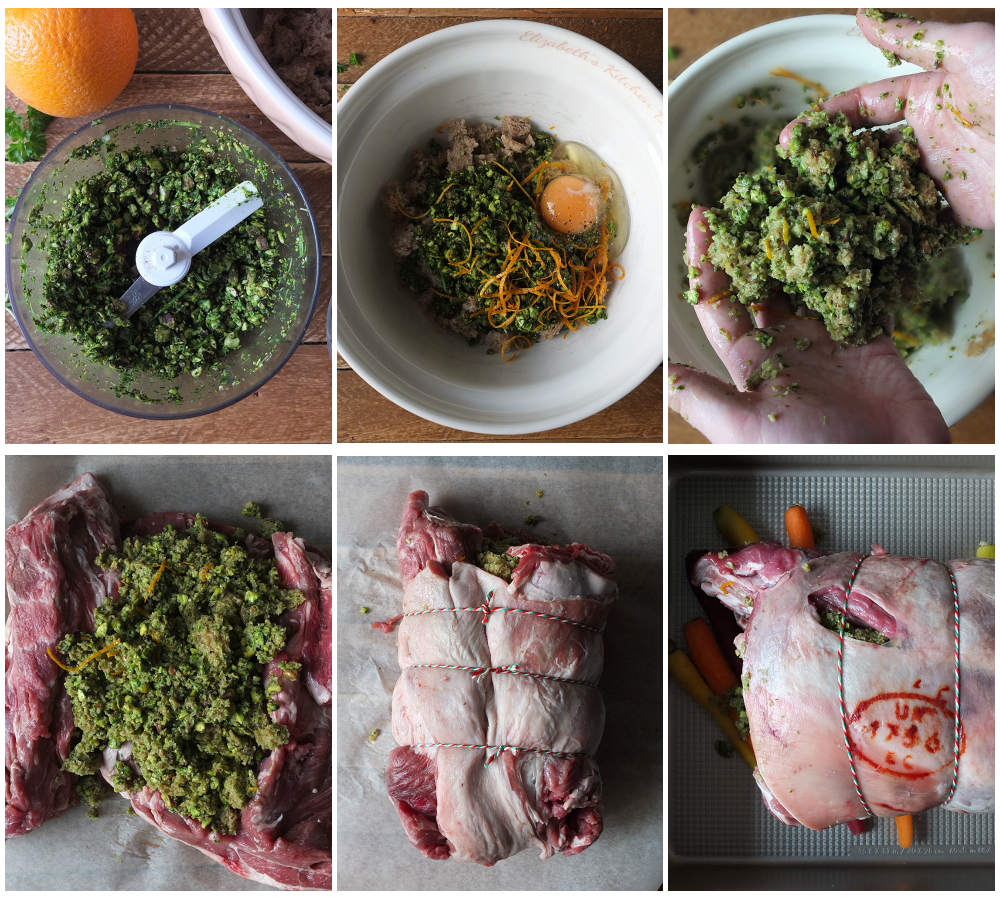 HOW TO MAKE PISTACHIO & ORANGE STUFFED ROLLED LAMB SHOULDER
Step 1: process the pistachios and fresh herbs together until fine, but still retaining some texture. I use a mini hand-held food processor.
Step 2: mix the nuts and herbs with the remaining stuffing ingredients in a bowl.
Step 3: using your hands, combine well to make a gloriously green coloured stuffing.
Step 4: unroll your boneless lamb shoulder and fill with the stuffing.
Step 5: roll up like a jelly roll and tie securely with a few pieces of string.
Step 6: place a layer of vegetables on the bottom of a roasting tray, place the rolled lamb shoulder on top, drizzle with olive oil and bake, covered with foil, in a 150 C oven for 2.5 to 3 hours. You can remove the foil for the last half an hour if you want to crisp up the skin some more.
Pistachio & Orange Stuffed Rolled Lamb Shoulder
Adding the layer of vegetables is the top tip from my eldest son, pictured in the above video on his day off work helping me make this roast. The layer of vegetables, he says, is something he was taught in hospitality college (which makes him more qualified in these matters, than I am, he added). The vegetables help stop the roast from sticking and burning to the bottom of the roasting tin.
You could also, if you wanted, halve a couple of oranges and pop them in the roasting tin for the last half an hour. Sear the cut sides of the cooked oranges in a dry non-stick pan for a few minutes if you want to make them a bit more visually appealing to decorate the lamb when serving.
Any liquids left in the bottom of the pan can be mixed with some lamb stock and thickened with a little cornflour dissolved in some water to make a super easy gravy.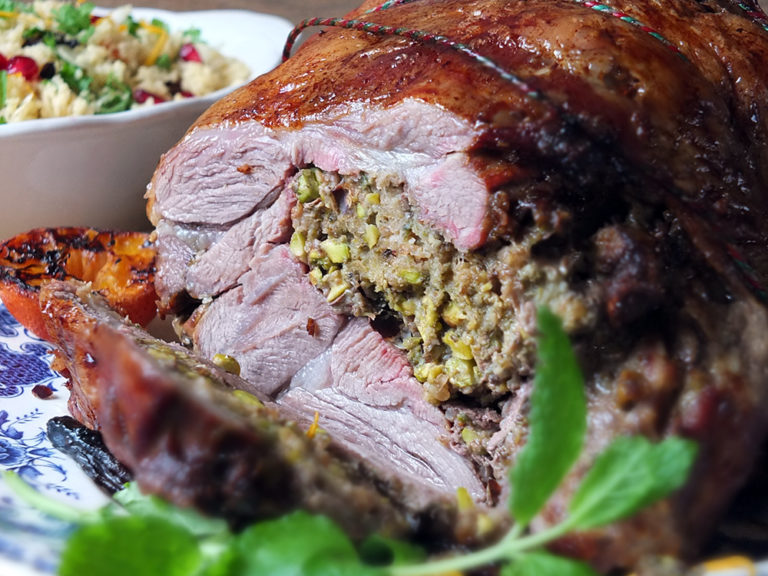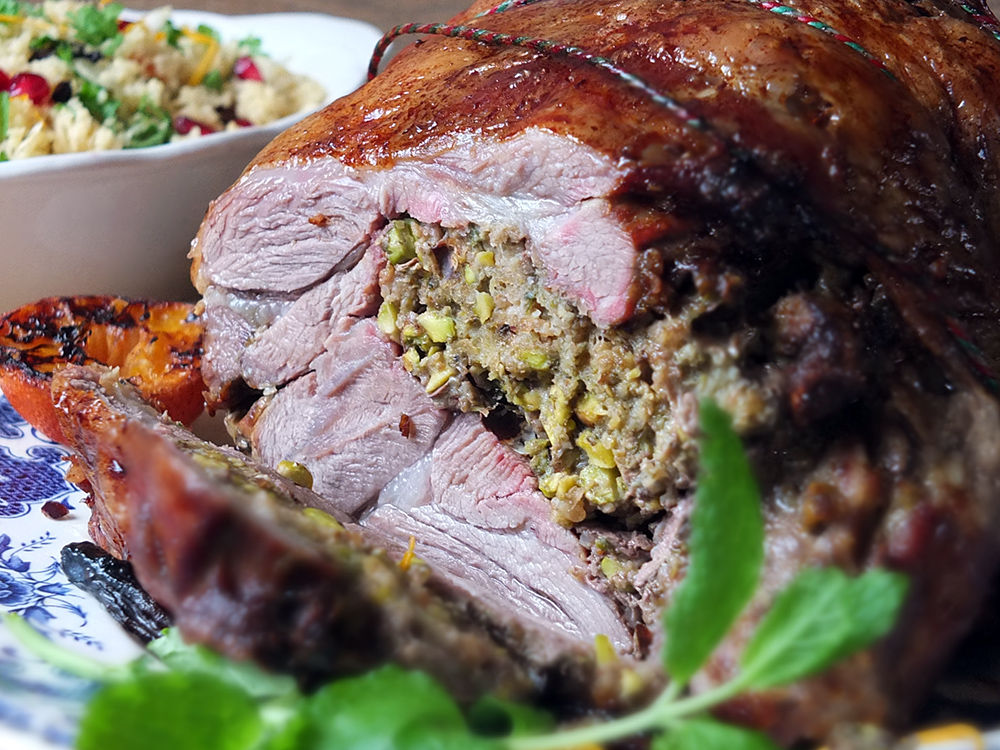 I've served my lamb with a super easy jewelled couscous, flatbread and a side of yoghurt (I love lamb and yoghurt), but this roast shoulder of lamb would work just as well with traditional roast potatoes and perhaps some honey-glazed roast carrots too.
THE LAMB, TRY IT, LOVE IT CAMPAIGN
Lamb, Try It, Love It are here to banish the bland and help make dinner great again. They started this campaign to prove lamb is more than a roast dinner with mint sauce, bringing you easy recipes created by real people like myself who have a passion for cooking.
Lamb isn't for everyone, but it is for the brave and the bold – people wanting to jazz up their mealtimes with a sustainable and healthy, locally reared ingredients.
Visit the Try Lamb website for some more recipe inspiration, and don't forget to follow them on Facebook and Instagram.
What's your favourite way to cook with lamb? Let me know in the comments!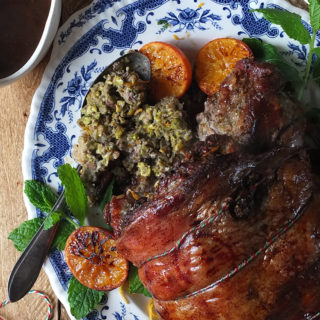 Roast Boneless Shoulder of Lamb with Pistachio & Orange Stuffing
A festive alternative, boneless rolled lamb shoulder is stuffed with a pistachio and orange flavoured stuffing and slow roasted until tender. Serve with jewelled couscous and flatbreads, or with roast potatoes and veg.
Print
Rate
Ingredients
2.25

kg

rolled boneless lamb shoulder

100

grams

stale bread

torn into small pieces

100

grams

pistachio nuts

shelled weight

1

handful

fresh mint leaves

1

handful

fresh parsley

1

orange

zest and juice

2

tbsp

olive oil

plus extra, to drizzle

1

large

free-range egg
Affiliate Links
This recipe card may contain affiliate ingredient and equipment links. As an Amazon Associate I earn from qualifying purchases.
Instructions
Bring your rolled boneless lamb shoulder to room temperature for an hour. Preheat your oven to 150 C/ 300 F/ gas mark 2.

Tear your leftover stale bread into small pieces and place in a large bowl.

Place the pistachio nuts and herbs in a small food processor and process until fine.

Add the nuts to the torn pieces of bread, and and add the orange juice, zest, olive oil, egg and season well to taste.

Mix well together, using your hands to combine well.

Roll out your boneless lamb shoulder and place the stuffing along the inside.

Roll up like a jam roll and tie securely with string. Push the leftover half of the zested orange into the open end(s) to keep the stuffing from falling out the end, if you wish.

Place a layer of vegetables on the bottom of a large roasting tin and place the lamb on top.

Drizzle with a little olive oil, cover with foil and bake in the centre of the oven for 2.5 - 3 hours, basting occasionally.

Leave the lamb to rest 10-20 minutes before carving.
Notes
Make a jus with any juices left at the bottom of the pan - heat them, along with some lamb stock in a small saucepan and thicken with a little cornflour dissolved in water.
Ask your butcher for the bone that s/he has removed from the lamb. You can roast this along with some veg to make a gorgeous bone broth/lamb stock.
PIN THIS ROLLED LAMB SHOULDER RECIPE FOR LATER
[color-box]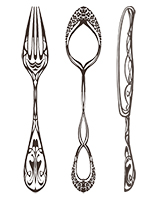 Have you made this recipe?
Take a photo and tag @tangoraindrop or use the hashtag #elizabethskitchendiary and share on Instagram and Twitter. It would make my day to see your creations!
[/color-box]
This is a sponsored recipe post in collaboration with Try Lamb, although all thoughts and opinions expressed are our own. Thank you for supporting the brands who make it possible for me to do what I love: mess up my kitchen and share recipe stories.