In collaboration with Expedia and their #WorldonaPlate Challenge.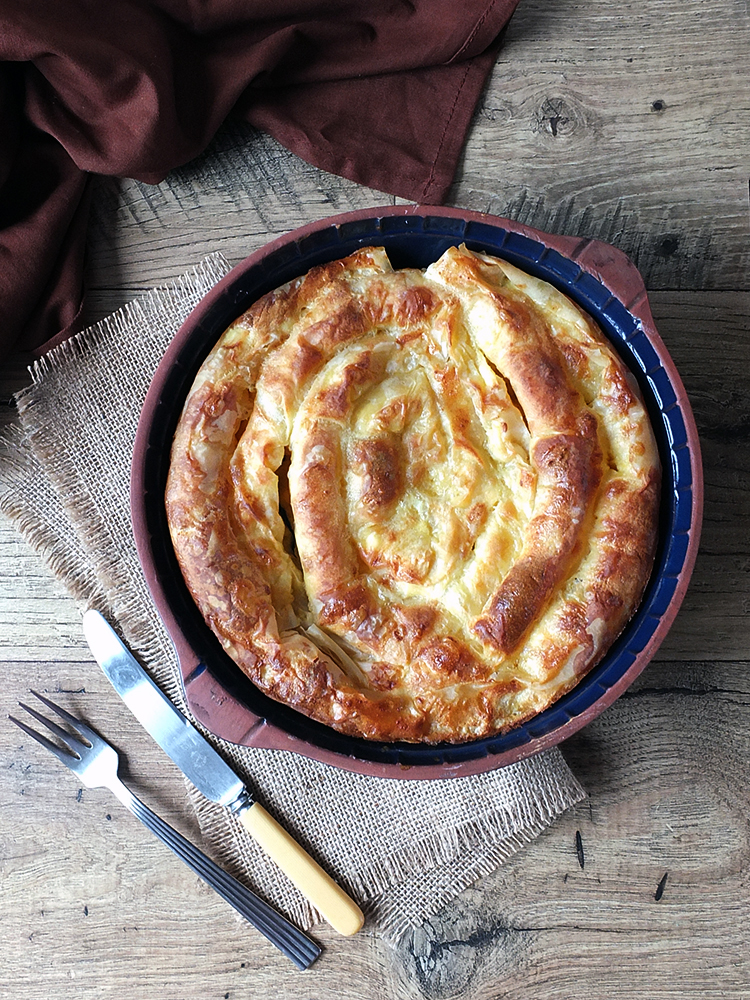 It's funny how our tastes change as we grow up. My childhood diet was quite limited – baked meat and mashed potatoes being the staple, supplemented with seasonal wild fruits harvested ourselves (one wild strawberry for the basket, three for me!). I was very reluctant to try new things. I remember my teacher serving honeydew melon slices in Home Economics class, and my being truly revolted at the taste and texture.
Now, I love trying new things! Experiencing new flavours is all part of the adventure of life, isn't it? So just imagine my delight when a hamper (18 kilos in total) of Bulgarian produce arrived on my doorstep one day, with a challenge from Expedia – here Elizabeth, cook something Bulgarian with all this awesome stuff!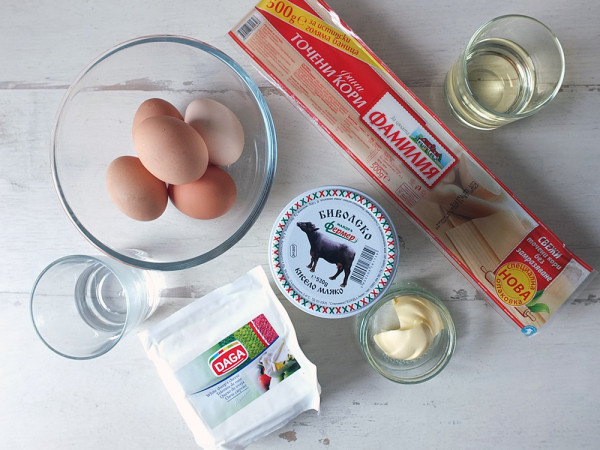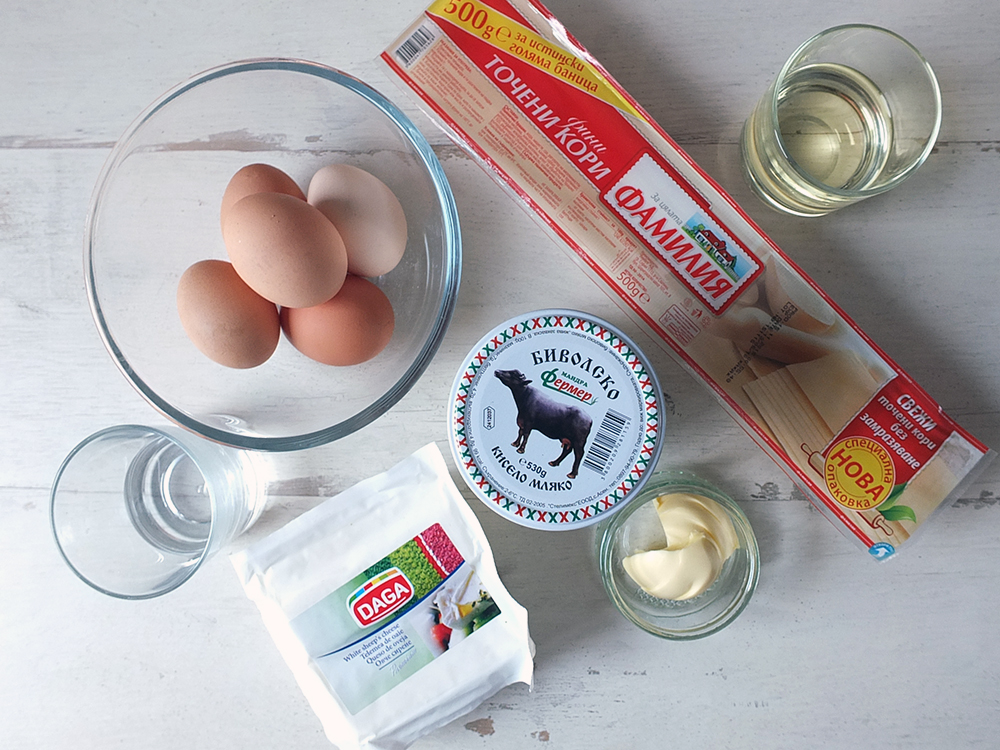 The hamper contained a wide variety of dried meats such as cured game sudjuk and pastarma manastirska 'nashe selo', cheeses including buffalo's milk yellow cheese, strained yogurt with cheese and a white sheep's cheese, Bulgarian wine, pastas and jarred sauces, preserves such as rose hip jam and something that's got figs in it, sweets and biscuits, tea, dried rose petals, 1 kg pickled cabbage leaves (a genius idea – looking forward to making cabbage rolls with these!), vine leaves stuffed with rice and a package of phyllo pastry.
I confess I have absolutely no experience of Bulgarian food whatsoever, except for the few meals I've shared with a dear Bulgarian friend of mine over the years we've known each other.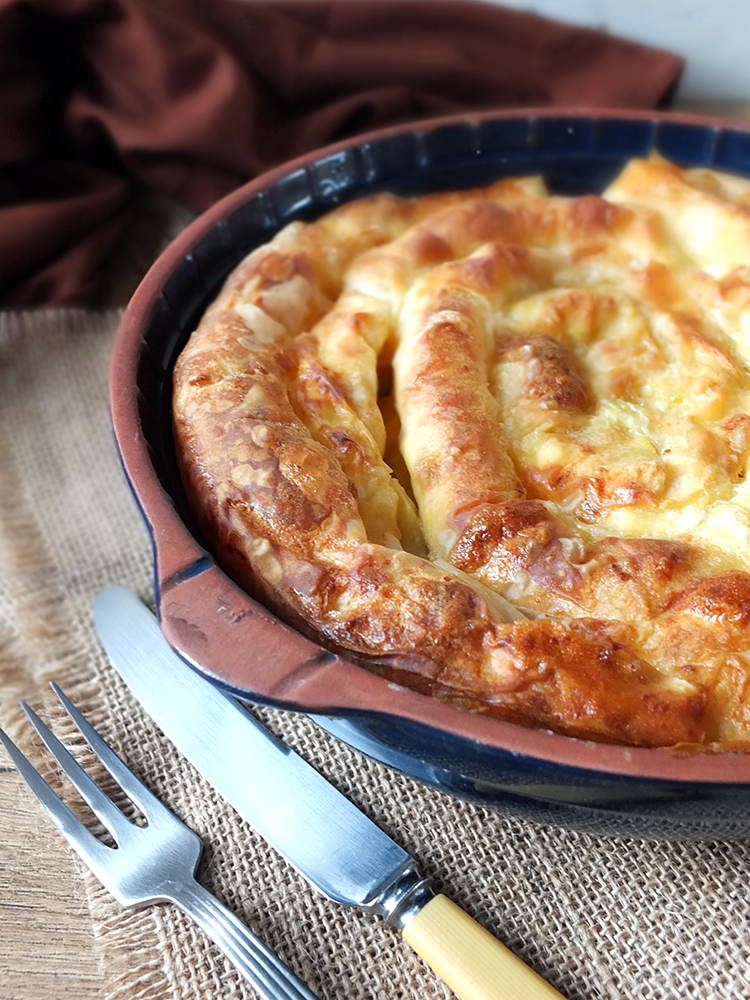 My friend tells me that banitsa, a popular white cheese, yoghurt and egg pie made with phyllo pastry, is made for any special occasion in Bulgaria: wedding, funerals, guests coming to visit, etc. Traditionally you must have bantica's kusmeti/ good luck messages attached on budding twigs – small pieces of paper you write a wish on for Christmas. The dishes on Christmas Eve, which all Bulgarian's celebrate, are vegetarian and banitsa is always present together with baklava (which she says is the best dessert ever!).
She says that Bulgarians can buy and eat banitsa for breakfast just like the French eat croissants.  She never follows a recipe when making it, preferring, like most Bulgarians, just to make it up as she goes along, so she couldn't give me one, but I found two online here and here which I used.
Banitsa can also be stuffed with meat, rice, spinach or even with pumpkin and sugar for a sweet option.
Banitsa is a remarkably simple recipe to make. All you do is mix the ingredients, sprinkle it over some ready-made phyllo pastry, roll, arrange in a dish in a spiral shape and bake!
It also tastes fantastic! The sharp Bulgarian sheep's cheese is just like feta cheese, with a fantastic flavour. The eggs soak into the phyllo pastry and it all puffs up gorgeously while baking to make a perfectly slice-able pie which will keep for a few days in an airtight container.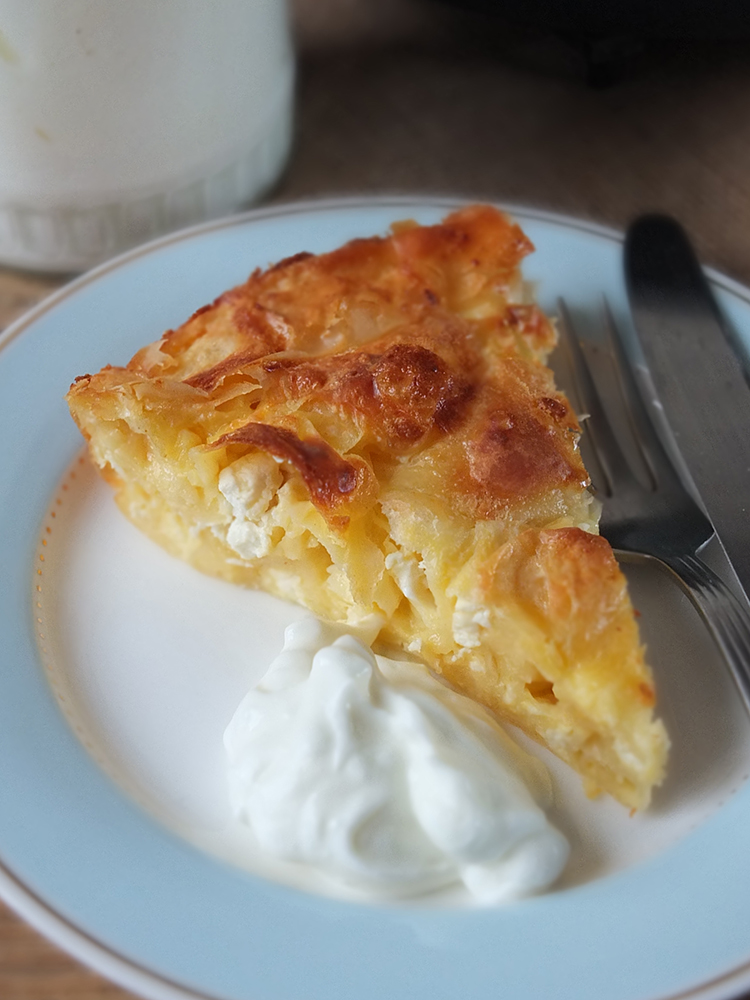 I also made another popular Bulgarian recipe with the ingredients I was sent – a biskvitena torta – a Bulgarian biscuit cake. Trying to source a recipe online was proving to be rather difficult, so again, like my Bulgarian friend said, I just sort of made it up as I went along combining this recipe and this recipe using the Torta cake biscuits which were included in my hamper.
These biscuits, not unlike ladyfingers, were soaked in milk and layered along with 300 ml double cream whipped with 2 tbsp icing sugar, and 250 grams of mascarpone cheese. The creamy layer was sprinkled with cocoa powder before topping with more soaked biscuits and left overnight to chill in the fridge (in a bread tin lined with cling film to ease removal). The next day I tipped the cake out, topped it with the remaining cream mixture and ground some dark chocolate over the top.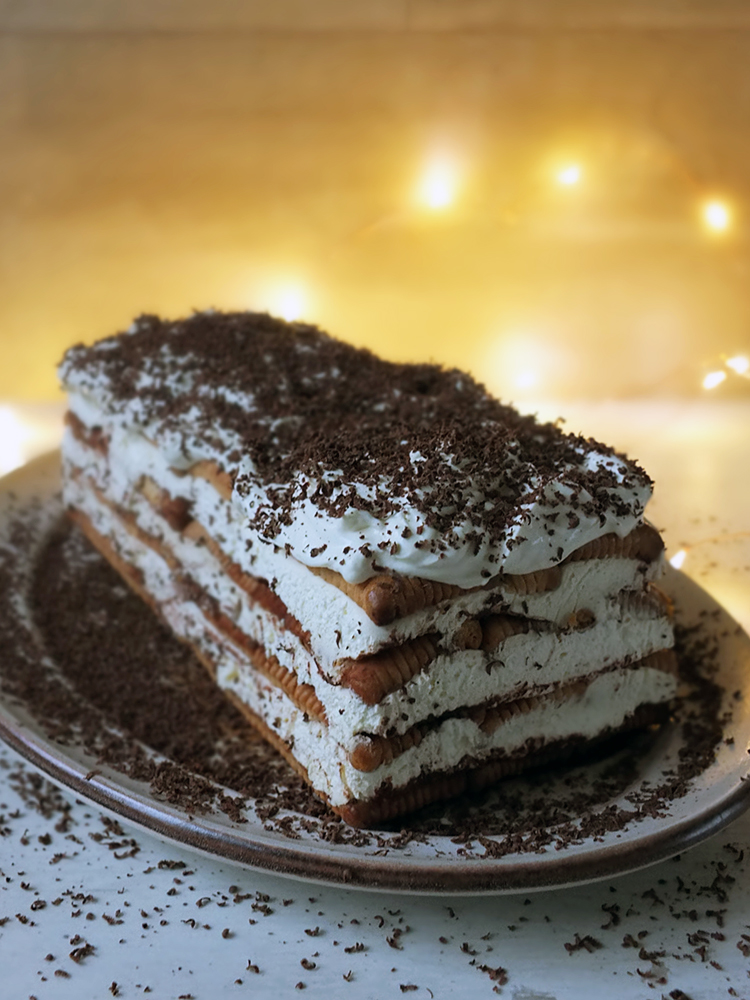 The recipe I made wasn't terribly sweet, but it was rather unusual and delicious. I think if I was to make this again I'd use more icing sugar. Also – this photo was taken at 11:30 am on the 16th of December. See how dark it is in the middle of the day here! Impossible for food photography!
My Bulgarian friend remembers that her aunt used to be a superb torta maker and when she and her siblings were children they were eager to visit her. Her torta/cake took quite a bit of effort to make though. When my friend was a teenager every Friday afternoon she would meet with friends and bring a cake of biscuit and custard layers or sweet salami.
They would eat this later on during their Friday music party or kupon in Bulgarian. They would gather up listen to cool music such as Pink Floyd, Cream, The Beatles, or The Band and eat cake and sometimes pass around a bottle of white or red wine to share amongst all. They would also sing and play guitar and have long philosophical or political discussions. It was a special time of change for Eastern Europe 1989-1991, she recalls.
Have you visited Bulgaria? Do you have any interesting food stories to share? Let me know in the comments!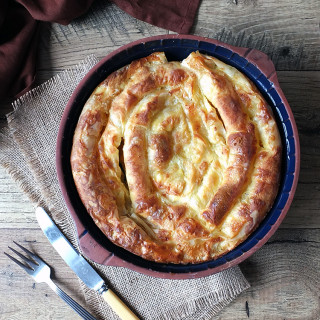 Banitsa - Bulgarian Cheese Pie
A staple dish in Bulgaria which can be eaten hot, warm or cold.
Print
Rate
Affiliate Links
This recipe card may contain affiliate ingredient and equipment links. As an Amazon Associate I earn from qualifying purchases.
Instructions
Preheat your oven to 190 C/ 170 C fan. Lightly grease a 9 inch pie plate and a 9 x 13 casserole dish with a little oil.

Crack the eggs into a medium sized bowl and lightly beat them.

Crumble the white cheese onto the top and stir in. Add the yogurt, oil and water and combine well.

Unroll the phyllo pastry, and working with one sheet at a time lightly drizzle three or four dessert spoons of the egg/cheese mixture over the top. You don't want to saturate the pastry, just sprinkle it. I then used my hands to distribute the mixture evenly across the pastry dough.

Loosely roll the sheet of phyllo pastry up like a log and place into your prepared baking tin in a spiral shape.

Repeat with the remaining layers of pastry.

If there is any mixture left, drizzle it over the top of the rolls of phyllo. Dot with butter and bake for 45 minutes, until golden.

Leave to cool for 20 minutes before slicing. Serve with extra yogurt.

Leftovers can be kept in an airtight container at room temperature for 2 to 3 days. Do not refrigerate as this will cause the pastry to go soggy.
Environmental Information
[amazon_link asins='B015Q9ONJ8,B017BCNJVG' template='ProductCarousel' store='elizskitcdiar-21′ marketplace='UK' link_id='9cb60836-1891-11e8-b628-8b3fbdd14d50′]
OTHER RECIPES USING PHYLLO YOU MIGHT LIKE
Leftover turkey & ham pies with a filo crunch by Fuss Free Flavours
Broccoli, spinach & wild rice phyllo pie by Kellie's Food to Glow
Chocolate Baklava by Tin & Thyme
Mushroom Nut Filo Parcels by Casa Costello
Chicken & Leek Filo Pie by Lovely Appetite
Elizabeth's Kitchen Diary received a hamper of Bulgarian food and a supermarket voucher to help with the cost of ingredients for this recipe post. This post is in collaboration with Expedia and their #WorldonaPlate Challenge.