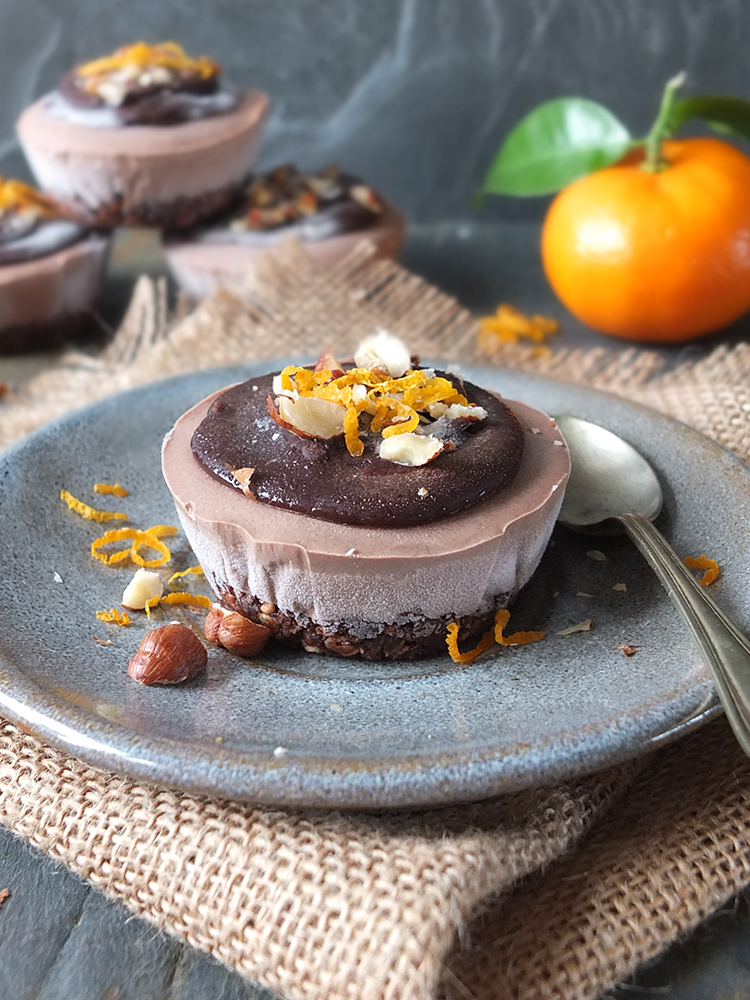 The idea for these raw chocolate and clementine mini cheesecakes with a chocolate hazelnut crust has been bumping around inside my head for quite some time now, ever since I tried The Rawtarian's raw cheesecake recipe a few months ago and was really impressed with how light and creamy the cashew based filling was after blending in my high speed Froothie Optimum 9400 blender.
I was impressed with the consistency, but I thought that flavour wise it could do with some improving, as could the crust recipe: perhaps replacing the macadamia nuts in the crust with hazelnuts, adding some raw cacao (ok, to be honest I used cocoa powder because that's what I had and I wasn't making an hour long round trip to go buy some cacao!), some ground cinnamon, a touch of freshly ground nutmeg and a little bit of coconut oil to help bind it all together better.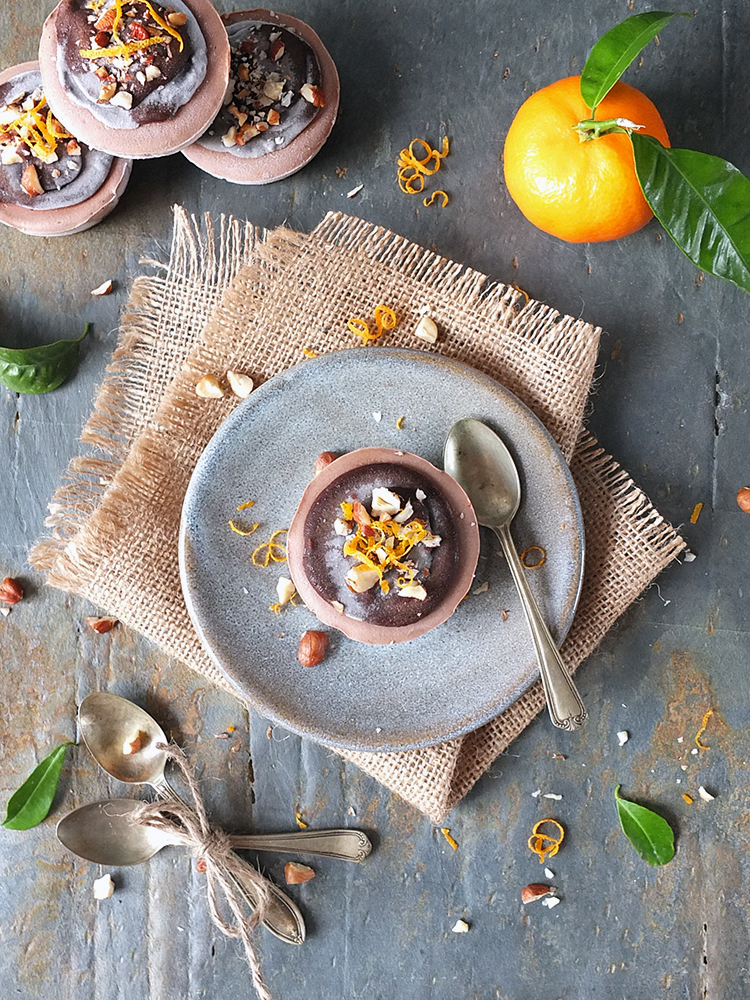 When it came time to prepare the filling I added a little extra maple syrup (pure Canadian, of course!) to sweeten the cocoa powder, used less vanilla and I replaced the lemon juice used in the original recipe with clementine juice (again, this wasn't me being clever – it was borne out of accident – I thought I had loads of lemons left in the fridge, but I didn't – I had loads of clementines and chocolate and orange totally work well together, no?).
I also halved the batch because I'm the only one in my household who will eat such strange foodstuffs, and an entire calorific cashew-based cheesecake recipe is too much cheesecake even for me!
Making little individual cheesecakes in a silicone muffin pan works well too, because it means I can keep these mini freezer cheesecakes stashed in my freezer for up to a week, popping out a serving when I fancy and leaving it to defrost in the fridge for half an hour before eating.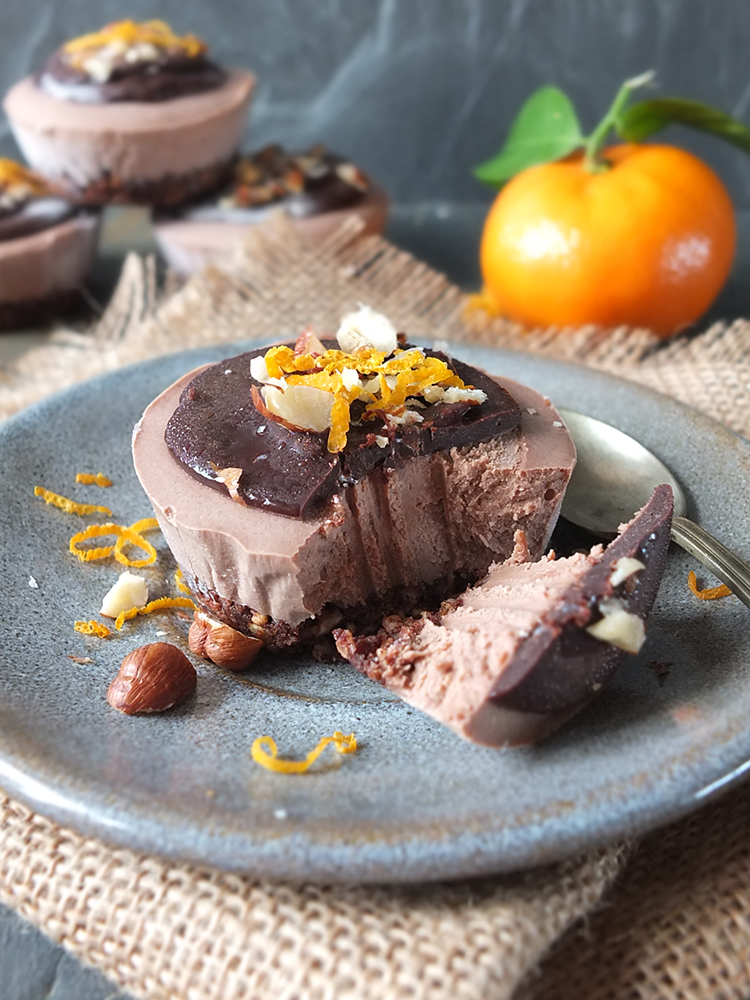 I am so incredibly pleased with my adaptations for this recipe, especially since my previous attempts at making cashew based vegan recipes have been mostly failures (I'm still put off the notion of making cashew cheese after my first attempt turned bright pink, and cashew yogurt, I've come to the conclusion, is simply awful!).
This chocolate cashew filling, however, flavoured with orange, is a gorgeous sweet and creamy custard/mousse when prepared in a high speed blender. You need high speed for this – a food processor or ordinary blender just won't blend and aerate it enough. I might have licked the spoon a few times.
The chocolate hazelnut crust works really well too, just the right amount of sweetness and nobbliness and a touch of coconut oil helps bind it all together well.
The topping adds a nice raw chocolate crunch to the whole thing – a bit like a chocolate coin studded with chopped hazelnuts and orange zest.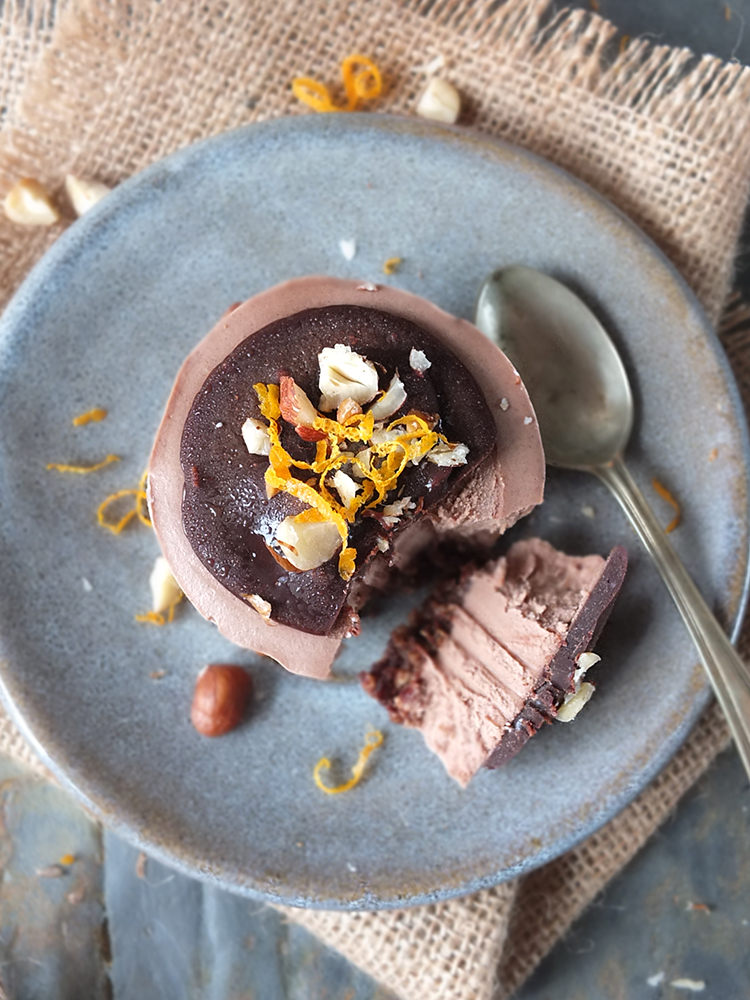 And, if having 12 servings of raw chocolate and clementine cheesecake with a chocolate hazelnut crust for me to enjoy all to myself over the festive period wasn't enough of the happy vibe, the sun came out today.
To be honest, I planned the making of this cheesecake around the sun appearing. My island home lies at 60 degrees North, the same latitude as Oslo, Norway, and the southern tip of Greenland. This time of year we get six hours of daylight. This makes food photography very, very difficult.
This morning my friend Nat who blogs over at Nordic Blackbird (check her out, she's awesome!) shared a few screenshots of some sunrise/sunset app which aptly describes just how little sun we get this far north, and how it just hovers a little bit above the horizon before disappearing again, if we're fortunate enough to have a cloudless sky.
A cloudless sky was predicted for some of today, so I made these cheesecakes in advance so I could take advantage of actually having some natural daylight to work with.
Afterwards, we packed up our things and went and had a lazy Sunday family walk at a nearby beach.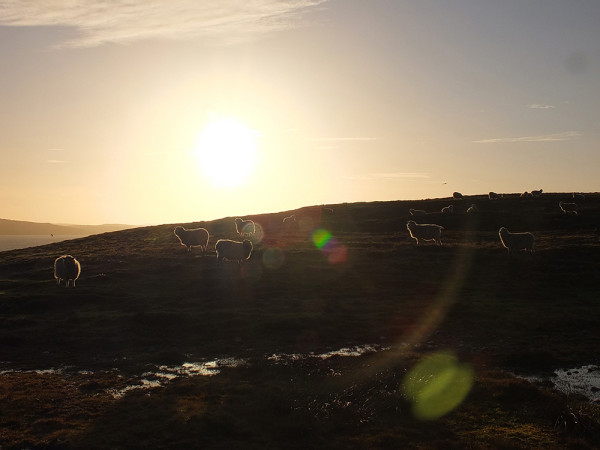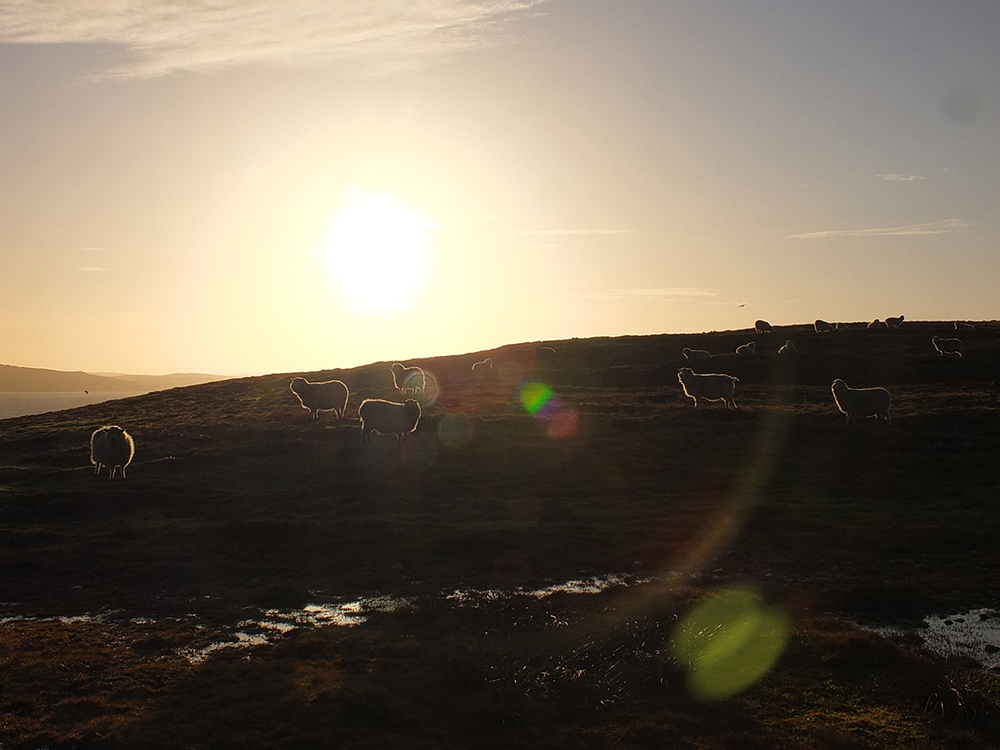 These photographs were taken between 12:15 and 1:30 in the afternoon. I can't think of a better way to spend a lazy Sunday than sitting on a beach with the family throwing smoothed beach stones into an LHD fish box that's washed up onto shore; a fish box that keeps moving each time a new wave comes in.
Bliss.
And now as I finish typing this blog post, there's raw chocolate and clementine cheesecake with a chocolate hazelnut crust defrosting in the fridge waiting for me.
Happy Holidays everyone! 🙂
Ps. If you like this recipe you might also like this vegan chocolate cake from Kate at Veggie Desserts. To die for!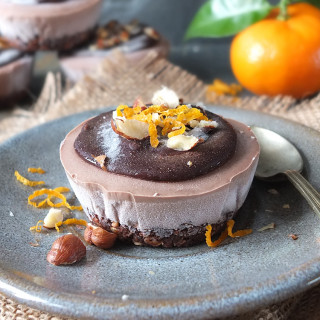 Raw Chocolate & Clementine Cheesecake with a Chocolate Hazelnut Crust
Raw chocolate and clementine mini cheesecakes with a chocolate hazelnut crust.
Print
Rate
Ingredients
Affiliate Links
This recipe card may contain affiliate ingredient and equipment links. As an Amazon Associate I earn from qualifying purchases.
Instructions
Place your cashews in a bowl, cover in cold water and a clean tea towel and leave to soak for 3 to four hours.

Lightly oil the base and sides of a 12 hole silicone muffin tin with some coconut oil.

To prepare the crust, place the all of the ingredients in the bowl of a food processor and process until it forms small knobbly bits. You want it to retain some texture, so don't puree it.

Weigh out your crust and divide equally in between the 12 muffin holes, pressing it gently but firmly into the bottom. Pop the trays in the fridge while you get on with making the filling.

To prepare the chocolate filling, drain the cashews well and place them into your high speed blender (I use a Froothie Optimum 9400) along with the other filling ingredients.

Starting on the low setting, begin to blend the mixture, using the tamper tool to help move it around. Slowly increase the speed of blending and continue to blend until the mixture is thick, creamy and there are no traces of cashew pieces in it. This will take a minute or so.

Carefully spoon the filling onto the top of the cheesecake bases and smooth over with the back of a spoon.

Place in the freezer for at least one hour.

To prepare the topping, combine all the ingredients together in a small bowl and whisk until thoroughly combined.

Quickly spoon a teaspoon of the chocolate topping onto the top of each cheesecake, using a spoon to spread it, Decorate with chopped hazelnuts and orange zest and freeze until needed.

A half an hour before serving, carefully remove the cheesecakes from the muffin tins and leave to defrost in the refrigerator.
Environmental Information


If you want to be kept up to date on my recipes, occasional craft tutorials, adventure stories and giveaways then please subscribe to my weekly newsletter; it gets sent out every Monday morning if there is new content. Your email address won't be passed on to anyone, you will never be spammed and you are free to unsubscribe at any time, no questions asked. Make sure you confirm your subscription or you won't receive the newsletter – if it hasn't arrived check your junk mail folder.
[wysija_form id="1″]
Elizabeth's Kitchen Diary uses the Froothie Optimum 9400 blender, and the Froothie Optimum 600 slow juicer to make her juices, soups and smoothies. These are affiliate links, meaning if you buy a blender or juicer through them we will earn a small commission. This is not a paid post and all thoughts and opinions are our own.