Something a little different for Christmas pudding.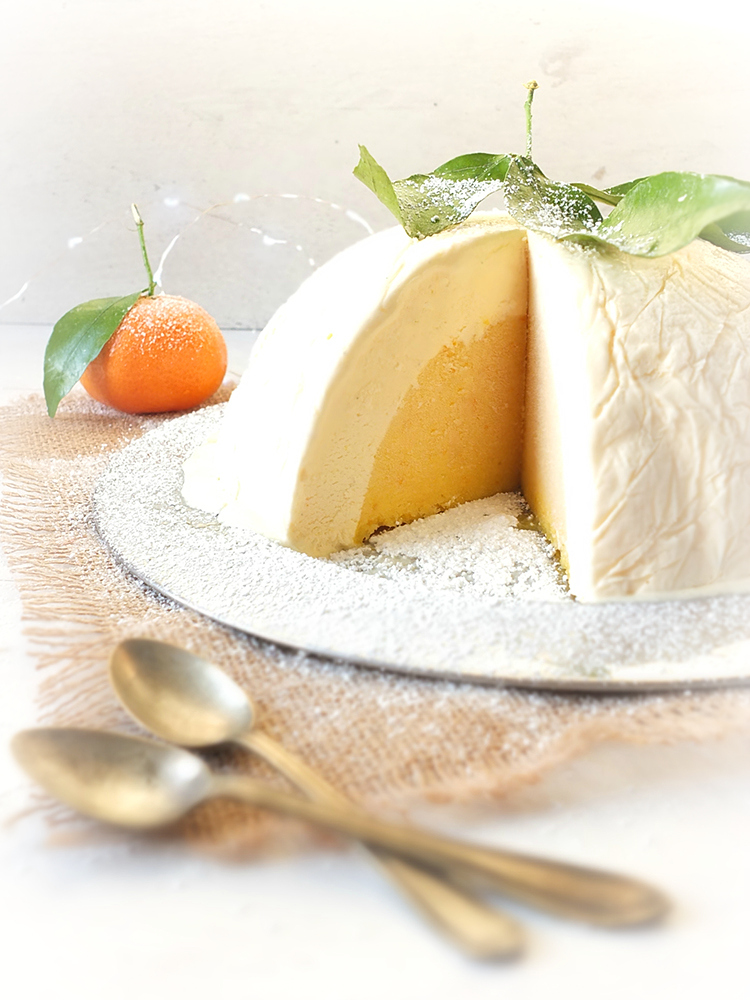 It has many, many years since I last made an ice cream bombe – 14 or 15 of them, to be honest. Back then I'd taken to cutting recipes out of supermarket magazines while I was learning how to cook for my new family.
One Christmas there was a festive food feature in the local Safeway magazine. I tore out the recipe for a white chocolate and clementine ice cream bombe, an intriguing dessert recipe I hadn't heard of before then. It was a no churn ice cream recipe, and as at that time I didn't have an ice cream maker, it was perfect.
I've got an ice cream maker now, thanks to the kind folk at Magimix, and so when I peeked into my fridge the other day and spied five Spanish sweet clementines, complete with their little adorable leaves, and a carton of double cream the first thing that sprang to mind was that white chocolate clementine bombe.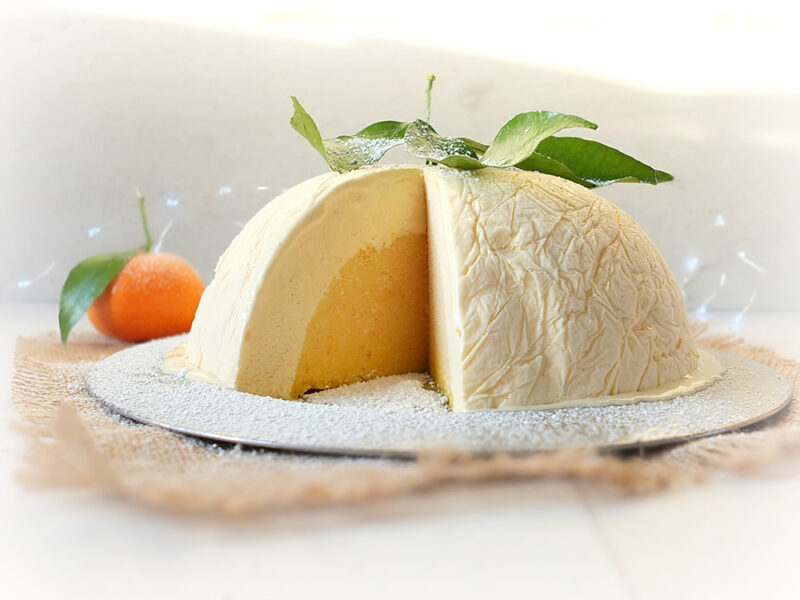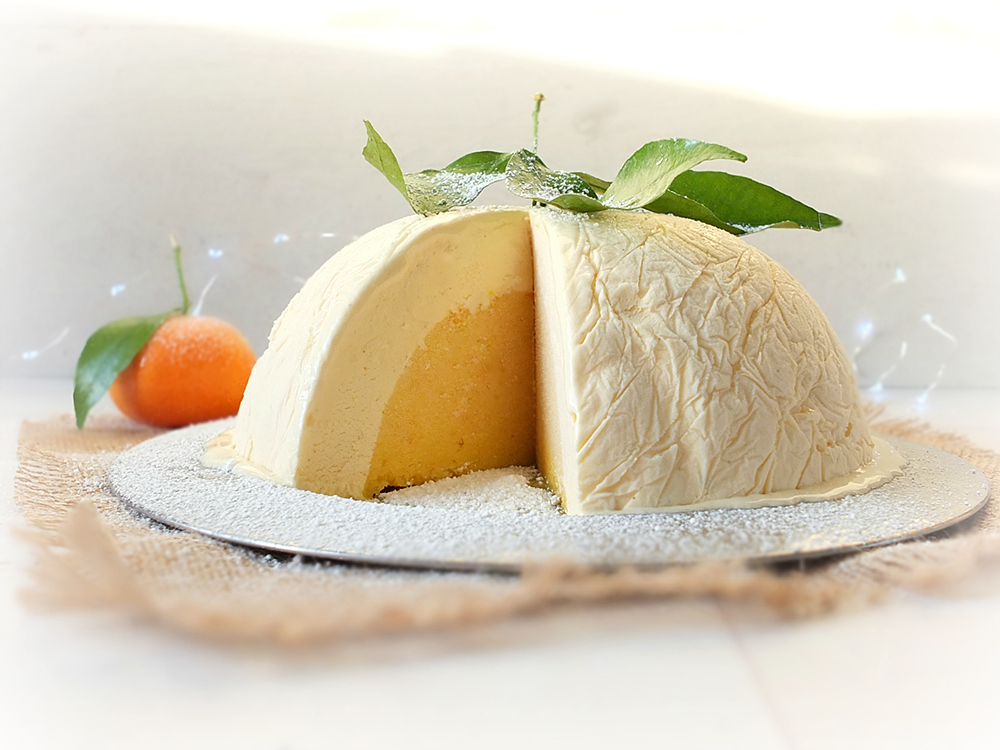 I've changed the recipe for the white chocolate ice cream component completely, adapting the vanilla custard base ice cream recipe that came with my Magimix Le Glacier 1.5 litre ice cream maker, adding some white chocolate and real vanilla seeds. I've been using this brand of ice cream machine for years and years, having treated myself to one (the 1.1 litre one) for my birthday about 8 years ago.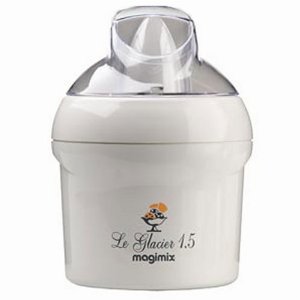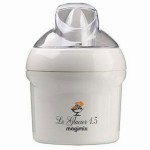 It's a fantastic machine – you keep the stainless steel bowl in the freezer so it's ready for when you fancy making ice cream or sorbet, and the booklet that comes with it is full of super recipe ideas like chocolate chip mint (one of my family favourites), rich chocolate and the standard vanilla custard I've already mentioned. I've also got the Ben & Jerry's Homemade Ice Cream & Dessert Book, full of inspirational (but calorific!!) ideas.
The thing is, the 1.1 litre bowl in my old machine, which made 3/4 pint of ice cream, was a fine enough size when we were a family of three with one young child. Now we're a family of five, and the eldest is a teenager – we needed a bigger ice cream maker bowl (that and the fact I broke the old bowl by storing it in a deep freeze under loads of frozen Shetland lamb – word of caution: don't do that). The 1.5 litre machine makes 1.5 pints of ice cream. It's super easy to assemble too, and so if you keep the bowl in your freezer you're never more than 20 minutes away from home made ice cream!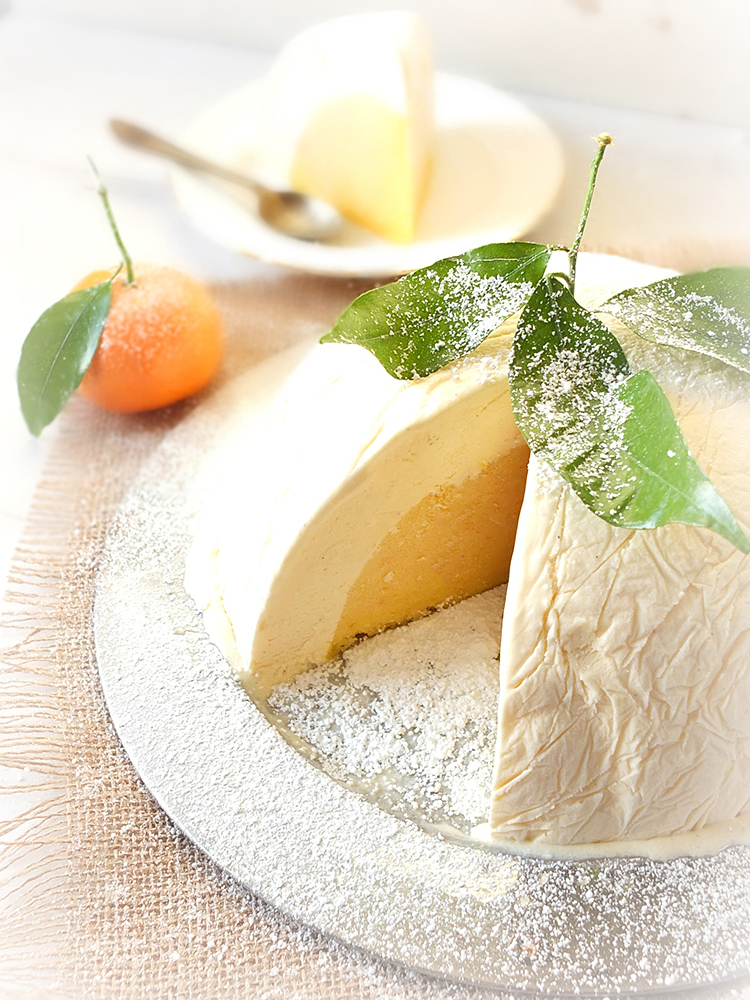 The white chocolate ice cream in this recipe is made from a rich egg custard base flavoured with white chocolate and real vanilla seeds. Use a good quality white chocolate like Green & Black's for the best ice cream.
The sorbet is made from whole clementines, simmered in sugar and water until tender, and then pureed whole, peel included. This recipe is rather shilpet (the Shetland word for eye-twitching sour), the way I like it, but if you prefer a sweeter sorbet increase the sugar content by half.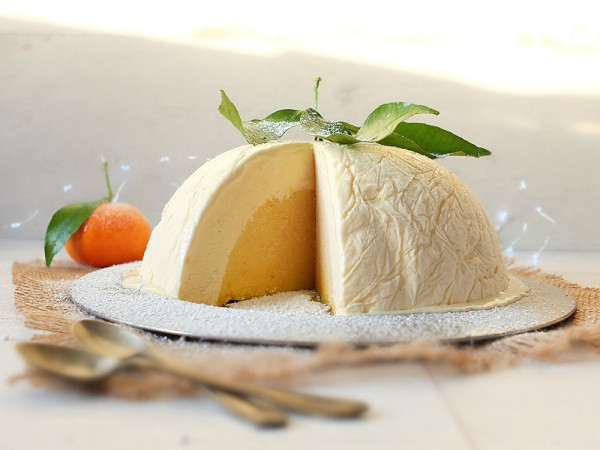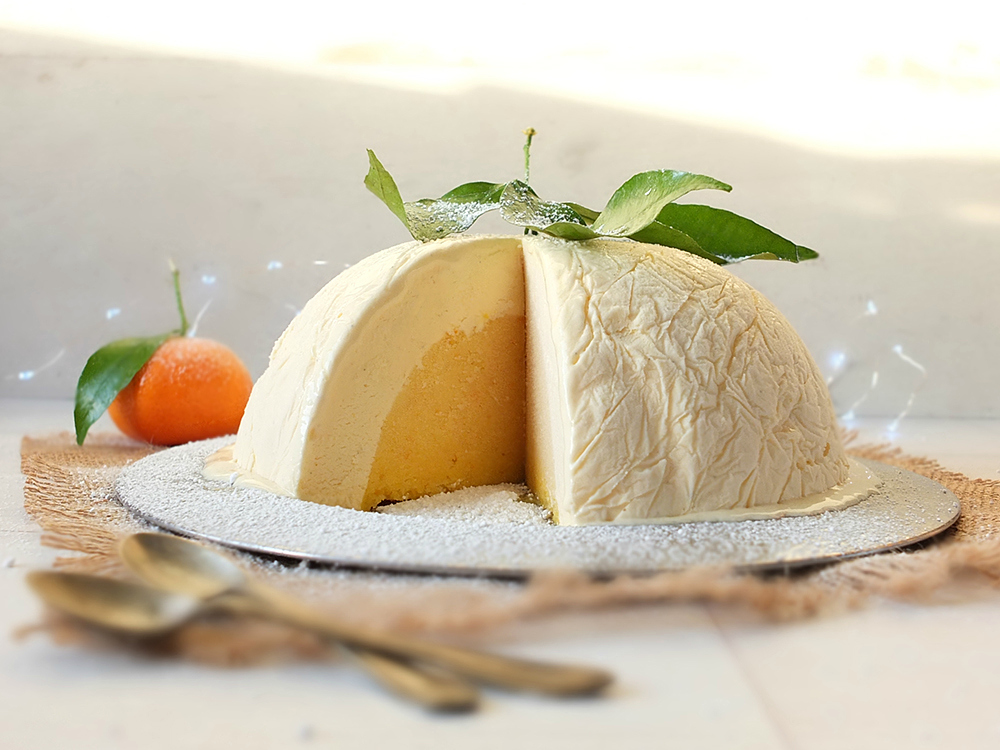 I've also used Goldschlager in my sorbet. The addition of alcohol keeps the clementine mixture from freezing solid, imparting a nice, edible texture. Goldschlager, if you don't know (because I'd never heard of it until I saw a bottle of it on clearance for £10, down from £25), is an imported cinnamon schnapps liqueur containing real gold flakes.
Yes, this ice cream dessert contains flakes of real gold! Rather posh, no?
See that slice that's missing out of the photograph? I might have eaten that in the bath. The life of a food blogger, eh?!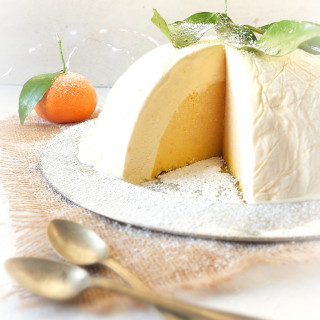 White Chocolate and Clementine Bombe
A white chocolate outer layer with real vanilla encases a tart clementine sorbet flavoured with cinnamon schnapps. An alternative Christmas dessert recipe.
Print
Rate
Ingredients
for the white chocolate ice cream
for the clementine sorbet
Affiliate Links
This recipe card may contain affiliate ingredient and equipment links. As an Amazon Associate I earn from qualifying purchases.
Instructions
To prepare the ice cream, pour the milk into a saucepan and slowly heat it until it reaches boiling point. Do not allow it to boil.

Meanwhile, whisk the egg yolks and caster sugar together until light and creamy.

Whisking continuously, pour the hot milk over the egg mixture and return to the pan.

Heat gently, stirring constantly, until the mixture forms a film on the back of a wooden spoon. You'll be able to drag your finger over the back of the spoon and it will leave a line. Do not let it boil or it will separate.

Remove the custard mixture from the heat and stir in the broken pieces of white chocolate. Stir until melted. Cover in cling film and leave to cool to room temperature.

Add the cream and vanilla seeds and transfer the mixture to the fridge to cool completely for a few hours.

Meanwhile, to prepare the sorbet, coarsely chop the whole clementines and place in a saucepan along with the caster sugar and water. Bring to the boil and simmer, with the lid on, for 10 minutes.

Puree with a hand blender and leave to cool before adding the lemon juice and Goldschlager.

Transfer the mixture to a freezerproof container and freeze for a few hours.

When the ice cream mixture is cold, churn in an ice cream machine.

Line a 2 litre freezerproof bowl with clingfilm and spoon the ice cream into it. Cover the back of a 0.5 litre freezerproof bowl with cling film and press down into the centre of the ice cream to make a well. Place in the freezer for a few hours.

When the ice cream is hard, remove the bowl in the centre.

Transfer the frozen sorbet to a food processor and blend until it is light and creamy. Spoon the sorbet into the hole in the ice cream so that it is level. Return the ice cream to the freezer and leave over night.

To serve, tip the bowl upside down over a serving dish, remove the cling film and dust with icing sugar, if desired. Serve immediately.
Environmental Information


OTHER ICE CREAM BOMBE RECIPES YOU MIGHT LIKE
Christmas Pudding (No Churn) Ice Cream Bombe by Fuss Free Helen
LINKING UP WITH A FEW FOOD BLOGGING CHALLENGES
We Should Cocoa by Tin & Thyme, guest hosted this month by Munchies & Munchkins
Simply Eggcellent by Belleau Kitchen
Recipe of the Week by A Mummy Too
Tasty Tuesdays by Honest Mum
If you want to be kept up to date on my recipes, occasional craft tutorials, adventure stories and giveaways then please subscribe to my weekly newsletter; it gets sent out every Monday morning if there is new content. Your email address won't be passed on to anyone, you will never be spammed and you are free to unsubscribe at any time, no questions asked. Make sure you confirm your subscription or you won't receive the newsletter – if it hasn't arrived check your junk mail folder.
[wysija_form id="1″]
Elizabeth's Kitchen Diary received an ice cream maker from Magimix for review purposes. All thoughts and opinions expressed are our own. This is not a paid post. This post also contains Amazon affiliate links, highlighted in orange, which means if you click through and make any purchase at all via Amazon we will get a small commission and you will be helping to support our family.