A make-ahead Christmas Canapés recipe in collaboration with Tasty, Easy Lamb.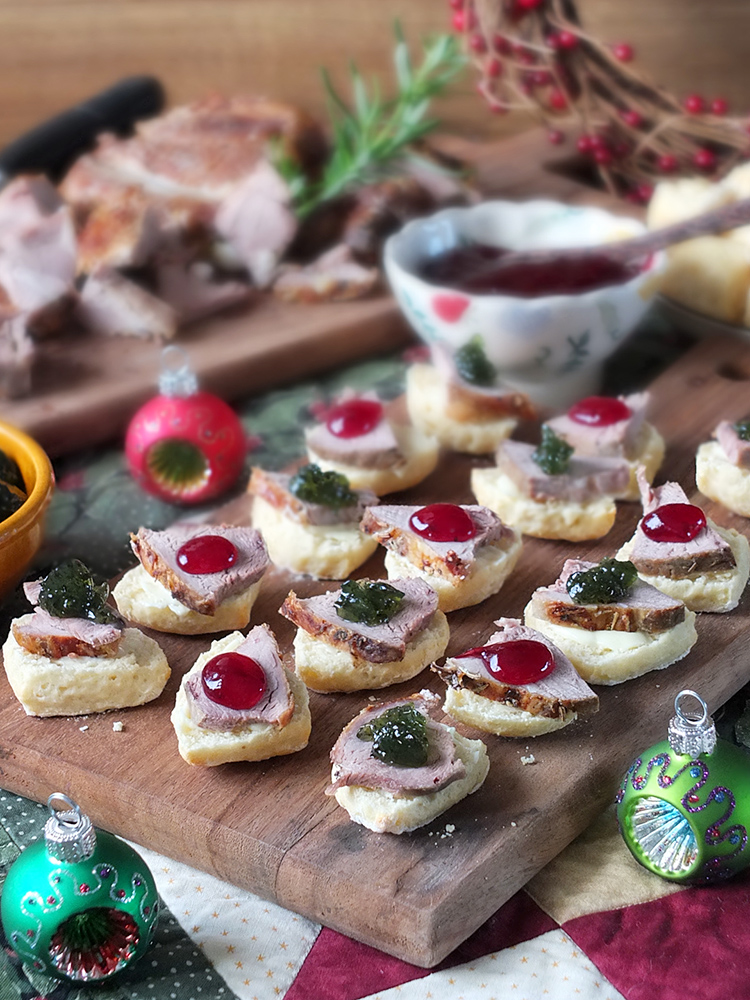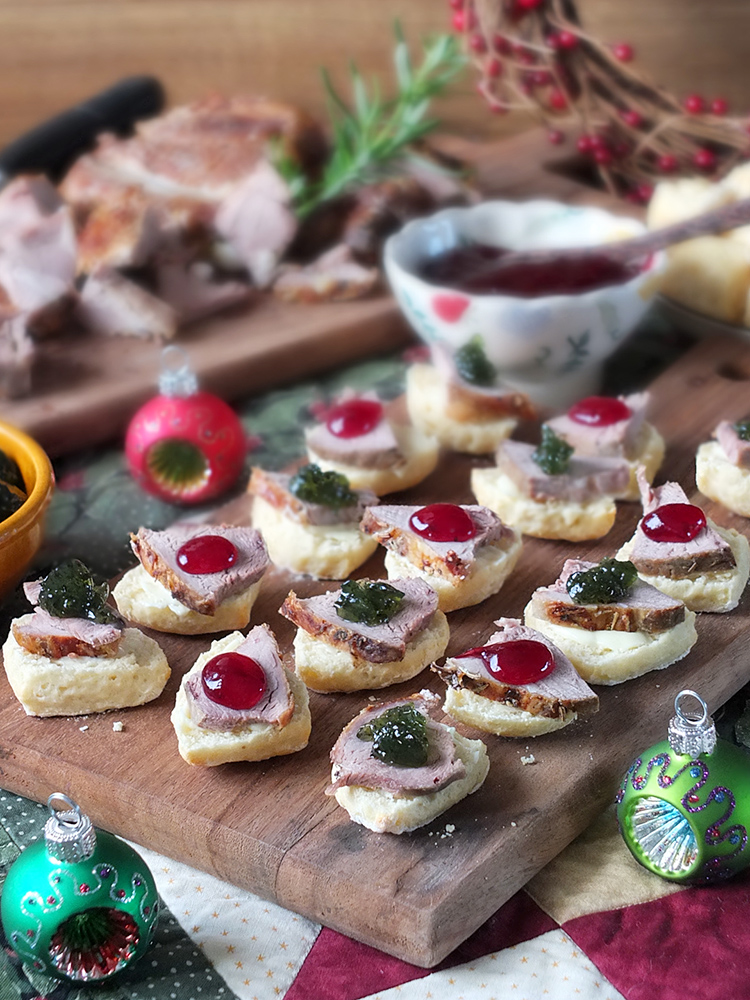 Are you going to be doing some Christmas entertaining this festive season? Looking for an easy, make-ahead canapé recipe? I've got your back covered here with these roasted lamb and mini bannock Christmas canapés!
Here, I've roasted a lamb shoulder with garlic and rosemary and left it to cool. Thin slices of the roasted cooled lamb sit atop some mini bannocks and are finished off with a dollop of mint jelly or redcurrant jelly. It's very simple to make, and the best thing is that you can make them the day before and keep them in the fridge until needed, already assembled!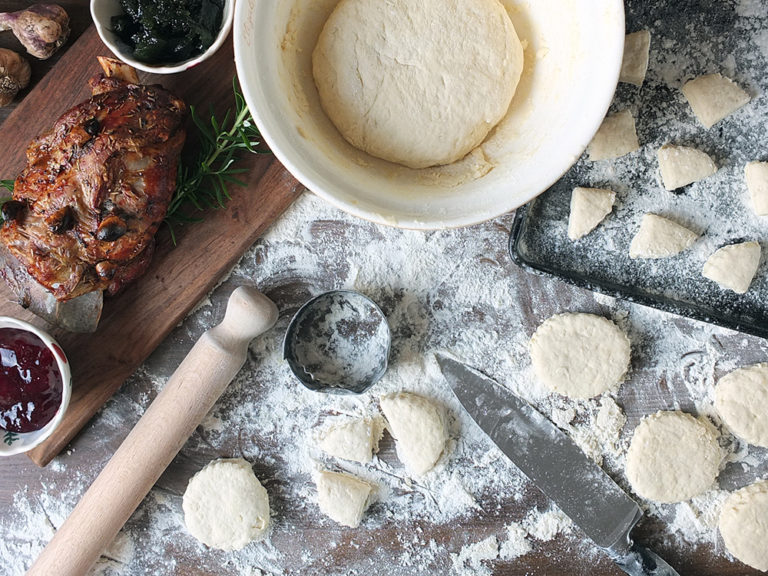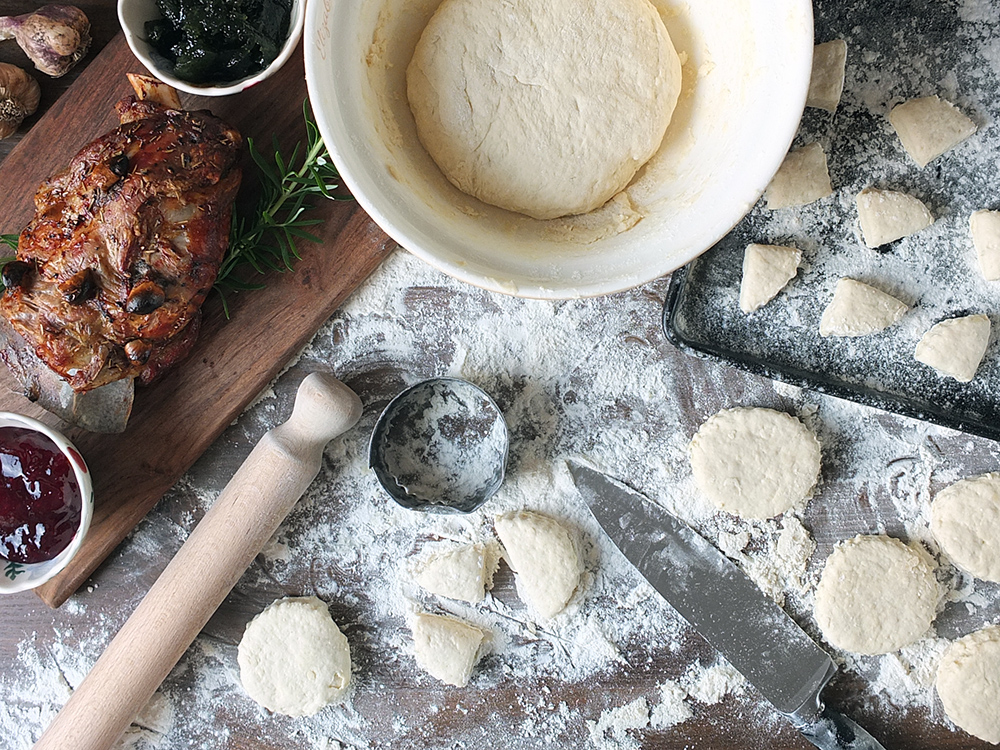 The mini bannocks are adapted from a traditional Shetland bannocks recipe given to me by Peter Sinclair from Hillswick. I've cut them into large circles and then divided each circle into quarters to make the characteristic triangular shape of the local bannock. These make for perfect, slightly sweet, light and fluffy canapé bases that can be made several days in advance.
Ideally, the lamb should be roasted a day in advance too. A night in the refrigerator makes it much easier to finely slice the meat. I've cut mine into quarter inch thick slices, but you could always cut it thinner if desired.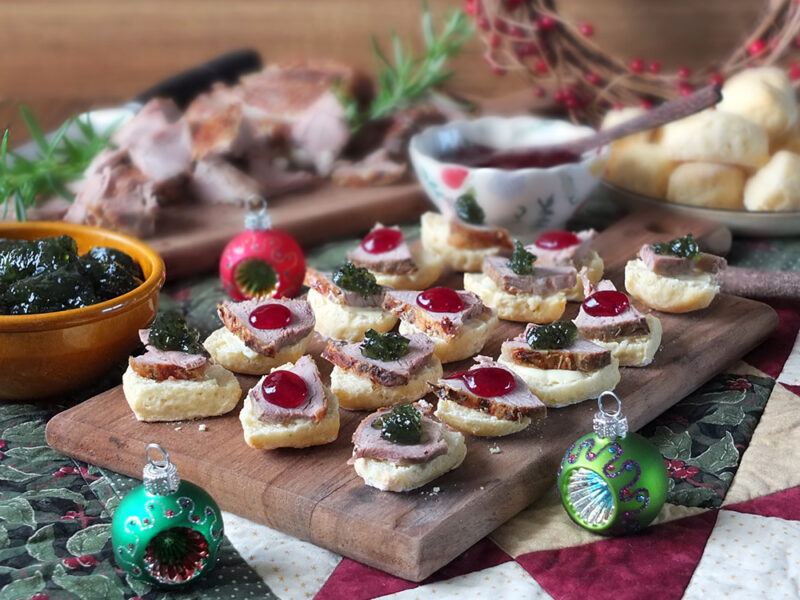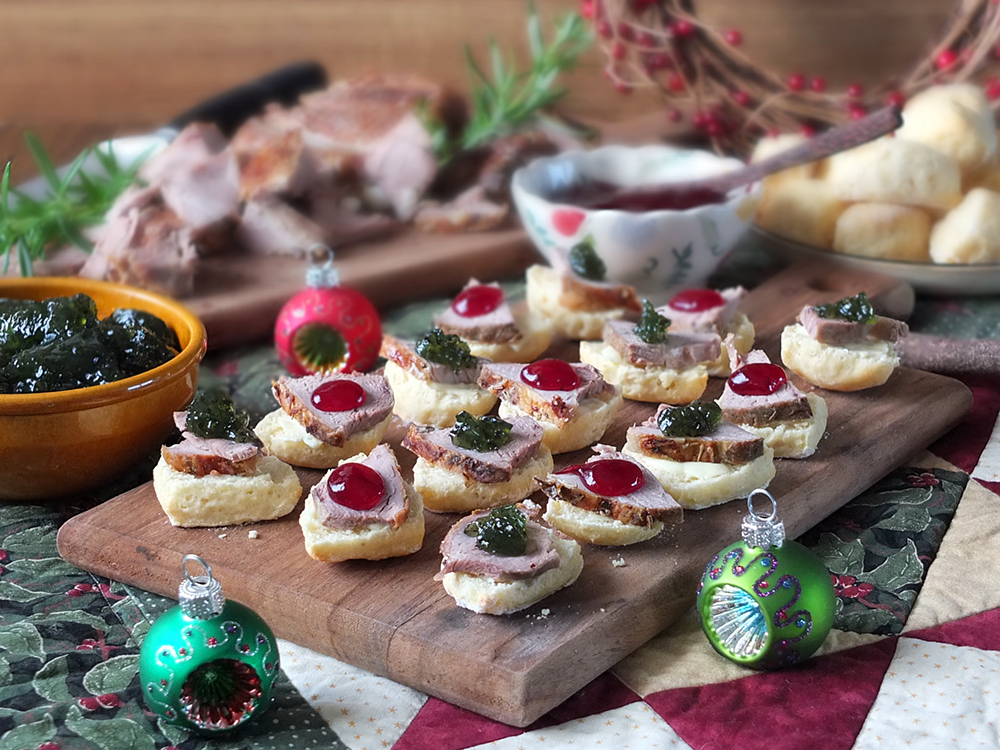 I've topped these Christmas canapés with shop bought mint jelly and red currant jelly. I think it looks rather festive with the reds and greens, and the jelly gives a deliciously sweet flavour to the canapés. Your guests will keep coming back for more!
You could if you wanted a bit more of a kick, top with a little dollop of mustard. Alternatively, why not make Roasted Lamb with Garlic & Rosemary coated with Honey & Mustard and use that for the Christmas canapés?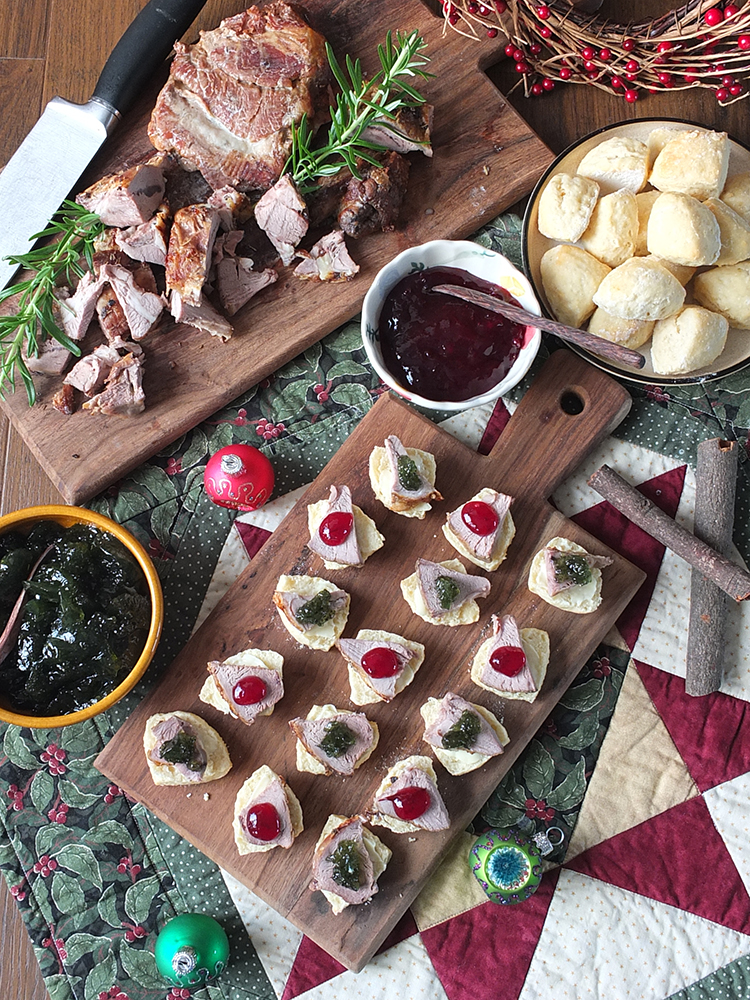 After you've taken all the meat off the bones of your lamb shoulder or leg, reserve them to make delicious homemade lamb stock. You can then use this stock, and any leftover scraps of meat, to make my Leftover Roasted Lamb & Winter Vegetable Soup. The recipe for this will be coming soon! Watch this space!
Christmas Canapés and Festive Entertaining
So what plans have you got for Christmas this year? Any parties coming up? What's your favourite Christmas Canapés recipe to serve at your festive dos? Let me know in the comments!
For more lamb recipe inspiration visit the Tasty Easy Lamb website, and follow them on Facebook, Twitter or Instagram.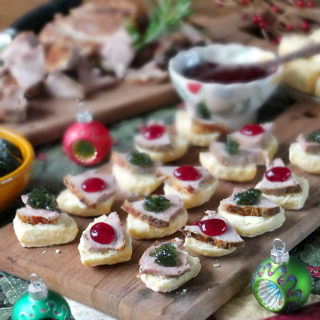 Roasted Lamb & Mini Bannock Christmas Canapés
A simple make-ahead Christmas Canapé of roasted lamb on a mini bannock topped with mint or redcurrant jelly
Print
Rate
Affiliate Links
This recipe card may contain affiliate ingredient and equipment links. As an Amazon Associate I earn from qualifying purchases.
Instructions
to roast the lamb
Preheat oven to 230 C/ 200 C fan.

Place the lamb in a roasting tin. Using a sharp knife, cut one inch deep marks and insert the garlic cloves.

Drizzle with the olive oil, sprinkle with rosemary and roast, uncovered for half an hour.

Reduce the heat to 180 C/ 160 C fan and roast for a further 45 minutes for medium or 60 minutes for well done.

Allow the meat to come to room temperature and then refridgerate until cool; ideally overnight.
to prepare the mini bannocks
Preheat oven to 180 C/ 160 C fan/ gas mark 6 and flour a baking tray.

Combine flour, butter and sugar in a bowl and rub together with your fingertips until it resembles coarse breadcrumbs.

Add the egg, buttermilk and enough plain yogurt to make a soft, kneadable dough.

Turn out onto a floured surface and roll to a thickness of 1 cm.

Cut out large circles using a fluted cutter, and then cut into quarters using a sharp knife.

Arrange the mini bannocks on the floured baking tray and bake for 10-15 minutes, until golden browned on top.

Transfer to a wire rack to cool completely. Store in an airtight container until needed.
to assemble the canapés
Carefully cut each mini bannock in half with a bread knife. Butter each half and arrange on a serving platter.

Top with a 1/4 inch slice of cold roast lamb and a dollop of mint or red currant jelly .

Can be made a day in advance and kept in the fridge until needed.
Notes
Reserve the bones and any leftover bits of roasted lamb to make my Leftover Roasted Lamb & Winter Vegetable Soup recipe.
Environmental Information
OTHER LAMB RECIPES YOU MIGHT LIKE
Slow Cooked Lamb Shanks with Vegetables & Gravy
Indian Tapas: Lamb, Pea & Potato Mini Samosas
Slow-Cooked Lamb Casserole with Broad Beans & Apricots
Ten-Minute Honey Ginger Lamb Stir-Fry
Grilled Lamb Kibbeh Kebabs
Slow-Roasted Rack of Lamb with a Creamy Mustard Tarragon Sauce
BBQ Lamb Leg Steaks in a Herb Marinade
Leftover Roast Lamb & Mint Sausage Rolls
Quick & Easy BBQ Lamb Skewers
15-Minute One-Pan Lamb & Quinoa Midweek Supper
Street Food: Brazilian-Style Lamb Kibe
Chilean-inspired Lamb Burgers with Pebre & Marraqueta Buns
Brazilian-inspired Lamb Feijoada with Mango Salsa
Slow Cooker Lamb Chilli with Pasilla Peppers
Argentine-inspired Lamb Chops with Chimichurri
Lamb Casserole with Ale
Slow-cooked Shetland Lamb Casserole with Creamy Herbed Polenta
Pastitsio – Greek Macaroni Pie
This is a commissioned recipe for Tasty, Easy Lamb. Thank you for supporting the brands who make it possible for me to do what I love: mess up my kitchen and share recipe stories!
[color-box]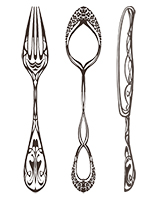 Have you made this recipe?
Take a photo and tag @tangoraindrop or use the hashtag #elizabethskitchendiary and share on Instagram and Twitter. It would make my day to see your creations!
[/color-box]