I could not contemplate a Christmas without these little whipped shortbread cookies. This recipe came with me in my battered old notebook when I immigrated across the big pond from the East Coast of Canada to Shetland, my remote island home in the North Sea, and I make them year after year at Christmas-time.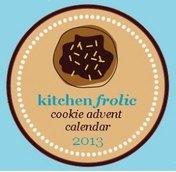 This year I've shared the recipe and the story behind it in my very first guest post over at Kitchen Frolic, a Canadian food blog by the lovely Stephanie and Paul. They blog about their foodie adventures in Toronto and for the second year running they've organized a Cookie Advent Calendar, where in each day in December leading up to Christmas they share a cookie post written by a guest blogger.
Do pop on over and have a look see – there are loads of fantastic Christmas cookie recipes to discover and make!
Kitchen Frolic Cookie Advent Calendar 2013