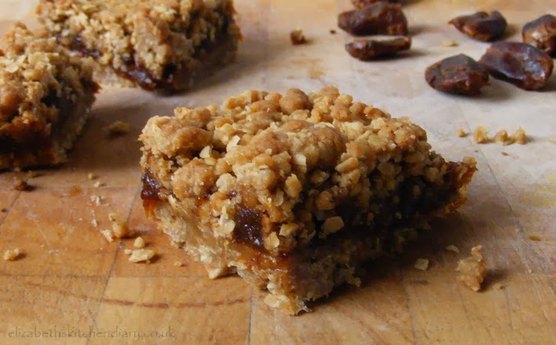 When I was a little girl date squares were a peculiar sweet that only old people ate. When I was little old meant anyone over the age of thirty. I couldn't understand the appeal of them – why would you select one of these unappetising brown squares off the village pot-luck sweet table when you could pick something bright, colourful and clearly covered in sugar. Sugar cookies yes, cupcakes yes, date squares? Definitely not.
I'm now in my mid-thirties and I confess I'm a convert. I love date squares now. I guess my childhood theory has proved to be true – you have to be 'old' to appreciate them. Saying that, I was in my mid-twenties when I started tweaking with my grandmother's date square recipe and came up with my own version to suit my tastes: not too sweet with a generous orange flavoured sticky date layer sandwiched between two crumbly buttery oat layers.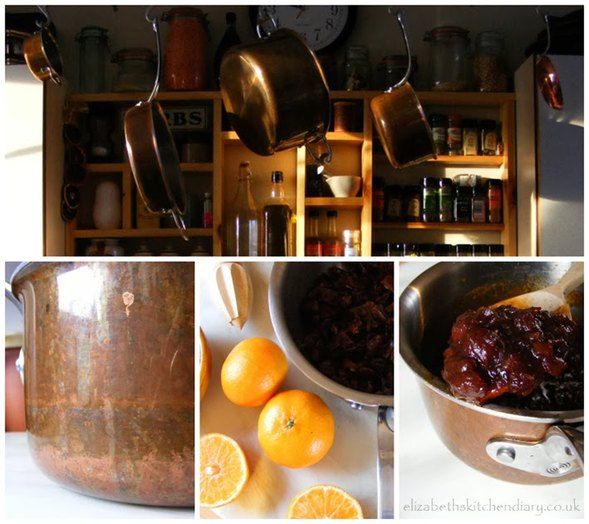 I thought this might be a good time to update you on my gorgeous Proware tri-ply copper pan set. A few months ago the fine folk at Proware sent me a selection of their pans to play with and I am very much in love with them. When they arrived they were shiny and glinting like treasure (see photos here) but I've deliberately let them tarnish naturally just to see what they would look like. Like a fine wine or cheese they are only improving with age, but then I find the colours formed by tarnishing metal to be extraordinarily beautiful.
They're remarkably easy to clean too. I've accidentally burnt food in them and food has stuck to the base (like porridge and the sticky date filling for these squares) but they've cleaned perfectly every time after just a short soak and scrub with a soft brush. I can't emphasise how much I love these pans – as you can see from the photo above they've replaced my old stainless steel ones on my pan rack (pictured above in my blog banner)!
If you're at a loss for a last minute Christmas idea for any cook in your life I would suggest one of these pans would be perfect. The whole range is available exclusively from Lakeland. There is a 3 for the price of 2 special offer on just now and free postage on UK orders over £30. A perfect gift idea – but get your order in before the 19th of December to ensure delivery in time for Christmas.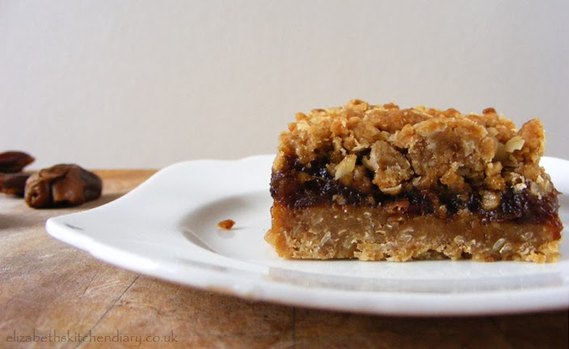 A final note on the date squares recipe: these freeze splendidly, so you can make up a batch, leave them to cool, cut into squares and freeze until needed. They go really well in a packed lunch too!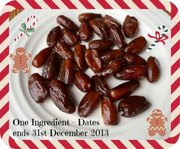 This month's One Ingredient challenge co-hosted by Laura over at How To Cook Good Food and Nazima at Franglais Kitchen is all about dates.
Laura asked us food bloggers to share our date recipes and this recipe is, by far, my most favourite way to cook with dates. I'm sure once you try one it will be your favourite as well. 🙂 If you're looking for another date recipe, you really ought to try these date flapjacks from Jane over at The Hedgecombers.
Spelt and Orange Date Squares
A generous orange flavoured sticky date filling sandwiched between two crumbly buttery oat layers. Not just for old people!
Ingredients
For the Orange Date Filling
250 grams chopped, pitted dates
125 ml freshly juiced orange juice
125 ml lukewarm water
115 grams light brown muscovado sugar
For the Base/Topping
175 grams plain flour
50 grams spelt flour
200 grams unsalted butter
165 grams light brown muscovado sugar
1/4 tsp bicarbonate of soda
140 grams porridge oats
Instructions
1. Combine the first four ingredients in a medium sized saucepan.
2. Heat over a medium heat and simmer, stirring occasionally, until thick and reduced, about 5-10 minutes.
3. Set aside to cool completely. Meanwhile, preheat oven to 180 C and grease an 8 inch square baking tin (silicone works best)
4. Rub flours, sugar, bicarbonate of soda and butter together until it resembles fine breadcrumbs.
5. Stir in porridge oats until well combined.
6. Spoon half the oat mixture into the base of the prepared tin and press down firmly.
7. Spoon the cooled date mixture onto the base and spread evenly to cover.
8. Sprinkle remaining oat mixture on top of the date mixture, pressing down gently.
9. Bake 25-30 minutes, until golden brown on top.10. Leave to cool completely in the tin before cutting into 16 squares.
Details
Prep time: Cook time: Total time: Yield: Makes 16 squares
Elizabeth's Kitchen Diary was sent a complimentary set of Proware Tri-ply copper pots and pans to review. All opinions are my own and I was not required to write a positive review. This is not a paid post.