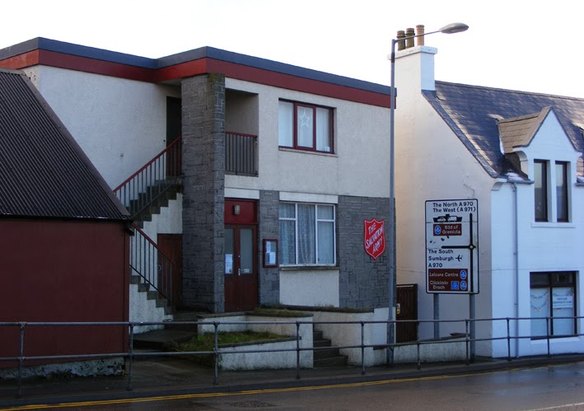 My regular readers will be aware that I participate in quite a few monthly food blogging challenges. These challenges provide a great opportunity to experiment with ingredients, encourage creativity and broaden ones food horizons. They sometimes introduce me to ingredients (and people) I never otherwise would have encountered, like today.

One of these blogging challenges is the fantastic Credit Crunch Munch co-hosted by Helen over at Fuss Free Flavours and Camilla at Fab Food 4 All.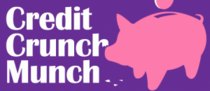 In this challenge we are usually asked to share our frugal recipe ideas, except this month it is a little bit different. This month we were asked to use our websites to shout about the issue of food poverty. Helen (this month's host) says that as bloggers we have influence and a voice, and this month she wants us to use this voice to spread the word about food banks.
My first question when I read this challenge was: "Is there even a food bank in Shetland?" I genuinely had no idea.
Shetland, my island home with a population just over 22,000, is a remote subarctic archipelago in the North Sea, closer to Norway than the mainland of Scotland. It has a thriving economy with low unemployment rates.
My investigations led me to the Salvation Army in Lerwick, Shetland's main town, and to the extremely friendly and welcoming Corps Officer Angela Nunn, who single handed runs Shetland's only food bank.
The Salvation Army collects donations of food and toiletries from churches and the community to operate a distribution service to people who find themselves in desperate need. The Lerwick branch is the third largest in the North Scotland division in terms of distribution.
Angela took over the running of the food bank in July 2011 and she says there has been a sharp increase in need over the last few years. This year has already seen the distribution of 259 food parcels to households referred to her through external services such as the mental health team, benefits office, social services, criminal justice, drugs and alcohol team or housing, up from 161 last year. A further 44 boxes will be distributed on Christmas Eve, ensuring bellies won't go hungry over the holiday season.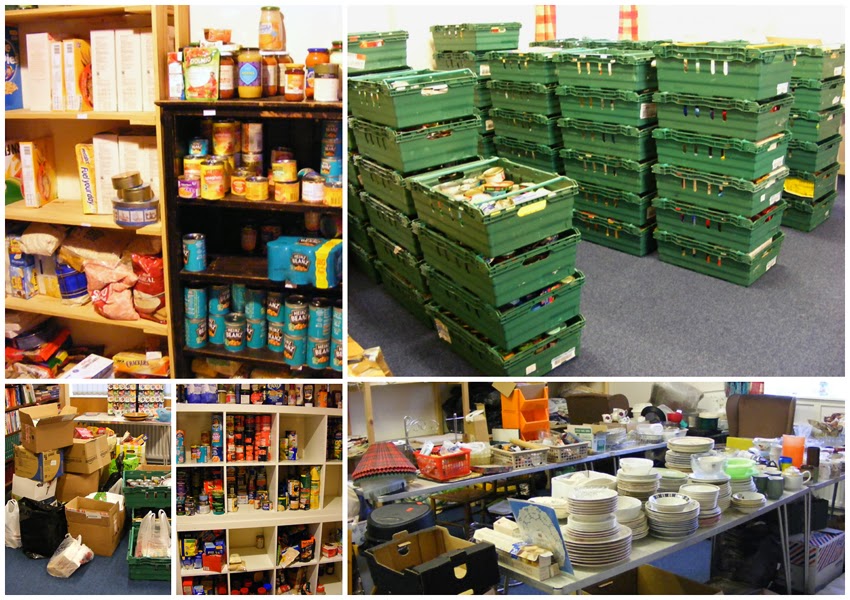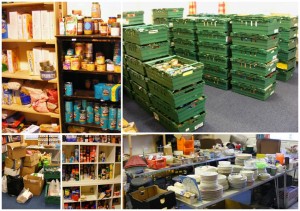 Approximately £10,000 worth of food has left the Salvation Army in Lerwick this year alone. They rely entirely on donations to fill their food parcels, donations which come through local church groups and schools, boxes filled by visitors to the Citizen's Advice Bureau and Market House (Voluntary Action Shetland) as well as donations made by customers and staff at Tesco in Lerwick.
Tesco has been working alongside Fareshare, a national UK charity supporting communities to relieve food poverty, since last Christmas and has so far completed three Foodbank campaigns. The last one at the end of November filled 75 boxes (pictured above, top right).
Tesco Lerwick store manager Paul Clelland says, "In Shetland we asked for permission to donate food locally as we felt it was important support people in need on our doorstep. As a result we entered into partnership with the local Salvation Army.
Our Foodbank events give us another opportunity to use our scale for the benefit of our local community. We're a busy store with many loyal customers and we are able to raise awareness of issues that are out there. This gives both our Customers and our Colleagues the opportunity to support good causes at home in Shetland and further afield.As household budgets come under more pressure food poverty is an increasing problem in the UK. Foodbank gives us the opportunity to show we care and help out those who are vulnerable especially at this time of year."
Angela says that living costs in Lerwick are 33% dearer than living in a city on the mainland, and living in rural Shetland adds further 15-30%. The rising costs of food, including transport costs to Shetland, make things even more expensive. I found out today that Tesco Lerwick absorbs their transport costs themselves, selling their products at the same price as their mainland shops.The majority of Angela's clients are people just starting benefits, those who have switched from one benefit to another leaving a gap of several weeks with no income and those who have come off benefits to start working."When you start working," she says, "your benefits are cut off immediately. However, it often takes several weeks before a wage packet arrives. This means there are several weeks with no income and no way to feed your family."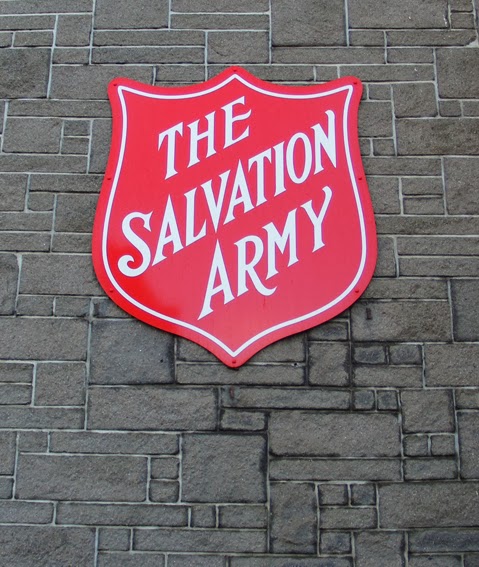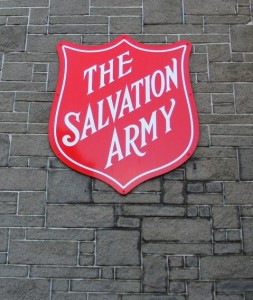 "There is really good community support in Shetland," Angela continues, "It took a long time to raise awareness of poverty in the community, but people are really kind once they realise there's a need, and that's really heartening".
"There is a lot of stigma surrounding food banks. People will only come when they haven't eaten for a few days, when there is only a yogurt pot left in the fridge. It helps them to know that these donations come directly from people who care."
Angela says that the food parcels are packed up in supermarket labelled carrier bags, so it looks like clients have been shopping. The service she provides at the Salvation Army aims to make people feel that they can come along without feeling judged.
This is something I can relate to, having found myself at the tender age of 20 requiring the services of a food bank back in an east coast Canadian city. Through job lay-offs and unfortunate circumstances my flat mates and I found ourselves only just able to scrape together enough money to pay the rent and bills, leaving absolutely nothing left over for food that month. We went to the food bank feeling humiliated and ashamed, although the people at the food bank itself had done nothing to make us feel that way. The warm and welcoming atmosphere at the Lerwick Salvation Army should hopefully reassure clients and alleviate any negative feelings.
In addition to food, the Salvation Army in Lerwick started accepting donations of household goods and equipment (pictured above, bottom right) in March of this year, which is proving successful.
The Salvation Army try to fill their boxes, which can last up to ten days, with a healthy variety of foods including tinned fruits, vegetables and meat, dried pasta and rice, sauces, cereals and bread, cheese and butter from the freezer. The Christmas boxes will include Shetland mutton. I noticed, when Angela showed me the store room, that the ingredients for one of my favourite standby frugal family dishes – macaroni pasta with tuna and sweetcorn – were all on the shelf. I've shared the recipe below. Using the lowest priced ingredients on the Tesco website this frugal meal for four totals up to 47 pence per serving!
On the mainland you can donate to the Salvation Army's 2013 Christmas appeal, or to help out here in Shetland contact Angela on (01595) 693094 or email angela(dot)nunn(at)salvationarmy(dot)org(dot)uk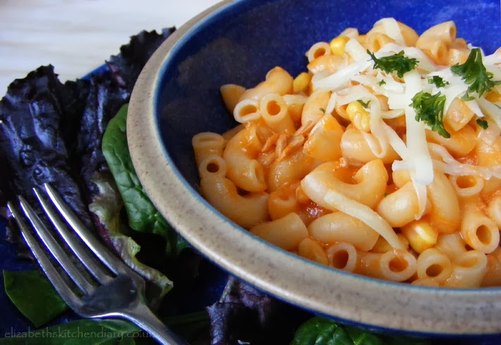 Macaroni Pasta with Tuna and Sweetcorn
A quick and tasty frugal family dish. Serve with plenty of grated cheddar cheese and a pinch of cayenne for some heat.
Ingredients
250 grams dried elbow macaroni
1 x 160 gram tin tuna in oil or spring water
1 x 198 gram tin sweetcorn
1 x 100 tin cream of tomato soup
40 grams cheddar cheese, grated
pinch cayenne pepper (optional)
Instructions
1. Boil water in kettle and pour into a large saucepan.
2. Cook macaroni according to package instructions, 8-10 minutes.
3. Drain pasta and return to saucepan along with the tuna, sweetcorn and soup.
4. Heat for a further 2-3 minutes until warmed throughout.
5. Serve with grated cheddar cheese on top and a pinch of cayenne, if desired.
Variation: Instead of tuna brown 250 grams beef mince and add along with the soup, substitute sweetcorn for frozen peas and drop chunks of mozzarella cheese on top. Pop under the grill until the cheese melts and serve immediately.
Details
Prep time: Cook time: Total time: Yield: Serves 4
Money saving tip #1: when you've used up all the parsley from your supermarket potted parsley plant, stick it in the ground in your garden or in a large outdoor pot and the parsley will continue to grow! The parsley garnish pictured above has been growing in my garden from a supermarket plant now for three years, at least!
Money saving tip #2: Use frozen sweetcorn instead of tinned to reduce the price even further.
I am sharing this recipe with this month's Pasta Please by Jacqueline from Tinned Tomatoes' (guest hosted by myself this month!) as the theme is midweek dinners: from packet to plate in less than thirty minutes. This dish takes only fifteen (I've timed it!), so it fits the bill perfectly!