Canada's favourite confection: a nutty chocolate base layered with sweet buttercream and topped with dark chocolate. Perfect for potlucks or afternoon tea. Blog post originally published in October 2012 and republished, with better photos and a printable recipe in 2018.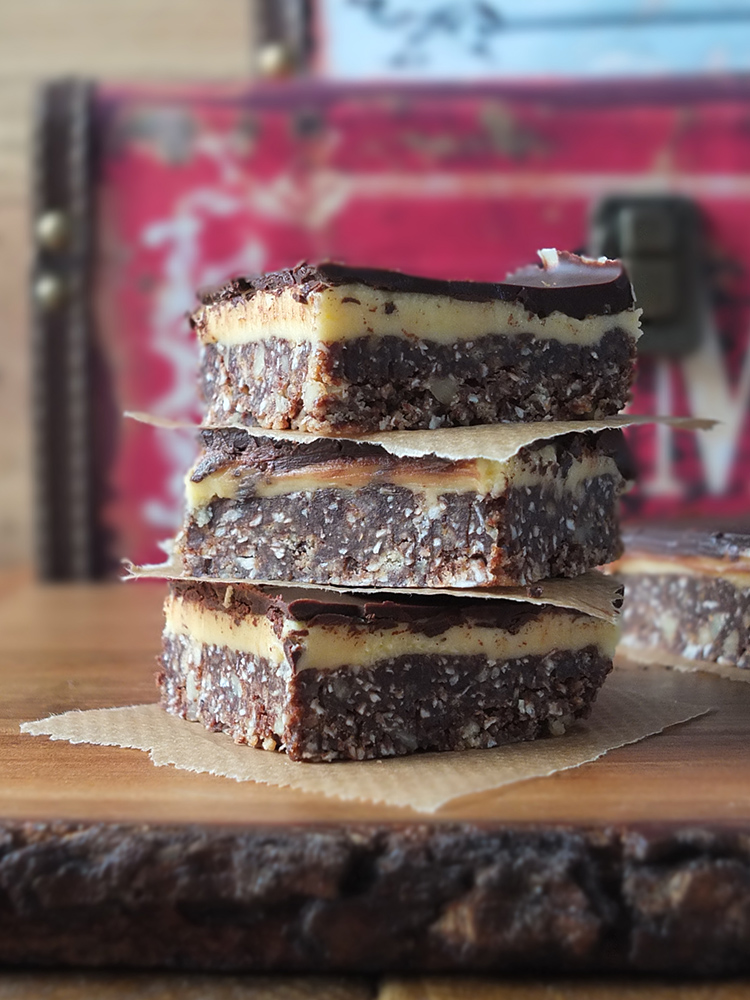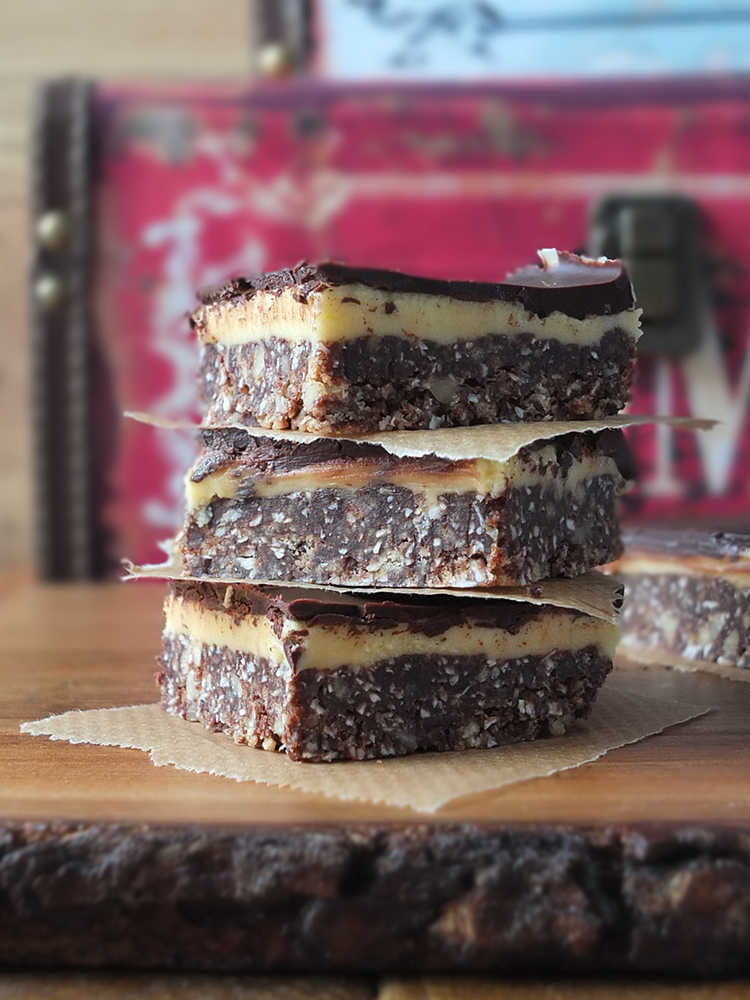 Nanaimo bars were one of my favourite squares when I lived in Canada but it was only in 2012 that I started making them myself. Why it took me so long to make them at home I do not know. My partner asked me, after his first ever bite of a Nanaimo bar a year (six, now, at the time of editing!) ago, why I kept this confection a secret for so long!
The creation of the Nanaimo bar has been attributed to Mabel Jenkins sometime in the early 1950s who lived near Nanaimo, British Columbia, not too far away from where I was born. These sweets have since become Canada's favourite confection. Just try them and you see will why!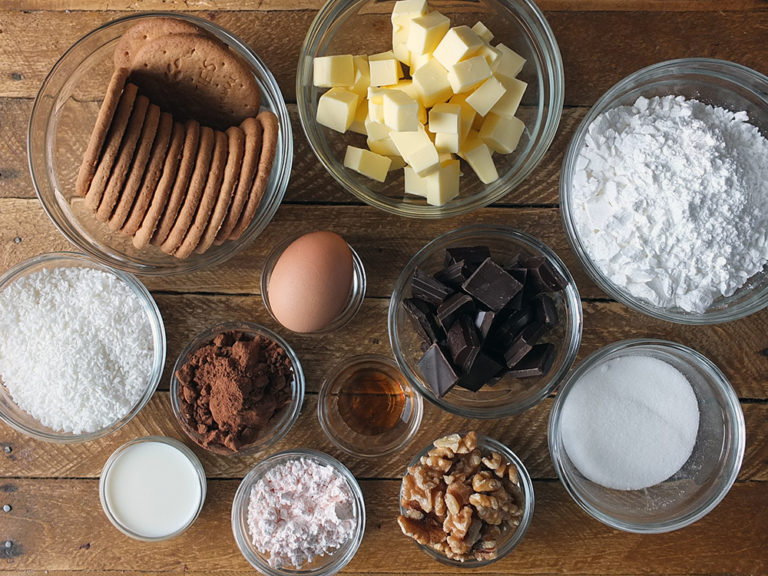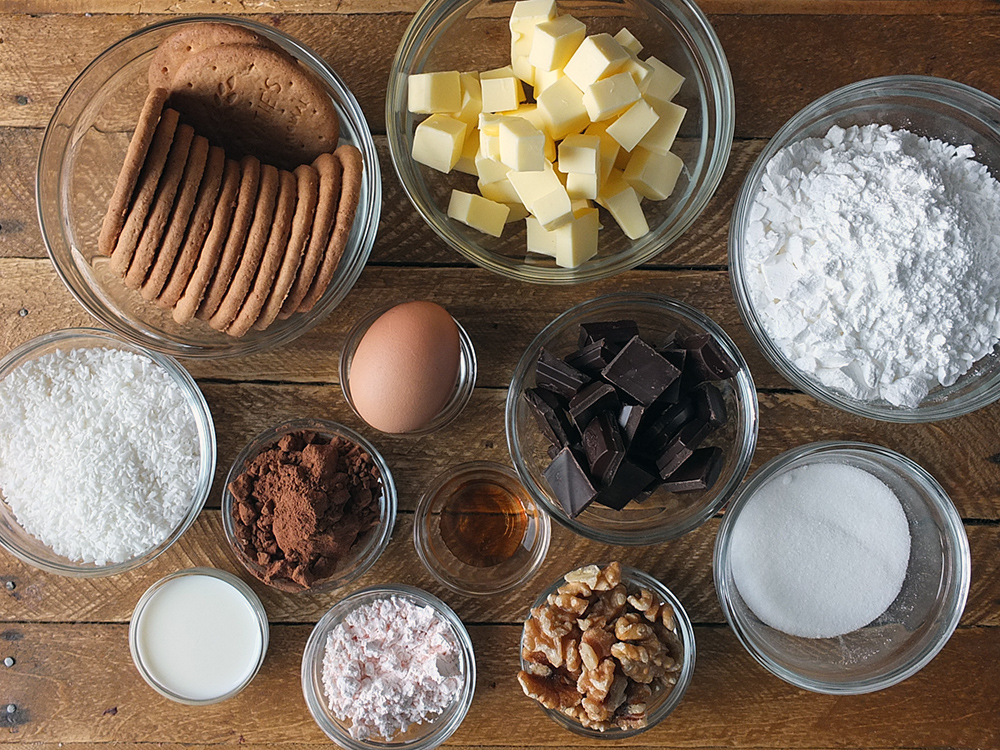 INGREDIENTS NEEDED TO MAKE THESE NO-BAKE NANAIMO BARS
200 grams digestive biscuits (or graham wafer crumbs)
65 grams shredded coconut (or desiccated, if you're in the UK, or blitz up some coconut slices)
50 grams walnuts (I've made these using almonds with success too)
30 grams cocoa powder
1 free range egg
115 grams butter (for the base), 60 grams for the middle layer and 1 tbsp for the topping
1 tsp vanilla
50 grams caster sugar
225 grams icing sugar
20 grams custard powder
2-3 tbsp full-fat milk
120 grams dark chocolate – I use 85% cocoa solid chocolate
[amazon_link asins='B07DP1Y56H,B014DEVT0S,B0786G1FQT,B00OJAPMBO,B01LTI0BGY,B01BNJ5KC4,B0013GALTA' template='ProductCarousel' store='elizskitcdiar-21′ marketplace='UK' link_id='0f322c09-eef3-11e8-b29d-05f56e1b01fd']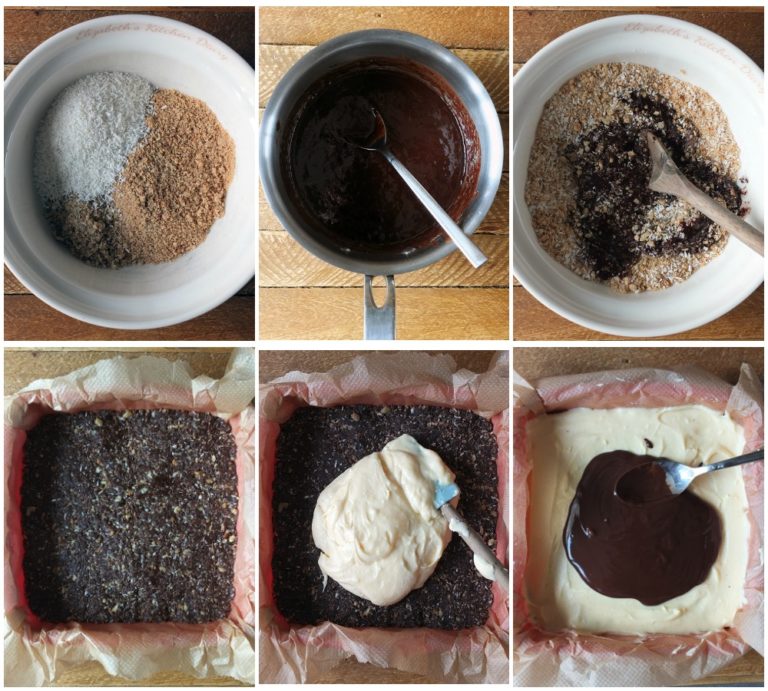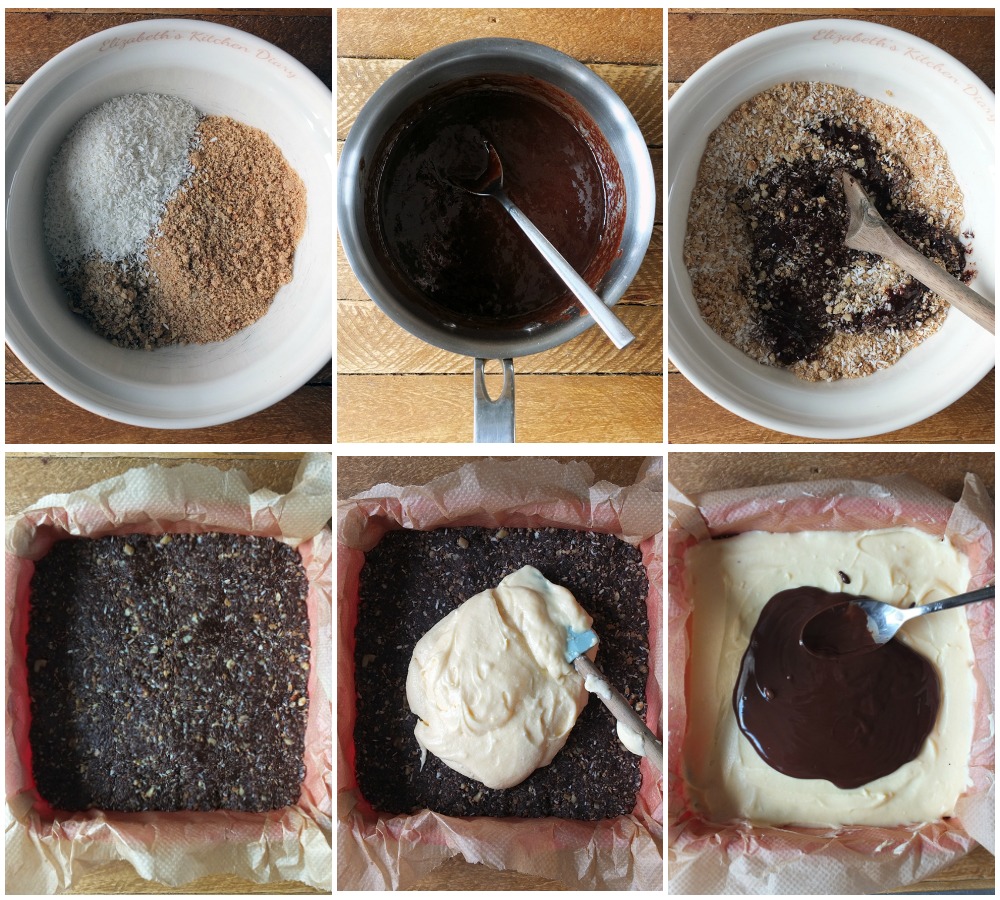 HOW TO MAKE THESE NO-BAKE NANAIMO BARS
Step 1: Put the crushed digestive biscuits, chopped walnuts and coconut into a large bowl.
Step 2: Melt the butter, sugar and cocoa powder together in a small saucepan. Add the beaten egg and stir to cook, and stir in the vanilla.
Step 3: Pour the chocolate mix into the dry ingredients and stir well to coat.
Step 4: Press into the base of a lined 8-inch square tin. Chill.
Step 5: Cream together the icing sugar, custard powder and butter, adding enough milk to make it light and fluffy. Spread over the base and chill.
Step 6: Melt the chocolate and butter together and spread over the top. Chill until firm.
[amazon_link asins='B01IFIAXA0,B06ZYL824P,B073QRZLHX' template='ProductCarousel' store='elizskitcdiar-21′ marketplace='UK' link_id='77cefc79-eef2-11e8-8af6-139c9adf9e2a']
Nanaimo Bars - Canada's National Confection
The Canadian recipe uses graham cracker crumbs and shredded coconut, two ingredients I can't get here in the UK. I've substituted them with crushed digestive biscuits and desiccated coconut. I've learned, through trial and error (and having ingredients needing to be used up) that thick coconut slices coarsely chopped up in the food processor take these bars to a whole new level of awesome. The texture of the unsweetened coconut slice adds a lovely chew to the base which is lost if you use desiccated coconut.
Also, use as dark a chocolate as you can the for the top layer. I prefer to use a fair trade 85% cocoa solids chocolate for maximum flavour, but I realise not everyone likes their chocolate that dark. I think the dark chocolate adds a nice crack to the chocolate coating which you don't get if you use plain or milk chocolate.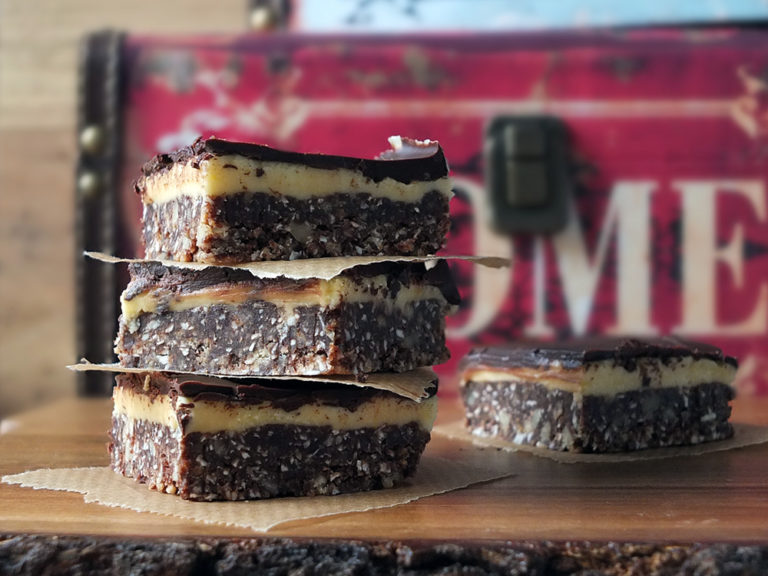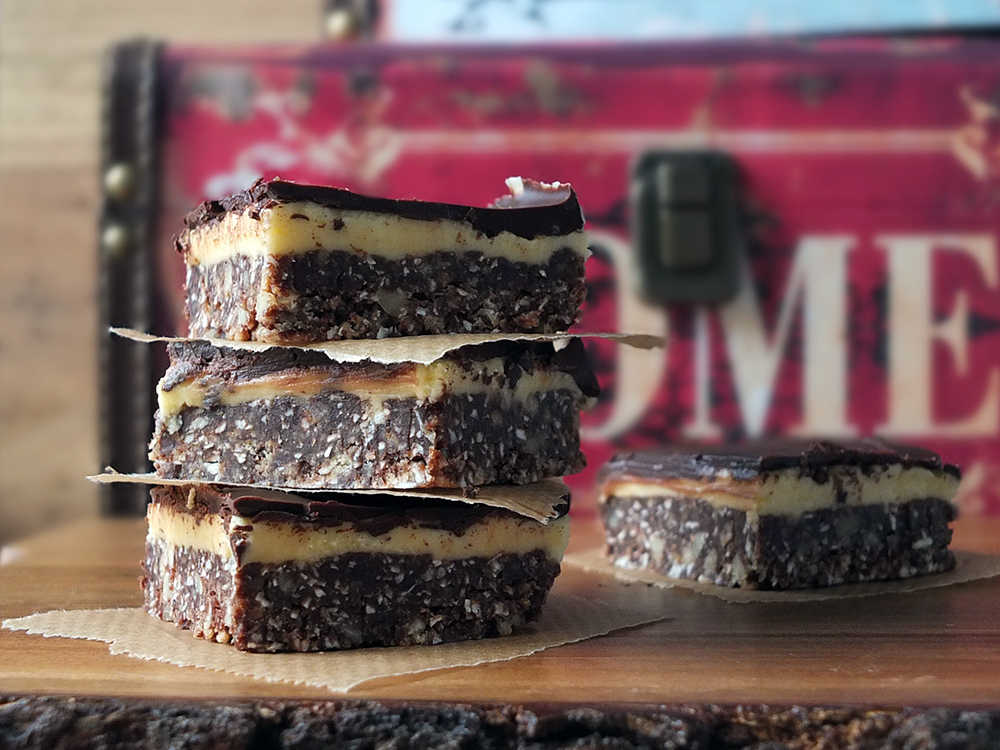 People who know me know that I am quite a shy, quiet person. It's a big thing for me to agree to talk in public, but I did so recently (twice!) – once online to a class of writers back in Cape Breton between the ages of 13-18, and again last week here in Shetland to a group of adult learners.
The ESL group of adult learners came from all over the world and, like me, now call Shetland home. We gathered together to talk about food and food blogging, and I'd requested that they each bring a dish native to their home countries. I brought these Nanaimo bars.
It was a lovely, relaxing evening, and we enjoyed tales and food from Italy, Spain, Poland, Norway and even Ecuador. Food is the one thing we all have in common – no matter where we are from or what language we speak, we all eat. It's a great way to bring people together, don't you think?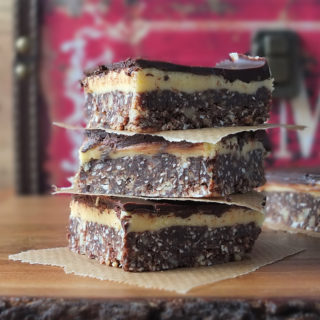 Nanaimo Bars
Canada's national confection: a nutty chocolate base layered with sweet buttercream and topped with dark chocolate. Perfect for potlucks or afternoon tea.
Print
Rate
Ingredients
for the chocolate topping
Affiliate Links
This recipe card may contain affiliate ingredient and equipment links. As an Amazon Associate I earn from qualifying purchases.
Instructions
Grease and line an 8-inch square baking tin or butter an 8-inch silicone baking tin.

Place the digestive biscuit crumbs, coconut and chopped walnuts in a large bowl.

Melt butter, cocoa powder and sugar together over a medium heat in a small saucepan. Don't let it boil.

Crack in the egg, and stir well to cook/pasteurise it.

Remove from the heat, add the vanilla and stir the chocolate mixture into the digestive biscuit crumb mixture.

Stir until well incorporated and press into the bottom of the prepared tin. Pop into the fridge to chill for an hour.

To prepare the buttercream, beat the room temperature butter, icing sugar and custard powder together and add enough milk to make it light and creamy.

Spread in an even layer over the chilled base, and pop into the fridge for a further half an hour.

To prepare the chocolate topping, melt the dark chocolate and butter together in a heatproof bowl suspended over a pan of barely simmering water.

Spread evenly over the top of the buttercream, and chill until hardened.

Cut into squares and serve!
Environmental Information
PIN THESE NANAIMO BARS FOR LATER
[color-box]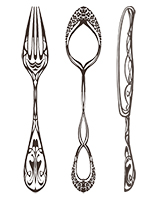 Have you made this recipe?
Take a photo and tag @tangoraindrop or use the hashtag #elizabethskitchendiary and share on Instagram and Twitter. It would make my day to see your creations!
[/color-box]