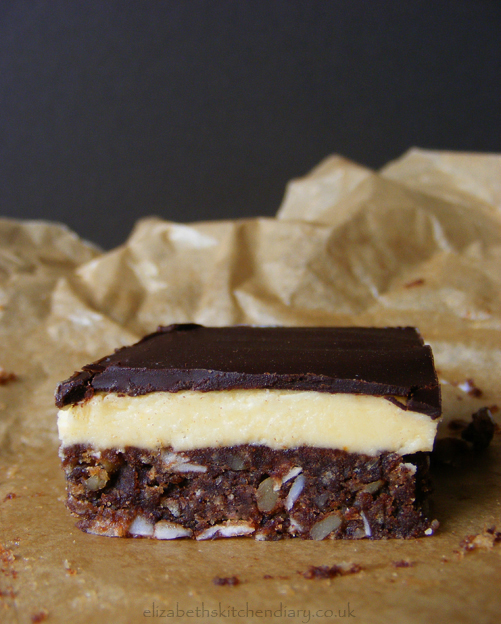 Nanaimo bars were one of my favourite squares when I lived in Canada but it was only last year when I found a recipe online I started making them myself. Why it took me so long to make them at home I do not know. My partner asked me, after his first ever bite of a Naniamo bar a year ago, why I kept this confection a secret for so long!
The creation of  the Nanaimo bar has been attributed to Mabel Jenkins some time in the early 1950s who lived near Nanaimo, British Columbia, not too far away from where I was born. These sweets have since become Canada's favourite confection. Just try them and you see will why!
Don't even think of using dessicated coconut for the base. I've learned, through trial and error (and having ingredients needing used up) that thick coconut slices coarsely chopped up in the food processor takes these bars to a whole new level of awesome. The texture of the unsweetened coconut slice adds a lovely chew to the base which is lost if you use dessicated coconut.
Also, use as dark a chocolate as you can the for the top layer. I prefer to use a fair trade 85% cocoa solids chocolate for maximum flavour, but I realise not everyone likes chocolate that dark. The dark chocolate adds a nice crack to the chocolate coating which you don't get if you use plain or milk chocolate.
This recipe is adapted slightly and converted into UK measures from one found on the Joy of Baking website.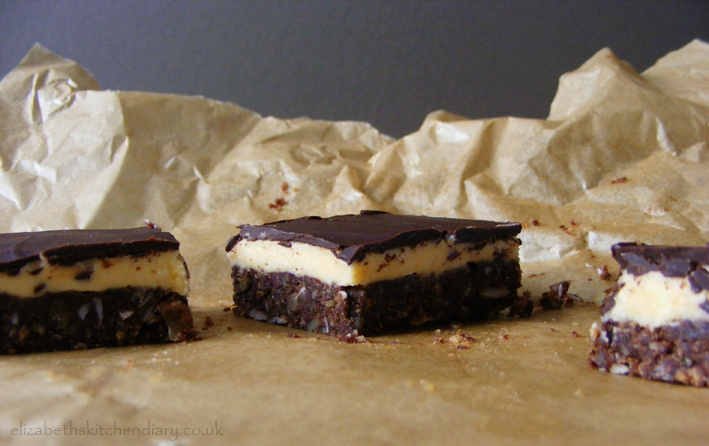 Nanaimo Bars
Canada's national confection: a nutty chocolate base layered with sweet butter cream and topped with extra dark chocolate.
Ingredients
Base
113 grams unsalted butter
50 grams caster sugar
30 grams cocoa powder
1 large egg, beaten
1 tsp vanilla extract
200 grams digestive biscuits, crushed
65 grams coconut slices (or shredded coconut), finely chopped
50 grams walnuts or pecans (or a mixture of both), finely chopped
Butter Cream Layer
60 grams unsalted butter, room temperature
2-3 tbsp full fat milk
20 grams custard powder
230 grams icing sugar
Chocolate Topping
120 grams dark chocolate (>70% cocoa solids)
1 tbsp unsalted butter
Instructions
1. Grease and line an 8 inch square baking tin or butter an 8 inch silicone baking tin.
2. Melt butter in a large saucepan and stir in the cocoa powder and sugar.
3. Add the beaten egg and cook gently until thickened, stirring constantly.
4. Remove pan from heat and add vanilla, digestive biscuit crumbs, chopped nuts and coconut.
5. Spoon into the prepared tin and press in mixture evenly to cover. Chill in refrigerator (covered) for one hour.
6. Beat butter, icing sugar and custard powder together and add enough milk to make it light and creamy.
7. Spread over the chilled base and return to the fridge to chill for a further half an hour.
8. Boil kettle.
9. Break chocolate into a small heatproof bowl. Add butter.
10. Pour the boiling water into a small saucepan and suspend the heatproof bowl over it. Leave until melted entirely.
11. Spoon chocolate over the top of the chilled butter cream and refrigerate for a further half an hour.
12. Cut into squares and serve. Store in refrigerator until needed.
Details
Prep time: Cook time: Total time: Yield: Makes 16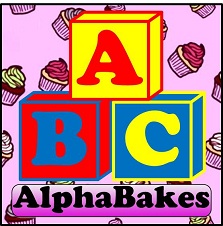 This Nanaimo bar recipe was shared with the Alphabakes food blogger's challenge back when it was originally published in October 2012. For the Alphabakes challenge, alternately hosted by Ros over at The More than Occasional Baker and Caroline at Caroline Makes, we are asked to bake something with an ingredient or title beginning with a specific letter. The challenge letter for that month was 'N' and Nanaimo Bars popped into my mind when I saw the letter and I wasn't the only one! There were several Nanaimo bar entries that month!
I've edited and republished this blog post with new photos as a) I've taken better photographs b) I've included a printable recipe and c) this month's (November 2013) Treat Petite challenge co-hosted by Stuart over at Cakeyboi and Kat at The Baking Explorer is all about petite American treats. I know American usually refers to something from the USA but Canada is part of North America and is therefore loosely American so I'm going to share this recipe anyway! 🙂