It's been an incredibly busy few months, but at long last here's the latest in my bite-sized review series. We've been taste testing some fantastic morsels, getting a makeover (inside and out!) and travelling in Europe.
FIVE THINGS: FOOD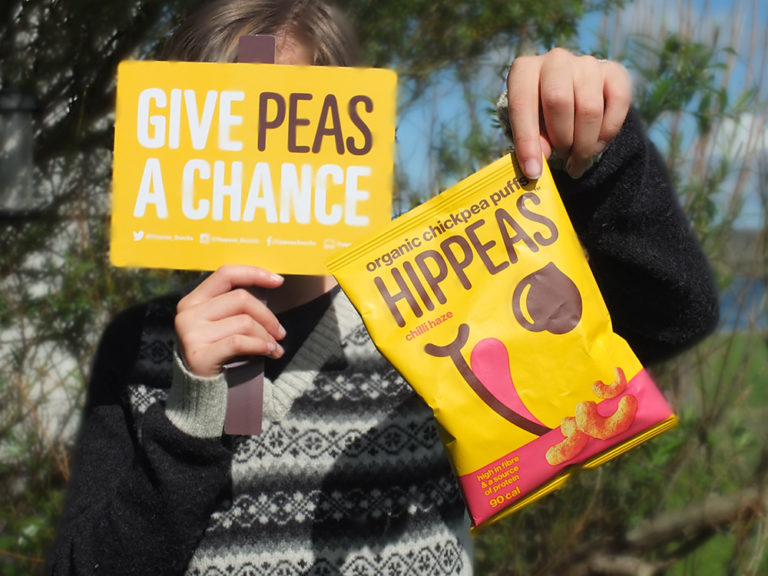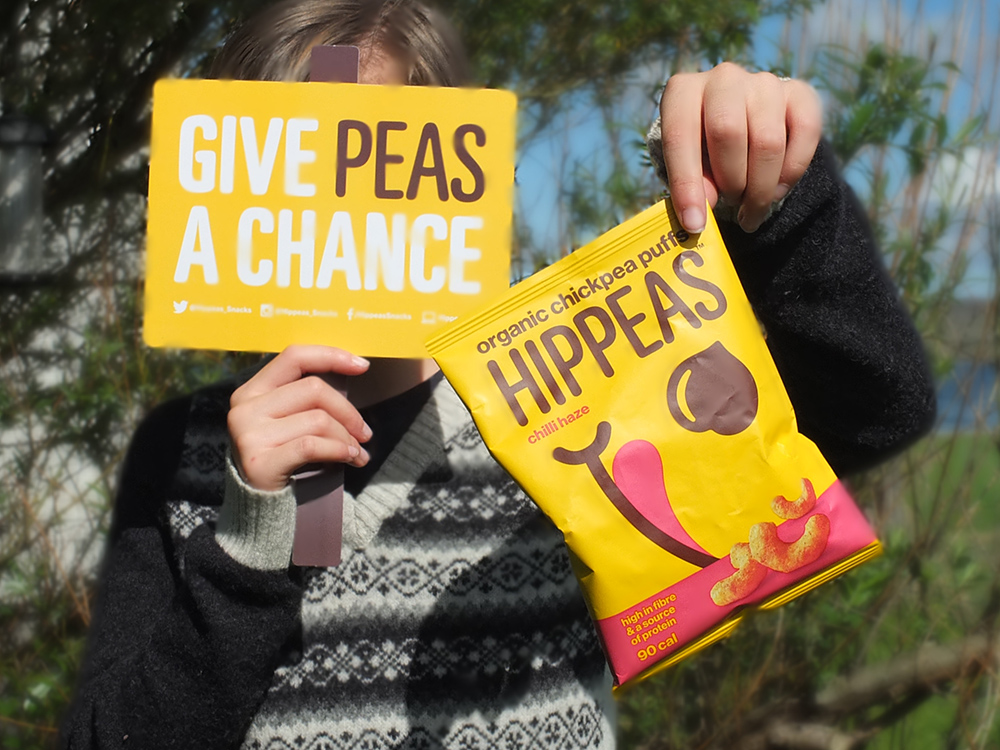 HIPPEAS ORGANIC CHICKPEA PUFFS – CHILLI HAZE
Light and crunchy with a serious punch of protein and fibre, HIPPEAS® are low-calorie, certified organic, certified gluten-free and vegan snacking choice. With less than 91 calories, 3 grams of fibre and 4 grams of protein per single-serve bag (22g), HIPPEAS® are perfect for those of us who like tasty snacks made with high-quality ingredients.
They're not a substitute for cheese puffs or the like, but rather they're a completely different snacking experience. If you've tried and liked baked pea snacks before you'll like these organic chickpea puffs. They're quite filling for such a low-calorie bag too, which is a bonus.
HIPPEAS® are available in six flavours: Sweet and Smokin', Salt & Vinegar Vibes, Cheese and Love, Far Out Fajita, In Herbs We Trust and now Chilli Haze, the newest addition. They cost around 99p per bag.
[amazon_link asins='B07GLMHFBB,B07GLLXJ8X,B07GLXP7M9,B07GL9PVTB,B074XHNGHD' template='ProductCarousel' store='elizskitcdiar-21′ marketplace='UK' link_id='b10b37c8-e8e4-11e8-83cb-afdd39e198ea']
PRESTAT – RUBY CHOCOLATE WITH COCOA NIBS & ROASTED ALMONDS
Did you know that there are four types of chocolate? Dark, milk, white… and ruby!
Prestat has just launched a new Ruby Chocolate Bar packed with cocoa nibs and roasted almonds – the latest addition to their Ruby Chocolate range. The natural fruitiness of the bar's Ruby Chocolate is off-set by the delicious cocoa nibs, while the roasted almonds give the bar a satisfying crunch.
With a surprisingly high 46% cocoa content, the ground-breaking new chocolate is made with sustainably sourced Ruby cocoa beans, specially selected for their exceptional natural colour and sweet and sour flavour of fresh forest fruits. The new packaging, designed by Storm Athill, is particularly aimed at younger foodies.
Tasting Notes: Ruby Chocolate has a natural freshness and berry fruitiness, while a slight sourness is offset by its sweetness and extremely smooth mouthfeel. This fourth type of chocolate has no added flavourings, and it is available in a 70-gram bar for £3.25.
[amazon_link asins='B00546PDKM,B00C88MDAC,B00C88MHI0,B009ENV52G,B00C88MJFG,B00QWTMMXG,B07HJH5P7Q,B00GN4XIN8,B00VXD7S9Y' template='ProductCarousel' store='elizskitcdiar-21′ marketplace='UK' link_id='9666ead3-e8e2-11e8-ae70-83367b2ea165′]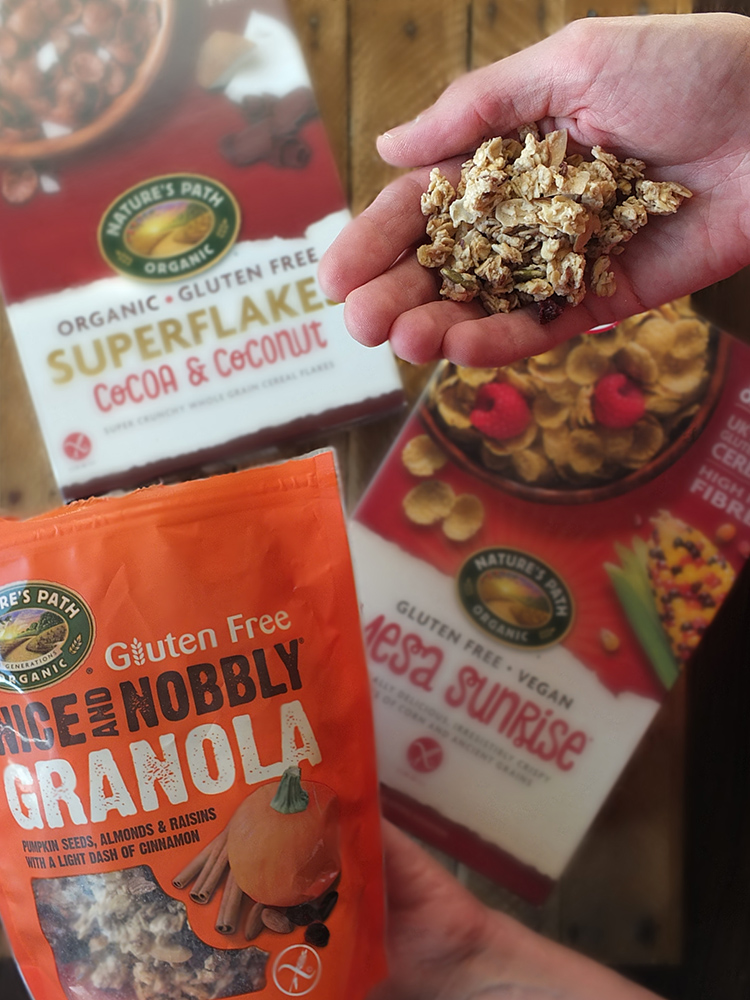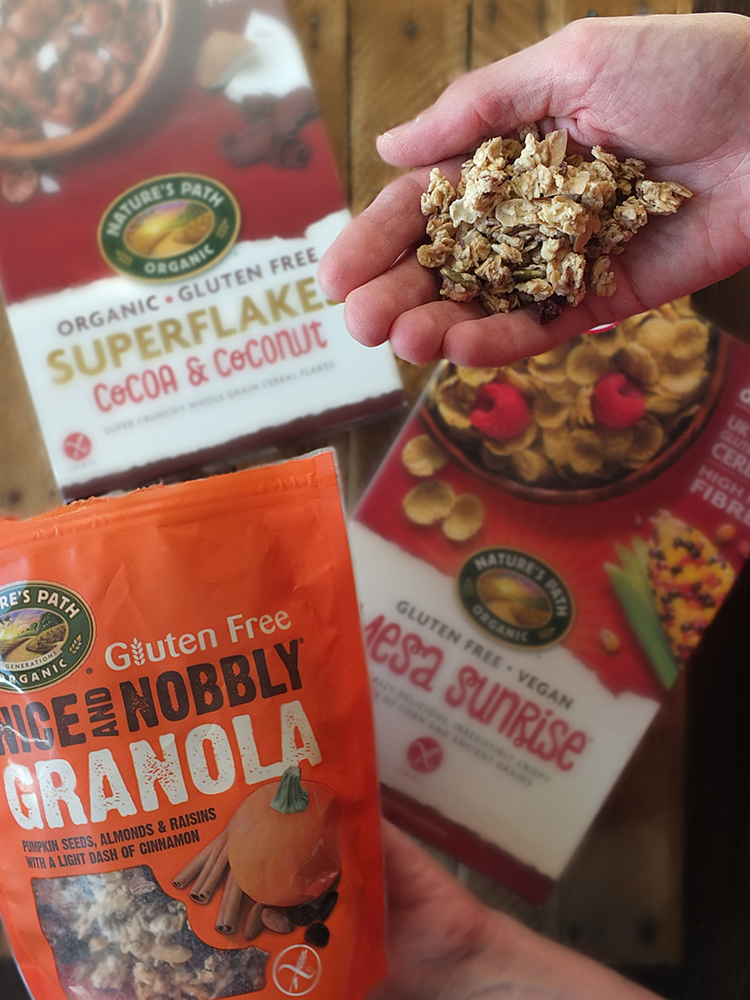 NATURE'S PATH GLUTEN FREE CEREALS
Nice & Nobbly Granola: this is, hands' down, the BEST granola I've ever tasted. It's just perfect! Packed full of gorgeous chunks of granola, pumpkin seeds, almonds, raisins and a little dash of cinnamon. It's also in a resealable pouch that actually easily reseals, which means it keeps fresher for longer, compared to boxed granolas (if it lasts that long). It's excellent with yoghurt for breakfast, or (and I'm not ashamed to admit it) with a generous scoop (or two) of vanilla ice cream for a late evening treat. Seriously good stuff.
Cocoa & Coconut Superflakes is the first organic sprouted grain, superfood cereal on the market – deliciously crunchy flakes with a simple ingredients list. Mesa Sunrise is an old favourite, but look out for its new packaging. These crispy corn and ancient grains flakes are gluten-free, and perfect for topping with fresh fruit.
[amazon_link asins='B00CQ0LHKO,B077P1Z191,B001EO5Z74′ template='ProductCarousel' store='elizskitcdiar-21′ marketplace='UK' link_id='f07ca5a1-e8e7-11e8-b698-dd11689d2d89′]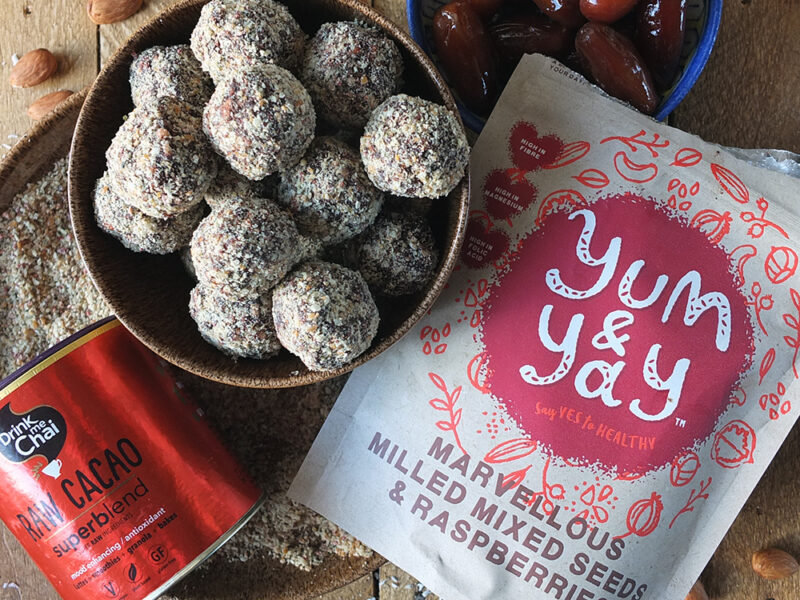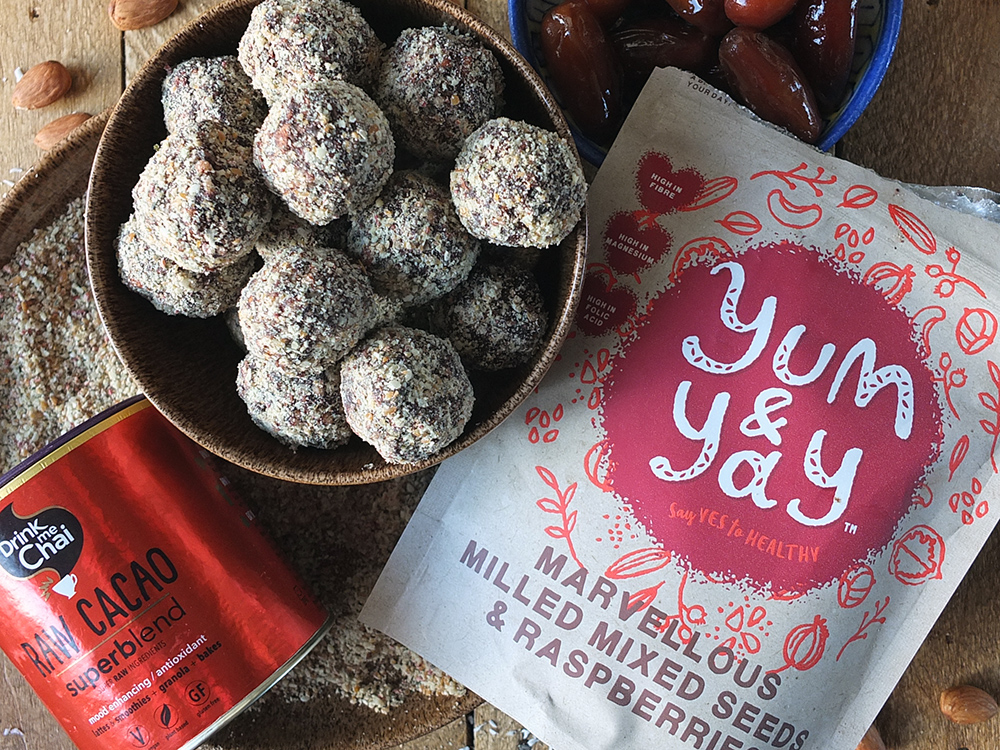 Yum & Yay – Say Yes to Healthy!
Just a spoon full of these milled seeds a day is all you need to get your Yum & Yay every day. This is a new product on the market, with four different blends to choose from. I've used the Marvellous Milled Mixed Seeds & Raspberries to roll some raw cacao super blend bliss balls in for a little touch of crunch and zesty raspberry.
They're also available in Splendid Milled Mixed Seeds, Nutty Milled Mixed Seeds & Nuts and Glorious Mixed Golden Flaxseed. They're perfect for adding to salads, or smoothies, for topping grilled fish or adding to protein shakes. Look out for them in Sainsbury's – £2 per 100-gram bag.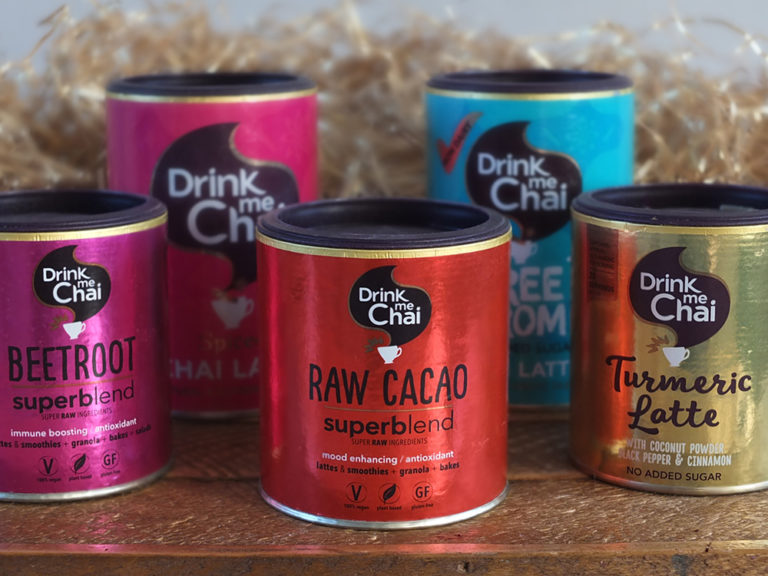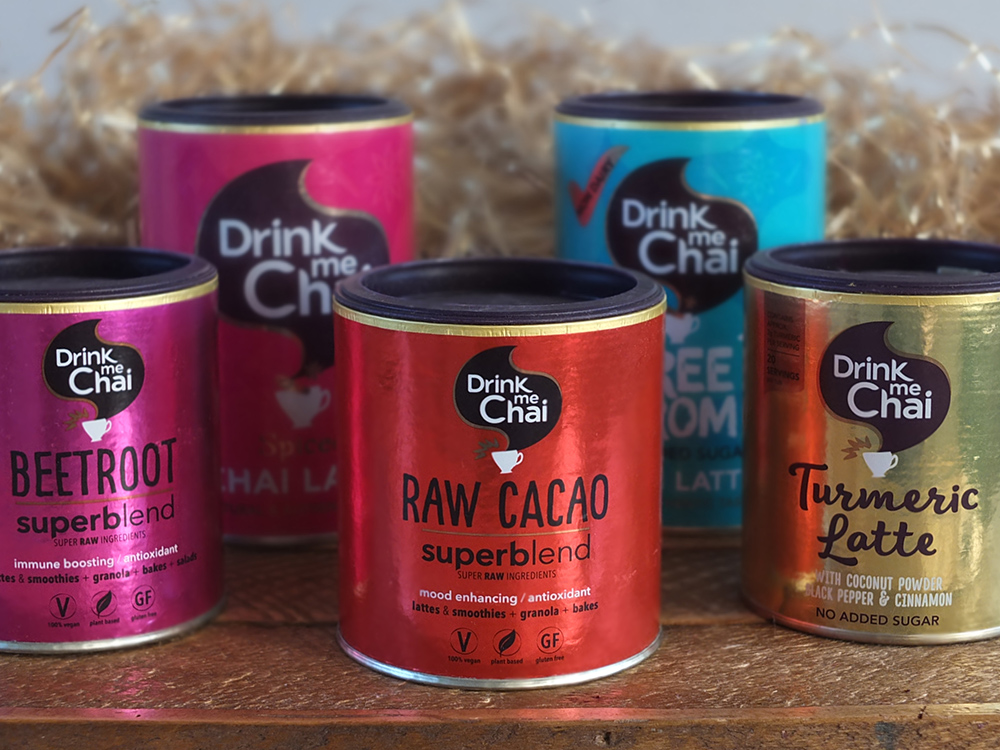 Drink Me Chai
Drink Me Chai is a British company creating delicious drinks inspired by the chai tea served in India by the chai wallahs.
It is seriously good stuff! Their spiced chai latte makes for the perfect afternoon cuppa, with no faffing about. Simply boil a kettle, spoon some of the powder into your cup, add water, stir and enjoy a few moments of peace and relaxation. There's a free from version too.
Their superblend range includes a beetroot blend, raw cacao blend and a turmeric latte – simply heat up some milk of your choice, froth and stir in a spoonful or two of the powder. Bliss!
Look out for these blends in all major retailers. The superblend range costs £3.95 for an 80-gram tub, while the lattes cost £2.50 for 250 gram.
[amazon_link asins='B07J2SPS4N,B006R5I1QC,B073W9W1DT,B006R5I2MA' template='ProductCarousel' store='elizskitcdiar-21′ marketplace='UK' link_id='e2648cde-ea4a-11e8-9503-7f068235cf00′]
FIVE THINGS: LIFE
[amazon_link asins='B01HSCG44I,B01HGSJPMW,B078K43Y54,B078K3VS7S,B07FJZND6B,B00GSBMW2Y' template='ProductCarousel' store='elizskitcdiar-21′ marketplace='UK' link_id='d96db6a0-ea41-11e8-89e0-fb9b91fe5b94′]
FIVE THINGS: ADVENTURE
Scotland – at the end of August I visited Aberdeenshire on a press trip, which I really enjoyed. I'm still creating content about that trip, but so far I've written a post on The Silver Darling Restaurant in Aberdeen, I've recreated a gorgeous black pudding dinner roll inspired by one I ate at Eat on the Green in Ellon and I've written about our visit to Scotland's pink Craigievar Castle. More blog posts will follow!
Portugal – In September I headed to Portugal for the first time, and I loved it! What a beautiful country! I spent two nights in western Portugal learning all about Rocha Pears. I helped with the harvest, visited the processing plant and tasted many delightful dishes featuring this Portuguese fruit. You can read all about it in my blog post: Portuguese Rocha Pears: A Farm to Fork Experience.
Iceland – at the end of September I was in the Westfjords in Iceland as a guest of Promote Iceland. I still can't believe this happened to me – Iceland has been on my travel bucket list since I spent five hours there on a stopover between flights in 1999. I still haven't written up my blog post on the trip though, as October was a very busy month work-wise. Soon, though!
London – as I mentioned above, I'm heading to the Big Smoke for an awards ceremony at the end of this month. My travel tickets are booked, but I'm still organising accommodation. Any suggestions for hairdressers who can style wild ginger dreadlocks into a 'formal' style gratefully received!
Cornwall – before London though, I'm heading to Cornwall to visit Jane from the Hedgecombers – we're going on a mini road trip which I'm silly excited about!
WATCHING
Films:
Ocean's 9 – we really enjoyed this!
Ready Player One – best film ever (says the 9-year old) and we're inclined to agree.
Chappie – watched this upon the recommendation of a friend. Not bad!
The Pirates of Somalia – this really changed my perspective on things.
Three Billboards Outside Ebbing, Missouri – heartbreaking.
Netflix Binge-Watching:
Salvation – started out ok, but now that I'm coming to the end of the first series I'm losing interest.
Ozark – season one was gripping, I'm not finding season two as interesting for some reason.
American Horror Story – season 7. Still as good as ever!
The Haunting of Hill House – one of the best horror series I've ever watched.
Norseman – hilarious! Think Vikings meets Monty Python.
READING
The Book of Dust by Phillip Pullman – bought this for my daughter last year and I've only just started it. Loving it so far!
Eleanor Oliphant is Completely Fine by Gail Honeyman – I found this book quite upsetting.
The Fiery Cross by Diana Gabaldon (only while travelling) – like an old friend, this series, but I only ever read them while killing time travelling.
[amazon_link asins='0241365856,0008172145,1784751332′ template='ProductCarousel' store='elizskitcdiar-21′ marketplace='UK' link_id='f0ca6161-ea48-11e8-b79d-f7e4068e4eb6′]
LISTENING
The below video randomly appeared in my YouTube stream when I was about to upload a recipe video. Intrigued, I clicked and watched the whole thing. They're my new favourite band now, combining tribal music with Nordic influence and the kind of random weirdness I love. I would LOVE to see them live one day! I pop this song on the Amazon Echo in our kitchen and dance around when I want to get my Fitbit step count up at the end of the day. Tribal trance kitchen dancing.
Heilung | LIFA - Hamrer Hippyer LIVE
With thanks to Hippeas, Prestat, Nature's Path, Yum & Yay, Drink Me Chai & Utmost Me for the product samples. This is not a paid post, although if you click through any of the Amazon links and make any subsequent purchase (not just these items) over the next 24 hours we will earn a small commission and you'll be directly helping me pay for our new car.