Situated in the former Customs House at the mouth of Aberdeen Harbour, the recently renovated Silver Darling has a seasonal menu created to embrace their unique location and to showcase the very best in Scottish food. In collaboration with Visit Aberdeenshire.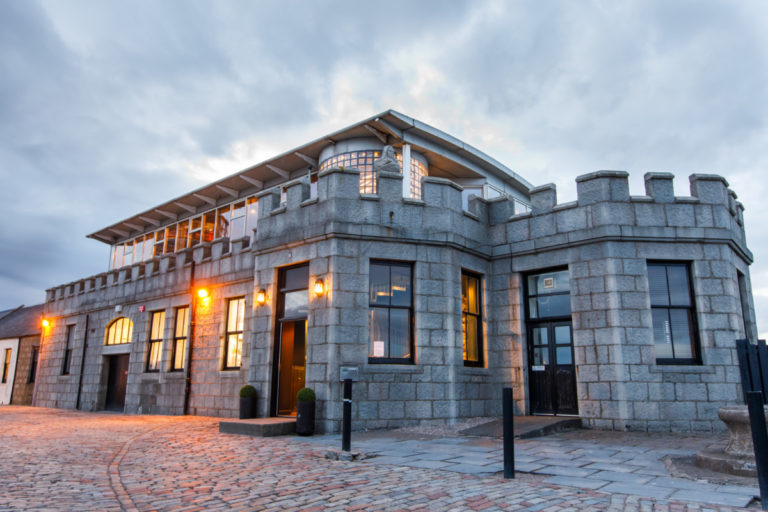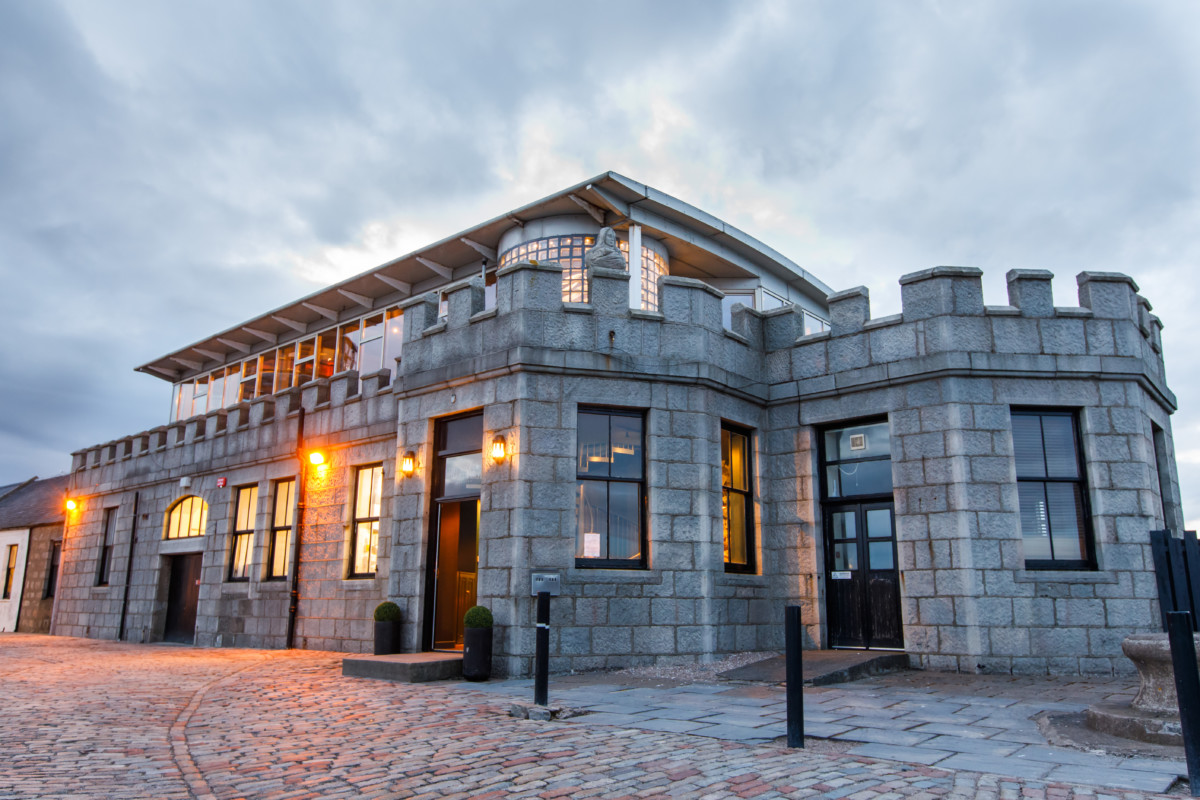 The Silver Darling restaurant is situated in the old Customs House at the mouth of Aberdeen Harbour, just a hop, skip and jump away from the Northlink Ferry Terminal – and it's been a popular restaurant for Shetland folk travelling to and from the mainland since it was first launched in 1986.
In September 2017 the restaurant was acquired by independent hospitality business The Mcginty's Group who renovated it to the highest of standards, re-launching the new restaurant in February 2018.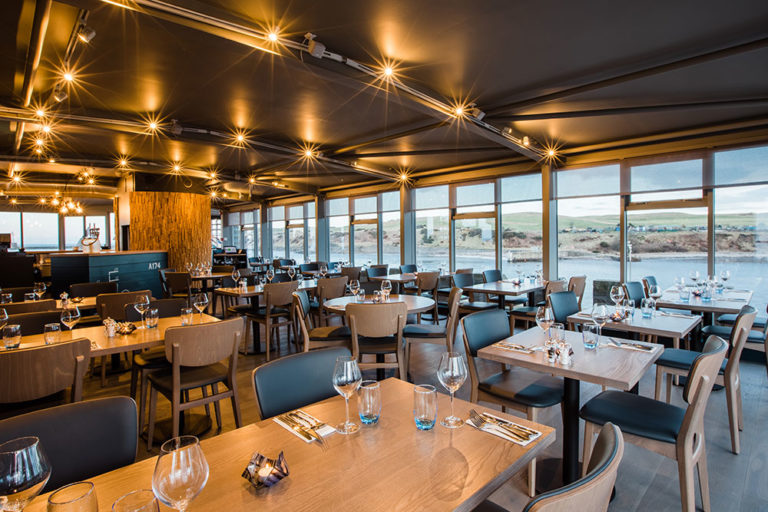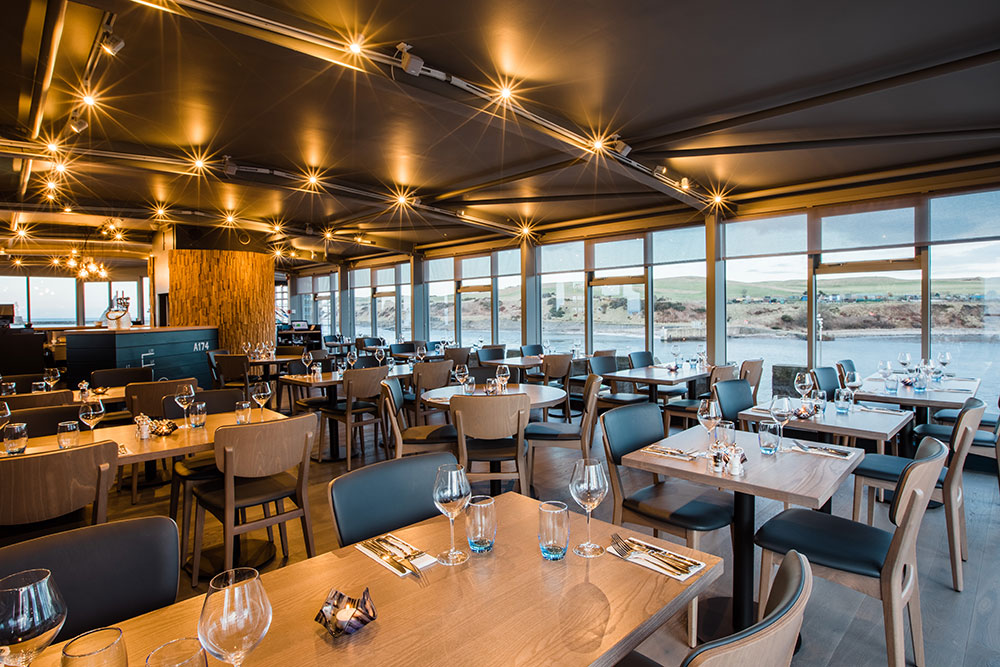 The Silver Darling has been transformed with stylish interiors that celebrate their unique heritage and complement their stunning setting for memorable meals. Features include a hand-painted Fish Market board as a nod to the restaurant's location and a bespoke glass installation created by local artist Shelagh Swanson featuring historic pictures of the neighbouring fishing village of Footdee – affectionately known as 'Fittie' by the locals.
The upstairs dining area boasts floor to ceiling glass windows, providing panoramic views of Aberdeen's beach, harbour and the historic fishing village. The Harbour is said to be the UK's oldest business, first established as a business in 1136 by King David 1st of Scotland, and has a history spanning almost 900 years.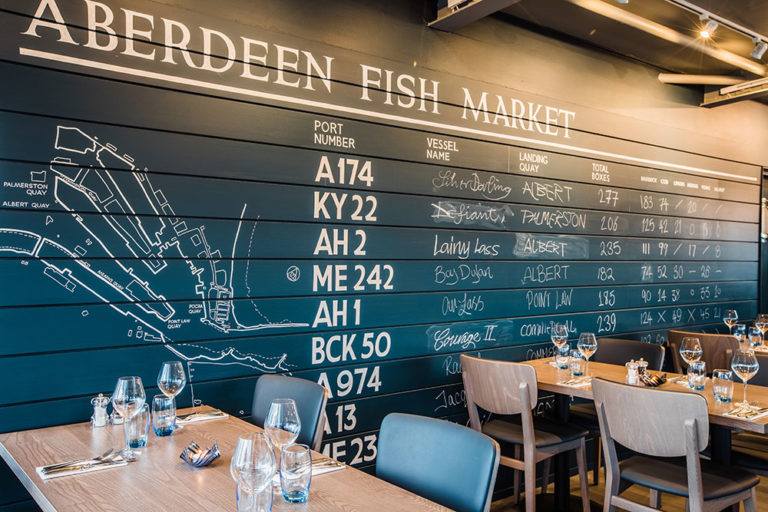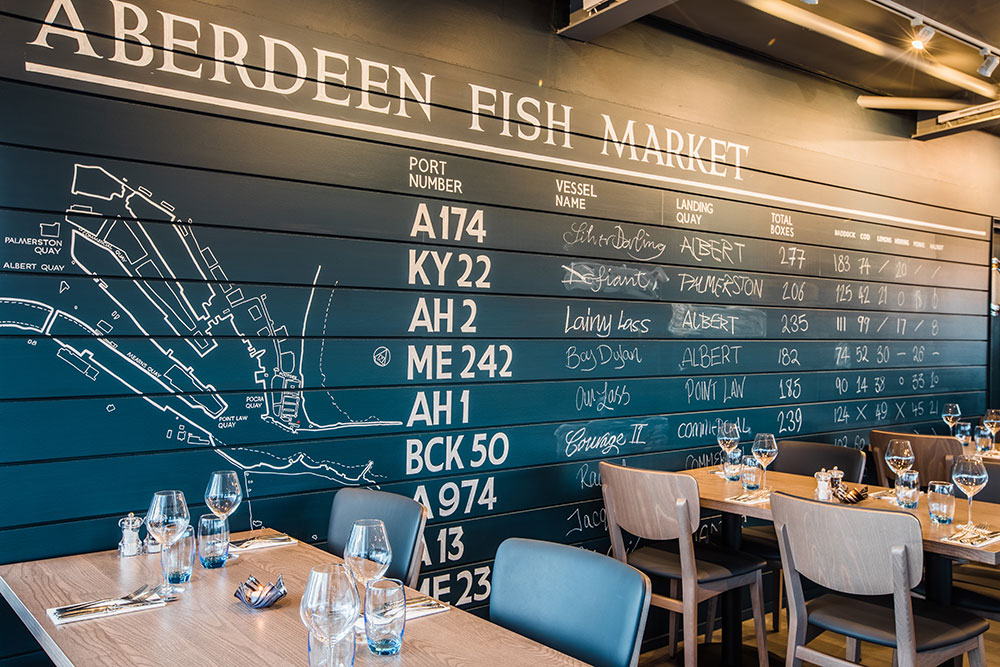 With a passion for quality food and drink, their menus have been carefully curated to showcase the finest selection of Scottish produce from Aberdeen Angus Beef to the freshest fish and shellfish dishes, in a laid-back yet sophisticated atmosphere.
It's is the perfect setting to gaze at the sweeping sea coastline, watch the ships sail by, or in the summer months, you may be lucky to catch a glimpse of the dolphins and seals bobbing in the bay. We were lucky to see quite a few playful dolphins in the harbour mouth as we dined recently.
As part of the relaunch, a new food menu is now on offer with a seafood influence, an increased selection of meat dishes and an extensive wine list. Their new head chef, Craig Somers, originally started his career at The Silver Darling at the age of 20 as a commis chef and now returns with more than 22 years of industry experience.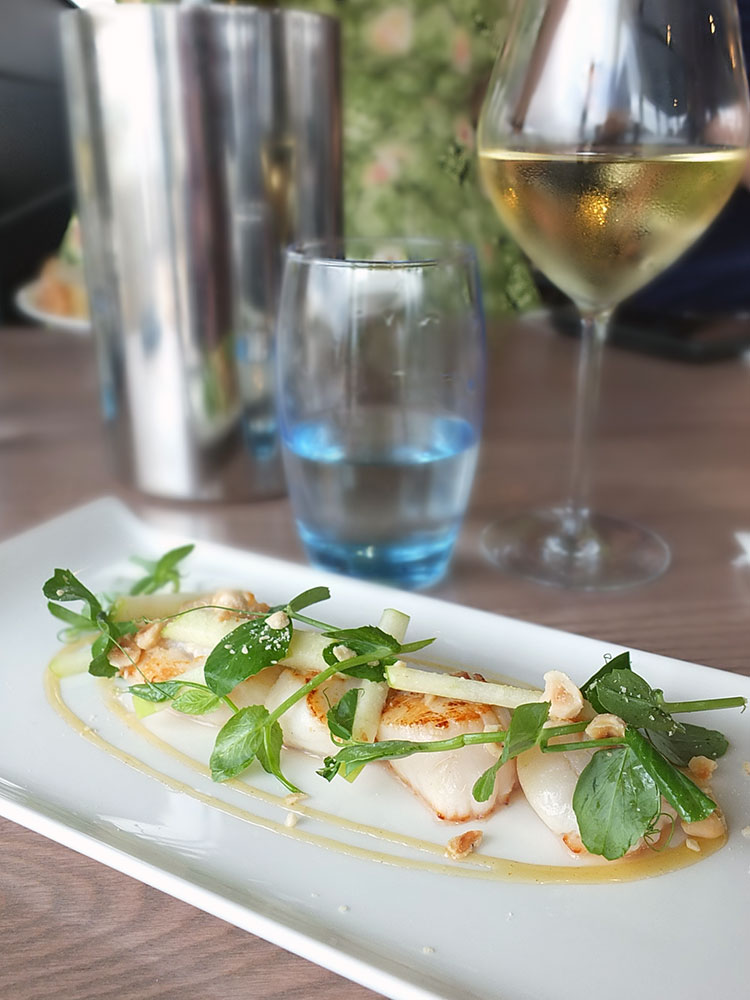 For my starter, I opted for the seared Shetland scallops with hazelnut vinaigrette, pickled apples and pea shoots. This recipe was recently featured in local lifestyle magazine Trend along with a feature on head chef Craig Somers (click here for the recipe) and it is a magnificent starter.
Four perfectly seared Shetland scallops are served with Granny apple matchsticks pickled in lemon juice and a drizzle of homemade toasted hazelnut vinaigrette made with olive oil and sherry vinegar. Pea shoots garnish. It's a lovely light and fresh starter, a perfect meal to whet the appetite for your main course.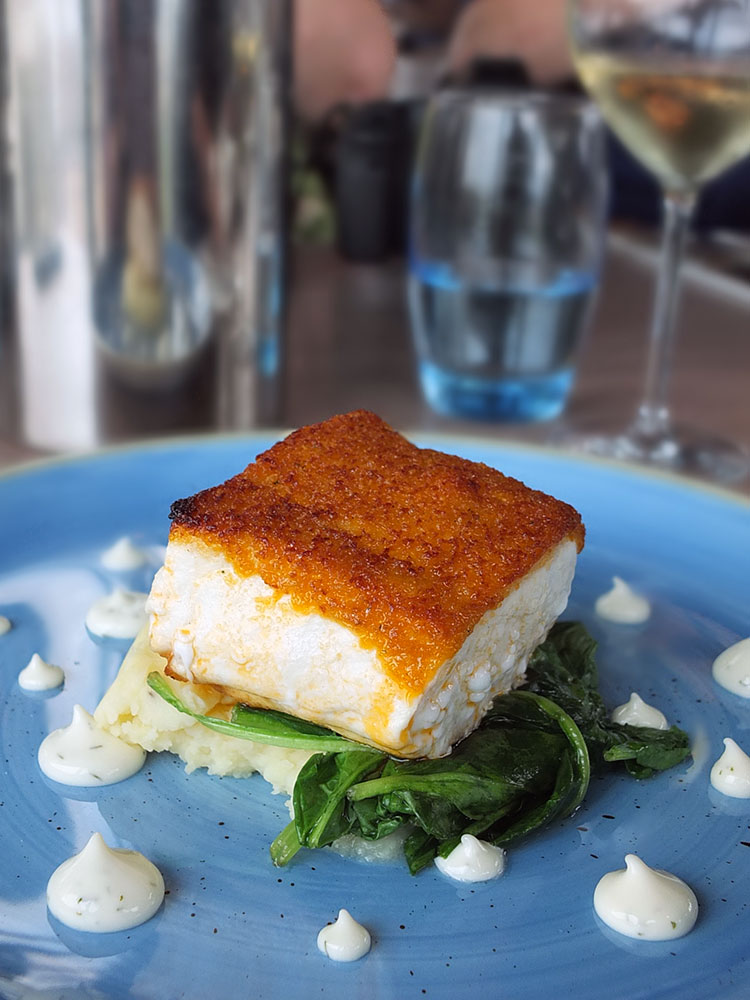 For my main, I kept with the seafood theme, choosing the pan-seared halibut with potatoes, wilted greens and parsley mayonnaise. Utterly delicious, and perfectly cooked tender, flaky fish.
Although this restaurant primarily focuses on seafood and meat dishes, there are vegetarian options on offer – this month's menu features a toasted quinoa risotto as well as a wild mushroom linguine.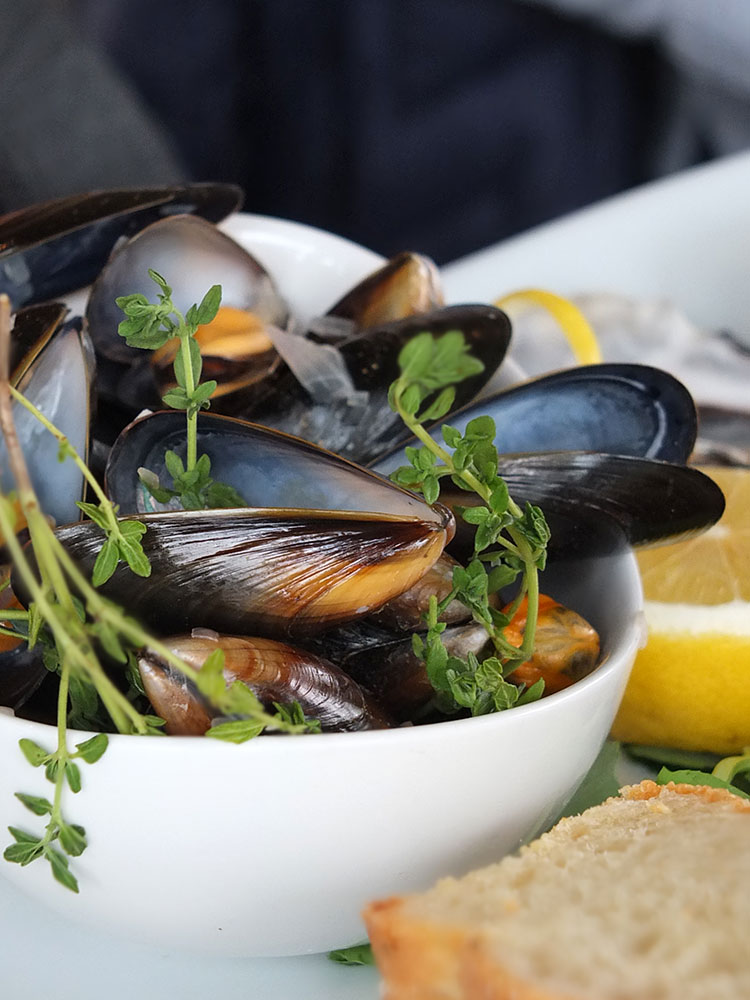 They also do a rather magnificent Silver Darling Platter – for just £30 you'll get a platter of fresh, perfectly cooked crevettes (cooked king prawns), home-cured salmon gravadlax, mussels mariniere (pictured above), grilled langoustines, hot smoked Loch Fyne salmon and a pair of oysters served with bread, seaweed mayo and tartare sauce.
The Silver Darling also features a private dining room located away from the main restaurant next to the kitchen. It can seat up to 14 guests and would be a perfect venue for a celebration or a corporate meeting.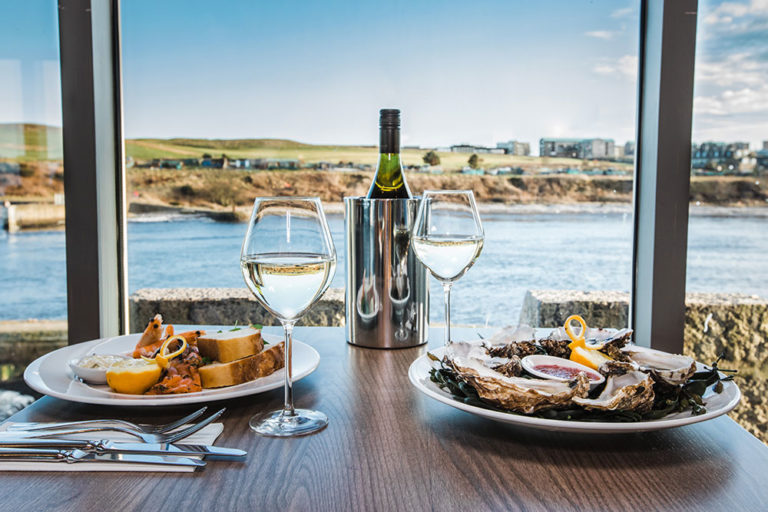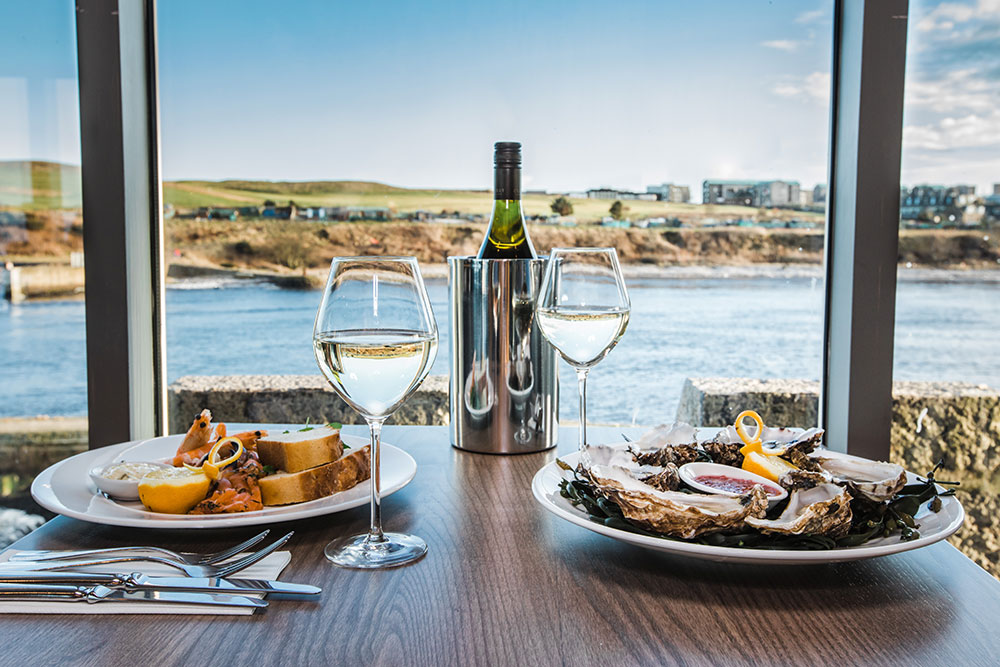 Location: The Silver Darling, Porca Quay, Aberdeen, Scotland AB11 5DQ
Telephone: 01224 576229
Website: www.thesilverdarling.co.uk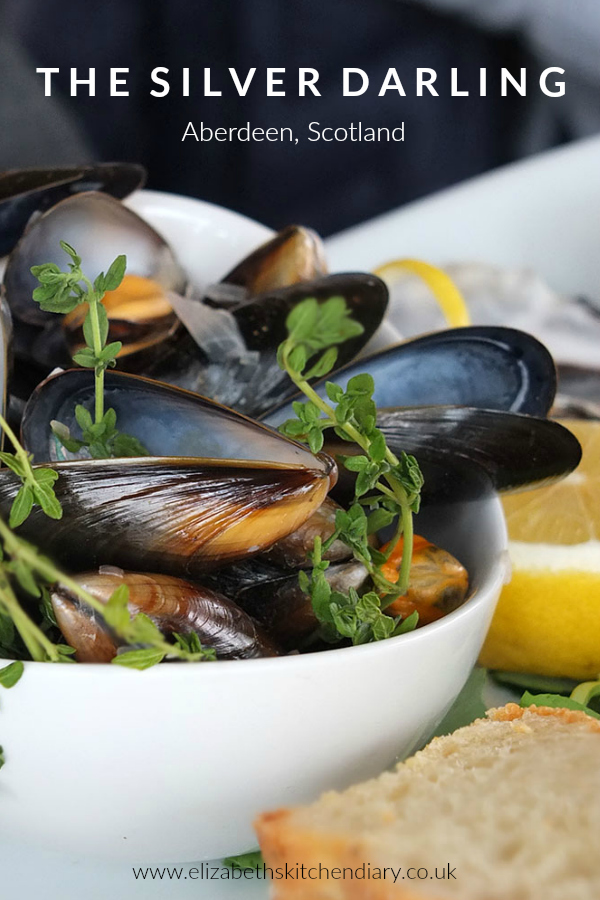 This is a sponsored post in collaboration with Visit Aberdeenshire, although all thoughts and opinions expressed are our own. With thanks to the staff at The Silver Darling for the complimentary meal and excellent service. Thank you to my readers for supporting the brands who make it possible for me to do what I love: mess up my kitchen and share recipe stories.