Curaçao, pronounced 'Cure-ah-souw' is one of the Lesser Antilles islands in the southern Caribbean Sea, just forty miles north of Venezuela. It's a constituent country of the Netherlands, and its capital, Willemstad, with its popsicle-coloured buildings, is a popular tourist destination, especially with visiting cruise ships.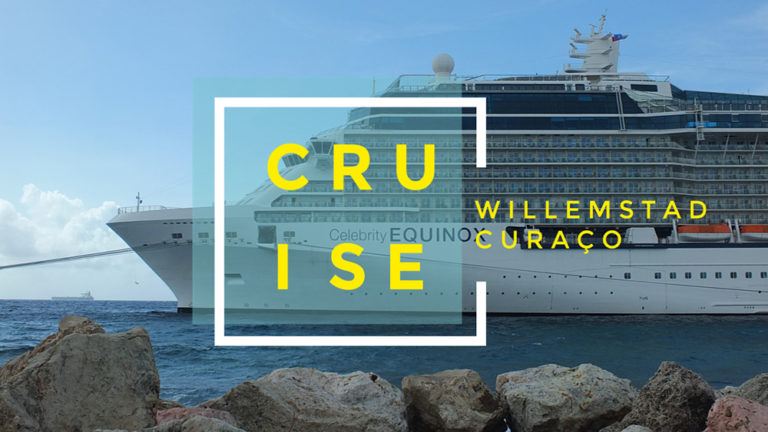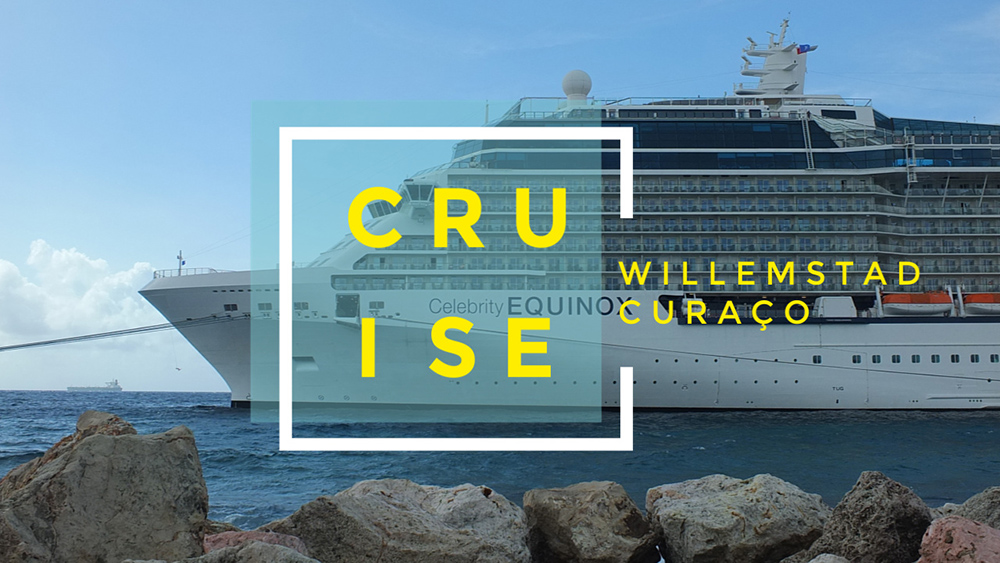 Last night I dreamt about Curaçao. Well, no that isn't entirely true – Curaçao filtered into my dream-consciousness just before waking, right after I dreamt that aliens had crash landed into my village. The aliens took the form of two small children, and I'd just managed to coax them out of hiding and they were hungry. They wanted beef, and so I was going through the fridge checking the expiry dates on the packaging for which beef I should cook first. I picked something that looked vaguely like liver, I started to wake, and Curaçao appeared. I should probably, at this point, tell you that I often have rather weird dreams.
This morning, one year ago today, I arrived in Curaçao after a five-night Caribbean cruise onboard the Celebrity Equinox cruise ship. I was on a press trip, invited on the cruise which had departed from Miami, to taste and photograph the fine-dining options on board. It was an extraordinary trip – I'd swum with stingrays in Grand Cayman, lunched in Aruba and I'd tasted the most exquisite meals onboard the cruise ship.
I still can't believe this happened to me.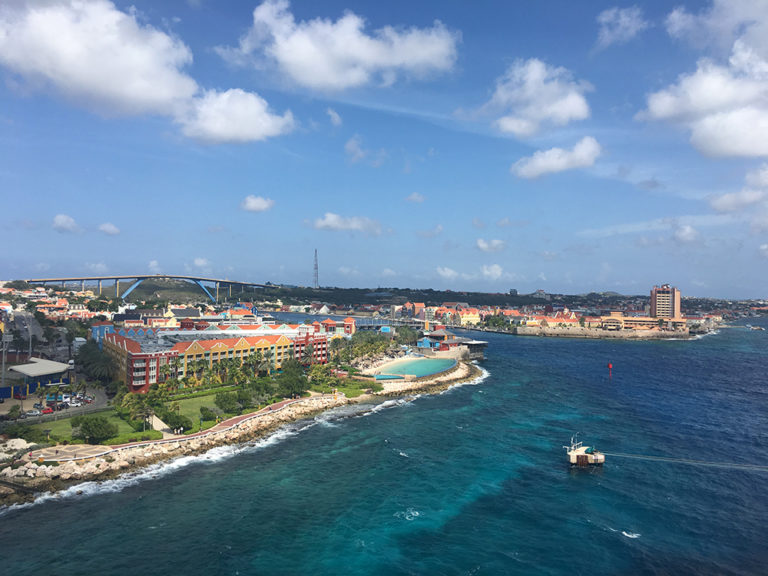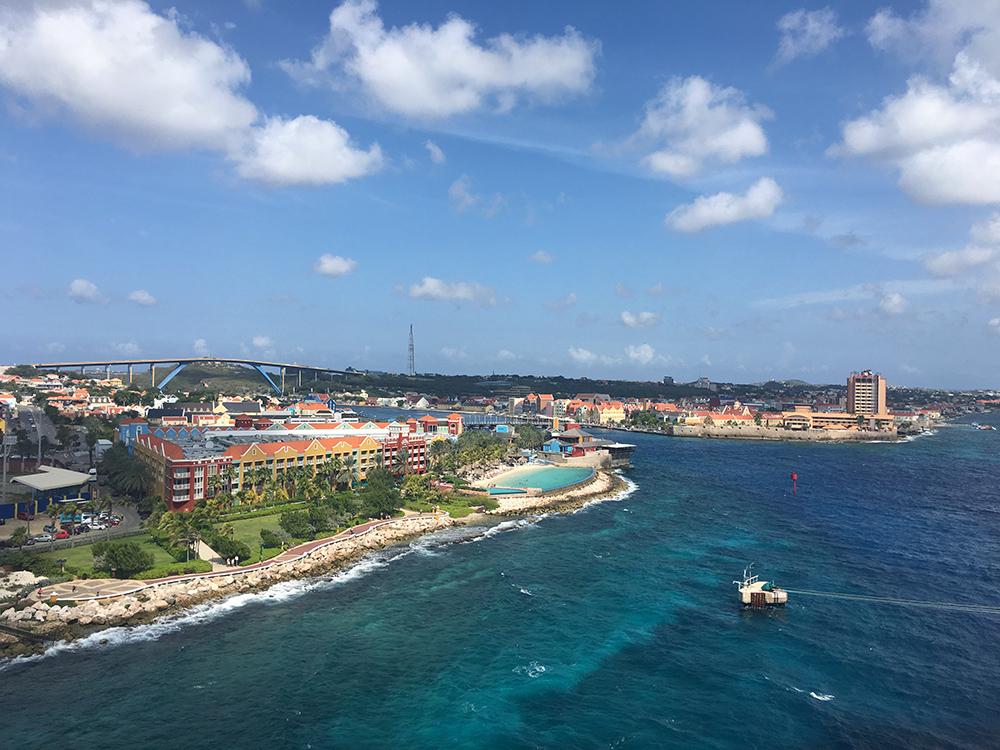 We arrived in Willemstad early in the morning, and there was no official shore excursion planned for that day. We had the day free to ourselves; well, a half-day, truth be told, because later that afternoon we would be boarding an airplane for the 10-hour flight back to Europe.
It was a delightful 29°C, with a wind speed of just 10 mph that mid-November morning. I diligently applied my (numerous) layers of SPF 50 sunscreen and headed out for a half day's exploration of the city.
You are naturally led through a shopping district after disembarking from your cruise ship, towards the Rif Fort dating back to 1828. This fort was built to protect the island from pirates. It's now a UNESCO World Heritage Site.
From here, you are drawn to browse the stalls set up by local craftspeople, enticed by the sound of some rather energetic Caribbean music (you've got to pay them if you want to take a photo though). Then, you'll want to cross the "Swinging Lady" Queen Emma pontoon bridge connecting the Punda and Otrobanda quarters of Willemstad. Be warned, it wobbles – a lot!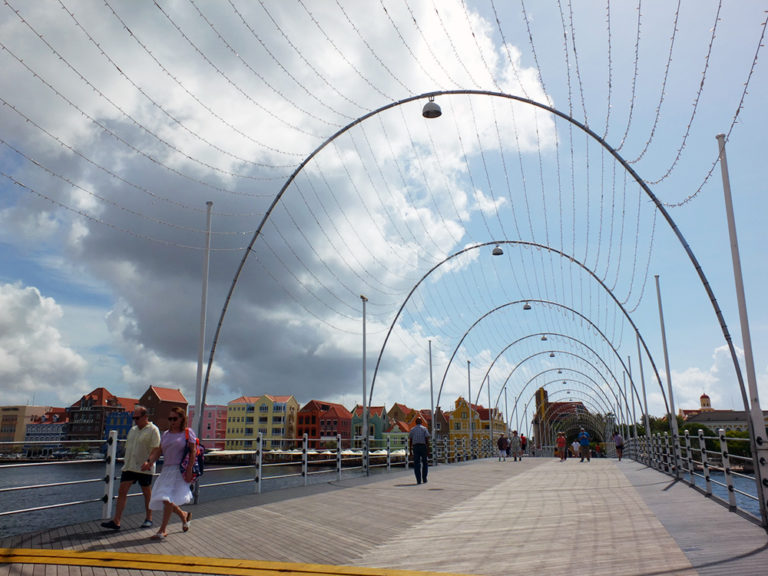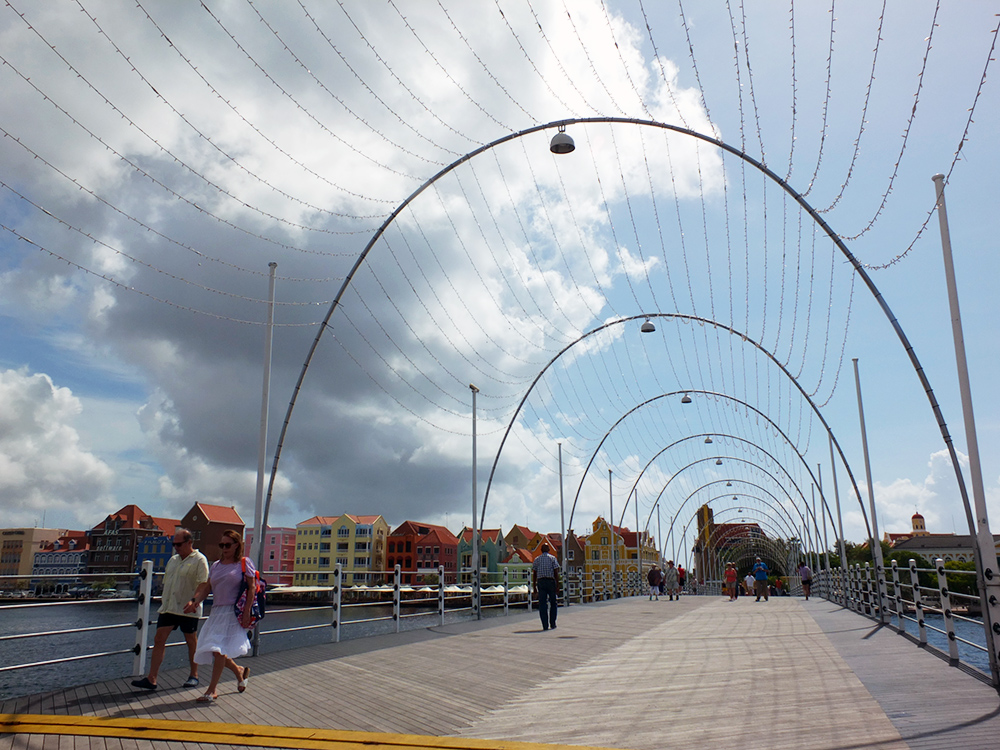 The people of the Netherlands established a trading settlement at this natural harbour in 1634, and the town continued to develop over the subsequent centuries.
There are several distinct cultural districts in the city, with the architecture in each reflecting their Dutch, Spanish and Portuguese trade histories. This has resulted in a predominantly European architectural style with regional adaptations in a rich array of Caribbean colours. It's really rather stunning to see. The sounds, sights and smells all come together in a beautiful tropical medley.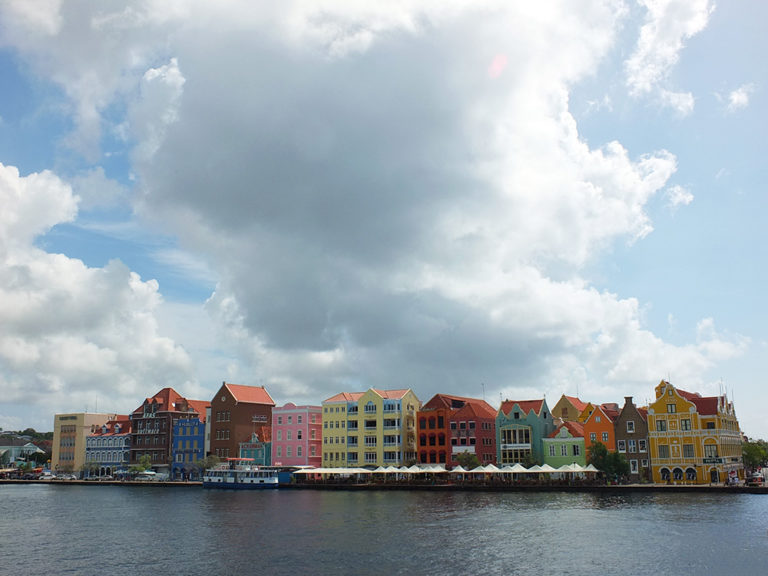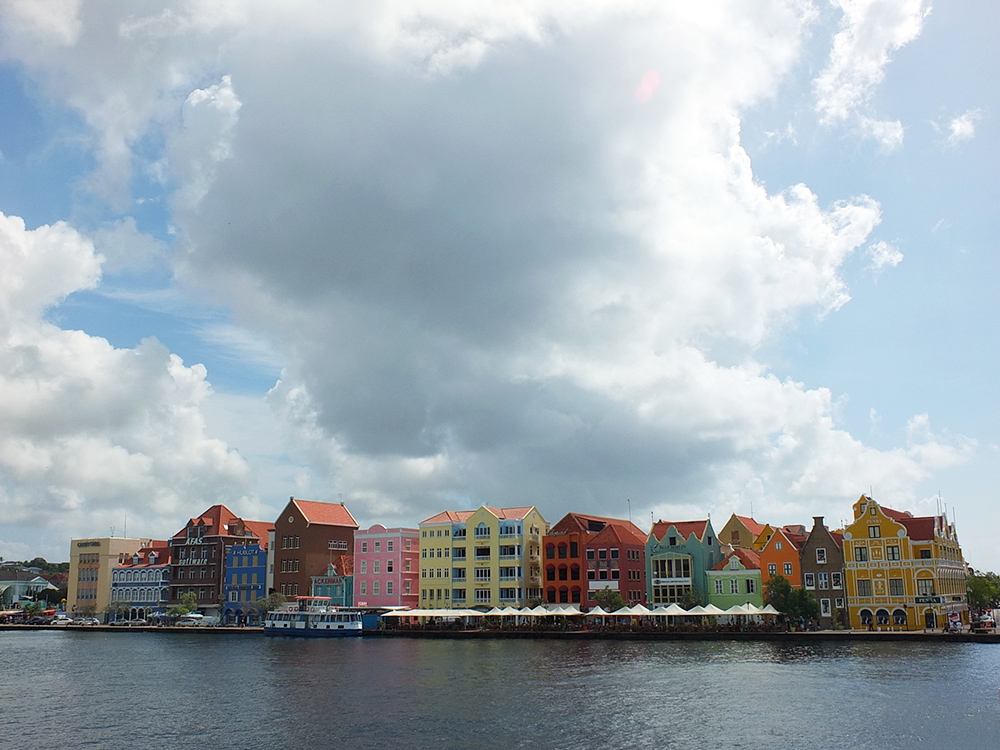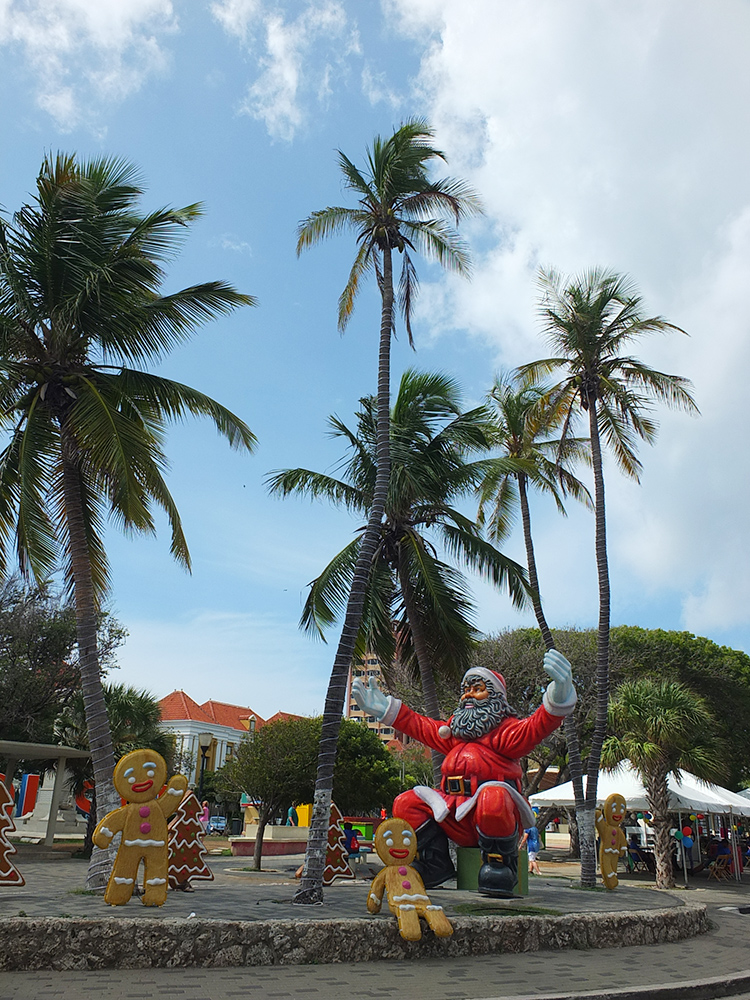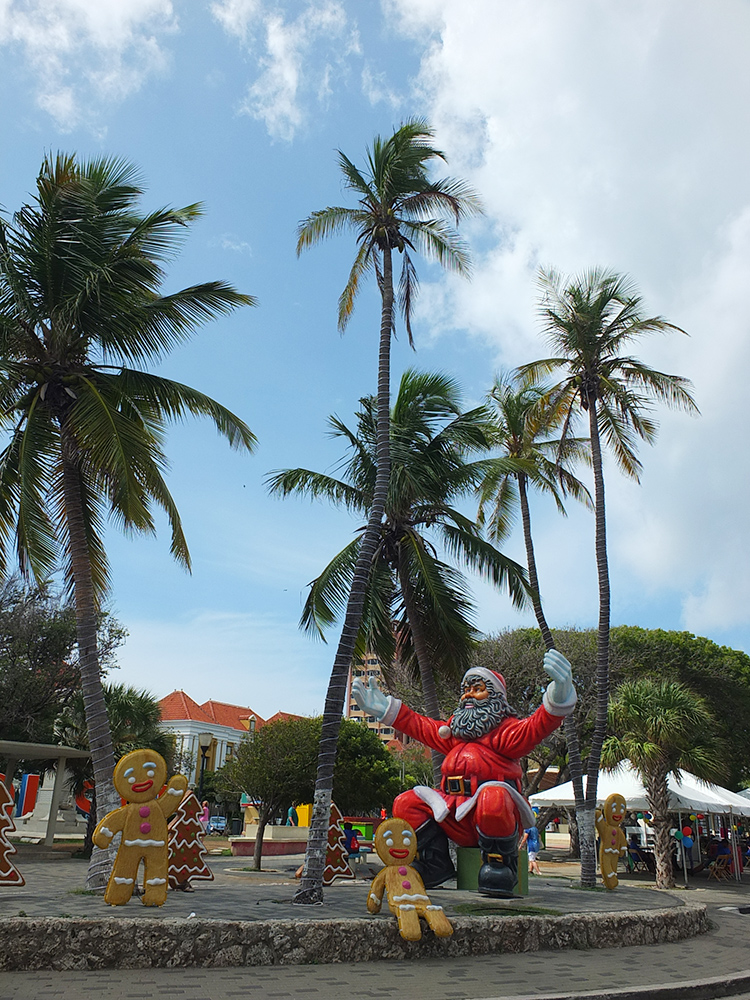 The Pietermaai District is a vibrant area known for its brightly painted colonial houses. The area used to be run-down and vacant, but in recent years many of the old historic buildings have been restored. Today, the district is home to lounge areas, boutique hotels, restaurants and bars; a perfect combination of old and new – and their Christmas display is rather fantastic!
We found ourselves in this area, led by the presence of a geocache, and as a result, we found the most fantastic little beachfront venue to enjoy our lunch – the Scuba Lodge. We sat in the shade of a palm tree with the sound of the ocean lapping just a few feet away, kicked our shoes off, dug our toes into the sand and ordered an ice-cold El Presidente beer and a sharing platter.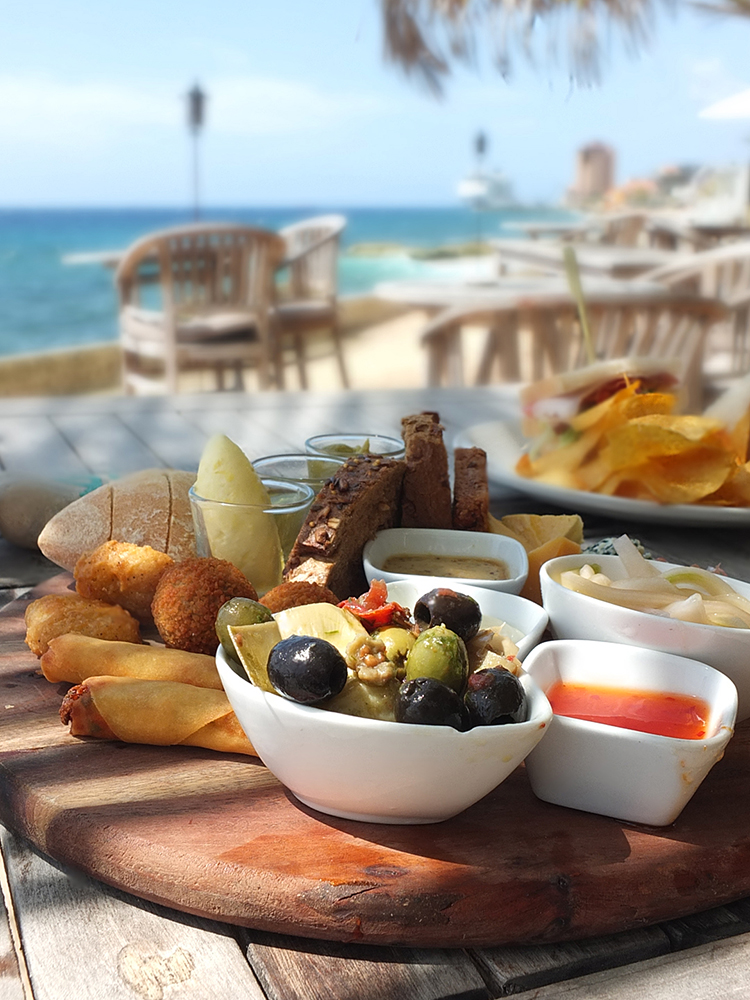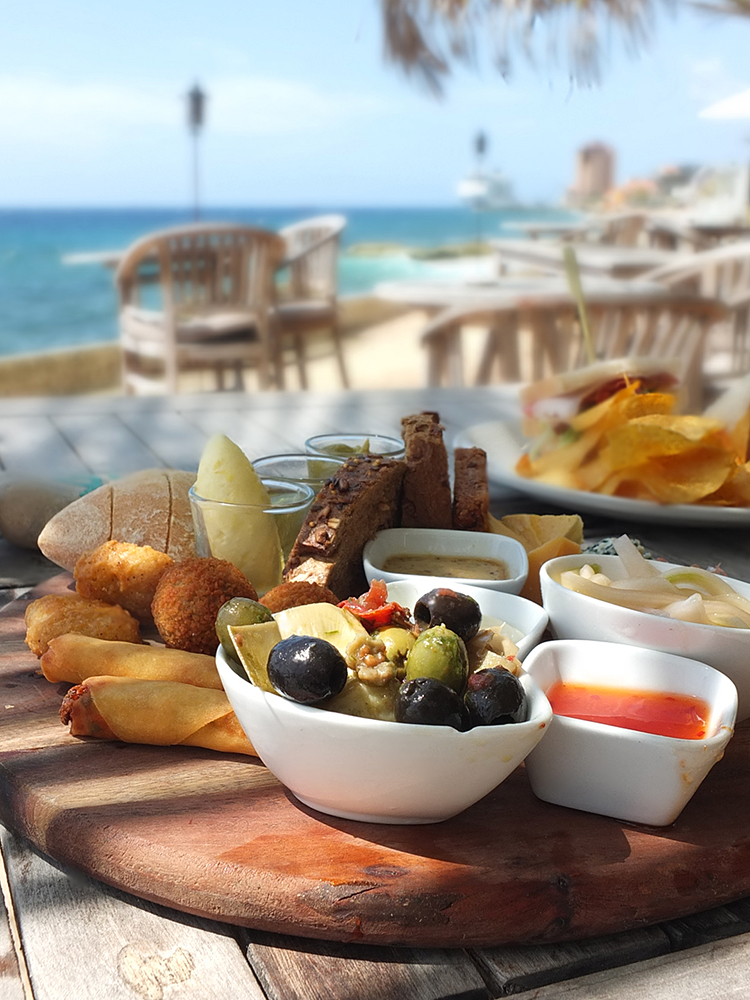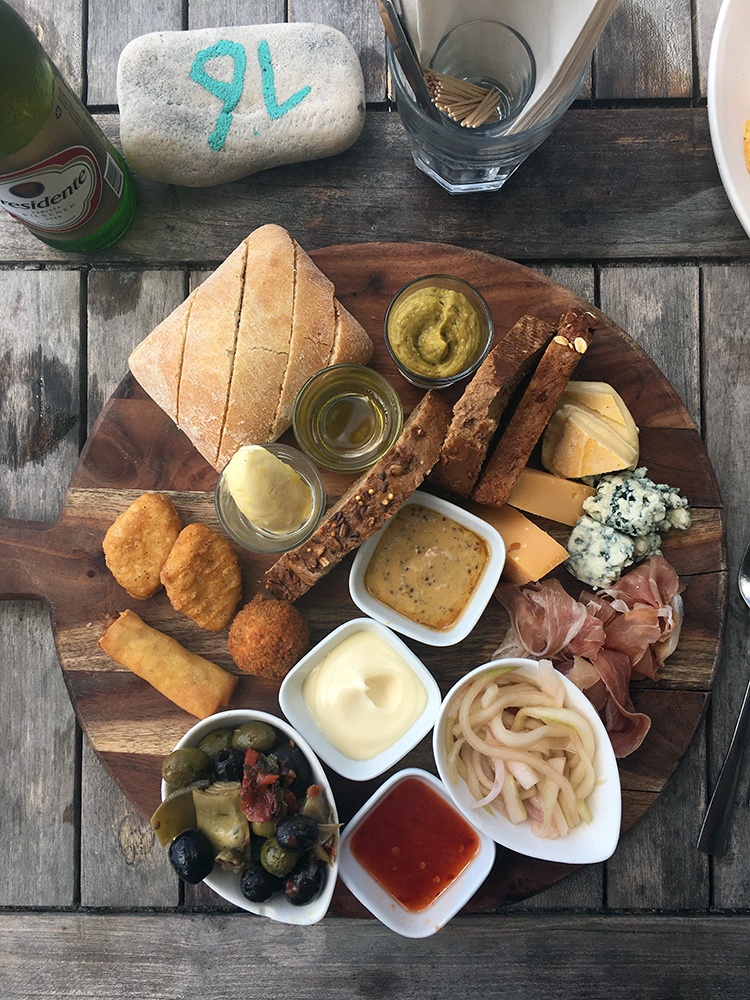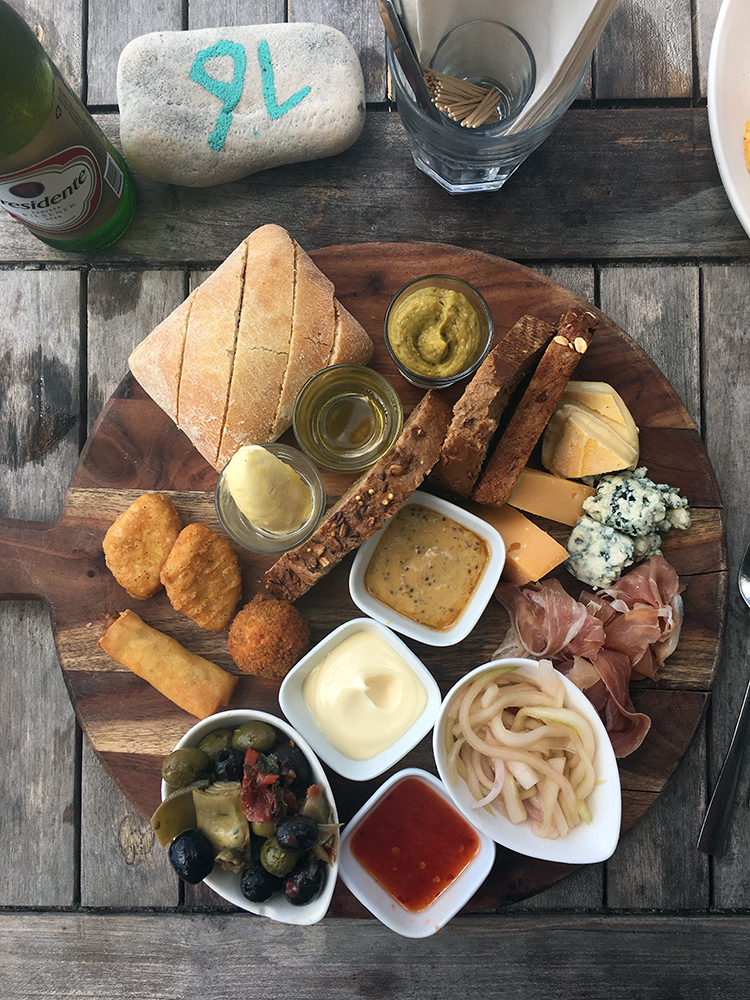 I was delighted to see our lunch featured bitterballen, a traditional Dutch bar snack usually made with beef or veal. They are usually served with a strong mustard sauce for dipping, and pair very well with an ice cold beer.
Our lunch platter also included a selection of Dutch cheese and slices of dark rye bread, as well as olives, prosciutto, pickled onions and ciabatta.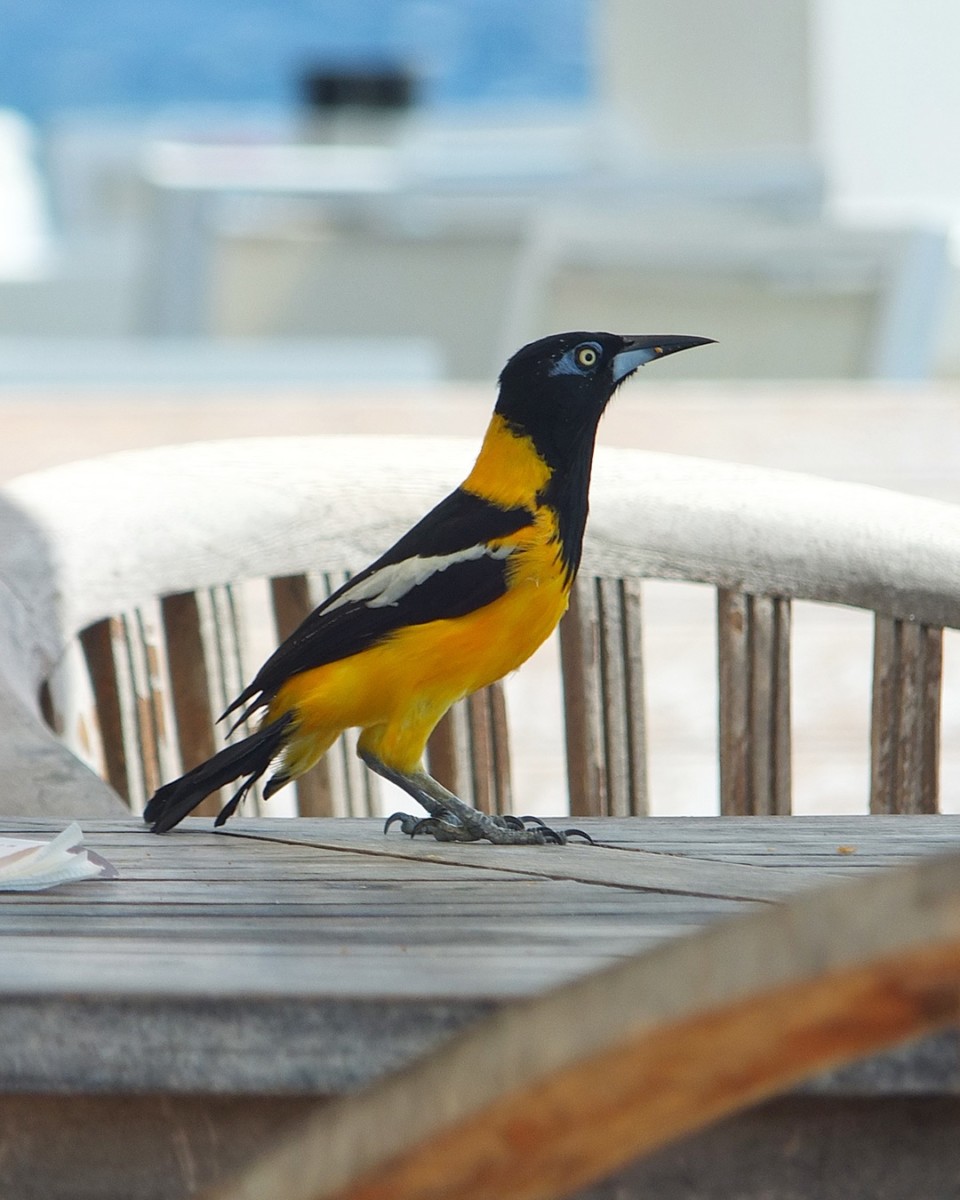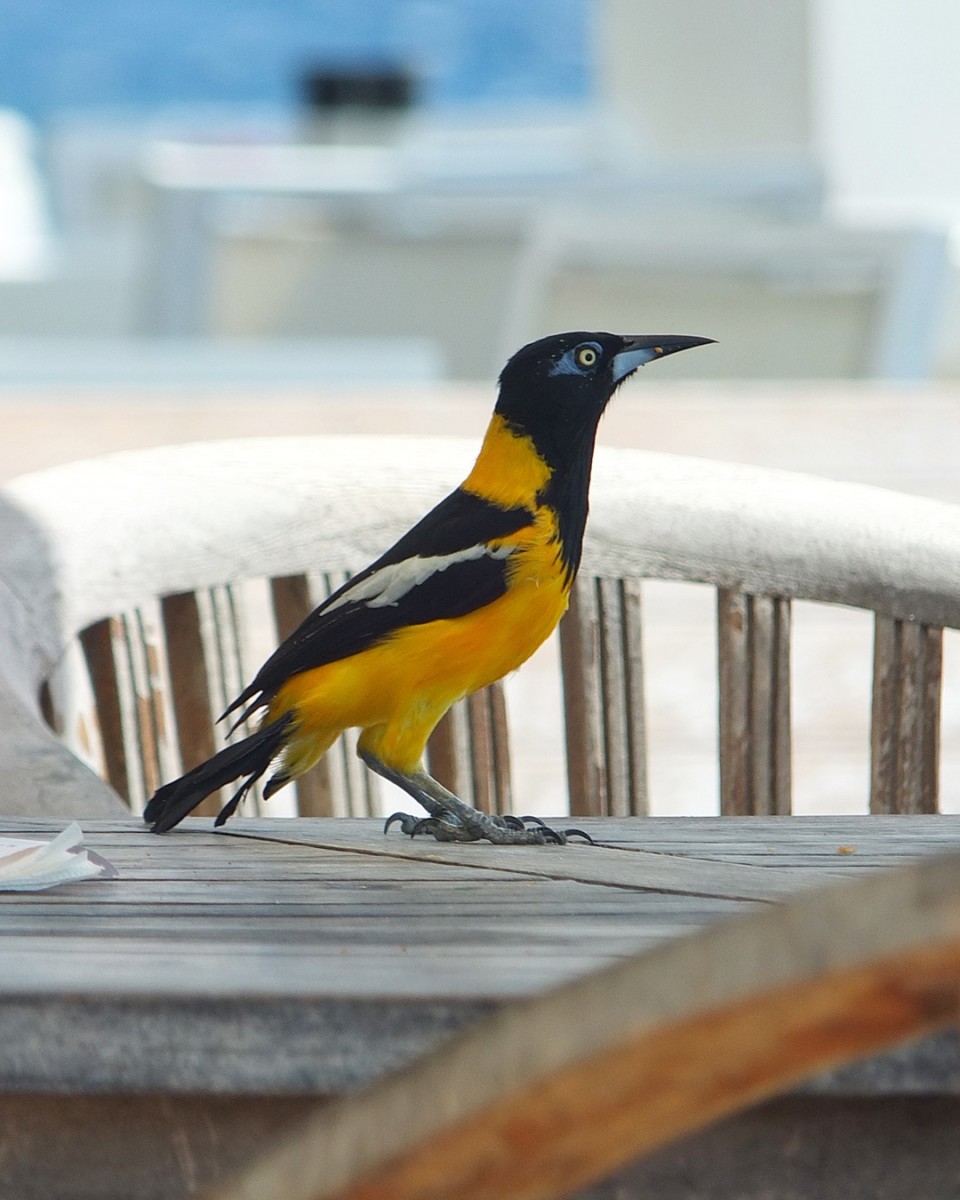 While enjoying our meal, taking in the cooling sea breeze and the delicious beer, we were disturbed by the most unusual sound. It took me a while to figure out what it was – at first, I thought someone was knocking, or whistling, or there was a child nearby with a toy. It turned out to be a Venezuelan Troupial – a bird native to nearby Venezuela but also found in Curaçao, Aruba, Bonaire and Puerto Rico.
It's a bit silly, I know, but seeing and hearing this bird was the highlight of my visit to this tiny island.
I really enjoyed what little time I spent in Curaçao, and was quite delighted to have received a stamp in my passport in the airport on the way home.
With thanks to Celebrity Cruises for this incredible opportunity.
Cruise Shore Excursion in Willemstad, Curacao
PIN THIS CURAÇAO SHORE EXCURSION POST FOR LATER
Elizabeth was a guest of Celebrity Cruises. All thoughts and opinions expressed are our own.