In collaboration with Celebrity Cruises UK.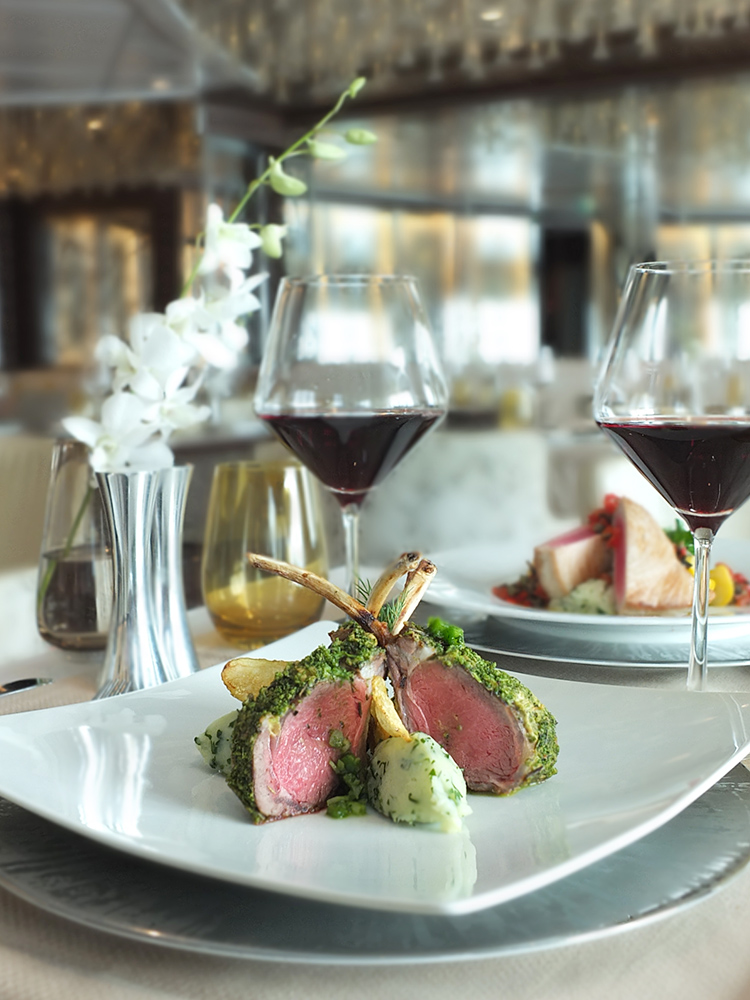 The Celebrity Equinox is a stylish 1041 foot Solstice-class cruise ship operating year-round luxury cruises to the Caribbean islands. In November of 2017, I spent five glorious nights on board her, being wined and dined in the most exquisite of restaurants.
The team on board the Celebrity Equinox pride themselves on their fine dining options, and with eleven restaurants available to choose from as well as a wide variety of bars, there's really something for every taste and budget.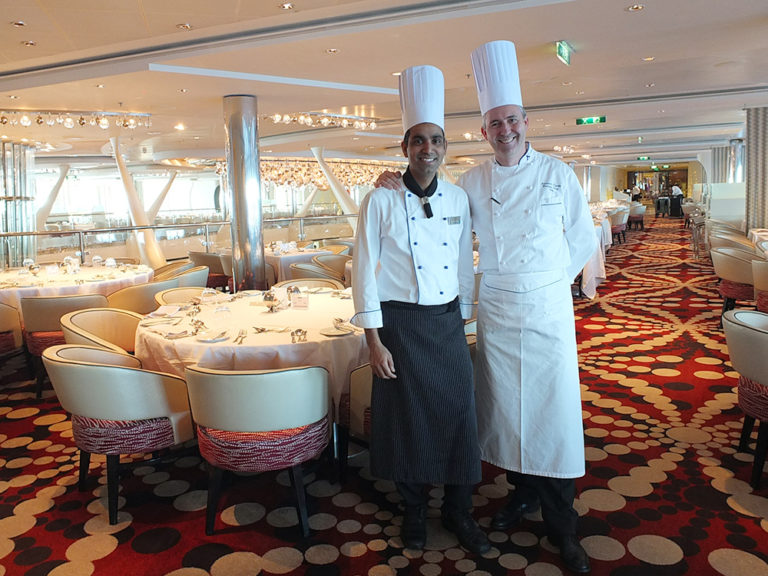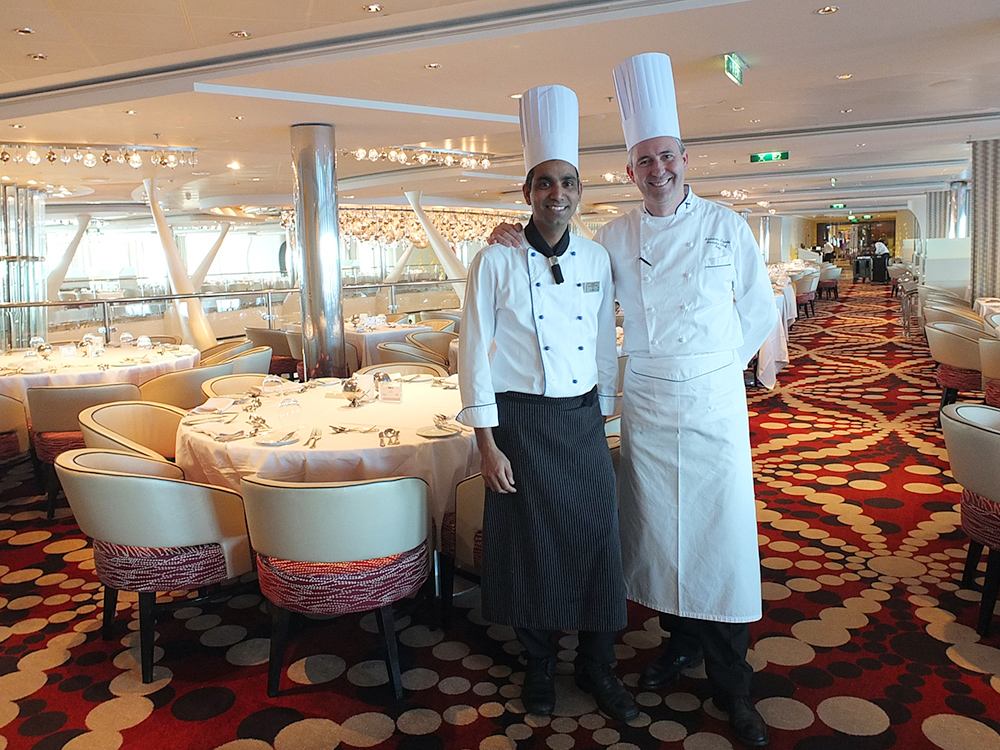 Executive Chef Alexander Capello (pictured above right with executive sous pastry chef Razak) was born in Northern Italy, beginning his culinary journey at his family hotel. He attended the Culinary Institute in Gardone Riviera, Italy and worked at the Giorgio Armani Restaurant in Paris as the Executive Chef de Cuisine. He's also gained experience at the Four Seasons Hotel & Resorts in Milan, London, Istanbul, Amman, Damascus, Hawaii and the Caribbean. It's safe to say when it comes to good food, he knows his stuff.
Alexander joined the team at Celebrity Equinox in 2016 and brings his creativity, passion for food and attention to detail to every dish served on board the Celebrity Equinox.
SPECIALTY RESTAURANTS ONBOARD A CELEBRITY EQUINOX CRUISE
There are four speciality restaurants on board the Celebrity Equinox waiting to take you on a unique culinary journey: Murano, the Tuscan Grille, Sushi on Five and Silk Harvest. To dine in these you can either pay the set fee (between $35-50 for three courses, drinks not included) or buy one of the Celebrity Equinox Specialty Dining Packages. The minimum package includes three meals, and with this, you can try three different restaurants or enjoy the same restaurant each night. All of the specialty restaurants are conveniently located on Deck 5.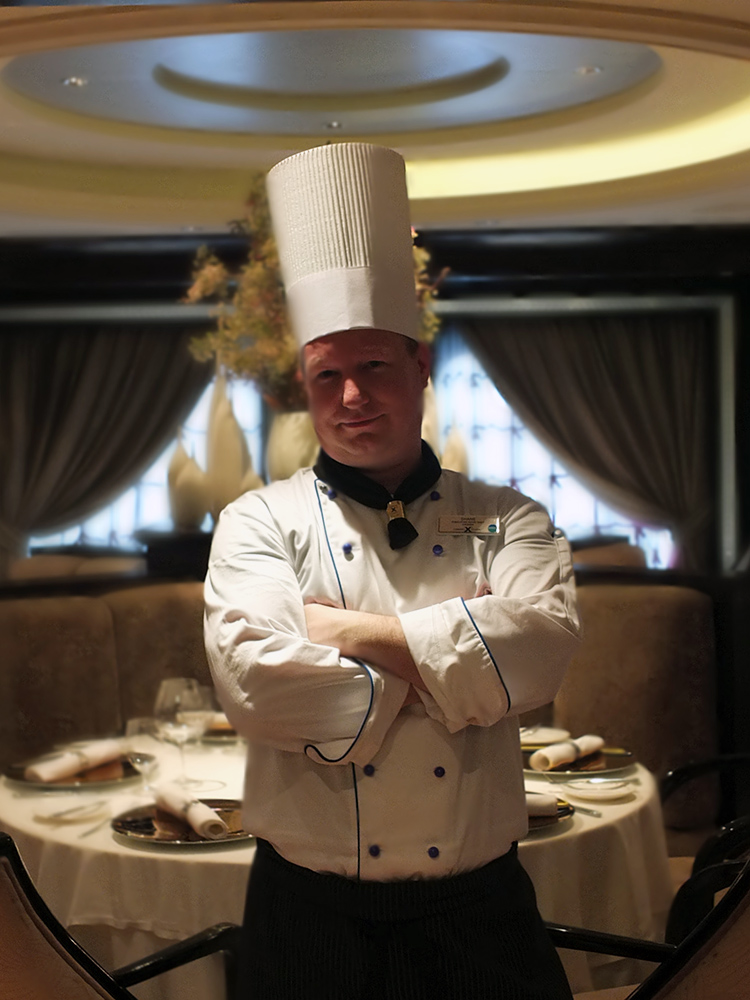 In Murano, classic French cuisine gets a modern update. This was my personal favourite restaurant on board the Celebrity Equinox. The restaurant is beautifully laid out, invitingly decorated with dark wood and moody, yet comfortable atmospheric lighting.
Murano's world-class chefs, waiters and sommeliers are always on hand to impress you with their extensive knowledge and skills. Their tableside Murano lobster presentation is a must-try! Waiting staff prepare and cook the dish right next to you, flambéing the lobster tail in cognac and serving it with a divine Dijon-cream sauce.  Accompanying wine is expertly paired by their in-house sommelier with each delicious dish.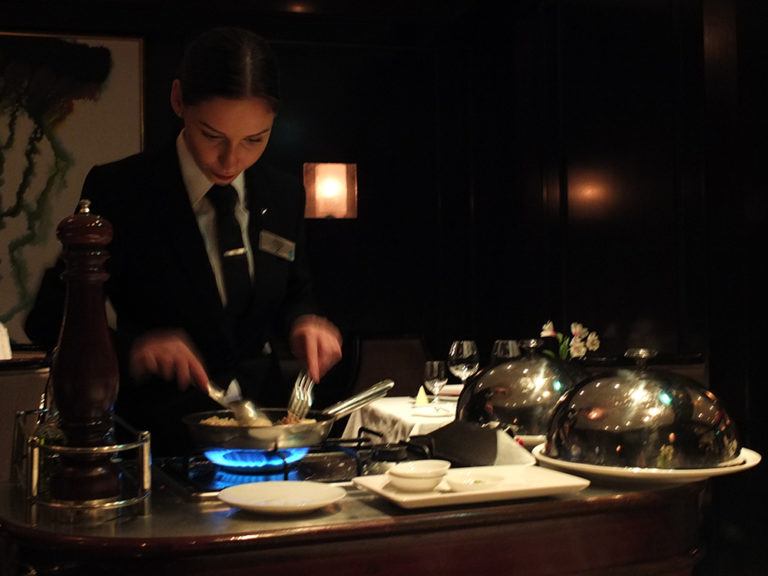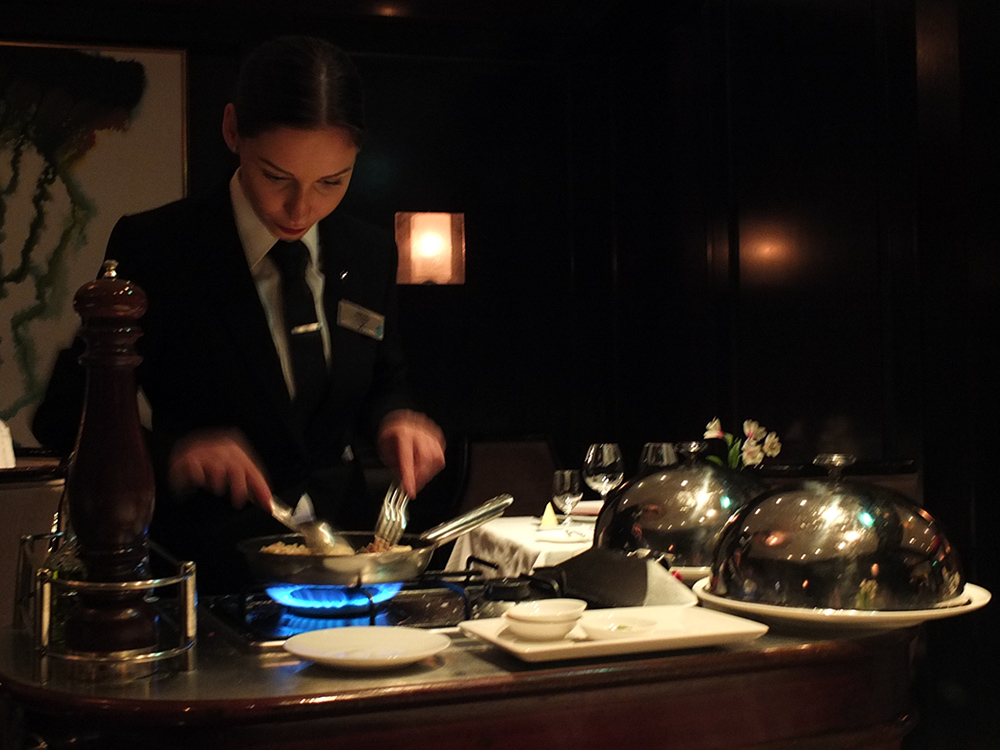 The Murano menu features a wide variety of contemporary French cuisine, from the aforementioned Murano Lobster to potato-laced French turbot (below), phyllo bake with anjou pear (below, left), spinach salad with pork rillettes and black truffle (below, right) and a mouth-watering array of delectable desserts including their Valrhona (pictured below, bottom) chocolate croquant (a cocoa cake with caramel and white coffee ice cream).
They've even got a separate caviar menu, for those who enjoy such delicacies, and their cheese range is rather impressive.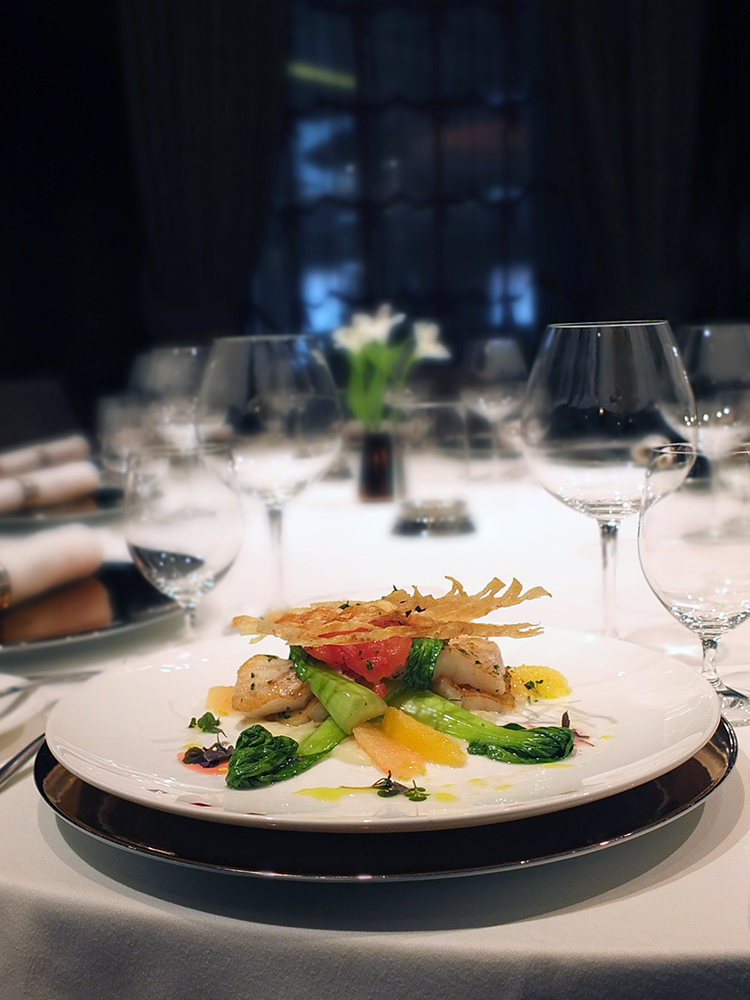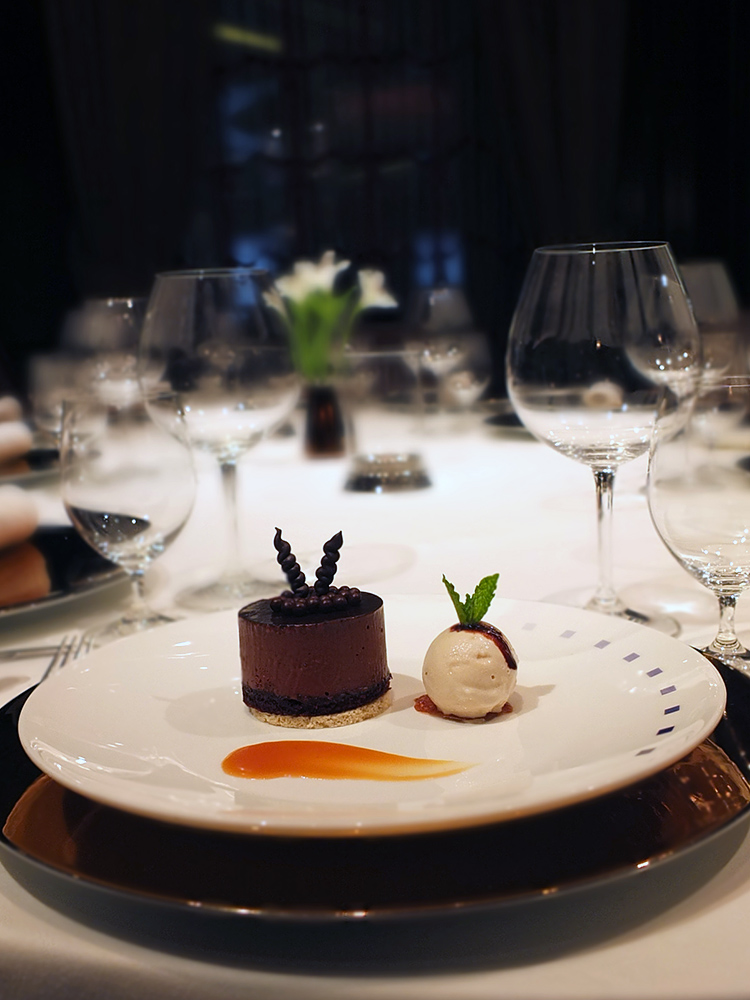 If you have an occasion to celebrate, why not try their luxurious Champagne Afternoon Tea, or the unique Five Senses Menu; a six-course menu perfectly paired with wines.
The Tuscan Grille, located at the aft of the ship, celebrates warm Italian hospitality and serves a filet mignon to die for. I'd recommend starting your meal with their antipasti platter featuring a range of Italian meats, cheese and olives, and a glass or two of perfectly paired Italian wine.
Their pasta is homemade on the premises, and you can watch them make this pasta through the window to the back kitchen. For the main course, choose a USDA prime dry-aged steak for the ultimate steakhouse experience. You can mix and match their dishes too, pairing your steak with truffle steak fries, eggplant parmesan or polenta fries.
The decor is warm, wooden and features many arches – reminiscent of an old wine cellar, and the restaurant boasts an extensive collection of Italian wines.
Make your reservations in advance, and book a table along the windows for a view of the wake of the ship and, if you're lucky, a view of the sunset if you book your meal for early enough.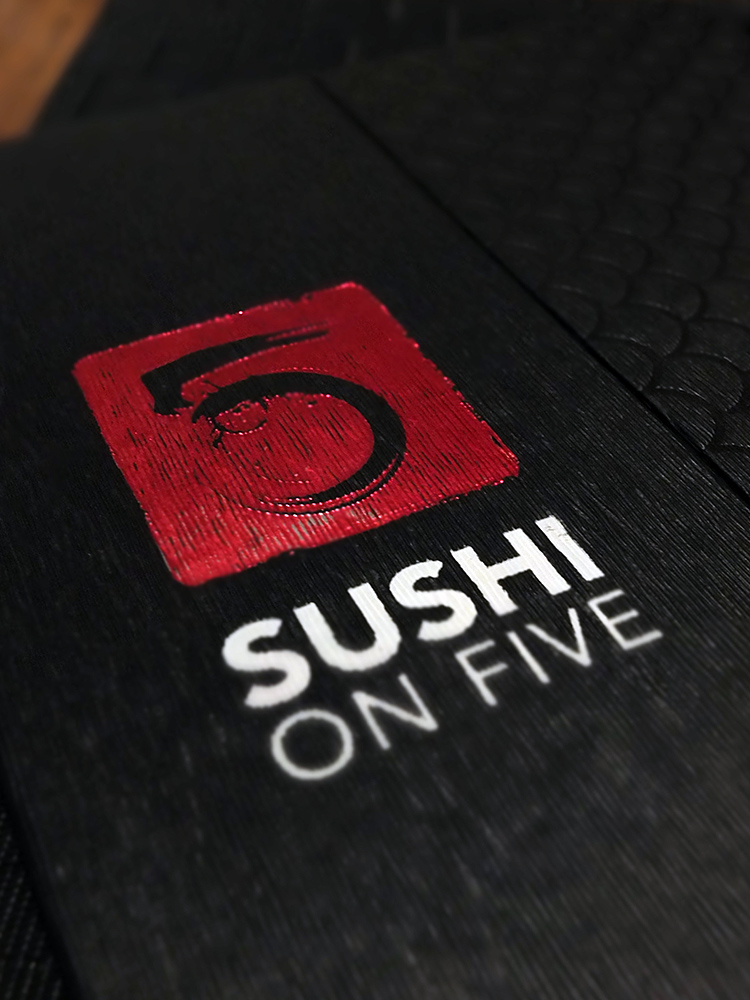 Sushi on 5 is the most recent addition to the high-quality restaurants on board the Celebrity Equinox. Opened in 2016 it features a contemporary range of Japanese dishes, and if I'm to be honest, dining here was my first ever experience with authentic Japanese sushi and I loved every single morsel, from the traditional (modern?!) California roll to the mixed sushi platter, the sushi bowl and the matchamisu, a rather delicious Japanese matcha green tea tiramisu, which I had for dessert.
Their spicy mangotini cocktail is well worth a taste too, with its sweet cocktail base and fiery red pepper topping.
Sushi is commonly thought of as being raw fish only, but the word sushi literally translates to 'sour rice' due to the sticky rice being seasoned with vinegar. Raw slices of fish served without rice are called sashumi, and I had the opportunity to try this delicacy for the first time too, at Sushi on 5.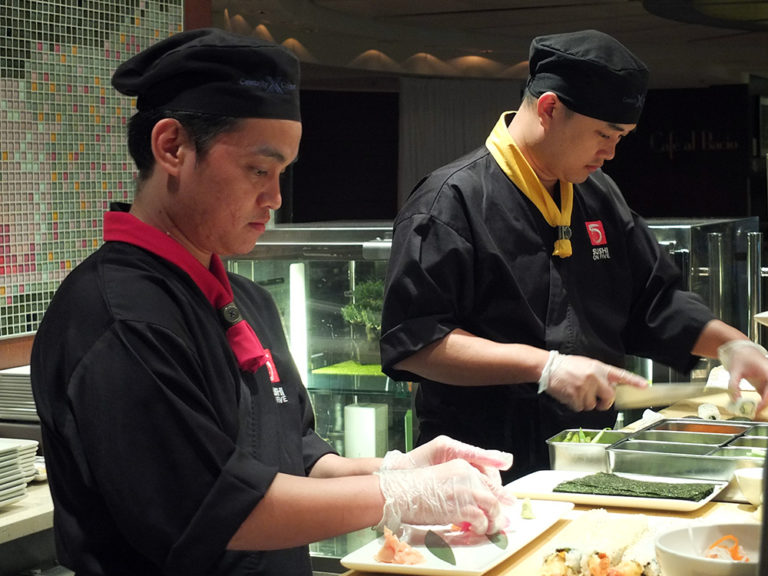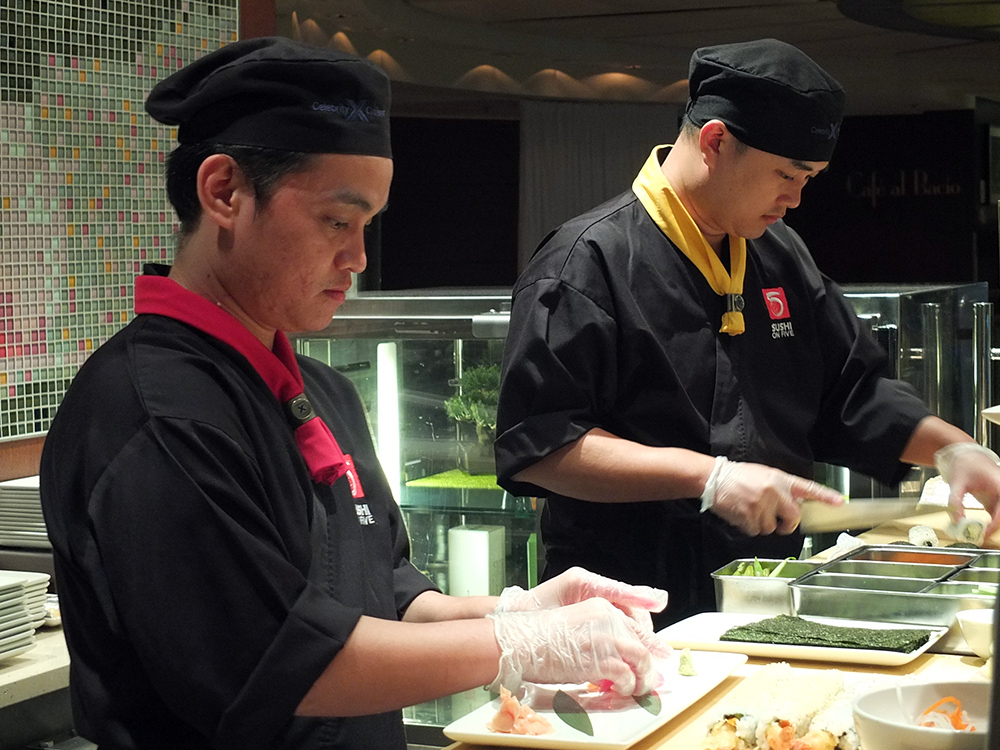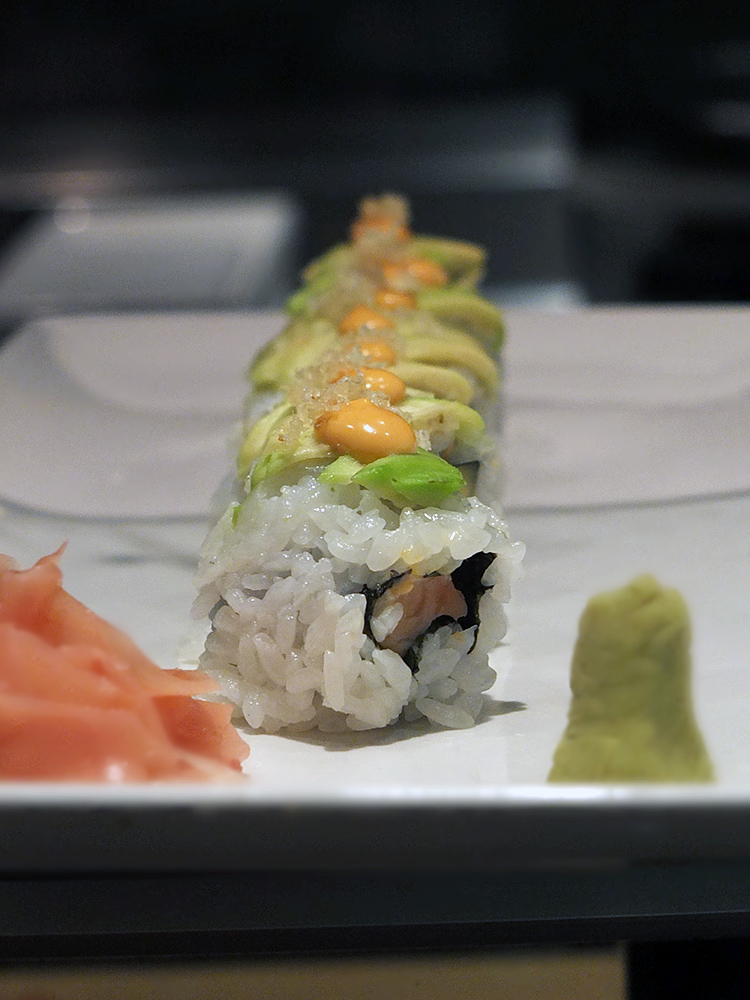 Silk Harvest is another Asian restaurant on board the Celebrity Equinox, but I didn't get the chance to dine at this restaurant during my cruise, this time. The menu at Silk Harvest combines Chinese, Japanese, Thai and Vietnamese flavours, paired with friendly service and a laidback, family-style atmosphere.
All of these specialty restaurants have a set fee, and it is advisable to make reservations as early as you can as they can get busy. If you want to save money during your cruise, consider opting in for a Specialty Dining Package.
COMPLIMENTARY RESTAURANTS ON A CELEBRITY EQUINOX CRUISE
There are three restaurants on board the Celebrity Equinox cruise ship open to all passengers, regardless of what class you are travelling: the main Silhouette Dining Room on Decks 3 & 4, the Oceanview Cafe buffet on Deck 14 and the Mast Grill & Seaside Grill outside on Deck 14.
I never did dine in the Silhouette Dining Room so I can't comment on there other than it looks fantastic with its unbridled glamour featuring an impressive 1800 bottle wine tower. Note, that although breakfast, lunch and dinner in this restaurant are complimentary, drinks are not included.
In 2016, the Silhouette Dining Room was awarded the Wine Spectator Award of Excellence for having one of the most outstanding restaurant wine lists in the world.
I ate lunch in the Oceanview Cafe most days. Featuring an extensive range of international cuisine, this buffet-style cafe is open all day for breakfast, lunch and dinner, serving food until 1 am. Again, drinks are not included. Grab a seat by the window for fantastic sea views, or take your meal out onto the balcony for some al fresco dining. My favourite meal I enjoyed in the Oceanview Cafe was the jerk chicken with rice & beans and fried plantain. Proper down-to-earth Caribbean fare.
The Mast Grill is located one deck up from the pool on Deck 14 and offers a range of burgers, hot dogs and fries.
For those travelling Aqua Class, Blu on Deck 5 offers a wide range of dishes for the health conscious. Inspired by California and the Mediterranean with its cool blue and white interior and sapphire-like shimmering light.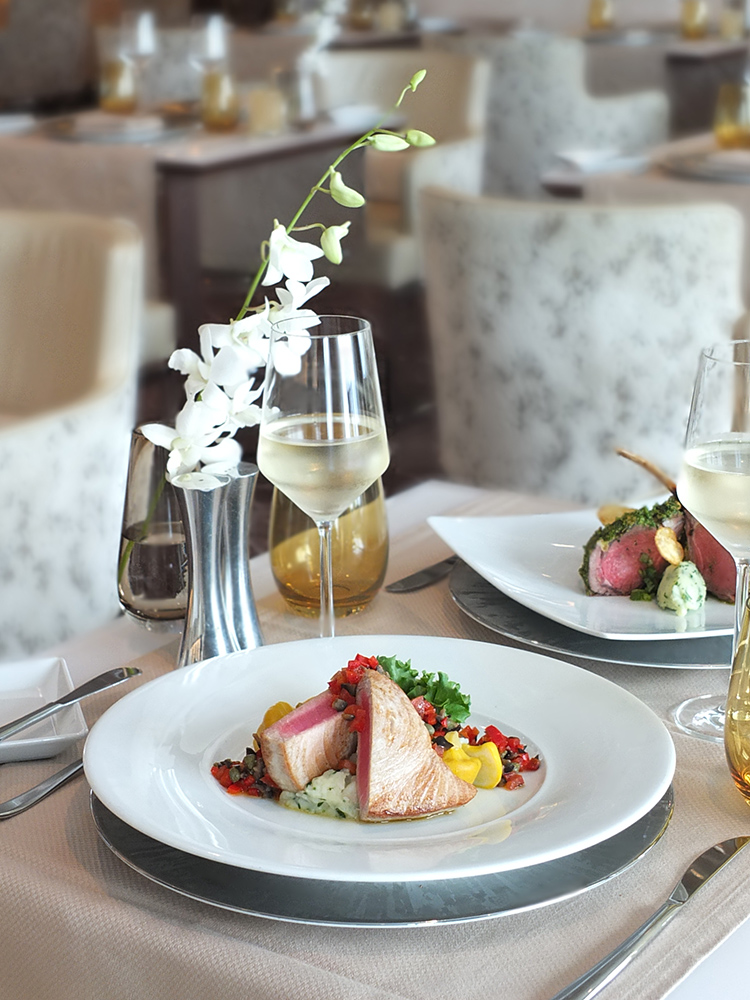 For guests travelling Suite Class, the Luminae restaurant offers complimentary breakfast and dinner. Lunch may also be on offer during sea days. This stunning restaurant is inspired by light, with plenty of mirrors and windows and its white, black and gold interior. It is the ultimate fine dining experience. Only the best of the best is served at Luminae, from Moulard duck breast, chanterelles, sour cherries & pickled swiss chard stems to grilled Filet Mignon with blacked truffle potato puree, spinach and bordelaise sauce. There's even a dedicated dessert cart.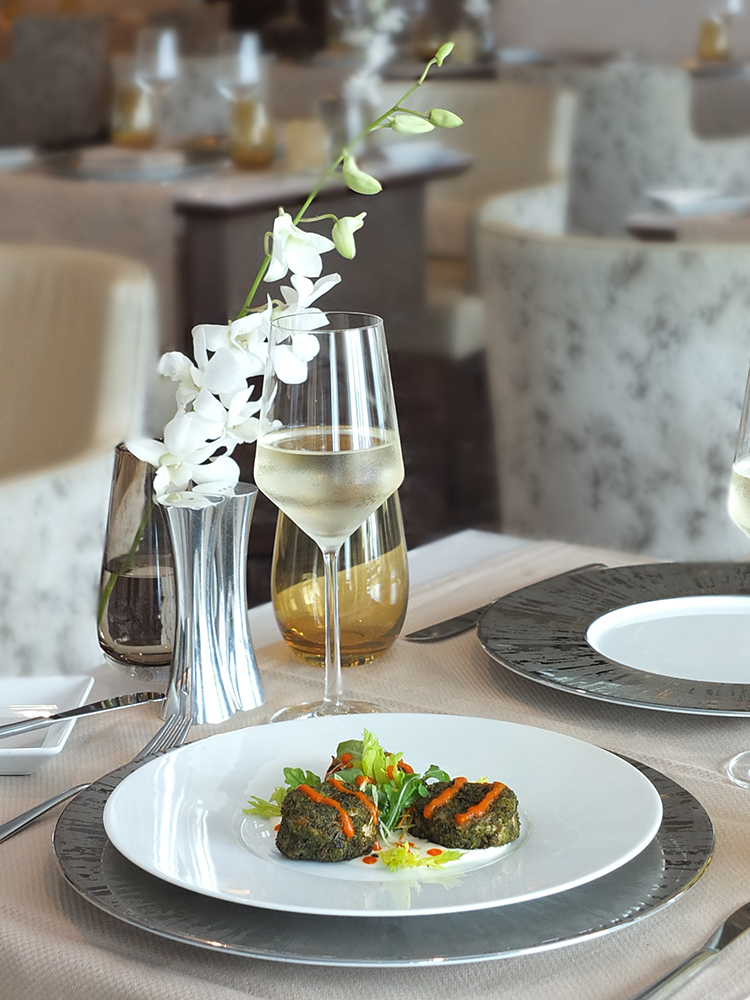 OTHER DELICIOUS MORSELS ON THE CELEBRITY EQUINOX CRUISE
The Celebrity Equinox cruise ship features no fewer than fourteen different bars to choose from, as well as a diverse range of clubs and lounges. Drinks packages range from the Classic Non-Alcoholic (selected soft drinks, bottled water & juices, coffee & tea) to the Premium which includes spirits, cocktails, fine liquors, wines by the glass, craft & artisanal beers, bottled water, tea & coffee and a discount on any wines purchased by the bottle.
Wine lovers can invest in a wine package and enjoy the superb collection of wines carefully selected by the onboard sommelier.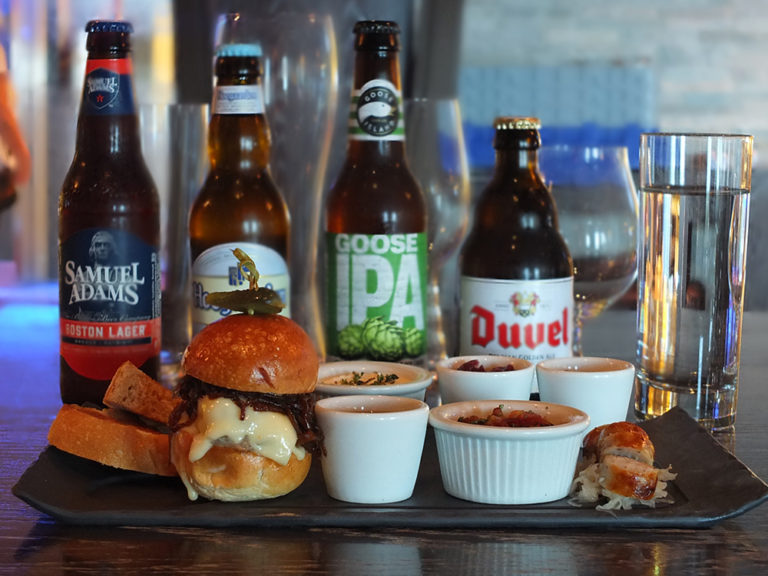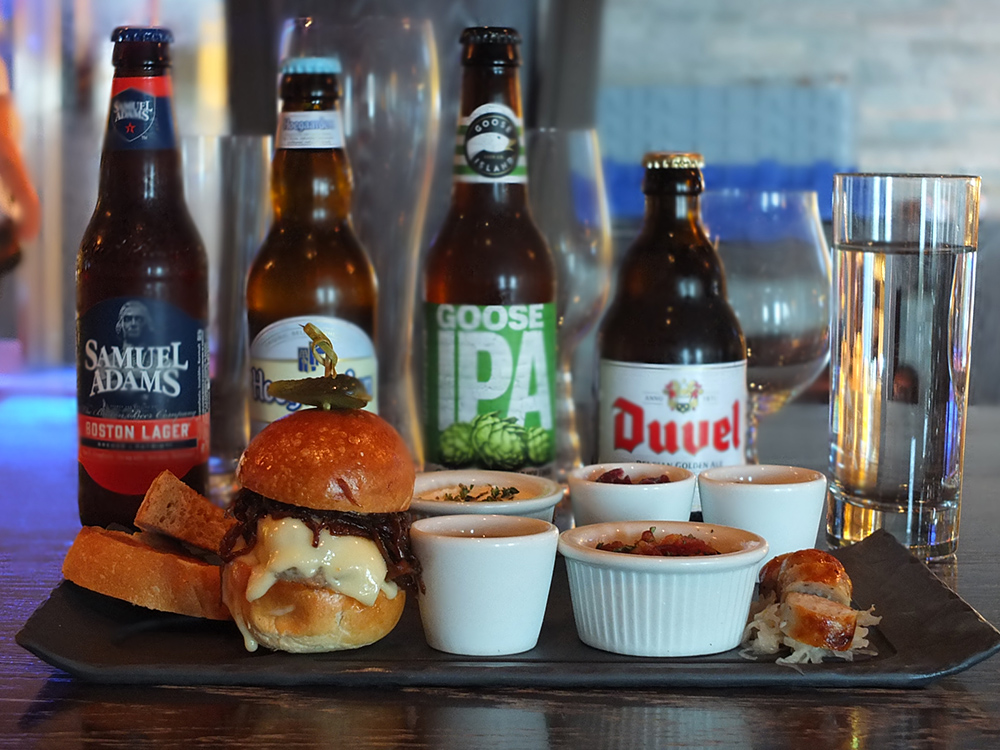 For you foodies, keep an eye out in the daily Celebrity Equinox Today leaflet for food and drink themed classes on offer that day. The GastroBar on Deck 4 offers regular whisky tastings and beer tours from their extensive range of craft beers, as well as a rather educational food and beer tasting event which I thoroughly enjoyed (pictured above), for a nominal fee (around $25).
I also attended a fabulous Mixology Class at the World Bar on Deck 5 where I learned about the basic components of popular cocktails, some history behind them, and had the opportunity to make (and drink) a few of my own (including my very first ever taste of absinthe!). Again, there is an extra $25 fee for this class.
We also enjoyed a rather fantastic (and free) How to Decorate the Perfect Cake class by the Executive Pastry Chef, Razak, in the Grand Foyer one morning, where we learned all sorts of effortless tips and tricks to create beautiful cakes.
BEHIND THE SCENES ON THE CELEBRITY EQUINOX CRUISE
The Celebrity Equinox Executive Chef, Alexander Capello, has a brigade of over 250 chefs and utility cleaners working twenty-four hours a day, seven days a week, to prepare meals on board the ship and to keep the galley scrupulously clean and organized.
As part of my trip onboard the Celebrity Equinox, I was given a behind-the-scenes tour of the galley and prep areas. The whole operation is run with military-style precision, with each staff member wearing a colour coded scarf indicating their position and role in the galley.
On average, the galley team prepare and serve up to 16,000 dishes for the guests and crew. Below they have summarized some of the consumption figures on board, based on an average 7-day cruise.
[color-box]
FOOD & DRINK CONSUMED ON AN AVERAGE 7-DAY CRUISE
14,542 pounds of beef
2,560 pounds of pork
1,650 pounds of sausage
2,965 pounds of turkey
2925 pounds of lamb
2564 pounds of veal
7242 pounds of chicken
12.652 pounds of fish
1,600 pounds of lobster
460 bottles of champagne
550 bottles of vodka
316 bottles of rum
35,000 litres of beer
12,450 pounds of potatoes
32,652 pounds of fresh fruit
812 quarts of cream
12,000 fresh eggs
8,000 pounds of rice
175 pounds of jelly
250 pounds of herbs/spices
48,659 pounds of vegetables
650 gallons of ice cream
9,850 pounds of sugar
1,850 pounds of cereal
4,250 pounds of coffee
19,000 tea bags
12,450 bottles of wine
250 bottles of gin
216 bottles of whisky
625 bottles of other liquor
76,540 litres of milk
56 bottles of sherry
[/color-box]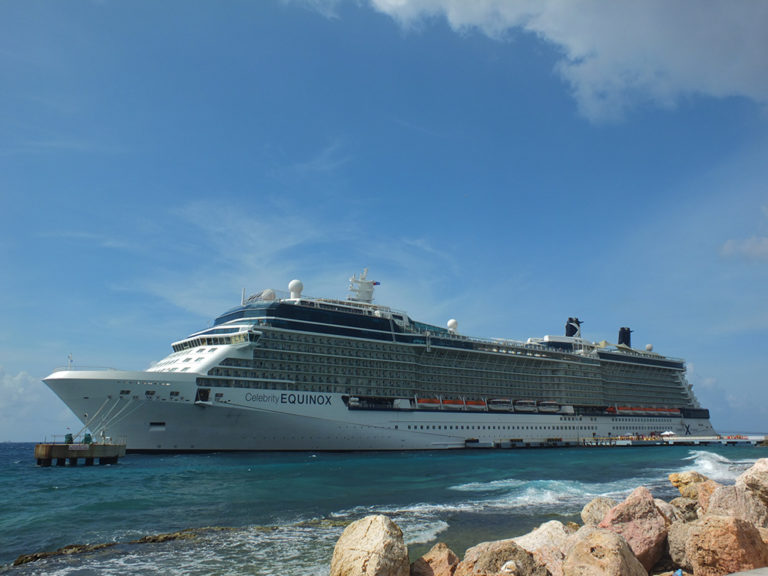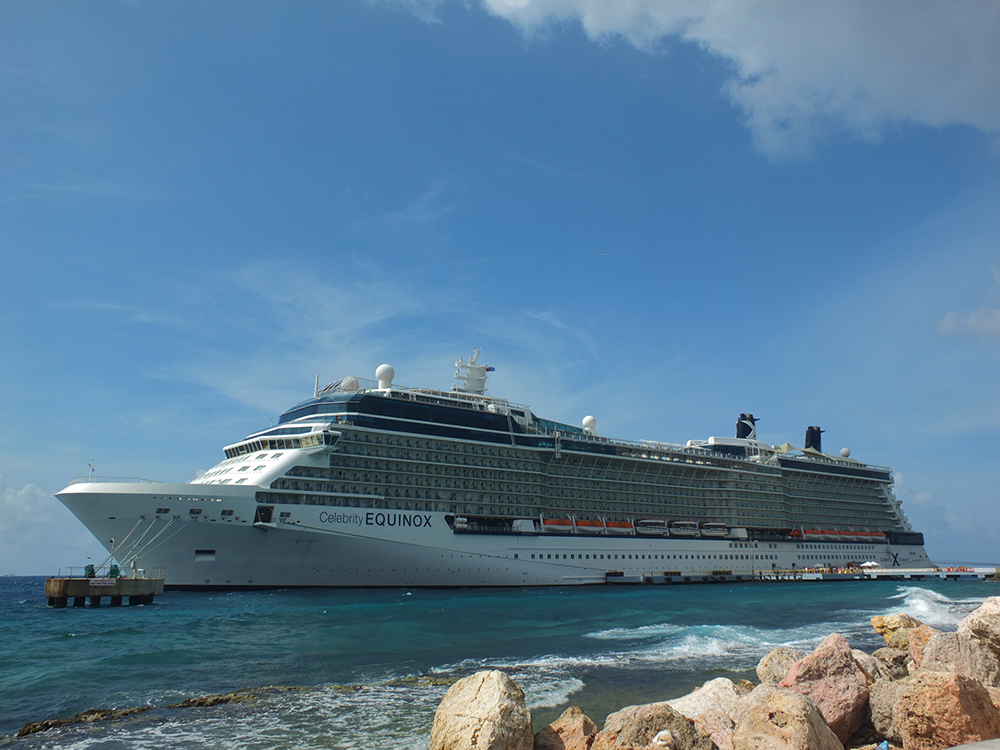 Celebrity Cruises offer guests a wide range of cruises all over the world, including the Celebrity Equinox cruises of the Caribbean. I confess until I went on this one I'd never really considered cruising as a holiday option, but now I am sold on the idea. I love that you only need to unpack your suitcase once and each morning you wake up in a different part of the world. Plus, the food is out of this world! Why not browse the Celebrity Cruises website for some holiday inspiration?
Have you been on a Celebrity Equinox cruise? What was your favourite restaurant? Let me know in the comments!
Elizabeth's Kitchen Diary was a guest of Celebrity Cruises UK. With thanks to all the staff who made my experience as enjoyable as possible. I'll never forget it!