A Land Rover off-road adventure in collaboration with Aruba Tourism UK.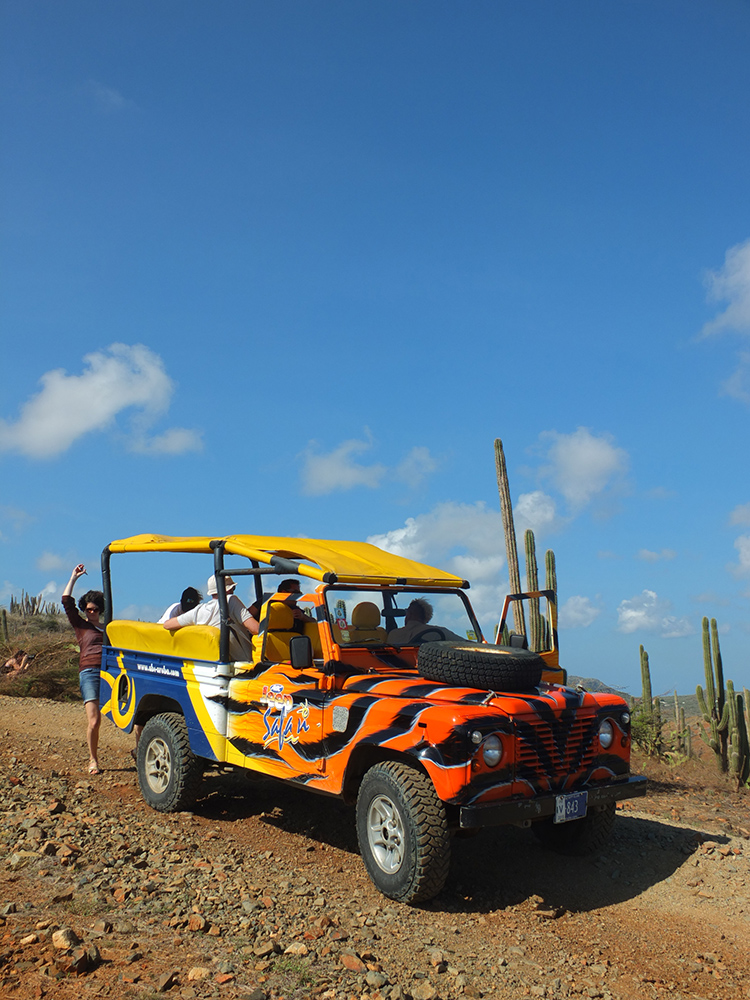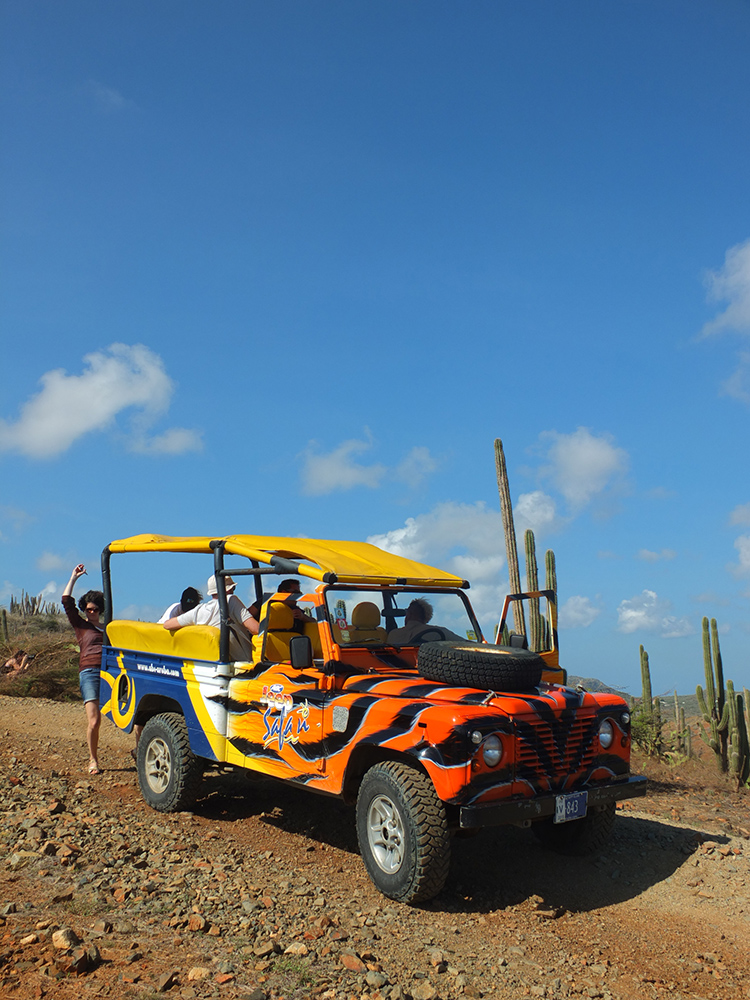 Happy New Year from not-so-sunny Shetland!
This is my first blog post of 2018, brought about because I attempted to go for a mountain bike ride first thing this morning to start burning off the effects of my Christmas/New Year indulgences. Half a mile into the ride and I found myself unceremoniously sliding down the road having had my back tyre slip out from underneath me on black sheet ice. Serves me right for trying to exercise in freezing temperatures! I limped home with no serious injury beyond a bruised ego and resolved to sit and spend the rest of the day blogging about warmer times; namely, that epic off-road jeep safari I went on last October on the tiny Caribbean island of Aruba, just 18 miles north of Venezuela.
I was visiting Aruba as a guest of Aruba Tourism, flown over from Glasgow to Amsterdam and then on to Oranjestad to sample the culinary delights of the island and to enjoy a few grand adventures. I was with a small group of other European bloggers and journalists, and we had an absolute blast – they were such a great group of people. I enjoyed our off-road safari so much I resolved to write a separate blog post about the experience. If you're ever in Aruba you really must go on this tour!
About ABC Tours Aruba
ABC Tours Aruba offer a range of off-road adventures not for the faint-hearted. They have a fleet of Land Rover Defender Stock cars modified to suit the local terrain, as well as a team of guides with extensive local knowledge.
All of their itineraries include visits to Aruba's most interesting historical sites as well as its best natural monuments. Their professional guides allow you to explore Aruba like a local by bringing you down the road less-travelled, and provide you with insight into the island's fascinating history and lore.
Our guide's name was George, and he is a cousin to Frankie, who I wrote about previously – he's Aruba's infamous freediver who treated us to a rather delicious Abaco Avocado & Rum Cocktail (served with some octopus!) on the shores of Mangel Halto.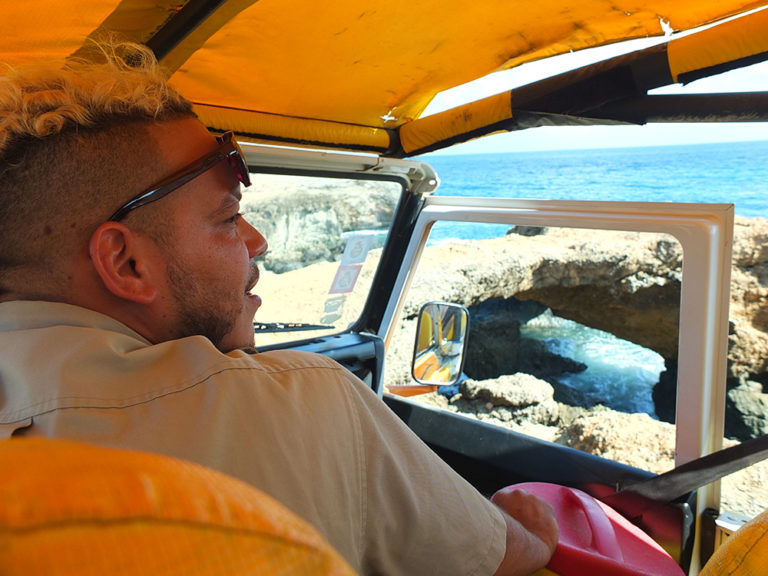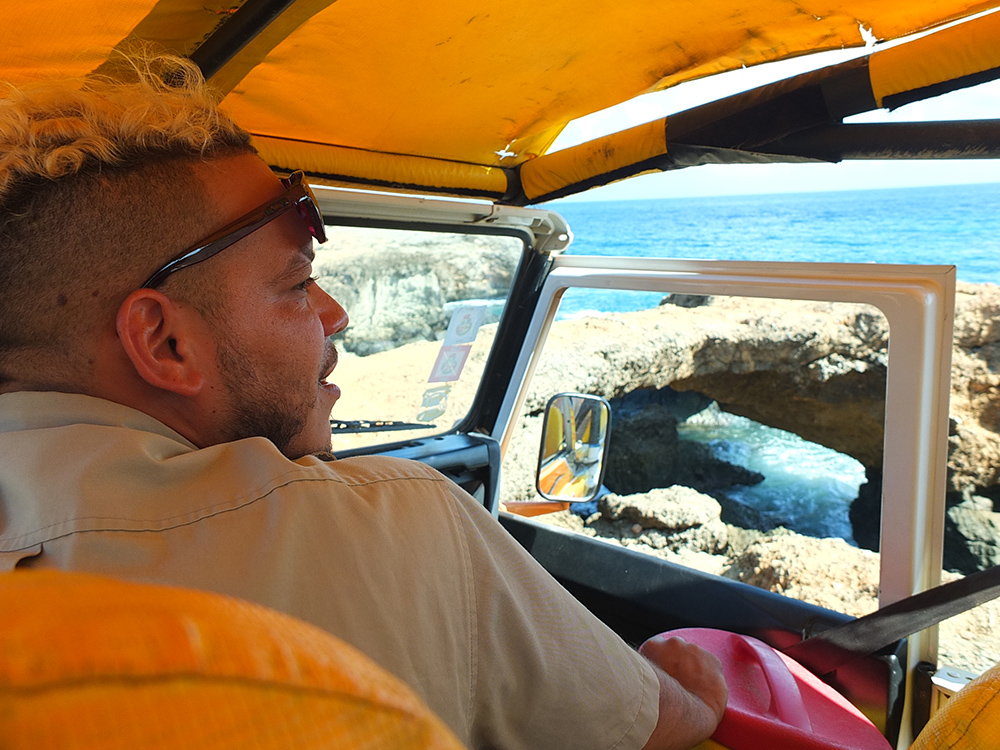 ABC Tour's jeeps are handpainted in bright tiger stripes and there's enough room in the back for eight passengers. Guides bring coolers of water and cups if you need, but it's recommended you bring a small day bag of provisions with you including suncream (go for the SPF 50, it's hot!) and water.
We began our tour at the ABC Tour office and headed to the north coast of Aruba through a landscape vastly contrasting to the white sandy beaches and palm trees of the south coast. It didn't take long before we were off-road, bumping down dirt tracks into the Aruban wilderness to explore the world beyond the hotels and restaurants.
Our first stop was at the natural arches and black stone beach in the Arikok National Park.
Black Stone Beach & Natural Bridges in Arikok National Park
Formed from thousands of years of the sea eroding the coral limestone on the north coast of Aruba, the natural bridges are a popular tourist attraction, especially since the nearby larger Natural Bridge collapsed in 2005.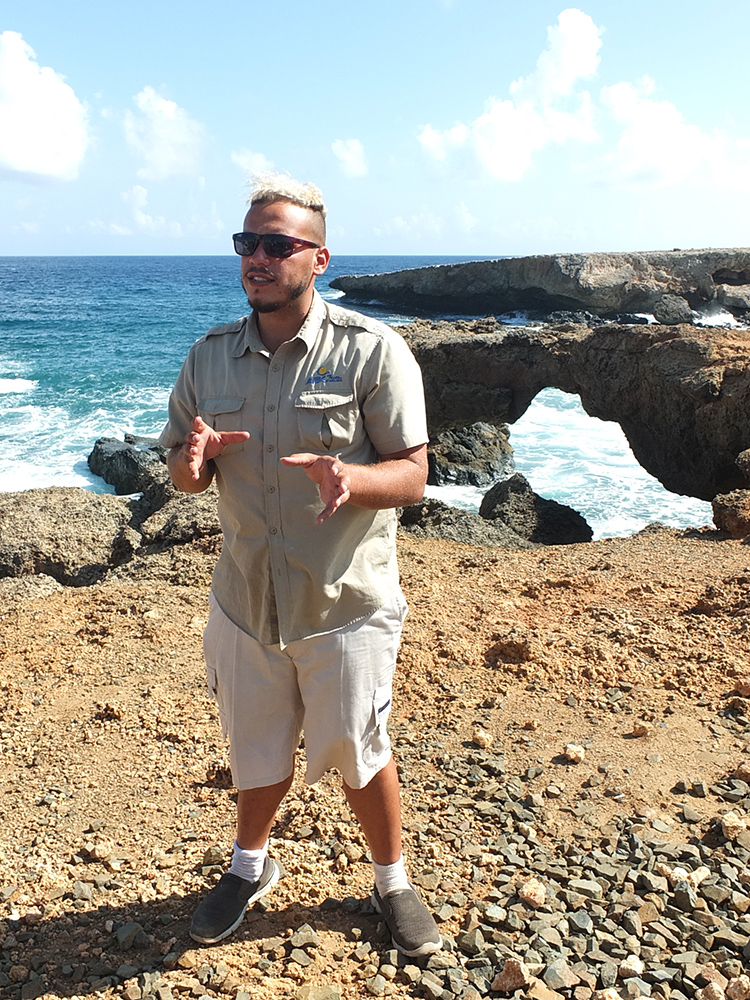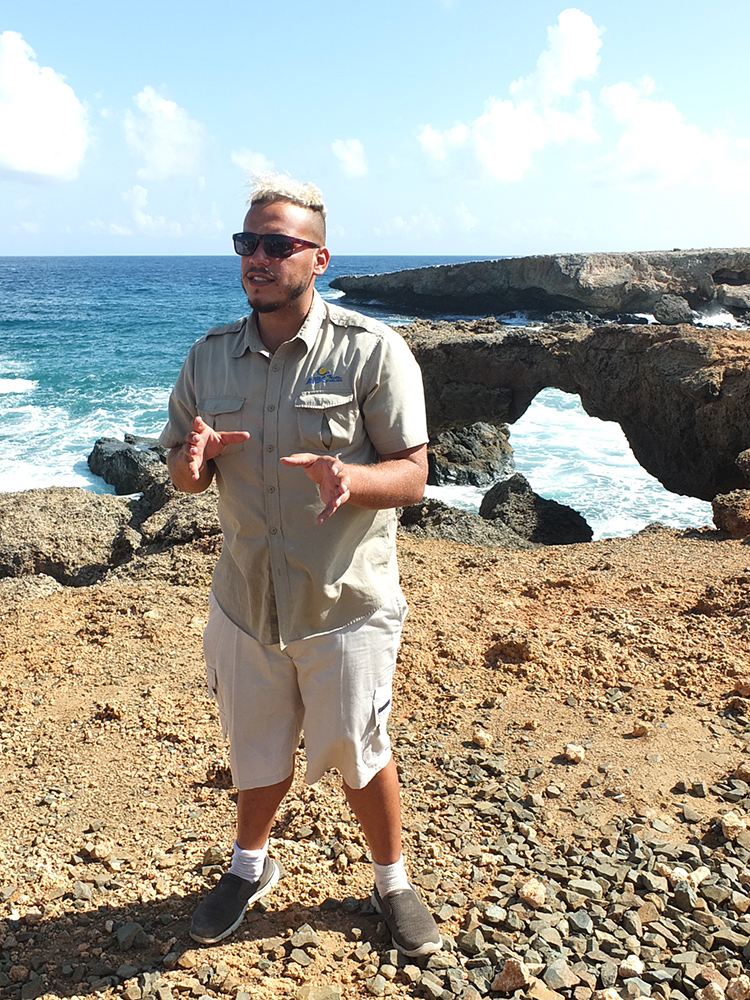 To the right of the two natural bridges (the third has recently collapsed), you'll find the Black Stone Beach, Aruba's only black 'sand' beach. The smooth and shimmering black pebbles lining these beach were formed from ancient lava bubbling up from the seabed millions of years ago. The open sea crashes onto these shores and there can be fierce tides so swimming is not recommended.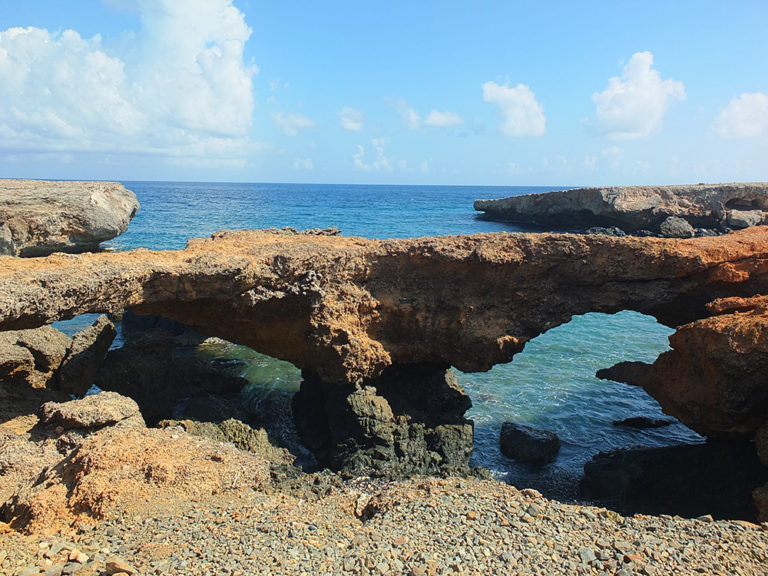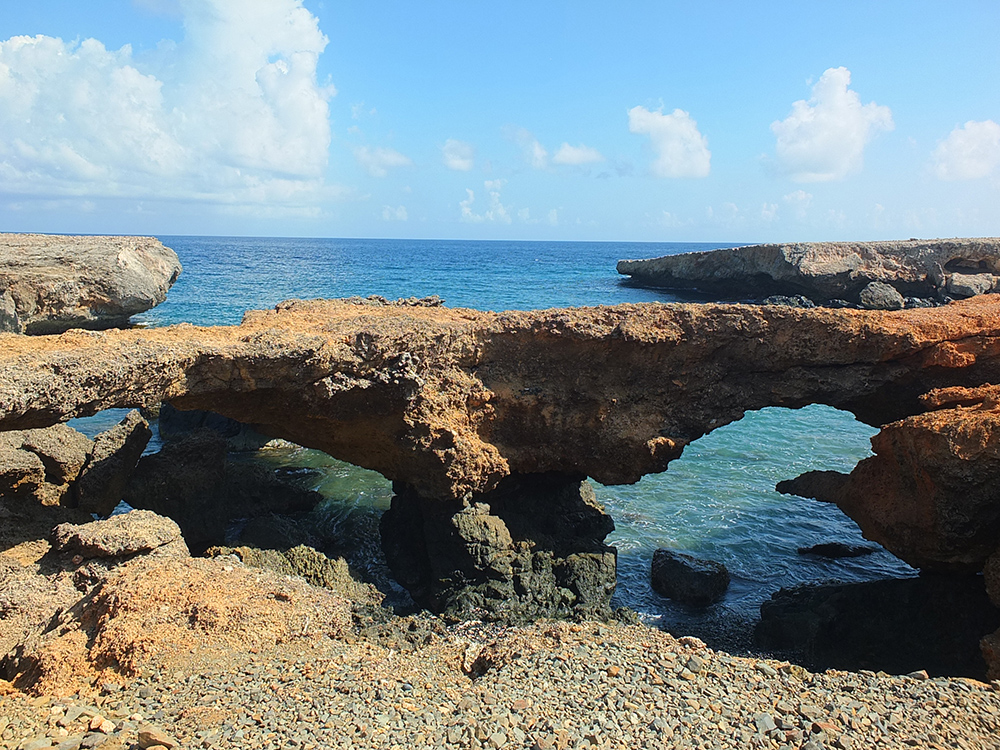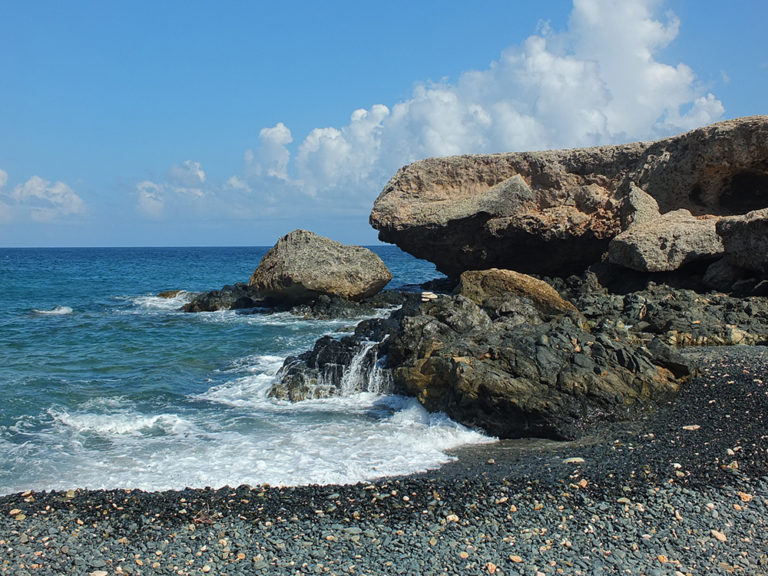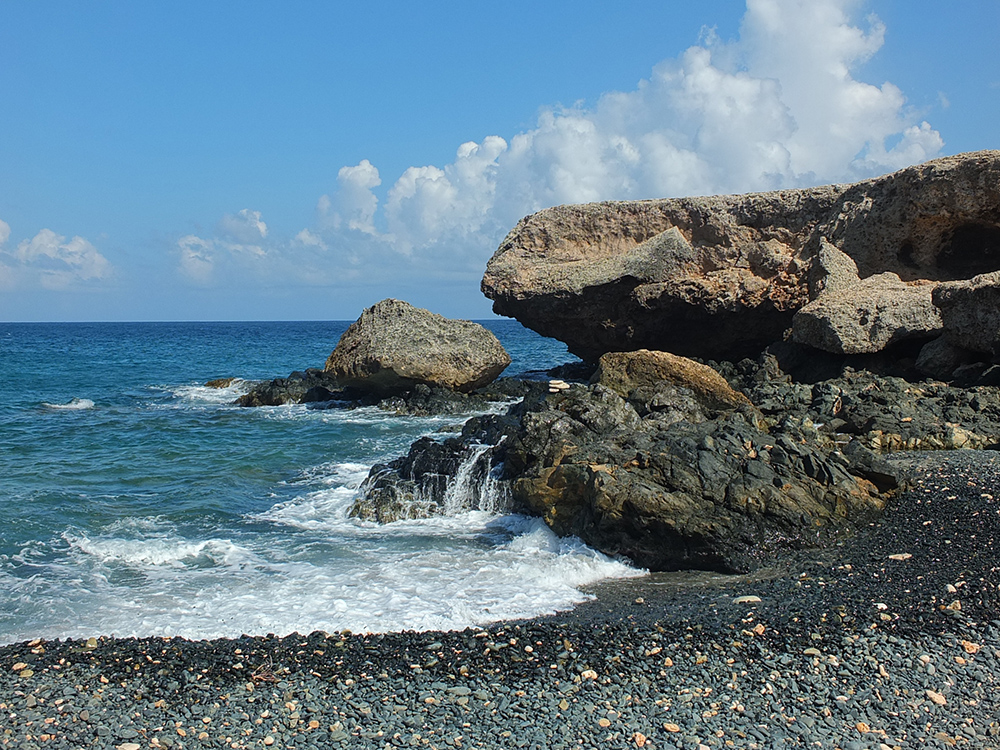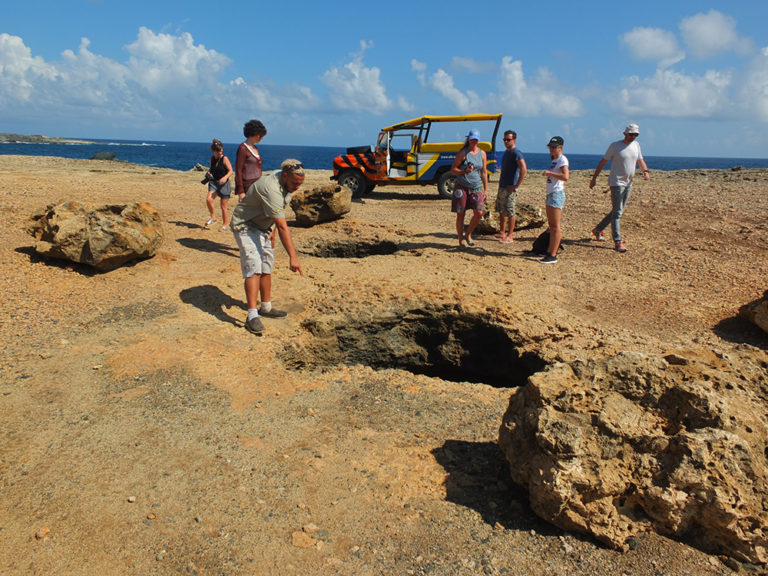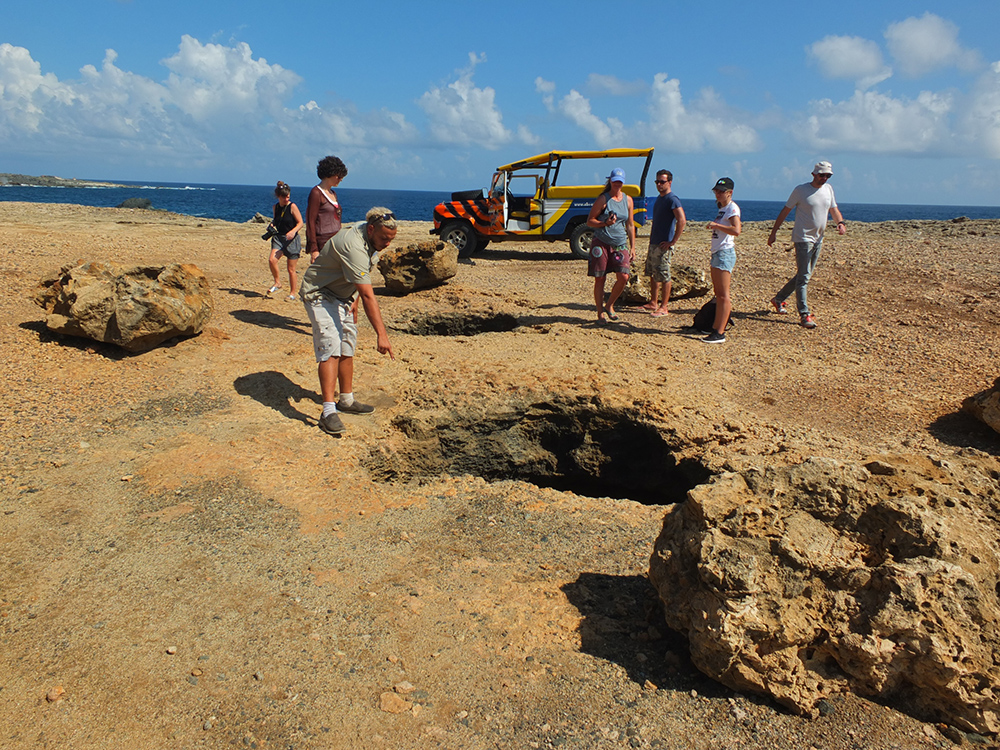 Nearby, watch out for the blowholes (known locally as the Eyes of God) in the earth leading to a subterranean cavern.
Ayo Rock Formations & Arawak Petroglyphs
These monolithic rock boulders are a rather unusual sight on an otherwise flat island. Our guide stopped on the way to the Black Stone Beach to point out the formations (focusing primarily on the large rock shaped like a screaming monkey's head), telling us that they were a sacred site to the Arawak people, the original inhabitants of Aruba.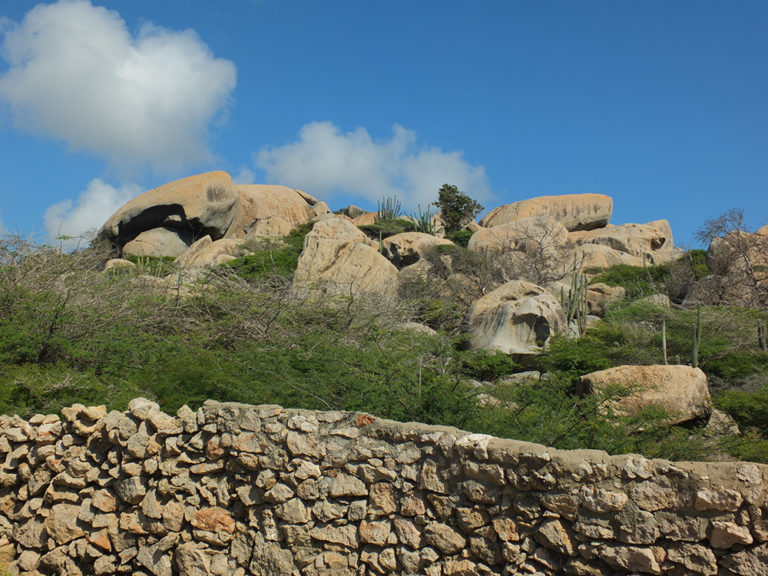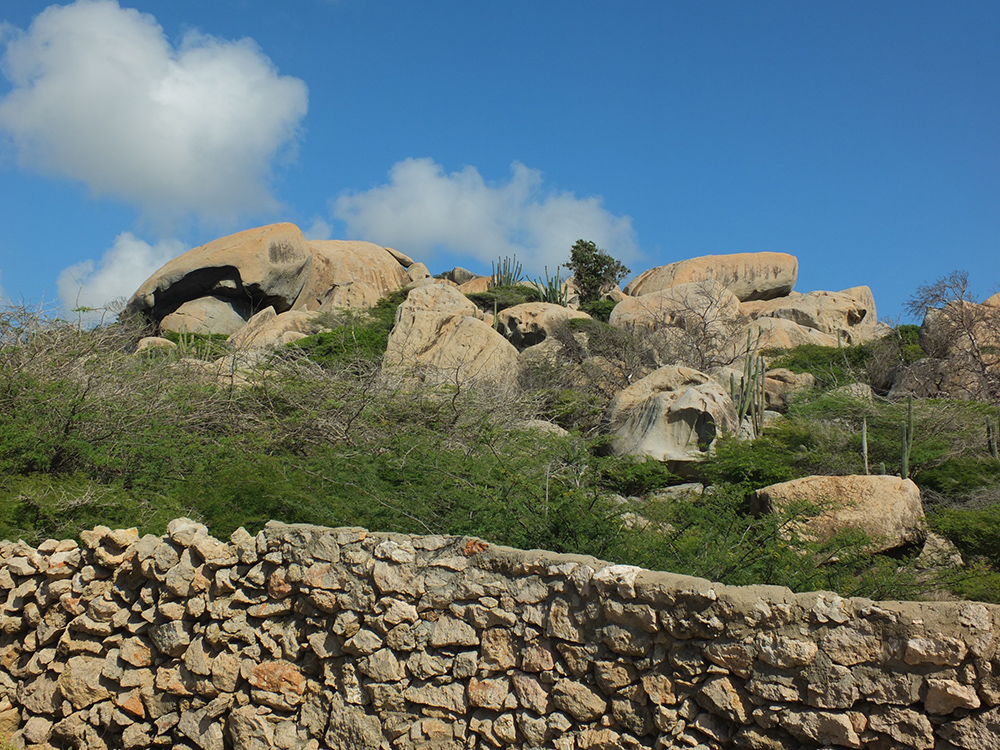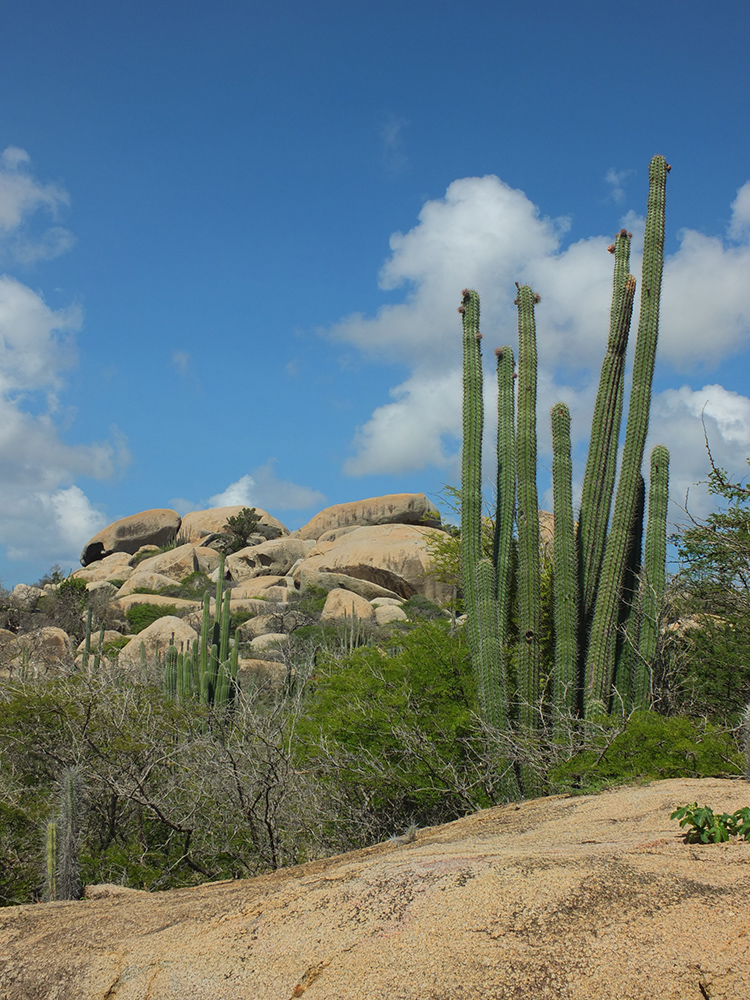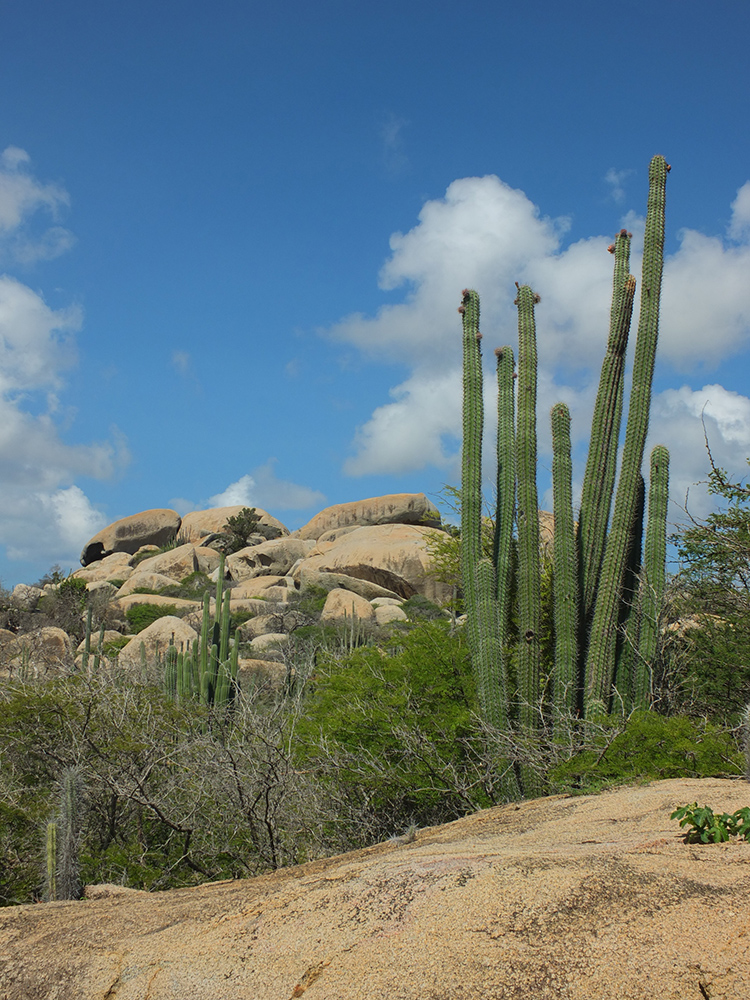 On the way back from the beach we stopped for a closer look at one of the Ayo rocks. This one was hollow and was considered a sacred site by the Arawak Indians. They carved paintings on the rocks while performing their religious rites, and these petroglyphs, dating to around 1000 AD, are still in very good condition.
It was here I caught my first sighting of the Aruban whiptail lizard with its striking turquoise spots. This lizard is endemic to Aruba, and it's also known locally as the kododo blauw.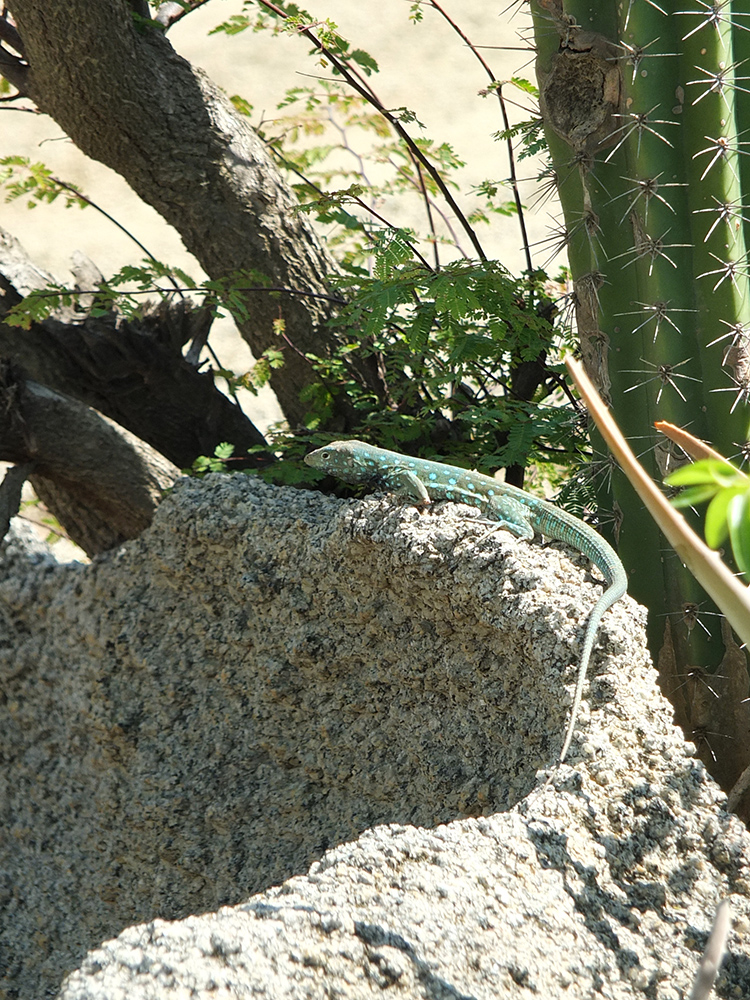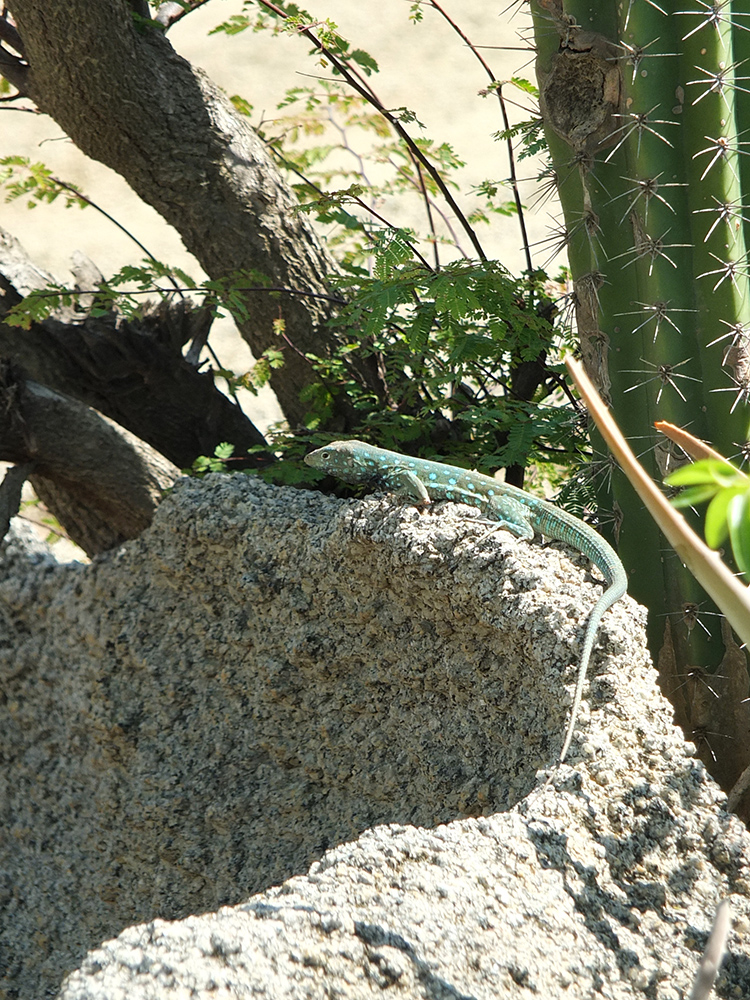 After leaving the Ayo Rock Formations we headed back to the coast to one of George's favourite local haunts: a hidden natural pool for a bit of cliff jumping and swimming in the shade. It's the best way to wash the dust of the safari off.
The only indication that there's anything to see in this particular area is the ladder heading straight down the side of the cliffs. A little scramble across the coral limestone (dodging loads of tiny little crabs) and you can jump straight in!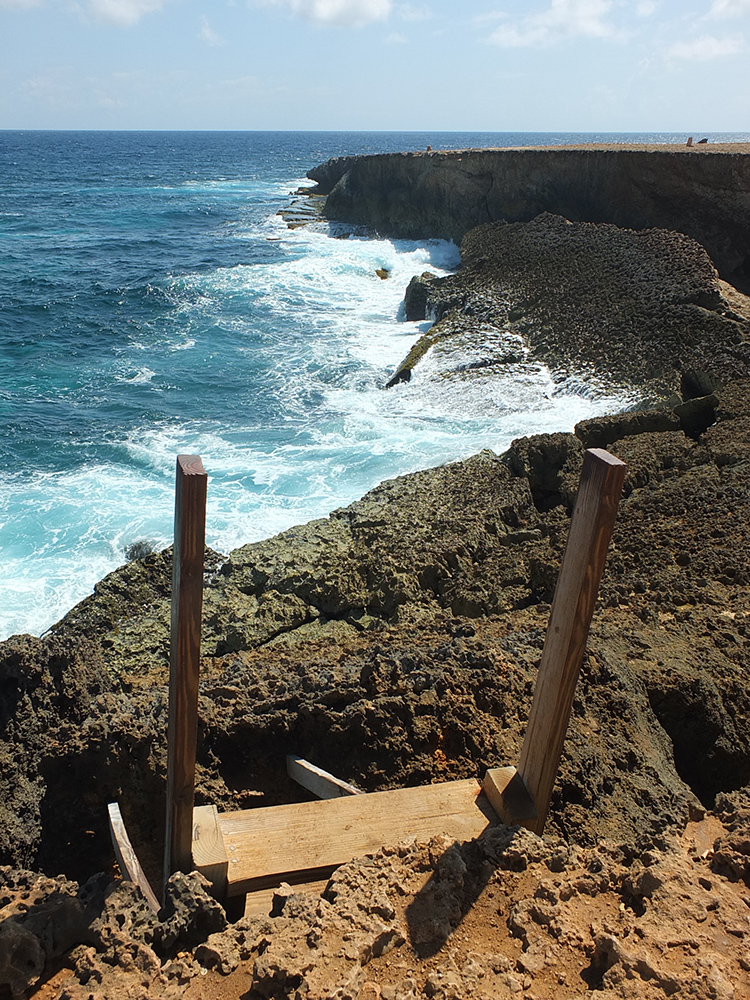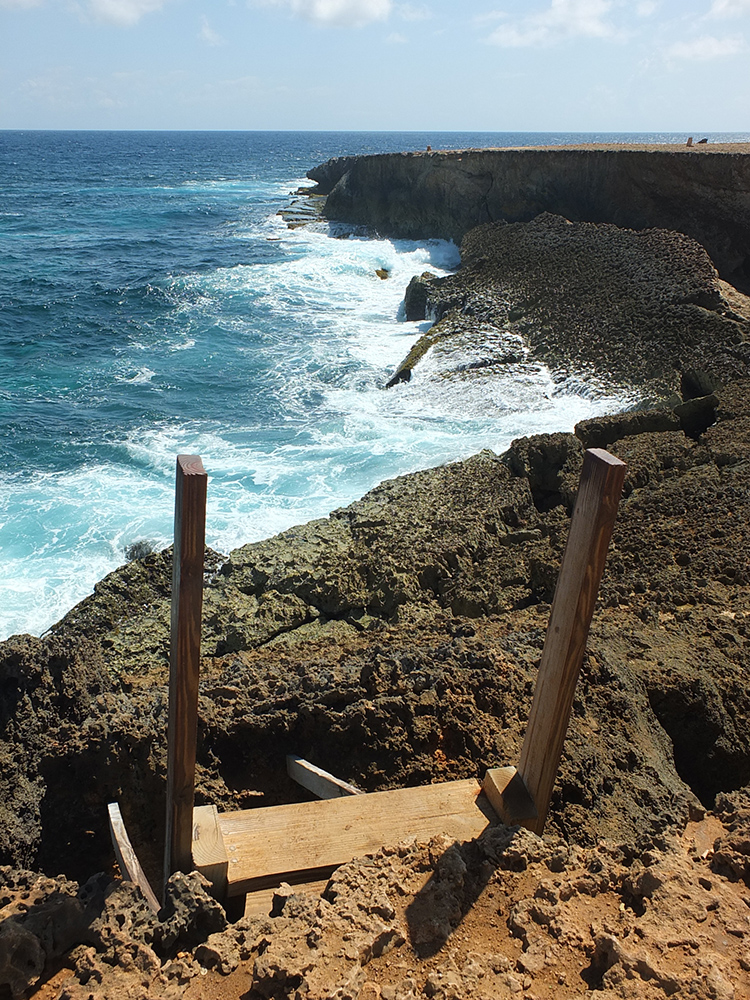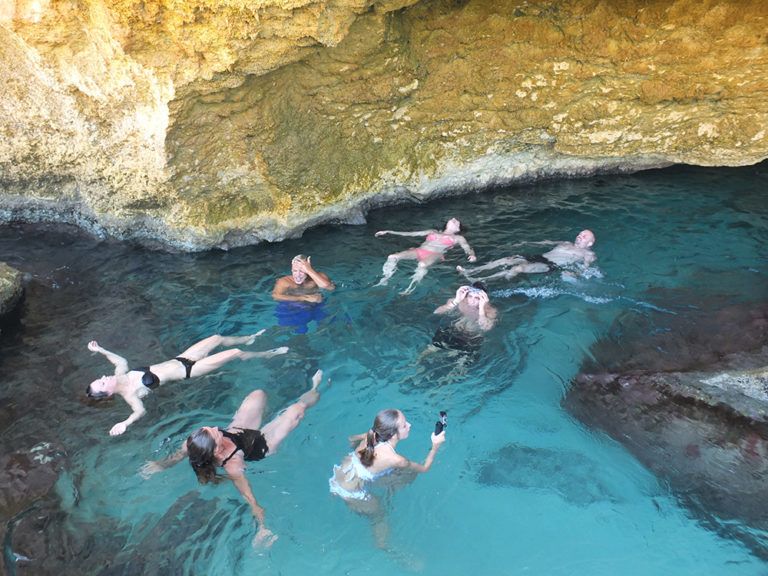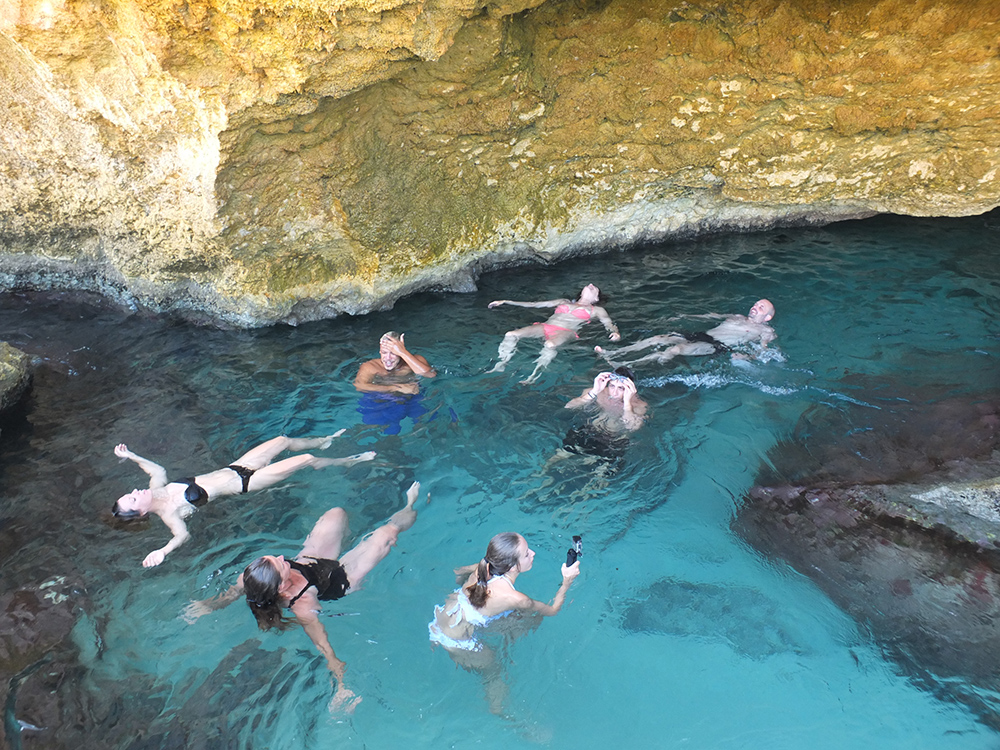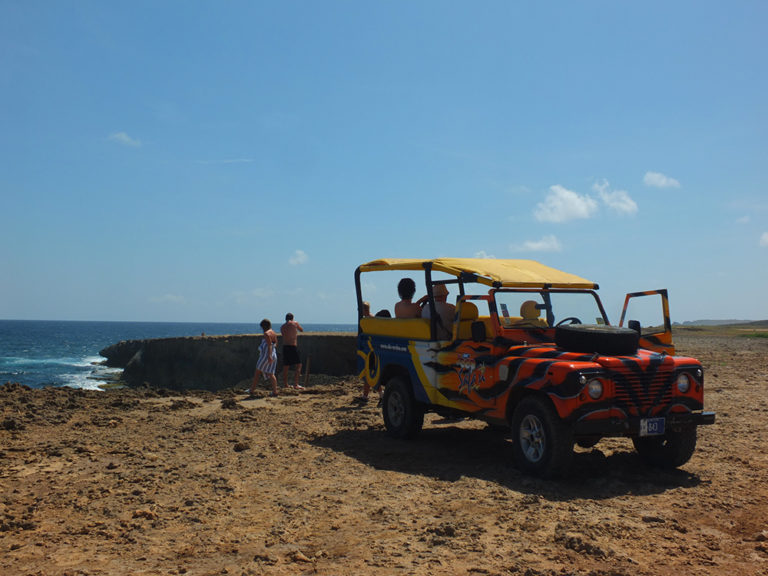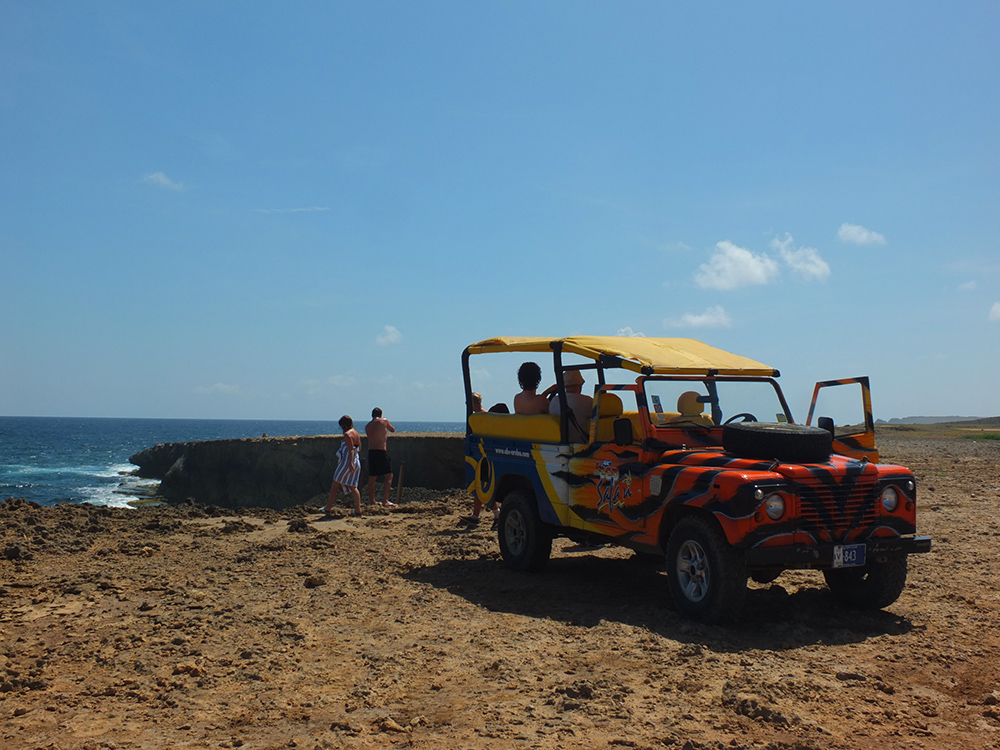 The Bushiribana Gold Mill Ruins
Throughout the 19th century, adventurers travelled the Caribbean in search of wealth and treasure. Legend has it that one of the treasure islands was named Oro Ruba, meaning 'red gold' and that Oro Ruba became the name Aruba over time.
In 1824 gold was discovered in Aruba and mined extensively on the island. The remains of one of the many gold mills can still be seen at the Bushiribana site.
Boca Catalina Beach
By this time it was midday and the heat was quite strong, so we visited the Boca Catalina Beach to cool off and do a bit of snorkelling. Ok, I'd like to say I went snorkelling too, but I hid under the shade of a tree like the ginger vampire that I am and watched my travelling companions snorkel. Someone needed to stay on the beach and watch all the bags, right?
A tropical mockingbird and a yellow bananaquit (aka: chickadee of the Caribbean) kept me company under the shade of the tree.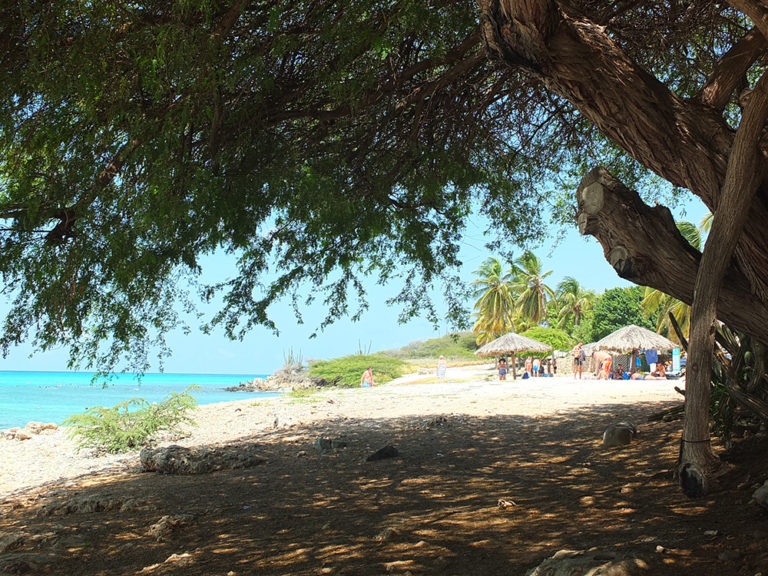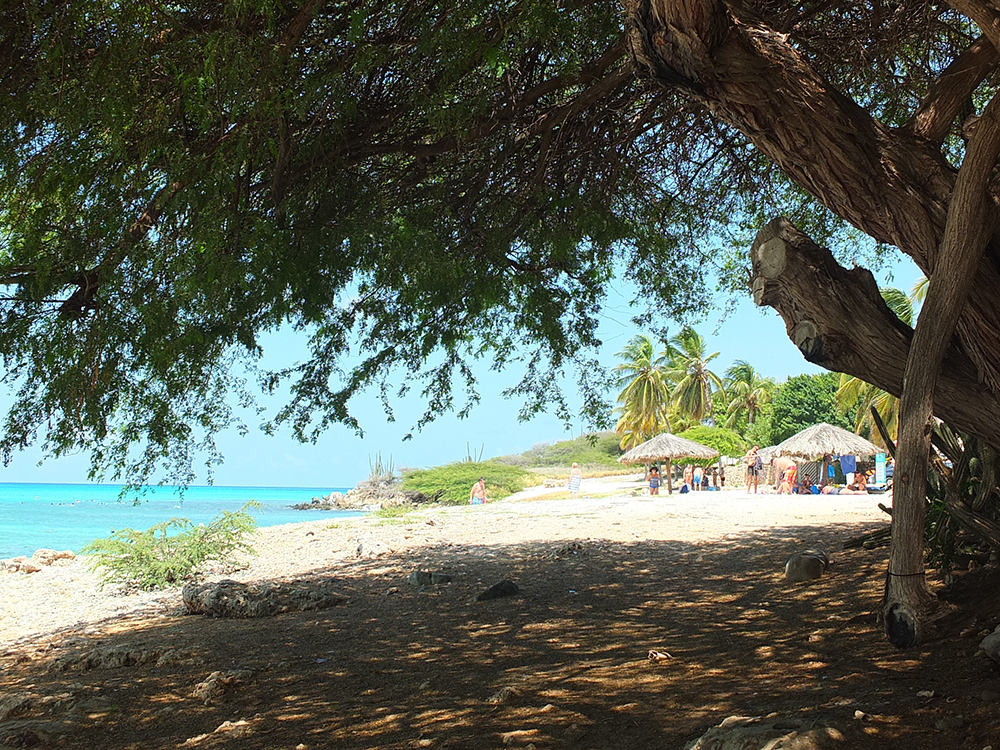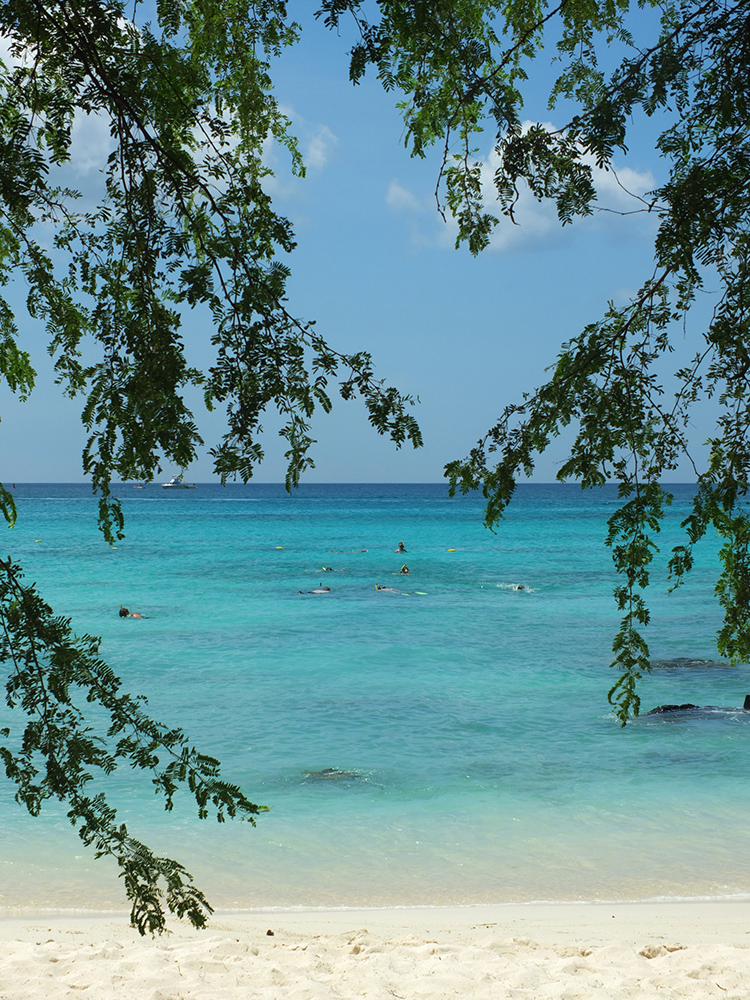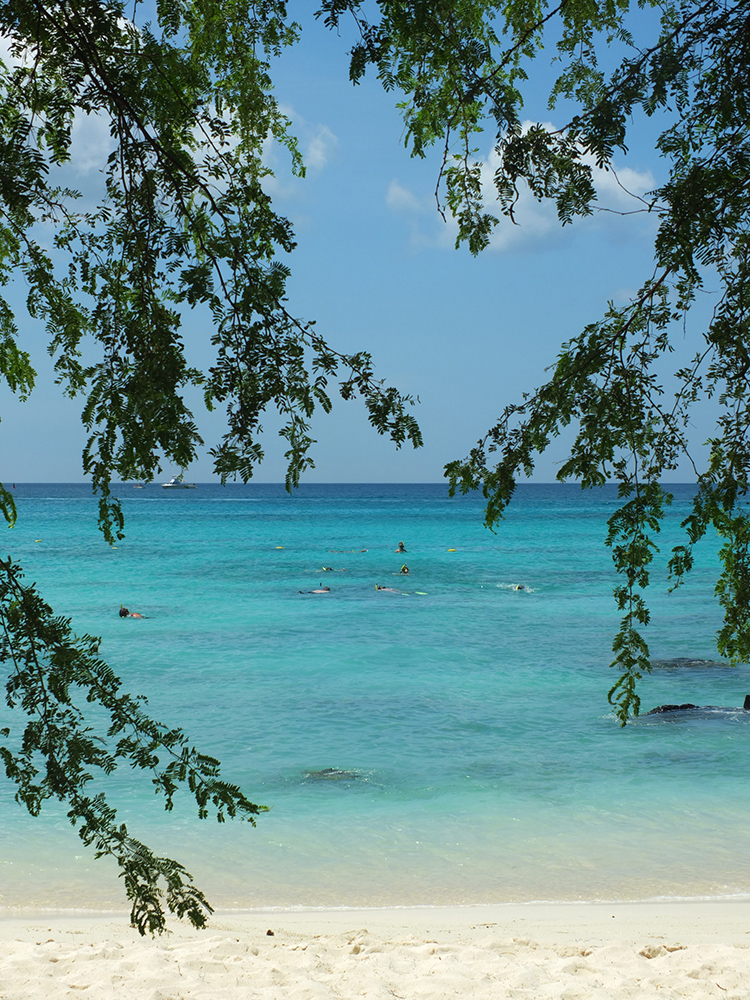 ABC Tours Aruba offer half day and full day jeep tours from as little as $79 USD plus tax. They'll even pick you up from your hotel or resort, and you'll be sure to have an epic adventure.
The North Coast Safari that I enjoyed is one of their most popular tours, and I would really, really recommend it if you ever visit the island and fancy something different – something to get that adrenaline flowing after all that holiday rest and relaxation!
Aruba Things To Do | ABC Jeep Tour
For more information about Aruba visit Aruba.com. You might also enjoy my earlier Aruba blog posts: Frankie's Abaco Avocado & Rum Cocktail, Visit the Flamingo Beach at Renaissance Aruba, Aruban Pan Bati Recipe and Aruban Keshi Yena (Stuffed Cheese) Recipe. My Luxury Eggs Benedict with Smoked Salmon & Tobiko Recipe was also inspired by my culinary visit to Aruba.
Elizabeth's Kitchen Diary was a guest of Aruba Tourism, but all thoughts and opinions expressed are our own.