On this tiny Caribbean Island measuring only 20 miles long and 6 miles at its widest point, you'll find over 250 different restaurants to choose from – Aruba is a foodie's paradise! In collaboration with Aruba Tourism.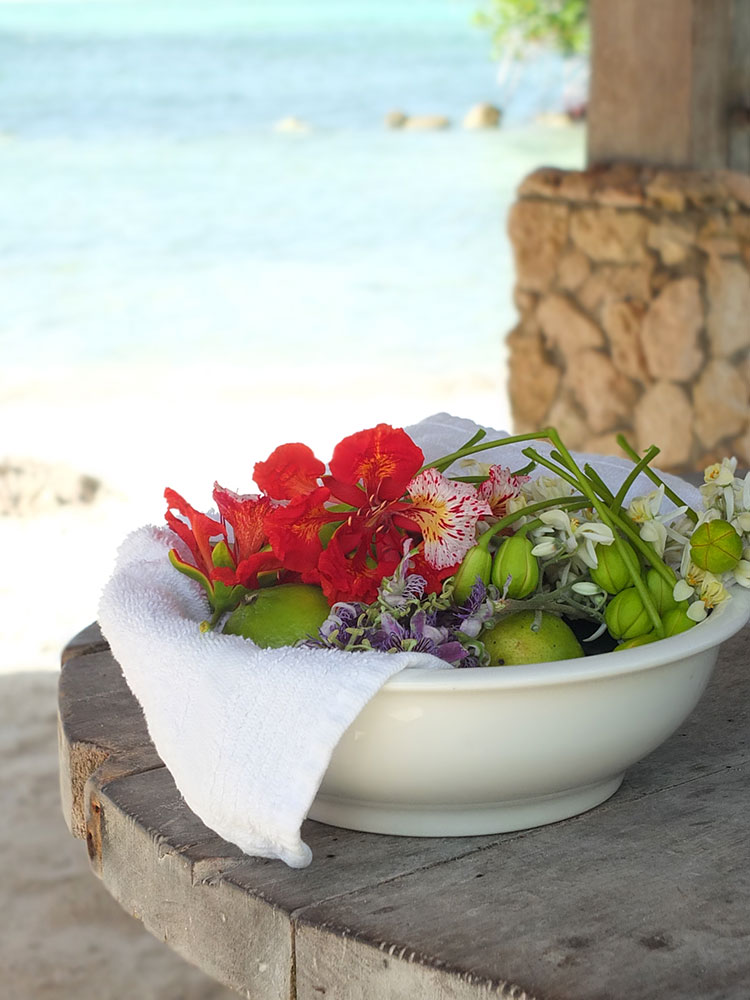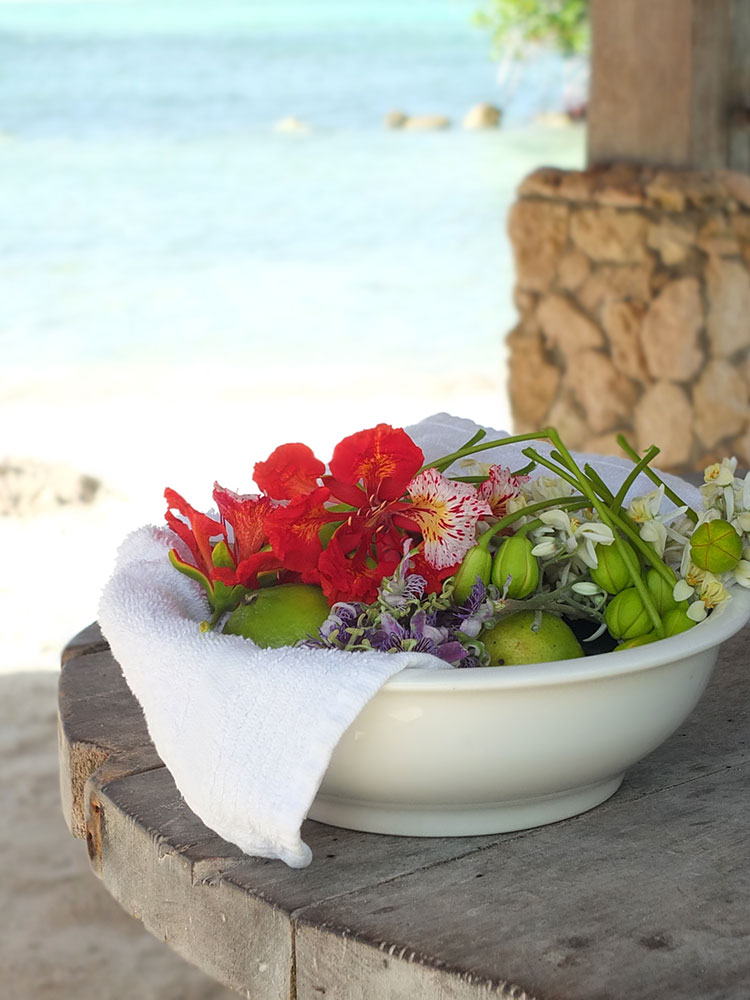 Aruba currently boasts 96 different registered nationalities living on the island, resulting in a very diverse culinary scene. This global influence results in a food scene rivalling some of the world's most cosmopolitan cities. Aruban cuisine has been influenced by Amerindians, merchants, pirates, Dutch and Spanish colonial powers, African slaves and Oriental and Asian settlers, and these influences can be found on nearly every menu.
Last October I was invited on a culinary press trip to the island by Aruba Tourism. I spent five nights at the Renaissance Hotel and I fell in love with the island. Aruba will always hold a special place in my heart; the sun, the food, the sand, the iguanas and the frigate birds – it's a magical place and the food is extraordinary.
SOME COMMON INGREDIENTS IN ARUBAN CUISINE
Arubans love their deep-fried food, I was told by our local guide, Paula, and you will see this reflected in many of the dishes mentioned in this post. Their ancestors relied on soups and stews as they were inexpensive to make and utilised local ingredients. Beef, chicken, pork and seafood are also very popular ingredients in Aruba cuisine.
Although there are over 200 registered small farmers in Aruba, 85% of their produce is imported. Mushroom production is very popular on the island, and dragonfruit is planted year round. There is also a thriving aloe market.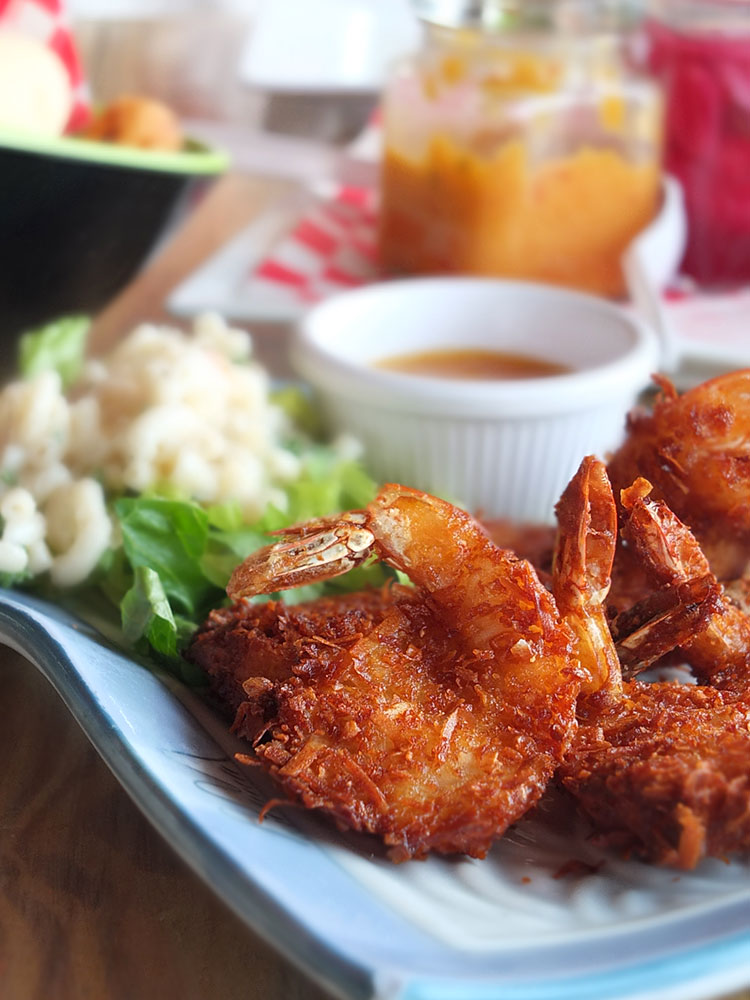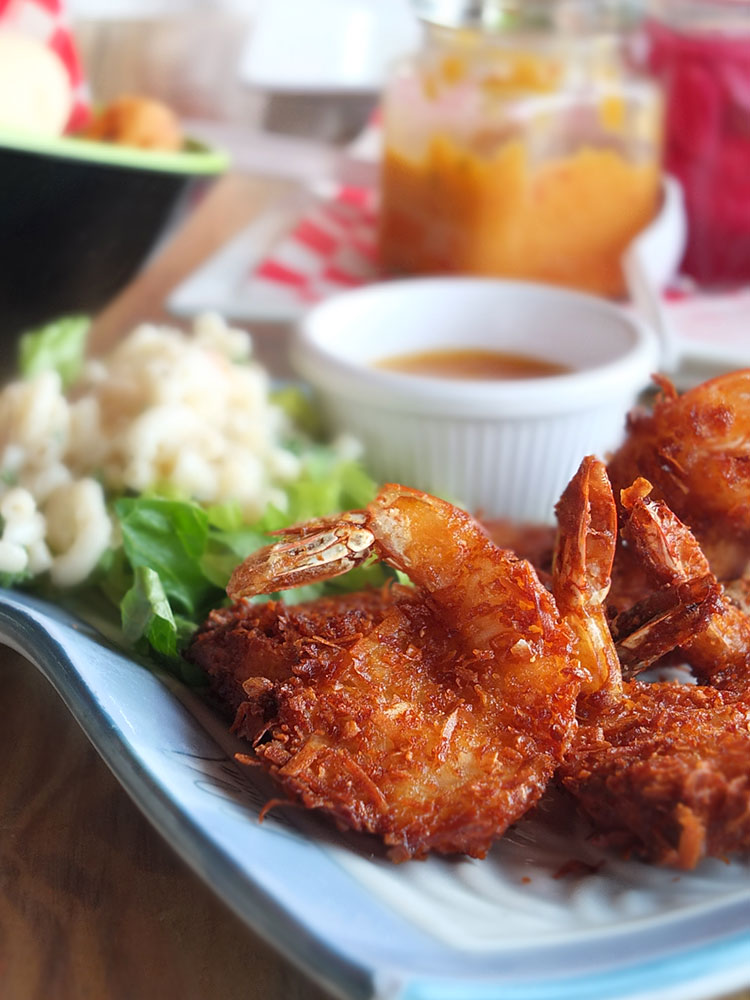 CARIBBEAN SEAFOOD FEATURES PROMINENTLY IN ARUBAN CUISINE
The Caribbean Sea features a range of seafood vastly different than what we are used to here in the UK – while in Aruba I tried mahi mahi, Northern red snapper, conch, jumbo shrimp, lobster, crab and grouper. Pictured above, island coconut shrimp in The West Deck, dipped in locally brewed Balashi Beer and coconut these incredibly moreish crispy shrimps are accompanied by homemade mango chutney. It was here I also tried a delightful ceviche (pictured below) made with marinated red snapper and shrimp.
The West Deck is a delightful coastal outdoor restaurant just a ten-minute walk from the shopping district in Oranjestad. It is set on a large wooden deck over the white sandy beach of Governors Bay, right by the water's edge. You can watch the pelicans diving into the sea for their dinner as you dine.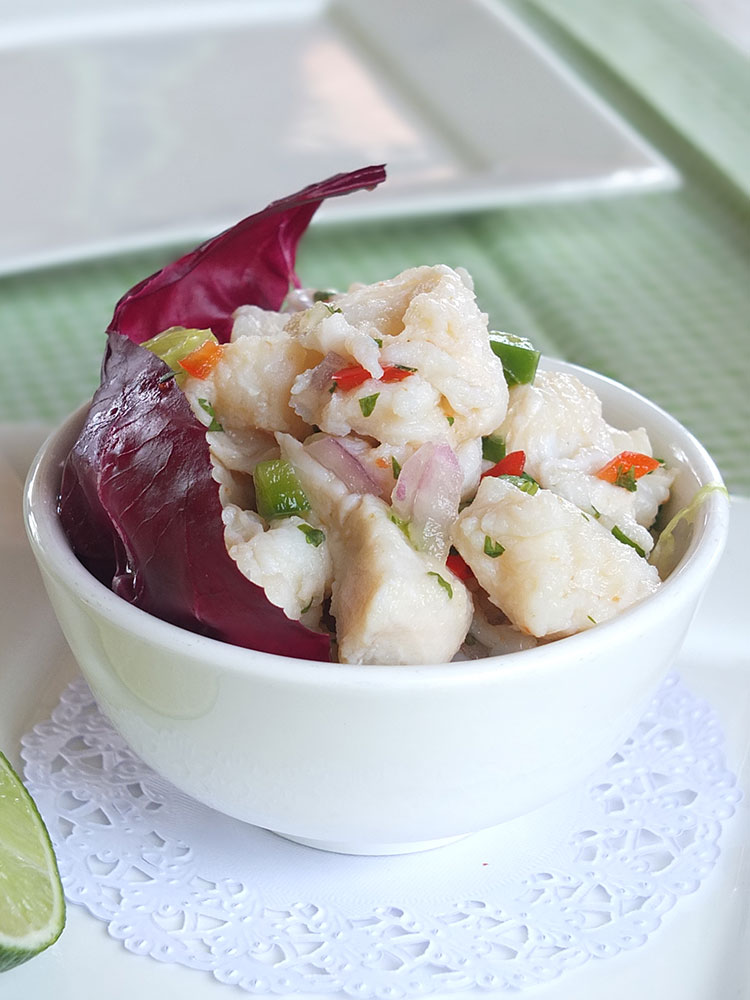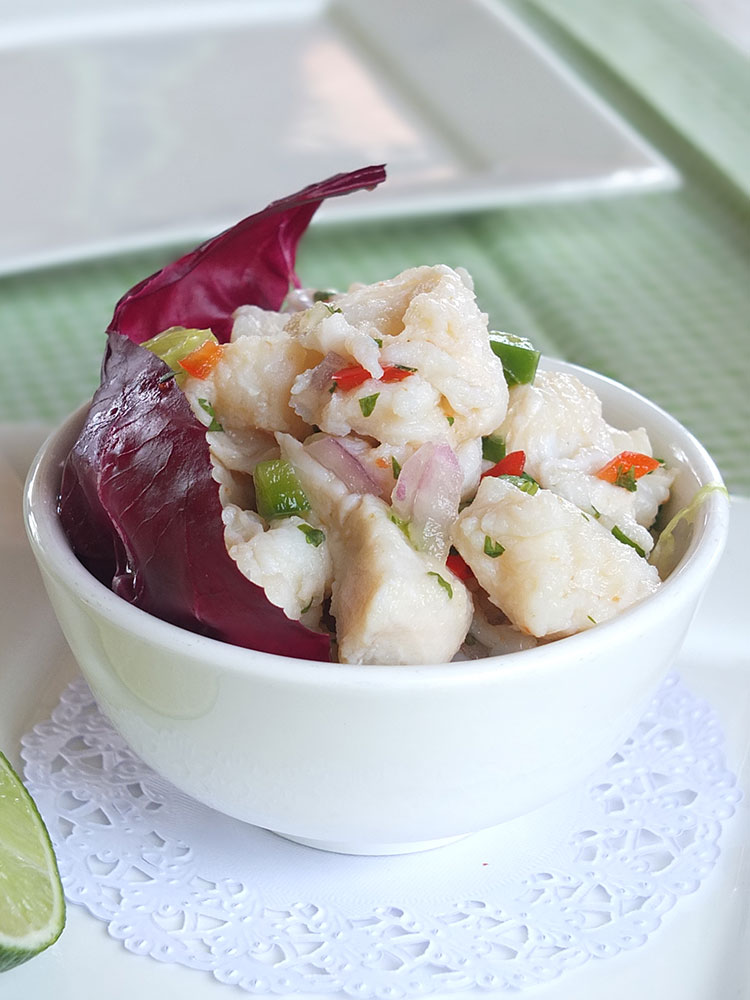 It's important to note that fish is scarce in Aruba due to overfishing, so much of it is imported from other areas. Lobster is protected, but red snapper and mahi mahi are caught fresh daily.
At White Modern Cuisine, I tried conch croquettes (pictured below), an Aruban style croquette served with Creole sauce. It was my first time ever trying conch, and I was really impressed with its delicate flavour which paired perfectly with the spicy tomato sauce.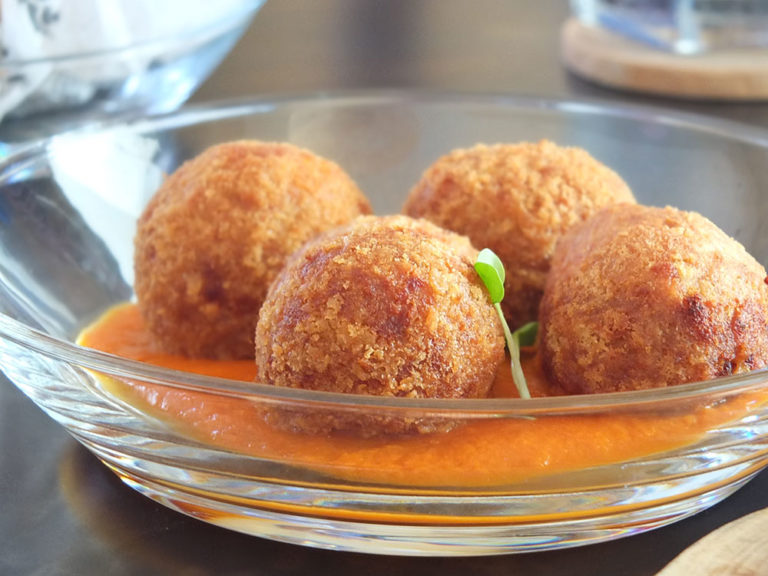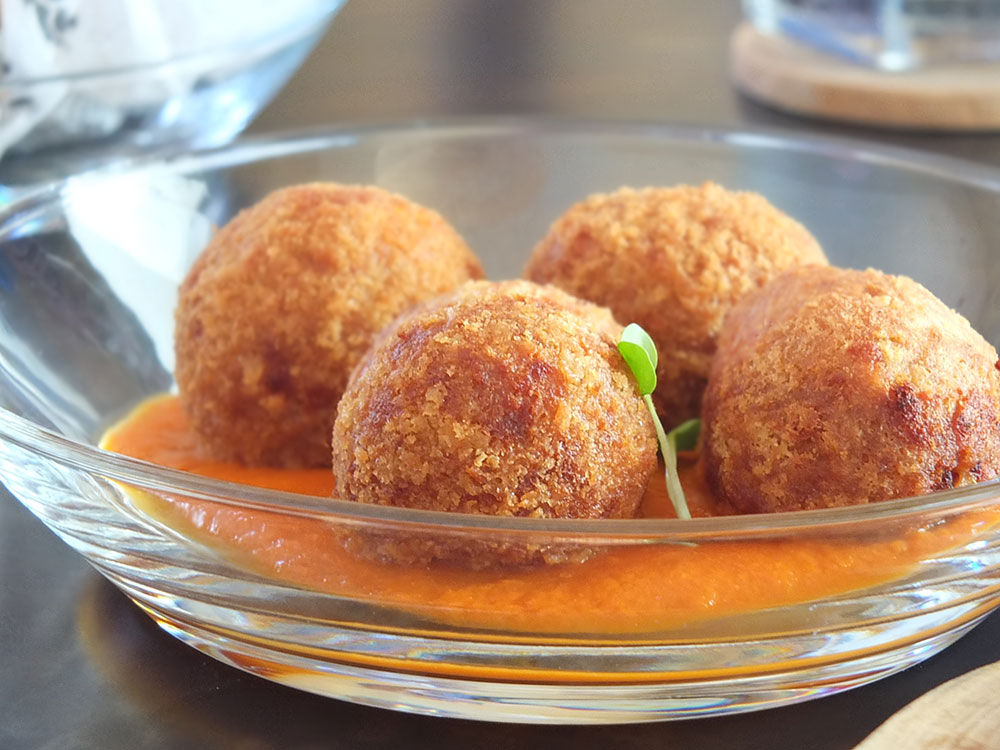 The food at White Modern Cuisine is a marriage of flavour and high-quality products brought to you in their purest form. They aim to achieve peace and balance in every dish; like a symphony on your plate. The chefs try to use as much local produce as they can in their dishes, from locally grown mushrooms to wildflowers and herbs harvested by local forager Frankie Kelly.
Pictured below, their Italian-trained half Chinese, half Aruban chef serves up his pan-fried mahi mahi, served with causa potato, pickled red onions, sweet glazed carrots, glazed zucchini and yellow squash, kalamata olives emulsion, avocado crème and Creole sauce. The chef likes to combine his two cultures into his unique, mouth-watering dishes, and this seasonal salad is one of the most popular dishes served in the restaurant during the summer months.
Other seafood I tried while in Aruba included a starter of avocado crab salad and a main dish of red snapper with fried plantains and polenta at the L.G. Smith's steak & chop house – part of the Renaissance Hotel chain. This was the first time I'd tried both red snapper and fresh plantains (well, fried), which I was really excited about, and I was not disappointed. This restaurant had a great atmosphere with friendly, helpful staff (and a never-emptying wine glass!). Comfortable seating with spacious tables made for a very cosy evening meal.
Hadicurari is a beachfront restaurant at the Fisherman's Wharf at Palm Beach. It was there I enjoyed another seafood dish: mahi mahi with shrimp, plantains and truffled potatoes (pictured below.) This seafood restaurant features an extensive selection of seafood including lobster, tuna, grouper, calamari, sea bass and the catch of the day, delivered fresh from the Caribbean Sea.
At Windows on Aruba overlooking the Divi golf resort, I tried their lobster ravioli with a crabmeat sauce, Parmesan cheese and basil oil (pictured below) – it was incredible! Voted #1 in Aruba for brunch (you have to try their eggs benedict with smoked salmon and tobiko caviar!), you pay one price for as many dishes as you want and unlimited mimosas. Glorious views and live music accompany; it's an experience you must try while in Aruba.
The Driftwood Restaurant is another very popular seafood restaurant, and it was here I tried fish soup followed by pan-fried fish "Aruban style" served with a mild creole sauce. This restaurant offers you the opportunity to go deep sea fishing during the day, and then they'll cook your catch for you for your evening dinner!
At the Barefoot Restaurant, I had poached grouper fillet with salmon and asparagus, beautifully presented in a style I'd never encountered before, as a sliced roll with the asparagus in the centre. One of the best things about this restaurant, besides the great food, is the fact that's it is located right on the beach so you can take your shoes off and bury your toes in the sand while you eat. Elegant dining in flipflops, they say.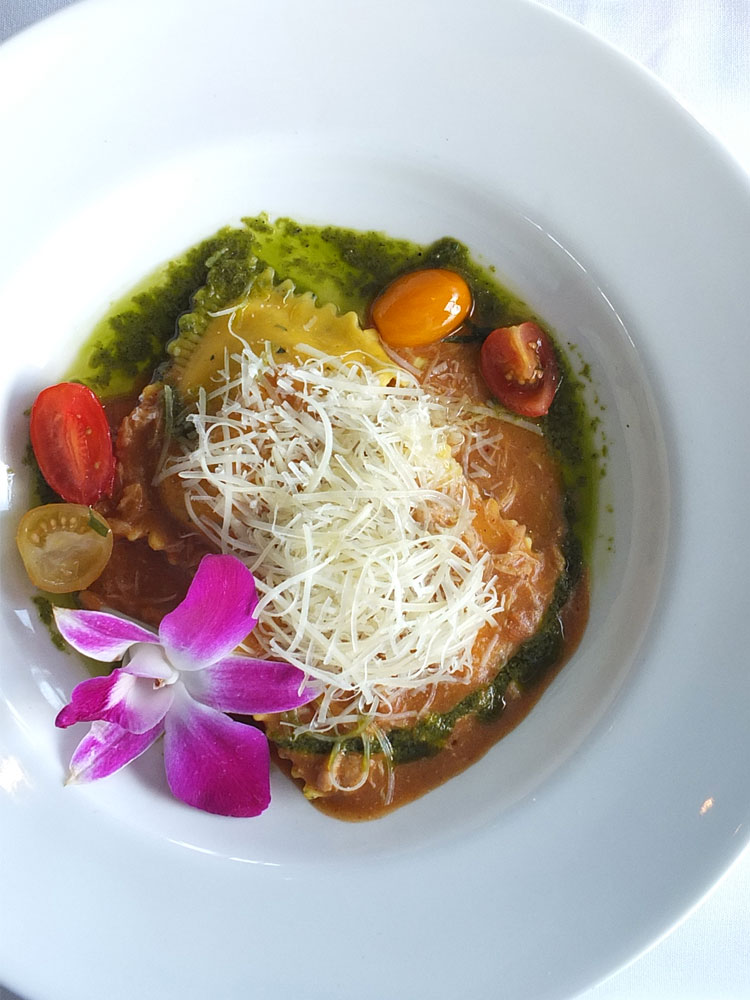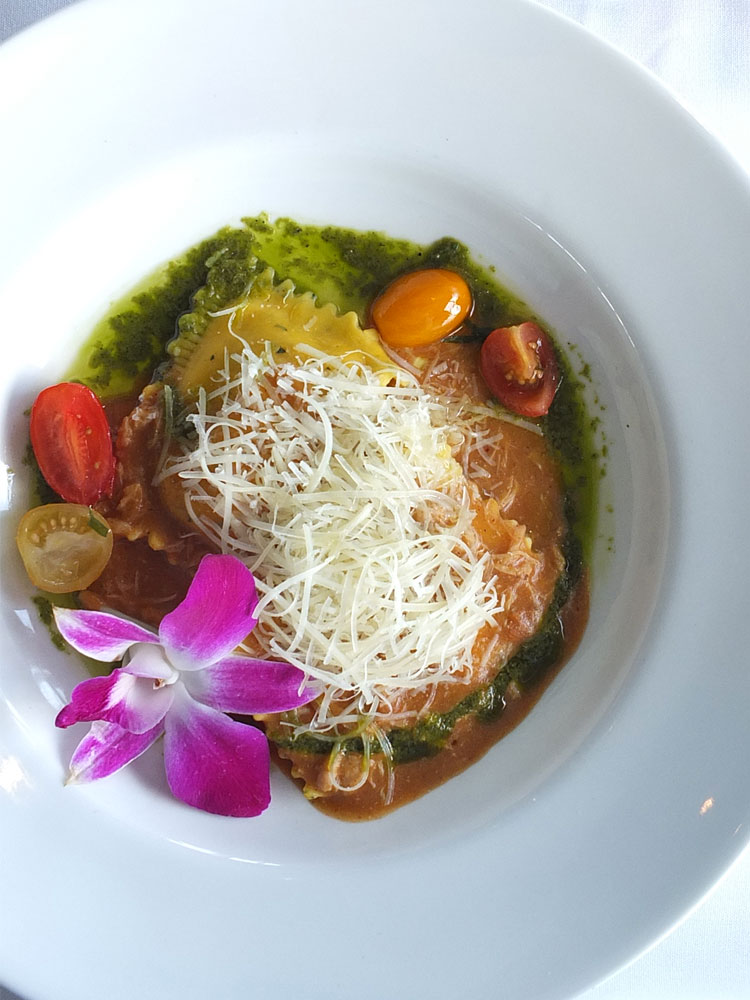 ARUBAN CUISINE IS A CHEESE-LOVERS' HEAVEN
Brought over by Dutch settlers, the love of good cheese never left the island. Pictured below, deep fried cheese balls made with Dutch gouda – a traditional Aruban snack served at every party. These were served at White Modern Cuisine with the addition of truffle and were incredibly moreish.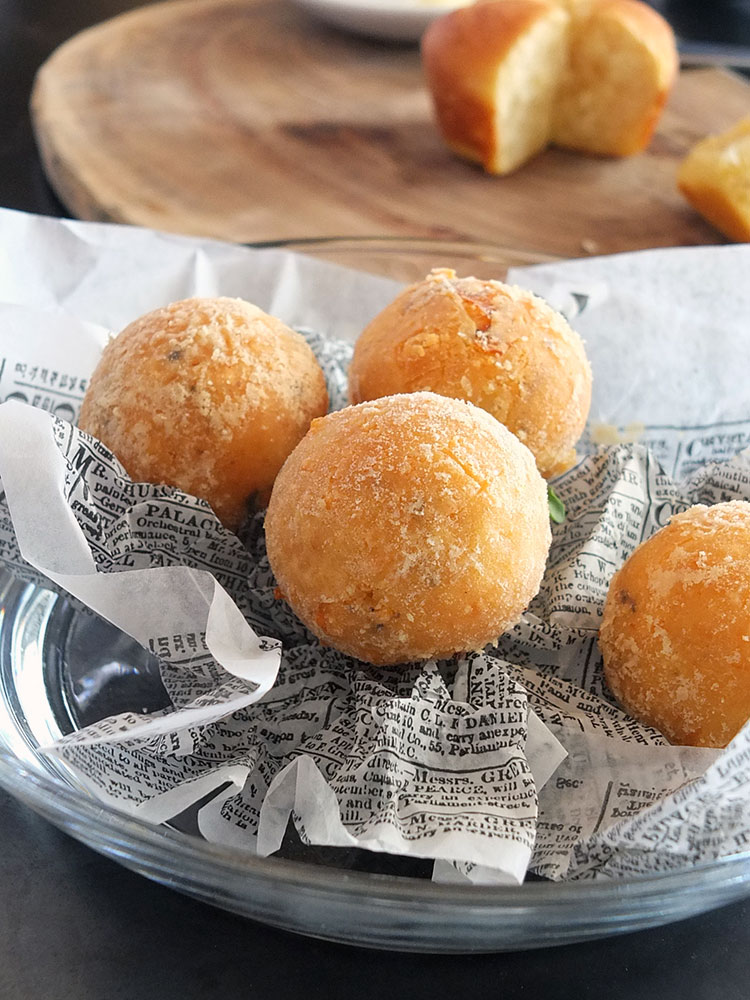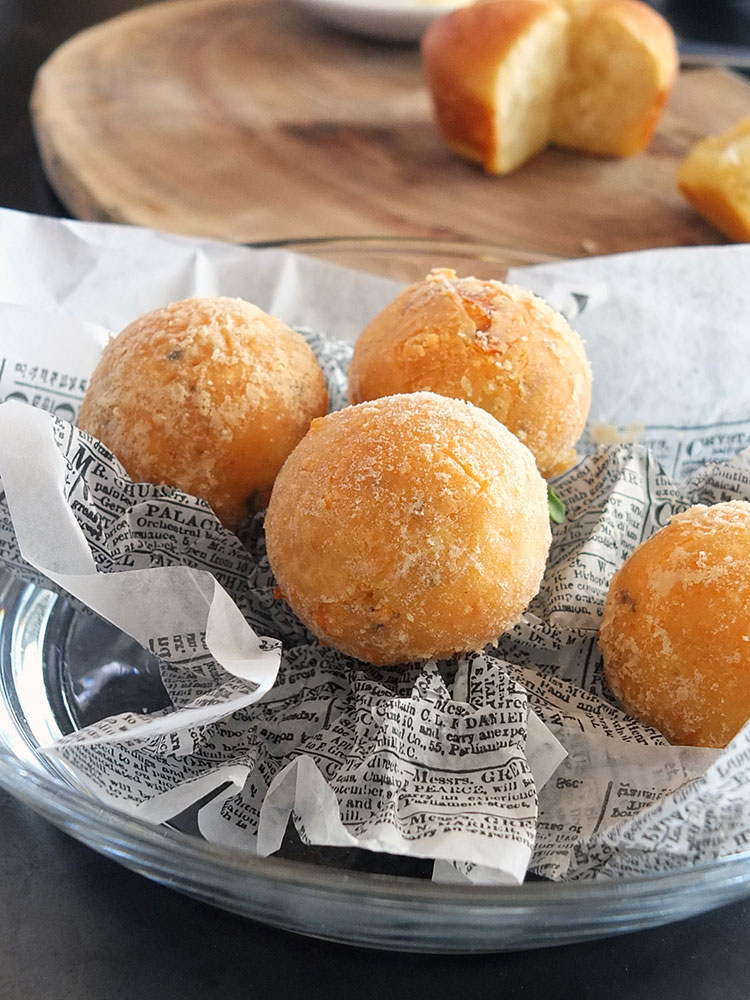 Keshi Yena is something else you have to try at least once while in Aruba – slow cooked or shredded meat smothered in cheese and served with a tomato sauce. It's a cheese lovers' dream!
There are as many different variations of Keshi Yena as there are households and restaurants in Aruba. I had the pleasure of trying several different varieties and my favourite was the one served at the Papiamento Restaurant as a starter. It was made with stewed beef and chicken, local spices, cashews, sultanas and olives in a spicy creole sauce smothered with shredded Gouda in an individual-sized cast iron pan.
Carefully picking apart the dish as I ate so I could identify all the ingredients I vowed I would try and recreate it when I returned home to Shetland. It was just so delicious! You can find my recipe here.
I tried another version at The West Deck, pictured below, made with shredded chicken and served with a spicy creole sauce.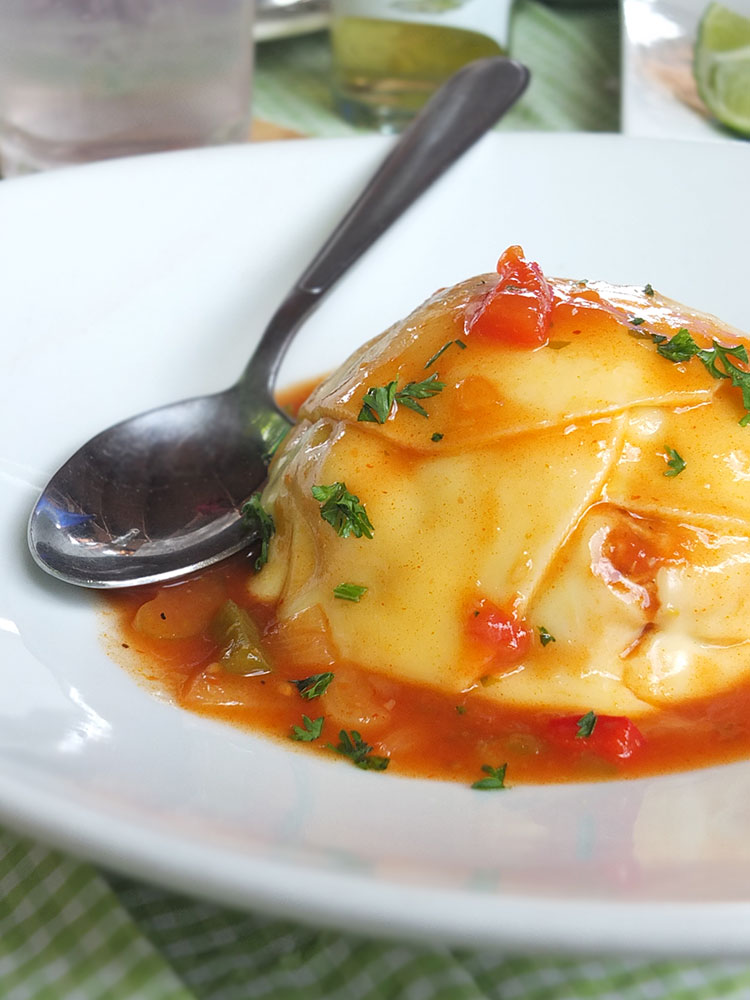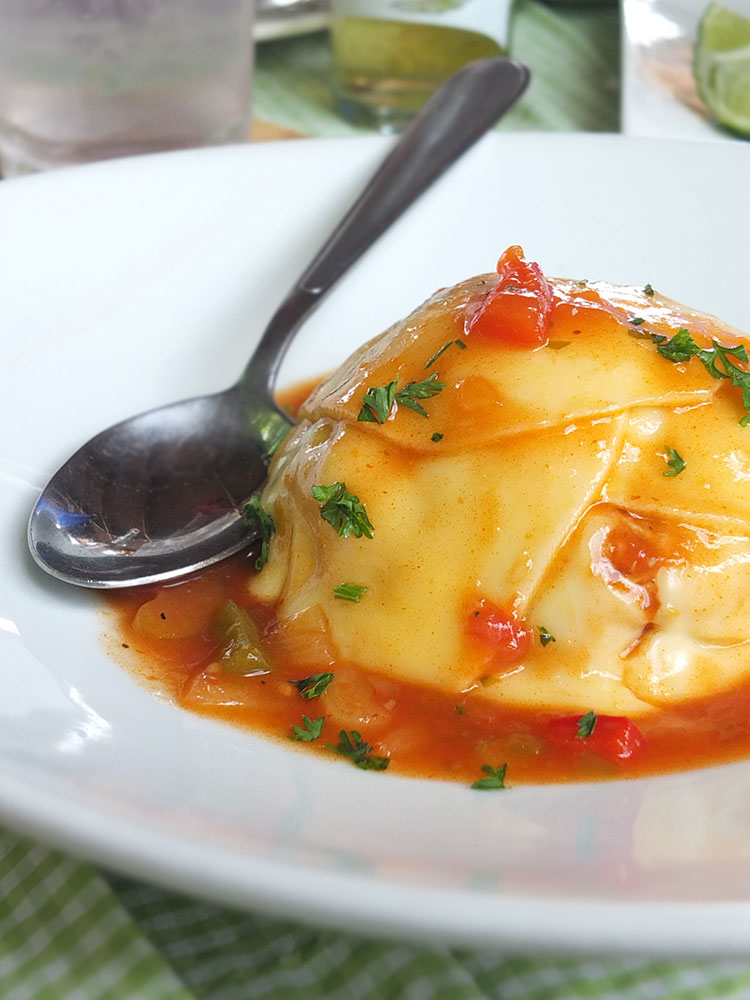 CORNMEAL IS A STAPLE OF ARUBAN CUISINE
At the Papiamento Restaurant, I also tried cabrito stoba, stewed goat meat with fresh pumpkin. This was served with funchi (fried polenta, a popular side dish in Aruban cuisine) and banana hasa (fried plantain).
Pan bati, a beaten cornmeal flatbread popular among the locals, is served at nearly every meal. During a historical walking tour of Aruba's capital, Oranjestad, we visited the Coco Plum Restaurant for a cookery demonstration.
The words 'pan bati' literally translates as 'smashed' or 'beaten' bread because you beat the batter well. You then cook it like you do pancakes. The batter is prepared with plain flour and cornmeal with baking powder as the raising agent. It is seasoned with a little salt and some sugar, to taste. Unlike pancakes, there is no fat or egg added. I loved it that much that I now make it at home for my family, on occasion. You can find my recipe here.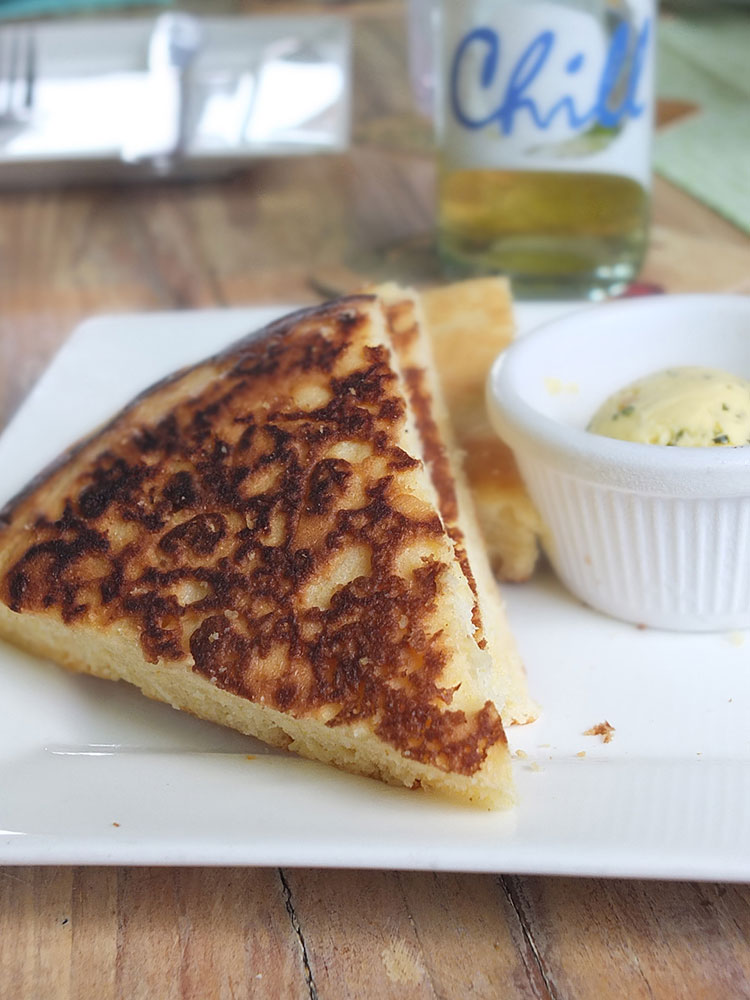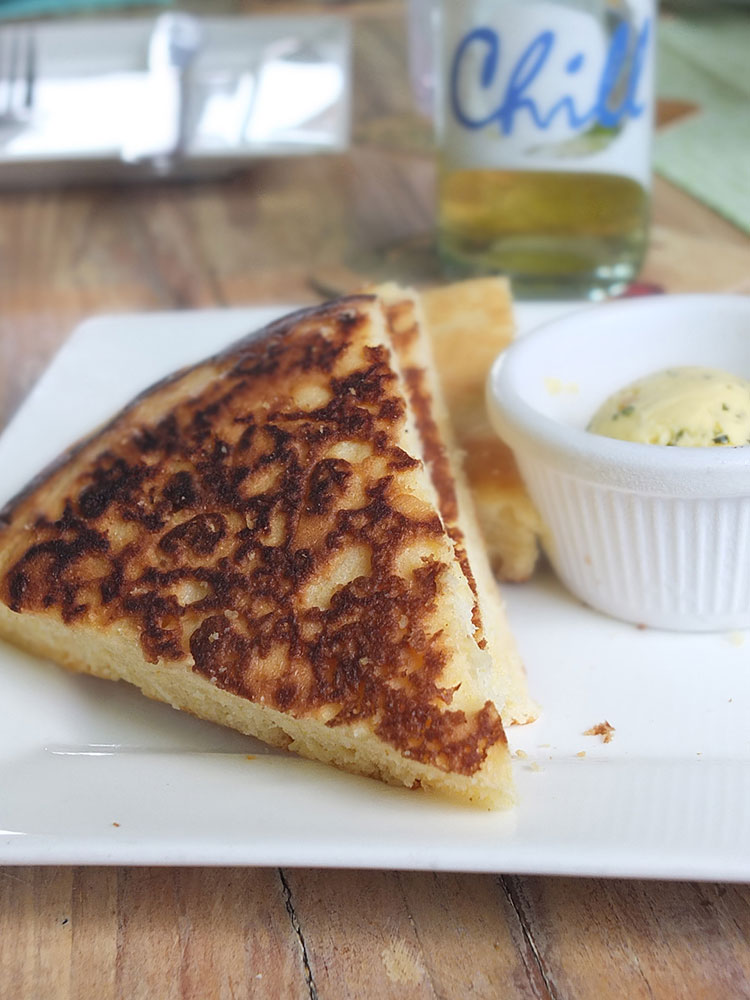 A visit to Aruba is not complete without trying the street food. Mainstreet kiosks dish up their delicious pastechi – the number one snack in Aruba. These deep-fried pastry snacks are filled with cheese or meat, and they're absolutely wonderful if a hot pastry filled with gooey cheese is your thing (pictured below).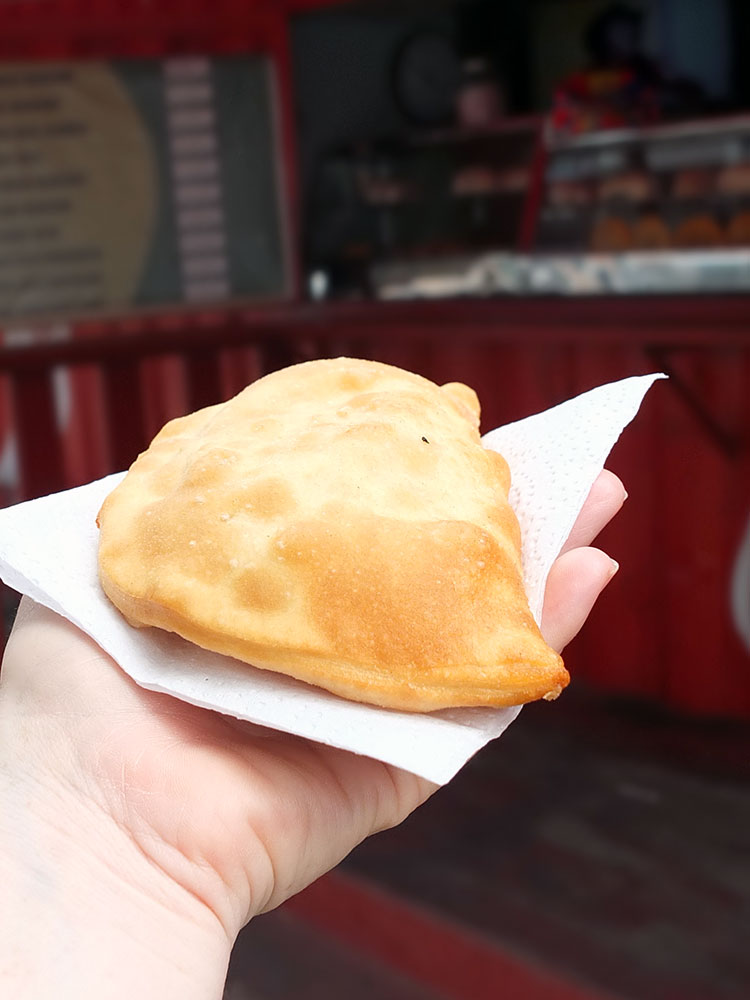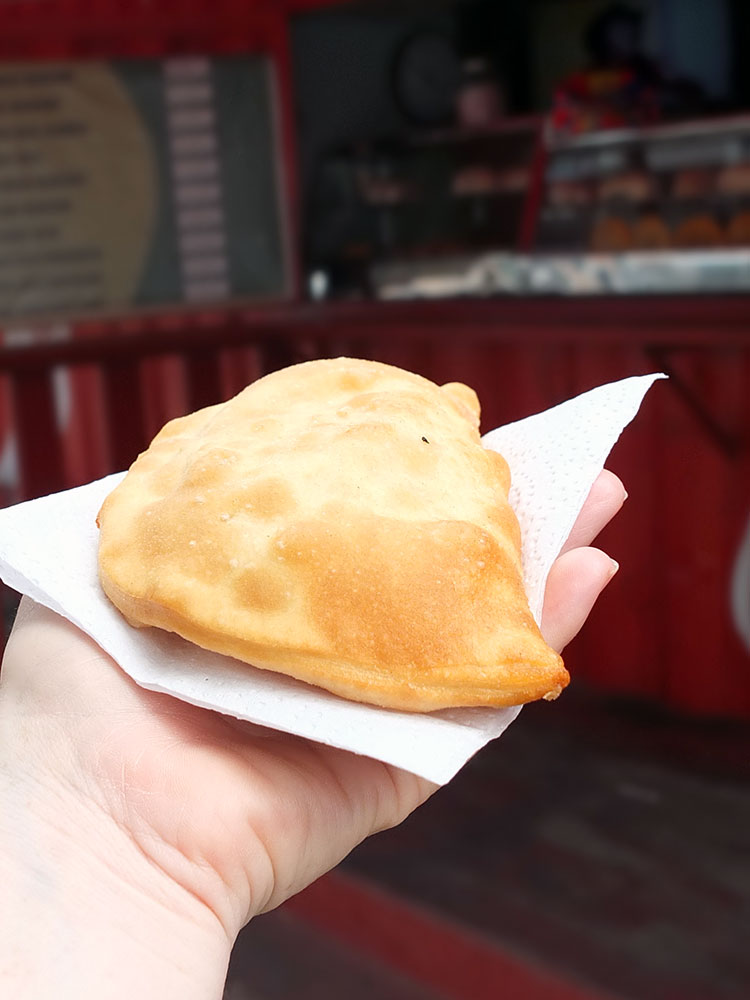 ARUBAN COCKTAILS, BEER & LIQUOR
Aruba Ariba is a signature cocktail from the island, made with vodka, white rum, crème de banane and fruit punch, topped off with more rum. Each restaurant has its own version, and I enjoyed a rather delicious one at the Driftwood Restaurant.
The Papagayo Bar & Grill on Renaissance Island creates a rather impressive range of cocktails served in sea shells (pictured below) – perfect for sipping while you sunbathe on the beach. Don't forget to visit the flamingos while you're there!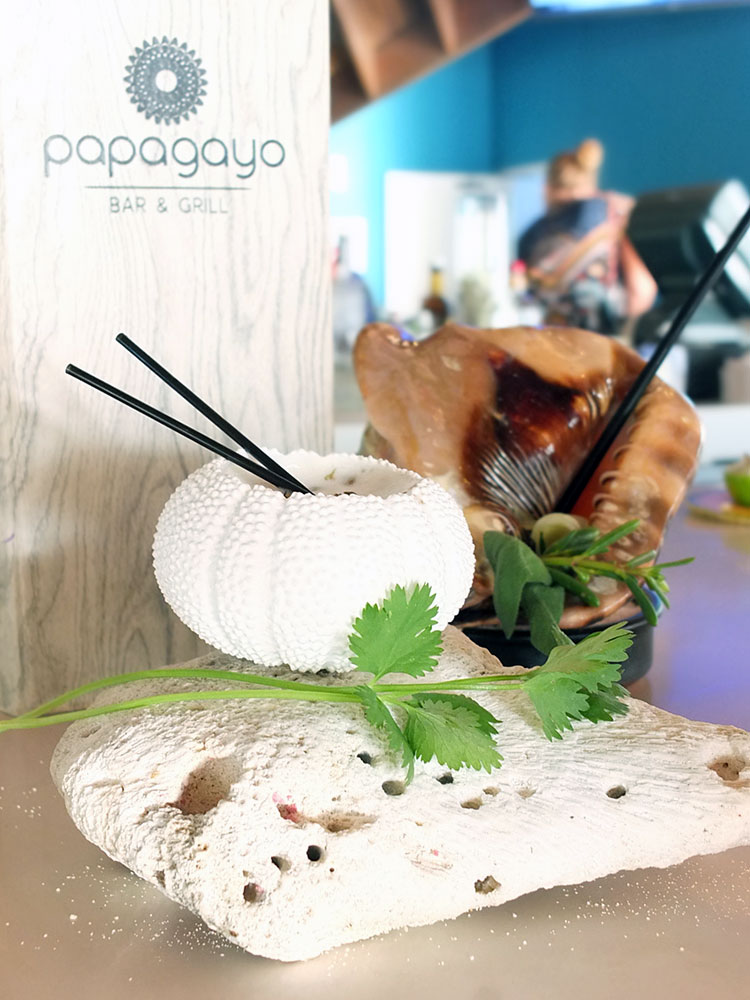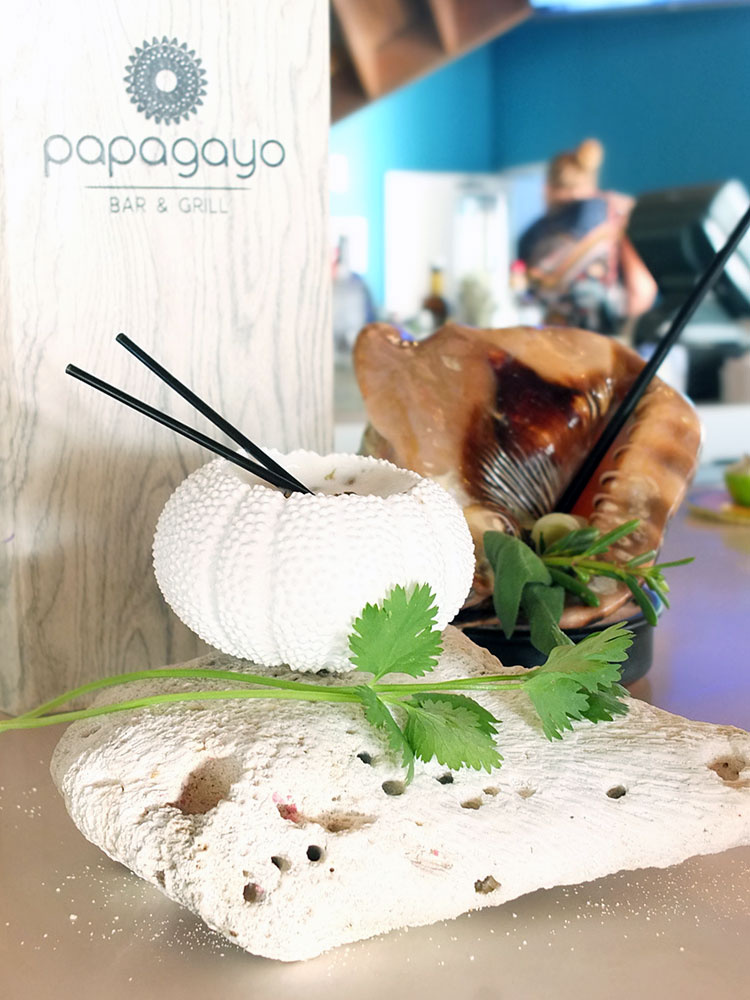 I also enjoyed Frankie's Abaco Cocktail, a signature cocktail created by local forager Frankie Kelly made with avocado, rum and wild basil (pictured below, right). You can find the recipe here.
They brew their own beer on Aruba too. Brewed from imported Scottish malt and hops shipped in from Germany, Balashi is a typical Caribbean beer – a light, thirst-quenching pilsener with a nice golden colour, not a lot of foam and a flavour that the brewer describes as a "soft bitterness."
One of the not-so-secret secrets to their excellent beer is the fact they use local water – from the sea! The water filtration plant, one of the best in the world, uses Sea Water Reverse Osmosis Systems to desalinate the seawater to meet the high demand of fresh tap water for the whole island. This desalination process ingeniously utilises coral rock as a filter.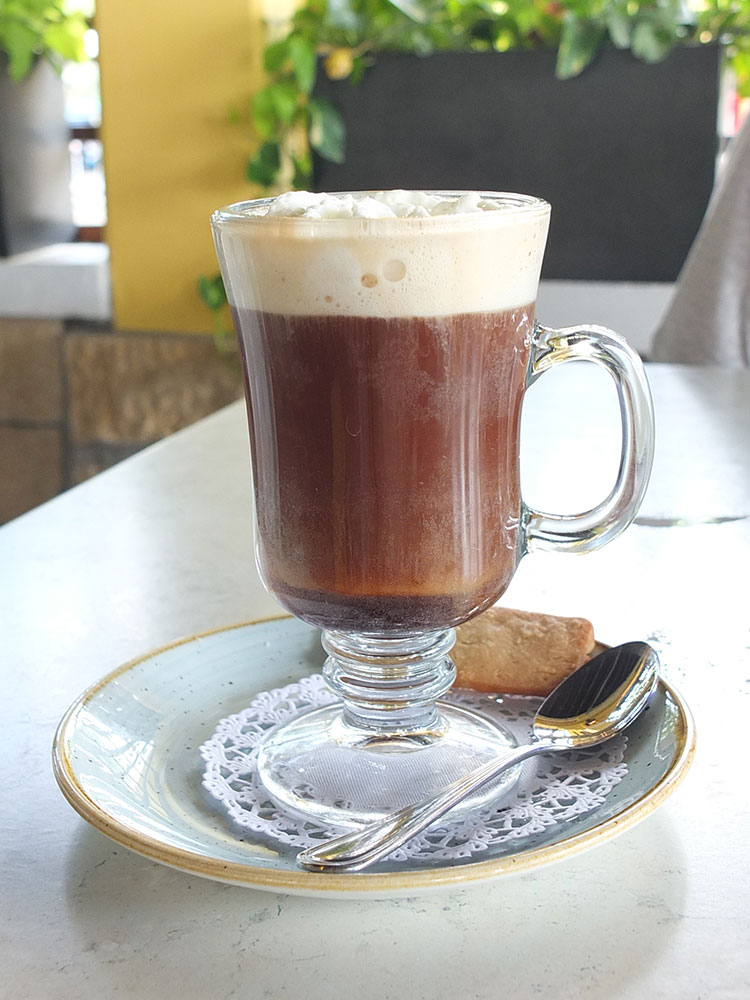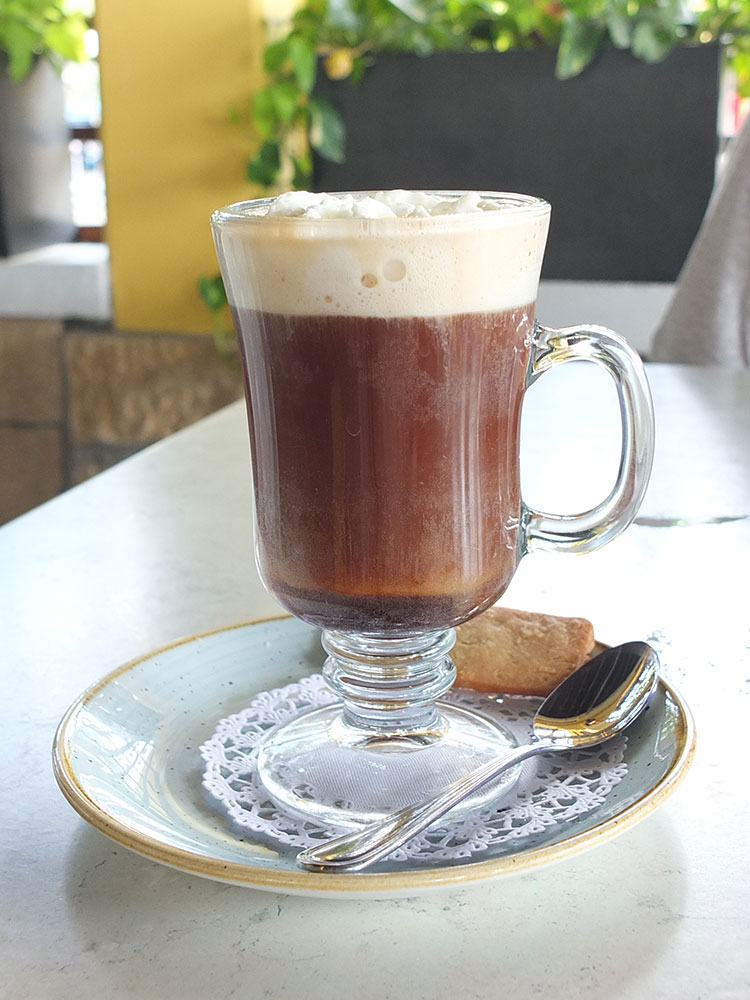 I can also highly recommend that you try the Caribbean Coffee – hot coffee, rum and amaretto topped with whipped cream. The one pictured above was served at the Hadicurari Restaurant.
Aruba also produces its own version of Ponche Crema, a Venezuelan and Trinidadian cream-based liqueur made from fresh eggs, powdered milk, natural flavours and rum. It is not unlike eggnog, and I first tried it in a cream-based layer cake dessert at L.G. Smith's, and again served as a sauce for pan bollo, a popular bread pudding dessert. You can pick up a bottle inexpensively in the local supermarkets if you want to take some home with you.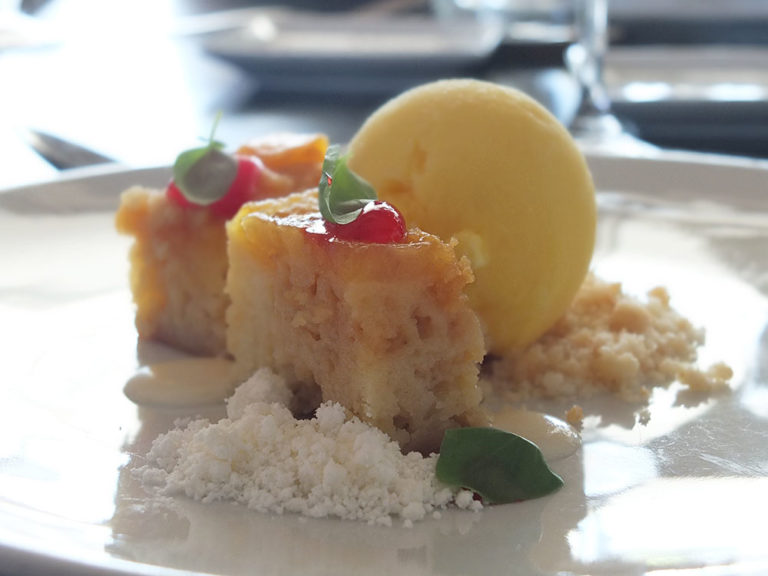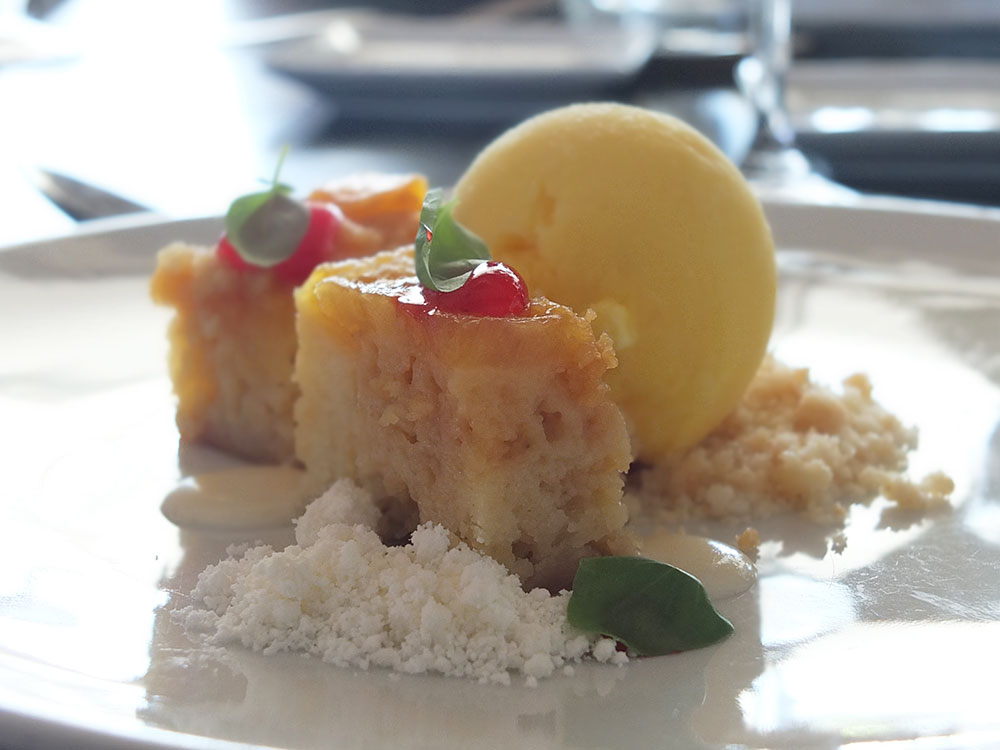 Other desserts I enjoyed in Aruba included this gorgeous pineapple upsidedown cake at White Modern Cuisine, pictured above. Served with a pineapple custard, tart cherry gel, pineapple vinaigrette and powdered butter and a crispy cherry meringue, it really was the poshest pineapple upsidedown cake I've ever tasted.
Desserts in Aruba tend to be quite traditional classics, like bread pudding and the aforementioned pineapple upsidedown cake, but served cold. Below, left, bread pudding at Windows on Aruba, and right, my first ever taste of key lime pie, served at The West Deck.
OTHER FOODIE FINDS IN ARUBA
Sea Grapes: There's a longstanding myth that these wild fruits are poisonous, but the truth is that sea grapes (pictured below) are perfectly edible and absolutely delicious. The berries turn dark burgundy when ripe between August and October, and although they contain mostly seed with very little fruit they taste wonderful – like the best tropical fruit juice you've ever tried. These fruits are not cultivated commercially as a foodstuff on the island, although I heard of one fellow who makes wine with them.

Taste of Belgium: located at the Palm Beach Plaza, they offer a wide range of Belgium dishes and beers. They do a rather fantastic breakfast and also offer wine and beer tastings.
Pica di Papaya: local hot pepper sauce, a condiment available on nearly every dining table.
Kukoo Kunuku Wine Tour – rated #1 in Aruba for one of the most whacky tours, you hop on a brightly painted bus for an evening of food and wine tastings across the island. This was singularly one of the craziest things I have ever participated in, music blasts out of the open windows on the bus, and you shake the maracas as you're driven through Aruba. You'll visit four top restaurants for a tasting of their signature dishes and perfectly paired wines. it's definitely worth experiencing, this!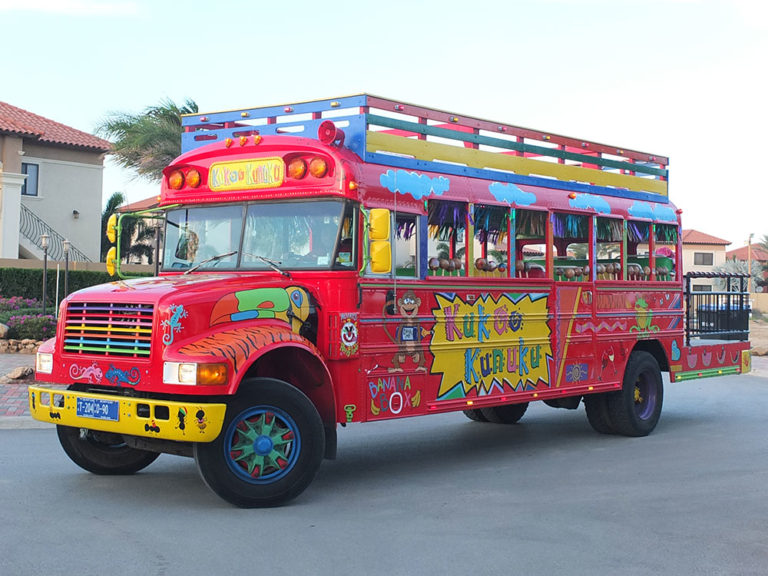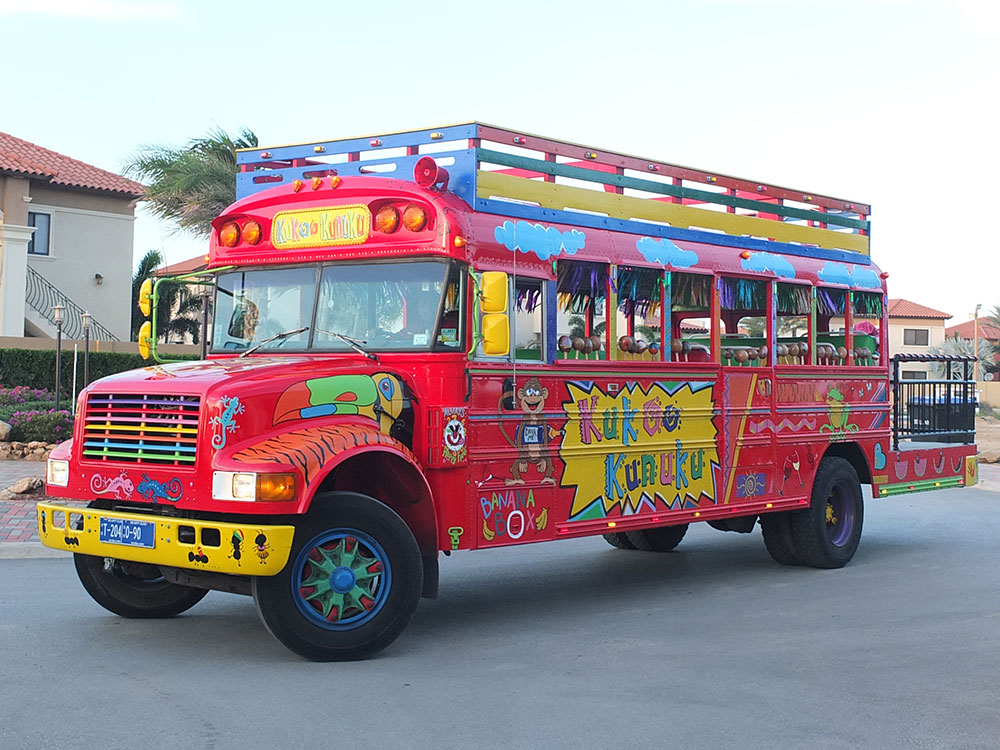 Monteforte Luxury Lagoon Cruise: Sun-bathe on the deck of the Monteforte III while sipping unlimited hand-crafted cocktails as you sail up the coast to a secret lagoon. There, you can go snorkelling on the coral reef, swing on the rope swing or go kayaking. Meanwhile, the onboard chef (pictured below) prepares a delightful grilled lunch. The entire experience is accompanied by non-stop Caribbean music to keep you in the mood. Best. Day. Out. Ever!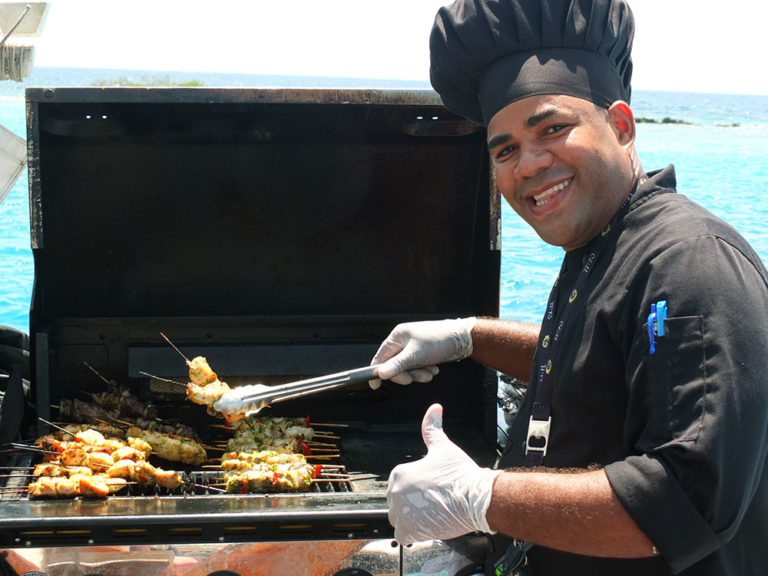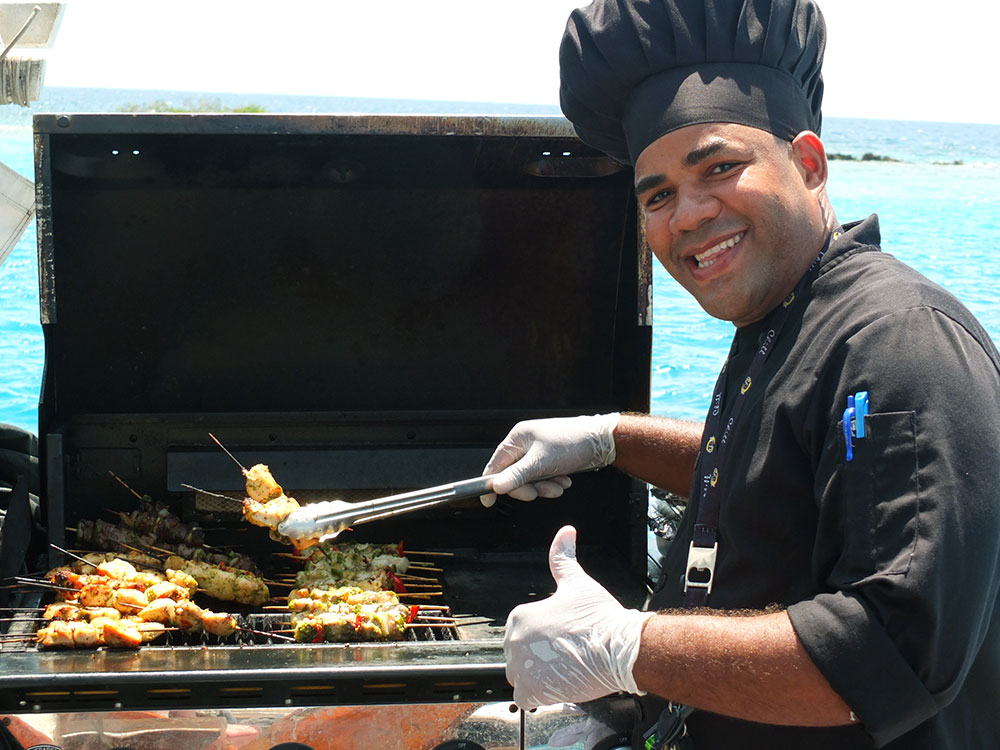 EAT LOCAL IN OCTOBER
During the month of October, you can dine in participating restaurants at a fraction of the cost. In 2017, 72 restaurants were participating in the Eat Local scheme. You can get a two-course meal for just $15, or a three-course meal for either $30 or $40, not including drinks.
Each participating restaurant must feature at least one local dish on their menu, and restaurants are getting very creative with incorporating local ingredients into their dishes. They're encouraged to form bonds with local farmers to source the ingredients.
The Eat Local program originally ran for just two weeks, but it's become so popular that they've extended it to four.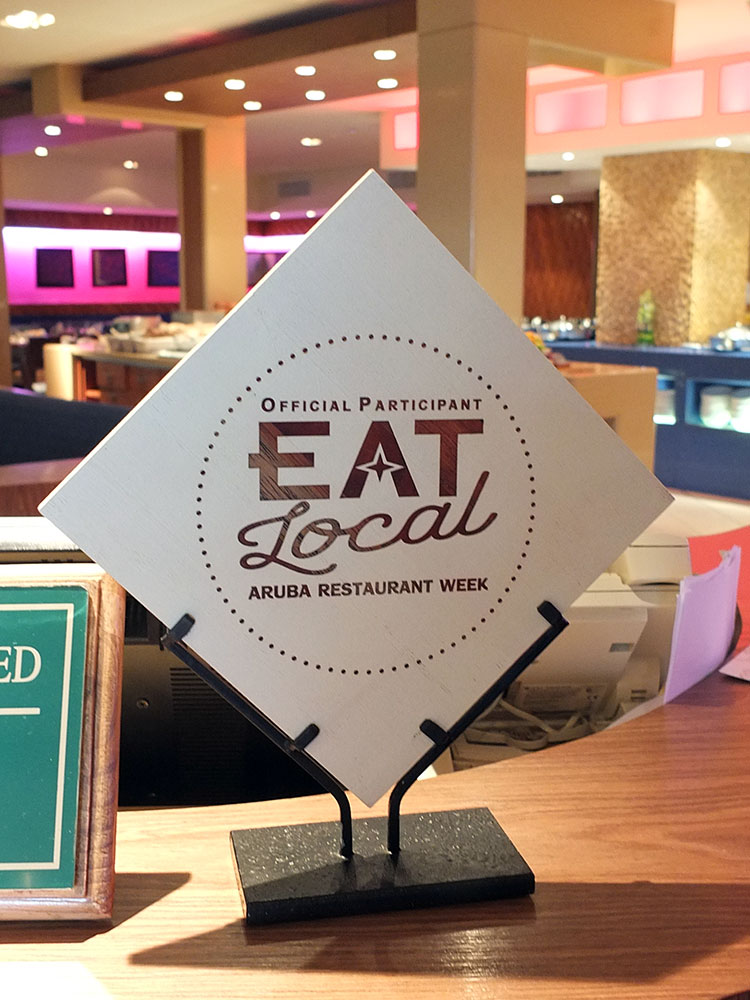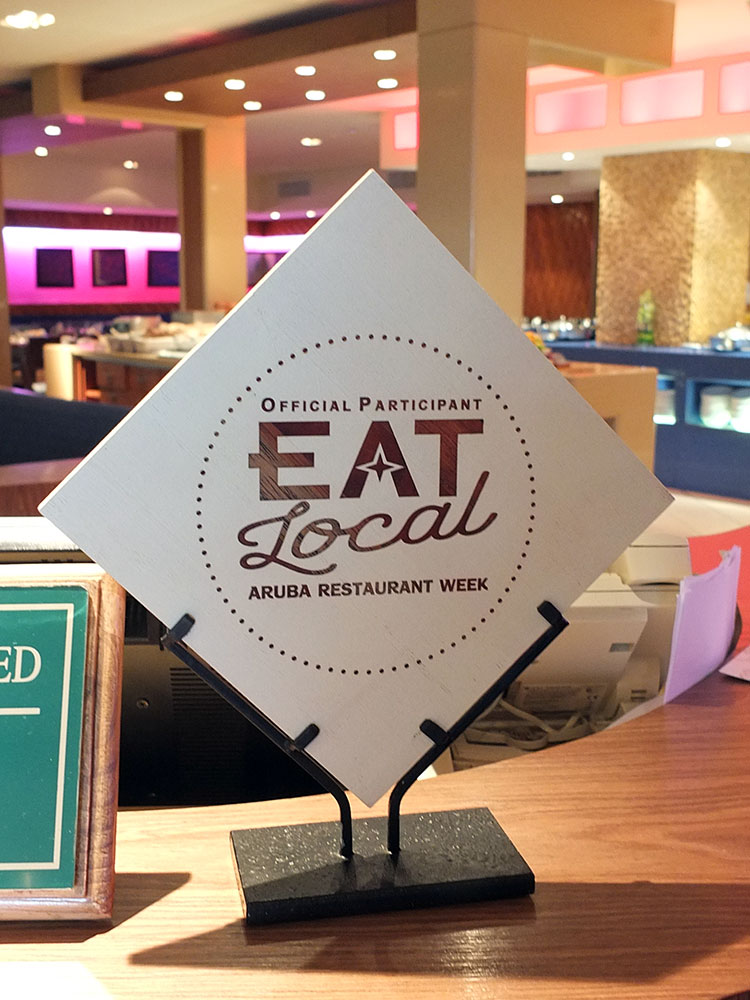 MORE INFORMATION ABOUT VISITING ARUBA
The Aruba Gastronomic Association provides unique Aruba Dine Around Plans for foodie visitors, as well as gift certificates which are valid at all member restaurants. Save money by buying a dining package for your visit – click here for more information!
They don't do all-inclusive exclusive hotels and resorts on Aruba, I was told by a local chef. Hotels are permitted to offer up to 40% all-inclusive options, but the remaining 60% has to be sourced from outside the hotel – meaning when you visit the island you can truly have an authentic Aruban experience.
Aruba is an incredibly safe holiday destination; they have a very low crime rate. In fact, one of the locals I spoke to says that they still sleep with the doors unlocked. Crime just isn't a problem there. Their biggest tourist market used to be from Venezuela, 18 miles south of the island, but when the economy there fell it hit Aruba hard. They're now trying to get the word out to countries who perhaps don't know about Aruba (other than in that infamous Beach Boys song!).
As an aside, anyone else catch the mention of Aruba in the latest Pirates of the Caribbean movie? There's treasure buried in between two palm trees…
It's really easy to get to Aruba from Europe, simply fly to Schipol Airport in Amsterdam and you can hop on a direct 10-hour flight with KLM straight to the One Happy Island. The airport in Aruba is just an 8-minute drive from the hotels and restaurants.
For more information on planning your holiday visit Aruba.com.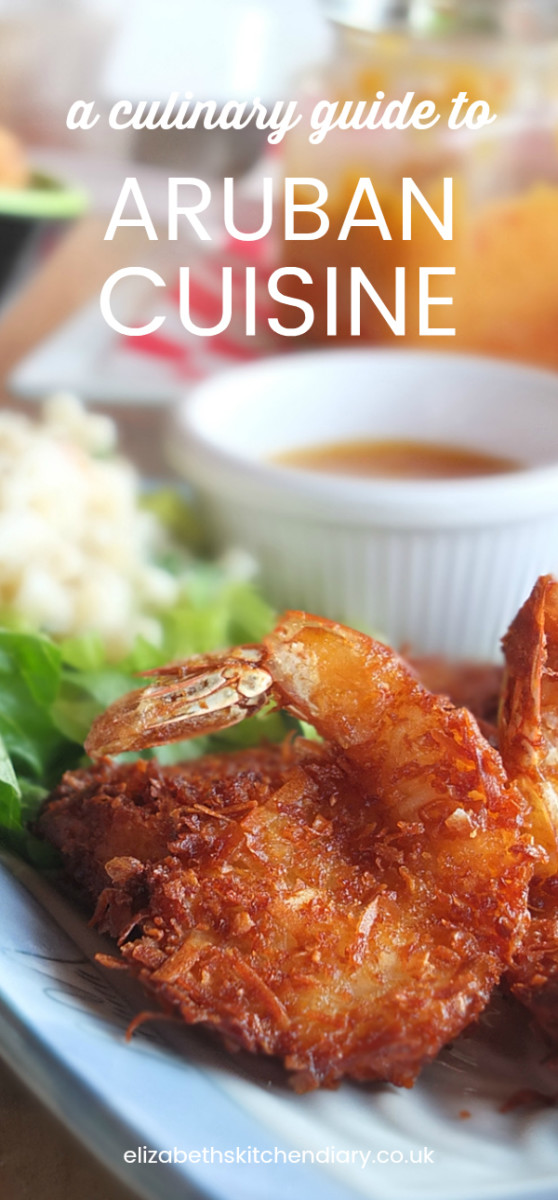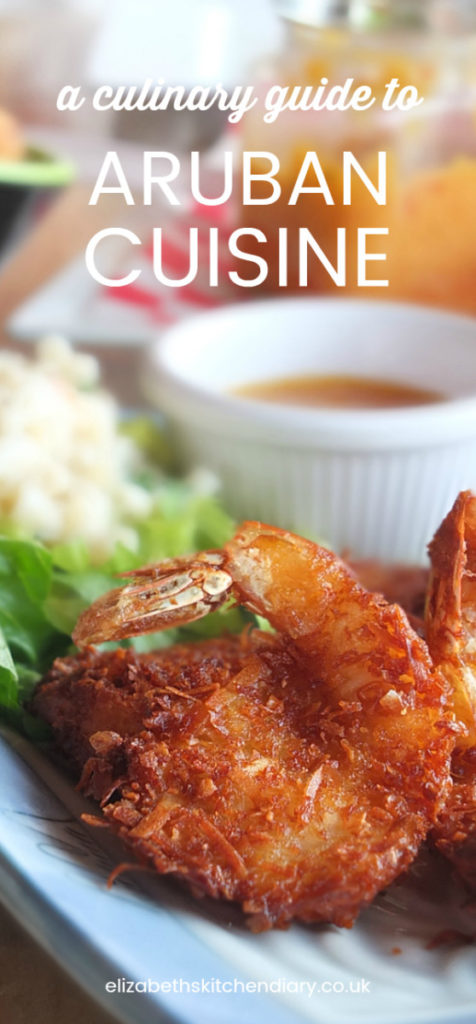 With thanks to Aruba Tourism for the incredible experience; Aruba will always hold a special place in my heart. This is not a paid post although Elizabeth was a guest of Aruba Tourism. With thanks to the Renaissance Hotel for the accommodation, and to all the restaurants, cafes and tours for the extraordinary Aruban cuisine adventures.