This simple yet flavoursome soup features chervil, a mildly anise-flavoured springtime herb. A perfectly poached egg floats in the middle.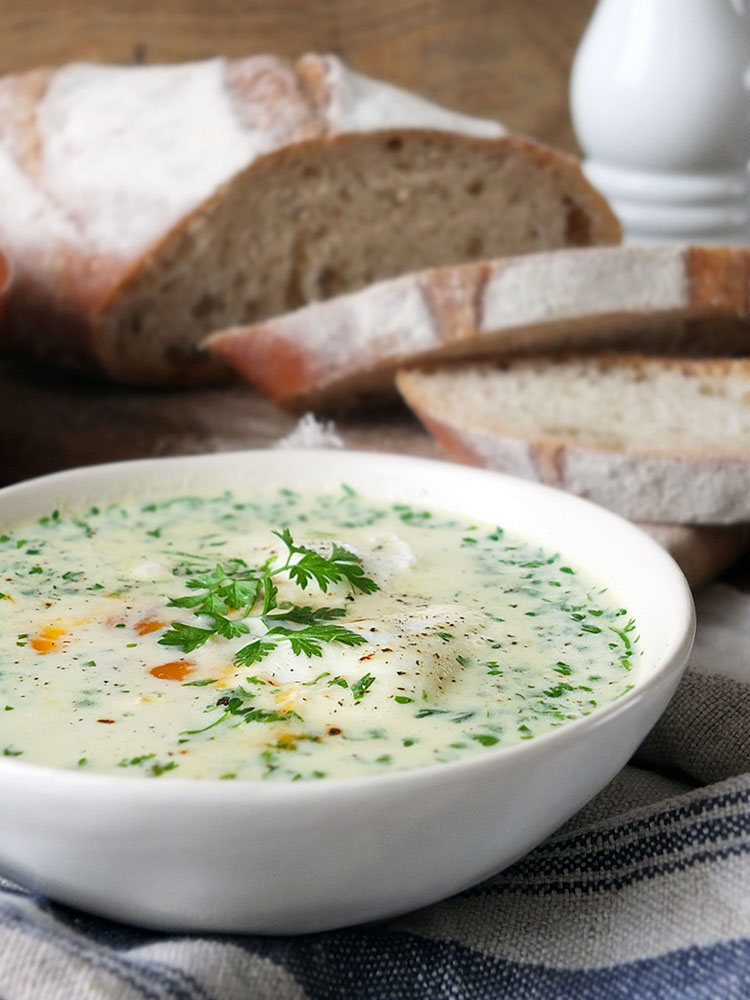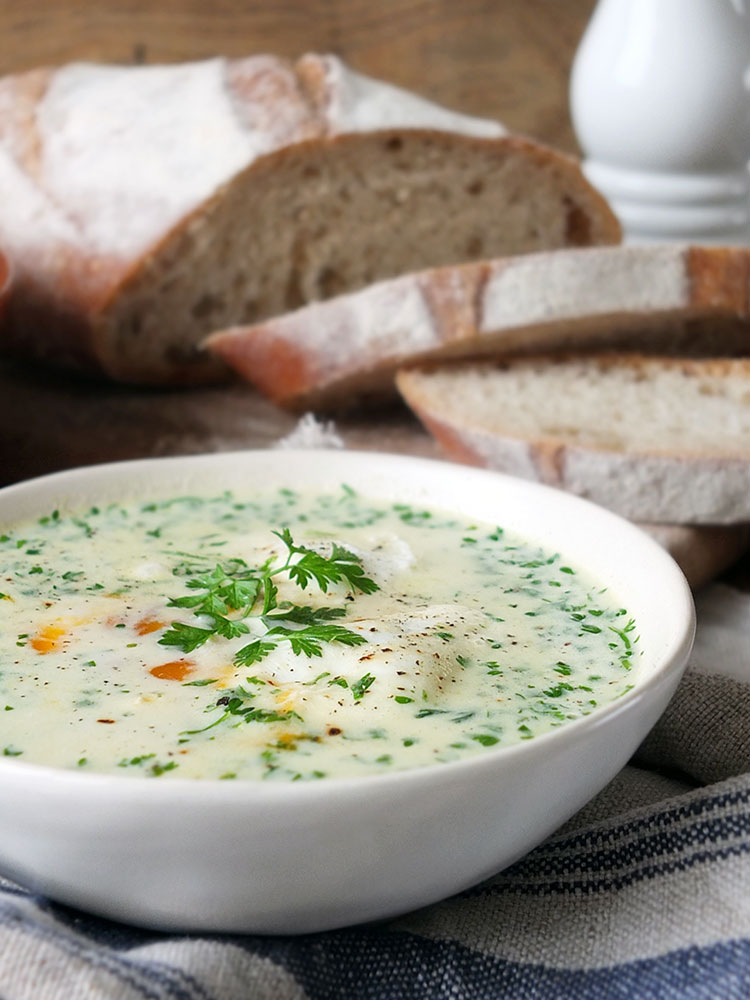 It's veg box time again! Springtime means we start receiving deliveries from our organic veg box providers – springtime vegetables such as rainbow chard, mixed salad leaves, baby kale, spinach and the last of last season's carrots and turnips. Fresh herbs like chervil also make an appearance.
Chervil is not something I've ever seen available to buy in the supermarket, so unless you grow it yourself or get it in your own veg box or farmer's market I don't know where you could source it. Here in Shetland, you can get chervil when it's in season from Turriefield outlets, including Scoop Wholefoods in Lerwick and the Eid Community Co-operative on the west side.
Last week I turned my whole bag of chervil into this delicious, delicately flavoured soup.
The Germans often serve a variation of this soup during Maundy Thursday, when green food is often eaten, and the Scandinavians are also fond of chervil soups. This recipe is a combination of a few traditional recipes I found online, scaled down to serve two as we only get 20-25 gram bags of fresh herbs in our veg box. It's easy enough to double the recipe if you've got enough fresh herb.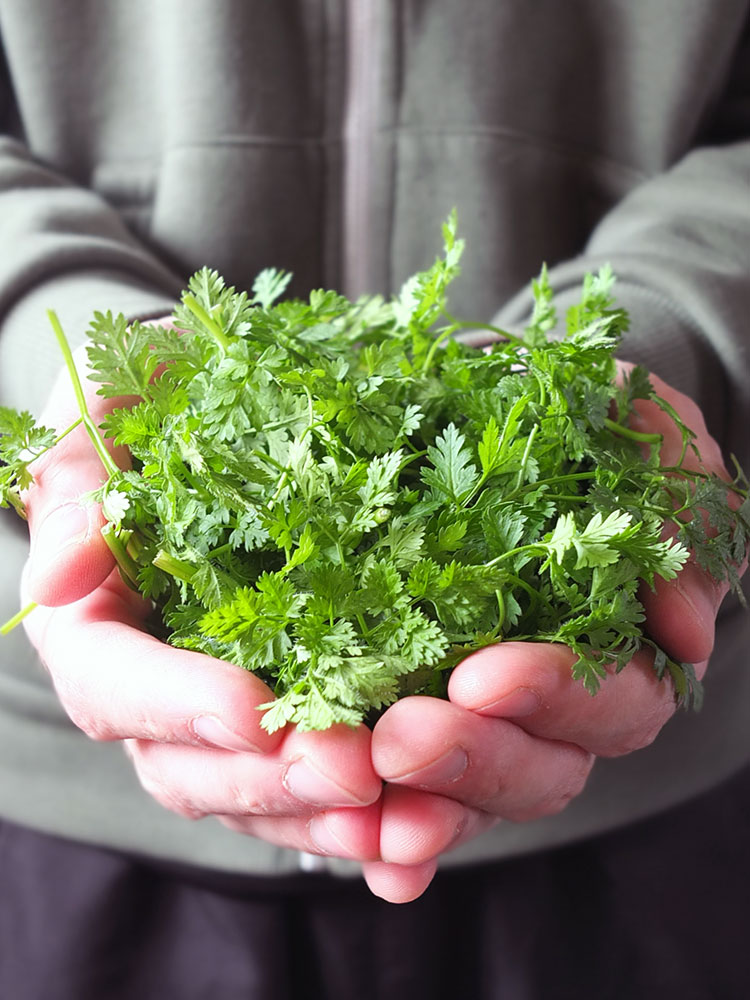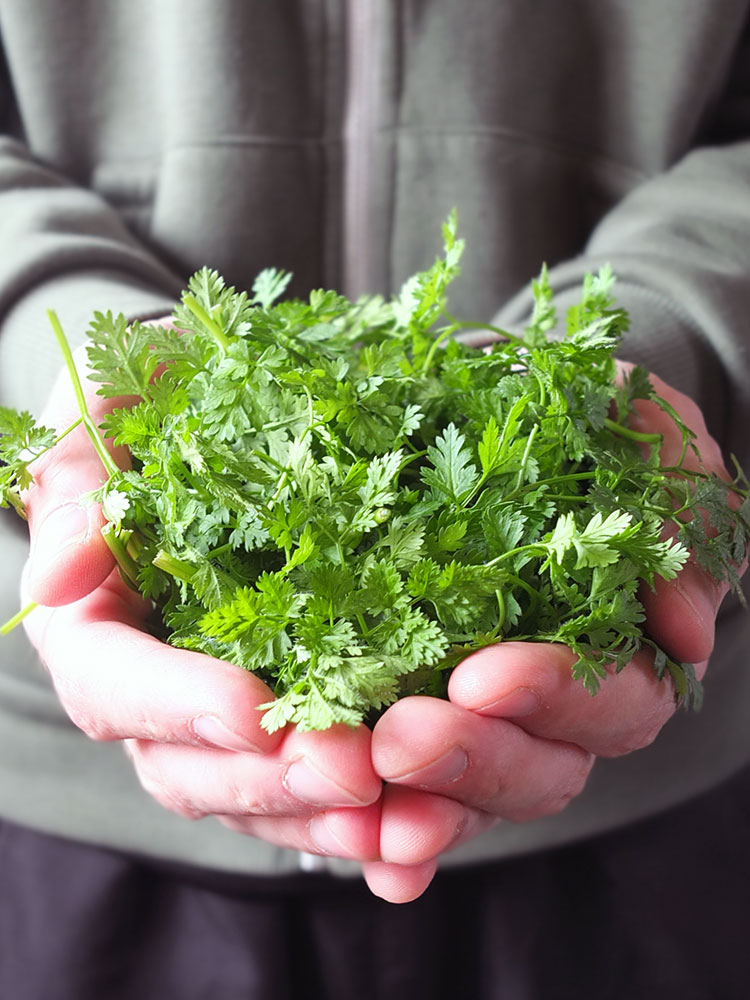 ABOUT THE CHERVIL HERB
Chervil is a delicately flavoured springtime herb related to the parsley family. It is sometimes called French parsley and it has a mild aniseed/liquorice flavour. It's often used in French cooking and is one of the four traditional fines herbes (the others being tarragon, chives and parsley).
Originally from the Caucasus region, it was brought to the UK by the Romans, where it naturalised. As chervil has such a delicate flavour it is usually added in at the end of cooking.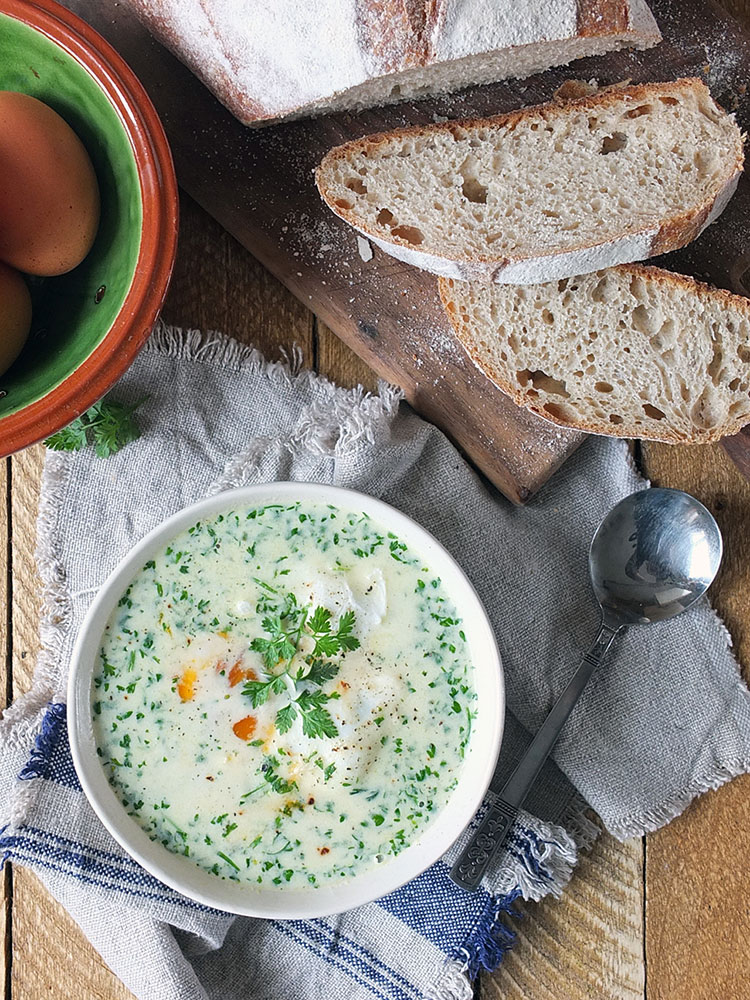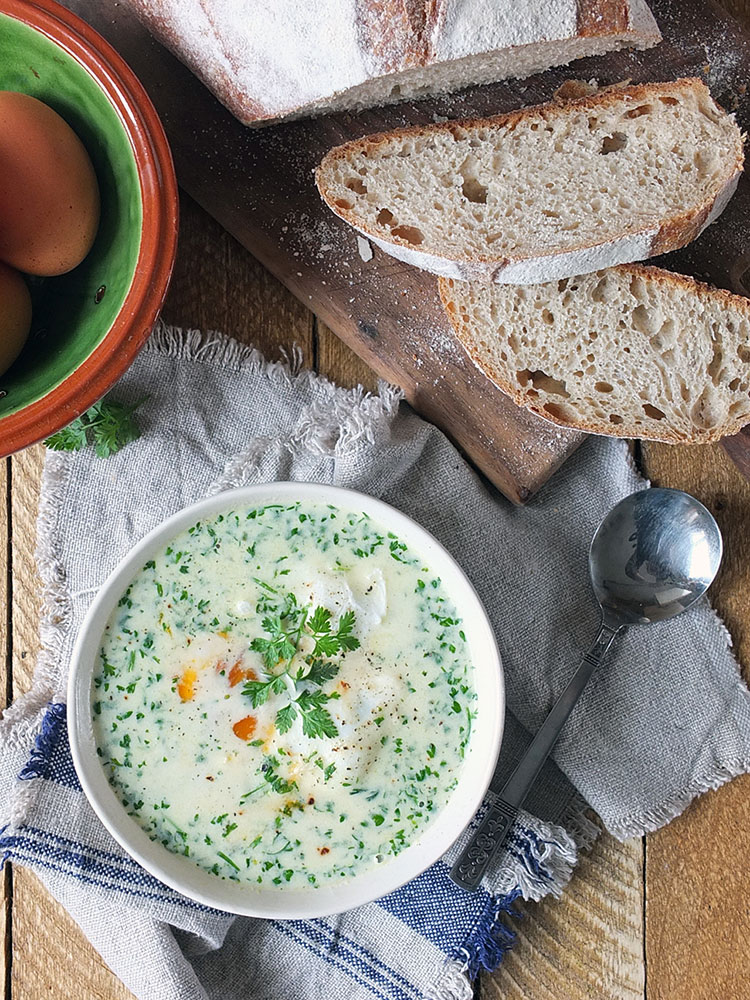 WHAT YOU NEED TO MAKE THIS CREAMY POTATO & CHERVIL SOUP RECIPE
a small knob of butter
one shallot, finely chopped
a small potato, peeled and cubed – I used Kerr Pinks
chicken stock (or vegetable stock) – I've taken to using Knorr stock pots
fresh chervil herb
double cream – ours if from the local Shetland Dairies Farm
a squeeze of lemon juice
sea salt & freshly ground black pepper, to taste
poached eggs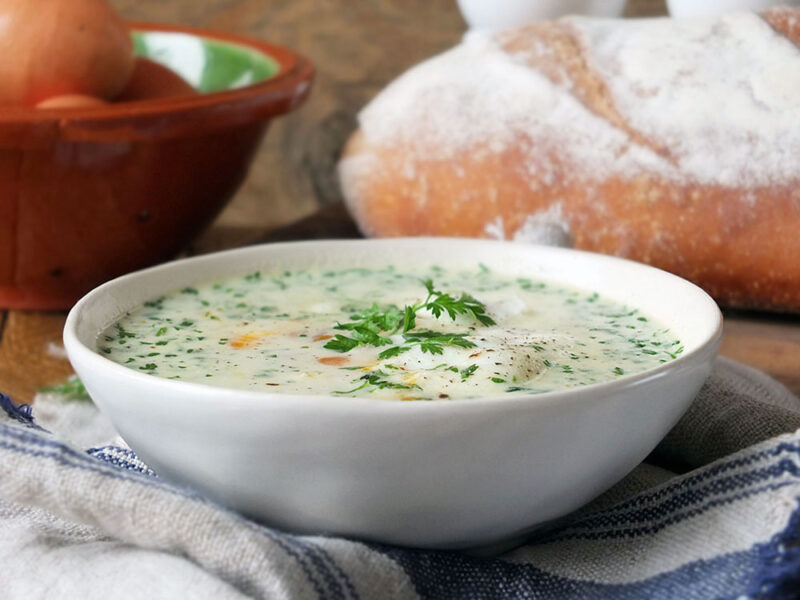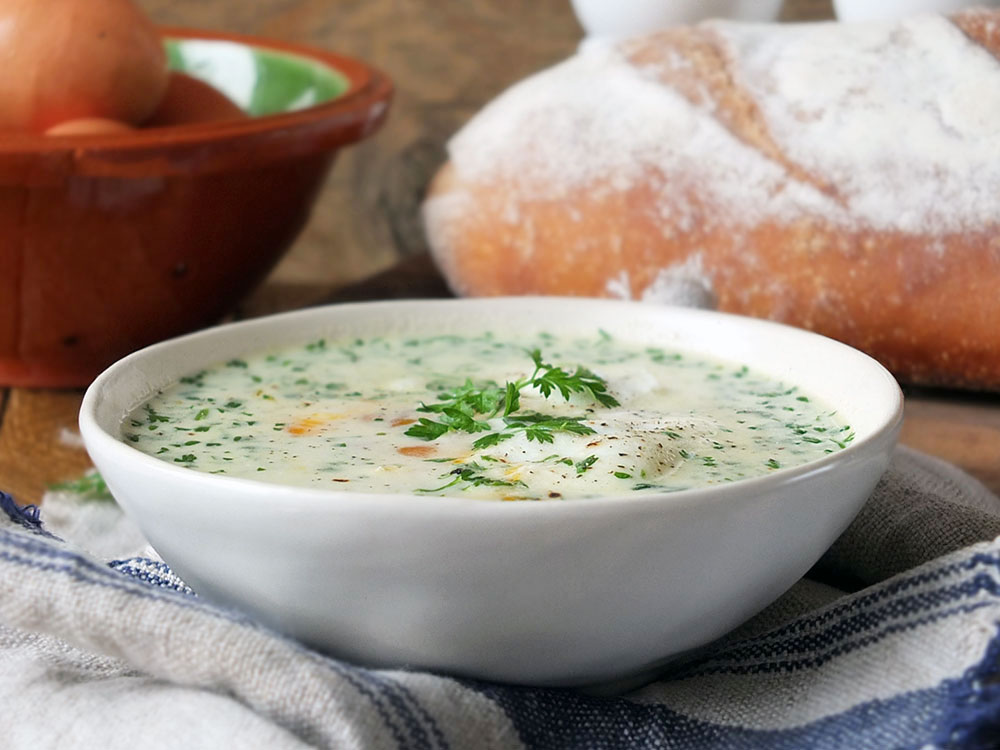 HOW TO MAKE THIS CREAMY POTATO & CHERVIL SOUP RECIPE
Step 1: Heat the butter in a small saucepan and saute the chopped shallot until it begins to soften.
Step 2: Add the potato and the stock, pop on the lid and simmer gently until the potato is cooked.
Step 3: Remove the pan from the heat, add the chervil and puree with a hand blender.
Step 4: Add the double cream. Heat through, taking care not to boil.
Step 5: Add the squeeze of lemon juice and season with salt and pepper to taste.
Step 6: Divide between two serving bowls and place a poached egg in the centre. Garnish with a sprig of chervil.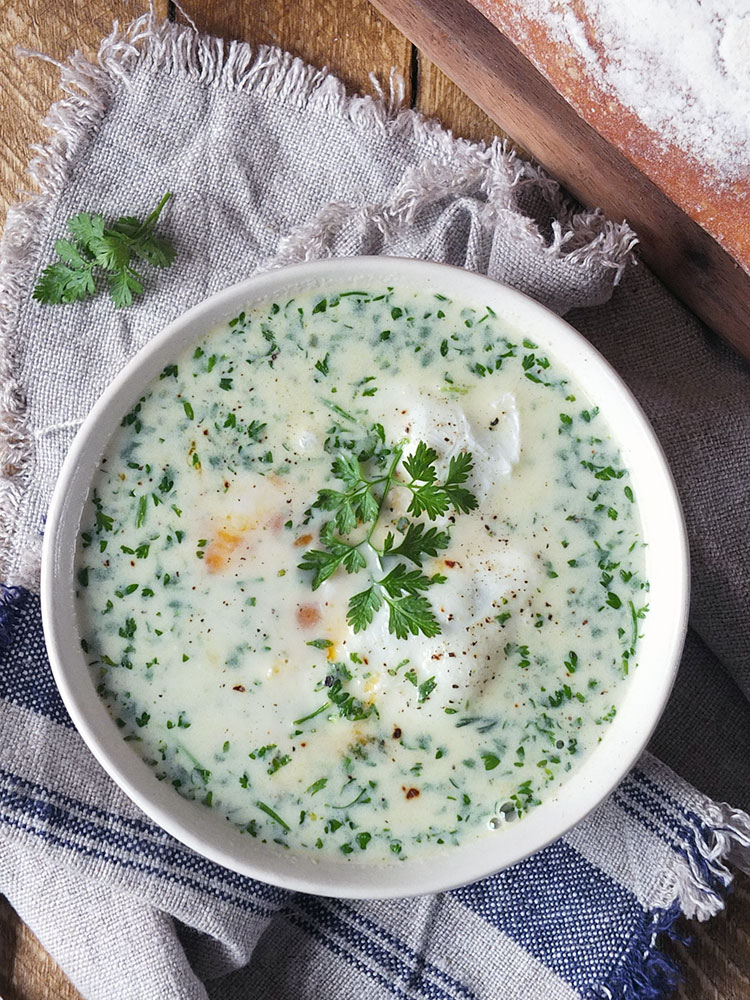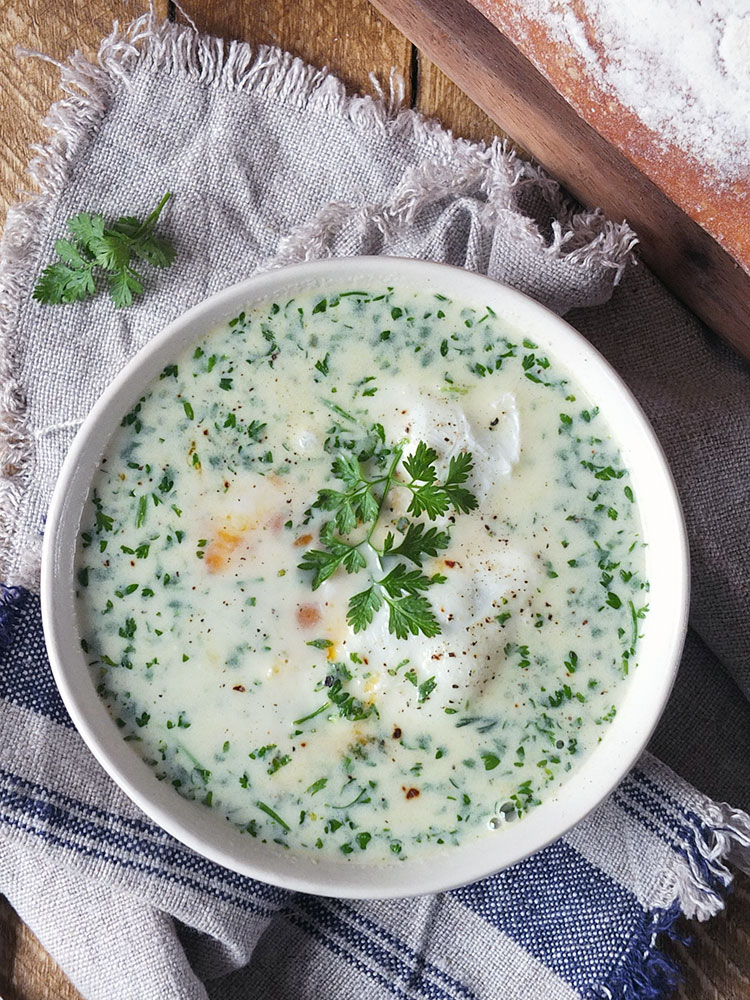 Tips on how to perfectly poach an egg
Poached eggs are one of those things I pride myself on these days; one of those tricks I get right every time. Once you get the knack you'll be eating poached eggs all the time – they're so good!
Use a small shallow pan (about 8 inches in diameter, I always use my Green Earth pan) and pour in boiling water to a depth of one inch. Add a capful of apple cider vinegar to the water – this helps the egg keep its shape. Bring to a simmer, you don't want a rolling boil here.
Crack your egg into a coffee mug first, and when the water is ready gently slide the egg into the centre of the pan, giving the pan a little swirl. Set a timer for two minutes.
Depending on the size of your egg, you might need to use a dessert spoon to pour a little of the cooking water over the top of the egg to set it. Remove your egg with a slotted spoon, taking care to drain any excess water, and serve!
[amazon_link asins='B005470CB6,B01M61T1ZG' template='ProductCarousel' store='elizskitcdiar-21′ marketplace='UK' link_id='dd87115c-4083-11e8-9942-415551f835f4′]
Do you grow or cook with chervil? Do you have any recipe suggestions to use it? Let me know in the comments!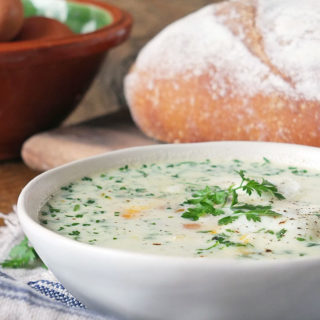 Creamy Potato & Chervil Soup with a Poached Egg
A simple yet flavoursome soup featuring chervil, a mildly anise-flavoured springtime herb. A poached egg floats in the middle.
Print
Rate
Affiliate Links
This recipe card may contain affiliate ingredient and equipment links. As an Amazon Associate I earn from qualifying purchases.
Instructions
Heat butter in a small saucepan and saute the shallot until it begins to soften (2-3 minutes).

Add the potato, cut into 1 inch pieces and the chicken stock. Pop the lid on and simmer until the potato is tender, about 15 minutes.

Remove the soup from the heat. Reserve two nice sprigs of chervil for the garnish, and add the rest of the chopped herb to the soup. Puree with a hand blender.

Return to the heat and add the double cream, heating through. Take care not to boil.

Add the lemon juice, season to taste and serve with a poached egg in the bowl, garnishing with the sprigs of chervil.
Environmental Information
[amazon_link asins='B014DFKXKY,B014G2LOXE' template='ProductCarousel' store='elizskitcdiar-21′ marketplace='UK' link_id='e6d02751-4081-11e8-b68a-9b8639a5f4bb']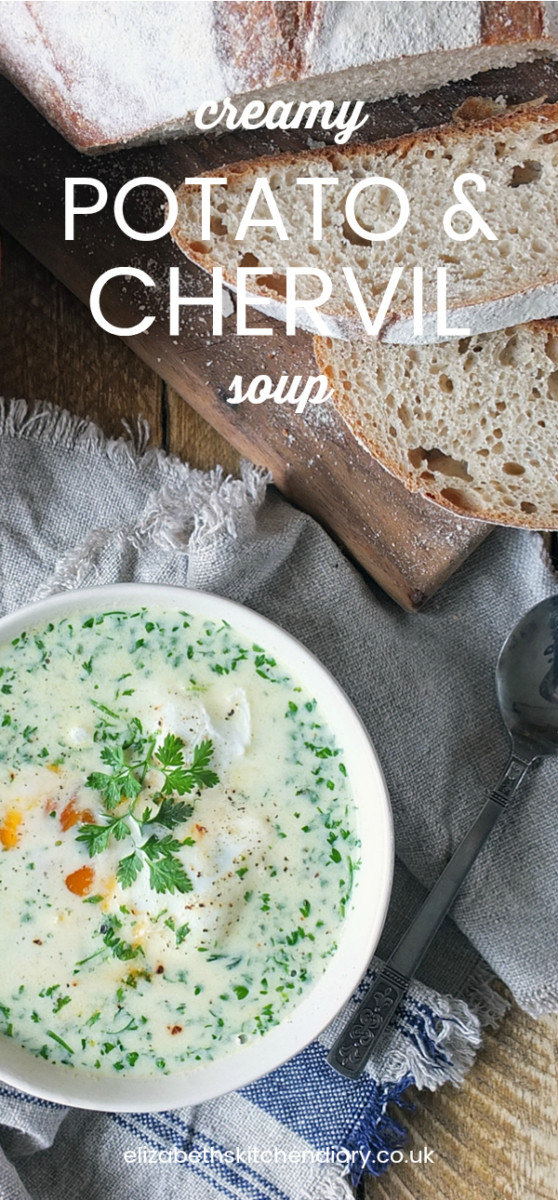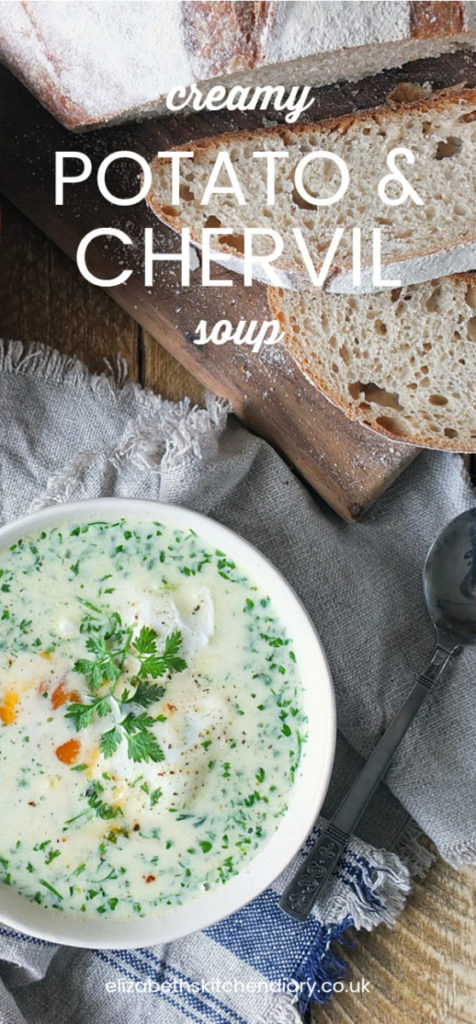 [color-box]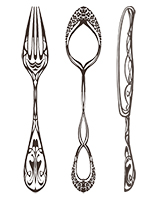 Have you made this recipe?
Take a photo and tag @tangoraindrop or use the hashtag #elizabethskitchendiary and share on Instagram and Twitter. It would make my day to see your creations!
[/color-box]