These homemade pasta parcels have a delicious spinach and ricotta filling. Serve simply with a drizzle of good quality olive oil or with a simple homemade tomato sauce and plenty of Parmesan cheese.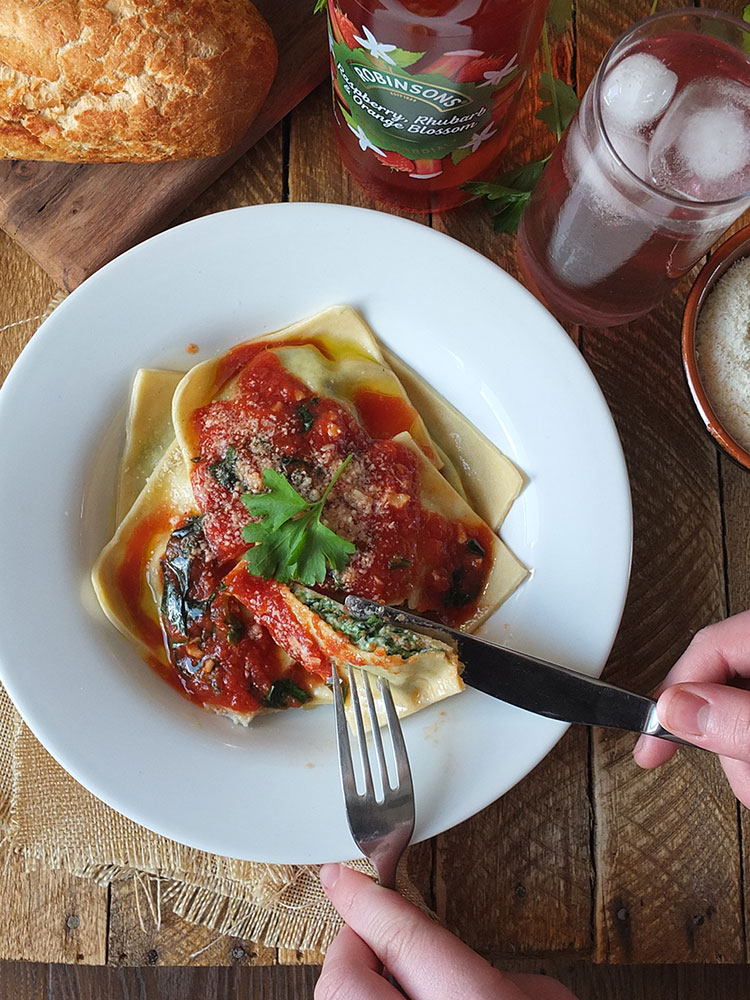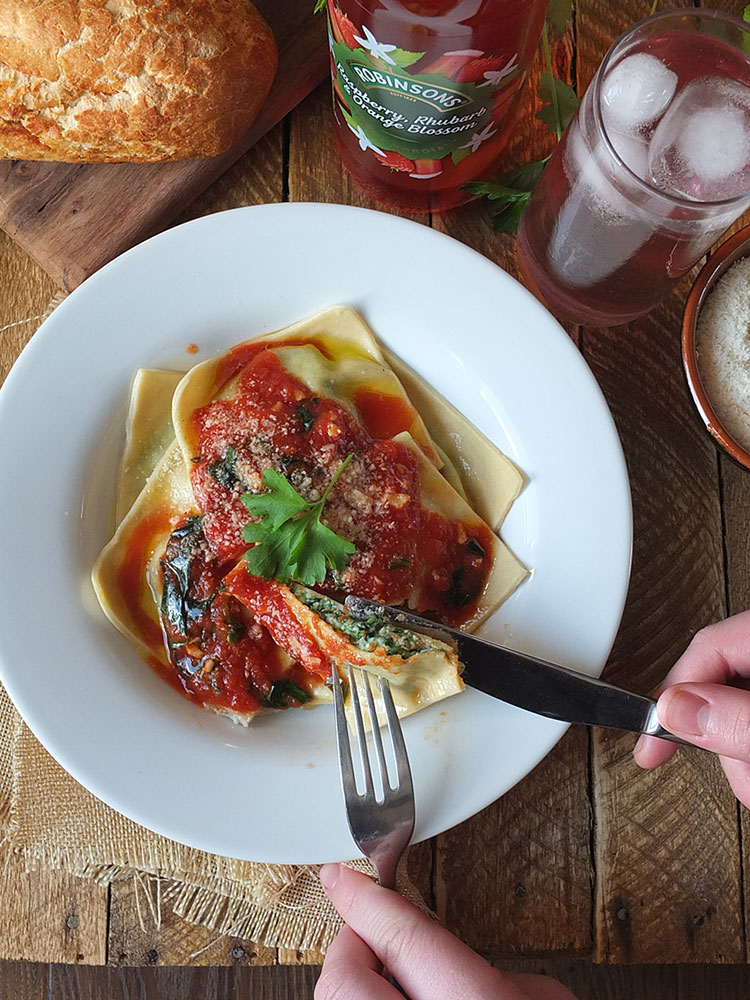 Homemade pasta is a remarkably simple and flavoursome recipe to make. Flour and eggs, that's it, and a few minutes of kneading. Last summer I had the opportunity to try a wide variety of homemade pasta while visiting Italy, and I vowed I would make an effort at home to make more homemade pasta.
Here, I've made a simple spinach and ricotta filling for homemade ravioli, inspired by the appearance of fresh organic spinach in the first delivery of this year's veg boxes.
While I was in Italy, I enjoyed a delicious ricotta ravioli served simply with a drizzle of good quality olive oil and a sprinkling of Parmesan cheese. Often, I find here in the UK, we like to load up our pasta with heavy sauces, but in Italy their pasta first course is often light, allowing the flavours of the ingredients to shine through (and leaving room for a heavier second meat course).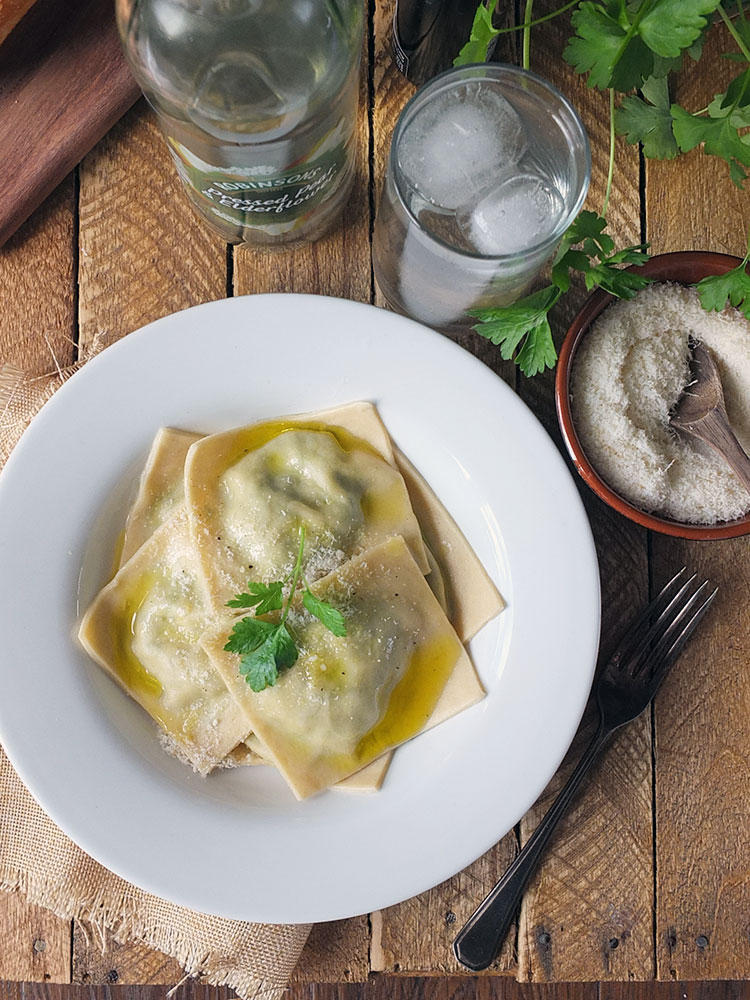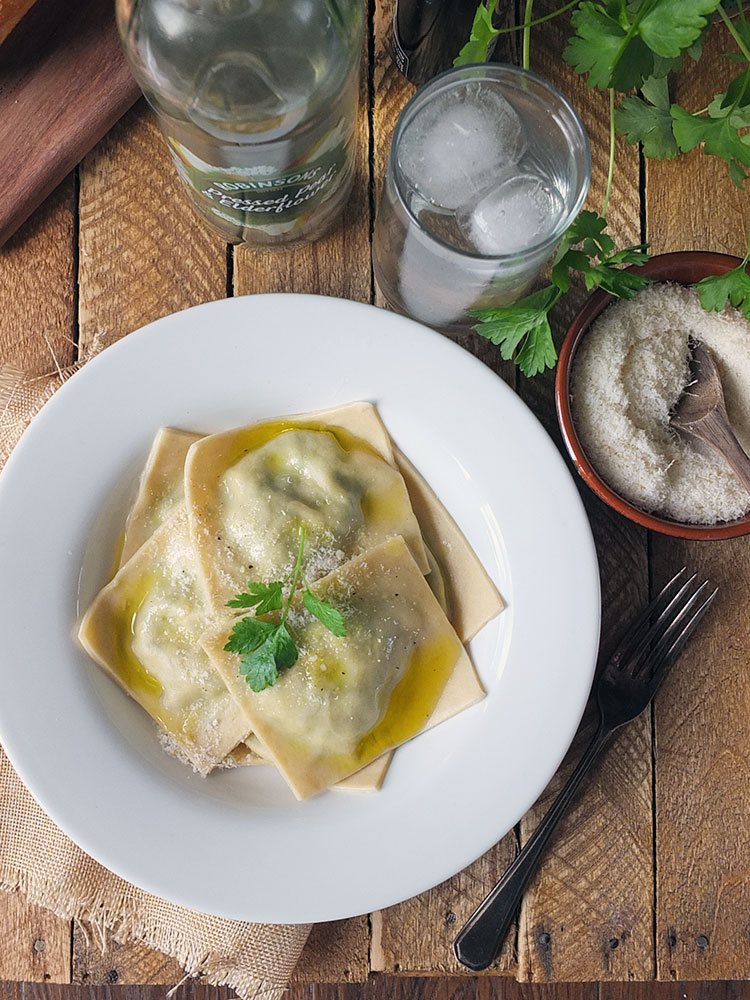 Inspired by this ravioli dish, which was served with a fruity white wine with white flower flavours, my first spinach and ricotta ravioli recipe is served simply with olio nuovo.
To accompany, a glass of sparkling Pressed Pear & Elderflower fruit cordial, diluted with sparkling water and chilled with a few ice cubes: a refreshing non-alcoholic drink reminiscent of summer.
For those preferring a richer flavour, I've included a recipe for a simple Italian tomato sauce made with passata rustica, or crushed tomatoes.
This sauce only takes a few minutes to make, and it's remarkably versatile. I often add a spoonful of flavoured oil at the end, such as basil or chilli. For this version, I serve a more robust raspberry, rhubarb and orange blossom cordial.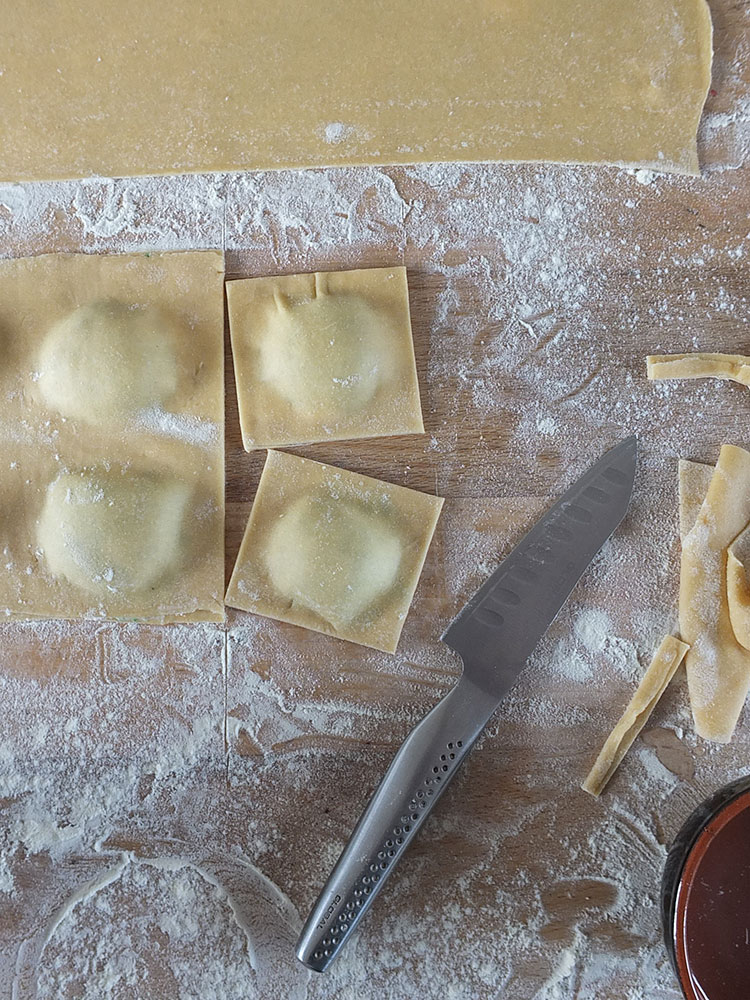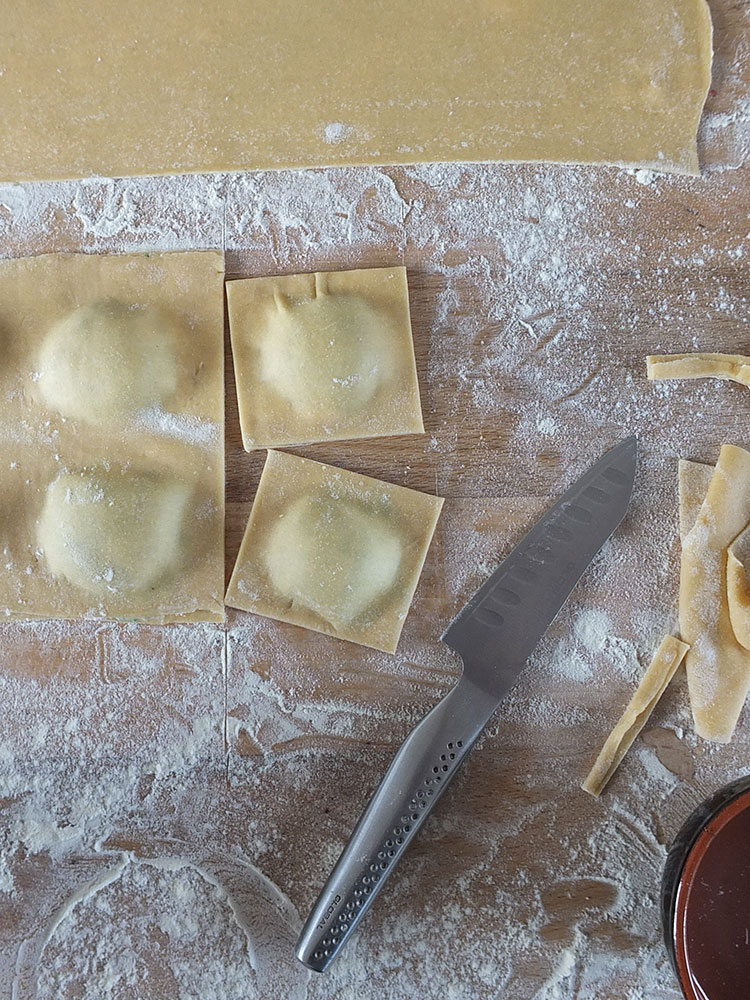 INGREDIENTS TO MAKE THIS HOMEMADE SPINACH AND RICOTTA RAVIOLI RECIPE
'00' Italian pasta flour
fresh free-range eggs
fresh spinach (although frozen works well too – just defrost it first)
ricotta cheese
Parmesan cheese
good quality olive oil
whole nutmeg – freshly ground tastes so much better than pre-ground
sea salt and freshly ground black pepper, to taste
a pasta machine (or a rolling pin)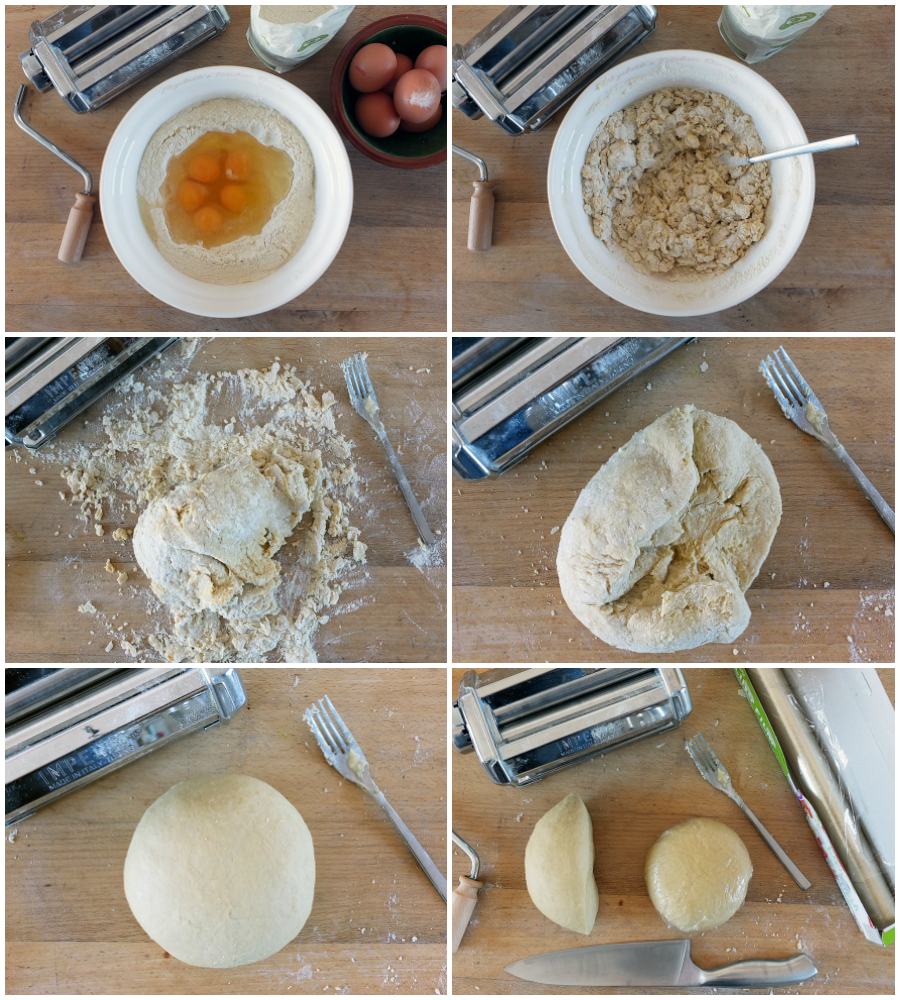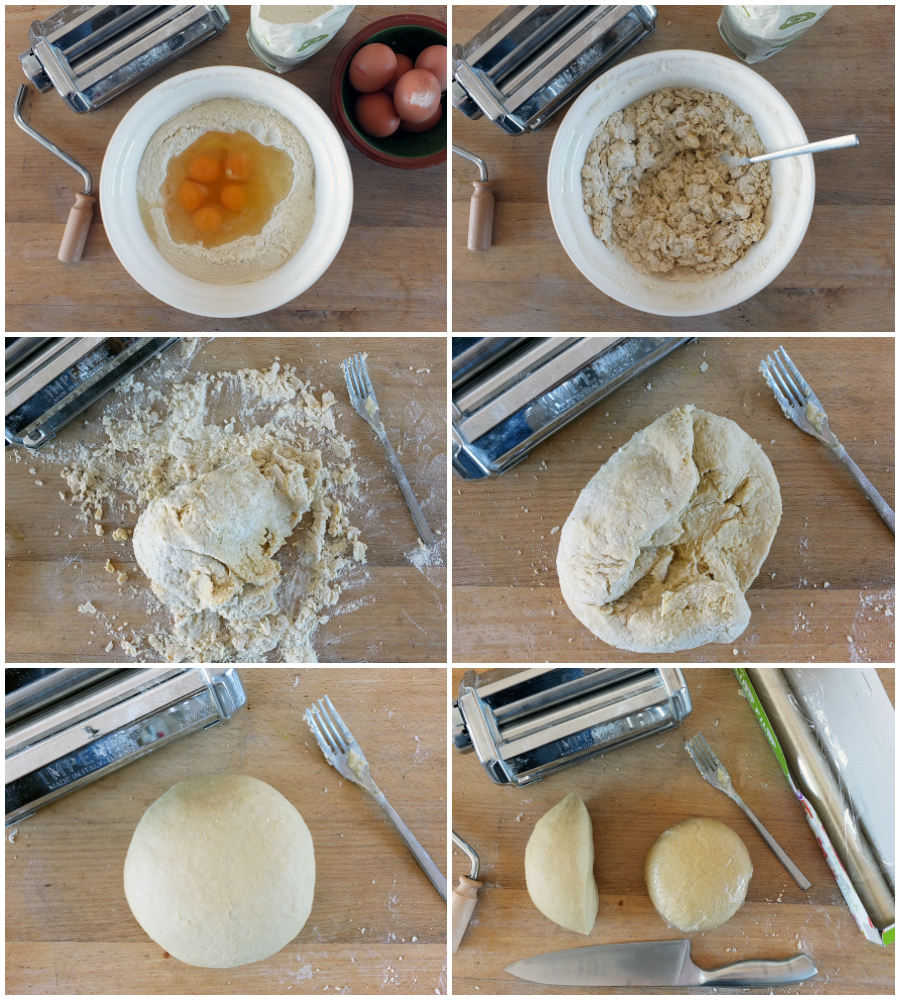 HOW TO MAKE THE PASTA DOUGH FOR THIS SPINACH AND RICOTTA RAVIOLI RECIPE
Step 1: First measure your '00' Italian pasta flour (which is a special flour more refined than all-purpose or plain flours, used specifically for making pasta – you can find it in Scoop Wholefoods here in Shetland, and in most supermarkets on the mainland) into a bowl. Make a well in the centre and crack in your eggs – use one egg for every 100 grams of flour.
Step 2: Using a fork, break up the eggs and begin to combine them with the flour. They'll start to clump together pretty quickly.
Step 3: Dump the contents of the bowl out onto a lightly floured surface and start to knead it.
Step 4: Continue to knead. It'll take a few minutes, but the gluten in the flour will eventually start working its magic and things will start to smooth out.
Step 5: Knead a bit more gently now for two minutes, until a smooth ball of dough forms.
Step 6: Depending on how much dough I've made, I often divide it into two. Wrap in clingfilm and chill in the fridge for 60 minutes.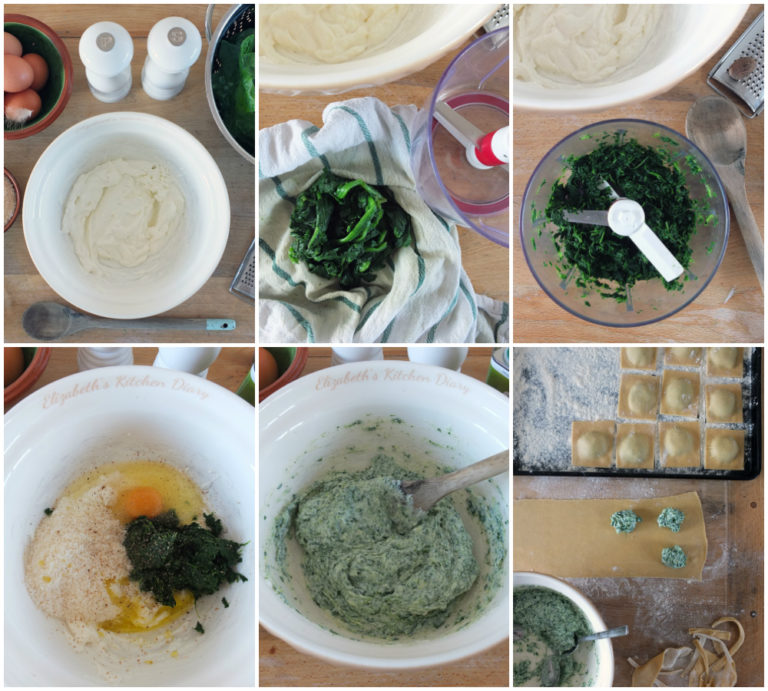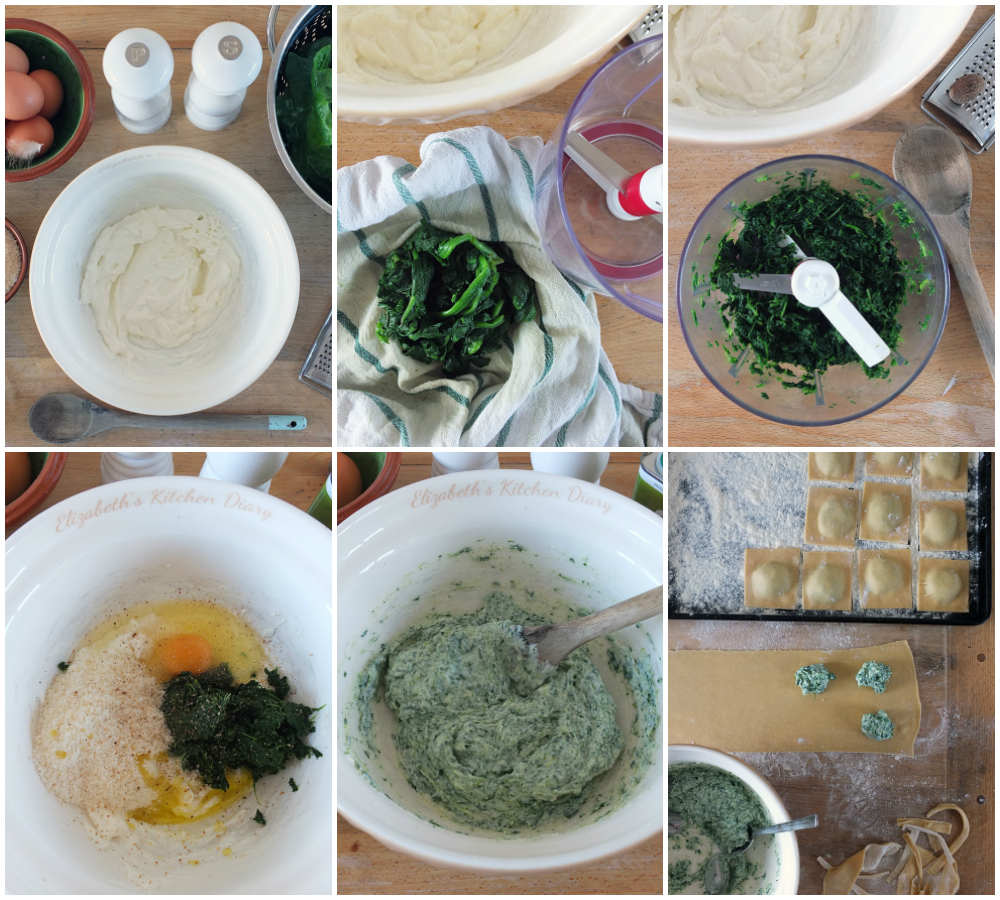 HOW TO MAKE THE FILLING FOR THIS SPINACH AND RICOTTA RAVIOLI RECIPE
Step 1: Place the ricotta cheese in a bowl and gather ingredients.
Step 2: Wilt spinach in a dry non-stick pan. The water leftover on the leaves from washing them should be sufficient moisture to stop the spinach from scorching. As soon as the spinach has wilted remove it from the heat and allow it to cool slightly.
Step 3: Chop the spinach finely either by hand or in a mini food processor.
Step 4: Add the remaining ingredients, along with the chopped spinach, to the ricotta.
Step 5: Stir well to combine.
Step 6: Roll out the pasta dough and assemble the ravioli.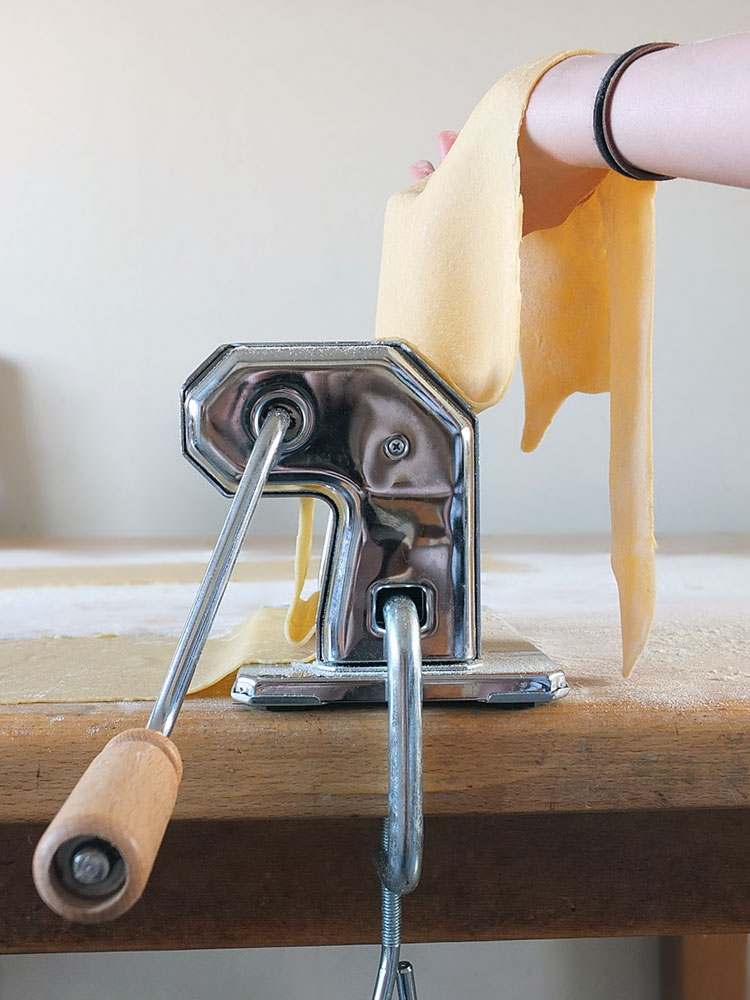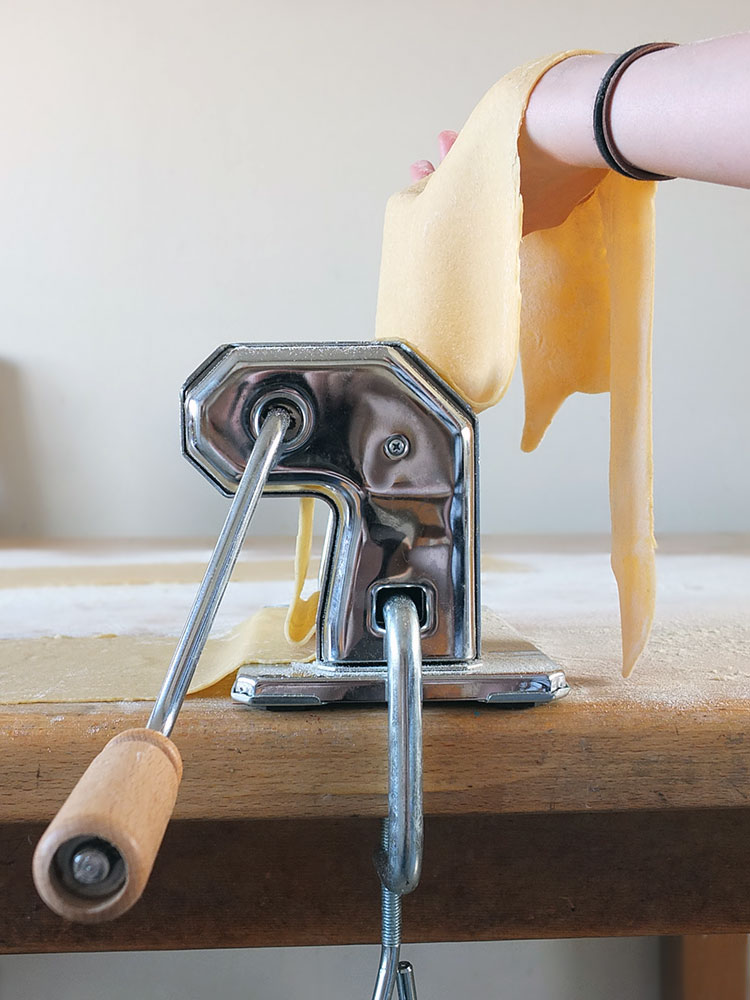 Making your own pasta can be a wonderfully therapeutic experience. There's something intensely satisfying about watching the ingredients come together to create a delicious meal.
A pasta machine does make pasta making much easier, but it isn't absolutely essential. You can always use a rolling pin to get the dough as thin as you possibly can.
Start by running the disc of dough through the widest setting on the pasta machine. Fold that rough piece into thirds, as pictured below, two or three more times at the thickest setting. Then, run the dough through subsequently smaller settings.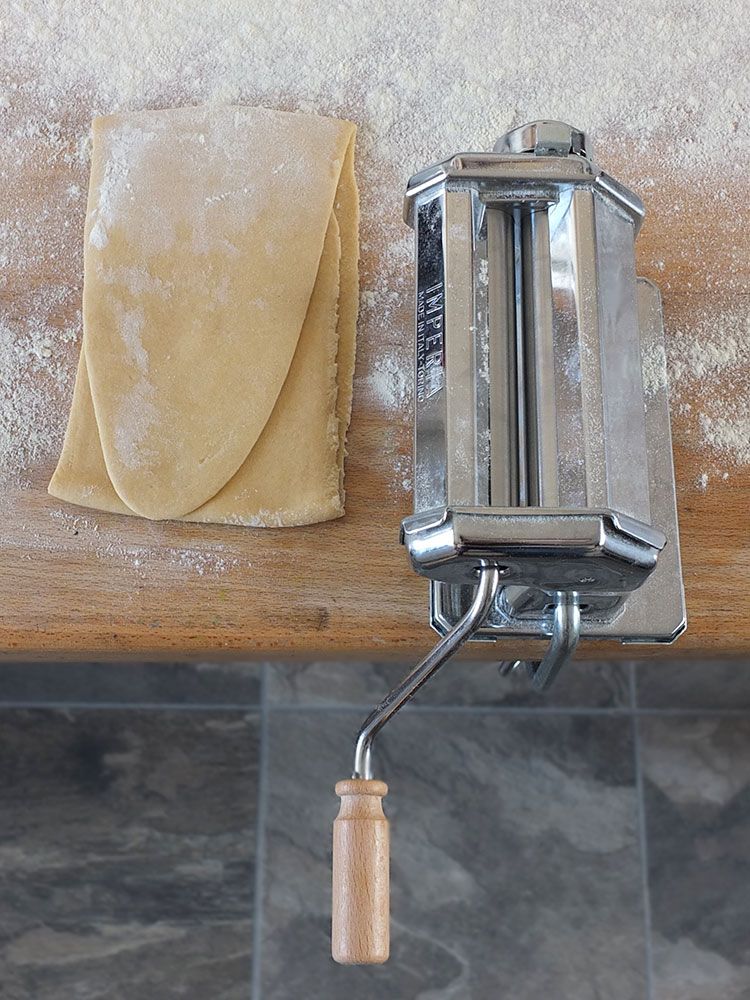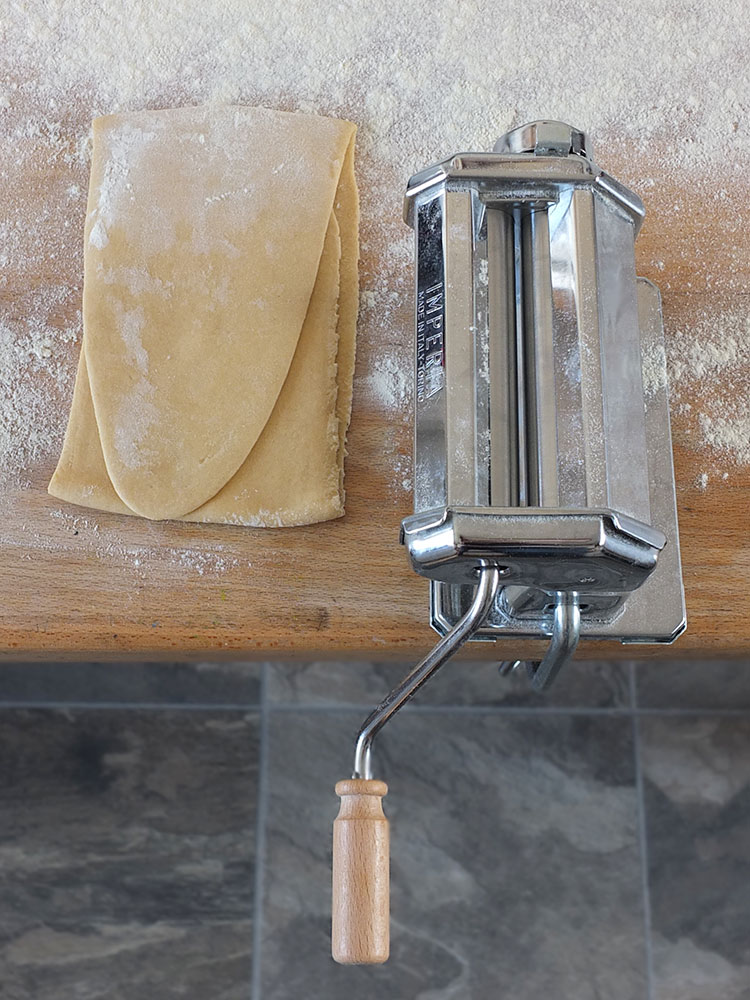 When using a machine, I continue to roll the ravioli dough to the second last thickness. You can buy ravioli attachments, but I prefer the rustic homemade look. I usually use a fluted pastry cutter to give my ravioli pretty edges, but both of mine seem to have disappeared from where they're kept. I suspect some small person has run off with them both to play with modelling clay! A sharp knife or even a pizza cutter will work to tidy up the edges.
Arrange your finished ravioli on a lightly floured tray and cover with a slightly damp tea towel to keep it from drying out. To cook, bring a large pan of salted water to the boil, reduce the heat and simmer. Cook the ravioli in small batches (six at a time is fine) for 3-4 minutes, until they float. Drain and serve as desired: either simply with a drizzle of oil or with a tomato sauce.
Do you make your own pasta? What's your favourite sauce to serve with it? Let me know in the comments!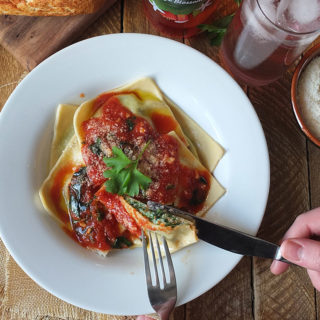 Homemade Spinach and Ricotta Ravioli
Homemade pasta parcels with a delicious spinach and ricotta filling. Serve simply with a drizzle of good quality olive oil or with tomato sauce.
Print
Rate
Ingredients
Affiliate Links
This recipe card may contain affiliate ingredient and equipment links. As an Amazon Associate I earn from qualifying purchases.
Instructions
To make the pasta, place the flour in a bowl, make a well in the centre and crack the eggs in.

Use a fork to break up the eggs and mix them with the flour.

When the dough starts to form clumps, turn out onto a floured surface and knead until it comes together. Continue kneading for two minutes to form a smooth dough ball.

Divide the dough in half, and wrap each piece in clingfilm. Chill for 60 minutes while you prepare the filling.

Wash the spinach, removing any tough stalks. Wilt in a hot pan for a few minutes, taking care not to overcook.

Transfer the wilted spinach to a tea towel and squeeze out any extra moisture. Finely chop the spinach, or process in a mini food processor.

Combine the spinach, ricotta cheese, Parmesan, egg, olive oil and nutmeg together in a bowl. Season well to taste and chill until the dough is ready.

Roll out the pasta dough on a floured surface to a thickness of 1 mm with a rolling pin or a pasta machine.

Drop spoonfuls of the spinach and ricotta filling along one sheet of the pasta dough, leaving an inch and a half between each spoonful.

Using a finger dipped in water, wet the edges of the ravioli, around the filling. Carefully arrange another pasta sheet over the top and press into place, starting from the middle. Use your palms to cup around the filling and press any air bubbles out.

Use a sharp knife or fluted pasta cutter to cut out each indivdual ravioli. Place on a floured baking tray and cover with a damp tea towel until the rest are made.

To prepare the tomato sauce, if using, heat four tbsp olive oil in a small saucepan and saute the garlic for a minute or so, until it imparts its fragrance.

Add the passata and cook for a few more minutes, until thick and bubbling. Add the fresh basil, season well and remove from the heat. Stir in another tablespoon of good quality olive oil.

Bring a large pot of salted water to a simmer and drop the ravioli in. Cook for four minutes. They will float when ready. Remove with a slotted spoon, drain and arrange on a serving plate.

Serve simply with a drizzle of good quality olive oil and some Parmesan, or with the tomato sauce and Parmesan cheese.
Environmental Information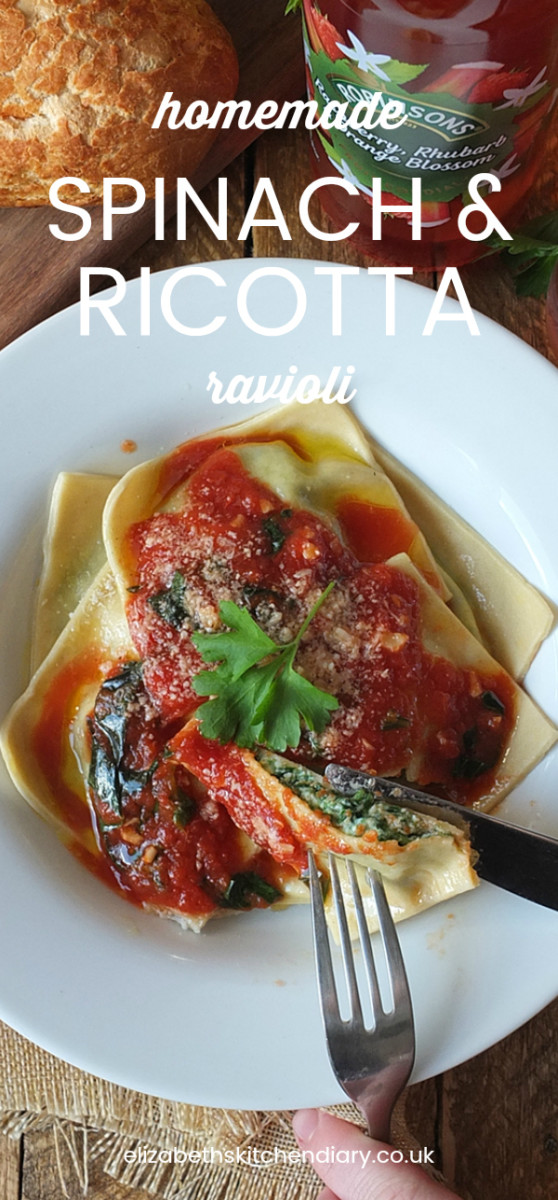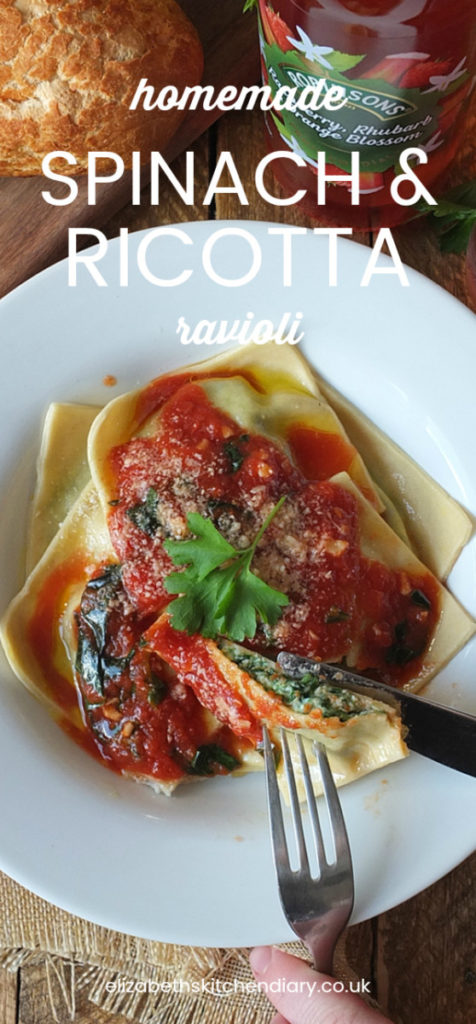 This is a sponsored recipe post in collaboration with Robinsons, although all thoughts and opinions expressed are our own. Thank you for supporting the brands who make it possible for me to do what I love: mess up my kitchen and share recipe stories.