Oven-roasted chorizo meatballs, made with homemade chorizo sausage and leftover roast pork, combined with rich homemade slow-cooked chicken stock, dirty carrots, celery, local potatoes, Shetland kale and lashings of cream make for a perfect winter chowder. Best eaten outdoors.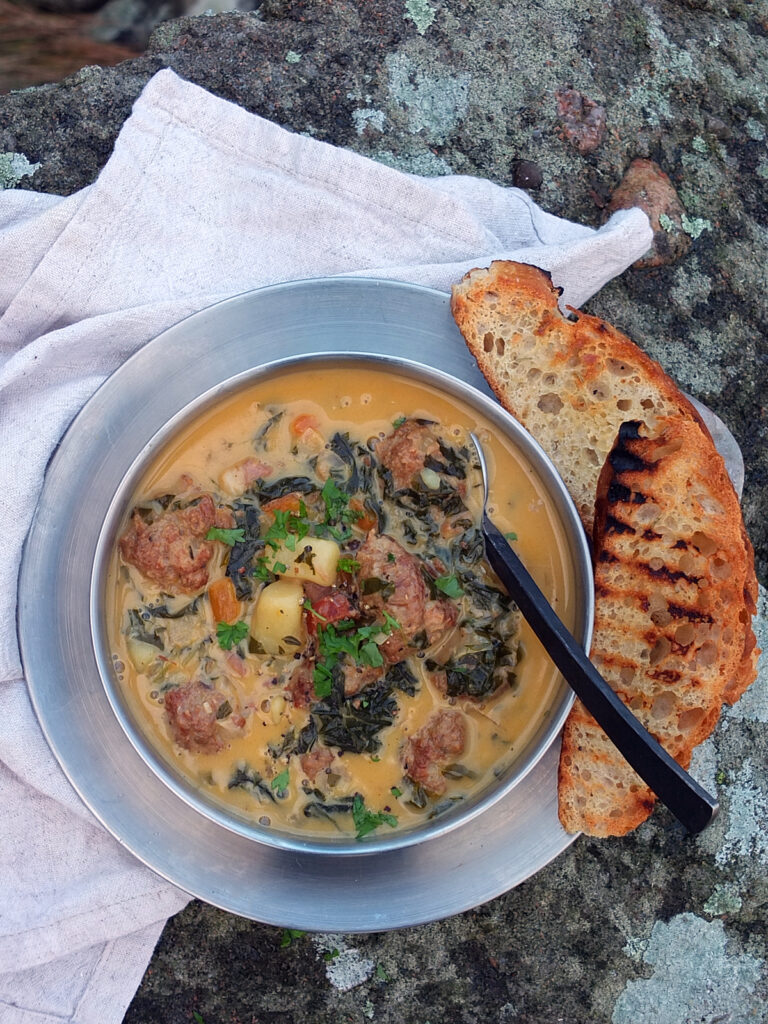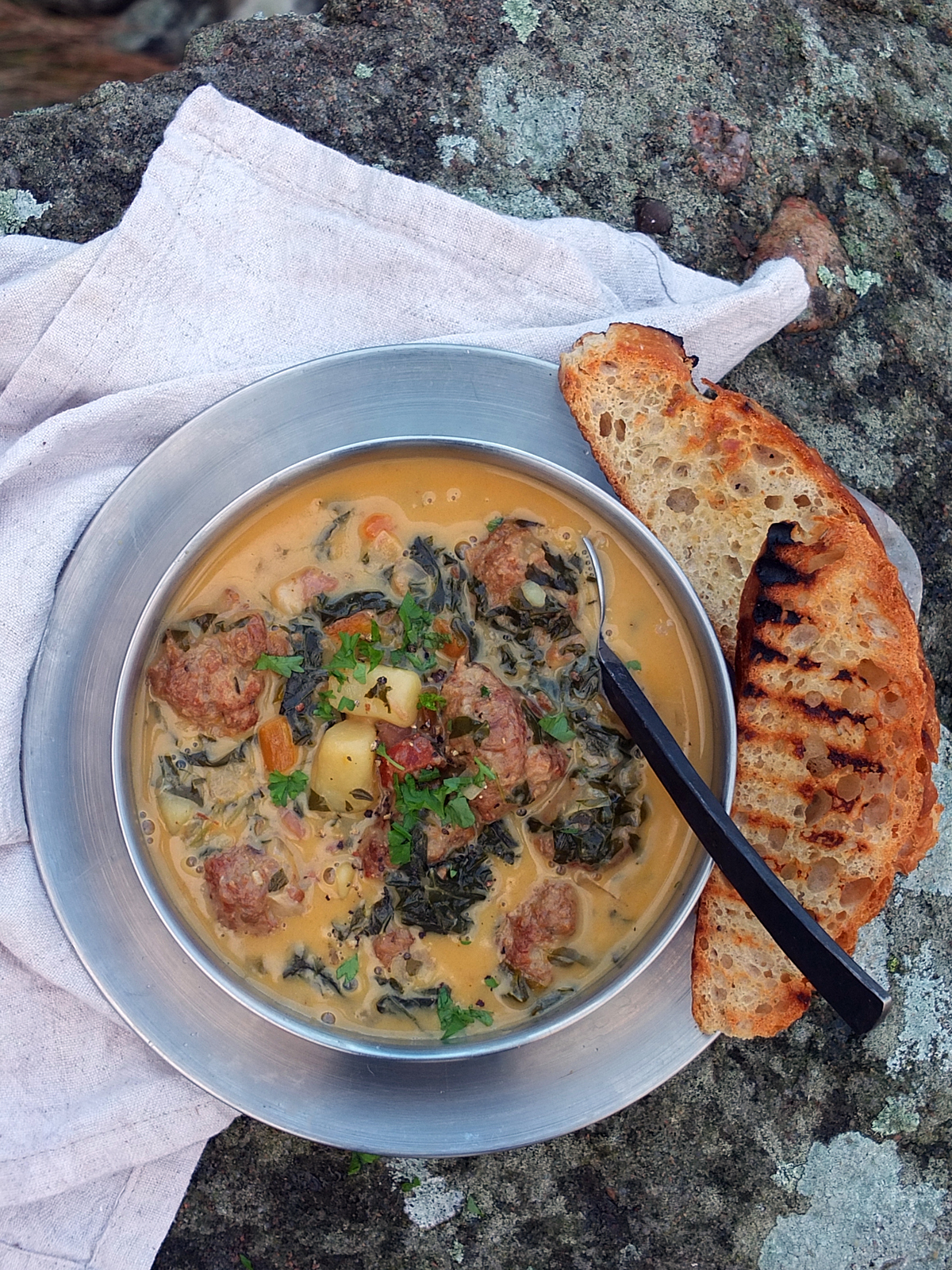 Leftovers: another (wo)man's treasure
One of my favourite ways of cooking involves repurposing leftovers into something new, different and mouthwatering.
You know those days when you're in no rush and you can potter about the kitchen with your favourite music on (currently: the soundtrack to The Queen's Gambit), throwing a handful of this and a pinch of that into your meal, making it up as you go along, and the result is like… wow!
Sometimes I trick myself into thinking I can, indeed, actually cook.
This, dear reader, is one of those recipes.
It all began with some homemade chorizo sausagemeat I found in the depths of the freezer during the annual Why is there so much food in the freezer let's eat the food we already have before buying new food phase.
This was combined with some of Robin's most excellent leftover roast pork (he makes the best roast pork dinners!), leftover cornbread crumbs, two egg yolks leftover from making a lemon meringue pie (this recipe will be blogged, eventually, oh my word it's good!), some rich homemade chicken stock from the freezer and the last of a carton of double cream needing swiftly approaching its still-palatable stage.
First, though, let me tell you more about this soft chorizo cooking sausage…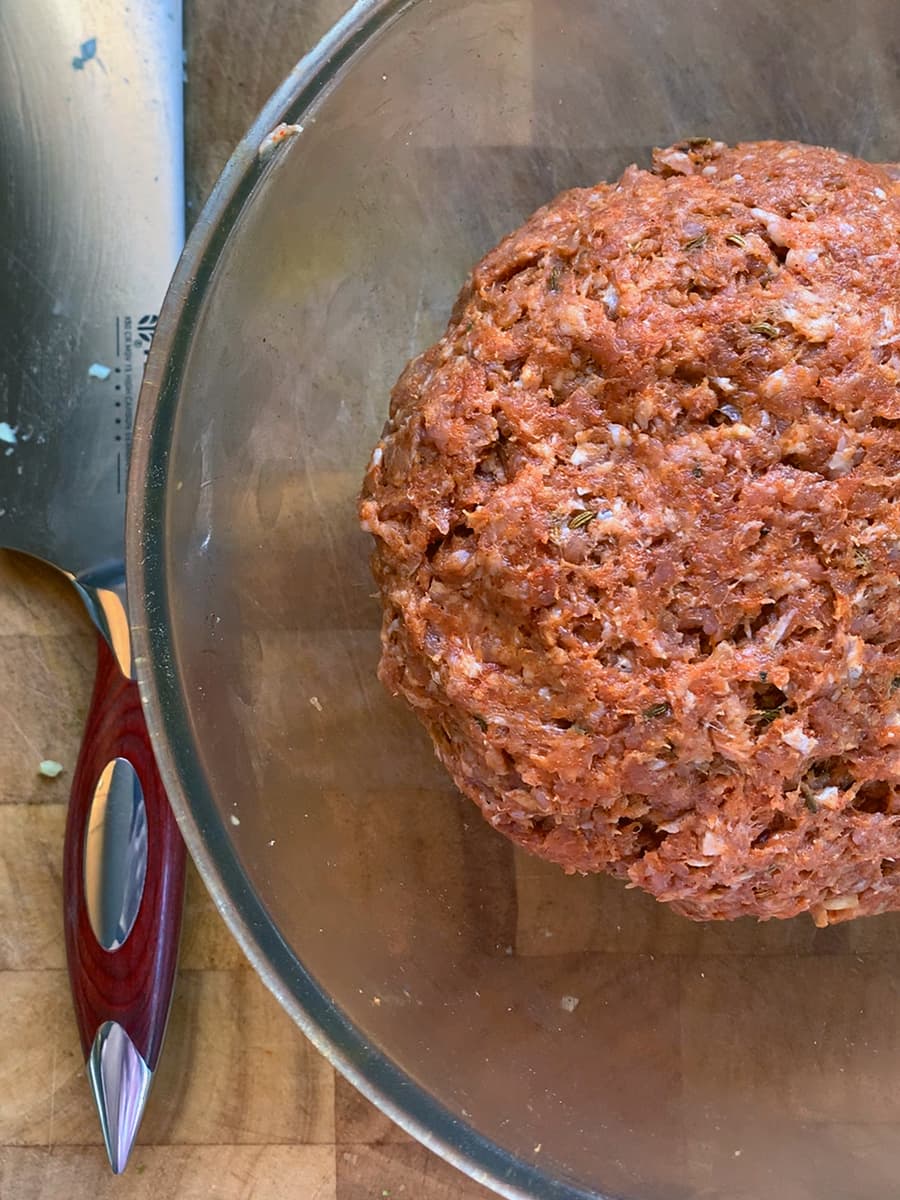 'Tupperware Chorizo' – a River Cottage recipe
We love the mild heat and smoky flavour of chorizo. One of my current favourite quick mid-week meals is to quickly fry up some small cubes of chorizo with some cubed courgette and red pepper and serve it as a garnish with some shop-bought ravioli and a quick Napoli sauce (like this).
I also rather like it in my post-Zwift Intercounty Cycle Race* omelette – fried chorizo, eggs, spinach, mature cheddar – all the protein and flavour with just a few minutes' work.
Making my own chorizo never crossed my mind before, mostly because of the preservative issues. Also, I can be a bit lazy.
I was introduced to the idea while I was enrolled on the online cookery course Spice it Up, taught by Gelf Alderson. Part of the River Cottage Cookery Diploma with Learning with Experts, this 4-lesson course introduces students to how to build flavours with spices and how they can be used to enhance and complement meat, fish and vegetables.
One of the lessons was about The River Cottage Tupperware chorizo, which only takes a few minutes to make, but it packs a rather flavoursome punch. You can use it right away, but for even better results leave the flavours to develop for at least 24 hours after mixing.
I can confirm that this chorizo tastes fantastic even if it's left in the freezer for a good six months to mature.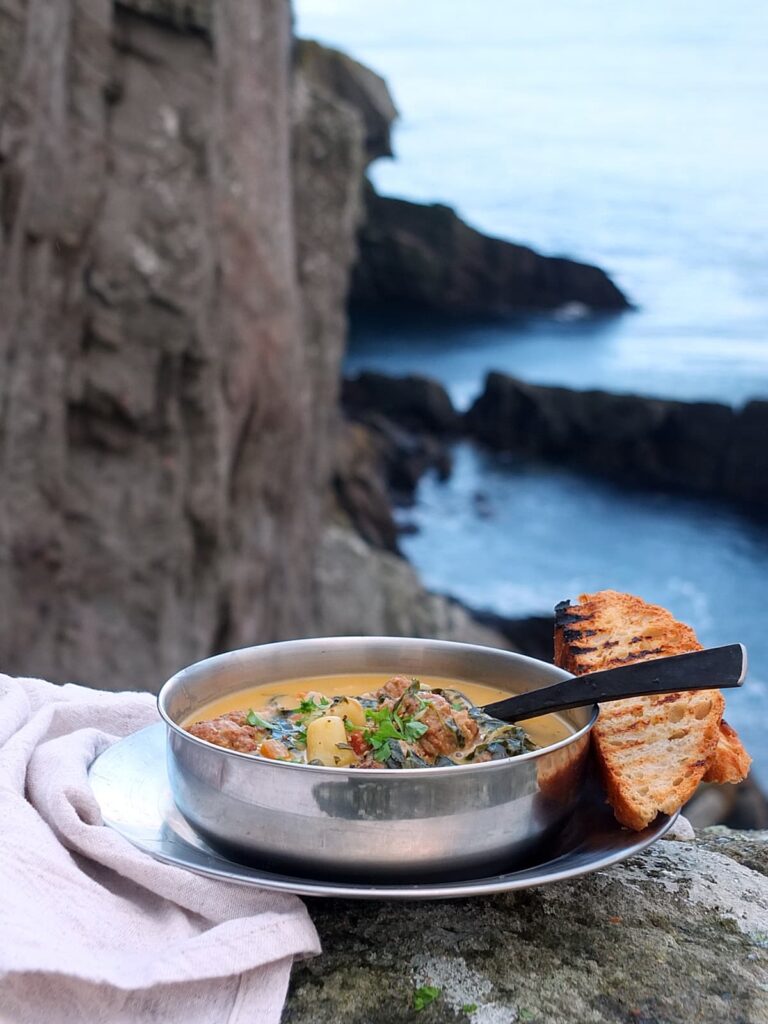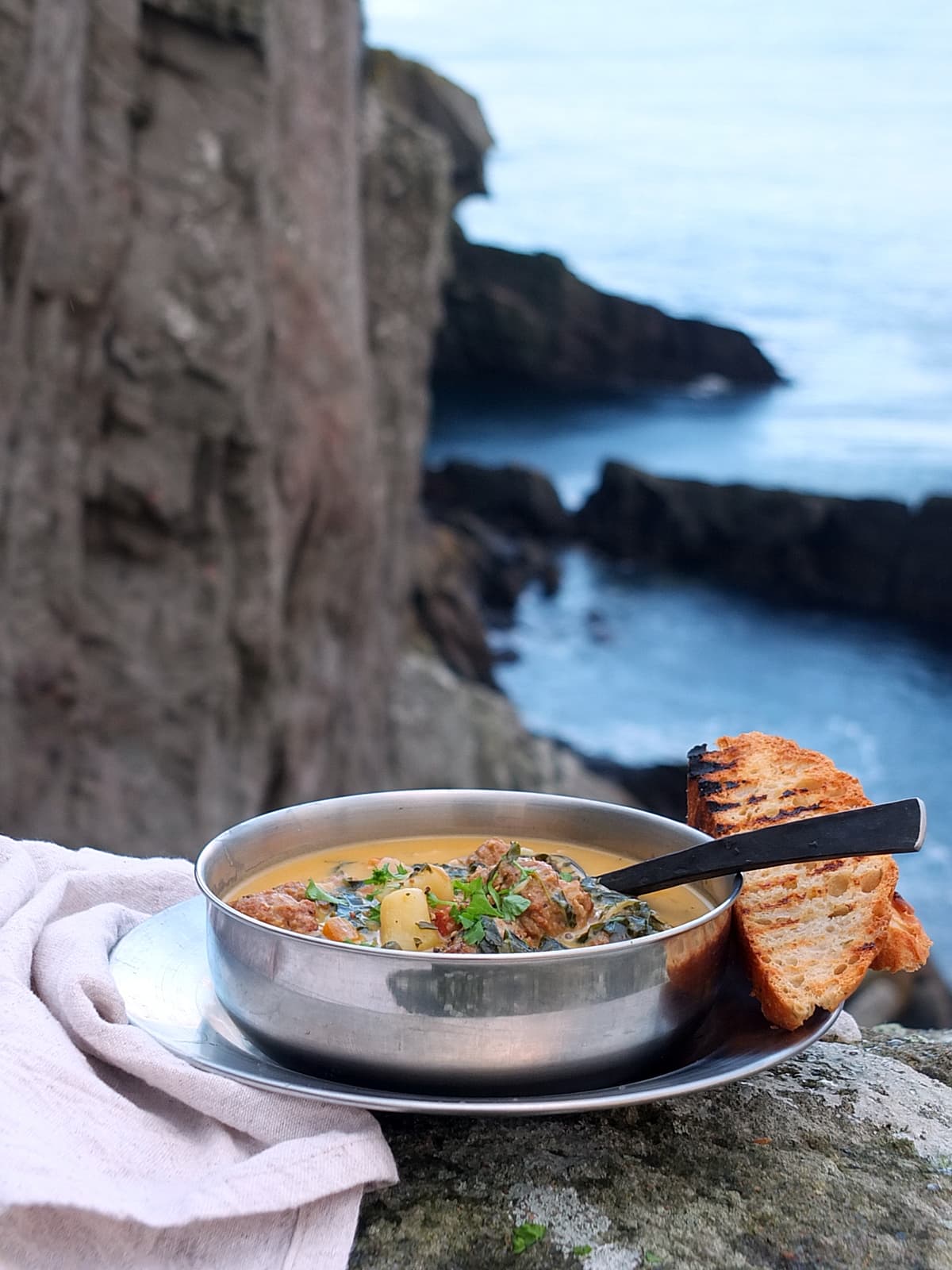 Now, let me tell you about that chowder!
This chowder, hands' down, was one of the best chowders I've ever made.
The recipe was inspired by a sausage and curly kale chowder recipe from Paul Gayler's Great Homemade Soups: A Cook's Collection (2013). If you're a soup lover, like me, I highly recommend this book for inspiration. His soup recipe was made from chicken and Kielbasa sausages with a little bit of cooking chorizo sausage for flavour.
Mine stars oven-roasted chorizo meatballs made with leftover roast pork. These were made the night before, and I suspect this enhanced the finished soup even further: the extra time in the fridge allowing the flavours to develop.
I also used my own homemade chicken stock from the freezer. Truthfully, it was less chicken stock and more rich, nourishing bone broth, being a dark, mouthwatering burnt umber in colour. It is single-handedly responsible for the golden hue of this chorizo meatball and kale chowder recipe.
Most of the work for this recipe is in the making of the chorizo meatballs and the veg prep. Once that's done, it all comes together in no time; perfect for pouring into a thermos and heading outdoors for lunch by the sea.
If you don't fancy making your own chorizo, use the same quantity of soft cooking chorizo.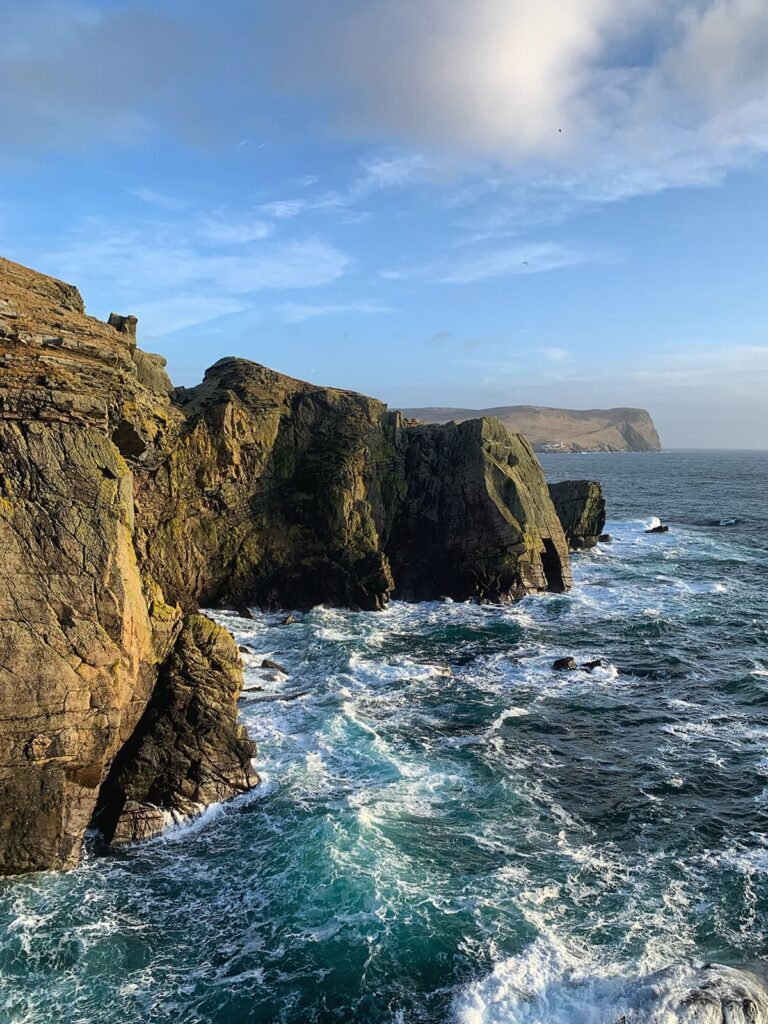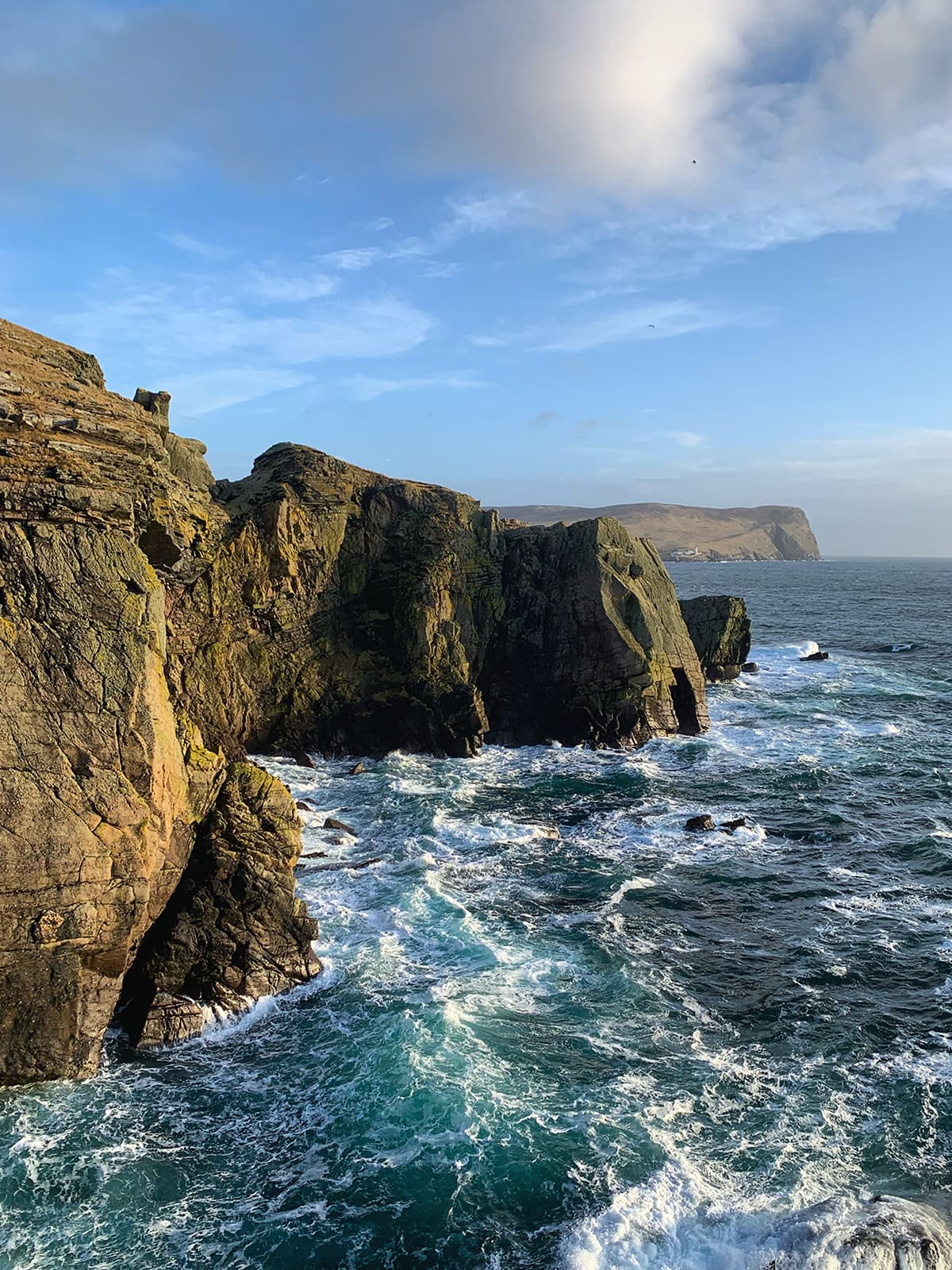 The Ness of Sound, Lerwick
My usual lunchtime walk involves a particularly scenic stretch of coastline in Shetland's main town, Lerwick. I rarely see anyone else here, either, which is strange because it's such a gorgeous, accessible walk. It only takes an hour too!
I will be blogging about the route shortly as part of my new #HikeShetland series. In the meantime, the above photo shows the cliffs at Ruggen, at the far point facing south. The lighthouse on the island of Bressay can be seen in the distance.
It is here where I often stop for lunch, taking in the views and watching the otters and seals in the sea below, eating chorizo meatball chowder in the shelter of the tall, dramatic cliffs.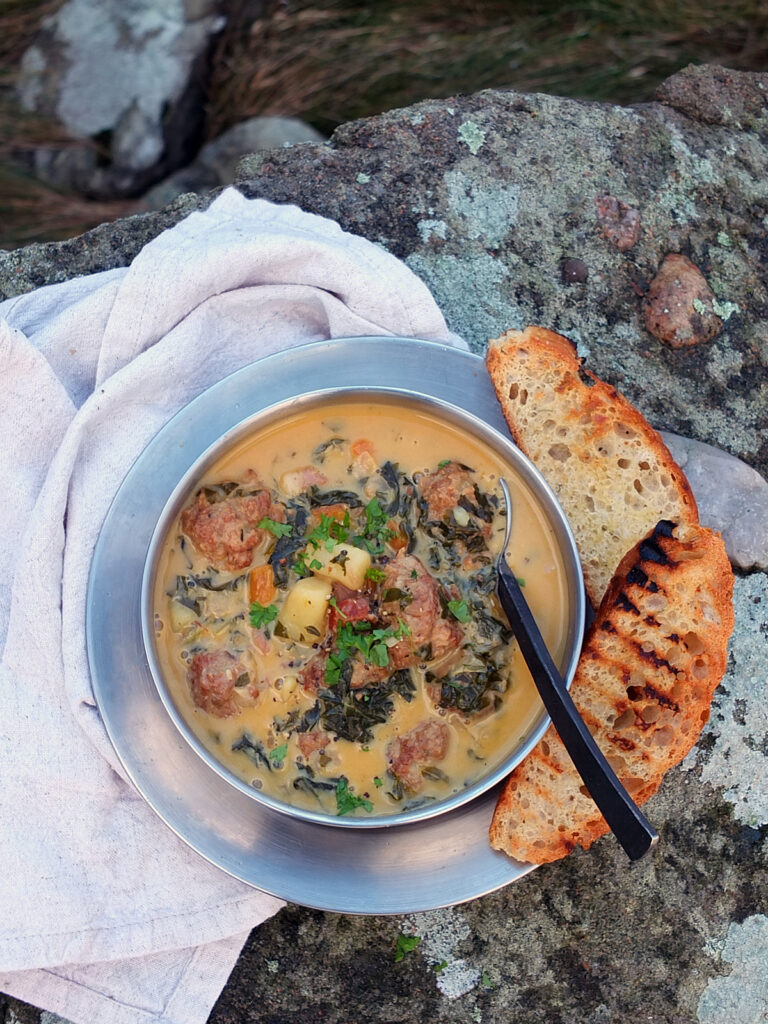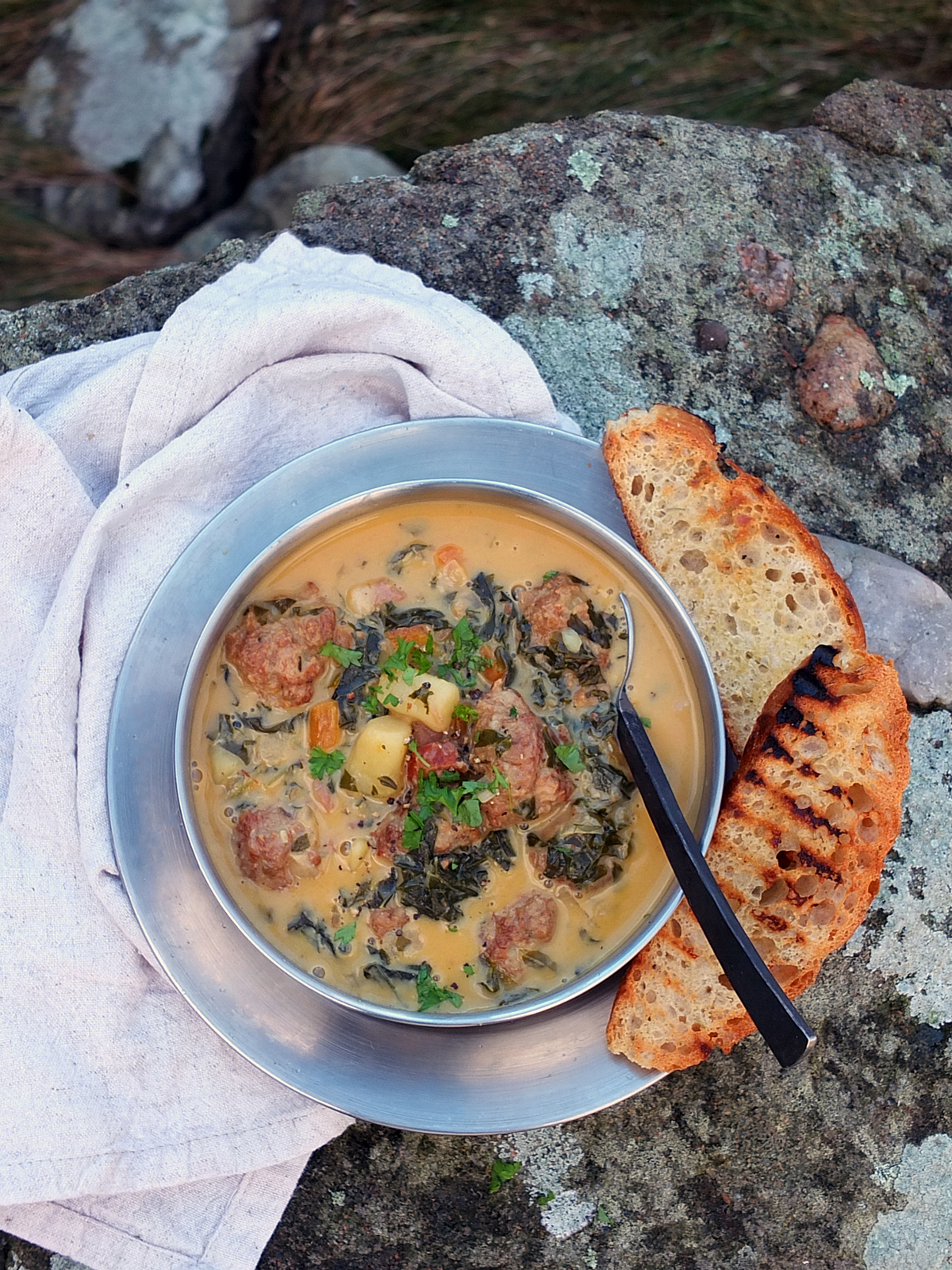 * Zwift racing – it's a real thing! True story! During the winter months, cyclists from Orkney, Caithness and Shetland meet, virtually to earn Intercounty and League points in the weekly road race/time trial. It's a great way to be social, keep fit and stay motivated.
My favourite race: the Alpe du Zwift (Road to Sky) – a 12.4 mile/19.9 km, 1,144 m/3753 feet climb over 21 hairpin turns.
"One day, we'll do this climb in real life," he said to me, once, as we raced together one evening.
Who said romance is dead, eh?
This blog post isn't about virtual cycling, or hiking around Shetland though. It's about getting creative with leftovers. I hope it inspires you to get creative with yours.
As always, let me know if you make this recipe! I love to hear from you! I've got another idea for a hashtag: #EatShetland – local Shetland produce, eaten outdoors. Share what you've been eating outside!
Recipe Difficulty Levels
Easy

Requires basic cooking skills and ingredients you most likely already have in your kitchen.
Moderate

Requires more experience, preparation and/or cooking time. You may have to source special ingredients.
Challenging

Recipes requiring more advanced skills and experience and maybe some special equipment.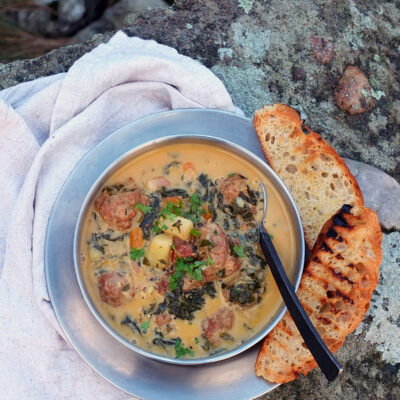 Chorizo meatball and kale chowder
Oven-roasted chorizo meatballs, made with homemade chorizo sausage and leftover roast pork, are combined with homemade slow-cooked chicken stock, vegetables, potatoes, Shetland kale and lashings of cream for a perfect winter warmer.
Print
Rate
Ingredients
for the chorizo meatballs
200

grams

soft cooking chorizo sausage

200

grams

leftover roast pork

finely chopped

30

grams

bread crumbs

I used cornbread crumbs

2

free-range egg yolks
for the chorizo meatball and kale chowder
Affiliate Links
This recipe card may contain affiliate ingredient and equipment links. As an Amazon Associate I earn from qualifying purchases.
Instructions
How to make oven-roasted chorizo meatballs
Preheat oven to 200 °C/ 180 °C fan/ 400 °F.

Using your hands, combine the soft cooking chorizo sausage with leftover roast pork, bread crumbs and egg yolks.

Form the mixture into twenty small meatballs and arrange them in a single layer on a baking tray.

Bake in the centre of the oven for 30 minutes, and cool until needed.
How to make chorizo meatball and kale chowder
Heat the rapeseed oil in a medium-sized lidded saucepan and saute the onion, carrot and celery for 10 minutes, until softened.

Add the bacon and chorizo and cook until the bacon is browned.

Add the chorizo meatballs, diced potato and chicken stock. Pop the lid on and simmer gently for 15 minutes.

Add the chopped Shetland kale and cook for a further 5-10 minutes, until the vegetables are tender.

Stir in the cream and season well with Shetland sea salt, freshly ground black pepper and pinch of cayenne.

Reheat gently (taking care not to let it boil) and serve.
Nutrition
Calories:
553
kcal
|
Carbohydrates:
34
g
|
Protein:
26
g
|
Fat:
35
g
|
Saturated Fat:
15
g
|
Polyunsaturated Fat:
2
g
|
Monounsaturated Fat:
7
g
|
Trans Fat:
1
g
|
Cholesterol:
215
mg
|
Sodium:
1754
mg
|
Potassium:
619
mg
|
Fiber:
2
g
|
Sugar:
12
g
|
Vitamin A:
5984
IU
|
Vitamin C:
51
mg
|
Calcium:
136
mg
|
Iron:
3
mg
Pin this chorizo meatball & kale chowder recipe for later
Other recipes you might like