In collaboration with Redmond Multicookers.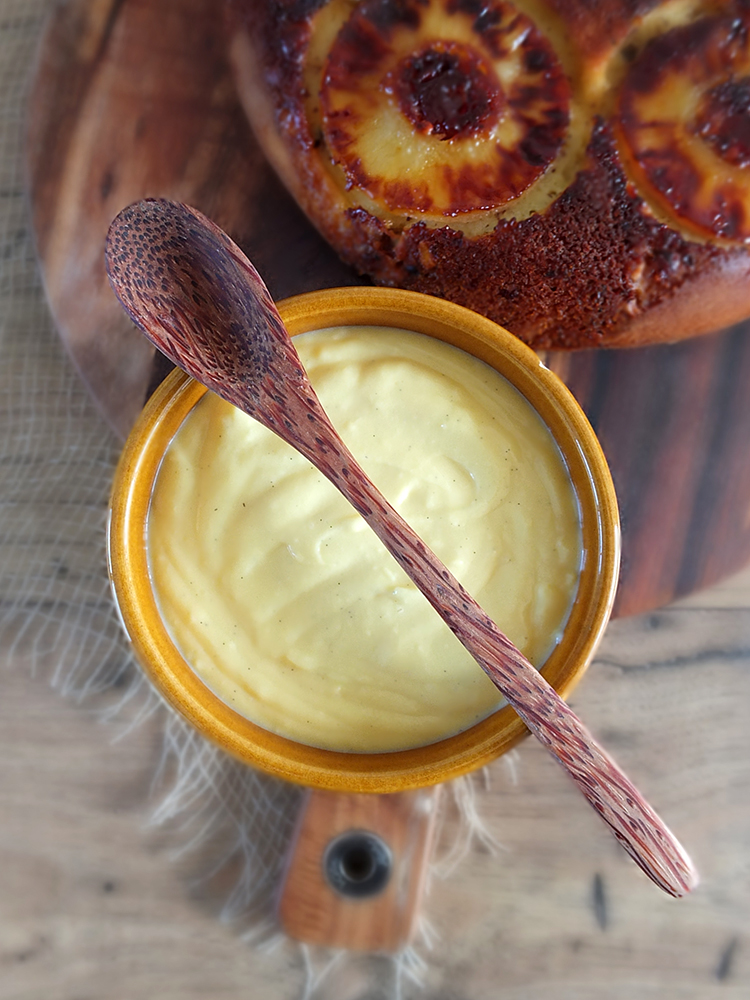 Nothing beats a bowl of hot creamy custard on a cold Autumn's day when the chill is in the air and you can smell the winter coming.
Except, perhaps, if it's hot creamy custard that you've made yourself, and it's served over a slice of still-warm pineapple upside down cake!
Custard is a remarkably simple dish to make, only five ingredients and it can be ready in under 15 minutes!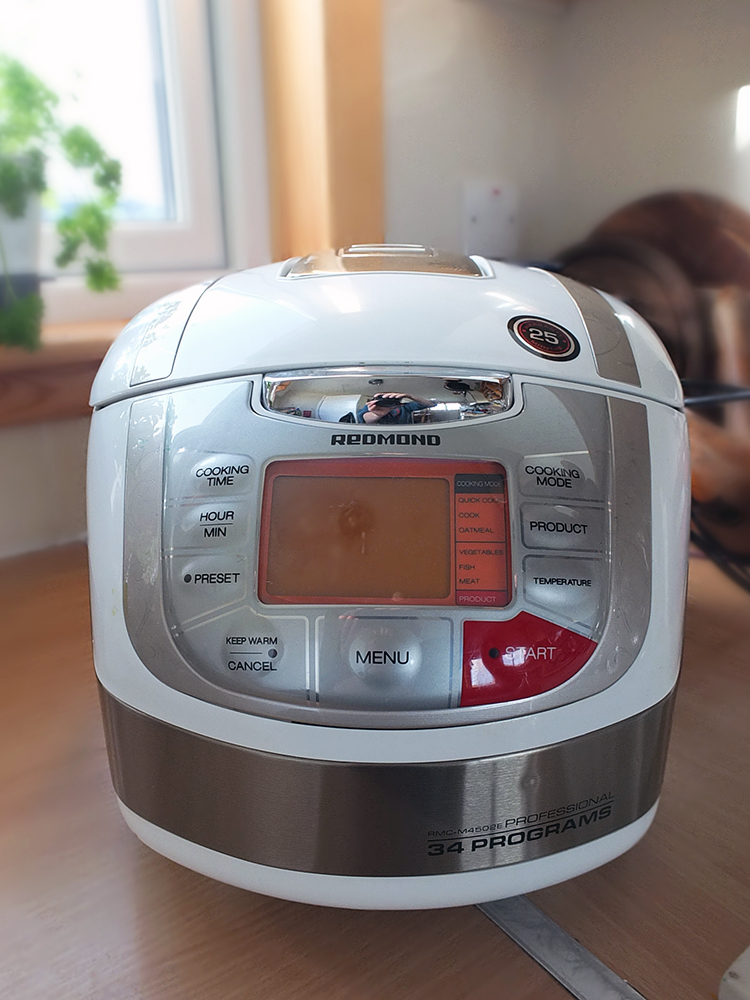 I've made today's custard in my Redmond Multicooker – a multi function kitchen appliance with a five litre non-stick bowl, LCD display and a wide range of automatic programs.  This machine can be a bread machine, yogurt maker, steamer, slow cooker, oven, rice cooker, fryer and stove top, depending on what you're needing that day. It's pretty versatile, and it stows away in a cupboard when not needed, freeing up valuable counter top space.
My husband over at Audioboy Productions and I have been toying with the idea of delving into food videos recently, so last weekend we had a little play with our Redmond Multicooker, whipping up a quick batch of custard in it and creating our very first, ever food video. We hope you like what we've done – watch this space! We had so much fun making this and we've got loads of ideas we want to try out. I'm quite lucky in that since my husband is a musician and sound guy with loads of creative ideas the soundtracks to our videos will be something rather unique. This one? Think "00 custard…. license to chill!" "Let the piefall? When it crumbles…!"
Pineapple upside down cake is one of the nostalgic cakes of my childhood. I brought this recipe with me from Canada when I immigrated to Scotland in 1999 – it was the recipe my mother used to make, but I've tweaked it adding some chopped hazelnuts and upping the golden syrup content.
Making the cake in the multicooker means that the pineapple/golden syrup layer gets gorgeously caramelised as the heat source is from the bottom of machine. You could always cook it in your oven if you prefer a less crispy layer.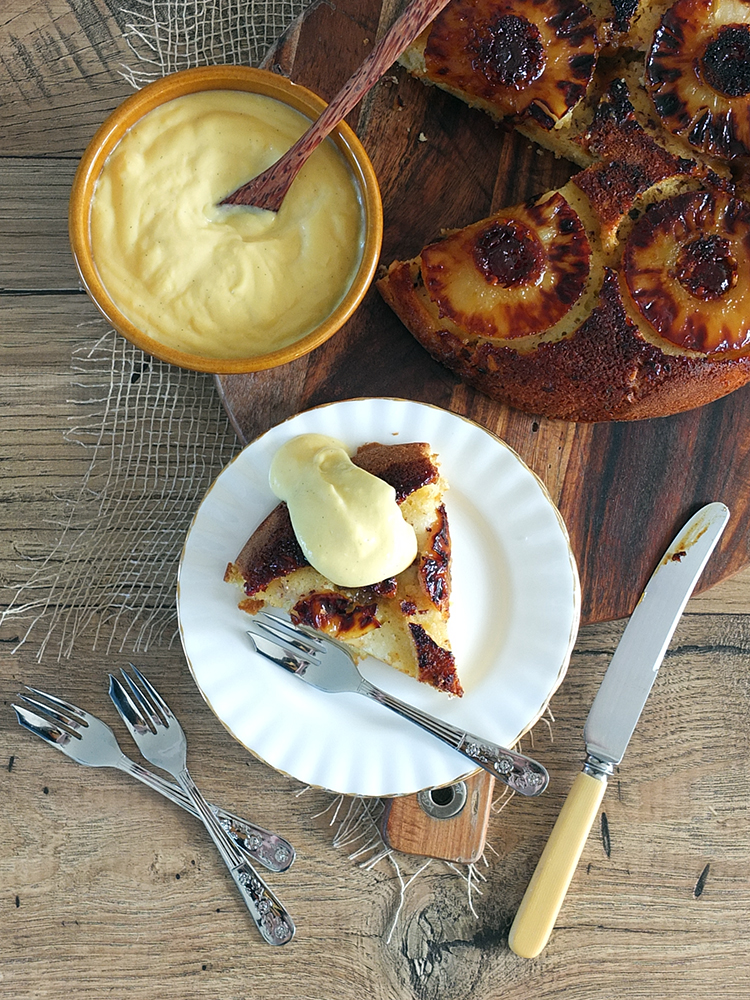 Hot or cold custard, now that is the question! Now, I'm a cold custard on a hot cake, or hot custard on a cold cake kinda gal – or failing that, cold custard on leftover cold fruit crumble straight from the fridge for breakfast. Heaven. Truly.
Not so good for the waistline, but needs must, really.
When making cold custard, simply place a layer of cling film over the top of the custard while its hot to prevent it from forming a skin and pop into the fridge.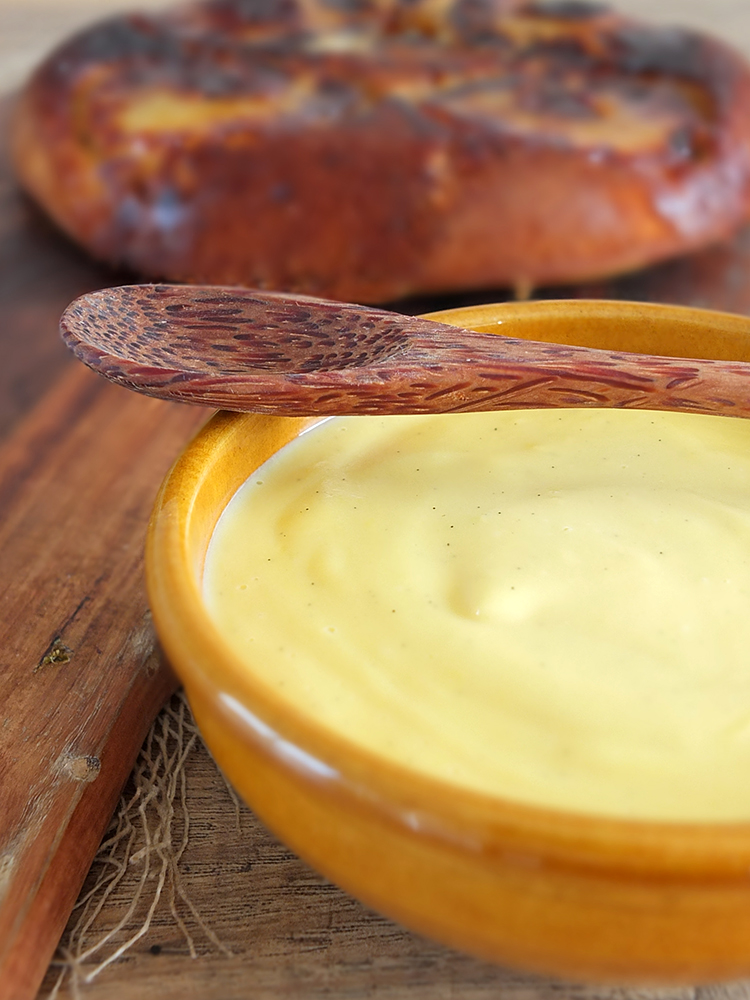 You can make your custard with either vanilla bean paste or vanilla sugar, if you've got some lying around. I like to make vanilla sugar with leftover empty vanilla pods after using the seeds in other recipes. Instead of discarding the nearly empty pod simply pop it into a small jar of caster sugar and then ignore it for several weeks. When you come back to it you'll have some gorgeously vanilla scented sugar you can use in baking.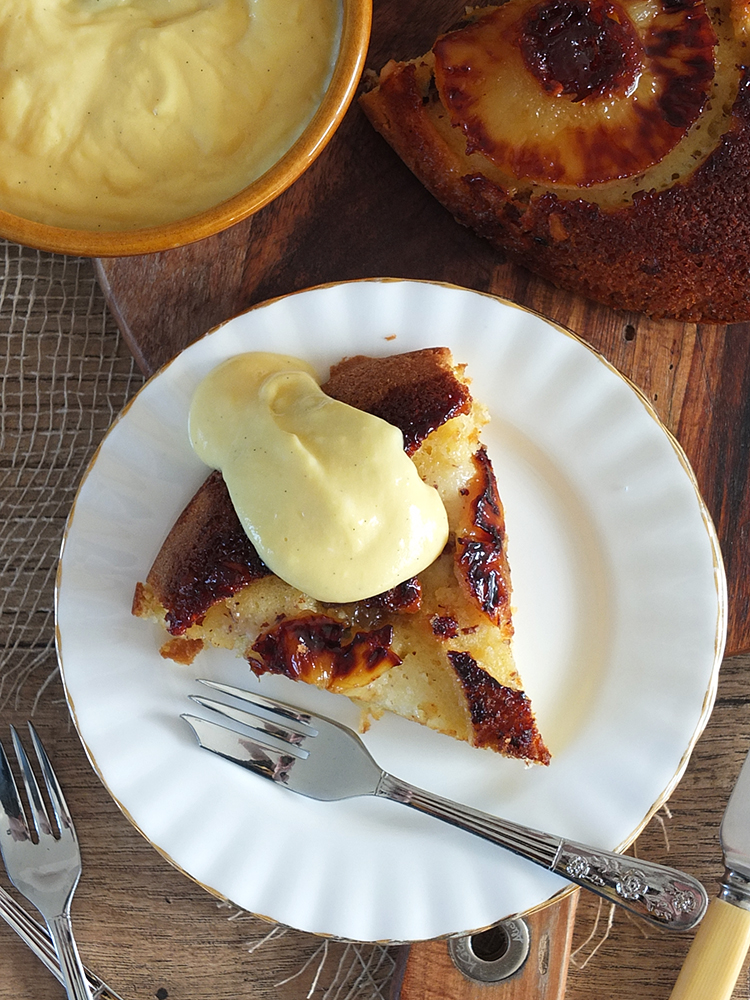 To make the custard a little bit more indulgent you could always replace some of the full fat milk (perhaps 50 ml) with some double cream, but I find whole milk works fine as it is.
How do you like your custard? What do you have yours with? Let me know in the comments! We'd love some constructive feedback on the video too. This is a learning experience for us so we'd love to create videos that you want to watch – what do you think makes a good recipe video?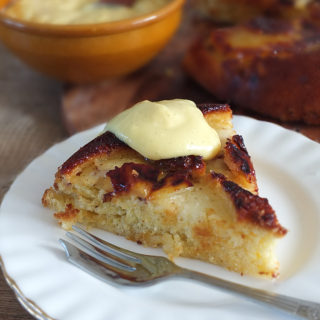 Pineapple Upside Down Cake & Homemade Vanilla Custard
Thick and creamy delicious custard ready in under 15 minutes, served over a slice of warm pineapple upside down cake.
Print
Rate
Ingredients
for the pineapple upside down cake
Affiliate Links
This recipe card may contain affiliate ingredient and equipment links. As an Amazon Associate I earn from qualifying purchases.
Instructions
for the vanilla custard
Whisk together the egg yolks, sugar, corn flour and vanilla until thick and creamy.

Pour milk into MULTICOOKER bowl and select MULTICOOK > 15 minutes > 100 C.

Allow the milk to heat up until it nearly reaches boiling point (when the timer says 14 minutes).

Spoon in the egg mixture and stir, continuously, until it thickens. Persevere, it will thicken eventually.

Remove from heat and serve immediately, or place in the refrigerator to chill. If serving cold place a piece of greaseproof paper or cling film over the top of the custard so that it doesn't form a skin.
for the cake
Pour syrup into the bowl of the MULTICOOKER and select MULTICOOK > 40 C > 5 minutes to allow the syrup to melt.

Arrange the drained pineapple slices on top of the syrup and place a glace cherry in the centre of each circle. Sprinkle with the chopped hazelnuts, if using.

Prepare the batter by creaming the butter and sugar together until light and fluffy.

Add the egg and beat well.

Add the flour and milk, alternately, until a soft batter forms. You may not need to use all of the milk.

Spoon the batter over the pineapple slices and smooth over the top.

Select CAKE > 30 minutes. Close the lid and allow the cake to bake.

Serve warm with the custard.
Environmental Information
RECIPES YOU COULD SERVE CUSTARD WITH
Slow Cooker Strawberry Jam and Scone Pudding
by Baking Queen 74
Dampfnudeln
by Utterly Scrummy Food for Families
Apple & Blackberry Crumble Bundlettes
by The Crafty Larder
Rhubarb and Ginger Brioche Bread and Butter Pudding
by Foodie Quine
Blackberry & Apple Crumble Pie
by The Hedgecombers
Snowdon Pudding
by Celery & Cupcakes
Chocolate Brown Betty
by Tin & Thyme
Banana Pudding
by Fab Food 4 All
Sweet Cherry Crumble Crisp
by Kavey Eats
Swirled Nutella Cake
by Coffee & Vanilla
Dorset Apple Cake
by Kellie's Food to Glow
SHARING WITH SOME BLOGGING LINKIES
Recipe of the Week by A Mummy Too
This is a paid recipe commission for Redmond. All thoughts and opinions expressed are our own. Thank you for supporting the brands who make it possible for me to do what I love: mess up my kitchen and share recipe stories.
[color-box]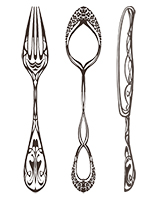 Have you made this recipe?
Take a photo and tag @tangoraindrop or use the hashtag #elizabethskitchendiary and share on Instagram and Twitter. It would make my day to see your creations!
[/color-box]