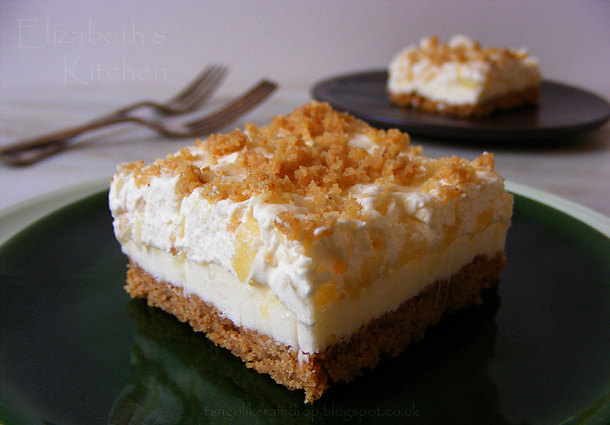 When I was a little girl growing up in a village in Cape Breton, Nova Scotia, Canada, our family used to attend gatherings called Pot Luck Suppers in the village hall. Everyone in the village was asked to bring something: 2 litres of milk here, a loaf of bread there and notable bakers were asked to bring sweets. Someone (I don't know who) would always bring pineapple squares. As a child I would scan the sweet tables, searching for these pineapple squares as I absolutely loved them.
My grandmother used to make pineapple squares too, when we visited her at home. This recipe, long since sourced online and jotted in my notebook, tastes exactly as I remember they did over quarter of a century ago. It's a very easy recipe to make, but make sure you chill the base thoroughly before trying to spread on the filling, or else you'll end up with buttercream filled with biscuit crumbs!
Pineapple Squares
Pineapple infused whipped cream spread over a layer of buttercream on a digestive biscuit base.
Ingredients
Base
200 grams digestive biscuits, crushed
117 grams unsalted butter, melted
Buttercream
117 grams unsalted butter, softened
230 grams icing sugar
1-2 tbsp pineapple juice
Topping
432 gram tin crushed pineapple, drained
300 ml whipping cream
Instructions
Base
1. Preheat oven to 170 C. Line a 9″ square tin with a removable base with baking paper.
2. Mix together crushed digestive biscuits and melted butter. Press into the base of the pan, reserving some crumb for the topping.
3. Bake for 15 minutes. Remove from oven and cool for at least one hour.
Buttercream
1. Blend soft butter and icing sugar together with enough pineapple juice to make it spreadable.
2. Spread over biscuit base.1. Drain juice from the tin of pineapple.
Topping
1. Whip the cream and gently fold in the crushed pineapple.
2. Spread over the buttercream layer and sprinkle with the reserved biscuit crumbs.
3. Chill for at least four hours before cutting into squares and serving.
Details
Prep time: Cook time: Total time: Yield: Makes 16 squares