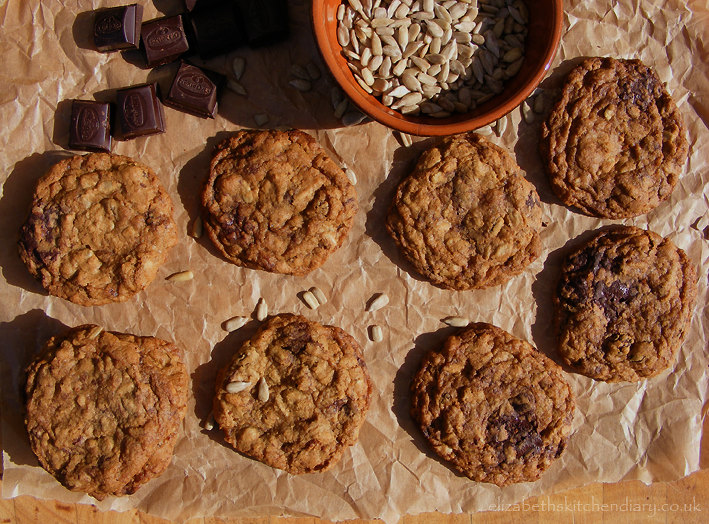 These cookies are just wonderful. Crisp, buttery morsels of awesomeness. I'm not sure where the recipe came from but it's been in my recipe notebook for at least a decade. I do believe the original recipe was adapted by myself; the addition of wheat bran and wheat germ are likely mine – I was on a bit of a health kick many years ago and I was adding wheat bran and germ to everything, but it works. I'd like to think that these are a reasonably healthy alternative to a traditional cookie recipe, with the addition of sunflower seeds, wheat germ and bran, but you need to ignore the sugar and fat content!
Sunflower seeds are a rich source of linoleic acid, protein, and vitamins and minerals such as zinc, an important mineral involved in the immune response and wound healing. Linoleic acid can help maintain normal blood cholesterol levels. See what I mean? Healthy. 😉
A variation for these would be to either omit the chocolate in the dough and melt it instead in a bain marie. When the cookies have cooled you could either dip half in the chocolate and allow to cool on greaseproof paper, or you could sandwich two cookies together with the melted chocolate. Dark chocolate is packed with antioxidants and recent studies have shown that eating small quantities of it can benefit cardiovascular health. Healthy again and it's chocolate! Win!
Be warned, these cookies really do spread on the baking tray. I've started using a silicone baking mat to cook mine on which limits the spreading quite reasonably, resulting in a deliciously chewy biscuit. If you don't have one of these just made sure to leave a nice big space between the cookies, and leave them on the baking tray for five minutes to cool before transferring them to a wire rack.
I have entered this recipe into the Tea Time Treats blog challenge alternately hosted by Lavender & Lovage and What Kate Baked. This month it is Lavender & Lovage and the theme is: Get Floral in the Kitchen with Floral Flavours & Flowers.
Sunflower Seed Cookies
Healthy, wholesome and deliciously moreish chewy sunflower seed cookies.
Ingredients
115 grams unsalted butter, softened
150 grams dark brown muscovado sugar
150 grams caster sugar
1 large egg, beaten
1/2 tsp vanilla
1/2 tsp baking soda
2 tsp hot water
150 grams sunflower seeds, unsalted and shelled
90 grams plain flour
50 grams porridge oats
100 grams dark chocolate, at least 80% cocoa solids
75 grams raisins or sultanas
15 grams wheat bran
35 grams wheat germ
1 tsp salt
Instructions
1. Preheat oven to 180 C.
2. Cream butter and sugars together until light and fluffy.
3. Dissolve baking soda in the hot water and add to the sugar mixture along with the egg and vanilla.
4. Stir in remaining ingredients with a wooden spoon until well incorporated.
5. Drop by the teaspoonful on a greased or lined baking tray leaving at least a two inch space between them to allow for spreading.
6. Bake for 10-12 minutes, until golden. Leave on the baking tray to cool for five minutes before transferring to a wire rack to cool completely.
Details
Prep time: Cook time: Total time: Yield: 4 dozen