Post sponsored by Volkswagen.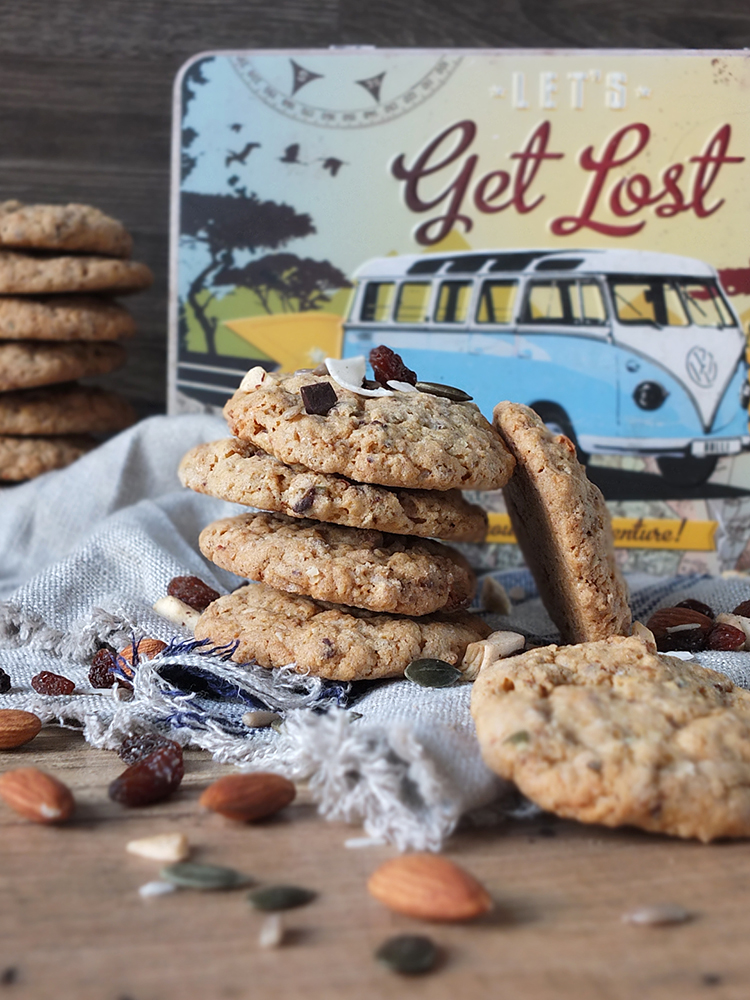 I am an adventurer at heart, I truly am. As a child I could always be found in the forests of the Canadian wilderness, exploring every tree nook and cranny, always wondering what was on the other side of the next hill.
That childhood curiosity hasn't left me and now I enjoy taking my family along with me on adventures. We pack up the car with provisions and head out to the hills, or the cliffs, to see what fun we can get up to.
I live on a tiny island archipelago in the middle of the North Sea measuring only 80 miles from tip to tip and 35 miles wide. As a family we've explored quite a bit of our island home except for one area, which I have been reluctant to take my small children to, until now…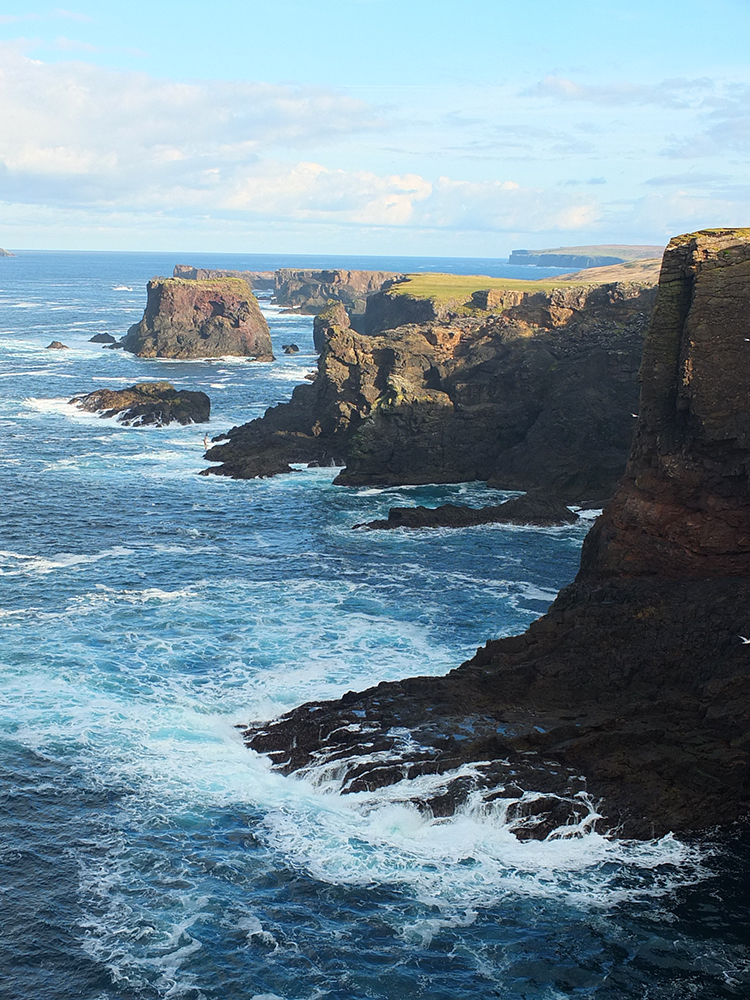 The volcanic cliffs at Eshaness, on the north west mainland of Shetland, are one of my favourite places on our islands. Before I had children I did a spot of rock climbing in this area, basking like a lizard on the sun-warmed lava rocks, climbing my first (and only!) natural chimney, and learning how to abseil. Exhilarating.
Then I had children. The issue of gravity, and whether or not I lived or died, became somewhat important, so I sold my climbing gear and settled down into a reasonably safe life of child-rearing.
My younger two children are now nearly 8 and nearly 10, respectively, and so I thought this was as good a time as ever to take them on an adventure to Eshaness. I wanted them to see these stunning cliffs for themselves, and to experience Da Grind o'da Navir, one of the most powerful storm beaches in the world. I sold it to them as 'real life Minecraft'. No, I doubt we'd see any creepers, but you never know.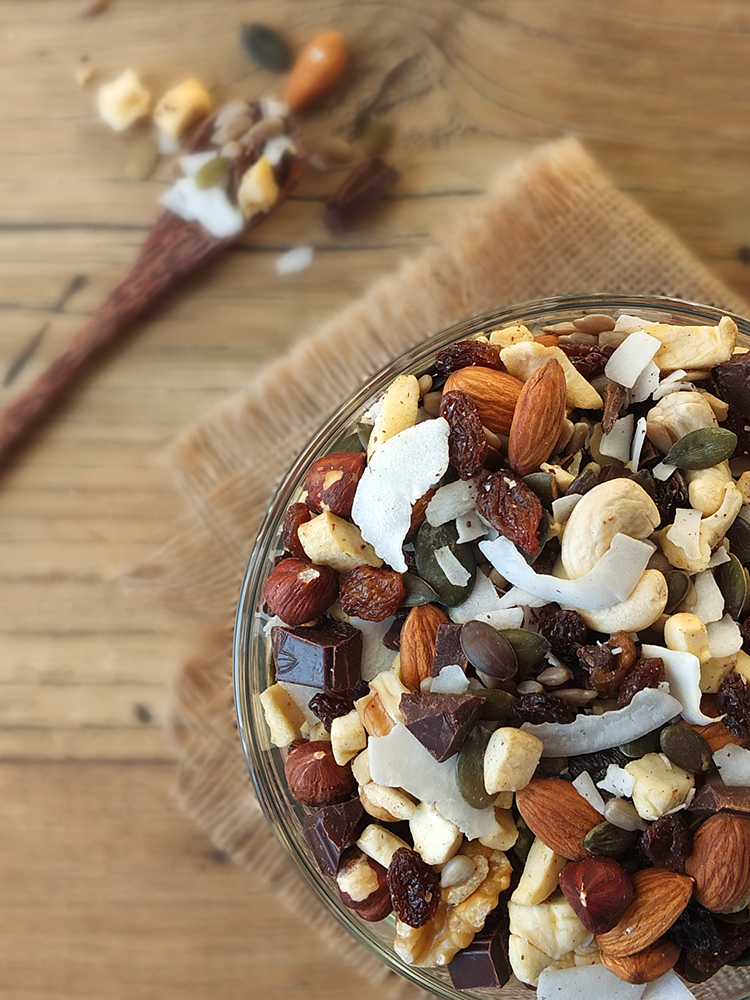 So, the day before our planned road trip adventure to Eshaness I whipped up a batch of home made trail mix.
Every true adventurer knows that home made trail mix is a key component of outdoor refuelling. Portable, nutritious, tasty and with loads of slow release carbohydrates to keep you going for hours it can be tailored to your liking (you will never, ever, find dried banana in mine!).
The thing is though, trail mix can be kind of messy for kids (and there's the choking issue of whole nuts), so I whizzed up some of the trail mix in my blender and stirred it into a chewy oatmeal cookie base for them. My youngest son even helped me mix the dough. Win!
I find that these cookies taste even better the next day. On the first day they're hard and crunchy but come day two they're soft, chewy and oh so incredibly moreish, and they stay that way for a good week, if kept in an airtight container. Perfect for stuffing into pockets and taking on adventures.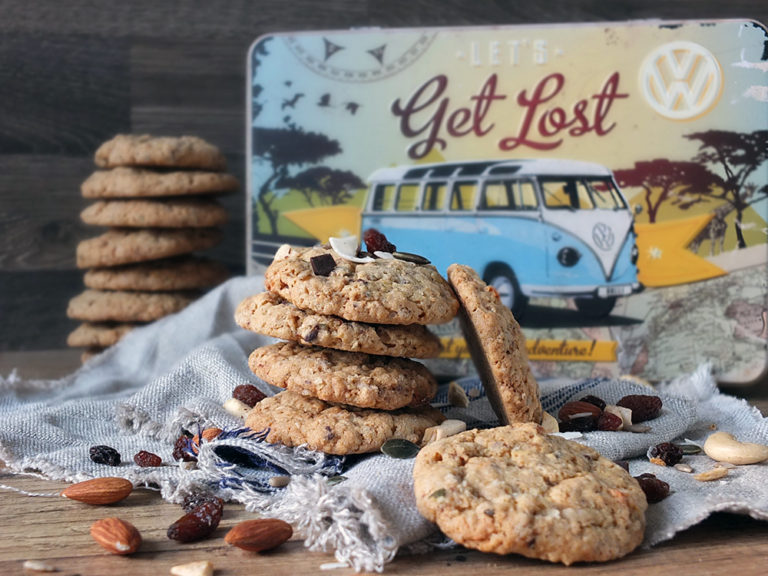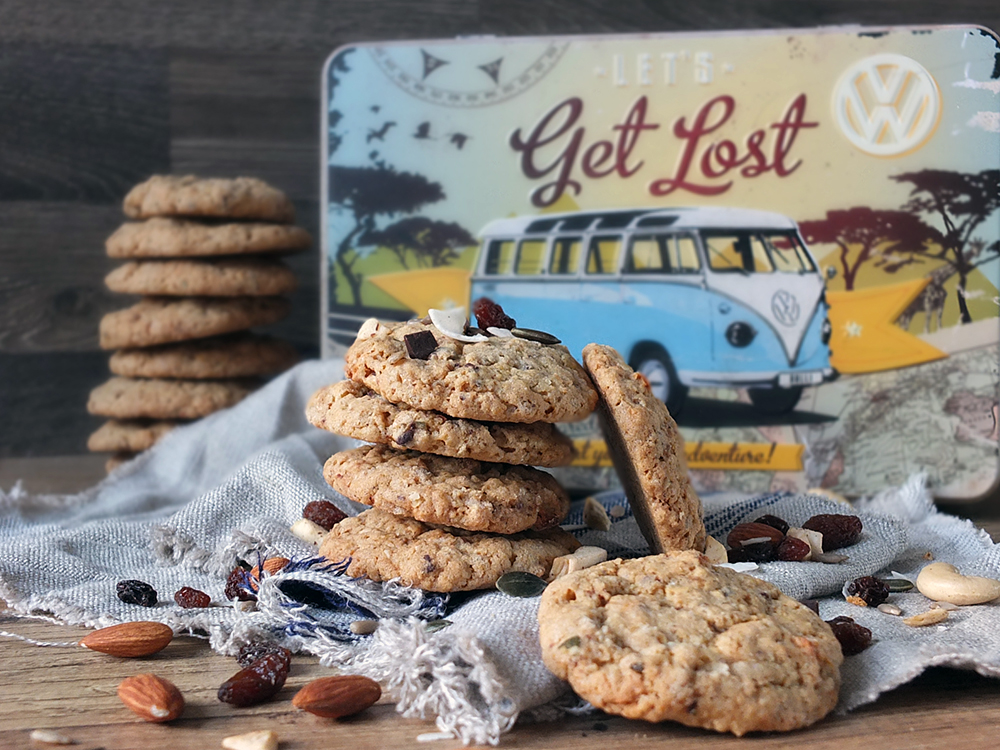 Eshaness has one of the highest energy coastlines in the world. Its stacks, blowholes and geos (small inlets) have been formed by the force of the North Atlantic.
350-400 million years ago the Shetland Islands were part of a large supercontinent located near the equator, an area of intense volcanic activity.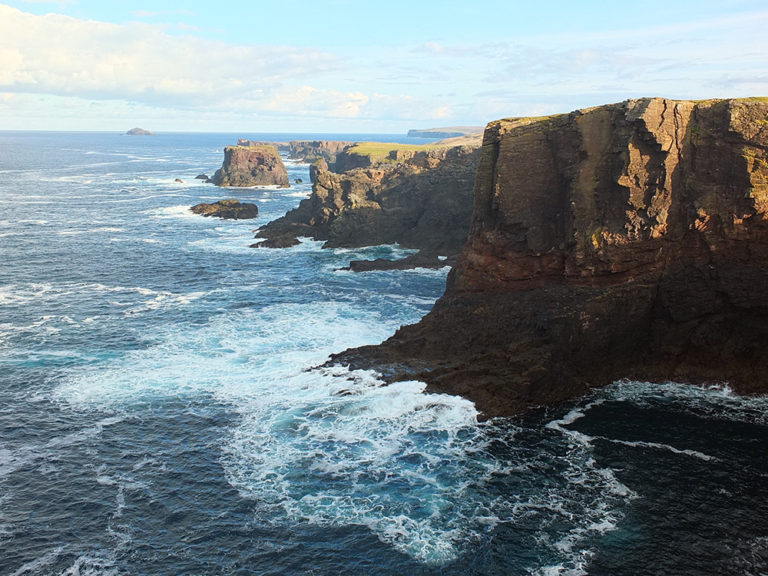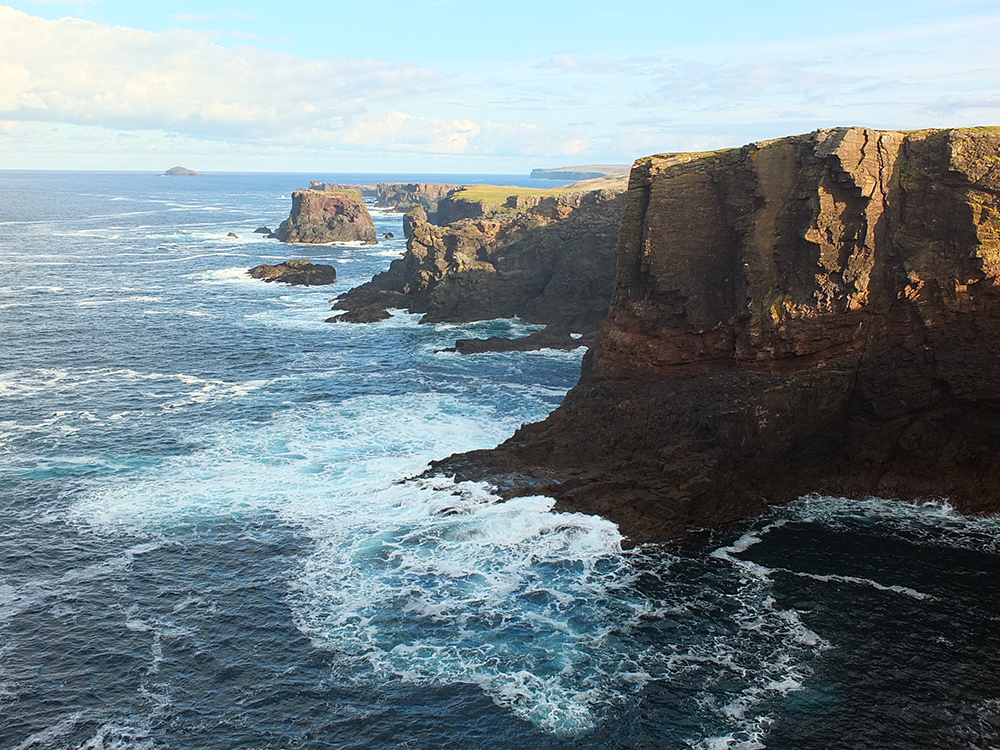 Do you see those layers in the first cliff in the foreground? Those are layers of lava and volcanic ash as eruption followed eruption. This area cuts through the flank of the volcano, and its geology is absolutely stunning.
Well it is for me. The kids weren't that impressed, to be honest!
Nearby lies the ruined Broch of Houlland, a Pictish structure dating back approximately 2000 years. Beside that there is a stone causeway leading to a tiny island, a causeway my children insisted they had to bravely cross. It took a few attempts for them to overcome their fear of landing head first in the loch, but they both did it!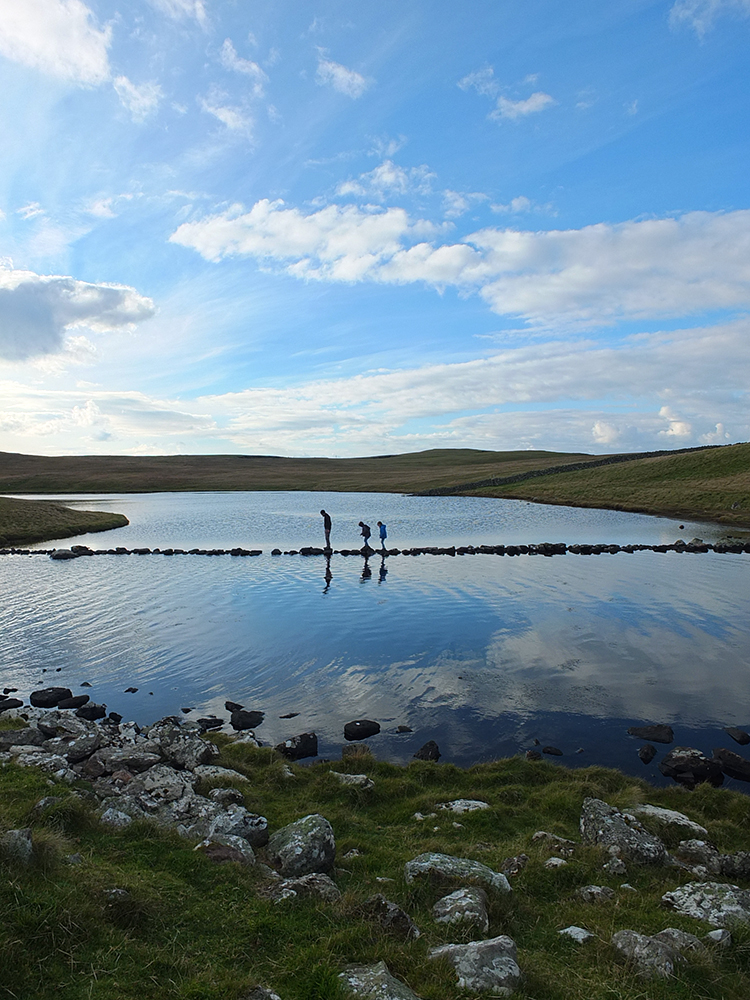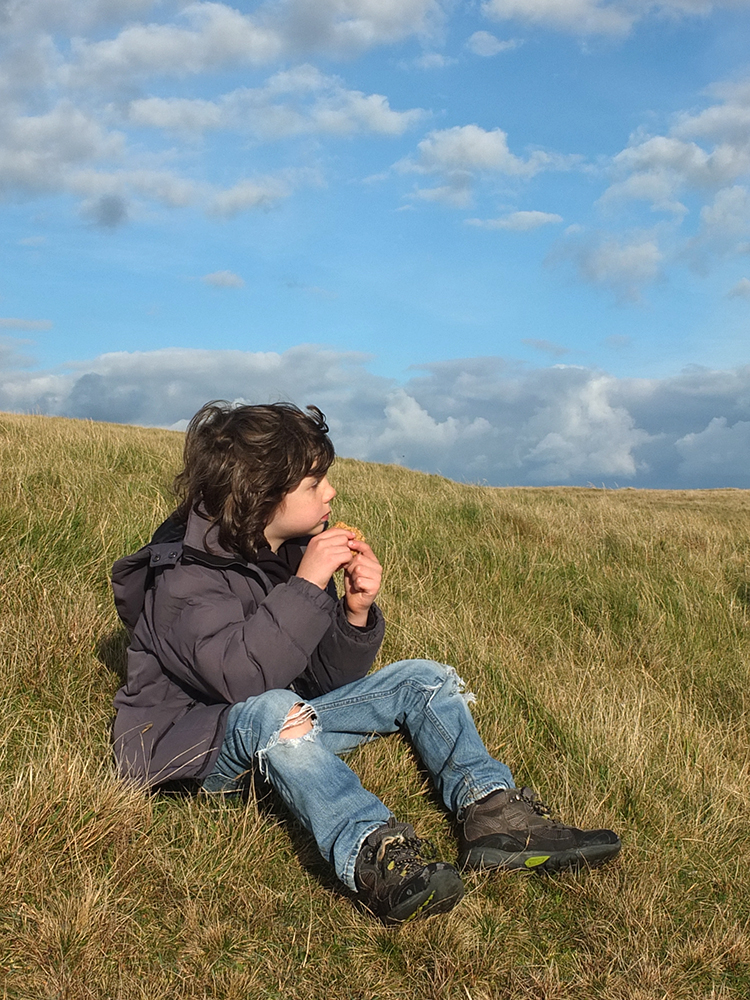 Afterwards we passed by the Holes of Scraada, a collapsed sea cave in the middle of the vast fields and stopped for a cookie break before carrying on to da Grind o'da Navir.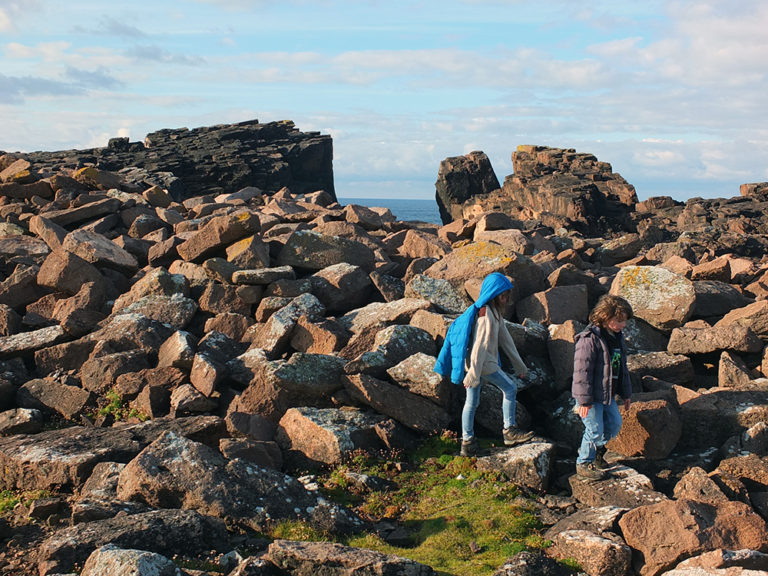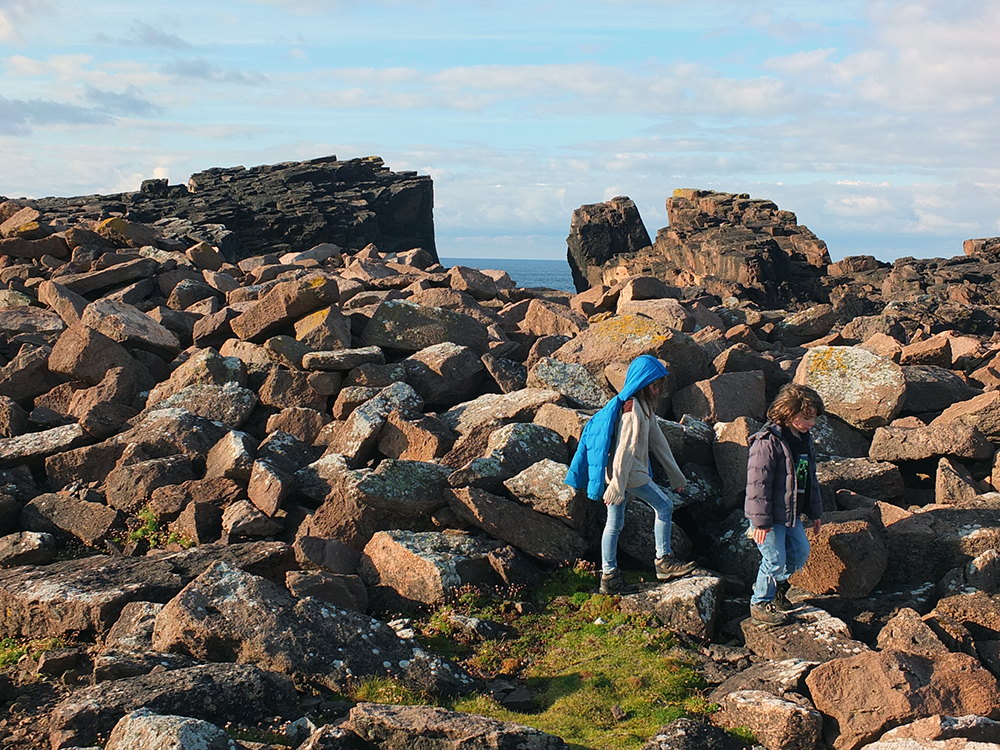 This is a remarkable area formed by the fierce storms of the North Atlantic. Huge blocks of volcanic rock have been thrown up by the sea through a breach in the line of cliffs which opens up into a natural amphitheatre. The stones you see above are 15 metres above sea level, and they have been thrown there by the sea for up to 180 feet.
If there ever was a rejuvenating Zelda-esque fairy pool here in Shetland this little body of water in the amphitheatre would be it, I am sure.
The kids thought that this was the Best. Place. Ever. Ever!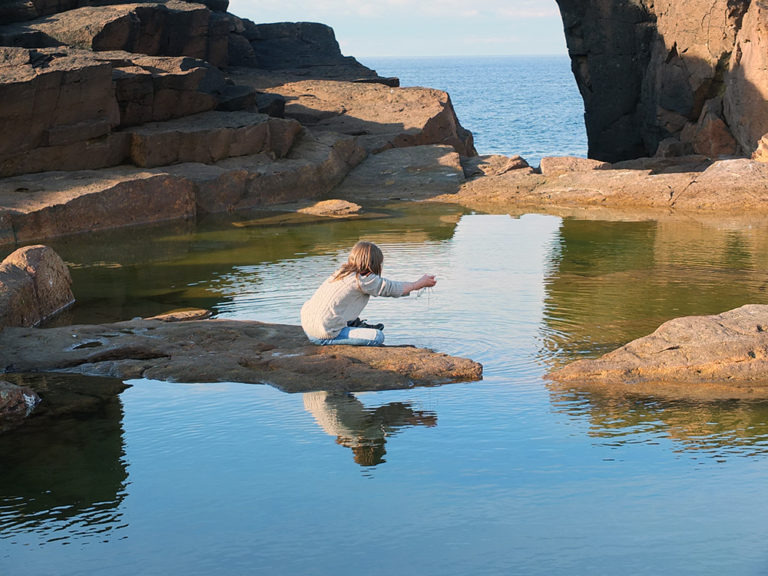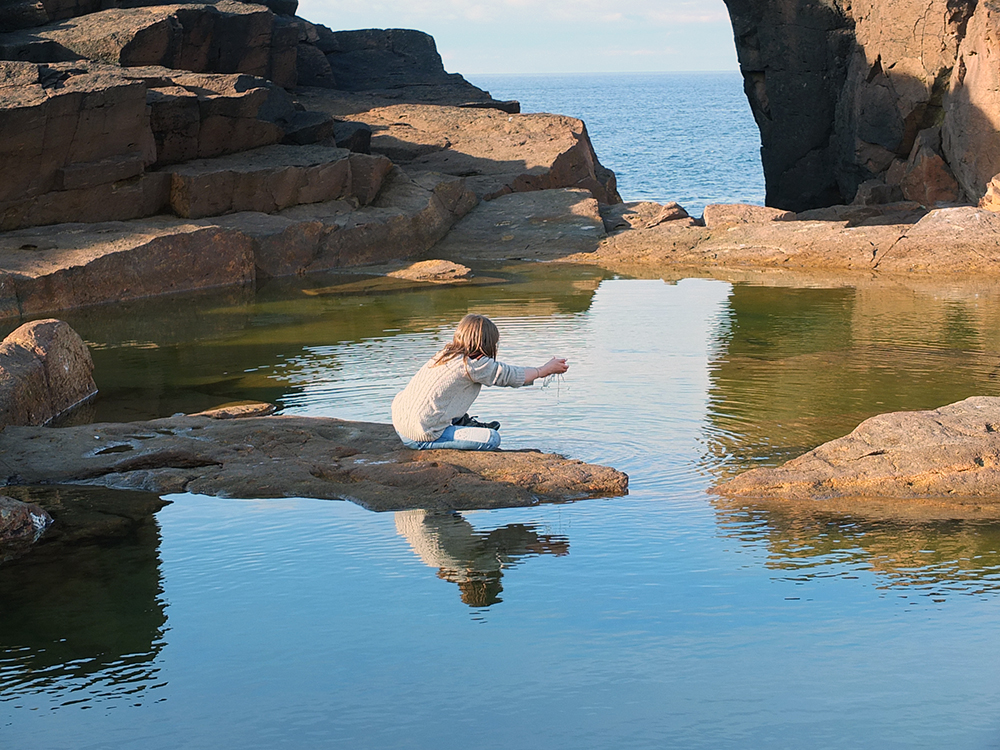 Here we stopped for a spot of lunch with the sun warming the rocks and the cliffs protecting us from the cool breeze. You know when you have those days with all of the happy? Those days where everything has gone according to plan and you just sit there with a full belly and a content heart?
That.
It really was the best day ever. It definitely ranks up there as one of our best family adventures yet.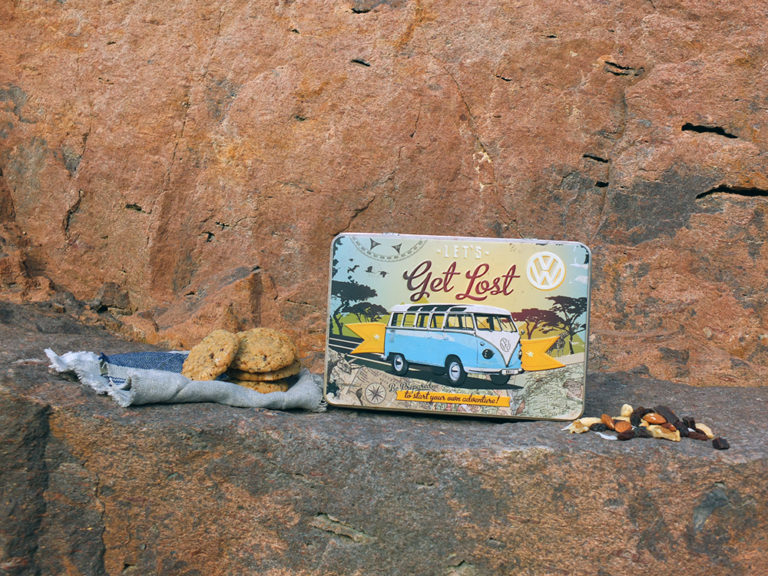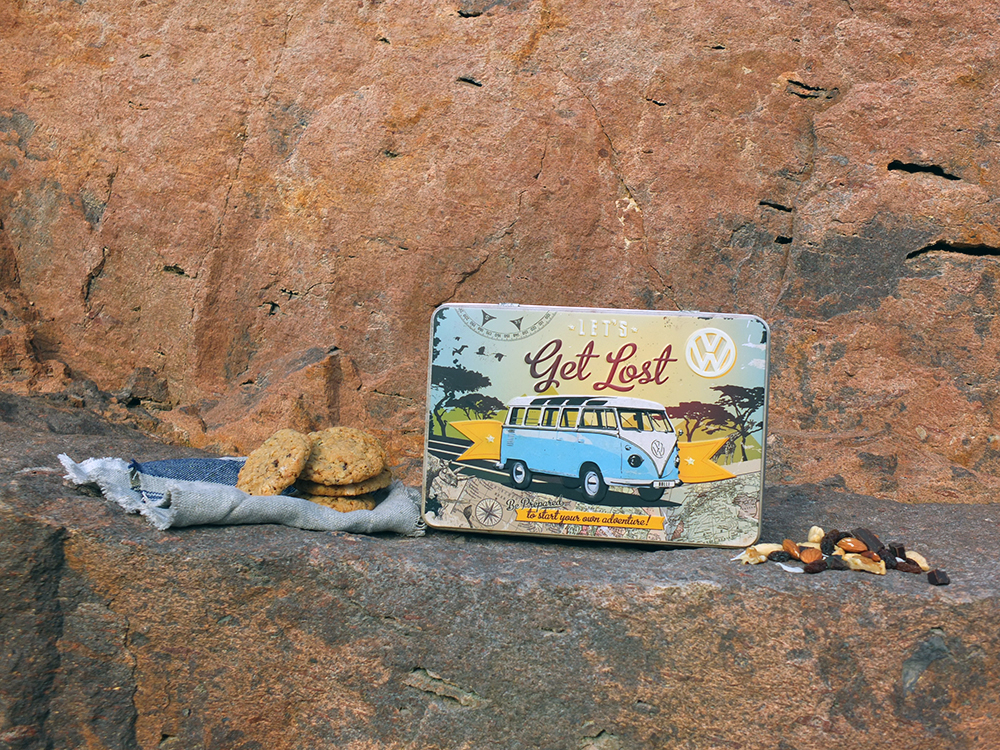 What's your favourite outdoor adventure refuelling recipe? Do you have a favourite granola bar, trail mix or cookie? Let me know in the comments! If you're looking for more travel-inspired recipes do visit the Volkswagen Pinterest community board – Food Bloggers for Volkswagen.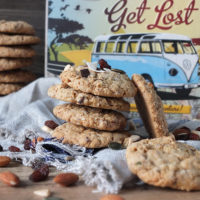 Chewy Trail Mix Oatmeal Cookies
Home made trail mix forms the base of this delicious and chewy oatmeal cookie - perfect fuel for adventuring.
Print
Rate
Ingredients
for the trail mix
1.5

parts

mixed nuts

almonds, cashews, walnuts, hazelnuts

1

part

mixed seeds

sunflower, pumpkin, coconut shavings

1

part

mixed dried fruit

raisins, apricots, apple rings

0.5

part

sweet stuff

dark chocolate, popcorn, marshmallows
Affiliate Links
This recipe card may contain affiliate ingredient and equipment links. As an Amazon Associate I earn from qualifying purchases.
Instructions
To make your trail mix use a scoop and measure out the required parts of each component. Store in an airtight container and consume within one week.

Preheat oven to 180 C/ 160 C fan/ 350 F. Lightly grease two cookie sheets or line them with silicone baking mats.

Combine the flour, sugars, spices, salt, baking powder and bicarbonate of soda in a large bowl.

Rub the vegetable fat into the mixture with your fingertips until it resembles coarse breadcrumbs.

Add the porridge oats and the finely chopped trail mix and stir to combine.

Whisk together the egg, milk and vanilla and add to the dry ingredients. Stir well to make the cookie dough.

Pinch off bits of dough about the size of a walnut and roll into a ball. Place on the prepared cookie sheet and bake for 12-14 minutes, until golden.

Leave to cool for five minutes on the cookie sheets before transferring to a wire rack to cool completely.

The cookies will keep for up to a week in an airtight container. They also freeze well.
Environmental Information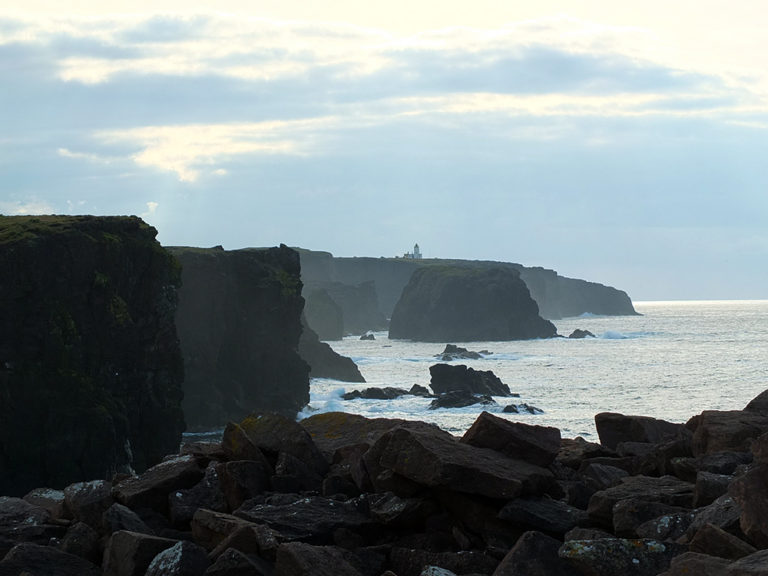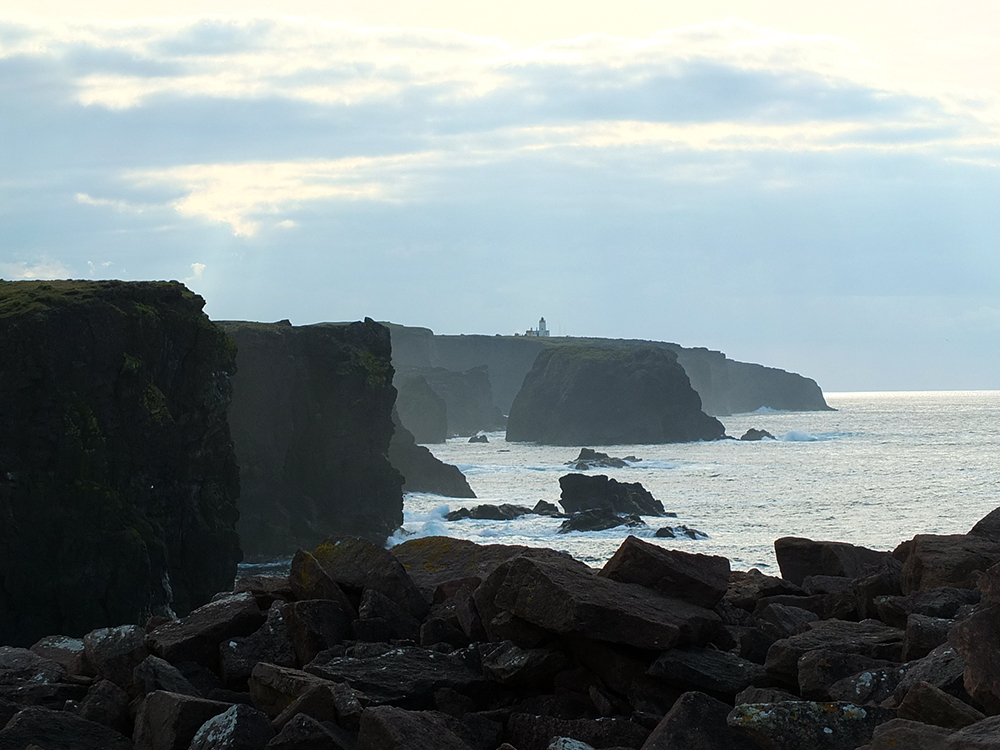 This is a commissioned recipe post for Volkswagen although all thoughts and opinions expressed are our own. Thank you for supporting the brands who make it possible for me to do what I love: mess up my kitchen and share recipe stories.
[color-box]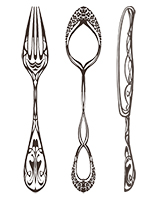 Have you made this recipe?
Take a photo and tag @tangoraindrop or use the hashtag #elizabethskitchendiary and share on Instagram and Twitter. It would make my day to see your creations!
[/color-box]