Soft spiced molasses cookies; ideal for when you're going on an adventure!
When I was a girl growing up in rural Canada I used to bake an old fashioned soft molasses cookie recipe. I don't know where the original recipe came from, being handed down from somewhere, but these cookies were one of my favourites.
They are soft and spicy and perfect for taking along on an outdoor Autumn adventure, as we used to do a lot when we were children. I fondly remember many a picnic in the woods with one of these giant cookies in my hand.
I've never tried making them after I moved to the UK because, alas, they don't sell molasses in this country! I've never seen it in the shops. In Canada I used to use Crosby's molasses which is kind of half way in between golden syrup and treacle. So my tried and tested recipe was put aside for this last fifteen years.
That was until a few days ago, when, after reading Caroline Makes… version of sticky ginger cake using equal quantities of golden syrup and treacle as a substitute for molasses, I remembered my childhood recipe and subsequently dug it out of my barely readable notebook. This is one of the reasons I started my food blog, incidentally, because all these old recipes were fading away in my notebook and I wanted somewhere more permanent to store/share them!
I adapted the original recipe slightly replacing molasses with golden syrup and treacle (but if you have the original molasses by all means use it instead!). Inspired by the children's book We're Going on a Bear Hunt by Michael Rosen and Helen Oxenbury I transformed the cookies into bear paws by using a hand shaped cookie cutter. To make the claws you cut raw almonds lengthwise and then halve them again. Alternatively you could use blanched almonds and cut them lengthwise, twice, to make very long bear claws. When I was a child the cookies were always large and round, but I thought I would jazz them up a bit for my eldest's youth club. I always send over a sweet treat for them, and they really, really liked these!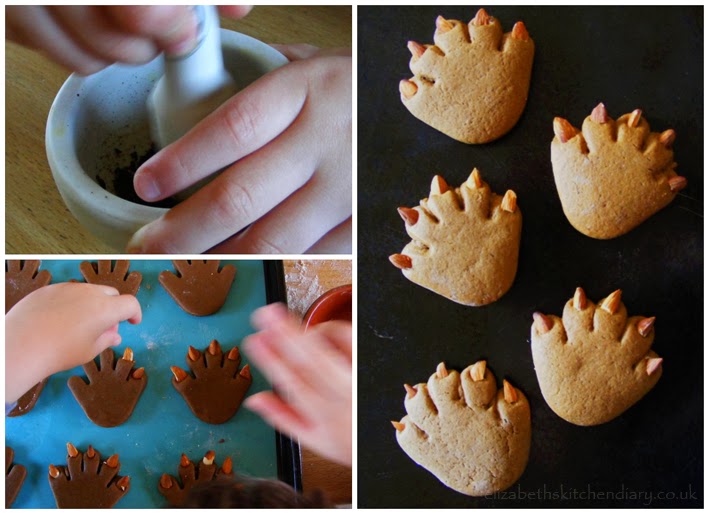 So, the four-year-old and I set to work while his older siblings were at school. He ground the cloves in a mini mortar and pestle, helped stir the mixture and pressed the raw almond claws into the ends of the bear paws. As such, I am sharing this post with Ethan's Escapades: Small Steps Amazing Achievements. Baking is always a fun way to get creative with your children, I think, plus, you get to eat the results!
The next day on the way home from the nursery run we collected all sorts of leaves and berries to use in the photograph, and DS happily posed for some creative 'going on a bear hunt' photos!
Bears were something we were always on the lookout for in the Canadian woods. We never saw any, but sometimes we thought we saw bear prints and we'd run home as fast as we could. Coyotes, on the other hand were a very real threat. They were always there, lurking in the shadows. My brother and I were chased by some once and I don't think I've ever run as fast as I did that day. It turns out we'd stumbled upon their fresh deer kill and they were just protecting their dinner, but oh my, our Canadian wilderness was a dangerous place to play!
It's not so dangerous here in Shetland, our little island home in the North Sea far above Scotland. The only bears we have to worry about are the cuddly kind! 
For some reason these bear paw cookies have been called Gruffalo Feet by some folk I've shared them with, and I think they might be on to something. They would make a nice addition to a Gruffalo-themed children's party.
The cookies are incredible moreish, soft, spiced and warming and this is the one time it's ok to bite your toenails (that's one of the fun bits of eating this cookie)! I'm sharing this recipe with a new food blogging challenge, The Biscuit Barrel, by Laura at I'd Much Rather Bake Than…  October's theme is bookmarked recipes and I've had this recipe bookmarked the entire fifteen years I've lived in the UK!
If you make this recipe do me a favour: imagine you're twelve years old and you're traipsing through the Canadian wilderness on a 'bear hunt' while munching on one of these cookies. It's part of the whole cookie experience. 🙂