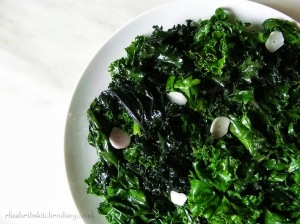 I'm a newcomer to the whole kale thing. Following on from a suggestion by a vegan friend who is in love with the stuff, I did, once, some time ago, pick up a bag of curly kale from a local supermarket and I baked it to make kale chips. The kale chips were bitter and disgusting and put me off the notion of kale entirely.
So just imagine my trepidation when I discovered, peeking out the corner of my Turriefield veg box, a large bag of organic kale. Now, the thing with getting organic home grown vegetables is that sometimes there's little beasties hanging on for the ride. Turriefield joke, "There's a free slug with every salad!" and it's one of the many reasons I love their produce so much. Little beasties means no chemicals, just pure, unadulterated goodness.
Fortunately when my veg box arrived I had a friend visiting who had grown her own kale here in Shetland for years, so she taught me how she prepares and cooks it.
First (and very importantly if you don't want to eat any of the beasties) you put the kale in a large bowl of water and sprinkle liberally with sea salt. Weigh down the top of the kale with a plate so it's all submerged and leave it there for 20 minutes or so. Any beasties present will float to the surface. Rinse and you're ready to go.

A unique species of kale (Brassica oleracea L.) which is really a form of hearting cabbage, pictured above, has been grown here in Shetland since the 17th century and is the oldest known Scottish local vegetable variety (1). It was reputed to have come to Shetland with Cromwell's soldiers (2). Due to the harsh weather seedlings were often planted in small stone circular structures (above right) called a plantie crö before being transferred to larger enclosures to develop further. Many of these crö lay in ruins around the Shetland Islands. You can listen to a famous poem in Shetland dialect about Auld Maunsie's Crö by Basil Anderson (and read by John Graham) on the Shetland Forwirds website.
Shetland kale has a slightly bitter taste and is often fed to cattle or sheep throughout the winter. The heart can be eaten but the opinions of the locals I've spoken to are divided. Some won't touch it with a barge pole (amusingly described in this children's poem in dialect: I hate kale!) and others, including a neighbour who grows it, love it boiled or sautéed in butter. The younger generation use it to go kale casting at Halloween (and the recipients, I have been told, sometimes make soup out of their gifts).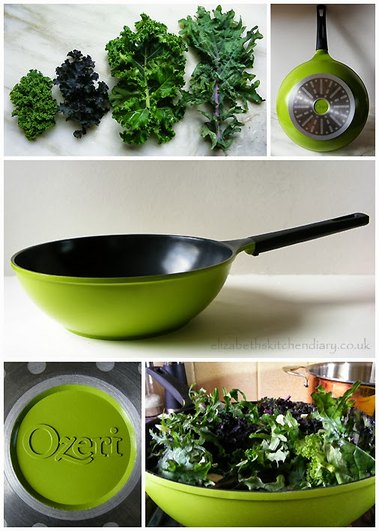 I've yet to taste Shetland kale myself, but I am firmly in love with the blend of red curled, red winter, blue curled, halbhoer grun (green curled basically) and nero di toscana from my veg box. My veg box has also provided, in the past, some blow-your-face-off hot fresh red chillies which I gently saute in vegetable oil before placing in a large bottle of olive oil. The resulting chilli-infused oil is quite potent and works wonders in this dish of sautéed kale. If you don't have chilli-infused oil just use regular olive oil and add a finely chopped chilli when you add the garlic. I could actually eat a bucket load of this kale, especially as a side to a nice juicy steak!
Kale, like spinach, has a very large volume before wilting, so you need a large pan to cook it in. Some weeks ago Ozeri sent me one of their Green Earth Woks to try out and review and I love it!
First of all the colour is superb (look at that vivid green!) and it's a very sturdy well built pan. Ozeri use scratch-resistant ceramic as a natural coating. Their trademark claim is that "they are one of the world's first frying woks to achieve non-stick perfection while remaining absolutely free of PTFE, PFOA and other harmful chemicals." You wouldn't want to spoil your lovely organic kale with the toxic chemicals released in many other non-stick pans, would you! The aluminium core makes for even, quick heat distribution and reduces the risk of hot spots. The only drawback, for me, is that I don't particularly care for the Bakelight handle, but in its favour it is oven safe to 180 C. I think for such a superb pan a better quality handle could have been used. Nonetheless, I am in love with my wok (and the kale I cook in it)!
Stir-fried Kale with Garlic and Chilli Oil
A quick nutritious side dish perfect with a nice juicy steak!
Ingredients
200 grams kale
1 tbsp chilli-infused olive oil (or just olive oil)
2 garlic cloves, finely sliced
1 red chilli, finely diced (if not using chilli oil)
sea salt
freshly ground black pepper
Instructions
1. Heat oil in wok and add kale. Stir fry for 4 minutes.
2. Add sliced garlic, chilli (if using) and season well. Stir-fry for a further 2 minutes or so, until the kale is softened. Larger pieces of kale will need longer to cook.
3. Serve immediately.
Details
Prep time: Cook time: Total time: Yield: Serves 4
Elizabeth's Kitchen Diary was sent an Ozeri Green Earth Wok for review. All opinions expressed are our own. This is not a paid post.