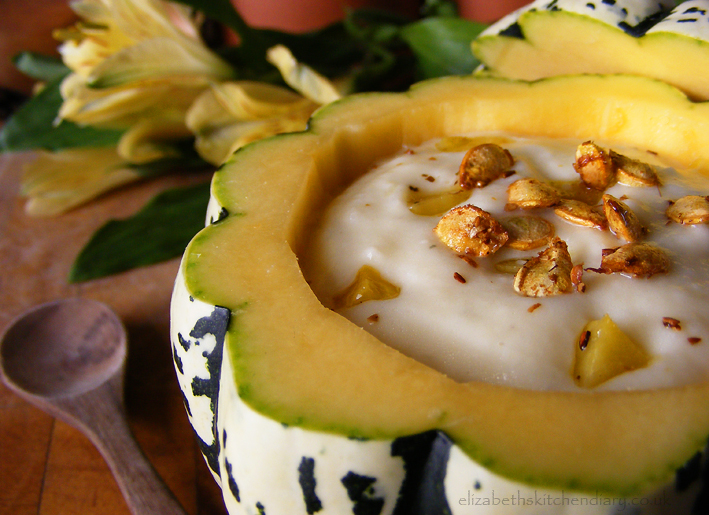 I do not have green fingers.
I could not be called a gardener in any sense of the word. I do have some houseplants, which, for some reason, have evolved to be very hardy plants indeed, able to withstand weeks of drought in between the times when I actually remember to water them. How they are still alive is beyond me.
So, when our six year old daughter came home from school at the beginning of the summer holidays with a two-leafed seedling in a polystyrene cup I was filled with the fear of the future death due to neglect my daughter's seedling was about to suffer, and an abject stubbornness to keep the thing alive and a slight, cautious hope that it would actually bear fruit. The leaflet accompanying the seedling said it was a pumpkin.
Pumpkins need warmth and light to grow. We don't own a polytunnel so that meant it was going to have to stay indoors, as the summers in Shetland don't get warm enough for pumpkin growing, at least in our exposed garden. That North Wind rips anything that starts to grow to shreds, I've discovered. Pumpkins also need a large pot to grow in. I didn't have a large pot. Problem.
Then, for some strange mysterious reason, a very large plastic plant pot appeared in the middle of my garden mint! I have no idea where this pot came from, but thank you to whomever had this giant plant pot and thought of me.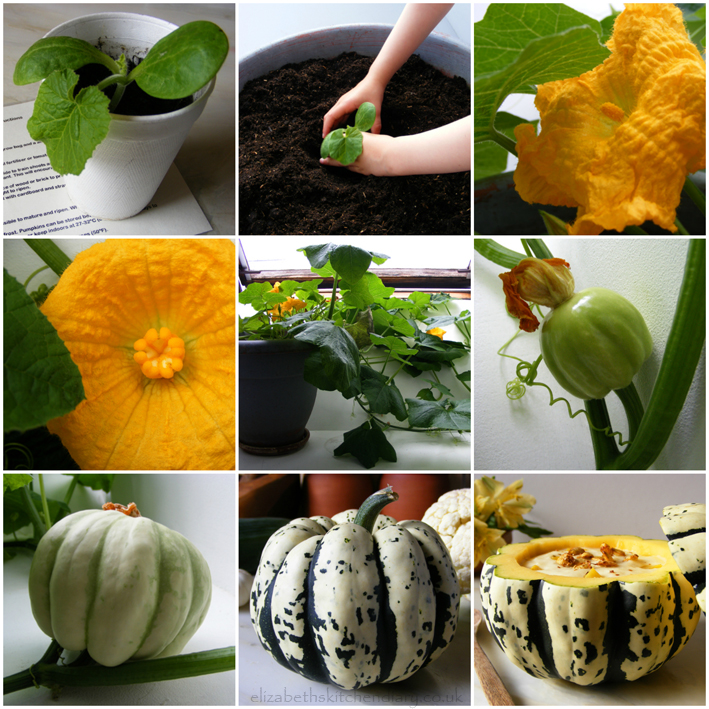 Dearest daughter planted her pumpkin seedling and we placed the giant pot under a Velux bedroom window; the only window in the entire house which gets enough sunlight to get warm. Sometimes that bedroom can feel like a green house.
We watched our little pumpkin seedling grow, exponentially, day by day. Then we watched with delight as flowers started appearing. I learned, thanks to observation and advice from our vegetable box growers, that pumpkins and have male and female flowers and often require a little assistance to pollinate. I felt a little naughty doing this, but my efforts paid off: two of the female flowers became pregnant. One died shortly after but the other one was viable. Each morning I'd check on the developing pumpkin and water the plant. I am a little embarrassed to admit I talked to it sometimes. It liked being talked to.
At around 13 cm diameter the pumpkin stopped growing and the leaves started to die as the weather became cooler. I resigned myself to the fact that there just wasn't enough warmth and sunlight to encourage the pumpkin to turn orange, so I harvested it, got creative and played with my new gorgeous cookware set!
Edit: It transpired that it wasn't a pumpkin after all! See, I told you I wasn't a gardener. Many thanks to Dom from Belleau Kitchen for pointing out that our plant was actually a harlequin squash!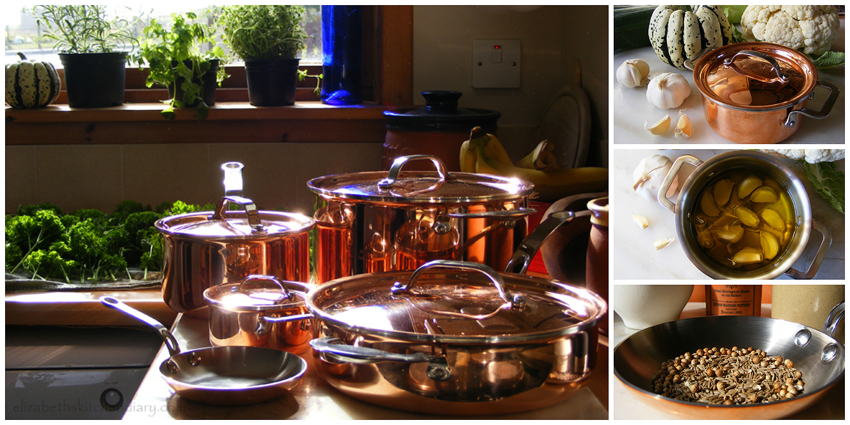 Some weeks ago the lovely people at Proware sent me a selection of tri-ply copper pans to try out. Launched in 2012, ProWare have developed a range of cookware available exclusively from Lakeland. Their three layer structure consists of a copper exterior, an aluminium core second layer and a thin layer of stainless steel inside the pans. Both copper and aluminium are very efficient conductors of heat and the stainless steel interior is durable, hygienic and resists corrosion.
My first impression when I opened the parcel containing this fantastic selection of cookware was one of awe. I arranged the pans in the corner of my kitchen and left them there for a few days, gazing at their shining beauty like one would a pile of glittering treasure.
I've been using these pots in favour of my old stainless steel pots (pictured hanging above my head in my blog banner above) now for a few weeks and I must say I am officially in love. I have a very temperamental cooker with hobs that don't heat evenly. Using my old pans I would have to arrange the food so that most of it cooked on one side of the pan over the other, but when I started using these tri-ply pots this changed.
The first thing I noticed was how quickly the pans heat up and the heat is evenly distributed. I can now cook using the whole base of the pan! I can also use a lower heat setting to achieve the same results as before. I've also learned that the handles heat up too, something which didn't happen with my old glass pan lids, so oven gloves are essential when removing the lid from a hot pan.
Immediately after using the pans for the first time the copper colour started to change, and this is a natural part of the product which appeals to me immensely. My copper pans have turned from shades of copper to orange, red and yellow, like the Autumnal changing of the leaves. Eventually these pans will turn to a tarnished copper penny colour but they can be brought back to their shining new appearance with Brasso.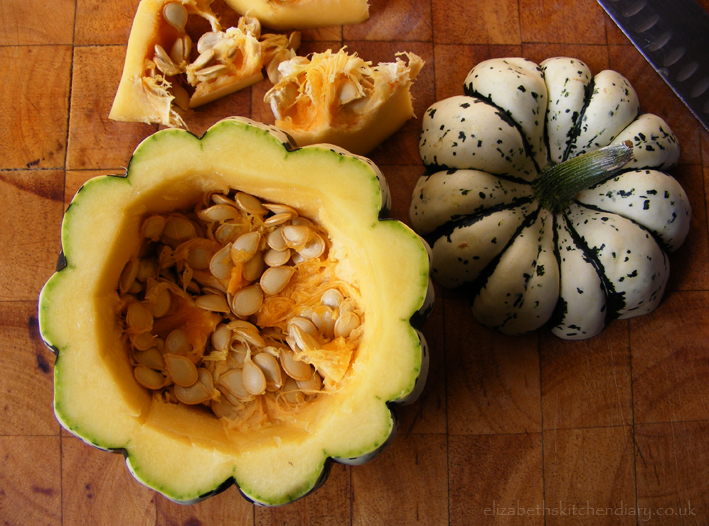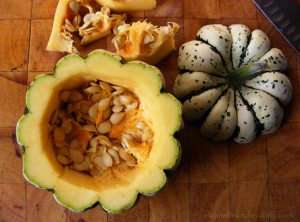 There's a wide range of pots and pans to choose from, and for this meal I used the 10 cm casserole dish, the 12 cm mini frying pan and the 24 cm stock pot. It took some convincing of the children for them to understand that these miniature pans were not children's toys just because they were small. Yes, they are Mummy's to cook with!
The following recipe was inspired by a Cauliflower and Vintage Cheddar soup found in the New Covent Garden Food Co. Soup for All Seasons recipe book which I significantly adapted by including roasted garlic, a leek, single cream, roast pumpkin and spiced pumpkin seeds. If you don't have a harlequin squash available just omit that step, or you could use butternut squash and shop-bought pumpkin seeds.
To make the mini harlequin squash bowl, cut off the top where it will cut flat under the stem. Remove and save as much flesh as you can for roasting and reserve the seeds. Although I only had one squash to work with, it would be ideal to use one per person.
Our daughter was delighted to be presented with her soup in the harlequin squash and I have quite the sense of satisfaction knowing I kept it alive long enough to fruit!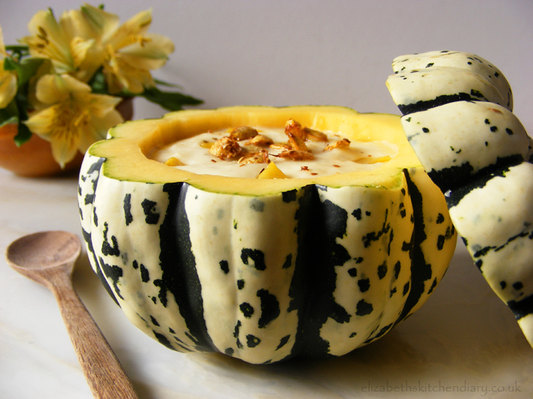 Roast Harlequin Squash, Cauliflower and Mature Cheddar Soup
A creamy, filling Autumnal soup.
Ingredients
1 bulb garlic, cloves separated, unpeeled
100 ml olive oil
4-6 harlequin squash
30 grams butter
1 large leek, white part only
150 grams potato
500 grams cauliflower
700 ml vegetable stock
200 ml single cream
100 grams mature cheddar cheese, grated
35 grams raw squash or pumpkin seeds
1 tbsp chilli-infused olive oil
1/2 tsp cumin seeds
1/2 tsp coriander seeds
pinch turmeric
sea salt
freshly ground black pepper
Instructions
1. Preheat oven to 200 C
2. Place unpeeled garlic cloves in 10 cm mini casserole dish. Cover in olive oil and roast for 20-30 minutes, until tender. Remove from oven and leave in oil until cooled.
3. Carefully cut the top off the squash to form a bowl. Scoop out as much flesh as you can and reserve the seeds.
4. Cut squash flesh into 1/2 cm dice and place on a baking tray. Drizzle with olive oil and season with salt and pepper. Roast for 10-15 minutes, until tender. Set aside.
5. Heat butter in a 24 cm stock pan. Add the leek and potato and cook for five minutes.
6. Cut cauliflower into small florets and add to the stock pan along with the vegetable stock.
7. Cover and simmer for 20 minutes until the vegetables are tender. Remove from heat and allow to cool slightly.
8. Squeeze the roasted garlic out of the skins into the stock pot and puree using a hand blender.
9. Add cream, cheddar cheese and reserved roast squash. Season well with salt and pepper. Heat until warmed, but do not allow soup to boil.
10. Toast the cumin and coriander seeds in the 12 cm mini frying pan. Grind in a mortar and pestle until powdered.
11. Heat chilli infused olive oil (or 1 tbsp olive oil and a pinch of chilli powder) in a small pan and toast the pumpkin seeds until browned and they pop around the pan.
12. Stir the toasted and ground spices into the seeds and season with plenty of sea salt.
13. Serve soup with plenty of warm, crusty bread and with the spiced squash seeds sprinkled over the top.
Details
Prep time: Cook time: Total time: Yield: Serves 4-6
I have shared this recipe with a few food blogging challenges including Cheese, Please! by Fromage Homage. This month's theme is to share recipes using cheddar cheese.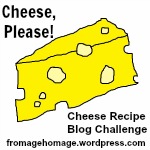 I am also sharing this recipe with Four Seasons Food by Delicieux and Eat Your Veg. This month's challenge is hosted by Anneli over at Delicieux and we are asked to share our Autumnal recipes. This is my second entry this month.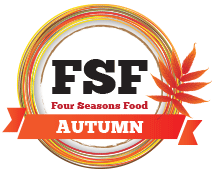 Four Seasons Food hosted by Delicieux and Eat Your Veg

Elizabeth's Kitchen Diary received a complimentary set of Proware Tri-Ply pans to try out. All opinions are my own and I was not required to write a positive review, or any review at all.