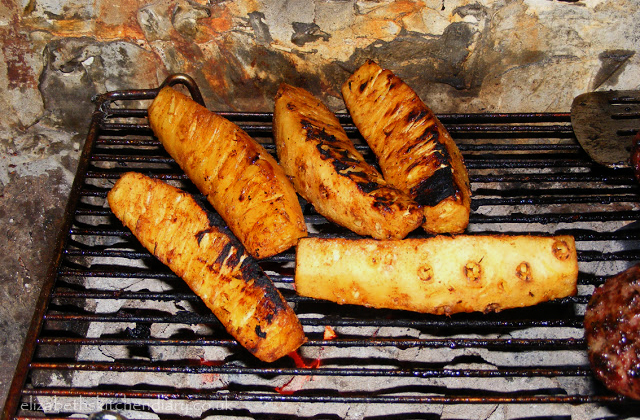 My father has been visiting from Canada and he introduced me to this fantastic barbecue dish. Something happens to pineapple when you barbecue it. It becomes even more heavenly – caramelised, sweet, chewy, perfection. Just try it! We brought it to a friend's barbecue party and it went down an absolute hit!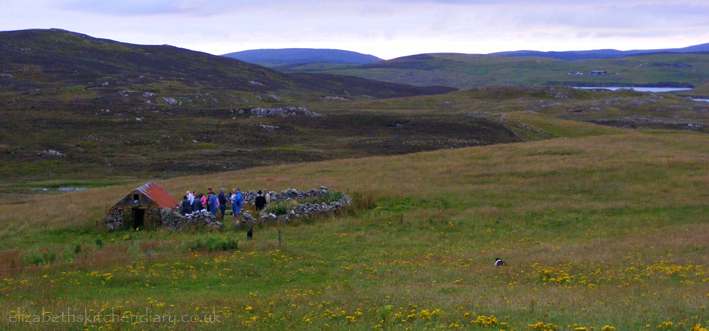 This was where the barbecue was, in the middle of a field in an old planticrub. The grills themselves were set into the stone wall against the wee shed. The circular stone formation is the planticrub, a type of small walled garden/enclosure, originally designed as a nursery area for Shetland kale seedlings which gave them protection against the harsh winds. A perfect location for a barbecue party!
As this is such a great barbecue recipe I am sharing it with a new blogging challenge in 2013, Four Seasons Food, by Louisa from Chez Foti and Anneli at Delicieux. This month we're tasked to share our barbecue dishes and I really do insist you must try this pineapple recipe as it's so incredibly simple and effective.
Update: The fantastic Foodiequine in Aberdeen made this recipe for her One Week Barbecue Challenge and she changed the recipe slightly by adding some brandy and flambéing the pineapple!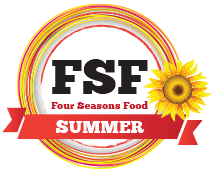 BBQ'd Pineapple
by Elizabeth
Delicious, sweet caramelized pineapple – perfect for a barbeque!
Ingredients
1 large pineapple
150 grams dark brown muscovado sugar
1 tsp cinnamon
Instructions
1. Peel, core and cut the pineapple into 1.5 inch slices.
2. Place in a freezer bag along with the sugar and cinnamon and coat well.
3. Leave to marinade for several hours.
4. Place pineapple on BBQ and cook until caramelized and browned all over.
Details
Prep time: Cook time: Total time: Yield: Serves 4