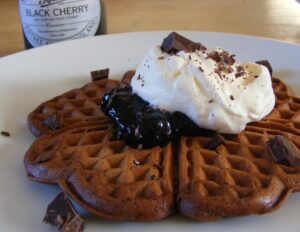 I came up with this interesting take on the Black Forest Cake for our weekly Wednesday Pudding Night. My children are so hard done by they usually only get pudding once a week – but Wednesday's Pudding Night is something they really look forward to. They loved this! Chocolate waffles? Seriously? You should have seen the look on their faces!
I am entering this into August's blogger competition (2012) by Chocolate Teapot and Chocolate Log Blog called We Should Cocoa. This month it is hosted by Janice from Farmersgirl Kitchen and the special ingredient we're asked to work with is cherries.
Edit: In November 2012 Choclette from Chocolate Log Blog also hosted Fuss Free Flavours Breakfast Club, and the theme was chocolate breakfasts. People have waffles for breakfast, right, so why not chocolate waffles?  🙂
1 cup plain flour
1/4 teaspoon salt
3 tablespoons caster sugar
3 tbsp Fairtrade cocoa powder
1 1/2 teaspoons baking powder
1 egg, beaten
1/2 cup milk
1/2 teaspoon vanilla
1 tbsp kirsch (optional)
30g Fairtrade dark chocolate (at least 80% cocoa solids), melted
3 tablespoons butter, melted
Black Cherry compote
227ml whipping cream, whipped
70g dark chocolate (at least 80% cocoa solids), coarsely chopped
fresh cherries
Sift together the flour, salt, sugar, cocoa and baking powder. Combine egg, milk, vanilla, chocolate, kirsch and butter; blend well. Add egg mixture to sifted ingredients; mix well. Bake in hot waffle iron.
Serve with cherry compote, whipped cream and sprinkled with chocolate. Garnish with a fresh cherry (I didn't have any so there are none in the photo!)