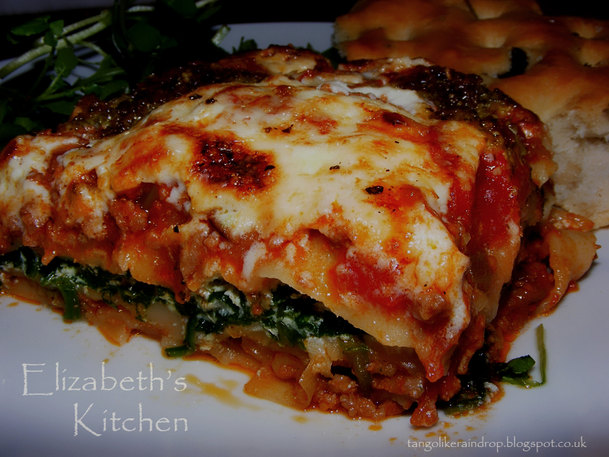 Some time ago I had an assortment of ingredients in the fridge needing used up and quite fancied making a lasagna. This new lasagna recipe was an experiment created by myself and it went down really, really well with the family. My partner commented that my lasagna had gone from pub-grub quality to that of a fine restaurant. It's been requested again and again ever since. All three children always eat theirs without complaining! Win! It freezes very well too. Freeze it in individual portions that way when you're really busy (say, studying for university exams!) you can just defrost and reheat. Don't be put off by the long list of ingredients – the pesto and sauce can be prepared in advance and if you put the sauce on to simmer in the morning (you could even use a slow cooker!) all you need to do is make the spinach mixture and bechemel sauce and assemble in the late afternoon. You could even make the whole thing in advance as it will keep, covered, in the fridge, for the day. Serve with a fresh green salad and some olive & rosemary foccacia bread.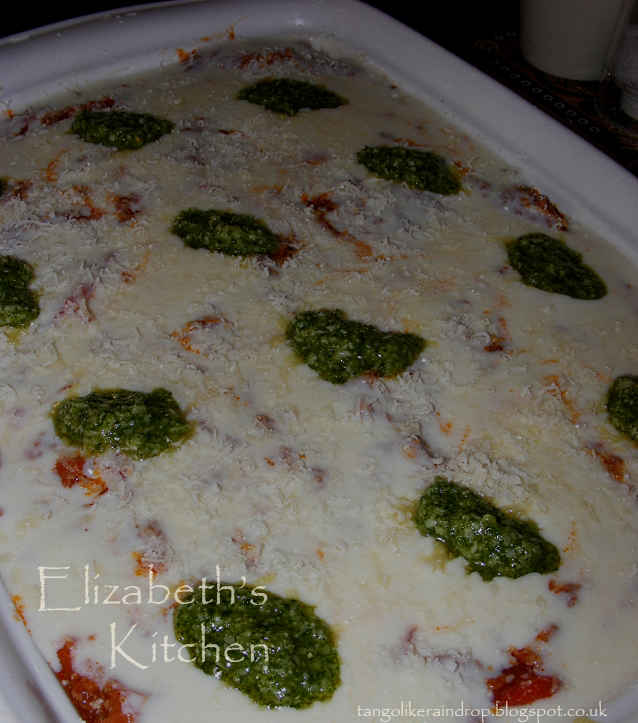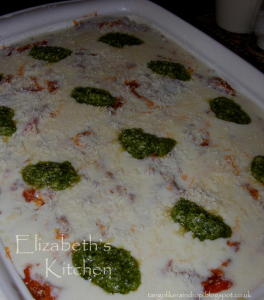 Lasagna with Spinach, Ricotta & Pesto
Our family favourite recipe for lasagna.
Ingredients
For the Spinach & Ricotta Layer
1 tbsp extra virgin olive oil
2 shallots, finely chopped
2 garlic cloves, finely chopped
200 grams baby leaf spinach, washed
250 grams ricotta cheese
For the Tomato Sauce
2 olive oil
3 tbsp garlic cloves, finely chopped
50 grams smoked bacon, sliced
1 medium onion, finely chopped (reserve a slice for the bechemel sauce)
1 large carrot, finely chopped
1 celery stick, finely chopped
700 grams lean beef mince
2 400g tins whole plum tomatoes
1 400g tin cream of tomato soup
2 tbsp tomato puree
3 bay leaves
For the Bechemel Sauce
450 ml full fat milk
1 tbsp parsley leaves
1 mace blade
10 whole peppercorns
1 5mm thick onion slice
50 grams butter
30 grams plain flour
For the Pesto
1 cup basil leaves, well packed
3 tbsp pine nuts, lightly toasted
125 ml olive oil
60 grams, plus more for the top parmesan cheese, finely grated
To Assemble
lasagna sheets (homemade or shop bought)
sea salt & freshly ground black pepper
Instructions
Spinach & Ricotta layer
1. Heat 1 tbsp olive oil in a pan over medium-high heat.
2. Add shallots and 2 garlic cloves, chopped; sauté until shallots soften, about 2 minutes.
3. Add the spinach (pot will be full). Cook spinach until wilted but still bright green, tossing often, about 3 minutes.
4. Using tongs, transfer spinach to large sieve set over bowl. Press out excess liquid from spinach (you can add this to the bolognese sauce if you wish.
5. Mix in ricotta cheese. Season to taste with freshly ground black pepper.
Bolognese Sauce
1. Saute the bacon, onion, carrot, celery and garlic in the olive oil until golden.
2. Add the beef mince and a sprinkling of sea salt; cook until the mince is browned.
3. Add the plum tomatoes, tomato soup, tomato puree and 2 bay leaves; turn down the heat and simmer on low for a few hours with the lid slightly off the pot so that the sauce condenses a bit.
Bechemel Sauce
1. To prepare the bechemel sauce: place the milk in a small saucepan; add the parsley, bay leaf, mace, peppercorns and onion slice.
2. Place over a low heat and bring slowly up to simmering point (about 5 minutes).
3. Remove saucepan from the heat, strain the milk into a jug and discard the flavourings.
4. Gently melt the butter in a clean saucepan.
5. Add the flour and stir quite vigorously with a wooden spoon to make a smooth, glossy paste. Add milk a little at a time and stir vigorously.
6. Turn the heat down to its lowest setting and cook for 5 minutes, whisking from time to time. Season to taste.
Pesto
1. Place the basil leaves, pine nuts, 125 ml olive and a pinch of salt in a food processor and blitz until it forms a smooth consistency. Stir in the 60 grams parmesan cheese.
Assembly
1. Spoon a thin layer of bolognese sauce on the bottom of your 13 x 9 inch pan and arrange sheets of lasagna over top.
2. Spoon over more bolognese sauce and top with another layer of lasagna sheets.
3. Spoon over a layer of your spinach/ricotta mixture. Arrange another layer of pasta.
4. Spoon over the remaining bolognese and pour over the bechemel sauce.
5. Drop spoonfuls of pesto around the top of the bechemel sauce. Top with plenty of grated parmesan.
6. Bake at 200 C for 30 minutes, or until the top is golden and bubbly. Let sit for 10 minutes before serving.
Details
Prep time: Cook time: Total time: Yield: Serves 6
I have entered this recipe into Lavender & Lovage's splendid Herbs on Saturday bloggers challenge for August 2012. This post is part of the #FaveFamilyRecipes Competition with BritMums and Tilda Rice. Every pack sold will provide a meal to an expectant mum in need in support of the World Food Programme's Mothers Helping Mothers initiative in Bangladesh.