Creative cake-baking just for the fun of it on a dark, dreary, rainy Autumn day.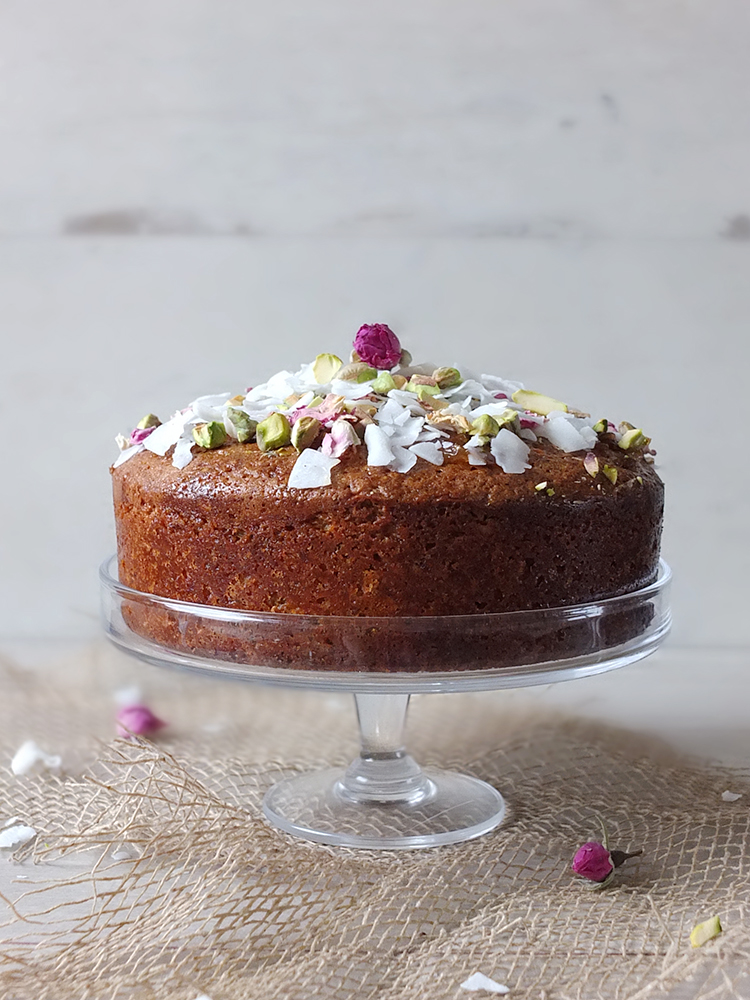 I made a cake!
I made a cake and I'm really rather chuffed at how well it turned out. You see, I'm currently going through an 'empty the store-cupboards' phase in preparation for stocking up for winter. The fact is that I'd been so incredibly busy this Spring/Summer with cycle training for my epic bikepacking trip that I hadn't done as much cooking and baking as I usually do, and many of the ingredients in my store-cupboard are starting to now reach their best before/use by dates.
Creativity is required.
I'm on a mission to clear out these cupboards. While sifting through my pantry shelves the other day I found half a bag of salted pistachio nuts in their shells, and so I put them where they are supposed to be – not in the pantry but in the cupboard where I keep my baking supplies (I'm going to blame my husband for the misplacement of said bag). I put the salted pistachios next to the half a bag of unsalted roasted pistachio nuts in my baking supply basket. Both of which will be out of date at the end of November.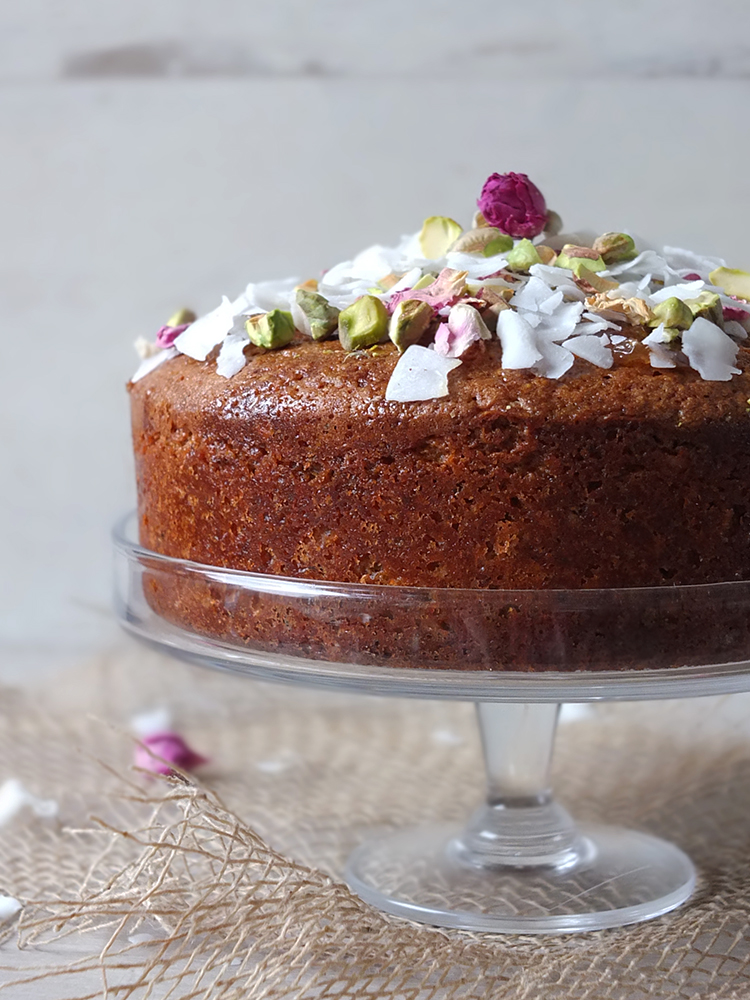 Several months ago I was sent a rather substantial hamper of food from Bulgaria from a client. There were loads of weird and wonderful ingredients – some of which were used right away – some of which ended up in the bin because our local shipping company kept a hold of the hamper in their warehouse for five full days before delivering it to me so the fresh stuff was ruined (incidentally, someone had signed for it as 'delivered' when it was still in Aberdeen!) – and some of which ended up on my pantry shelves to be used when inspiration struck.
Two of the hamper items that ended up in the cupboard were a jar of home made Bulgarian rose jam and a packet of gorgeous little dried rose petals.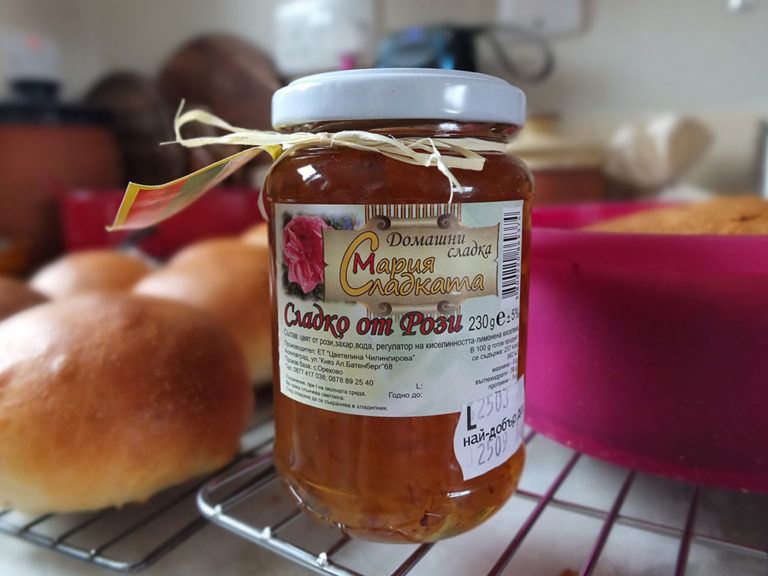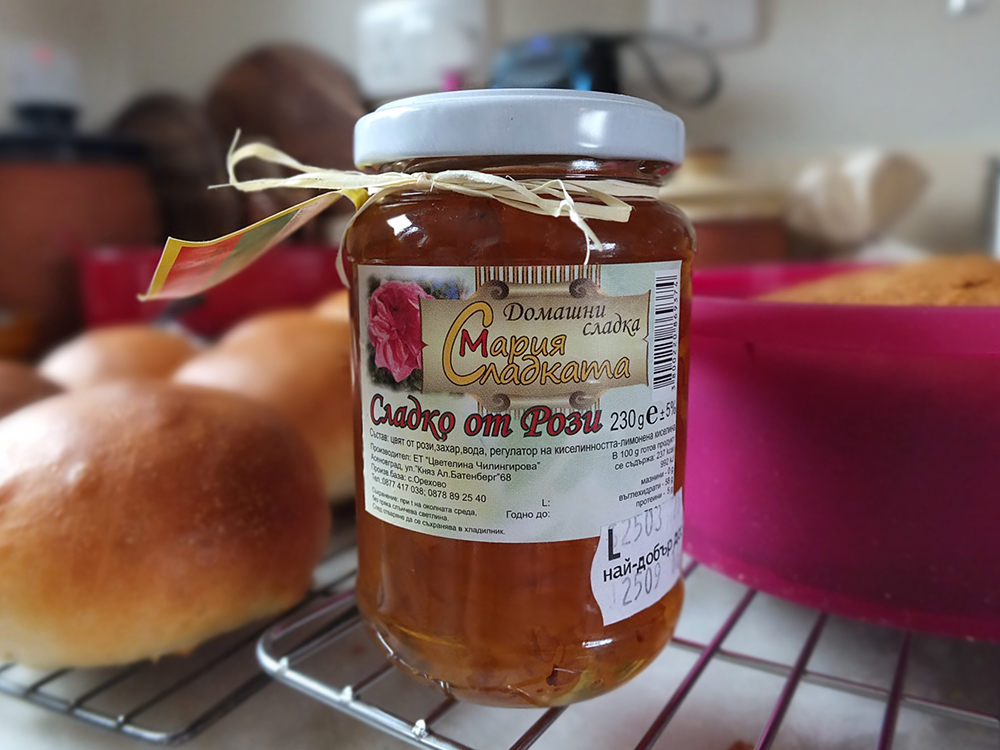 The jam was quite runny with beautiful delicate translucent rose petals suspended in a sugary syrup. One thing led to another, the rose syrup, the pistachios needing used up, and a large packet of coconut flakes taking up space in my cupboard – I quite fancied making a cake. Something with coconut shavings sprinkled over the top.
I checked all my recipe books and found no inspiration, and searching online resulted in the discovery of this luxury pistachio, coconut and lime cake which I loved the sound of.
The thing is, I had no limes, and I only had two eggs left. Do I go to the shop and buy some limes and more eggs even though another dozen were supposed to arrive in our local veg box delivery the following day?
No. I vowed to be creative with the ingredients I had on hand. I halved and tweaked the recipe accordingly. Recipes are only guidelines anyway, right?
Regular readers will know I have been a Froothie Ambassador for many years now. I have been using their Froothie Optimum 9400 high speed blender nearly every single day for as long as I've owned it. I use it to whip up post-workout protein shakes, to puree all manner of soups and to grind nuts into flour.
It only took a few seconds to pulverise 90 grams of shelled pistachio nuts into flour for this cake. I then added the remaining dry ingredients and gave it a few seconds' blitz to break down the coconut and combine it all before adding it to the wet ingredients in a bowl.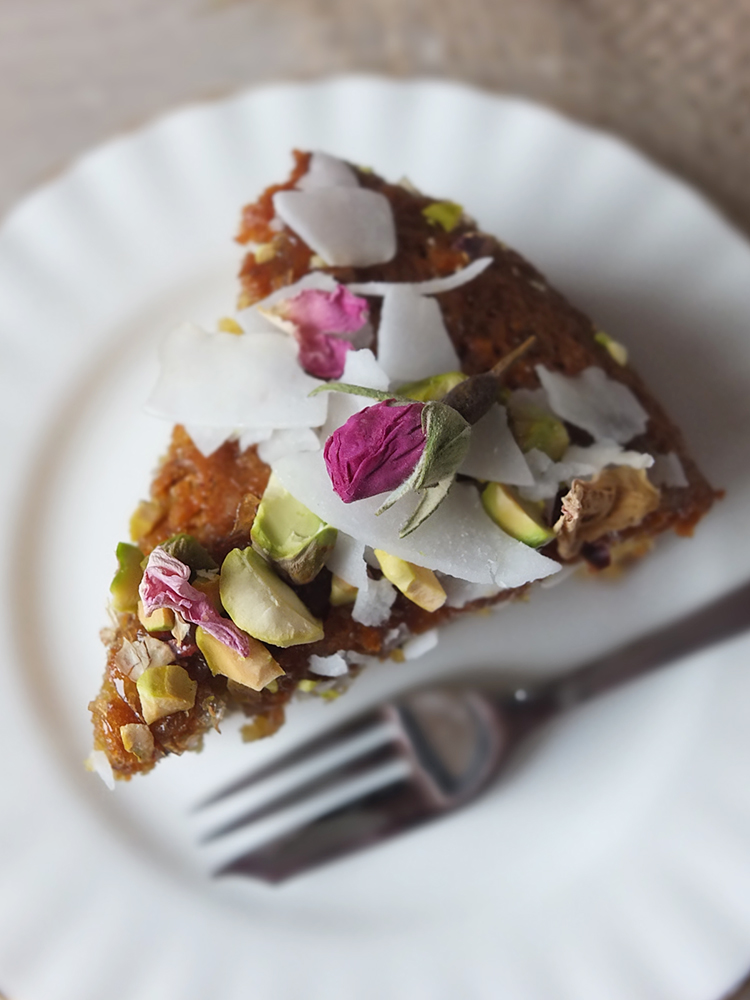 Dissolving the rose jam with a little hot water meant I could drizzle it over the top of the still-warm cake so that the rose fragrance and delicious stickiness soaked into the top. I pressed some more chopped pistachios, coconut shavings and some dried rose petals onto the top and left it to cool.
So…. incredibly… good!
It's almost a savoury sweet cake with the ground pistachios, but the taste and texture are simply fantastic. Plus, it's got a rather appealing green tint to it which I find rather attractive. It reminds me a bit of baklava with its' nutty tasty and sugar syrup stickiness.
My boys weren't that fond of the cake but my daughter thought it was rather scrummy, and as I type I've just finished having a small slice for second breakfast along with a cup of Yogi classic tea. My husband has a slice of this cake in his packed work lunch box and I am awaiting his verdict!
If you want to make your own rose syrup for this Choclette over at Tin & Thyme has a tried and tested recipe you could use.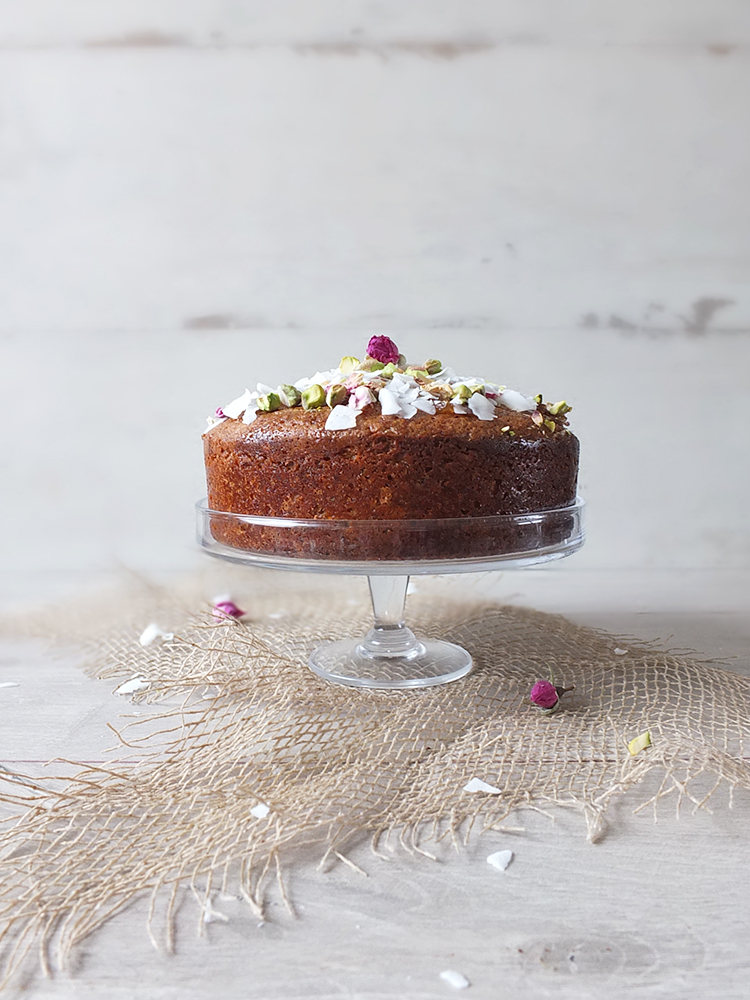 Please excuse the dark rainy day photos. Summer is officially over and we're starting our rapid descent into the long, dark winter days up here at 60 degrees north. Someone forgot to tell the sun that it was daytime yesterday, and dark heavy cloud loomed over us for the whole day, finishing in some rather spectacular heavy rain and thunderstorms in the evening.
The perfect opportunity to switch off and unplug the devices and curl up on the couch with a slice of cake, a cup of tea and a good book (Dragonfly in Amber, book 2 of the Outlander series, in case you wanted to know!).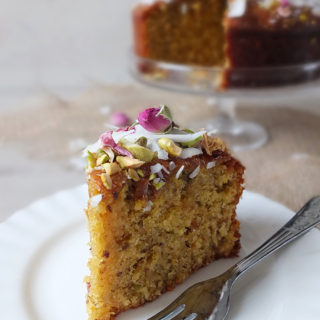 Pistachio & Coconut Cake with Rose Syrup
A Middle Eastern inspired cake made with freshly ground pistachios and coconut and soaked in a gorgeous rose syrup.
Print
Rate
Ingredients
for the pistachio & coconut cake
Affiliate Links
This recipe card may contain affiliate ingredient and equipment links. As an Amazon Associate I earn from qualifying purchases.
Instructions
Preheat oven to 170 C/ 160 C (fan)/ gas mark 3 and grease and line a 6 inch deep cake tin with a round of baking paper.

Over a low heat melt the butter and olive oil together and set aside to cool while you prepare the rest of the ingredients.

Blitz your pistachio nuts in a high speed blender until fine and add the coconut, flour, baking powder and salt. Blitz for another second or two.

In a medium sized bowl whisk the eggs with the granulated sugar until the mixture is light and fluffy and forms ribbons when you lift the whisk up. This will take a few minutes if you're using arm power.

Add the melted butter to the eggs along with the yogurt and stir until combined.

Fold in the nut mixture until well incorporated and spoon into the prepared tin.

Bake for 45-50 minutes until light golden. A wooden skewer inserted into the centre of the cake will come out clean when it is finished.

While the cake is still warm use the wooden skewer to poke holes evenly around the top.

Dissolve the rose syrup or jam in a bit of hot water, if needed, and spoon over the top of the cake. Press half of the chopped pistachios and coconut flakes into the top of the cake while the jam is still sticky, so some of it sticks to the top.

Leave the cake to cool in the tin for at least 15 minutes before transferring to a wire rack to cool completely.

Sprinkle the remaining topping and the rose petals over the cake and serve with a cup of afternoon tea.
Environmental Information
OTHER MIDDLE EASTERN INSPIRED CAKES YOU MIGHT LIKE
Marmalade Coconut Semolina Cake by Recipes from a Pantry
SHARING WITH A FEW BLOGGING LINKIES
Love Cake by Jibber Jabber UK (theme: jamming!)
Elizabeth's Kitchen Diary is a Froothie ambassador, which means if you click through the Froothie link above and subsequently make a purchase I will earn a commission. This is not a paid post and all thoughts and opinions expressed are our own. Thank you for supporting the brands who make it possible for me to do what I love: mess up my kitchen and share recipes stories!
[color-box]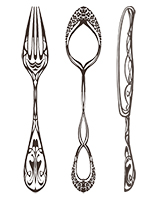 Have you made this recipe?
Take a photo and tag @tangoraindrop or use the hashtag #elizabethskitchendiary and share on Instagram and Twitter. It would make my day to see your creations!
[/color-box]