Deliciously autumnal, this cake is moist, aromatic and bursting with flavour.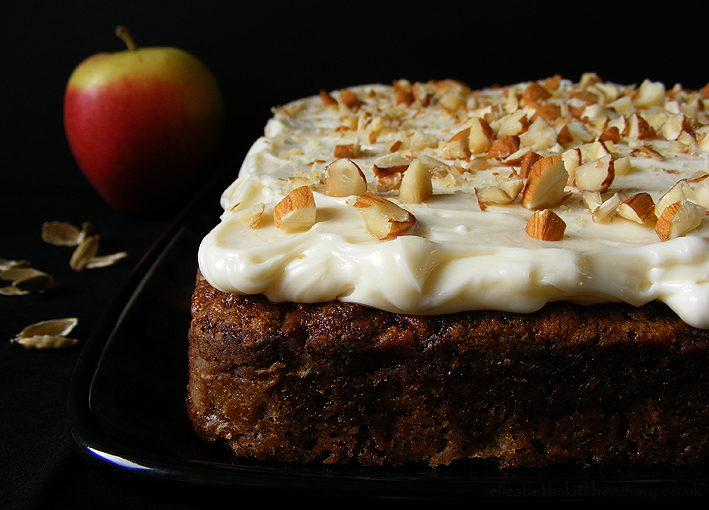 Autumn is definitely in the air. The nights are drawing in earlier and here in Shetland it's been dark, dreary and raining for days. On those nights where it hasn't been overcast and howling with a gale we've been treated to the Northern Lights. Autumn here in Shetland, although wild and beautiful in its own right, is decidedly different to the Autumn I grew up with in Canada.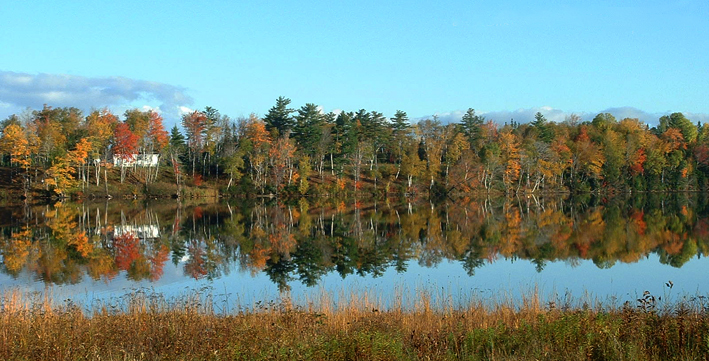 Where I grew up in Cape Breton, on the East Coast of Canada, the leaves on the trees turn from vibrant green to a wide range of glorious colours, attracting tourists from all over the world. The smell in the air changes and the wild apples which grow absolutely everywhere are ready for picking. Wild animals, especially the deer, enjoy the fallen fruit, while small children climb the trees looking for the biggest, reddest apples they can find. These photos of Cape Breton were taken on my last trip to my childhood home nearly a decade ago.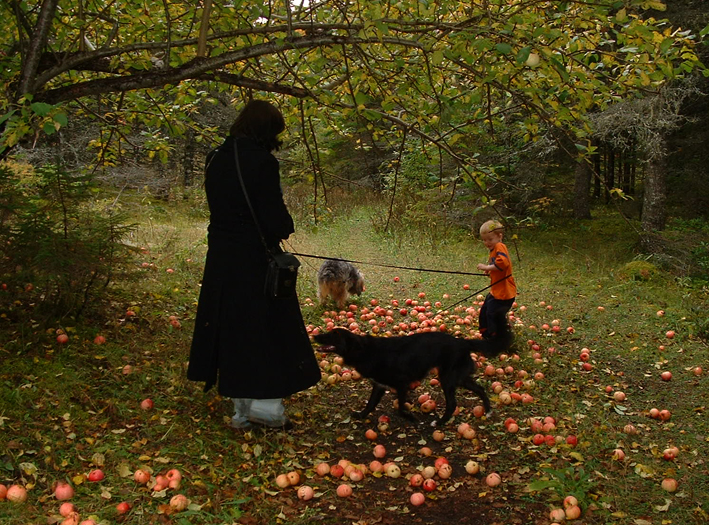 Alas, no apples grow here in Shetland, my little home on a rock in the middle of the North Sea, so we have to make due with the supermarket variety shipped in from Chile. Oh how I miss the flavour of a freshly picked apple! Supermarket apples may not be the most flavoursome apples for eating, but they do well in home baking, like this apple and cardamom cake. The delicious cake recipe which follows was scaled down and converted to UK measures from one found in the Canadian Living website. The original recipe doesn't have a frosting, that is my own adaptation.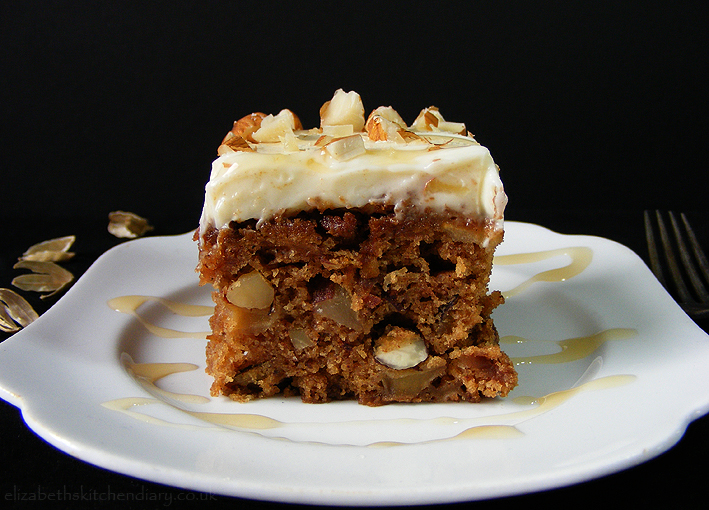 Regular readers will know I participate in quite a few food blogging challenges. One of my favourites, Alphabakes, is co-hosted by Caroline over at Caroline Makes and Ros at The More Than Occasional Baker. Alphabakes gives us a different letter each month and we're tasked to share a recipe with a title or ingredient starting with that particular letter. This month, hosted by Caroline, the challenge is a bit more tricky as the letter is 'Q'!
The first thing that sprung to mind was quince, but I'd never seen a quince here in Shetland so I thought, this month, I would not be able to participate.
However! During a recent trip to our wholefoods shop in town I was having a good old rummage through their reduced items basket when I pulled out a bottle of half price quince syrup! With glee I showed my family, explaining that this month's Alphabakes challenge was about the letter Q. The eldest, without missing a beat, said, "Well, isn't that a quince-idence!" Ha!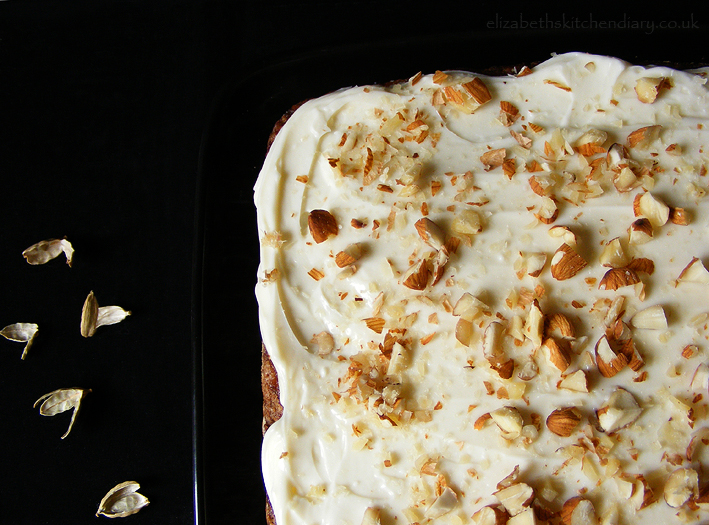 To be honest, I've never seen, let alone tried a quince, so I had no idea what flavour to expect. An Internet search informed me that a quince is sort of half way between a pear and an apple, and the idea of incorporating the syrup into a spiced apple cake of some sort was born.
Oh my! I am so glad I did!
What a gorgeous, deliciously moreish cake this is! It has an air of a Canadian Autumn to it, I think, and the quince frosting takes it to a whole new level. If you don't have quince syrup on hand I reckon maple syrup would do just as lovely a job. To make the cake extra delicious make sure you use freshly ground spices. Pre-ground spices lose much of their flavour over time, but freshly ground is something else indeed. Trust me, it's worth the extra effort.
I made this cake to share during an afternoon tea with a visiting friend. We ate our cake with hot mugs of cardamom coffee, a deliciously fragrant recipe I found in a new cookery book out this month: World Food Cafe by Chris and Carolyn Caldicott. You can read my very first book review and guest post about it over on Fuss Free Flavours.
Apple Cardamom Cake with Quince Frosting
Deliciously autumnal, this cake is moist, aromatic and bursting with flavour.
Ingredients
Apple Cardamom Cake
150 grams caster sugar
115 grams light brown muscovado sugar
113 grams unsalted butter, melted and cooled
2 small eggs
1 tsp vanilla extract
220 grams plain flour
1 1/4 tsp baking soda
1 1/4 tsp ground cinnamon
3/4 tsp ground nutmeg
3/4 tsp ground cardamom
1/4 tsp sea salt
100 grams raw almonds, coarsely chopped
365 grams apples, peeled, cored and diced finely
Quince Frosting
250 grams full fat cream cheese
100 grams icing sugar
1 tbsp quince syrup
20 grams raw almonds, coarsely chopped
To Serve
Instructions
For the Cake
1. Grease and line an 8″ square baking tin. Preheat oven to 180C/350 F.
2. Stir sugars together in a large bowl and add the butter, eggs and vanilla to make a thick batter.
3. Sift together the flour, baking soda, spices and salt.
4. Add the apples and almonds to the dry mixture and coat thoroughly before stirring into the wet mixture until just combined.
5. Spoon into the prepared tin and bake for 45-50 minutes, until a skewer inserted into the centre comes out clean.
6. Leave to cool in the tin before transferring to an airtight container until the next day.
For the Frosting
1. Blend the cream cheese, sieved icing sugar and quince syrup together until smooth.
2. Spread over the top of the cake and sprinkle over the chopped nuts.
To Serve
1. To serve, cut cake into 4 x 4 (16) squares and drizzle with quince syrup.
Details
Prep time: Cook time: Total time: Yield: 18 Servings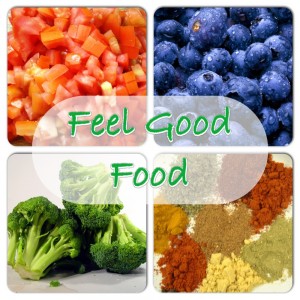 I am sharing this Autumnal recipe with a few other blogging challenges too, including Feel Good Food by Victoria Lee at A Kick at the Pantry Door, as this month's theme is apples. This challenge is a blog hop, so scroll down and see what other foodies are making with apples this month.
I'm also sharing this with the Four Season's Food challenge by Louisa at Chez Foti and Anneli at Delicieux. This month's theme is 'Sliding into Autumn' and I think this recipe fits perfectly.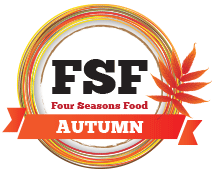 Four Seasons Food hosted by Delicieux and
Chezfoti