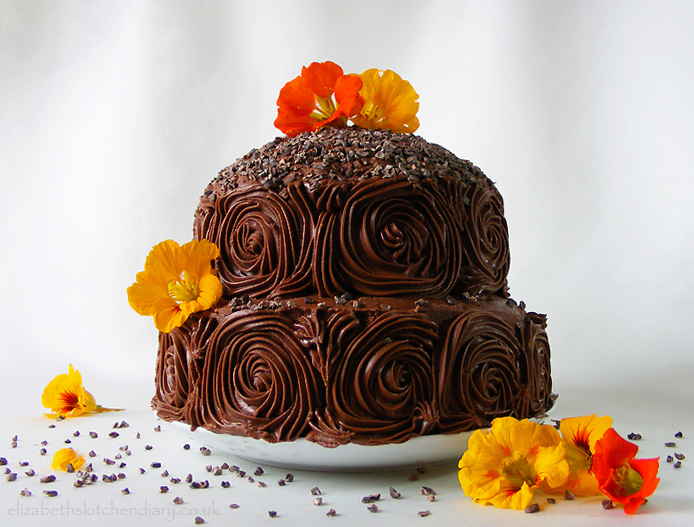 The fantastic chocolatey food blogging challenge, We Should Cocoa, hosted by Choclette over at Chocolate Log Blog and co-created by Chele from The Chocolate Teapot (who has sadly retired from blogging) is three years old this month! To celebrate this milestone, Choclette has tasked us to come up with and share our very own chocolate show stopper cakes.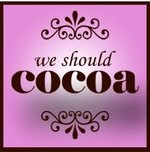 This weekend also sees my father's 57th birthday. My father lives several thousand miles away from me (or perhaps I live several thousand miles away from him seeing as how he still lives near to where I was born!) and so that makes it slightly difficult for me to make him a birthday cake that he can actually eat.
DD will be turning seven in a few months and I was wanting to come up with a show stopping cake design for her. After her little brother's very successful Angry Birds birthday cake back in March she's expecting something on a grand scale, but you know what, I don't think my hips and thighs will forgive me if I make a cake that large ever again!
I'd also picked up a small jar of cocoa nibs at a local home wares shop on offer. I'd never seen cocoa nibs before but I was keen to try them, having read about them on other food blogs. I was sceptical at first, expecting them to have the texture of a nut shell, but more about that later!
So, I combined all these events into this one cake. Made with organic courgettes from our veg box and organic fair trade cocoa sent to my eldest son by Food Thoughts Cocoa for his cupcake entry in their Facebook competition recently, this chocolate courgette cake recipe is my father's. It was published as Cocoa Zucchini Bread in an Our Favourite Recipes Cookbook as a local school fundraiser on the West Coast of Canada, but I've tweaked a few things (mostly by changing it to UK measures and coating it in butter cream!). His original recipe makes two large loaves, but I experimented with smaller cake tins (7″, 5″ and 3″) as a test run for DD's cake. Each tier is a double layered cake sandwiched together with butter cream, but the top 3″ layer was far too small and fiddly so I just let the children eat it, un-iced.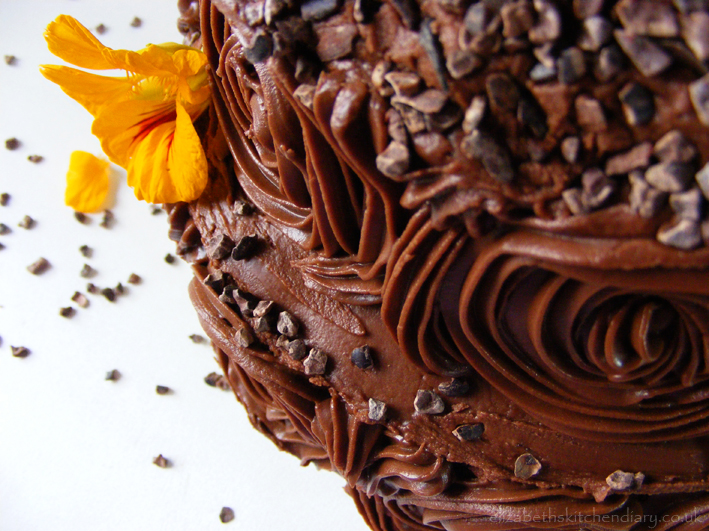 Cake assembly and decoration was simple but would have been made easier if my house wasn't so hot. It's that time of year where the outdoor temperature fluctuates considerably. By the time the indoor heaters have warmed the house up it's warmed up outside again so it ends up boiling indoors, like an old ladies' house. If you switch the heaters down it'll get cold outdoors and inside will be freezing come evening time.
So, my house was far too warm and my butter cream was melting at pace. The top layer of the cake kept sliding off the bottom so I ended up stabbing it together with a BBQ skewer to keep it in place and opening all the house windows to let some of the cooler air in. It worked! To decorate I opted for a simple rose swirl pattern on the cake sides with cocoa nibs sprinkled over the top accented with a few late season nasturtiums from my garden (I grew those flowers from seed, I did!).
Cocoa nibs – wow! I'm officially in love with them. They have the texture of a macadamia nut (the inside, not the shell!) and the flavour is superb! They imparted a wonderful crunch and flavour to the frosting. Apparently cocoa nibs have a high nutritional profile and that, combined with the fact this chocolate cake contains fruit, vegetables and nuts surely means it contributes to your five a day, no?
The cake was served as a centrepiece at a fortnightly craft group I attend (and was hosting that evening) much to the enjoyment of the members, and some leftovers were delivered to a friend who is on forced bed rest due to a recent ankle surgery. You can read all about it in her lovely blog post here.
Unfortunately I couldn't deliver any cake to my father, but hopefully he'll appreciate the photos and the fact I tweaked his recipe. He told me once that recipes are only guidelines anyway. 😉
Happy Birthday Dad!
Chocolate Courgette Cake
A moist, dark chocolate cake speckled with dried fruit, nuts and grated courgette.
Ingredients
475 grams grated courgette (unpeeled)
365 grams caster sugar
170 ml sunflower oil
4 eggs
500 grams plain flour
60 grams cocoa powder
2 tsp baking soda
1 tsp salt
1 tsp cinnamon
1/2 tsp baking powder
1 tsp vanilla
125 grams dried apricots, finely chopped
85 grams raw almonds, finely chopped
chocolate butter cream frosting, optional
cocoa nibs, optional
Instructions
1. Preheat oven to 180 C/350 F. Butter and flour two loaf pans or two 7″ and two 5″ cake tins.
2. In a large bowl, combine grated courgette, sugar, sunflower oil, vanilla and eggs.
3. In a medium bowl sift together flour, cocoa powder, baking soda, baking powder, salt and cinnamon.
4. Stir dried apricots and almonds into the flour mixture until coated and stir into the wet mixture with a wooden spoon until just combined.
5. Spoon into the prepared cake or loaf tins and bake for 30 minutes for the cake tins and 50 minutes for the loaf tins.
6. Leave for a day in an airtight container for the flavours to develop before frosting with chocolate butter cream, if desired.
Details
Prep time: Cook time: Total time: Yield: Serves 18