I have fond memories of home made jams and preserves from my Canadian childhood. Alas, preserving is not something I've become skilled at, yet, but this Autumn I am giving it a bash. This recipe is for a chutney I made because I had some very ripe cherry tomatoes in my fridge and quite a few courgettes had arrived in my organic veg box.
Someone on Twitter had suggested, when I was recently faced with a very large marrow in my veg box and didn't know what to do with it, that a chutney could be made from marrows. Why not courgettes too? I combined elements from this recipe and this recipe from the BBC Good Food website and used freshly ground spices for an increased depth of flavour to make this chutney which, I think, is rather good! Some of this chutney was served at our local fortnightly craft group with some local seaweed cheese, oatcakes and home made butter and they all thought it was splendid too, so there you go, a tried and tested recipe!
In addition to fantastic flavours, this a remarkably easy recipe to prepare. All you do is chop everything up, plonk it in a saucepan and leave to simmer for an hour. The hardest part is waiting three weeks to allow the flavours to develop before eating it.
Since this chutney was made with locally grown courgettes and garlic I thought I would include it as my own entry to my new food blogging challenge, Shop Local, which was designed to showcase all the wonderful produce available where you live. You wouldn't think that living on a remote island in the middle of the North Sea one would have a wealth of locally grown produce available, but Shetland has quite the food story to tell.
As chutney is an integral component of a ploughman's lunch, I thought I would expand this blog post a bit and include locally sourced ingredients for said lunch. I started with some Shetland black potatoes grown by the lovely Lynn from Hayfield Croft Produce, whose gorgeous roadside stall is pictured in the #ShopLocal logo.
Shetland Blacks are a small heritage potato with a purple skin, yellow flesh, floury texture and distinctive purple ring around the inside edge. Much to my delight they have just come into season now and are appearing in the local shops and roadside stalls.
While I was bottling my chutney there was just a tiny bit left over, so I popped it in the fridge to cool and taste test a little later on. I happened to be eating a packet of crisps at the time and thought, perhaps, the chutney would go well with the crisps. Oh my, it did! I decided, when it came time for the ploughman's lunch, I would attempt making crisps with the Shetland black potato. This was my first, not wholly unsuccessful, attempt at making crisps and I was delighted that they retained the distinctive purple ring on the inside. The secret to making crisps is to cut them very thin, a difficult feat when one does not own a mandolin slicer!
You can't have a ploughman's lunch without some cheese, and so I bought some Artisan Island Cheese made by Caroline Henderson from Lerwick for the job. This is a delicious crumbly soft cheese made with Shetland milk and flecked with locally grown Bod Ayre seaweed. 'Boorick', as this particular cheese is called, was featured recently on an episode of BBC Countryfile and I'm sure I wasn't the only person who went, "Oooh? Cheese with seaweed in it, yes please!" (My blog visits peaked as folk searched for this cheese online during the show!) I've been on the hunt for this cheese ever since and found some recently at Scoop Wholefoods in Lerwick.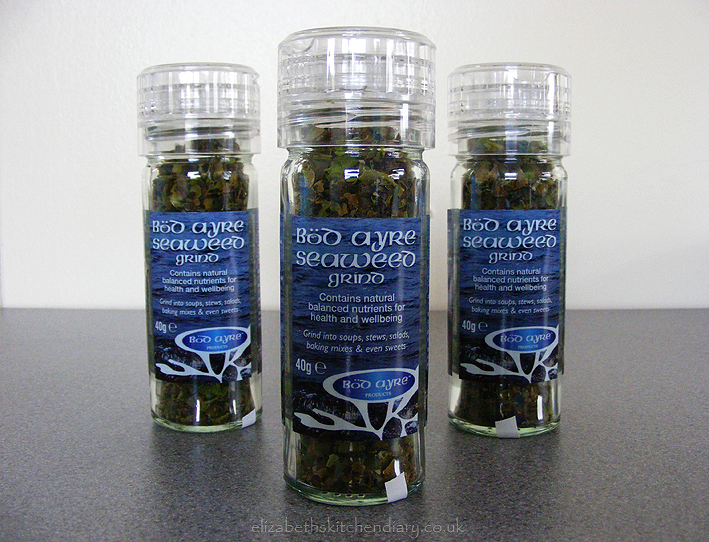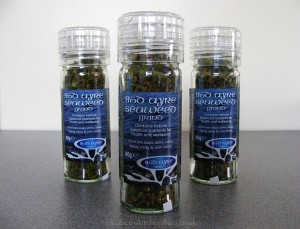 As an aside, I'd like to remind everyone that you have until the end of this month (September 2013) to enter my very first blog giveaway: win one of three Bod Ayre Shetland Seaweed Grinders!
I made some experimental seeded bread with Orkney beremeal to serve with this ploughman's lunch. Bere is a heritage six-row barley which has been grown in the Orkney Islands, a group of islands south of Shetland, for thousands of years. I do believe there is a place on the south Shetland mainland that grows it as well. Unfortunately I didn't think the bread was particularly nice. My partner did, but I won't be sharing the recipe just yet. Back to the drawing board for that one!
Fortunately I had some traditional Shetland bannocks purchased at my local country shop to eat instead. I am in love with these bannocks, made at at the Voe bakery just a few miles up the road from me. They go particularly well with ham from J.K. Andersons butchers, again, another business just a few miles down the road from me.
Salad (the best salad I have ever, ever eaten!) from my Turrifield veg box, organically grown on the west side of Shetland, and a bottle of mild and refreshing 60° North lager from the new Lerwick Brewing Company finished off the meal quite nicely.
If you'd like to read more about Shetland produce have a look at A Taste of Shetland: A Celebration of Shetland Food and Drink by Promote Shetland.