A perfect, creamy heritage potato accompaniment for roast Shetland lamb.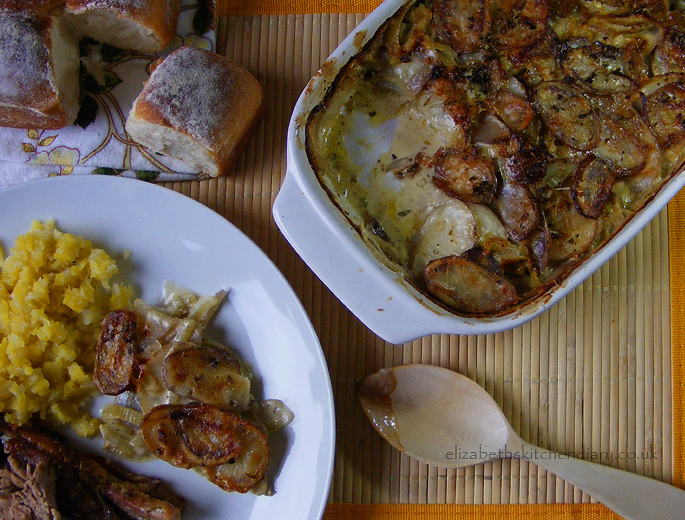 September in Shetland, my remote archipelago home in the North Sea, means the return of many things. The winter gales, for starters, blowing away any remnants of summer one might have forgotten in the garden. I envy my North American cousins and their seasonal garden decorations – if I put out any Halloween or Christmas garden ornaments they'd be blown to Norway in a heartbeat! Just imagine that poor Norskie, minding his own business walking down the street when a Christmas wreath lands on his head from Shetland! It also brings the seemingly relentless attack of the horizontal rain. I only say this because it's been raining for days and days now. It does stop, occasionally, and if we're lucky we might be treated to a most spectacular display of the 'mirrie dancers' (Northern Lights).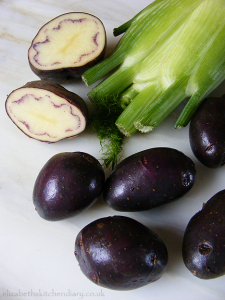 September also means Shetland Black potatoes are ready for harvesting and you can put in your lamb orders with local suppliers. Shetland Blacks, pictured right, are a gorgeous small purple skinned potato with a yellow flesh, floury texture and distinctive purple line around the inside edge.The stories say that this heritage potato was originally salvaged off a Spanish Armada shipwreck in 1588.
I really enjoy cooking with the Shetland Black potato. They're nice roasted, with the skins still on with a bit of sea salt and rosemary, or even thinly sliced and made into crisps. There's something intensely satisfying about their appearance, for me, and the fact they're a rare variety of potato makes them something special indeed. I've read that Waitrose sells them, so all you readers on the mainland might be able to find some there, but I've also heard that the ones at the supermarket are not nearly as nice as those actually grown in Shetland soil. I'm sure you could order some from Shetland, should you wish to try them yourselves.
September also means the return of warming winter comfort foods such as the potato gratin. This dish is a comforting, creamy, flavoursome dish perfect with slow roasted lamb, braised red cabbage, steamed vegetables with plenty of butter and some freshly made bread. Any variety of floury potato will do for this dish, if you can't get your hands on some Shetland Blacks.
As I do with many of my dishes, I've included Shetland seaweed in this recipe. This is optional, but if you want a chance at winning one of your own Shetland seaweed grinders do enter my very first blog giveaway before the end of September: Bod Ayre Shetland Seaweed Giveaway #1
Shetland Black Potato & Fennel Gratin
A perfect, creamy potato accompaniment for roast lamb.
Ingredients
250 grams Shetland black potatoes
250 grams fennel bulb
284 ml heavy cream
50 ml full fat milk
sea salt
freshly ground black pepper
Shetland seaweed, ground (optional)
1 tbsp parmesan cheese
Instructions
1. Preheat oven to 180 C and butter a small casserole dish
2. Finely slice the potatoes and place them in a medium sized saucepan
3. Quarter the fennel, removing the hard core, and finely slice. Reserve the feathery pieces for the top of the dish.
4. Add the fennel, cream, milk, salt, pepper and Shetland seaweed to the saucepan and bring to a simmer.
5. Simmer for five minutes and spoon the potatoes and cream mixture into the casserole dish
6. Sprinkle with the parmesan cheese, some more seaweed and the reserved fennel.
7. Bake for one hour until the potatoes are browned and softened and the sauce is thick.
Details
Prep time: Cook time: Total time: Yield: Serves 4