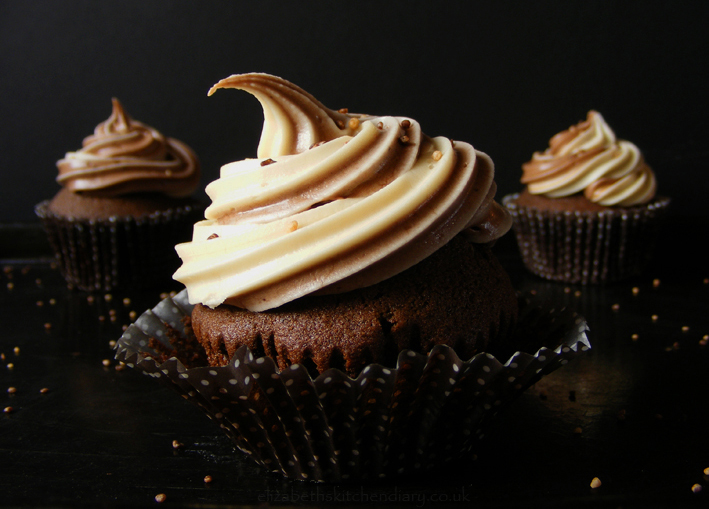 It's National Cupcake Week! Well, it's the last day of National Cupcake Week, but better late than never, right?  In honour of this week (well, no it was actually because I was craving chocolate cupcakes) and inspired by picking up a packet of cappuccino pearl sprinkles on sale in a local shop, I created this delicious, decadent coffee infused chocolate cupcake especially for the occasion.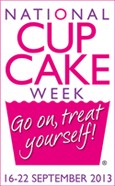 I may be tooting my own horn a bit here, but this cupcake recipe is absolutely fantastic! The coffee infused chocolate cupcake itself has a lovely crumb, rich chocolate flavour and a slightly reddish colouring due to the use of baking soda. During recipe development I investigated why some recipes call for baking soda and others for baking powder. Apparently, baking soda is used when there is an acidic ingredient, such as cocoa powder and a chemical reaction between the two gives the bake a lovely reddish tinge to the chocolate.
This was the first time I'd ever tried piping multicoloured frosting and I'm pretty pleased at how effective it looks. The buttercream recipe is one I've been using for two decades now, but with the addition of strong coffee instead of hot water.
Just try it – I'm sure you'll be impressed!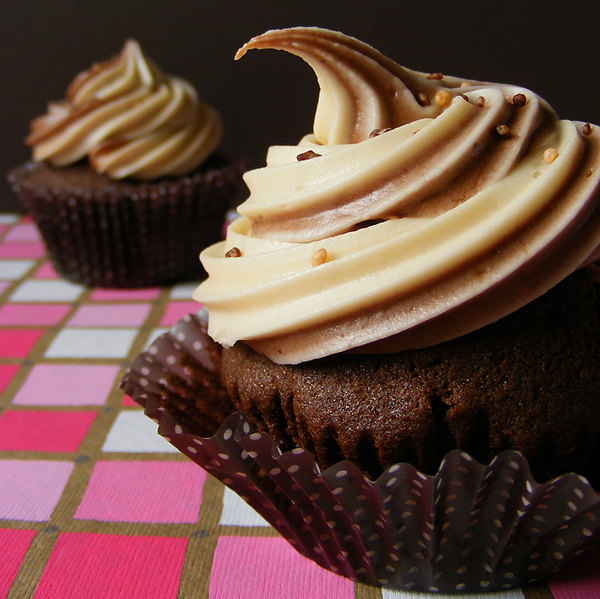 I'm sharing this recipe with two blogging challenges: first, Kat at The Baking Explorer and Stuart from Cakeyboi have teamed up and launched a new challenge: Treat Petite, which is all about sharing recipes for individual sized portioned treats, including cupcakes!
Secondly, this month's Calendar Cakes is all about Cupcakes in honour of National Cupcake week too. This challenge, co-hosted by Dolly from Dolly Bakes and Laura from Laura Loves Cakes is hosted over on Laura's blog this month. This challenge is a blog hop, so scroll down to see what lovely cupcakes other foodies have been making.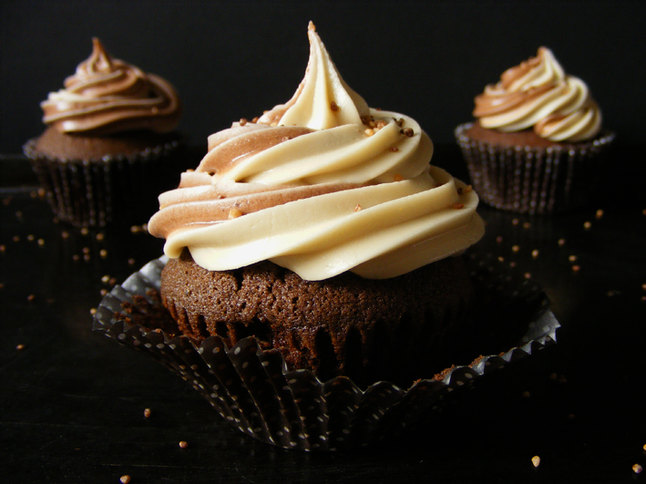 Chocolate Coffee Cupcakes with Coffee Buttercream Frosting
Delicious decadent, this coffee infused cupcake is sure to impress!
Ingredients
Chocolate Coffee Cupcakes
150 grams unsalted butter, softened
300 grams caster sugar
3 eggs, room temperature
125 ml full fat milk
125 ml strong, cold filter coffee or espresso
275 grams plain flour
1/8 tsp salt
1 1/2 tsp bicarbonate of soda
50 grams cocoa powder
Coffee Buttercream Frosting
150 grams unsalted butter, softened
9 tbsp, divided hot filter coffee or espresso
1 kg, divided icing sugar
10 grams cocoa powder
cappuccino pearls sprinkle, to decorate
Instructions
For the cupcakes
1. Preheat oven to 180 C. Line muffin tins with cupcake cases and set aside.
2. In a large bowl, cream butter and sugar together until light and fluffy.
3. Add eggs, one at a time, and mix well between additions.
4. Mix together the cold coffee and milk. Set aside.
5. Sift flour, salt, baking soda and cocoa together in a medium bowl.
6. Add dry and wet ingredients to the egg mixture alternately until combined.
7. Spoon batter, which will be fairly thin, into the cupcake cases until half full.
8. Bake for 15-20 minutes, until a skewer inserted in the centre comes out clean.9. Transfer to a wire rack to cool completely.
For the frosting
1. Using a food processor, blend butter and 940 grams of icing sugar until combined.
2. Slowly add 8 tbsp of hot coffee until the desired consistency is reached.
3. Transfer 300 grams of the frosting to a small bowl and add the cocoa powder, dissolved in the remaining 1 tbsp hot coffee. Stir in the remaining icing sugar until smooth and the desired consistency.
4. Spoon each frosting into your piping bag on opposite sides so they they will both come out at the same time, giving the multi-coloured effect.
5. Frost cupcakes and decorate with cappuccino pearl sprinkles, if desired.
Details
Prep time: Cook time: Total time: Yield: Makes 20