a quick midweek supper of spaghetti and grated courgettes in a cheesy white sauce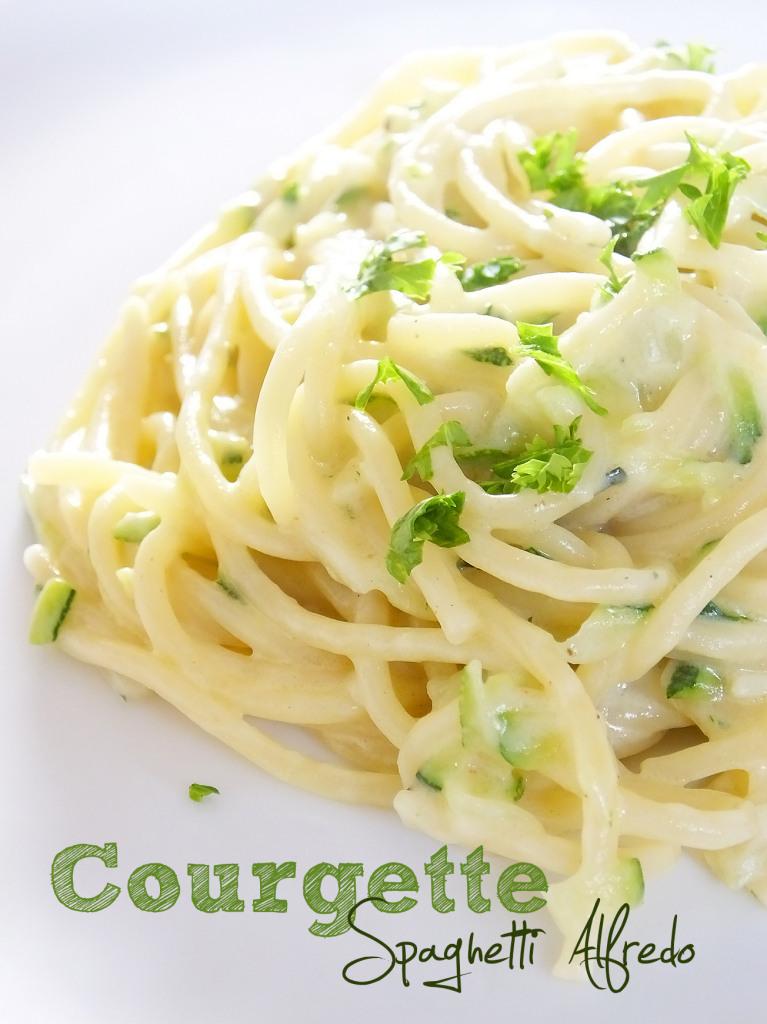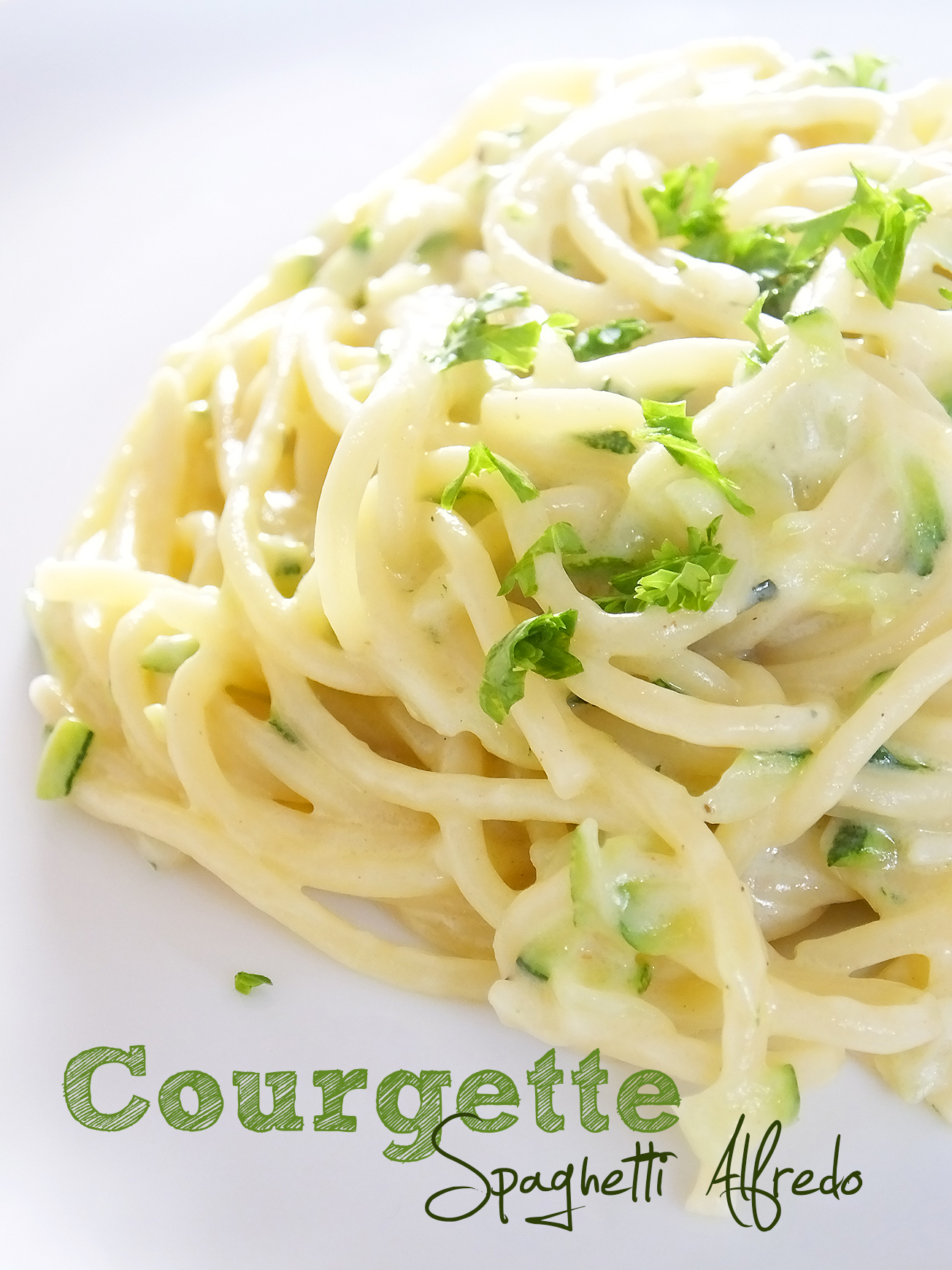 Have you been over run with courgettes too?
Three or four courgettes have been appearing in our weekly veg box for the last month or so. That's a whole lot of courgettes to get through, especially as they aren't something I normally buy. I love my veg box though – it's forcing me to get creative with seasonal ingredients. We don't buy any fresh vegetables from the supermarket while our veg box is delivered; the fresh, organic produce we get is enough to feed us all for the entire week. In fact, we're eating very little meat these days as there are so many lovely fresh vegetables to enjoy.
Recently I discovered the wonderful world of Stumble Upon. When the kids are in bed and I get a few minutes to myself in the evening I scroll through the food section, checking out new blogs I'd never otherwise have discovered. I'm learning loads through this medium, and one of the fab recipes I found was for a basic white sauce for pasta from Moms Who Wear High Heels and Swear (what a fab website name!).
While I was staring at the mountain of courgettes in the vegetable chiller in my refrigerator one afternoon trying to decide what to do with them I remembered I'd added that recipe to my Stumble Upon list. A little rejigging (and UK-ifying) of the recipe and this is what I came up with: courgette spaghetti alfredo or, as my lovely children decided to name it: spaghetti a la yucky stuff.
Personally, I think this is a rather fantastic way to use up courgettes. You don't even feel like you're eating a mountain of green veg – grate those babies up and hide them in the sauce! My children, on the other hand, would prefer not to. Meh – their loss; more for me!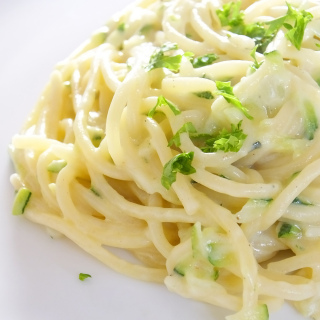 Courgette Spaghetti Alfredo
A quick midweek supper of spaghetti and grated courgettes in a cheesy white sauce.
Print
Rate
Affiliate Links
This recipe card may contain affiliate ingredient and equipment links. As an Amazon Associate I earn from qualifying purchases.
Instructions
Heat butter in a small saucepan over a medium high heat until melted and starting to bubble.

Crumble the stock cube into the butter and stir. Mix in the flour and cook for 1 minute, stirring constantly.

Remove pan from the heat and whisk in the water and milk. Return pan to the heat and stir until thickened - about two minutes.

Remove from the heat, stir in the cheese until melted and pop the lid on to keep warm.

Heat the sunflower oil in a saute pan.

Gently fry the onion until it softens, about five minutes. Add the garlic and the grated courgette, season well and saute for about ten minutes, until the moisture in the courgette has evaporated and the vegetables have softened.

Meanwhile, cook the spaghetti in boiling, salted water according to the packet instructions - about ten minutes.

When the spaghetti is cooked, drain and stir the sauce and vegetables through. Serve immediately with parsley to garnish.
Notes
For a meaty version use a chicken stock cube, Parmesan or Grana Padano cheese and stir in a few slices of chopped salami, pepperoni, ham or bacon. This is the version my husband prefers!
Environmental Information

Linking up with Pasta Please – a monthly pasta challenge from Jacqueline over at Tinned Tomatoes, hosted this month by Shaheen at Allotment 2 Kitchen. This month Shaheen's Eat Your Greens challenge has been combined with Pasta Please so we're asked to share our pasta recipes that include one green vegetable. I'm also linking up to Speedy Suppers by Sarah at Maison Cupcake and Katie over at Feeding Boys.
OTHER COURGETTE RECIPES
Courgette Carbonara by The Big Spud
Simple Ratatouille by Fab Food 4 All
Smoked Salmon, Courgette & Dill Pasta by Blue Kitchen Bakes
Sausage Ragu Stuffed Courgettes by Kavey Eats
Pizza Primavera by Franglais Kitchen
Grilled Veggie Lasagne with Wild Garlic Pesto by Elizabeth's Kitchen Diary
If you want to be kept up to date on my recipes, occasional craft tutorials, adventure stories and giveaways then please subscribe to my weekly newsletter; it gets sent out every Monday morning if there is new content. Your email address won't be passed on to anyone, you will never be spammed and you are free to unsubscribe at any time, no questions asked. Make sure you confirm your subscription or you won't receive the newsletter – if it hasn't arrived check your junk mail folder.
[wysija_form id="1″]