a nostalgic take on the classic mince & tatties recipe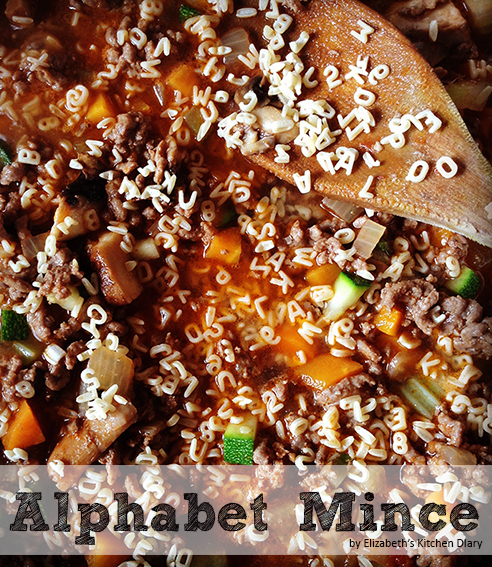 When I was a child my mother used to serve us children mince and tatties for dinner and it was the best thing ever! The recipe included regular beef mince (or hamburger as it was called when I grew up in Canada) fried up with an onion and a tin of Campbells Condensed Alphabet Soup poured over the top. Those little pasta letters floating around in the mince were so much fun to fish out and spell words with.
Pure and utter heaven!
Served with a great tower of buttery mashed potatoes and a giant spoonful (or two or three!) of my mother's home made Cape Breton Chow Chow this was just about as good as it got when it came to dinner time.
I'm a mother now myself, and mince and tatties is still a regular fall-back on family meal. Sometimes I cheat and I make it with whatever veg I have in the fridge that is needing used up, water and a spoonful of Bisto gravy granules to flavour and thicken. Total comfort food.
Sometimes I jazz it up a bit and throw in a handful of alphabetti pasta, reminiscent of those childhood meals I once enjoyed. This recipe tastes very similar to what I remember, but keep in mind it's been over 20 years since I've had a tin of Campbell's Condensed Soup!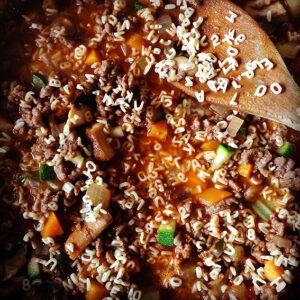 Affiliate Links
This recipe card may contain affiliate ingredient and equipment links. As an Amazon Associate I earn from qualifying purchases.
Instructions
Heat the oil in a saute pan over medium high heat.

Fry the onion until it softens, about five minutes. Add the celery, carrot, courgette and mushrooms (if using) and fry for a few more minutes.

Add the beef mince and season well with salt and pepper. Fry until well browned.

Add the Worcestershire sauce and tomato puree and stir until well combined.

Pour in the stock, stir well and then sprinkle over the alphabetti pasta. Turn the heat down to medium low and leave to cook for 10-15 minutes, stirring occasionally, until the pasta is cooked.

Serve with a tower of hot buttery mashed potatoes and steamed greens.
Notes
My creamy mashed potatoes: Peel and wash around 1 kg floury potatoes such as Maris Piper or the Shetland-grown premier (my absolute favourite!). Chop into 1 inch cubes, pop in a large pan, cover with cold water and bring to the boil. Gently simmer until tender. A fork, when inserted into a potato, will not be able to pick it up when the potatoes are cooked. Drain cooked potatoes in a colander, return potatoes to the pan and place on the hot hob for around 60 seconds to evaporate the extra moisture. Add 50 grams butter and a good splash of full fat milk and mash until light and creamy. Use a hand mixer to make it extra creamy, if you want.
For my authentic childhood taste serve with a generous spoonful of Cape Breton Chow Chow on the side.
Leftover alphabet mince freezes well.
Environmental Information
If you want to be kept up to date on my recipes, occasional craft tutorials, adventure stories and giveaways then please subscribe to my weekly newsletter; it gets sent out every Monday morning if there is new content. Your email address won't be passed on to anyone, you will never be spammed and you are free to unsubscribe at any time, no questions asked. Make sure you confirm your subscription or you won't receive the newsletter – if it hasn't arrived check your junk mail folder.
[wysija_form id="1″]