ideal for sipping from a tin cup on the rocky sea shore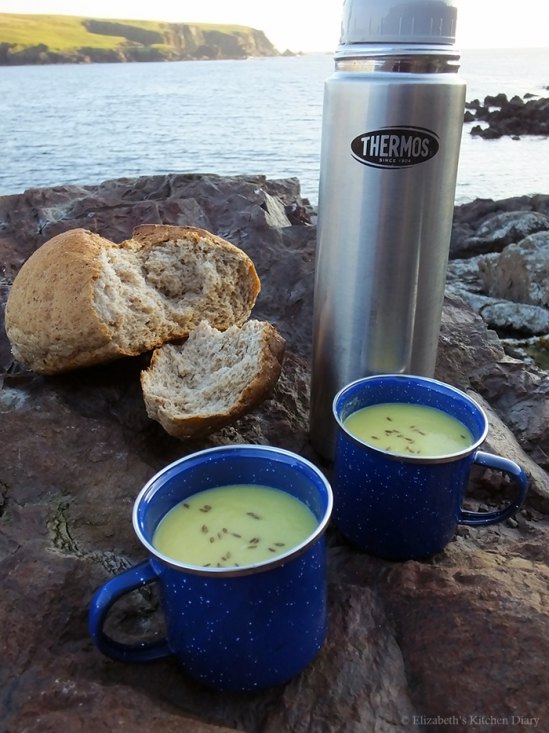 Hot soup sipped from a tin cup while sitting on the rocky shore watching the waves dance.
What can be better than that?
There are nine years between my eldest child and my youngest. This means it can be difficult to find something we can all do as a family – something that will interest both the sulky teenager and the two younger ones. There's 2.5 years between the youngest two and so they play together really well, enjoying the same activities. The sulky teenager often prefers just to sit in his room in silence and play video games.
Lately though, we've been spending more quality time together. He's coming home from school twice a week with food he's made in his Home Economics class – and quite scrummy food too. If the weather conditions are right we'll drop DD off at a club she attends once a week and we'll head to the shore for an outdoor dinner and beach exploration.


One particularly warm evening we spent an hour and a half searching for the secret entrance to an old smuggler's cave, with no luck. We gave up and ate our dinner of tinned beans & weiners and ribs made in Home Economics class heated up on our portable camping stove. According to a local who saw this photograph (above left) we were actually sitting on top of the cave – we'll have to return there to find the entrance some day. That will be another adventure story!
Another time we reheated apple crumble, enough to feed the two of us, as we hid from the brisk sea breeze behind a large rock. "Our rock." my son calls it.
Seals watched us with curiosity as we ate. There was a lot of sea foam that day, we noticed. The seals seemed quite content to bob up and down in it and observe us peculiar humans on the sea shore.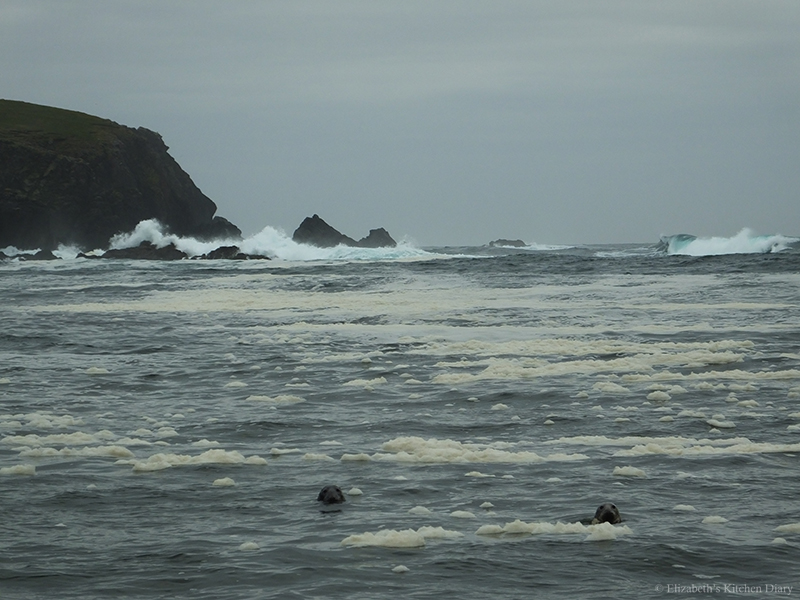 The wind had died down by the time we returned for our next visit.
My old computer has finally packed it in (a blessing in disguise as I'd been suffering from such laptop rage since the day I'd bought it – why, oh why would a computer company make a laptop without enough processing power to run its own operating system? Needless to say I will never buy that brand again.) My new one works an absolute charm – it's so lovely having a laptop that responds immediately!
I'd returned from the laptop-buying trip into town late, leaving only 15 minutes to prepare something for dinner before DD needed to be driven to her club and the eldest and I were to have our beach dinner. The younger two ate a quick dinner of tuna wraps while I whizzed up carrot and cumin soup in my Optimum 9400 blender using some gorgeous yellow and white carrots from my organic veg box (orange ones will work too). Ten minutes, start to finish from raw ingredients to hot soup and the jug being cleaned. I poured the soup into a hot flask, quickly grabbed the rucksack and headed out the door with the kids.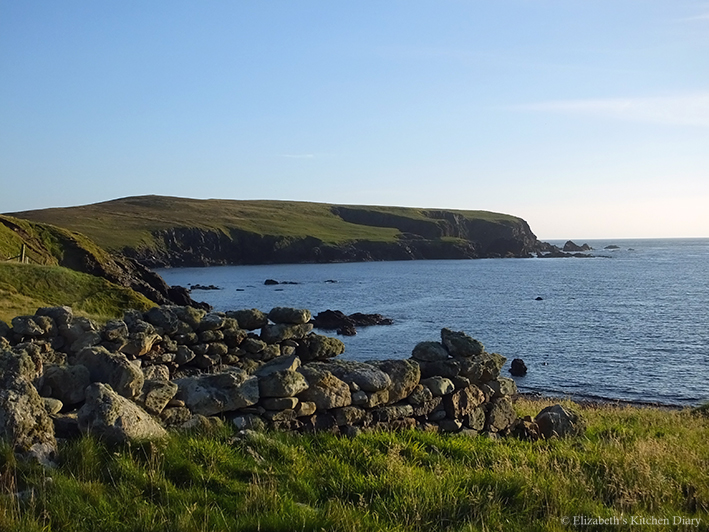 The weather was glorious for this particular visit. The beach is a rocky one with a small patch of sand. The tirricks (Arctic terns), normally patrol this area and prevent us from leaving the sandy bit, are conspicuously absent – having begun to make their voyage back to the Antarctic for the summer there. The rock beach shifts shape dramatically as the tide here ebbs and flows. The last time we were here we could safely cross a pebble bridge to the rocky area and this time we had to cross a small burn using boulders as stepping stones.
We often find birch bark tubes on the sea shore here in Shetland (there's a local name for them which I can't recall). These little curled tubes have floated all the way from the Americas on the Gulf Stream. I remember making little birch bark boats when I was a child growing up on the other side of the pond. Tall, white and elegant the leaves on these trees turned a gorgeous shade of yellow in the Autumn, but they were never any good for climbing.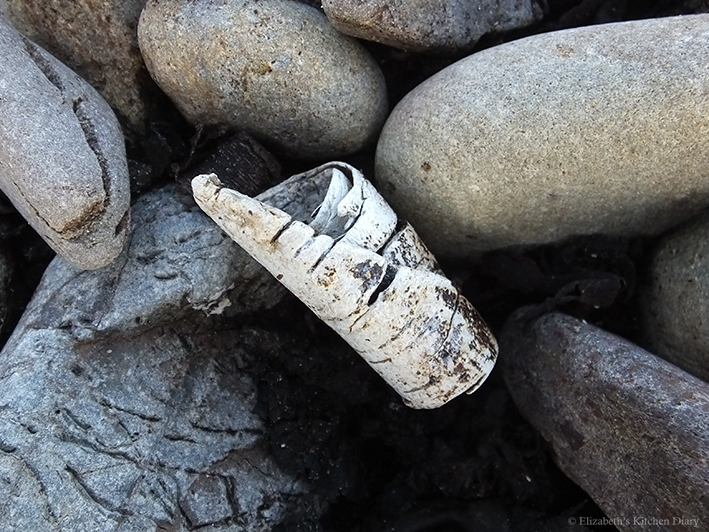 On the shore a tiny sea pink still flowers, reaching upwards to soak in the last of the summer sun.
Sitting on the rocky shore with my eldest son on 'our rock', a tin mug filled with hot soup warming the fingers, was absolute bliss. I had been skeptical about using raw onion in the recipe as five minutes in a blender didn't seem like it would be long enough to get rid of the raw onion taste. Admittedly this soup does taste better cooked on the hob with the onions slowly sauteed in oil, releasing their lovely cooked onion flavour, but in a hurry the blender method works a treat. I've included both recipes so you can try them out for yourself.
You need a high powered blender to make hot soup with, something with enough rpm to cause friction heat. A regular blender just won't do.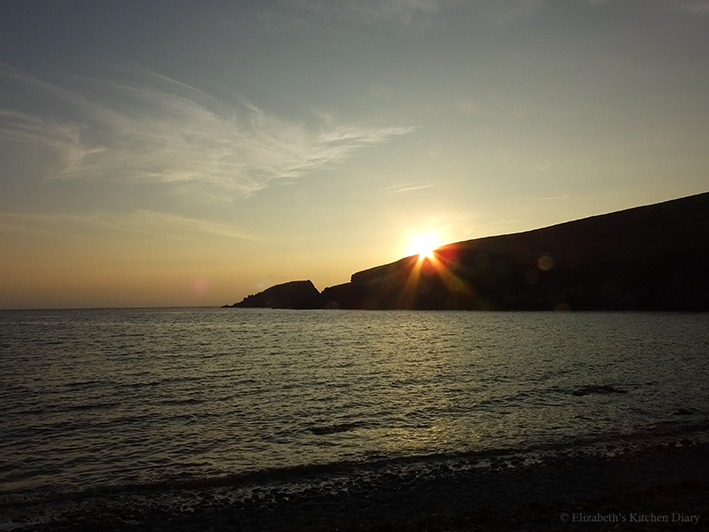 This sort of mother-son time is a great opportunity to chat, to discuss pressing matters on my son's mind such as: "Mum, I wonder how much money soldiers spend on psychics?"
What?!
Teenage boys think some really random thoughts.
Nonetheless, the soup is good. I hope you try it.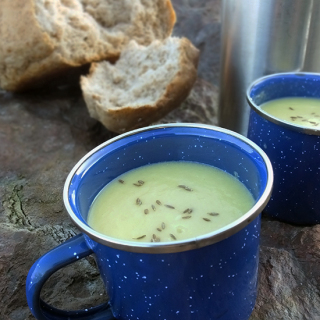 Carrot & Cumin Soup
A delicately spiced vegan soup ideal for sipping warm from a tin cup on the rocky shore.
Print
Rate
Ingredients
Optimum 9400 Method (serves two - fills a flask)
Affiliate Links
This recipe card may contain affiliate ingredient and equipment links. As an Amazon Associate I earn from qualifying purchases.
Instructions
Hob Method
Heat sunflower oil in a large pan and gently saute the onion until it softens, around five minutes.

Meanwhile, toast the cumin and coriander seeds in a small, dry pan, and grind them in a mortar and pestle.

Add the garlic, carrots, cumin, coriander, quinoa and vegetable stock. Bring to a gentle simmer.

Cook for 15-20 minutes, until the vegetables have softened.

Using a hand blender, puree the soup until it reaches the desired consistency.

Return to the heat and stir in the coconut cream. Season well and serve.
Optimum 9400 Method
Place all the ingredients in the blender and blend on speed 10 for 4-6 minutes.

Meanwhile, boil a kettle. Pour the hot water into a thermos flask to heat it up. When the soup is ready, pour the hot water out and the soup in.

Fill the jug a quarter full with hot tap water. Add a squirt of washing up liquid and blend on high for 60 seconds. Pour the soapy water out, rinse with clean water and dry.
Environmental Information
Linking up with No Croutons Required, a vegetarian soup and salad linky co-hosted by Jacqueline from Tinned Tomatoes and Lisa over at Lisa's Kitchen.
OTHER BLENDER SOUPS YOU MIGHT LIKE
Garlic and Mushroom Soup by The Crafty Larder
Quick Courgette & Blue Cheese Soup by Kavey Eats
Rich Tomato Soup by Tinned Tomatoes
If you want to be kept up to date on my recipes, occasional craft tutorials, adventure stories and giveaways then please subscribe to my weekly newsletter; it gets sent out every Monday morning if there is new content. Your email address won't be passed on to anyone, you will never be spammed and you are free to unsubscribe at any time, no questions asked. Make sure you confirm your subscription or you won't receive the newsletter – if it hasn't arrived check your junk mail folder.
[wysija_form id="1″]
Elizabeth's Kitchen Diary is a Optimum 9400 Ambassador. This post contains an affiliate link which, if you click on it and subsequently buy a Froothie high powered blender, I will get a commission. This is not a paid post and all opinions expressed are our own.