An epic bikepacking adventure through Scotland to the summit of Ben Nevis: Part 1.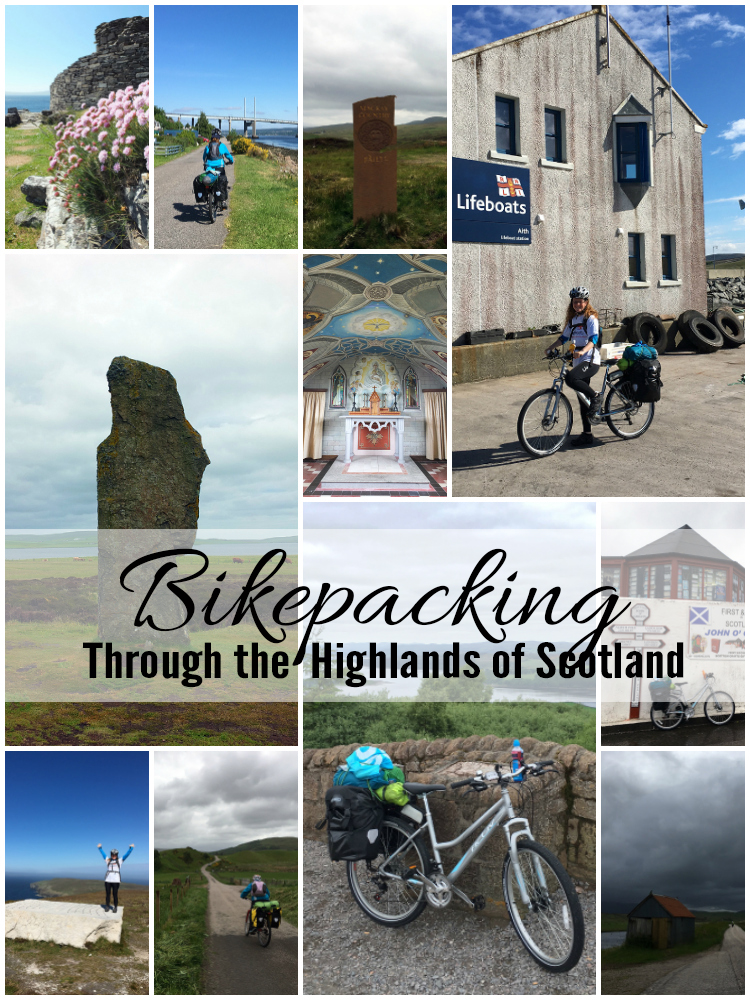 In June of this year I embarked on the most grand adventure I have ever been on (so far). The reason? I'm turning 40 soon and I wanted to make my 40th year something memorable; something I could look back on from my 80's and go 'those were the days'. I have compiled a list of 40 Things I'd Like to do Before I Turn 40, and one by one I've been crossing them off.
One of the items on the list was to own a bike again. It'd been 25 years or so since I last owned a bike, and last Autumn I rediscovered my childhood love of cycling. Another item was to climb a mountain again. I was 19 the last time I climbed a mountain (one of the Rockies), or more correctly, climbed up a mountain as I took the gondola down. I should maybe update my list to say 'climb down a mountain' as I'd never done that before!
One thing led to another and the next thing you know I had formed grand plans to bikepack (essentially camping and cycling) from my remote North Sea island home south through the Orkney Islands, south again through the highlands of Scotland, across the Great Glen Way and then to reach the summit of Ben Nevis. And I was going to raise money for the RNLI too, the charity that saves lives at sea.
Training for this epic adventure involved a winter of daily P90X3 half hour extreme workouts, Saturday morning tank built conditioning camp sessions and just over 600 miles cycled over 8 weeks on the rather hilly Shetland Islands roads.
Recounting my adventure plans to a friend during the winter she took the plunge, overcame her shyness at being so uncharacteristically forward and asked if she could come along too. An opportunity to participate in adventure like this doesn't come along every day, and together we encouraged each other to train to our full potential so that we were ready for it, physically and mentally. I am incredibly grateful that she was with me throughout this journey and I wouldn't have had it any other way.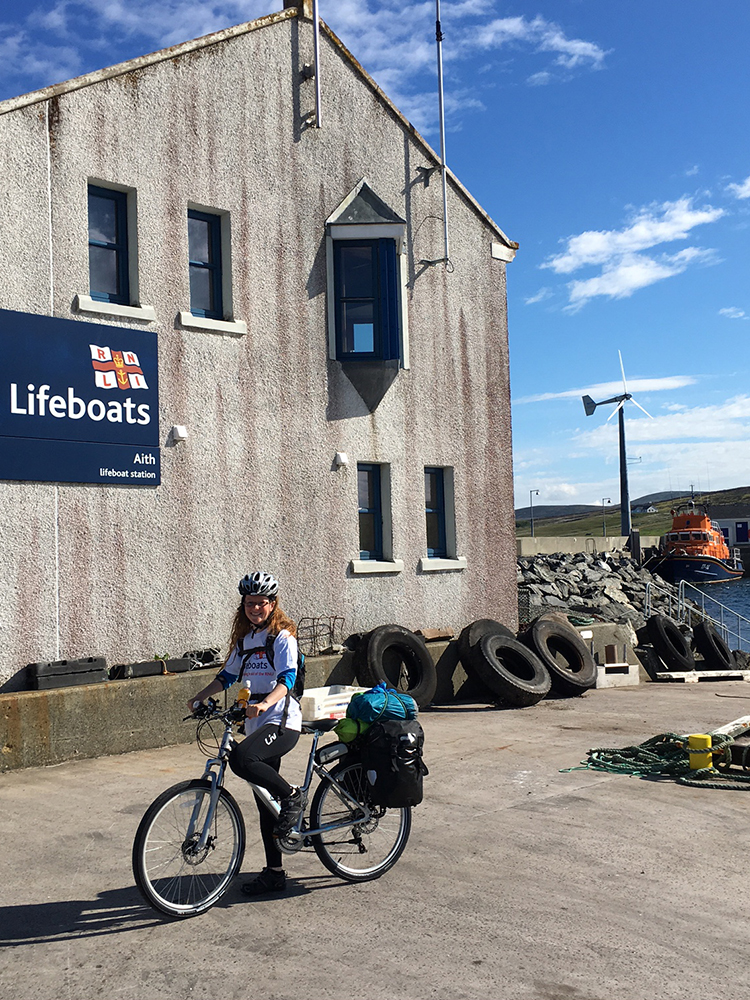 BEN NEVIS TRIP DAY 1
Aith to Lerwick, Shetland Islands
On Monday 13th of June I set off on my bike from Britain's most northerly RNLI lifeboat station. My husband saw me off at the station after we dropped our children off at school. Despite my excitement about the impending adventure there was an air of sadness about leaving my family for a fortnight. It was something I needed to do though, and my family were 100% supportive.
The weather was delightfully summery with blue skies and a gentle warm wind. The best weather we'd had in Shetland so far this year.
I met my cycling friend en route. The two of us were slightly worried about how we'd tackle some of the steeper hills given that neither of us had ever cycled with heavy panniers like this before. Mine weighed approximately 15 kg, and that included my tent, sleeping bag & mat, cooking gear and clothes. The only on-road hill that defeated us this whole trip was that really steep one just past the Herrislea House Hotel in Gott.
We made it to town just after twelve noon, lunched at a cafe, bought a hip flask (perfectly medicinal!) and filled it with some Shetland Reel Whisky (Batch #1) in Beervana. I had plans of perhaps stopping off at various whisky distilleries for refills during our cycle trip and it only seemed right that our trip started with Britain's most northerly distilled blend.
Lerwick, Shetland Islands to Kirkwall, Orkney Islands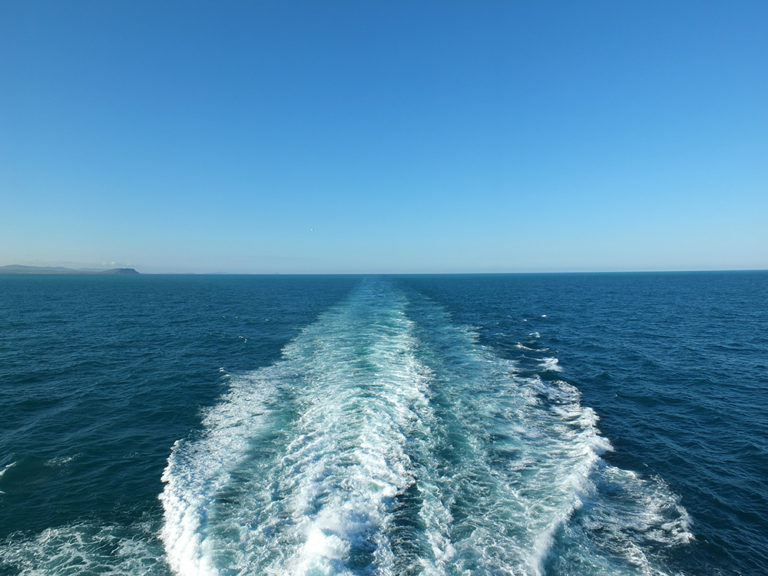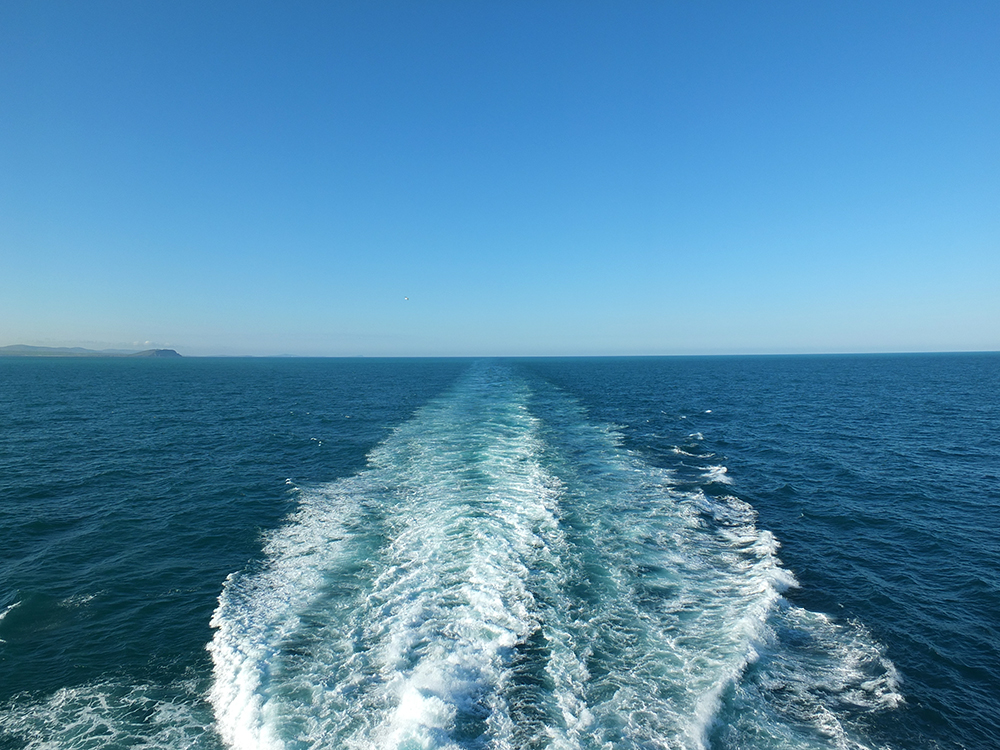 The five hour ferry crossing south to our nearest island neighbours, Orkney, was calm and uneventful, mostly spent dozing in armchairs. We had to walk our bikes onto the vehicle area in the bottom of the ferry before all the cars were loaded on, and they were fastened securely with ropes.
There were a few other cyclists on board including an elderly pair of gentleman from Germany who were on their own rather grand cycling adventure throughout Scotland and Europe.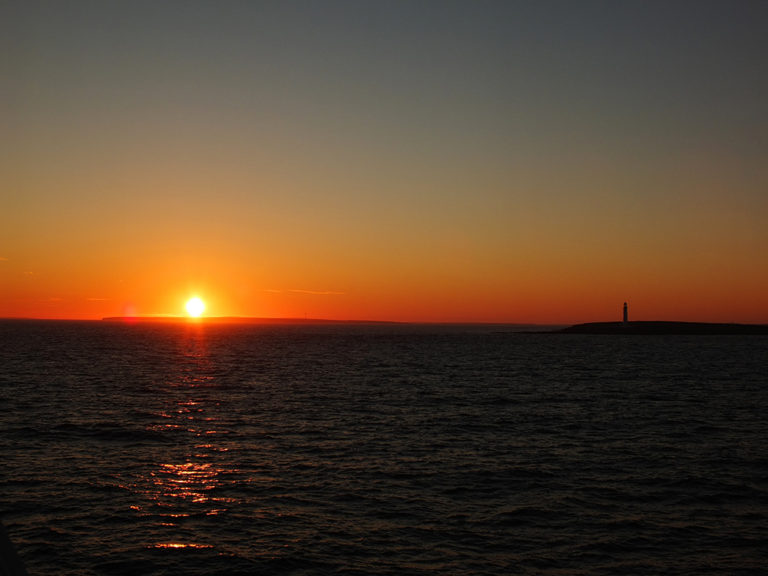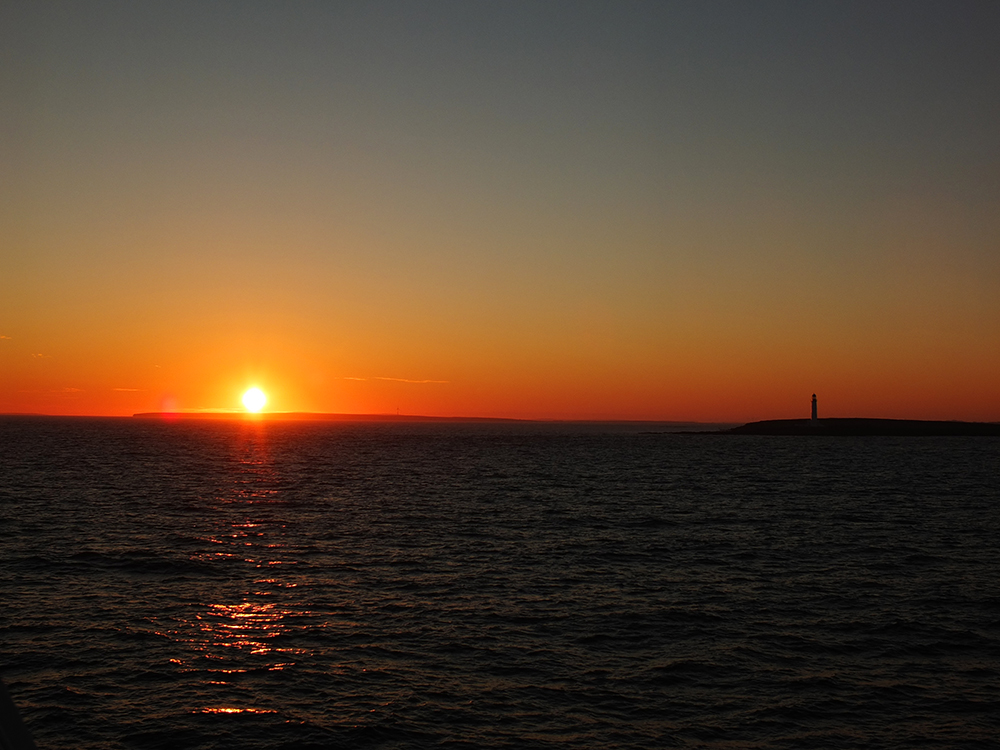 The sun was setting as we arrived in Kirkwall, Orkney at 11 pm. In June it doesn't really get dark this far north and the sun rises only a few hours after it sets.
We quickly made our way to the only campsite we'd booked in advance, the Orkney Camping & Caravan Park at the Pickaquoy Centre, and set up our tents. We were in our sleeping bags and fast asleep at quarter to one in the morning.
Miles Cycled: 21
Miles Travelled by Sea: 121.3
BEN NEVIS TRIP DAY 2
Kirkwall to Birsay, via Rousay, Orkney Islands
I slept well and woke refreshed to the sound of a bird landing on the top of my tent. It was another glorious sunny day and we set off cycling Orkney's wonderfully flat roads with a gentle breeze at our backs. Cattle grazed in the fields on either side of us.
Our first destination was the island of Rousay, a small island a quick ferry ride away with a 13 mile stretch of road circling the coast. Highlights of this (incredibly hilly!) island included exploring a neolithic burial chamber from 3500 BC and a broch dated to 1 AD.
The archaeology on this island was something stunning. I guess that's why they call it the Egypt of the North.
On the ferry back to the Orkney mainland we met a lovely artist from Australia, Spike Deane. We chatted all things travel on the ferry and then parted ways.
By this time the clouds had come in and the wind had picked up. The place we'd intended on camping at had been closed for some time, we discovered when we got there, so we continued another 8 miles to the Birsay Outdoor Centre. We were tired and hungry and there were a lot of cows. I thought, at one point, I'd caused a stampede cycling past as an entire herd ran towards me. That was a little bit scary.
Miles Cycled: 42.2 (63.2 in total)
Stampedes caused: possibly 1
BEN NEVIS TRIP DAY 3
Birsay to Kirk Holm, Orkney Islands
We woke to the sound of rain and wind outside our tents. I really didn't want to get up and cycle in that and so I went back to sleep. By the time I actually got up it had stopped raining and the weather had cleared although it was still cold and overcast. Thank goodness for thermal cycling trousers!
We packed up fairly quickly and headed south to the Ring of Brodgar, a stone circle I've wanted to visit since I first heard about it in Lorenna McKennitt's song 'Standing Stones'. A magical place.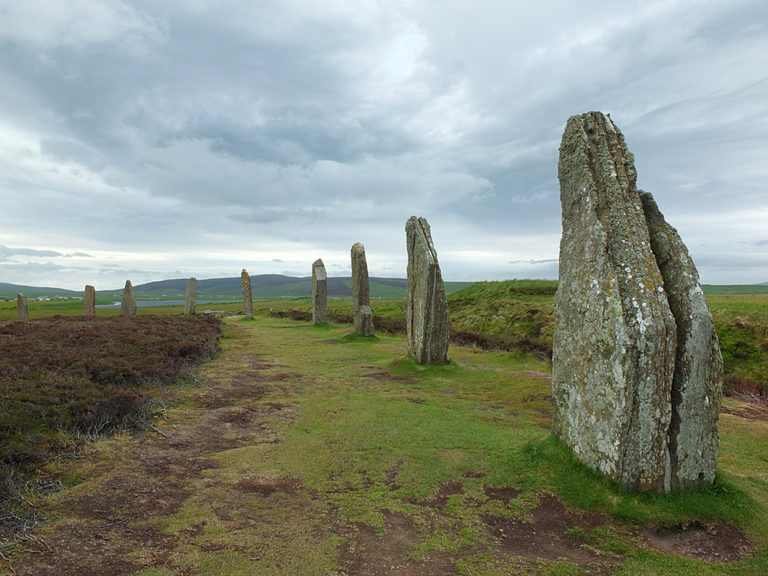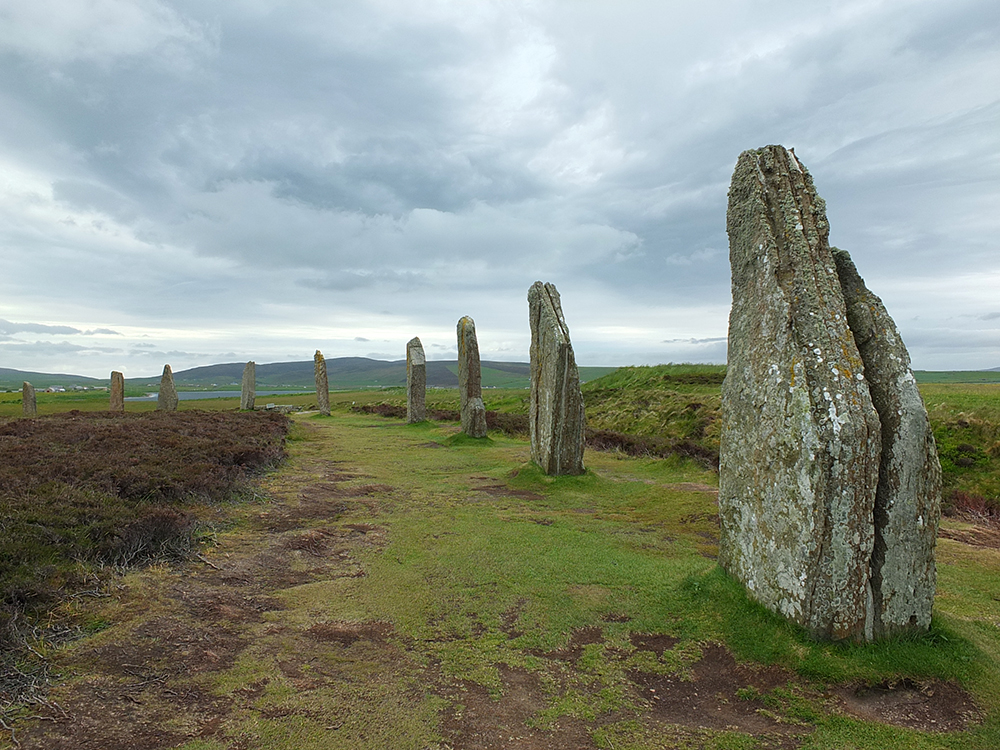 From here we continued south and then east along a rather dull stretch of road from Orphir back to Kirkwall before continuing south again across the Churchill Barriers to the Italian Chapel and a taste testing visit to the Orkney Wine Company. You can read more about these places in my blog post 5 Things to See in Orkney in a Day.
Kirk Holm to South Ronaldsay
Carrying on south through the islands of Burray and South Ronaldsay we planned on camping for the night at the rather eccentric Wheems Organic Farm. We knew they had yurts available for hire so I thought I'd chance my luck and see how much they cost. When we arrived they were doing an emergency patch repair on their best yurt – it turns out that the previous occupants had been rained on the night before, and most displeased, they vacated the property and the campsite lost out on another night's rates. They offered us the yurt for half price (£25 for the pair of us) as they weren't sure the patch job would do the trick and they wanted someone to test it out. Happy to not have to set up the tent we obliged and slept very well (and dry!) with the little woodstove keeping us warm all night. Bliss!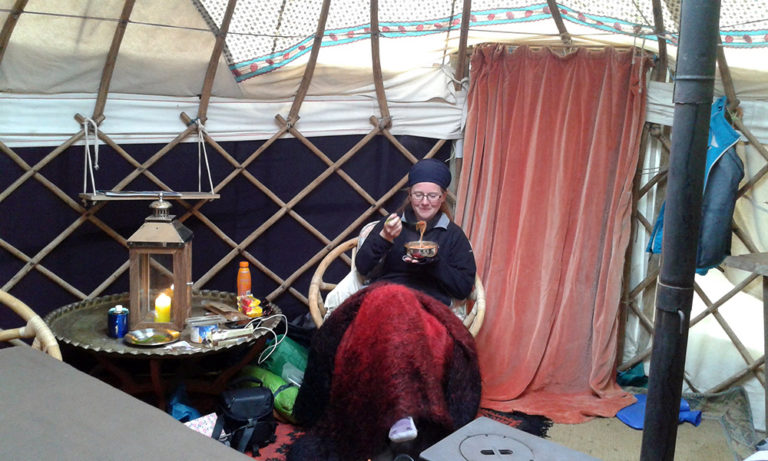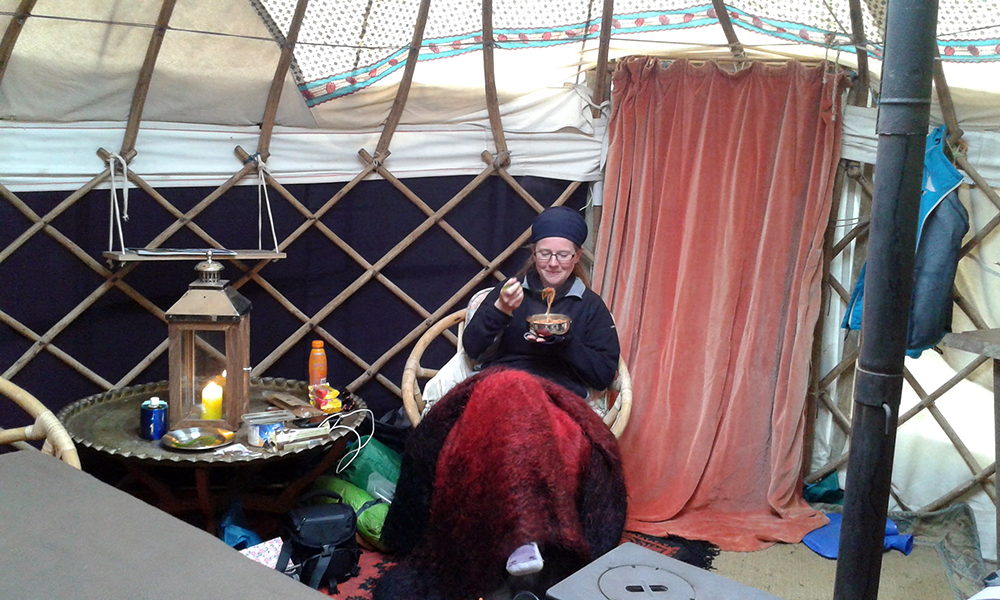 Miles Cycled: 44.9 (108.1 in total)
Glasses of Orkney Wine consumed in a yurt: 2
BEN NEVIS TRIP DAY 4
South Ronaldsay to John o'Groats, Scotland
It was pouring down with rain when we woke at 6:30 am and we were very glad not to have to take down wet tents. A quick breakfast of porridge and filter coffee and we set off to catch the 40 minute passenger ferry from Burwick to the mainland of Scotland.
John o'Groats, mainland Scotland's most northerly town, is a dismal little place in the pouring rain.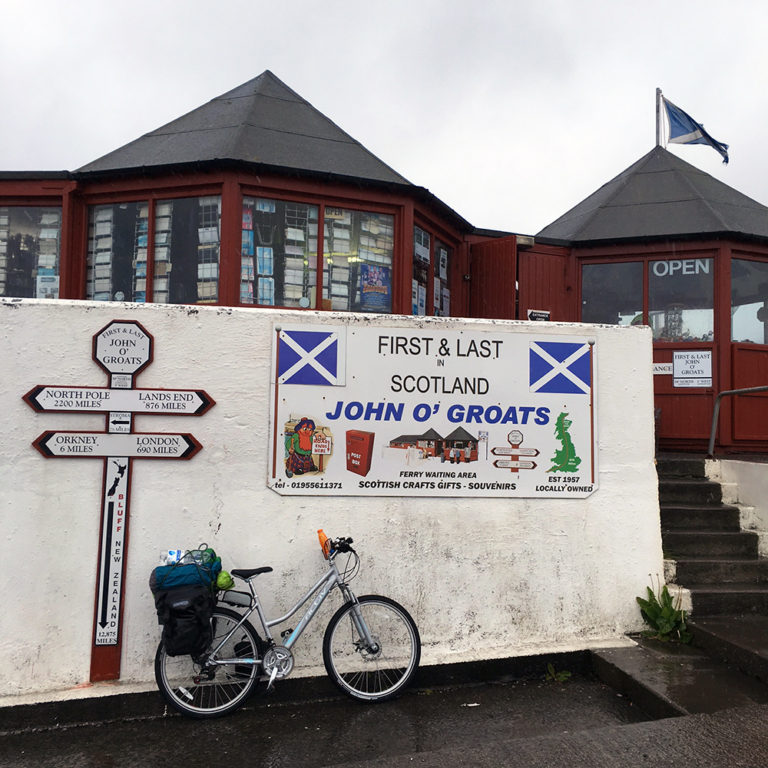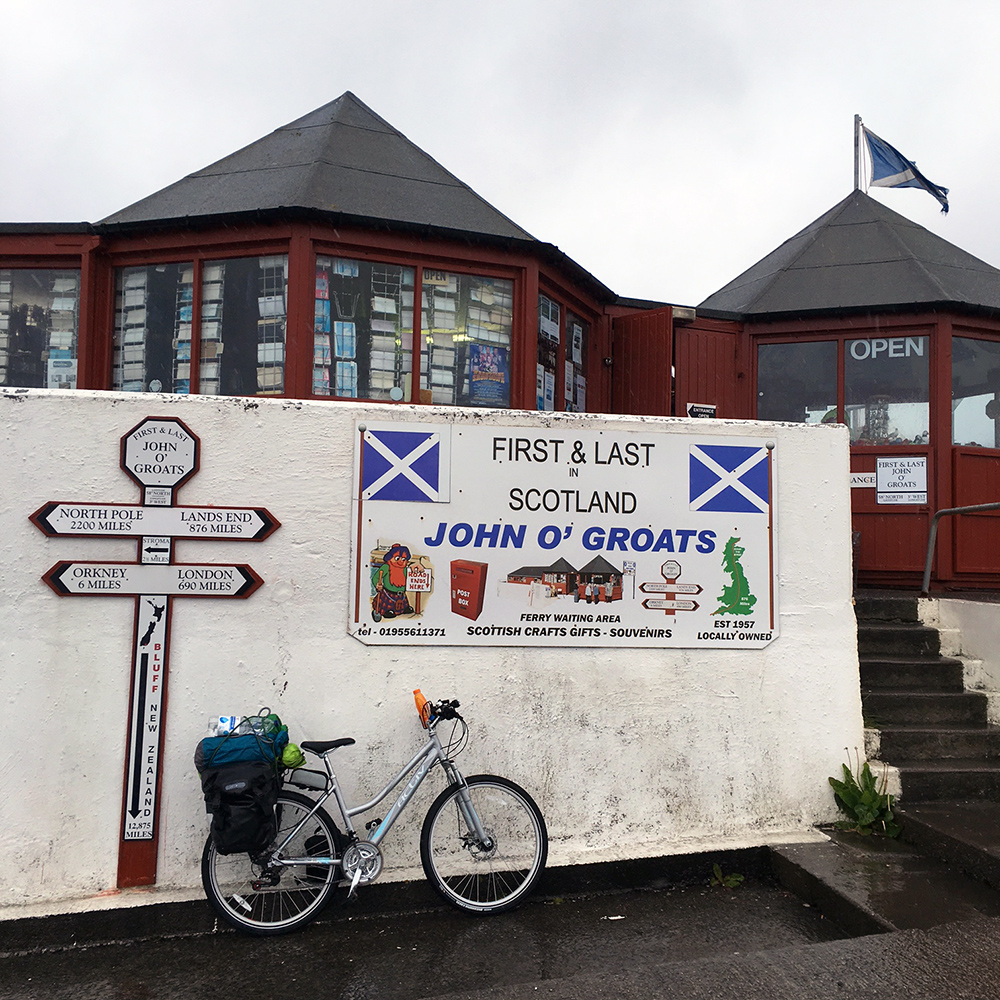 We got absolutely soaked in the few miles we'd cycled from the campsite to the ferry and so we opted to fill our bellies with a warm hearty lunch in the first cafe we found. Their bathroom hand driers came in handy with drying our sodden cycling gloves.
John o'Groats to Dounreay, Scotland
It poured all the way to Thurso. I mean torrential rain of biblical proportions. Waterproof doesn't really mean waterproof in the highlands of Scotland. My waterproof cycling jacket was most definitely not waterproof, but my Ortlieb panniers, thankfully, were.
A huge shout out here to Leisure Lakes Bikes who sent me a set of 40 litre Ortlieb Bike Packer Classic panniers in black. Roomy, lightweight and easy to affix/remove these panniers really saved the day with the variable Scottish weather.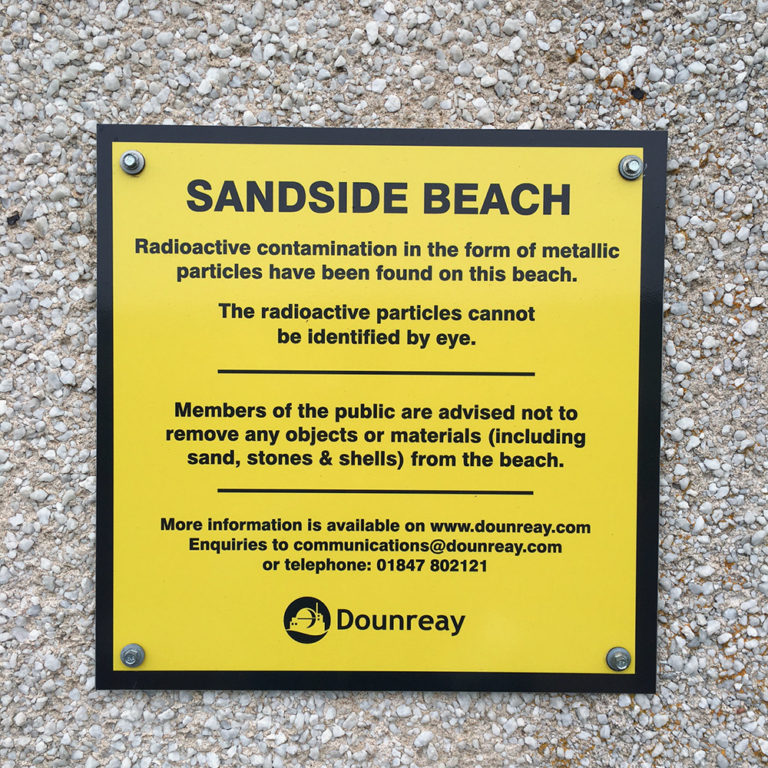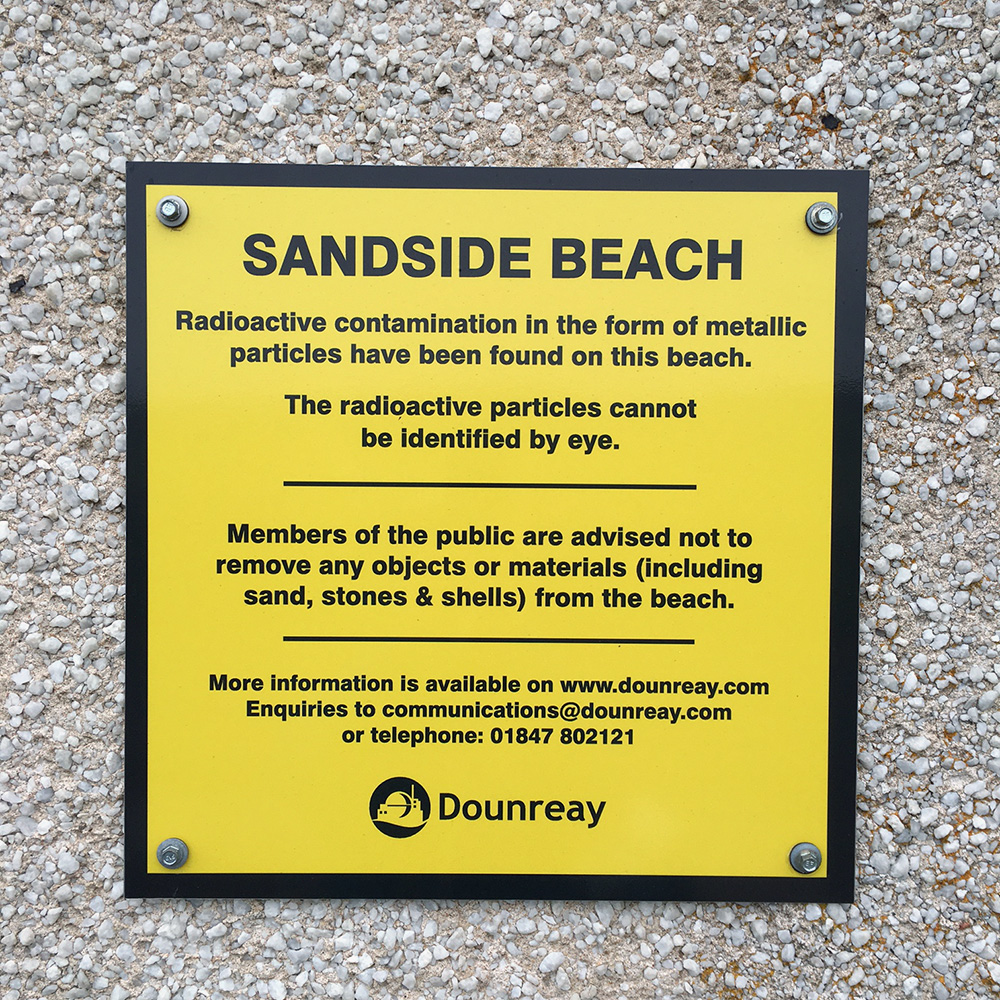 This is the only photo I took all the way from John o'Groats to Melvich on the north coast of Scotland. It was too wet to risk taking my big camera out and I was a bit worried that my iPhone was drowning in my cycling jacket pocket (my jelly babies certainly were!). There was nothing to photograph anyway – flat moors ran either side of us and I believe there might have been a coastal seaside view had the weather not been so poor, but all we saw was thick cloud.
We stopped for a comfort break in Dounreay as the weather began to clear, although the wind was still bitterly cold. This sign (above) was on the side of the toilet building. We left rather quickly taking a shortcut back to the main road.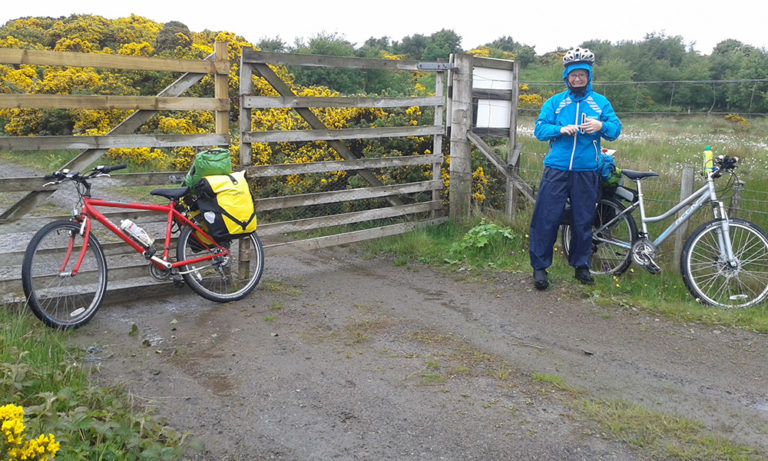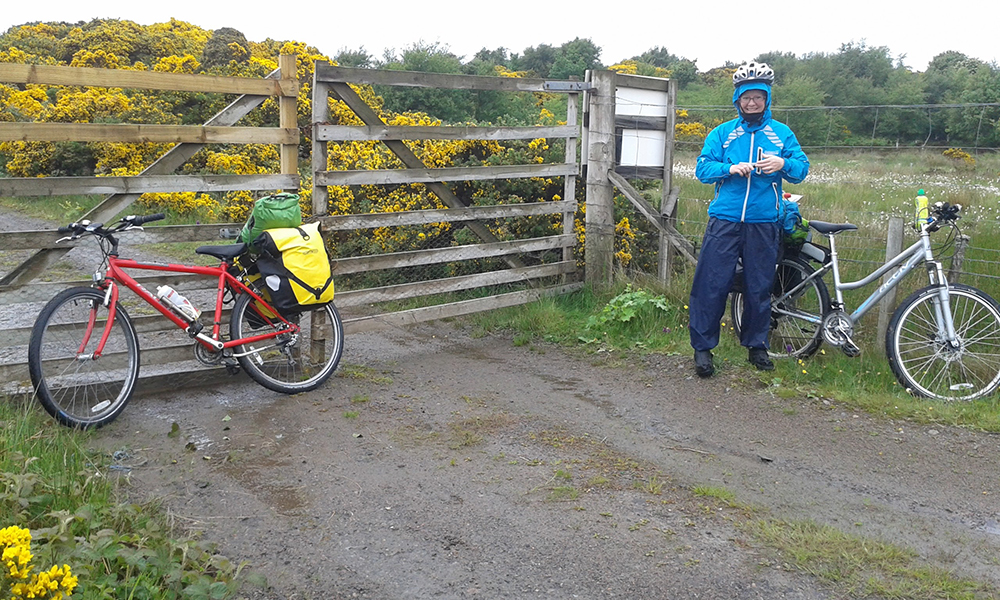 We were wrong. It wasn't a shortcut. We ended up in the middle of thick Scottish forest down a dirt track. An hour later found ourselves a few metres away from the road. A high padlocked deer fence blocked our way, so given the option of cycling all the way back around we went over it! We unloaded our bikes and passed them over the top of the fence and carried on our way.
Dounreay to Melvich, Scotland
Around this time the scenery improved. We passed rolling hills covered in gorse bushes and through the occasional small forested area. MacKay country, a sign informed us. A split stone just out side Melvich marked the old Sutherland boundary. As we cycled around a corner we spotted a tendril of smoke drifting from a small inn at the top of the hill. Our original plans had been to try and cycle all the way to Bettyhill, another 13 miles away, but the sight of this promise of warmth after a day in the pouring rain lured us in.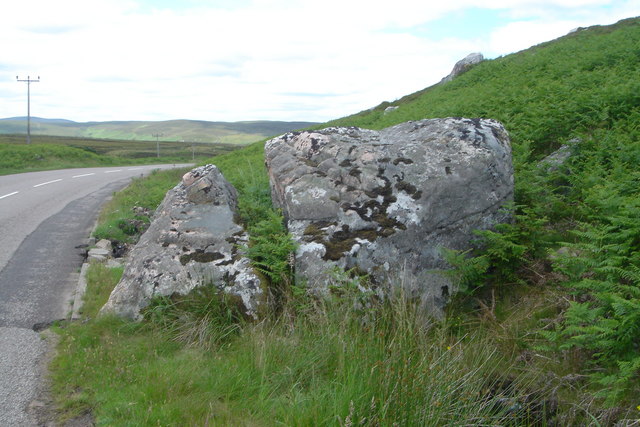 As luck should have it, the Halladale Inn had camping facilities! For only £5 for the night we pitched our tents, had a hot shower, washed our clothes in the laundry facilities, propped our soaking wet cycling shoes to dry by the coal fire in the pub and ordered dinner. A haggis starter with oatcakes and whisky sauce for me, followed by the most delicious venison casserole, a few glasses of Merlot, a catch up with my family with the free wifi and a chat at the bar with the locals before retiring for the evening.
Miles cycled: 53.5 (161.6 in total)
Times we got lost in the woods: 1
BEN NEVIS TRIP DAY 5
Melvich to Altnaharra, Scotland
It was here we reconsidered our original travel plans. We had planned to continue on to Tongue and then head south to Lairg, but the wind was in our faces and this particular area is quite hilly. Low cloud was obscuring the mountain tops, so we turned south at Bettyhill (which really should be named Betty at the top of a really flipping huge hill!) and followed the picturesque Strathnaver River in the shelter of the valley.
I should also mention the terrible condition of the stretch of road we'd been cycling up to now. It can only be described as resembling tooth decay, pitted and bumpy and in desperate need of filling. As I cycled up the hill to Bettyhill I noticed a grinding noise coming from the back of my bike. It was on the other side of Bettyhill, on the downward stretch, where I realised it was because one of the screws holding my pannier rack in place had wiggled loose and been lost on the road. I could visualise my spare screws on the shelf at home where I'd left them when I was packing my bags. A quick fix with a cable tie and duct tape and we were on our way, stopping occasionally to re-position my pannier bags.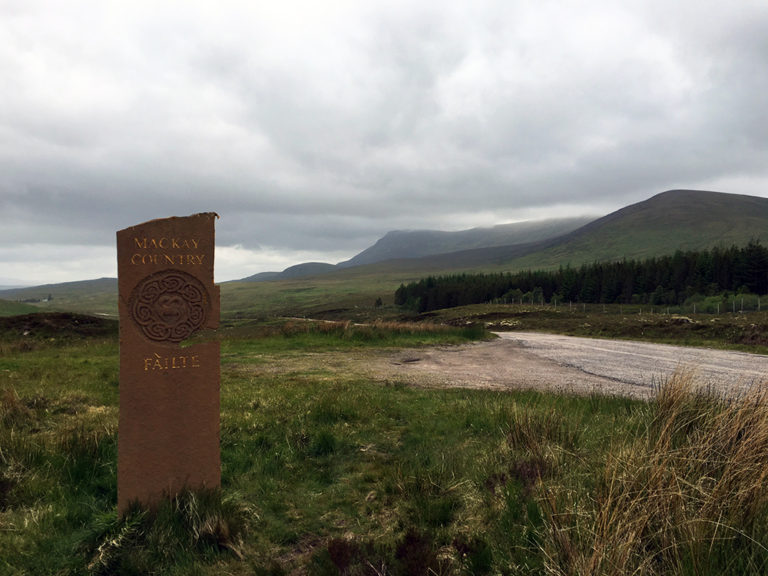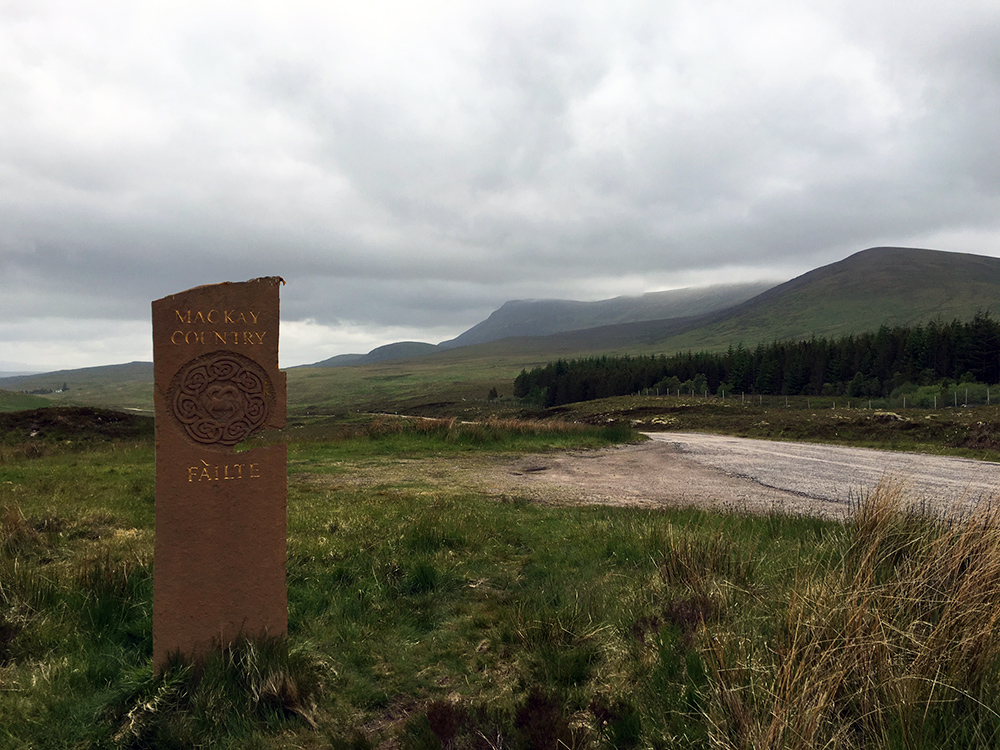 Despite the dark cloud the cycle down this stretch of flat meandering road was very pleasant. The wind was at our backs and the rain kept away. We saw two wild roe deer as we cycled. Occasionally, when the clouds, lifted we could see mountains in the distance.
Altnaharra to Lairg, Scotland
Much of this stretch of road was bleak, surrounded in miles of dead forest being cleared, but the roads were at a gentle decline most of the way so we made good time, bought a fish supper at the Shin chippie in Lairg and located a very basic campsite (£6 for a shower & toilet facilities and tent pitch).
Miles cycled: 59.3 (220.9 in total)
Pannier screws lost: 1
BEN NEVIS TRIP DAY 6
Lairg to the Struie Viewpoint, Sutherland, Scotland
The next morning we woke early and tore down camp in record speed. One word describes our experience in Lairg: midges!
Oh my goodness gracious me there were swarms of them! We were out of there as quickly as possible with no breakfast and, *gasp* no coffee. We couldn't risk standing still outdoors for the time it would take to boil the kettle.
At this point I'd like to give a huge shout out to Millets who provided me with the most incredible lightweight (1.73 kg!) one woman tent – the Berghaus Peak 3.1 Pro – this tent takes a matter of minutes to set up and take down, and for a 5′ 5″ woman like me it's the perfect size.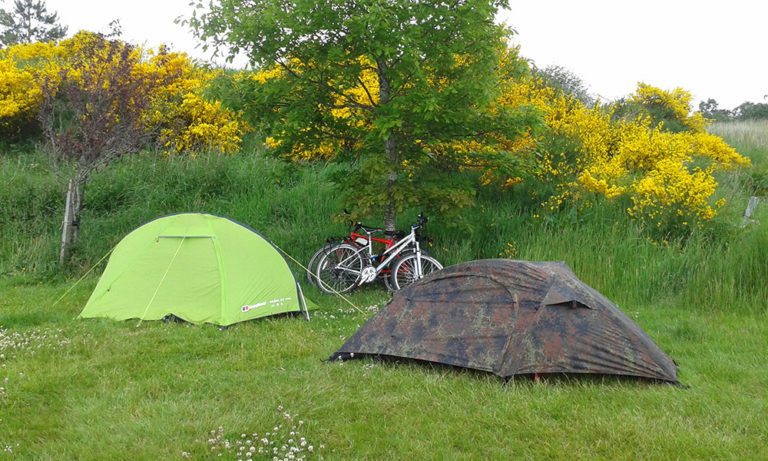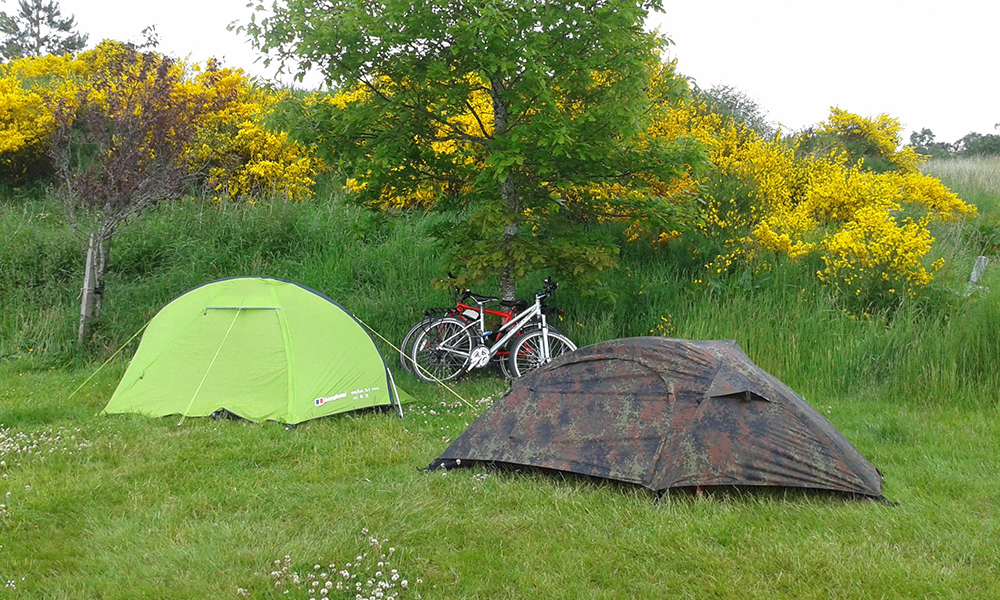 As we rounded a corner in nearby Ardgay, lo, before us, was the Heaven Bikes bicycle repair shop!  The German men we'd travelled on board the Shetland ferry with were also waiting for repairs. One of them had cycled the entire route we'd just done unable to change gears due to a broken cable. It made my having to cope with an unsteady pannier rack pale in comparison! £2 and five minutes later my pannier rack screw was replaced and held fast with some extra strong glue. It wouldn't be coming out again!
We continued down the road and up an incredibly long incline to the Struie viewpoint, one of the finest viewpoints from the road in the north of Scotland.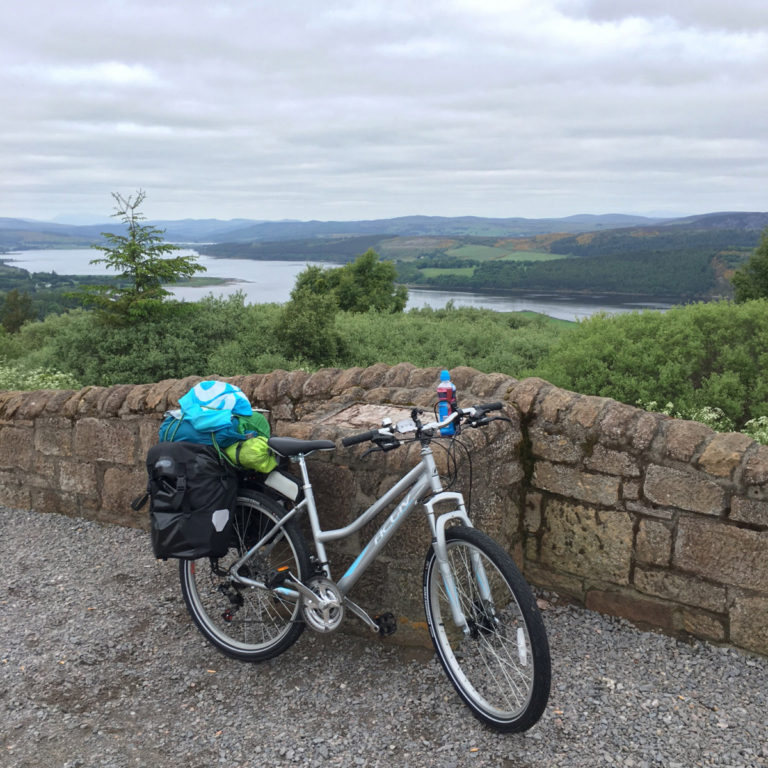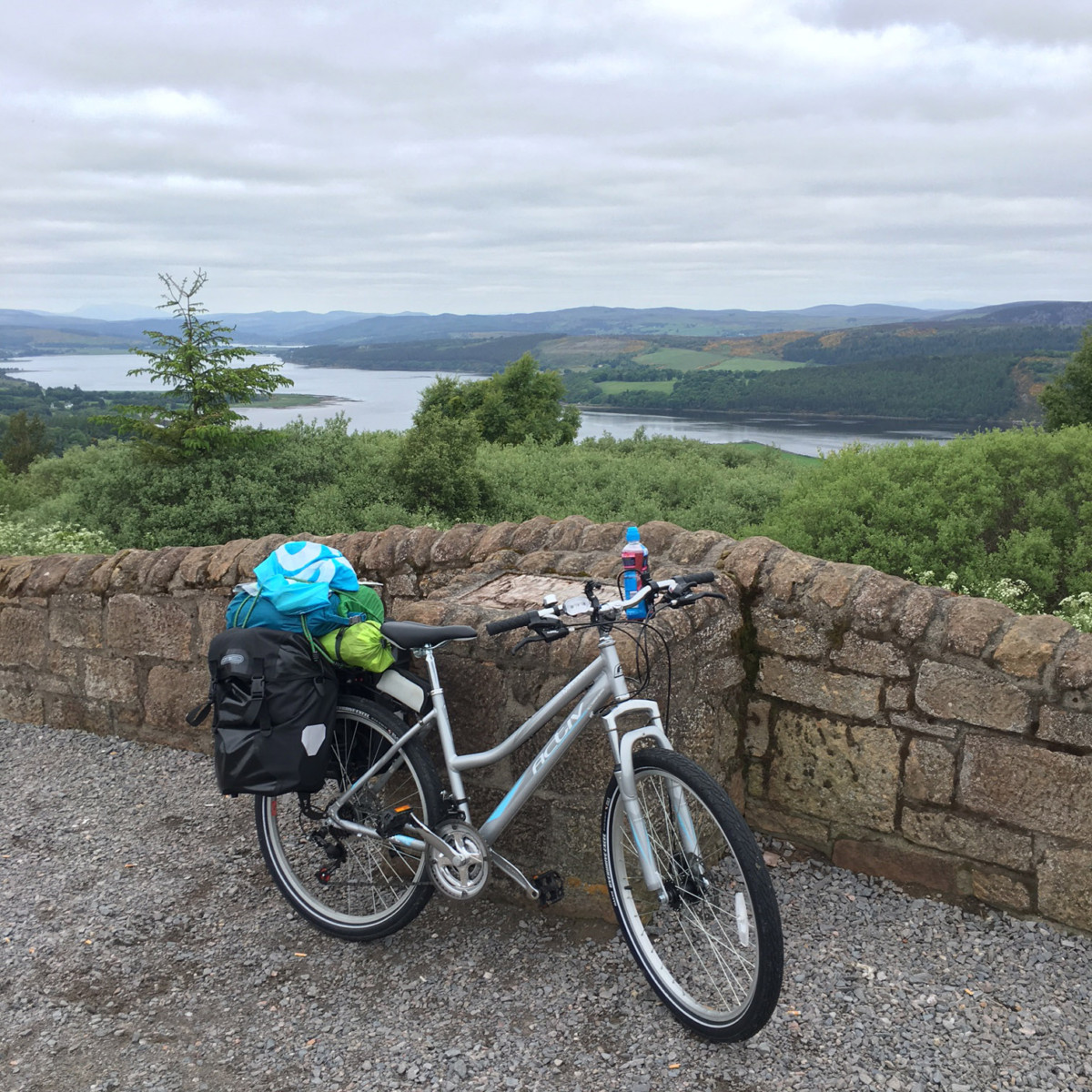 As luck should have it there was a husband and wife couple touring the north of Scotland parked at the viewpoint too. They had a flask of coffee.
And they asked if we would like a cup. For a coffee addict like me who didn't have her morning cuppa this was just about the best cup of coffee I have ever, ever had. A coffee sipped with strangers overlooking one of Scotland's most picturesque viewpoints: heaven.
The Struie Viewpoint to Dingwall, Scotland
We said our goodbyes and continued towards Dingwall. We probably should have route planned better, for if we had we wouldn't have ended up on a stretch of the A9 between the end of the Struie Road and Everton being shouted at by passer bys and fearing for our lives with the heavy traffic. I have never cycled so fast in my life and we took the first exit we could find.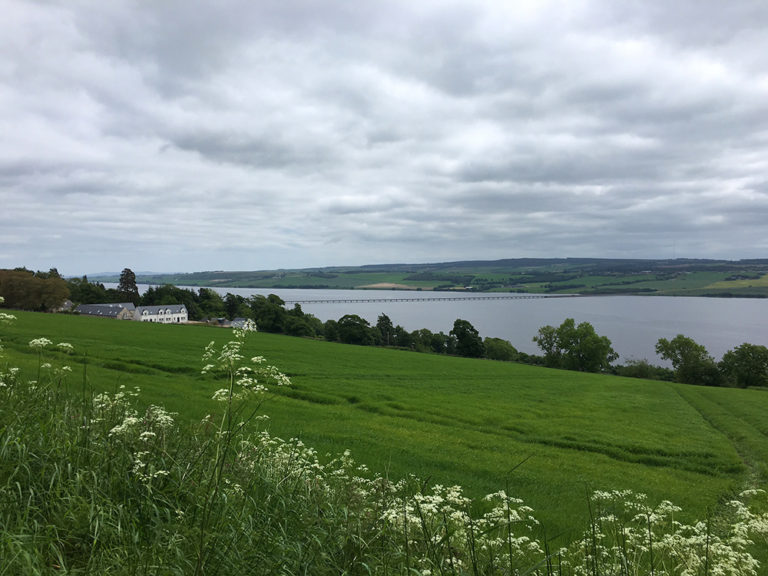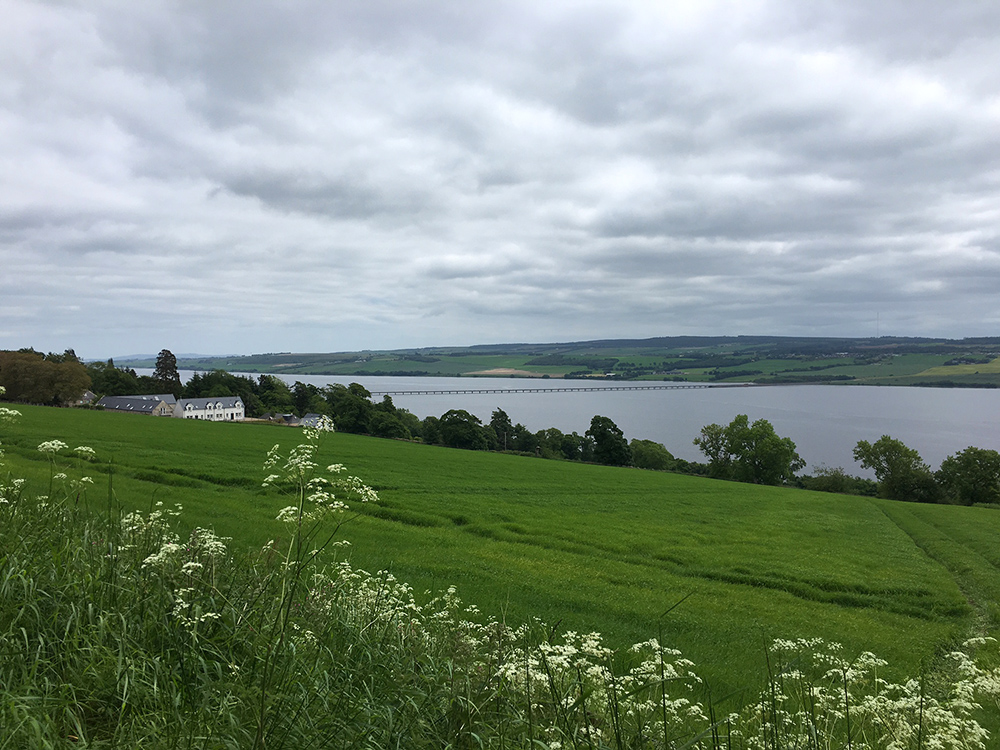 Dingwall was a quaint little Scottish town and we thought we'd stop there for a bite of lunch and to plan a safer route to Inverness. Our original plan (to cycle along the A9) was off the books, given our near death experience on the 4 mile stretch we had just completed.
At this point I should perhaps detail the incredible friendliness of my cycling companion. Whereas I am quite reserved and will nod and say hello to passerbys, she'll strike up a conversation with anyone within ear shot. Without her I probably wouldn't have spoken with anyone else but her on this entire trip.
The cafe that won't be named & Shetland connections
We stopped in the main street in Dingwall looking for a cafe to lunch in, and my cycling companion struck up a conversation with an elderly gentleman sitting on a bench. He was waiting for his wife to finish shopping. It turned out that he used to holiday in Shetland – Trondra, to be specific. He recounted summer adventures he had in Shetland, and abroad, from tramping about through Tibet and Canada. A fascinating fellow (Ken Hunter, if anyone local is reading this!). He suggested a coffee shop just down the road that he liked, so we went there.
Once we'd secured our bikes, sat down at our tables and taken off our cycling gear we discovered this cafe had no wifi. "Talk to each other" a sign on the wall suggested. Given that we'd hardly had any wifi over the last six days, and we were looking for access so we could plan our route to Inverness safely I must say I was rather annoyed, and my protest is by not giving the coffee shop a mention in this blog post. Harumpff!
Dingwall to Inverness, Scotland
Fortunately, a couple of cyclists were just arriving as we left, and they told us that if we followed the National Cycle Network #1 signs we would end up safely in Inverness.
And we did!
The sun came out and the well sign posted Route #1 journey from Dingwall to Inverness was an incredibly pleasant one.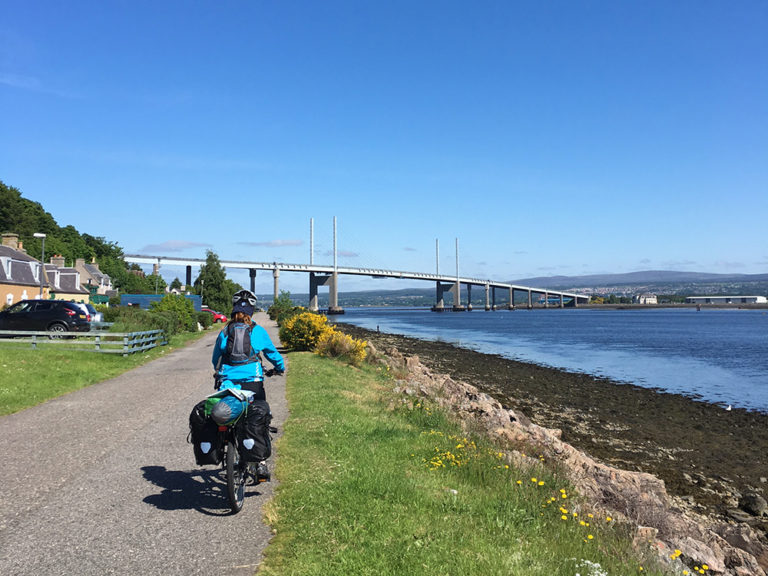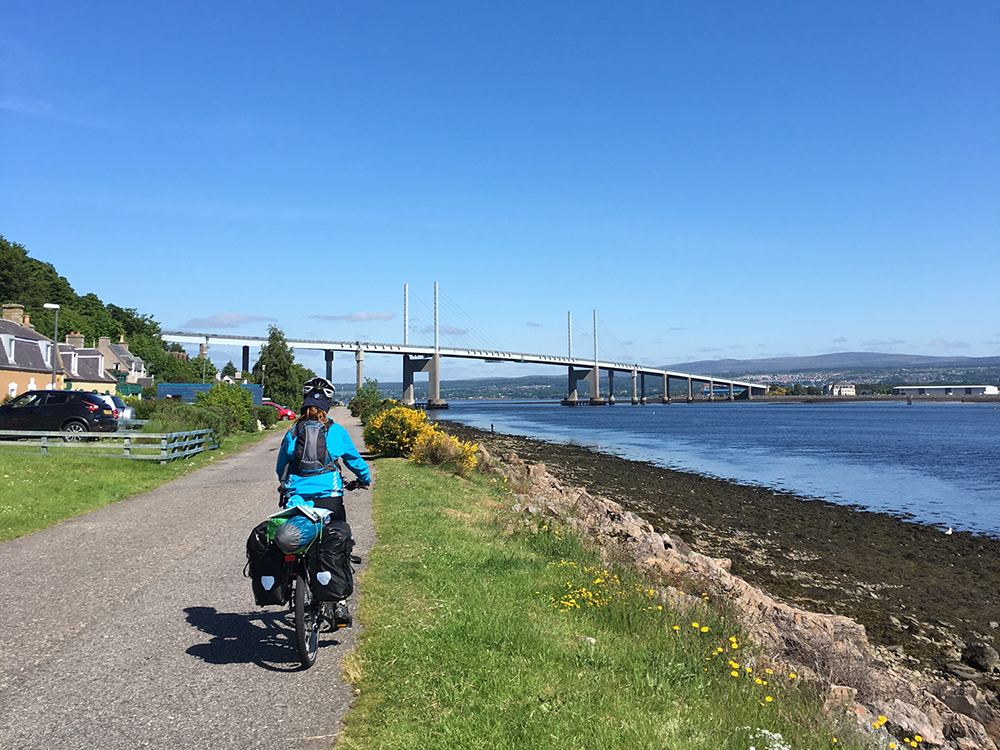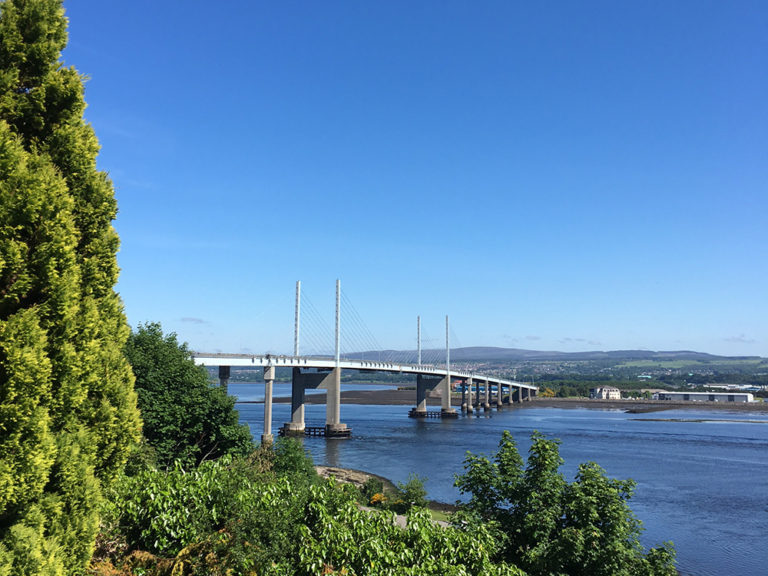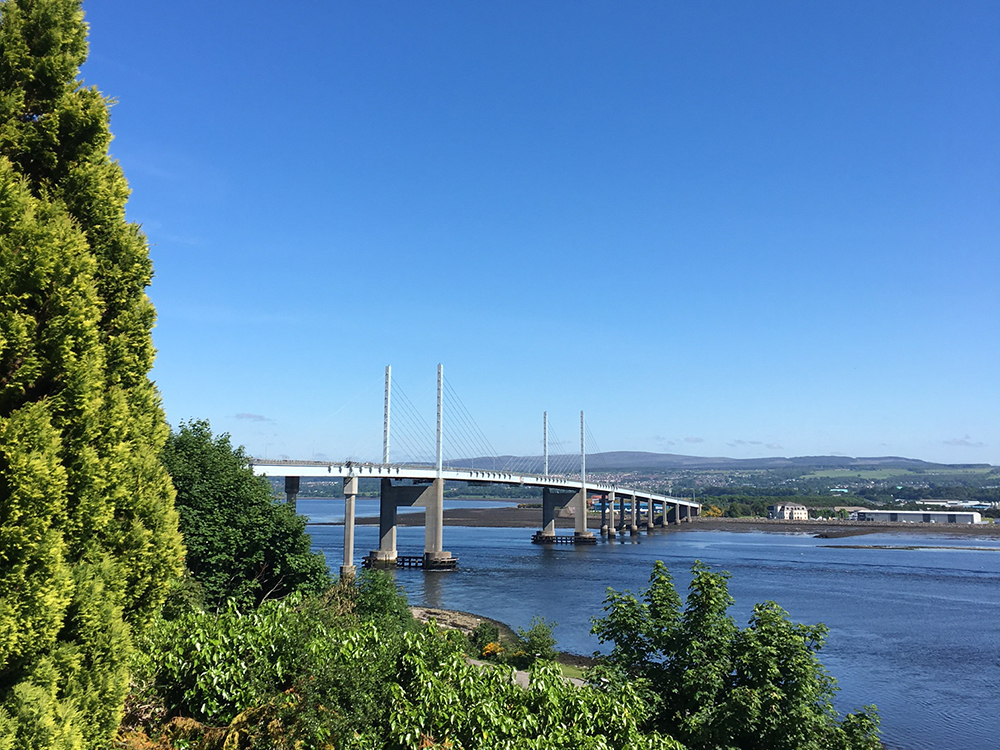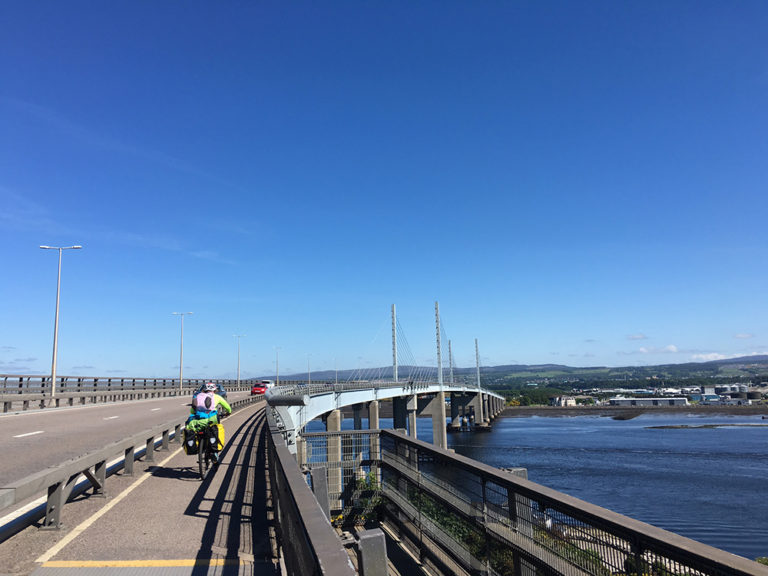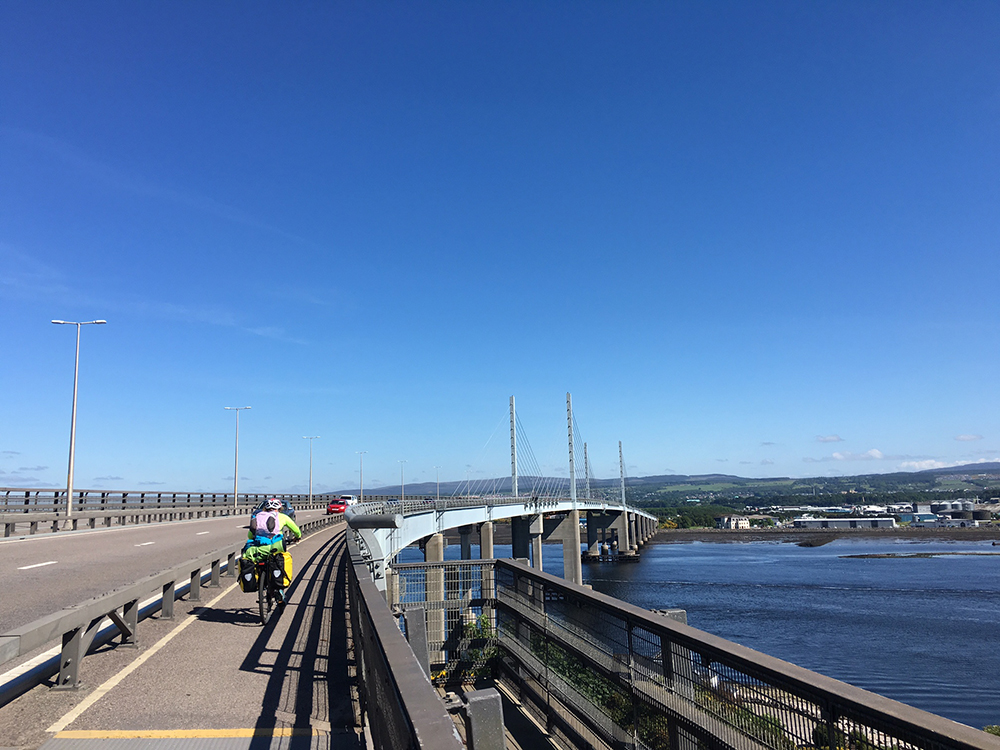 Rod Stewart himself greeted us with song as we crossed the Kessock Bridge. He was playing in Inverness that evening and he was warming up as we arrived in the city.
From here we made quick time to my friend Susan's house in the city. I have made a firm decision never ever to drive in a city – I nearly got killed trying to navigate a round about in the city centre!
Susan blogs over at Mess in the Ness . We'd hoped to make it to the city in time to join her on an Inverness Chocolate Tour, but we were unfortunately a few hours too late. We would have made it if we hadn't spent so much time exploring Orkney, but these things happen.
Susan and her husband fed us a fantastic hearty dinner and kindly put us up for the night. A hot meal, a private shower and a comfortable bed after nearly a week on the road was hugely appreciated. I hope I can repay the favour one day.
Miles cycled: 57.6 (278.5 in total)
Near death experiences: 2
So that's Part 1 of our epic summer bikepacking trip. Part 2 (my favourite part!) will follow soon, describing our fantastic off road cycling adventures down the Great Glen Way. Part 3 will describe our climb to the summit of Ben Nevis.
OTHER POSTS IN THIS SERIES
An Epic Adventure to the Summit of Ben Nevis – The Plans
5 Things to See & Do in Orkney in a Day