A #MiniRoast recipe in collaboration with Simply Beef & Lamb.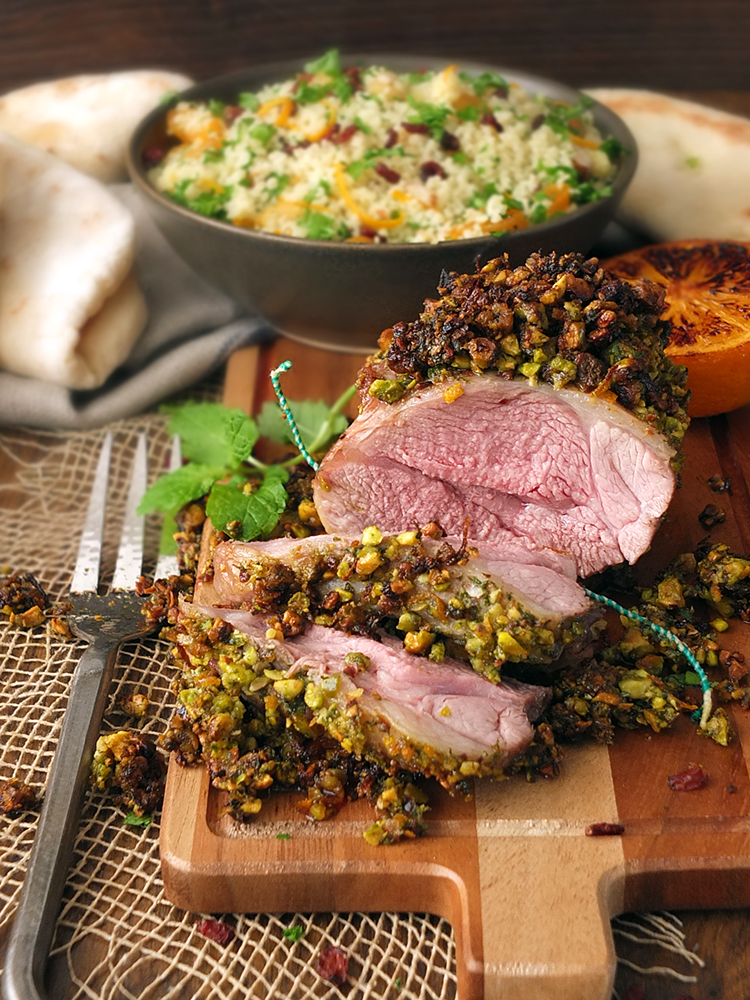 Lamb is something I never tried until I moved to the UK. For some reason lamb just wasn't part of our rural Canadian diet, in fact, we rarely saw fields of sheep – cattle, yes, but not sheep.
Now, lamb is a regular part of our diet. In fact, I have two whole hill lambs in my freezer right now. One I bought directly from a local crofter (yay for low food miles!). The second was a surprise gift from a neighbour; one of his hill lambs reared on the heather covered hills just outside our village.
Best neighbours ever!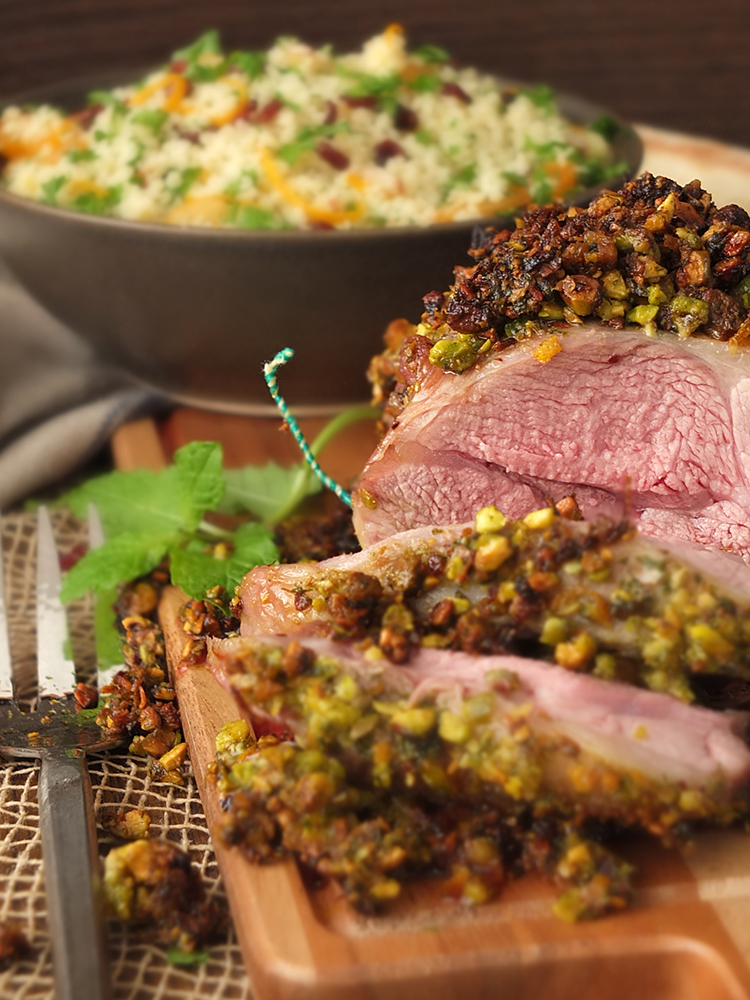 Not everyone has access to locally reared meat though. The majority of UK consumers, I should think, have to rely on their local supermarket and butcher to obtain their meat.
As meat eaters I think we should all be aware of where our meat comes from. Beef and lamb isn't just a faceless ingredient we unwrap after bringing it home from the supermarket, it was a living animal at one time and it is our responsibility to ensure that these animals have been treated to the highest standard throughout life and slaughter.
I was recently invited along to our local abattoir to discuss all things lamb.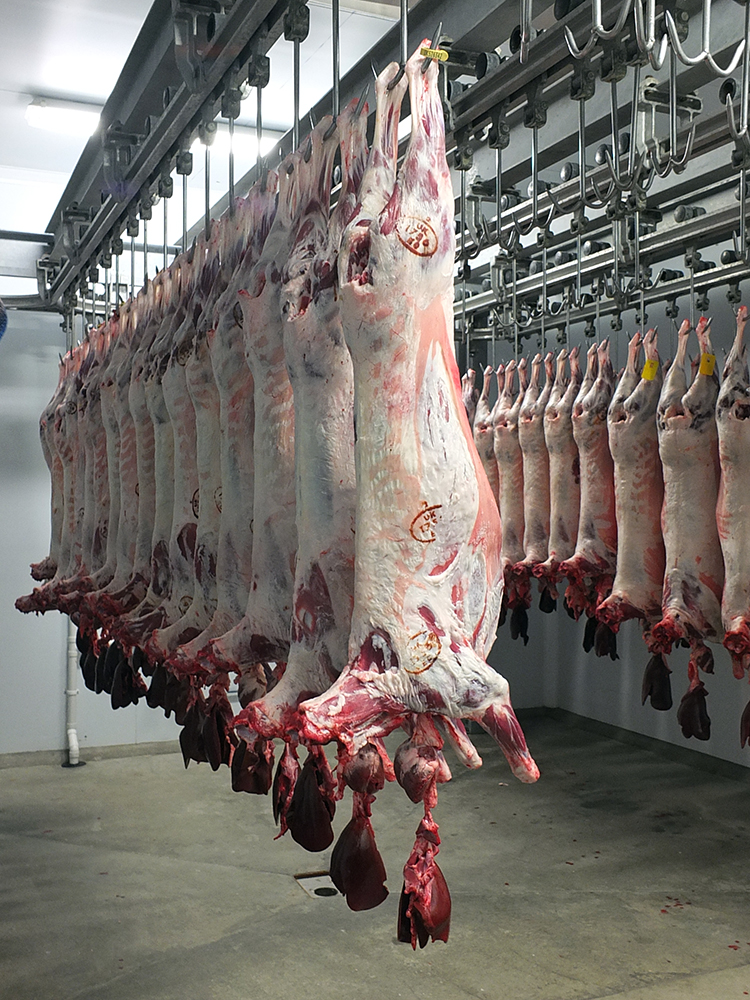 It was an eye opening experience for me. At my local abattoir they take time with each individual animal. They are brought into the building in groups with the peers that they were raised with slowly, so that they are not afraid or alarmed. They're surrounding in their friends and family and their final moments are over swiftly. I know first hand that the animals are kept well in the fields around my house, so to know that the animals are treated well at the end of their lives too is reassuring.  A chef was also visiting, and the lambs you see above were being assessed for quality before being shipped south to be served in the restaurant.
We can't all personally assess our meat at the abattoir, but we can rest assured we are buying farm assured quality meat if we look out for the Red Tractor logo on packs in supermarkets or in select butchers. All beef and lamb products carrying the Red Tractor logo can be traced back to the farms the livestock came from and you can be assured that the farmers and suppliers who produce beef and lamb meet comprehensive standards covering hygiene, safety, environmental protection and animal welfare at every stage from farm to fork.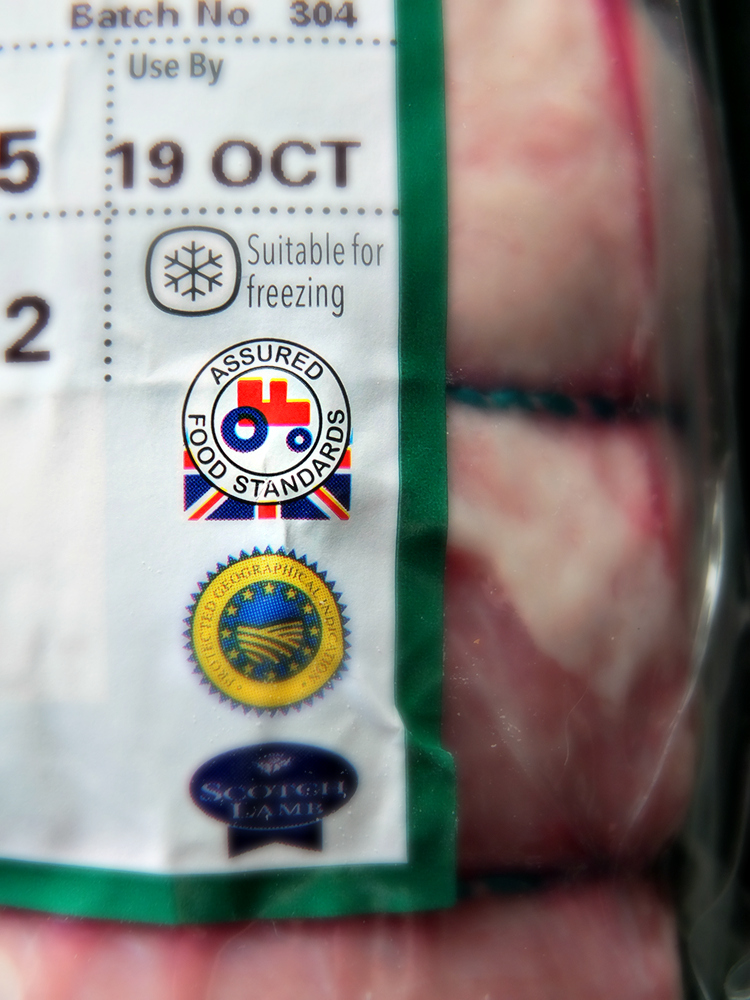 Beef and lamb roasts don't need to be reserved for Sunday lunches and special occasions. There's no reason why we can't enjoy a quick and easy midweek mini roast. Just look out for smaller cuts of beef or lamb in your supermarket, or ask for a 400 – 450 gram cut from your local butchers. These can be prepared and ready to eat in less than an hour, as I've demonstrated with this rather fantastic pistachio and orange crusted lamb shoulder recipe from Simply Beef & Lamb.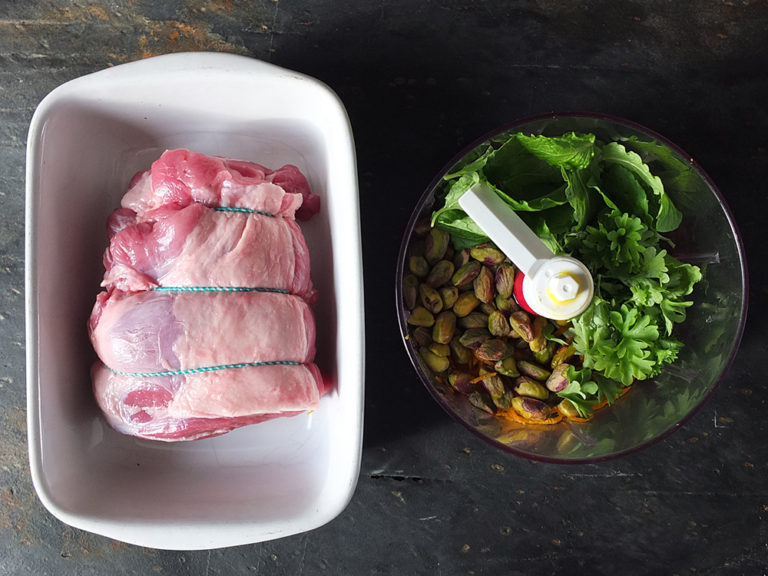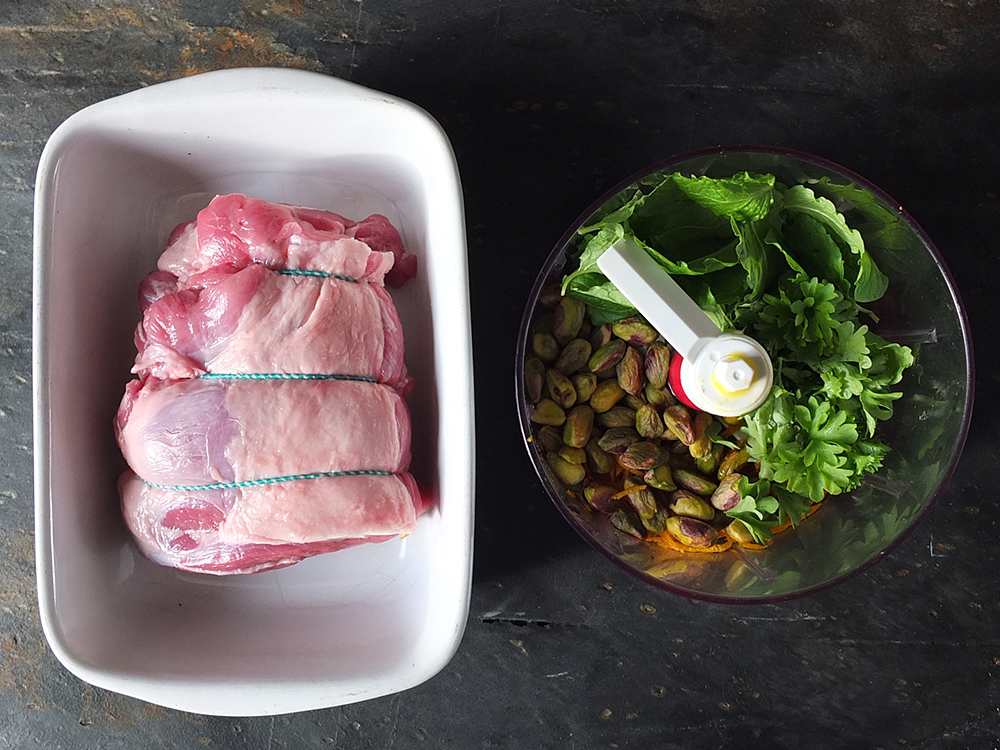 This midweek mini roast recipe is incredibly simple to make. Simply score the flesh of your meat cut, brush with oil and season with sea salt and freshly ground black pepper. The pistachio and orange crust ingredients take only seconds to blitz up in my mini food processor, but you could always chop them finely by hand. Press the topping into the meat, pop in a roasting tin and roast for 35 minutes (for medium doneness).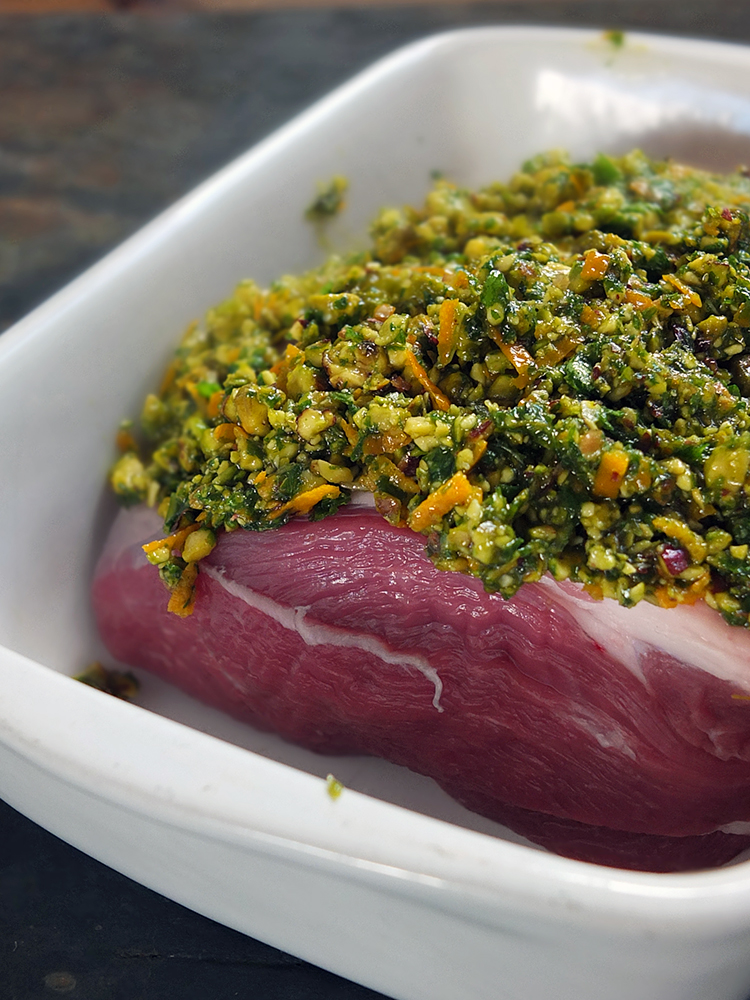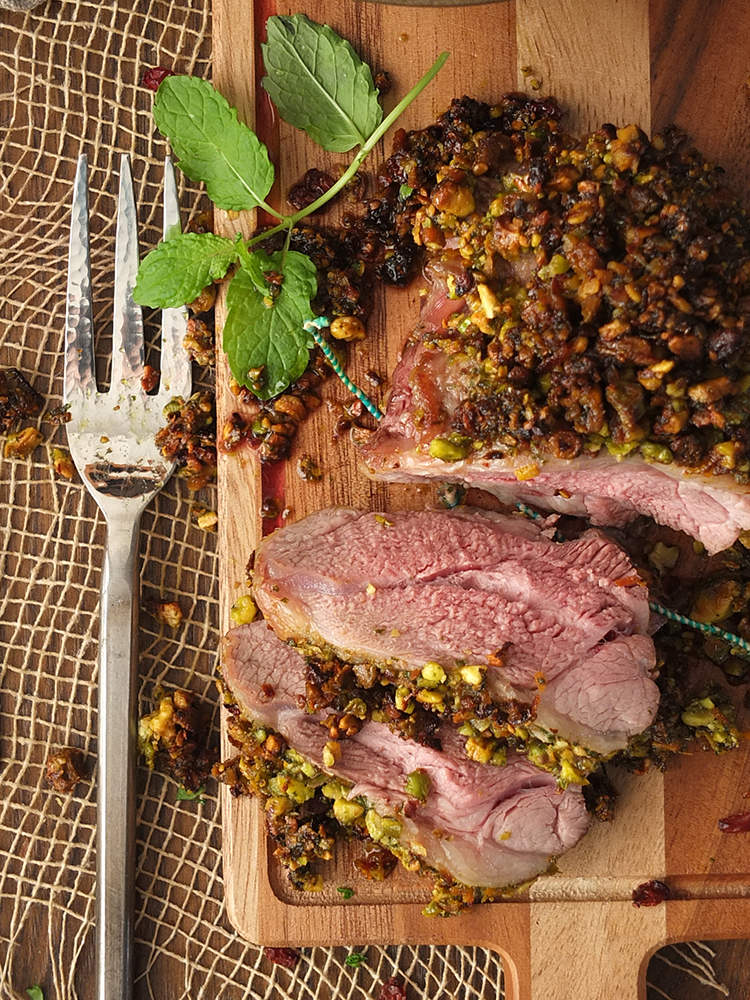 This delicious roast can be served with jewelled couscous and flatbread. To save time I made my flatbread dough in my bread machine and it's that good, and quick to make, that I'm blogging the recipe soon. As for the jewelled couscous, this one I tend to just make up as I go along, depending on the ingredients I happen to have on hand.
Simply boil a kettle and measure out 100 grams of dry couscous into a large bowl. Sprinkle over half a chicken stock cube and pour over 150 grams of boiling water. Cover with a small plate and leave it to sit until the lamb is cooked.
Meanwhile, chop some raw almonds, dried apricots and a handful of fresh parsley. When the lamb is ready, take the plate off the top of the couscous, fluff the couscous, drizzle in a bit of olive oil and add the chopped nuts and fruit. I sometimes throw in a handful of raisins instead of apricots, or, in this case, some dried barberries and some orange zest. Garnish with extra dried parsley and some pomegranate seeds for an extra special taste.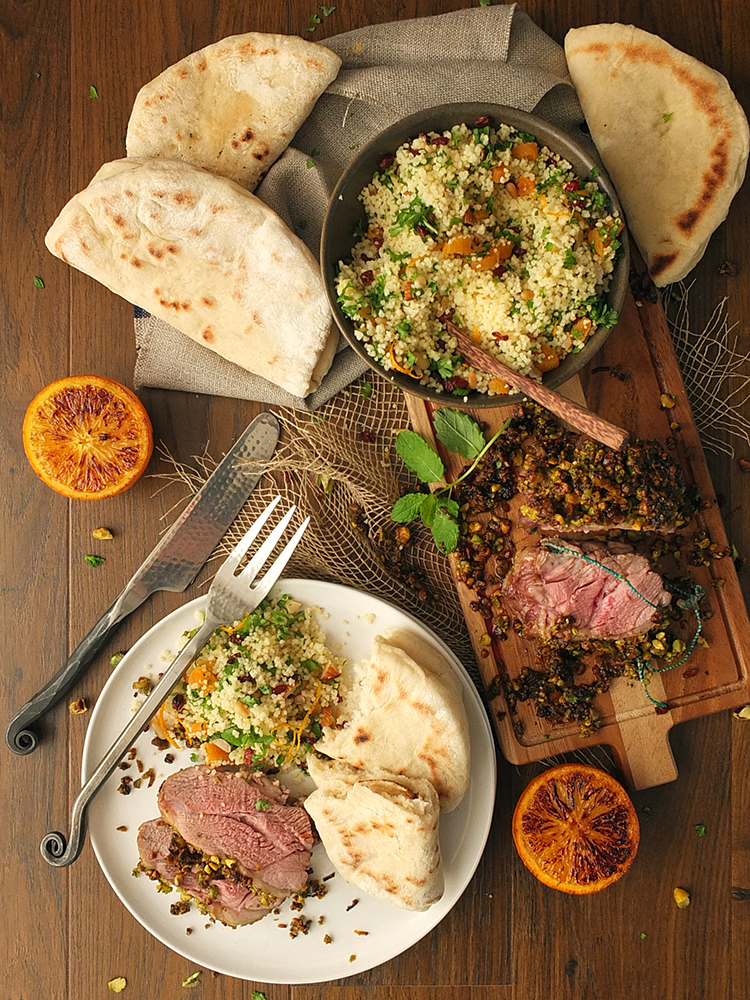 A quick word here about doneness. We all like our roasts cooked a certain way – some prefer it rare, others prefer it well done. I'm a medium lady, myself. I would highly recommend investing in a meat thermometer as this takes the guesswork out of cooking beef and lamb.
There's nothing worse when you're a well done fan to cut into a freshly roasted beef joint only to find it's only medium rare, despite following the cooking times. Ovens all vary (especially temperamental fan ovens like mine!) so a meat thermometer is essential. The lamb you see photographed here was cooked to 71 C (medium).
Also – don't forget to take your roast out of the fridge beforehand and bring it to room temperature before you begin.
For everything you need to know about beef and lamb, more recipe ideas and information about Red Tractor beef and lamb, please visit simplybeefandlamb.co.uk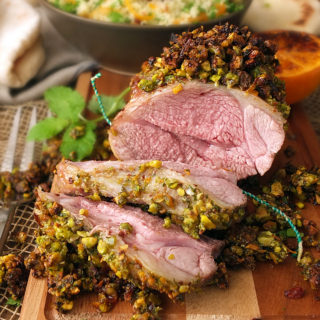 Pistachio and Orange Crusted Mini Roast Lamb Shoulder
A quick and easy midweek dinner recipe. Roast lamb doesn't have to be for Sunday's only!
Print
Rate
Ingredients
for the pistachio orange crust
Affiliate Links
This recipe card may contain affiliate ingredient and equipment links. As an Amazon Associate I earn from qualifying purchases.
Instructions
Preheat oven to Gas mark 4-5, 180-190°C, 350-375°F.

Bring your lamb shoulder to room temperature and slash across the top.

Brush with oil and season well with sea salt and freshly ground black pepper.

To prepare the crust, place the remaining ingredients in a small food processor and process until finely ground, or chop everything up as fine as you can.

Press the pistachio and orange crust into the top of the lamb shoulder and place in a medium sized roasting tin.

Roast for 35-40 minutes (for medium), or 60 minutes for well done. Cover with foil during cooking if you find the crust is browning too quickly.

Alternatively, check the internal temperature of the meat for your desired level of doneness: 60°C degrees for rare, 70°C for medium and 80°C for well done.

Remove the lamb from the oven, cover with foil and leave for at least 10 minutes, or 20 if you have the time, before serving.

Serve with jewelled couscous and flatbread.
Environmental Information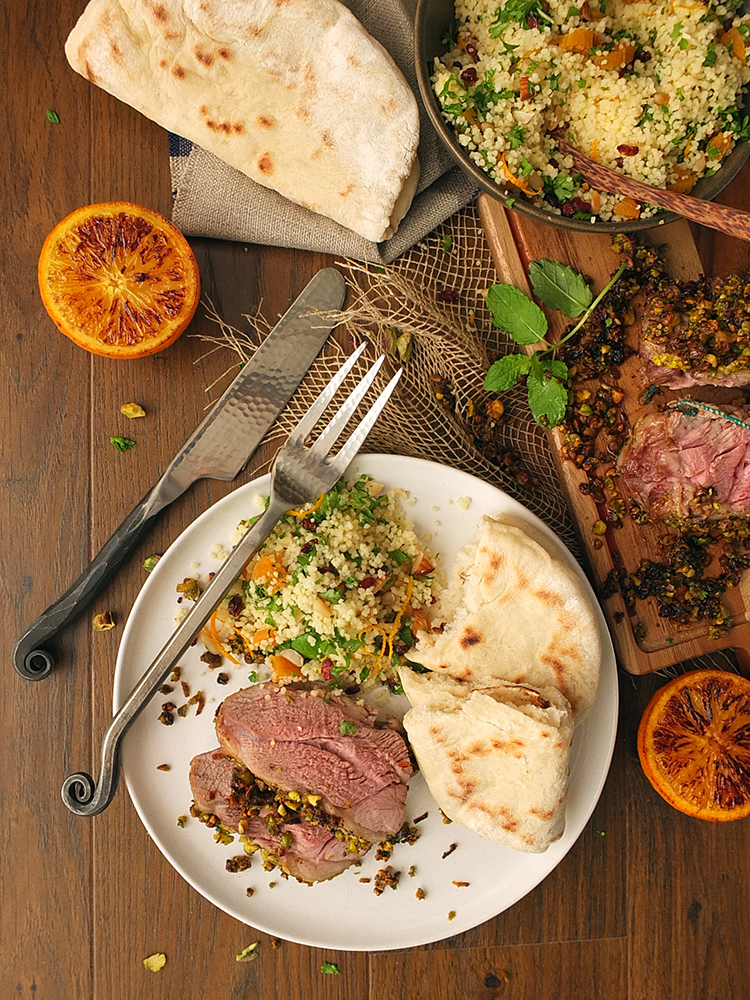 Leftovers? Fry a small sliced onion and leftover cubed meat in a bit of sunflower oil until heated through, toss in any leftover couscous and heat through. Serve with a big dollop of plain natural yogurt!
Dislosure: this is a paid recipe post in collaboration with Simply Beef and Lamb. All thoughts and opinions expressed are our own. Thank you for supporting the brands who make it possible for me to do what I love: mess up my kitchen and share recipe stories.
[color-box]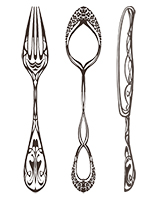 Have you made this recipe?
Take a photo and tag @tangoraindrop or use the hashtag #elizabethskitchendiary and share on Instagram and Twitter. It would make my day to see your creations!
[/color-box]