Our weekly bite sized review series.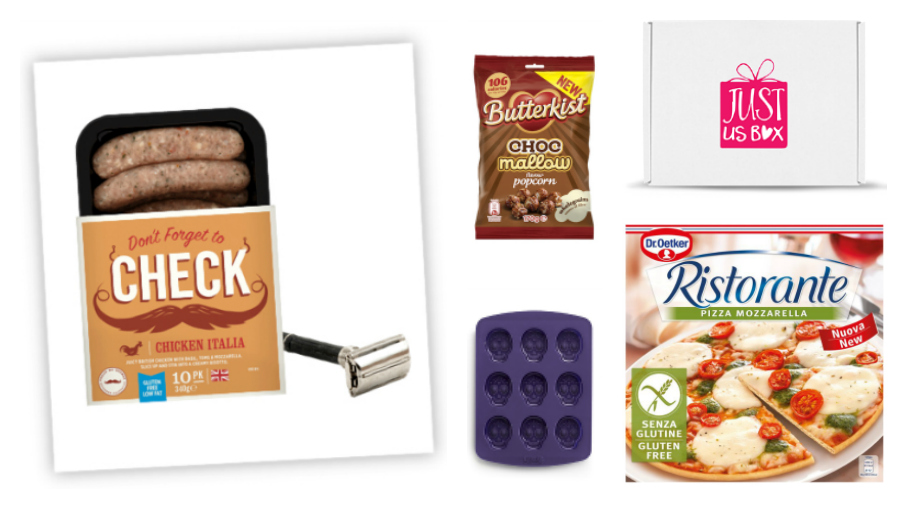 This week we've got popcorn, pizza, sausages, a date night box and a Halloween themed silicone chocolate mould game. Everything you need for a great night in!
Butterkist Choco Mallow Popcorn – launched this summer this delicious chocolate and vanilla indulgent popcorn flavour is only 106 calories per 25 gram serving. This means nothing though if you eat the whole bag in one go like me, but hey ho, it's delicious! £1.49 for 170 grams.
Dr. Oetker Gluten Free Pizzas – Ristorante has gone gluten free with two new pizzas added to their range: Pizza Mozzarella and Pizza Salame. £3.50 for one pizza. Look out for them in Iceland Warehouse stores and your local Tesco.
HECK goes CHECK for Movember – for the month of November HECK Chicken Italia sausages are rebranding as CHECK to help raise awareness and funds for Movember and to remind men (and women!) to regularly check for signs of testicular cancer. A percentage of pack sales will be donated to the Movember Foundation. £2.99 for a pack of six at your local supermarket.
Lekue Platium Silicon Crazy Skull Game – perfect for Halloween – simply pour melted chocolate into the mould, fill with your desired filling (I like peanut butter mixed with icing sugar to make Halloween peanut butter cups!) and serve at your Halloween party! £8.15 on Amazon (at time of writing).
JustUs Date Night Box – I am seriously loving this monthly subscription box! Next month's theme is 'Feast' and you can find a recipe from yours truly in it! Order before the 15th of November to enjoy some new taste sensations from artisans across the country and learn some new skills too! £30 for a one off box, or £25 per month for a yearly subscription. Well worth every penny.
Disclosure: Elizabeth's Kitchen Diary was sent review samples of all of the above products (except for the sausages, which aren't available in the shops until next Monday). This is not a paid post and all thoughts and opinions expressed are our own.