A vegetarian sweet potato and bean burrito recipe packed full of cycling-specific nutrition. This Veloform recipe is perfect for rustling up and taking out on the mountain bike trails to fuel that adventure.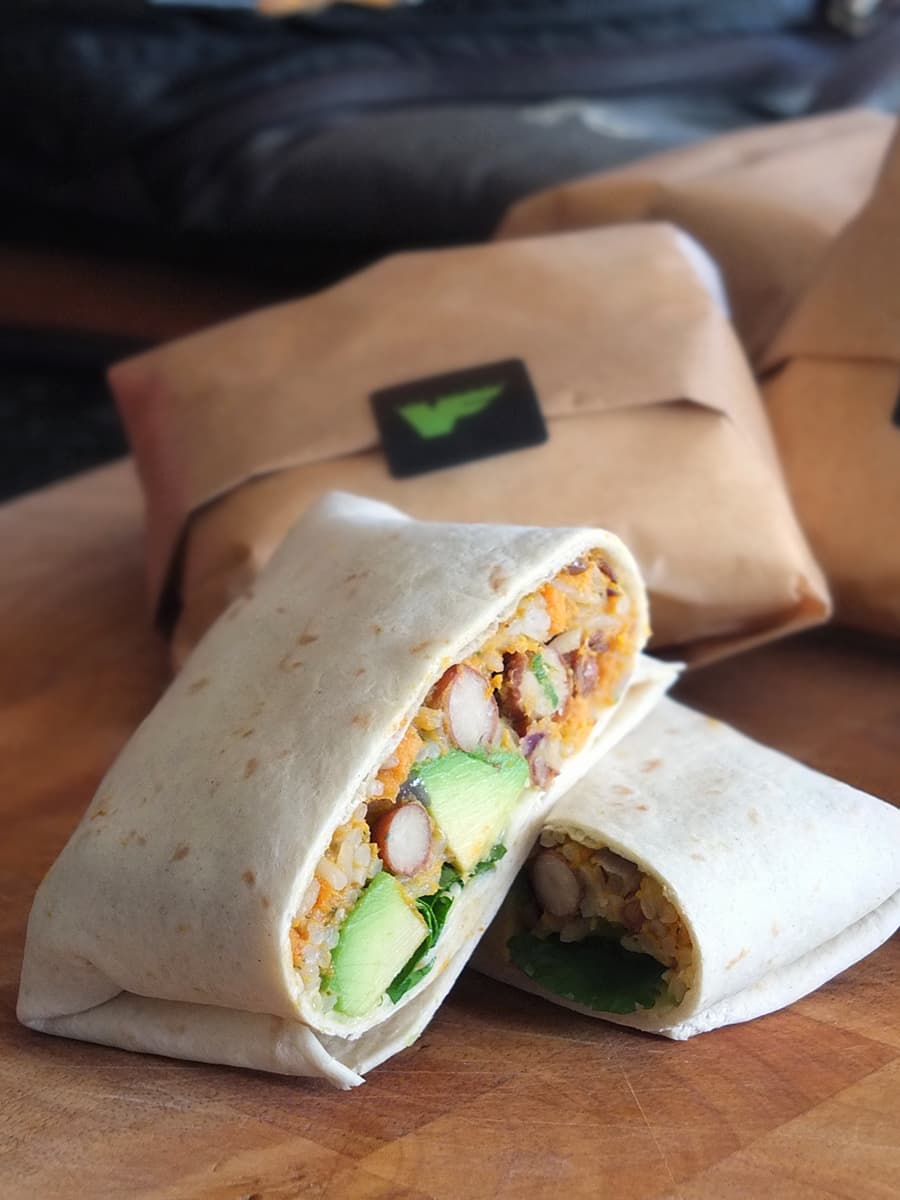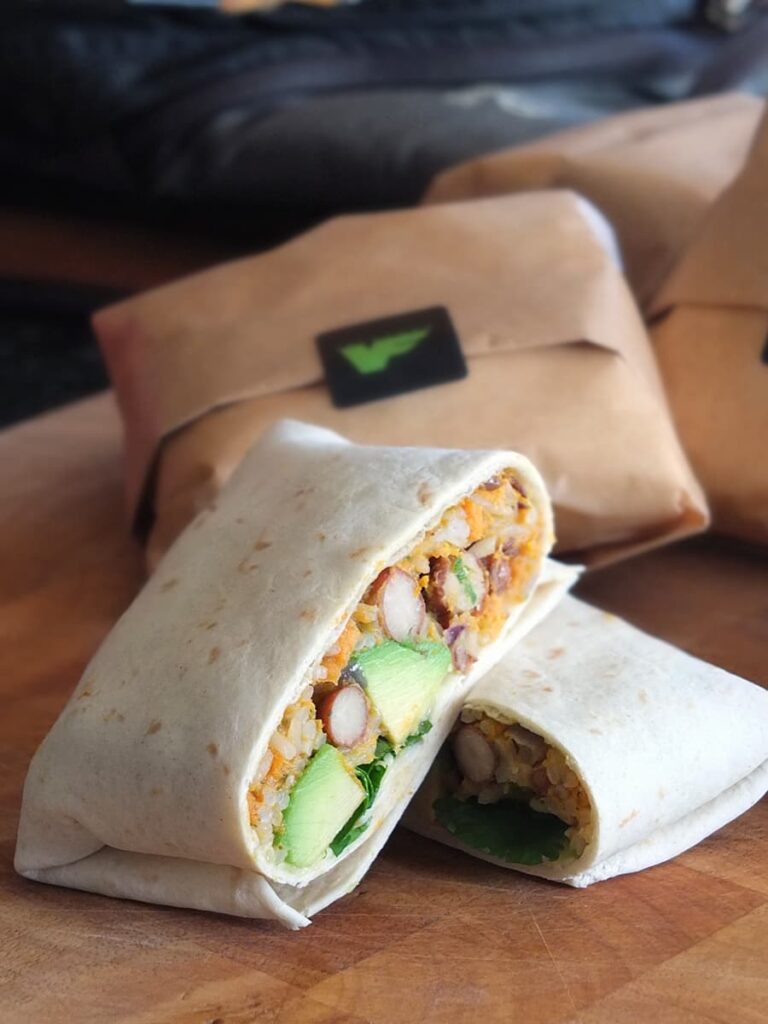 Fuel that adventure
Five years ago this summer, I discovered a love of cycling. The freedom it provided, the endorphin rush, the distraction-free thinking time.
Last summer, during the lockdown, I took my casual cycling hobby next level. I bought a road bike. I discovered speed. I discovered that I could become reasonably good at it too with the right training, with the right fuel.
I also started dating a cyclist. Five years ago I was ever-so-slowly slogging it over the Alps, a particularly hilly stretch of road on the west side of Shetland, on my ridiculously heavy hybrid bike. I'd just joined Strava. I was feeling quite strong and smugly pleased with myself when this rather handsome lycra-clad cyclist effortlessly overtook me on his feather-light bike. We chatted briefly, and he sped off up the hill, leaving me awestruck.
He left me kudos on Strava for my 33-mile ride and, feeling rather flattered at being acknowledged by a pro; Robin became the first cyclist I followed. I never dreamt that I'd be living with him five years down the road and that he would be training me to be the best cyclist I can be. I never imagined, back then, that life could be this good.
This blog post isn't about me, though. It's about Robin, or more accurately, sharing some of Robin's wealth of cycling knowledge and experience with you.
It's about fuelling that adventure.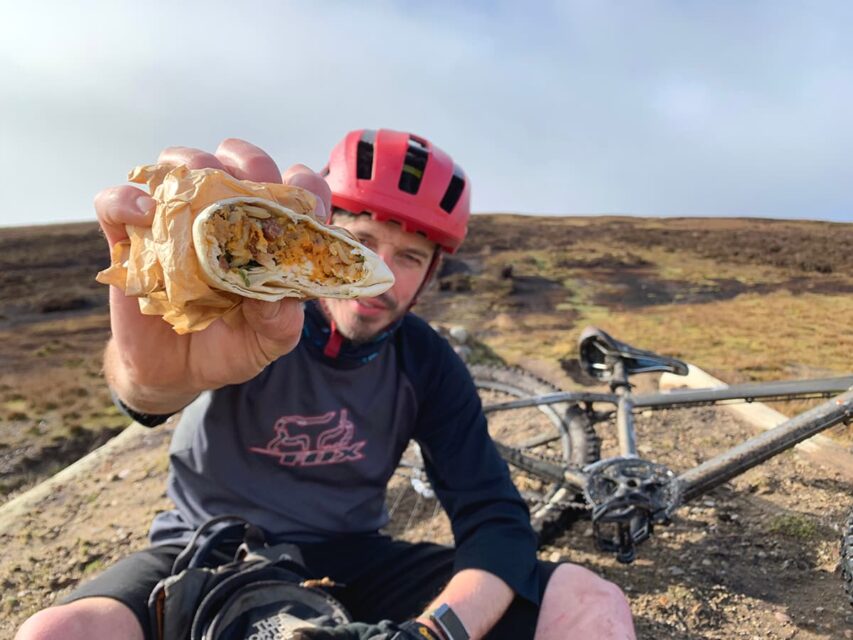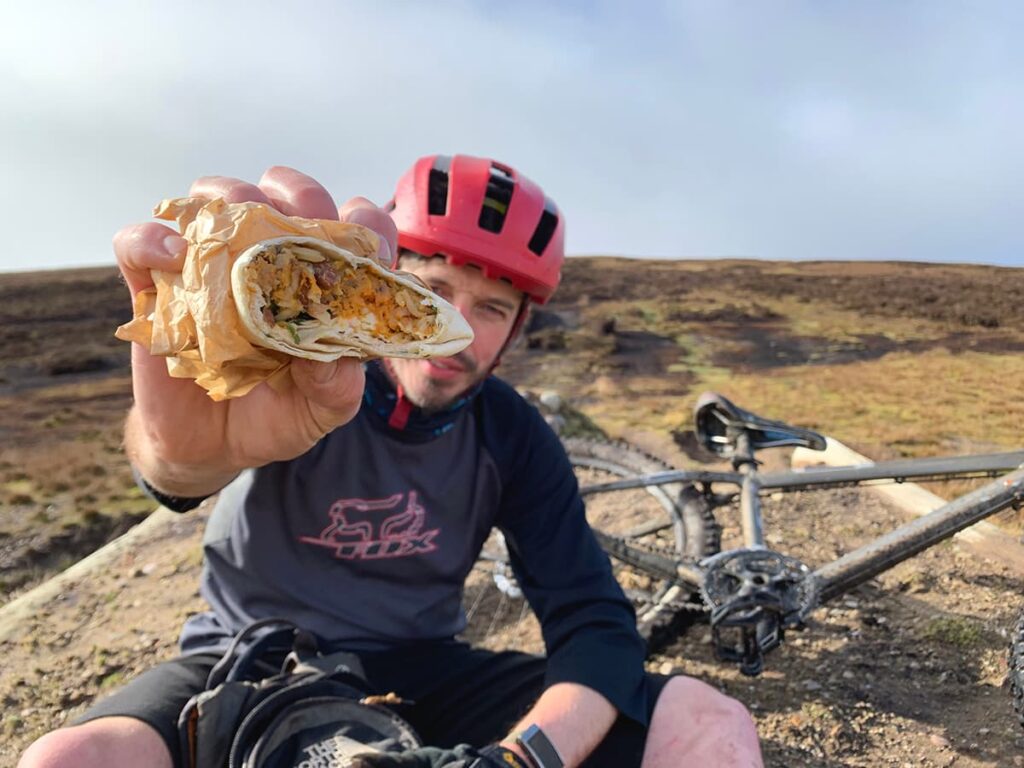 Cycling-specific nutrition
When Robin passed me that day on that road over the Alps, the only fuel I had on me was a pocket full of jelly babies and a calorie-free sports drink.
I had no idea how important it was to eat properly to fuel rides. Most of my rides over the Alps were done before breakfast, too – no wonder I'd spend the rest of the day utterly shattered, even if I'd only cycled 16 miles.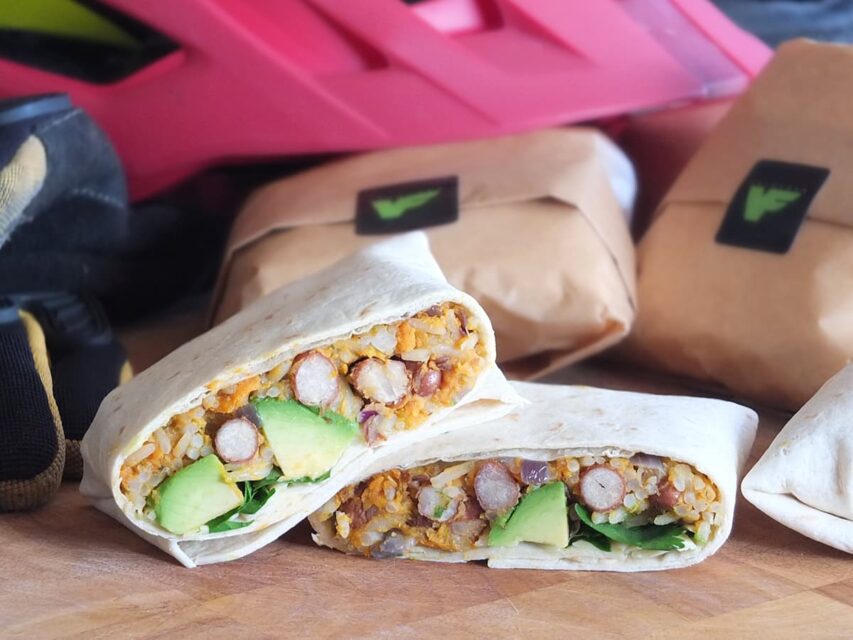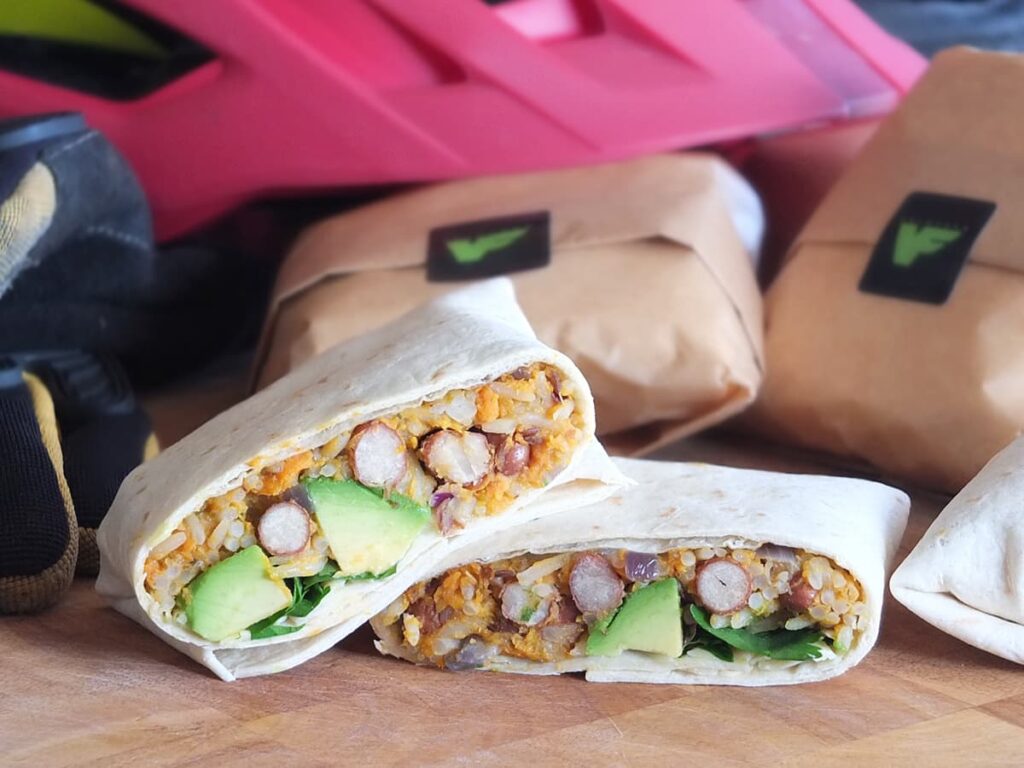 Now, I have found myself getting up at 5 in the morning to eat a bowl of peanut butter porridge made with almond milk before a big day's riding. Room temperature overnight oats have been spooned into my mouth a specific number of hours before virtually racing up the Alpe d'Huez. I now prep post-ride recovery shakes. I also eat a ridiculous amount of peanut butter.
Not only is eating the right food important, but timing the consumption of these foods matters too. If you wait until you feel the hunger pangs when you're out on a ride before you eat that muesli bar in your jersey pocket, you've left it too late.
These are just a few of the thing I've learned as one of Robin's Veloform riders.
This recipe, and the information contained in the rest of this blog post have been written in collaboration with Veloform.
Fuel that adventure.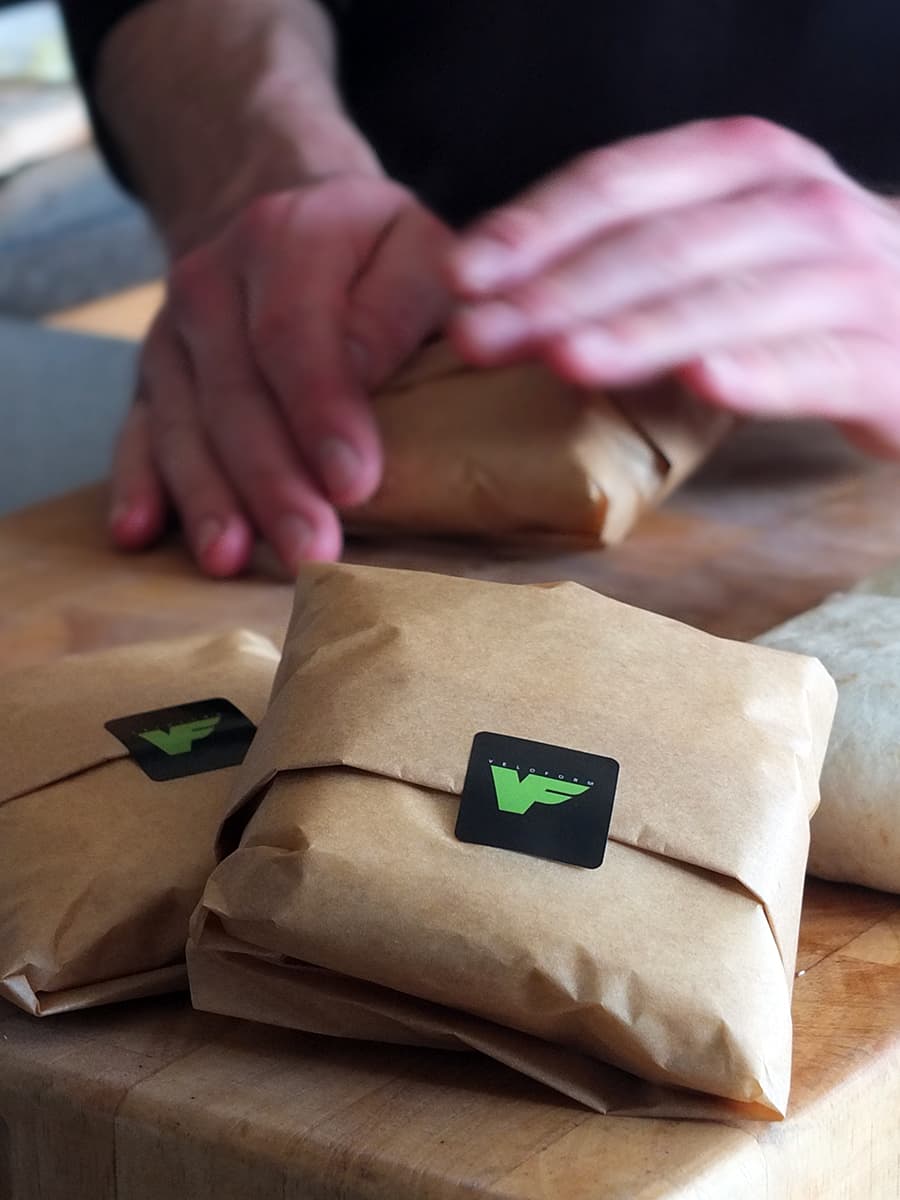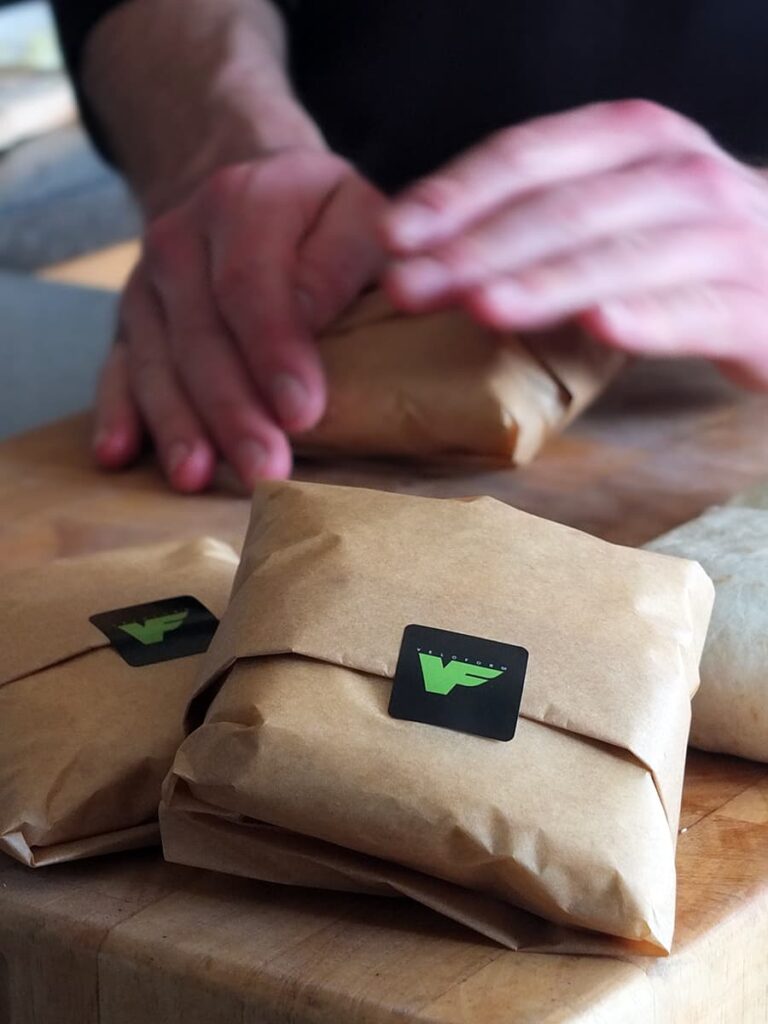 Veloform Shetland
Veloform began as one man with a passion for all things bicycle. Now, it's a movement gathering speed.
"Our mission is to develop cycling throughout Shetland in all disciplines. If you're on two wheels with a set of pedals – we're interested!
We can provide advice for beginners getting into the sport, right through to performance coaching for competition. "
A large part of that is cycle nutrition.
Getting cycle nutrition wrong can have disastrous consequences. "The Bonk" as it's known in cycling has happened to every rider at some point, where your legs turn to jelly, eyelids want to close and all you can think about is stopping exactly where you are.
However, getting it right can allow you to ride for longer, with more strength and stamina. This ultimately allows you to enjoy the bike more or achieve your cycling goals. We focus on pre-ride, during and post-ride food. Three key areas to get right to maximise your ride.
Eating while on the ride is important, so we came up with a recipe that is not only tasty, but also packed with the right level of nutrients and a practical answer to the squashed jam sandwich at the bottom of your bag.
The 3 key ingredients in this recipe for maximum fuelling are: sweet potato, borlotti beans and tortilla wraps.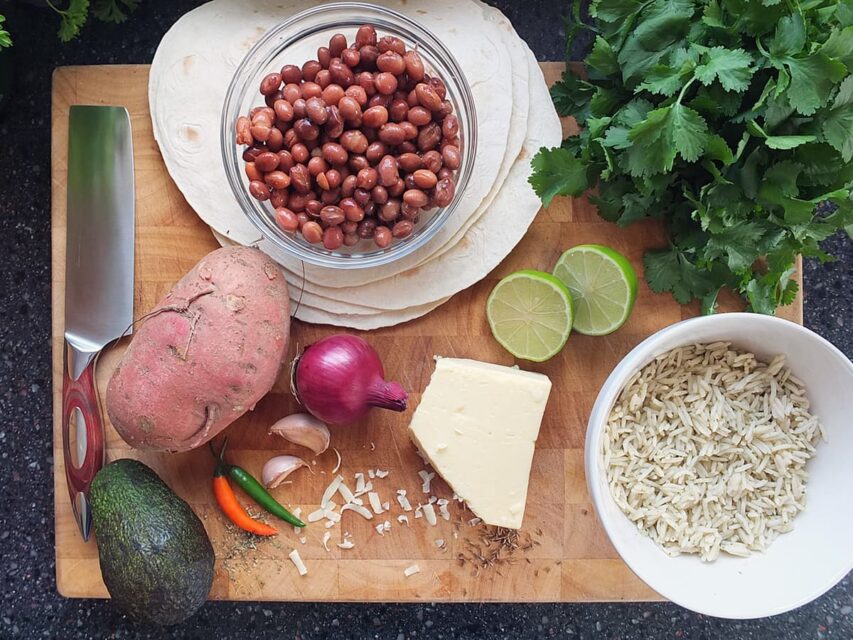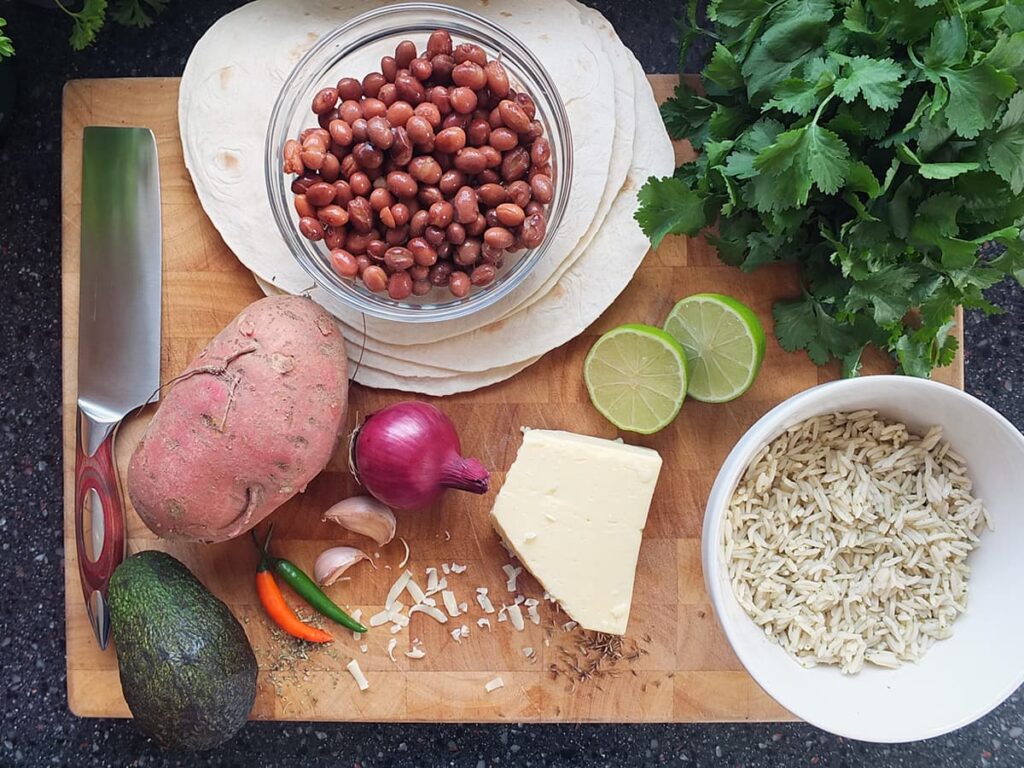 What you'll need for this recipe… and why
Sweet potato – an excellent source of complex carbohydrates required for exercise. Sweet potatoes (especially the orange variety) also contain beta-carotene, which may help reduce exercise-induced oxidative stress and post-exercise inflammation.
Borlotti beans – during exercise, your body tears microfibres within your muscles. It's the process of repairing these fibres that will ultimately make you stronger for next time. Borlotti beans provide the protein, fibre and iron to make this happen.
Coriander & lime rice – use ready-made for convenience, this low-medium GI food provides a slow and sustained release of sugar into the bloodstream.
Ginger – optional, for digestion and flavour.
Red onion – just for flavour.
Garlic – anti-inflammatory and anti-oxidant, which means less oxidative stress and more healing. Also, tasty.
Chillies – not essential but adds a bit of spice and flavour.
Avocado – good for adding moisture to what would otherwise be quite a dry mouthful. Also, good fats.
Cheddar cheese – because, you know!
Spices – dried oregano and whole cumin seeds
Lime – because we all need a little citrus zing in our lives.
Tortilla wraps – the tortilla wrap is genius at providing a neat package that doesn't tear or seep.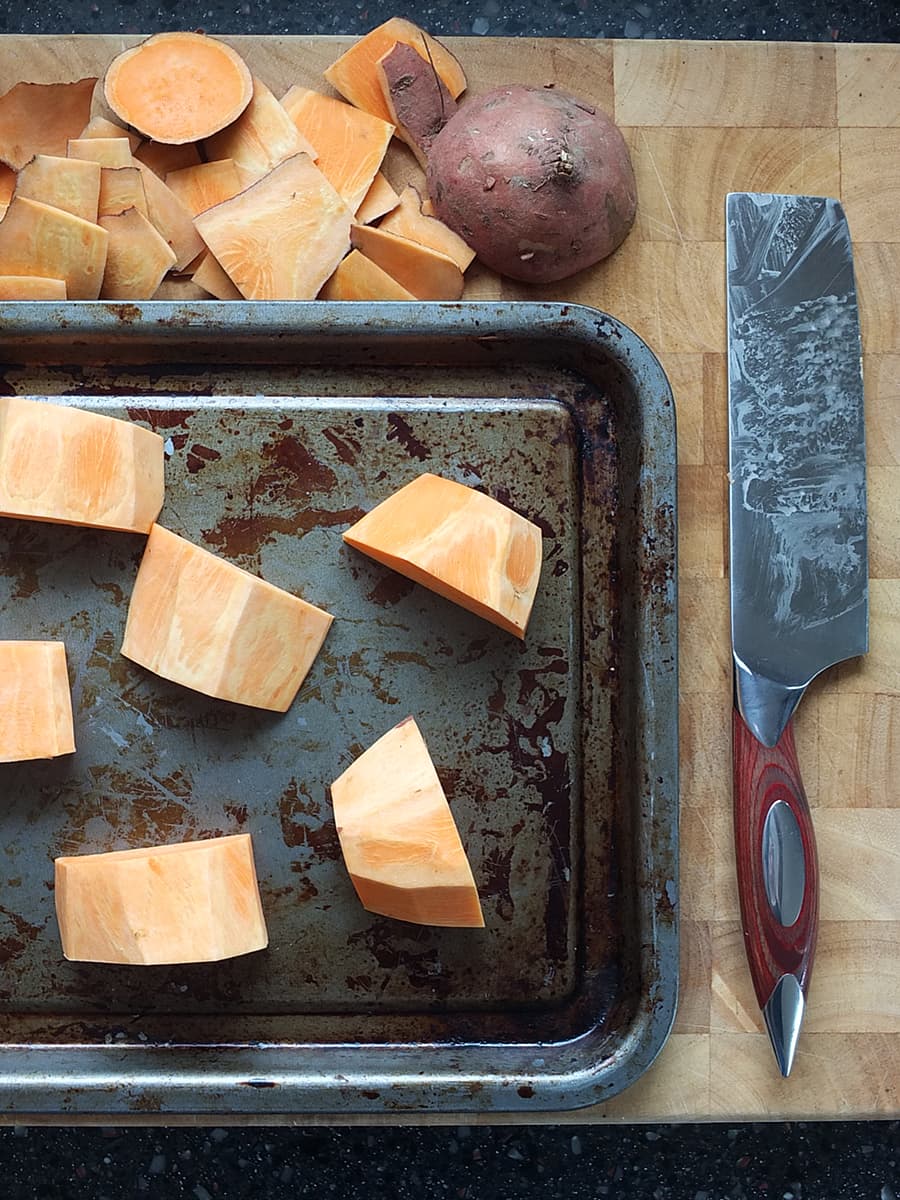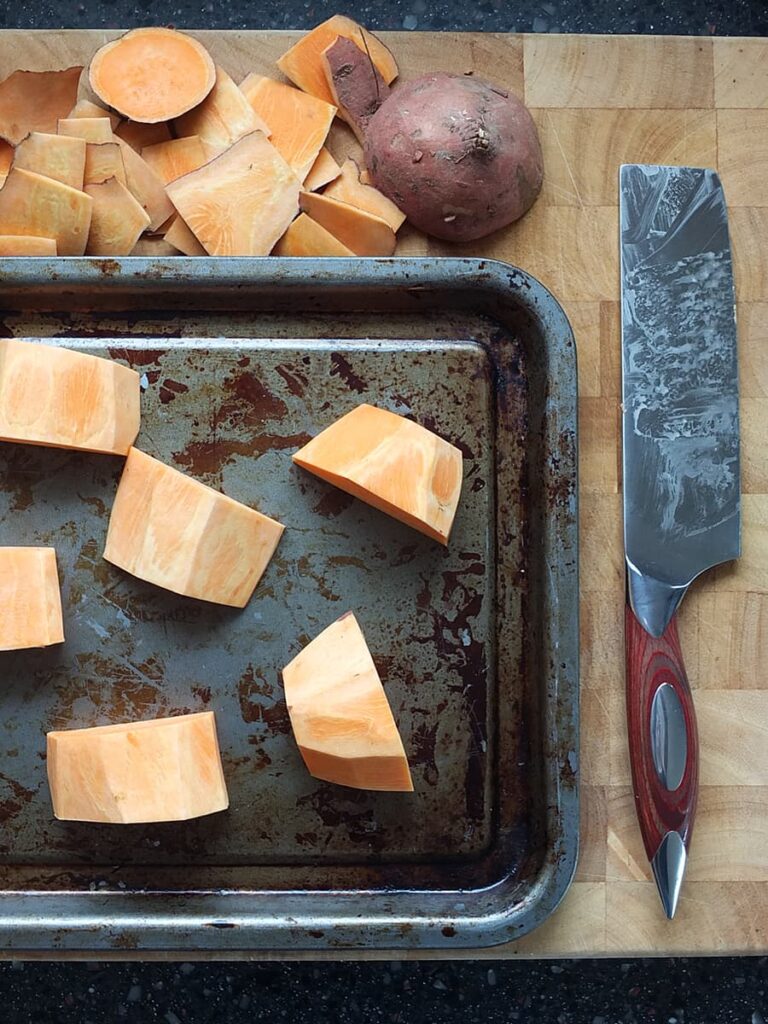 Food to fuel cycling: sweet potato
When it comes to exercise, sweet potatoes are one of the best foods available. They are an excellent source of complex carbohydrates, long complex chains of sugar molecules, which are turned into glucose (blood sugar) by the body and used as energy.
Think of these carbs as putting gas in the tank. You wouldn't expect your car to run without fuel, and neither will your body. When you're out riding, you're predominantly burning carbs so it's important to keep them topped up.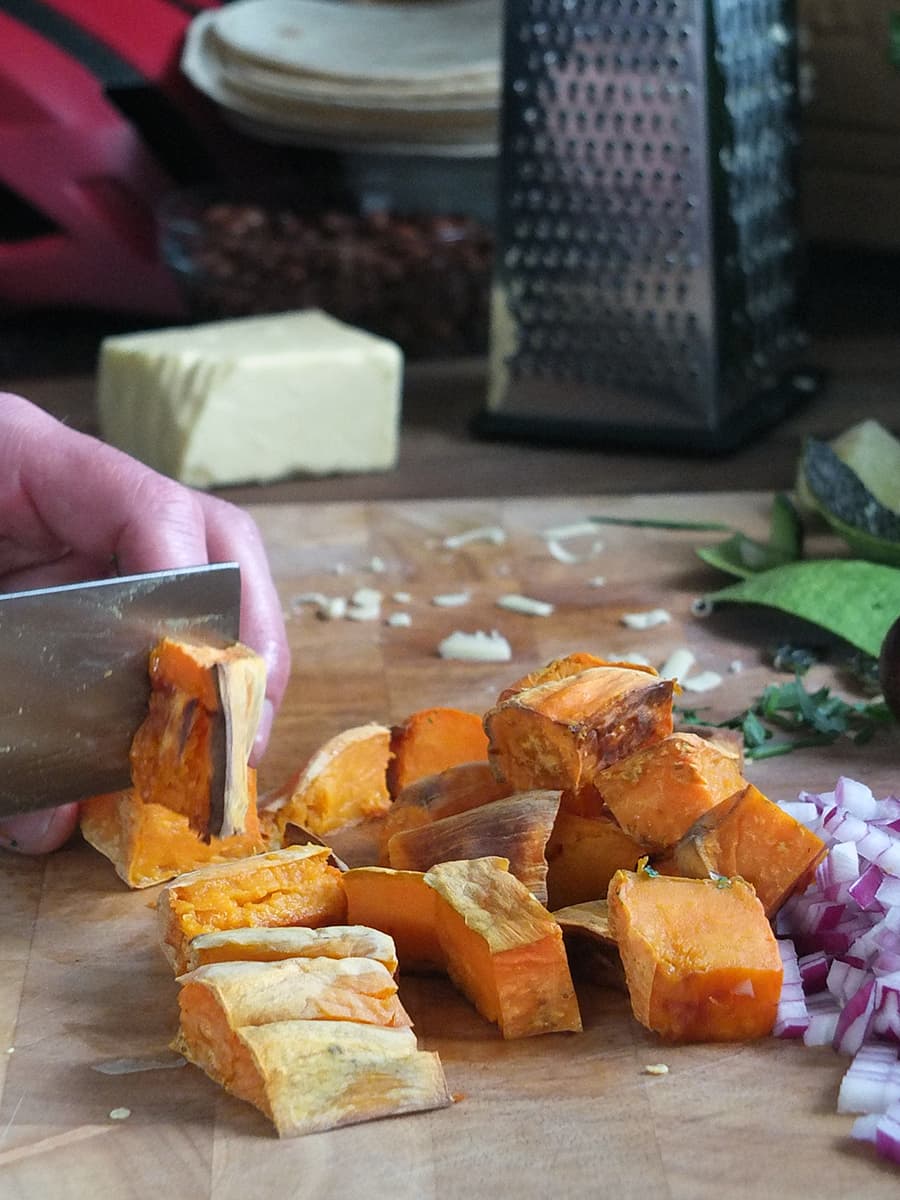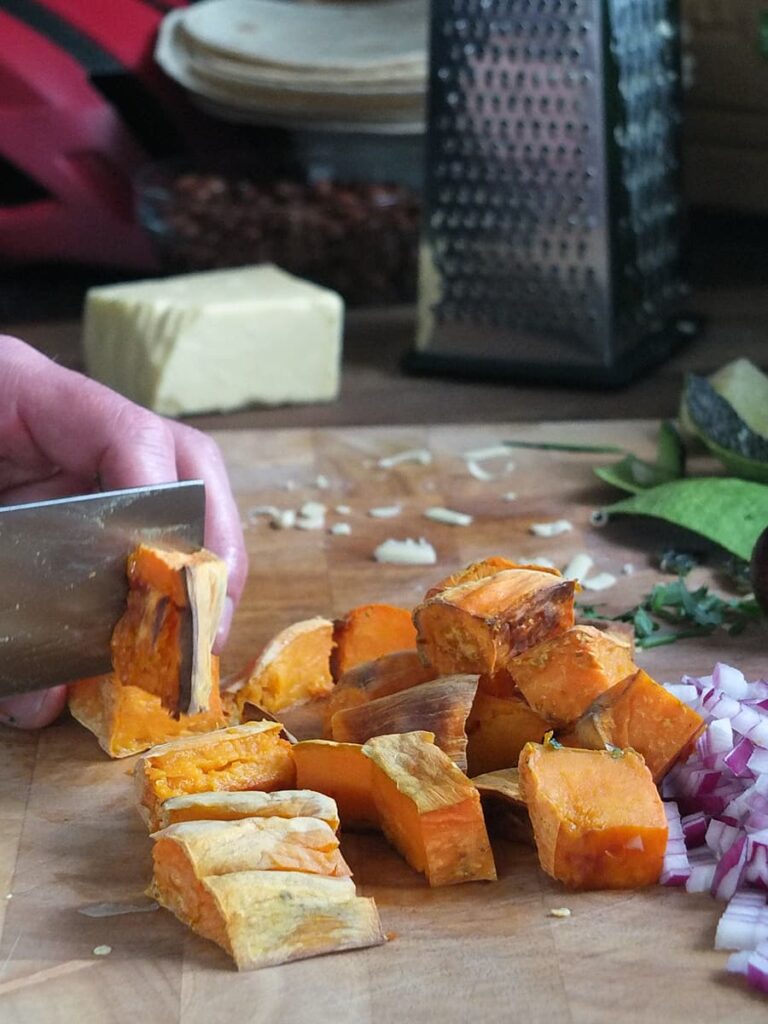 Now we could just replenish our carbs with carbohydrate drinks and gels – there's plenty on the market. These products have a finite life to how much of a spike they will give you as well as becoming quite sickly. They can also really affect your gut health.
Sweet potatoes are packed with over 20% carbohydrates and with a low Glycemic Index (GI) they will release this gradually and keep you full for longer; ideal for those big days out.
They're also high in potassium, which will stave off the cramps from all the sweating from physical exercise. Sweet potatoes, especially the orange variety, are also packed to the gunnels with beta carotene, the precursor to vitamin A. This vitamin is ideal for growth, keeping our vital organs functioning and importantly maintaining the immune system.
Eat them before, during or after your ride.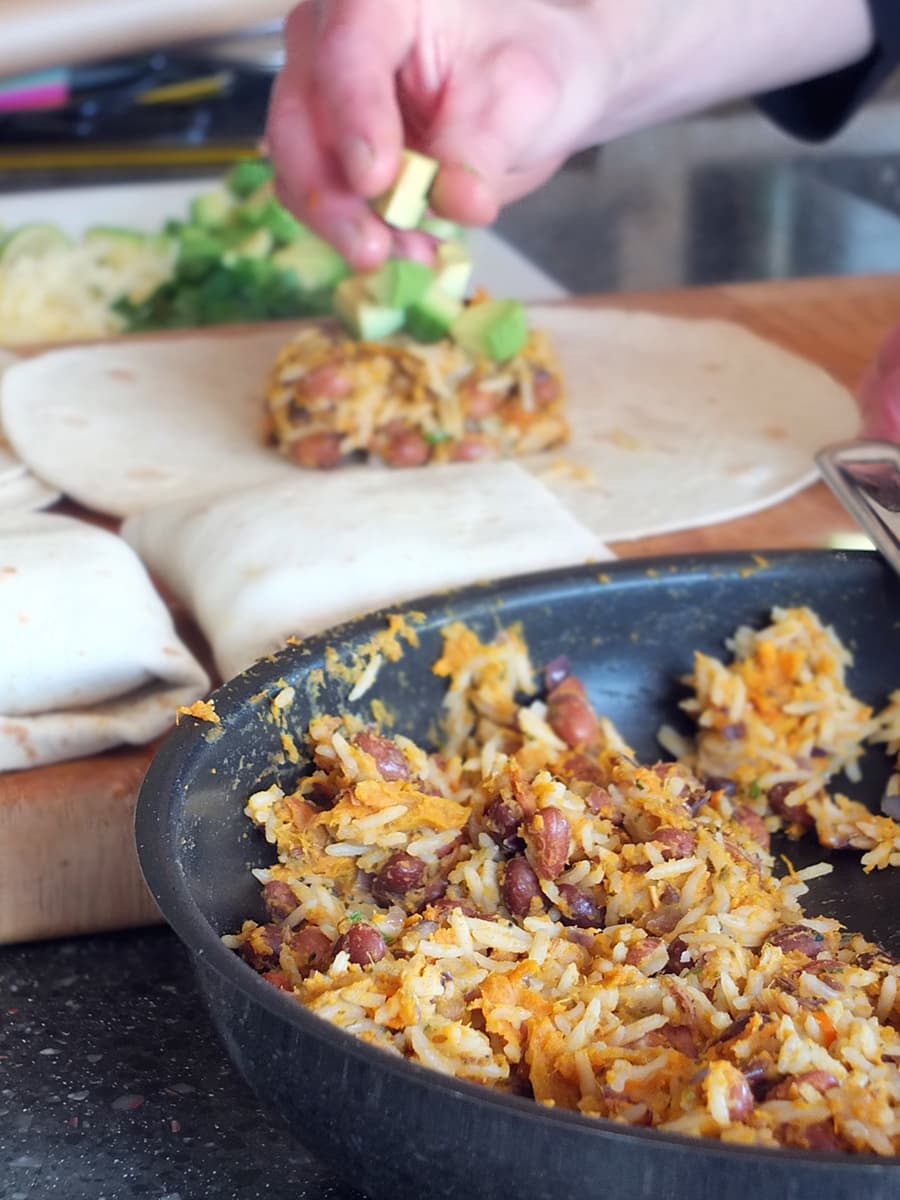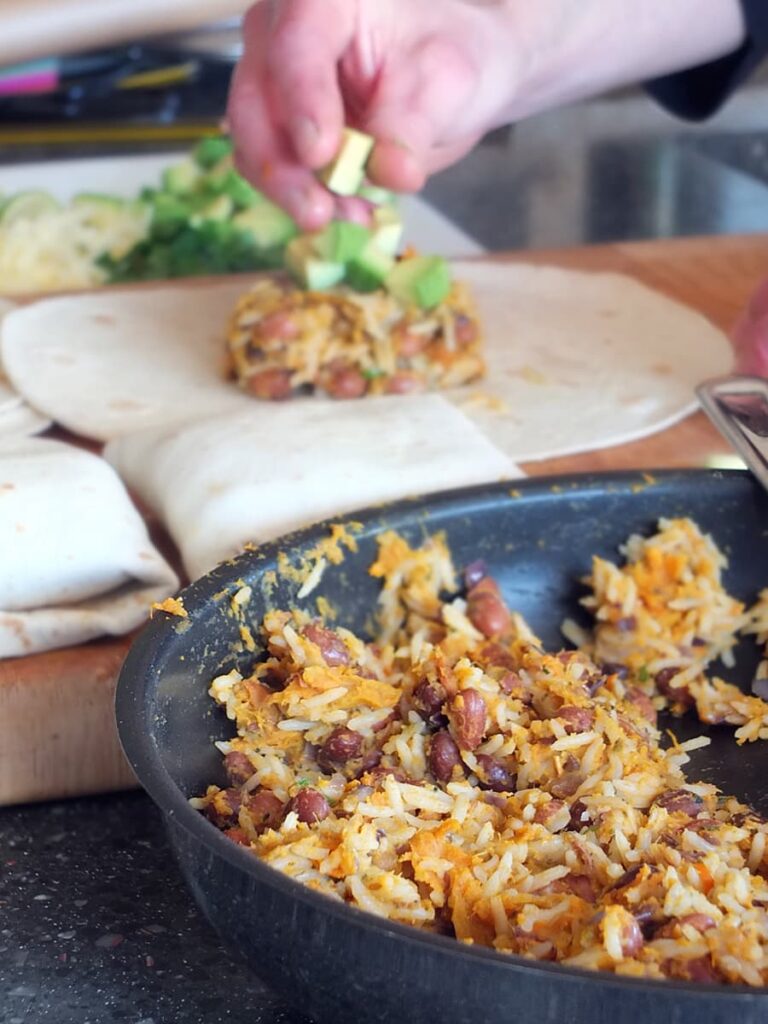 Food to fuel cycling: borlotti beans
During exercise, your body tears microfibres within your muscles. It's the process of repairing these fibres that will ultimately make you stronger for next time. So it's important to give the body the building materials it needs to do this.
Borlotti beans (also known as cranberry beans) provide the protein, fibre and iron to make this happen.
We don't want huge amounts of this while we're riding as the body can't process it quick enough, however, with these beans, there's enough there to replenish the stores to keep the levels up until you get home.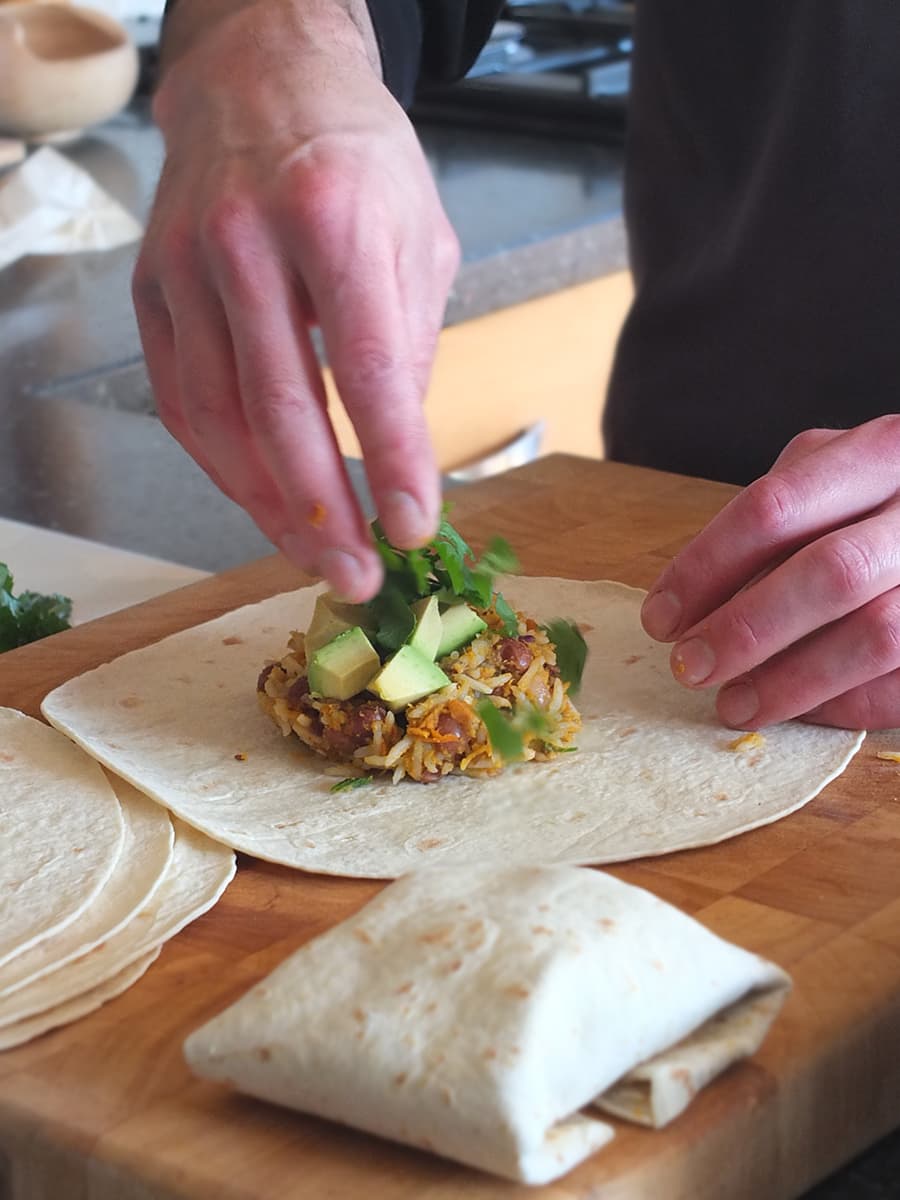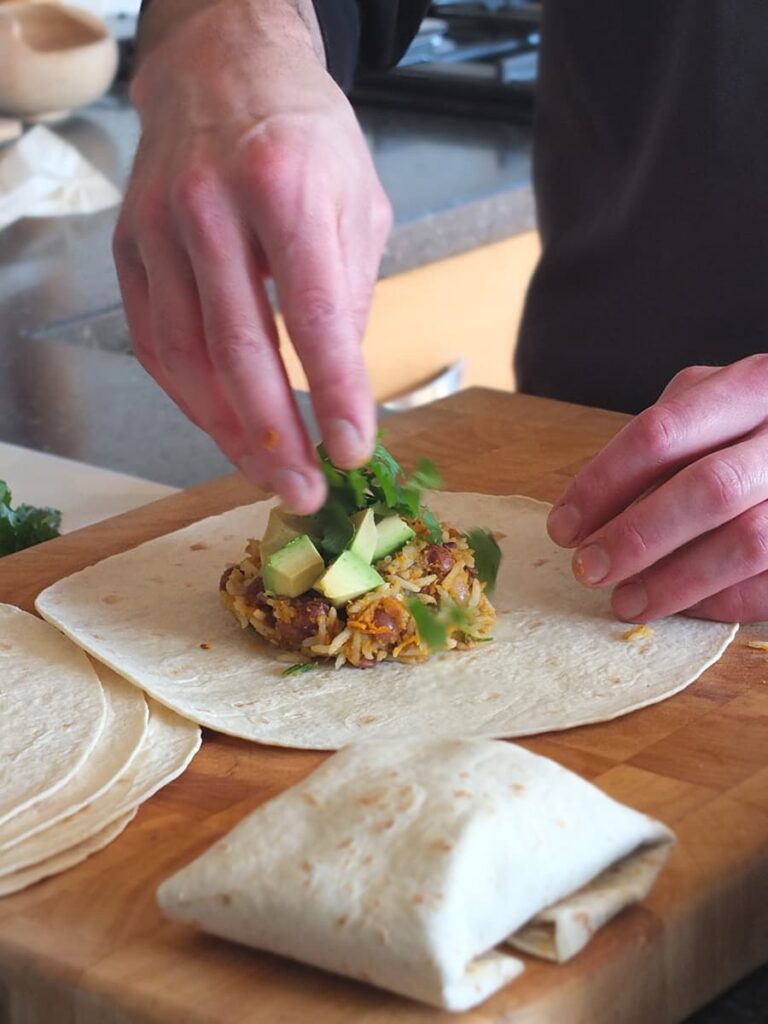 Food to fuel cycling: tortilla wraps
Designed to keep it all together, the tortilla wrap is genius at providing a neat package that doesn't tear or seep. Perfect for that on-the-go snack.
You can fold your burrito the traditional way (full instructions here) or do it our way, which we find is less messy and easier to tuck into a jersey pocket or rucksack (watch the video in the recipe card, below).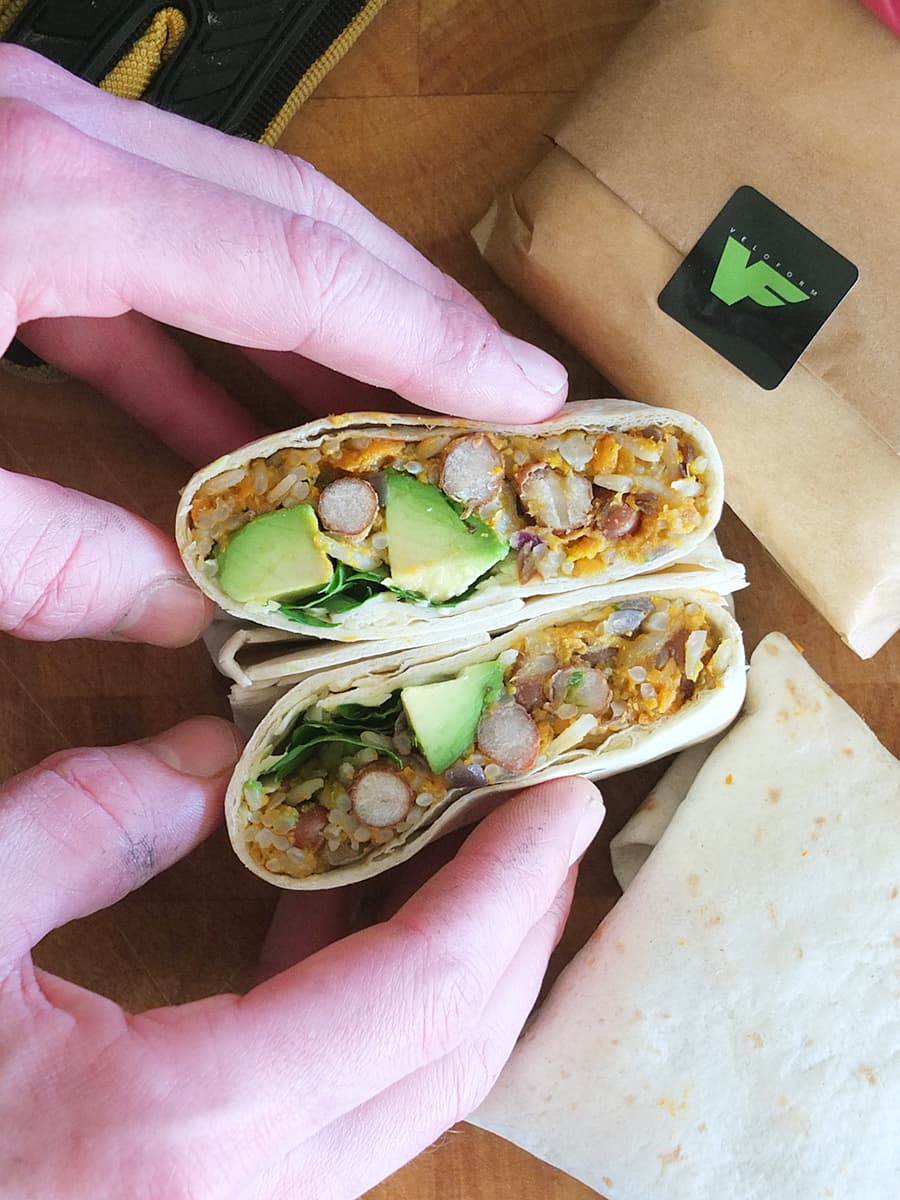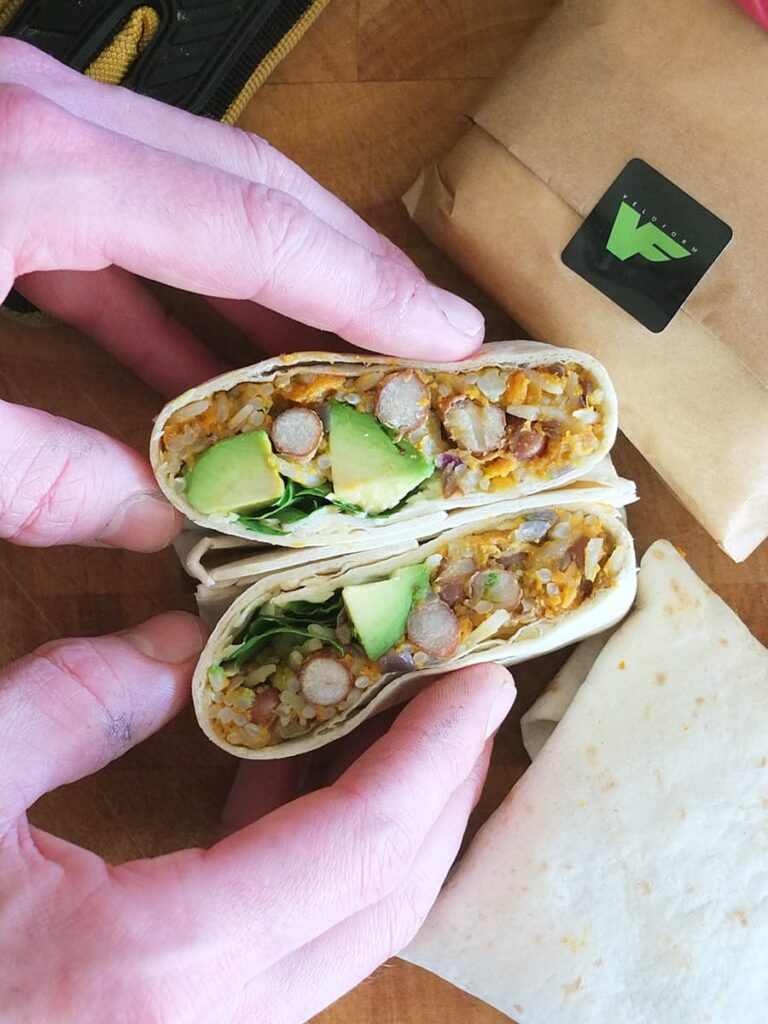 You can find Robin at Veloform over on Instagram. If you make this recipe (or need your bike fixed), let him know! Share your videos and stories by tagging @veloform_sh. You can also contact him through the Veloform website and on Facebook.
And that folks, is a wrap!
Get yourself outside to play, ride safe and eat well.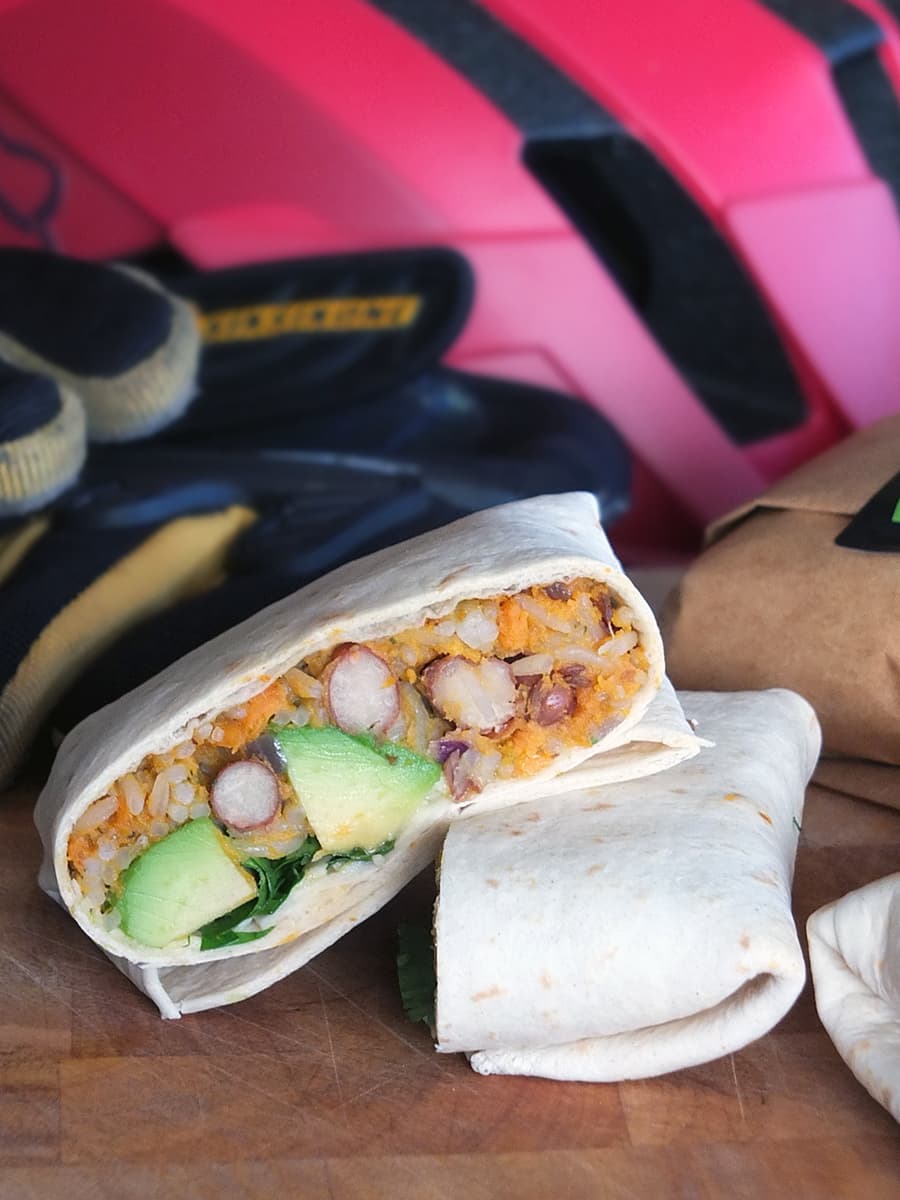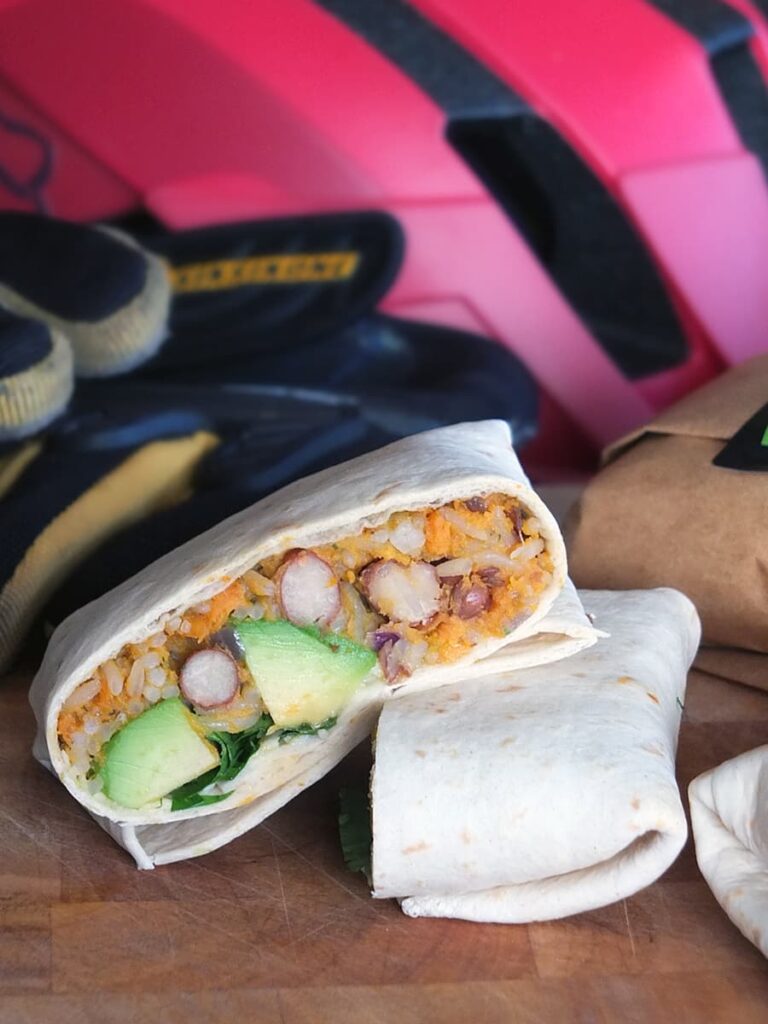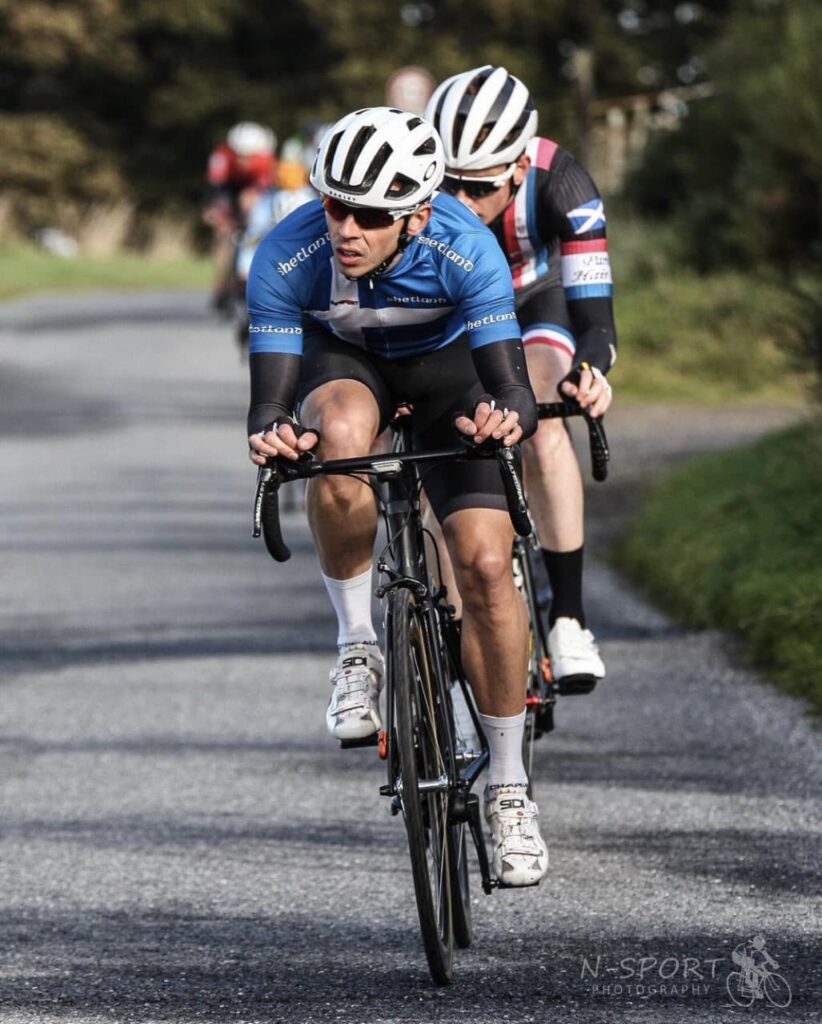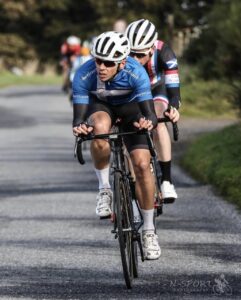 About Robin Atkinson
Robin has been cycling for as long as he can remember. Brought up with cycling parents, touring holidays on two wheels were a regular thing from a young age.
A former Cat2 rider, Robin has been racing competitively for Shetland at national and international levels.
He is also a Level 3 cycle coach with the Association of British Cycle Coaches.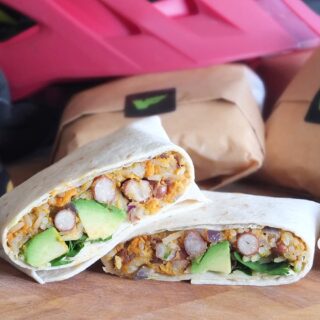 Vegetarian Bean and Rice Burrito
Roasted sweet potato, borlotti beans and rice combined with spiced red onion, garlic, chilli, avocado, cheddar cheese, lime and coriander wrapped in a tortilla.
Print
Pin
Rate
Affiliate Links
This recipe card may contain affiliate ingredient and equipment links. As an Amazon Associate I earn from qualifying purchases.
Instructions
Peel the sweet potato and cut it into 2-inch pieces. Roast, without oil, in a preheated 180 C/ 350 F/ gas mark 4 oven for 45 minutes.

Once cool to touch, slice into smaller pieces.

Heat butter in a non-stick frying pan. Gently saute the red onion and sweet potato until the onion has softened and the potato has broken down. Approximately 6 minutes.

Add the dried oregano and cumin seeds.

Add the garlic, ginger and chillies.

Stir in the drained, rinsed borlotti beans. Cook for 3 minutes to heat.

Add the coriander and lime rice, and heat through for another 3 minutes.

Lay out a warmed tortilla wrap and top with 1/6th of the borlotti bean/rice mixture.

Top with chopped avocado, grated cheddar cheese and fresh coriander leaves.

Squeeze over the juice of 1/6th of a lime.

Fold the burrito and wrap in paper.
Video
Vegetarian Sweet Potato & Bean Burrito Recipe
Nutrition
Calories:
421
kcal
|
Carbohydrates:
58
g
|
Protein:
16
g
|
Fat:
15
g
|
Saturated Fat:
6
g
|
Trans Fat:
1
g
|
Cholesterol:
23
mg
|
Sodium:
353
mg
|
Potassium:
700
mg
|
Fiber:
12
g
|
Sugar:
5
g
|
Vitamin A:
5745
IU
|
Vitamin C:
20
mg
|
Calcium:
221
mg
|
Iron:
3
mg
Environmental Information
Pin this vegetarian sweet potato and bean burrito recipe for later
You might also like…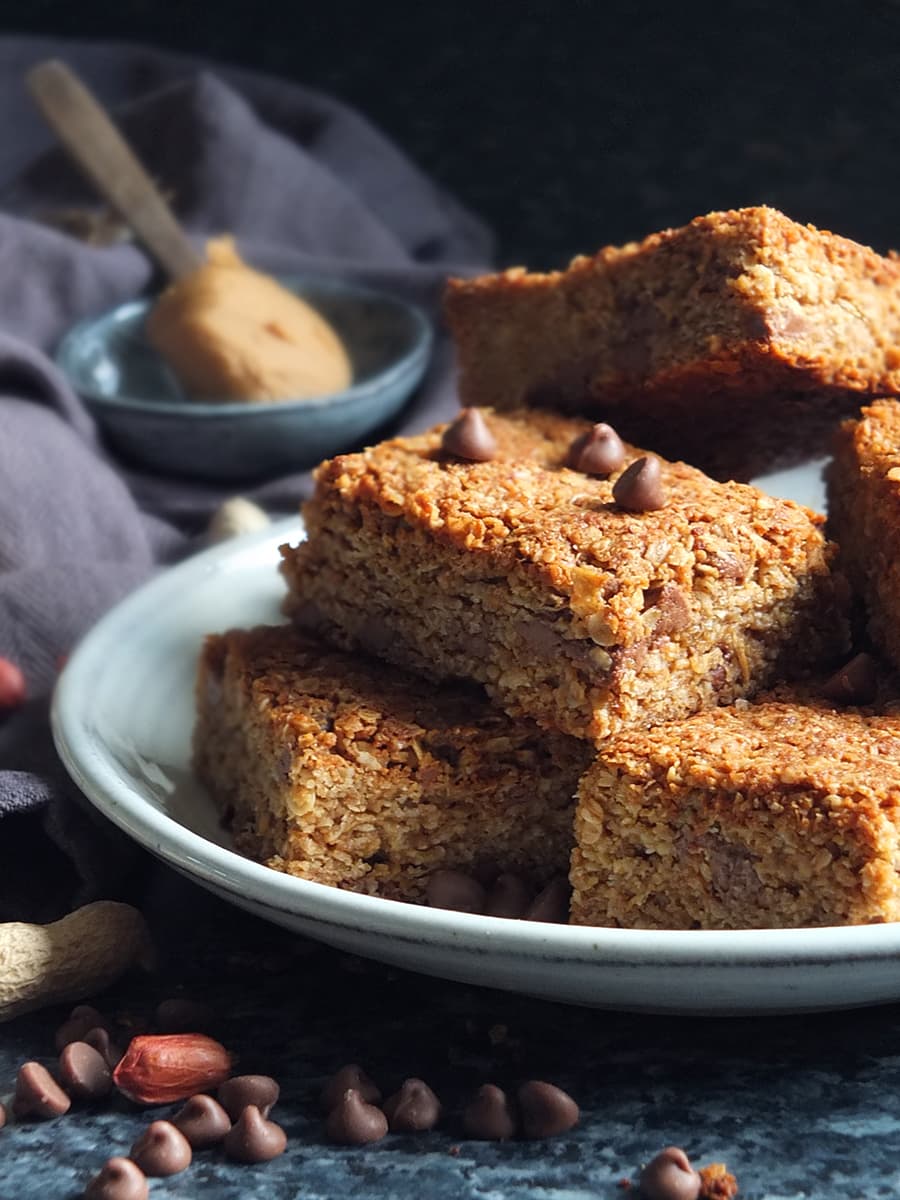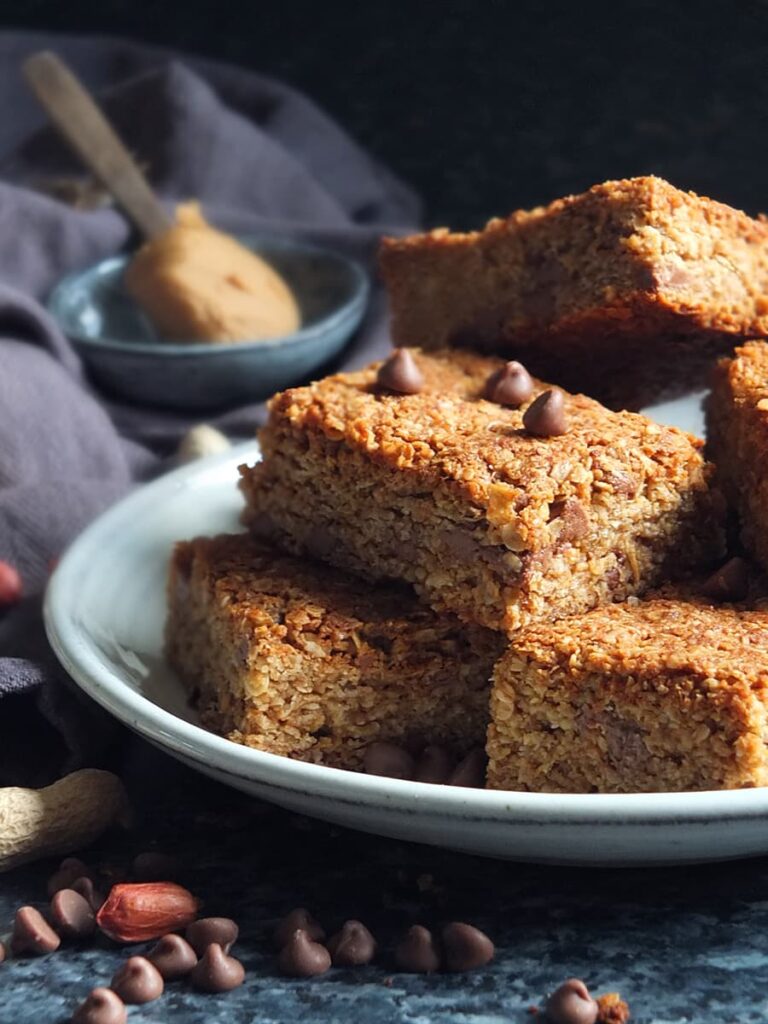 This is not a sponsored post, although it has been written in collaboration with a new Shetland-based business. He's my boyfriend. He cooks for and adventures with me.