A British Egg Week recipe in collaboration with British Lion Eggs.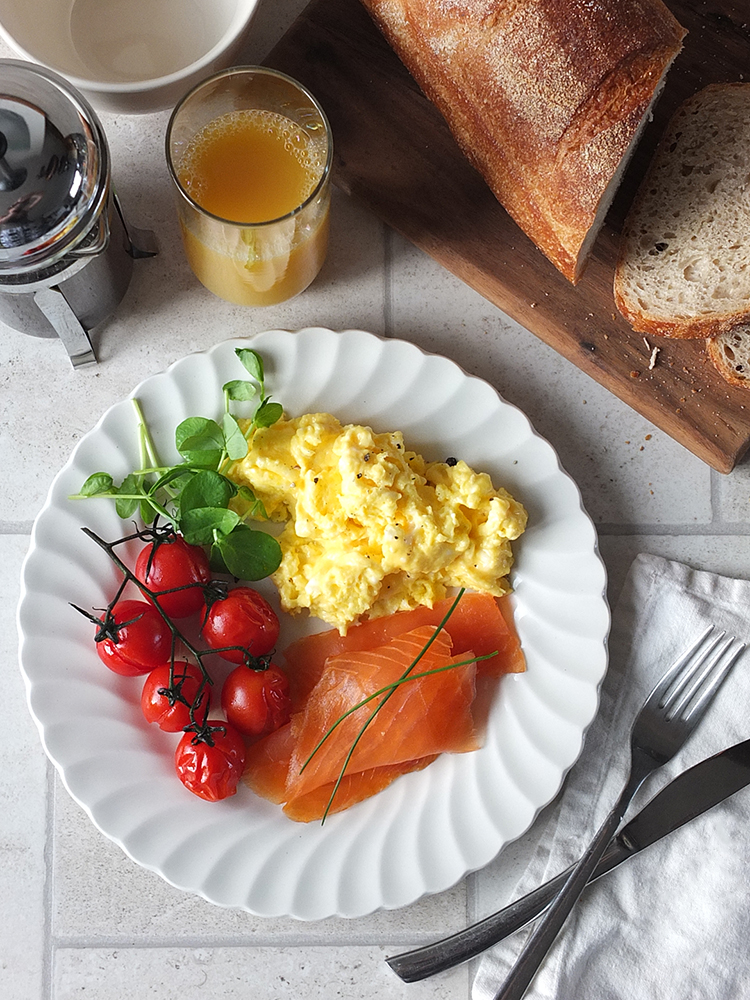 Nothing beats a lazy Sunday morning pottering about the kitchen in your pj's, except perhaps a lazy Sunday morning with a luxury hotel-style breakfast to nibble on, especially one that takes less than 20 minutes to make!
This week is British Egg Week, and to celebrate, British Lion Eggs have asked me to join in celebrating all that is wonderful about the British Egg by sharing my own twist on my favourite luxury hotel-style breakfast.
I thought I would share with you a new method I've recently learned from my teenage son on how to make the perfect creamy scrambled eggs. Served with some beech and oak smoked Scottish salmon (from Shetland, of course) and some deliciously juicy roasted cherry tomatoes on the vine, they make for a perfect, quick and easy yet indulgent Sunday morning breakfast for one.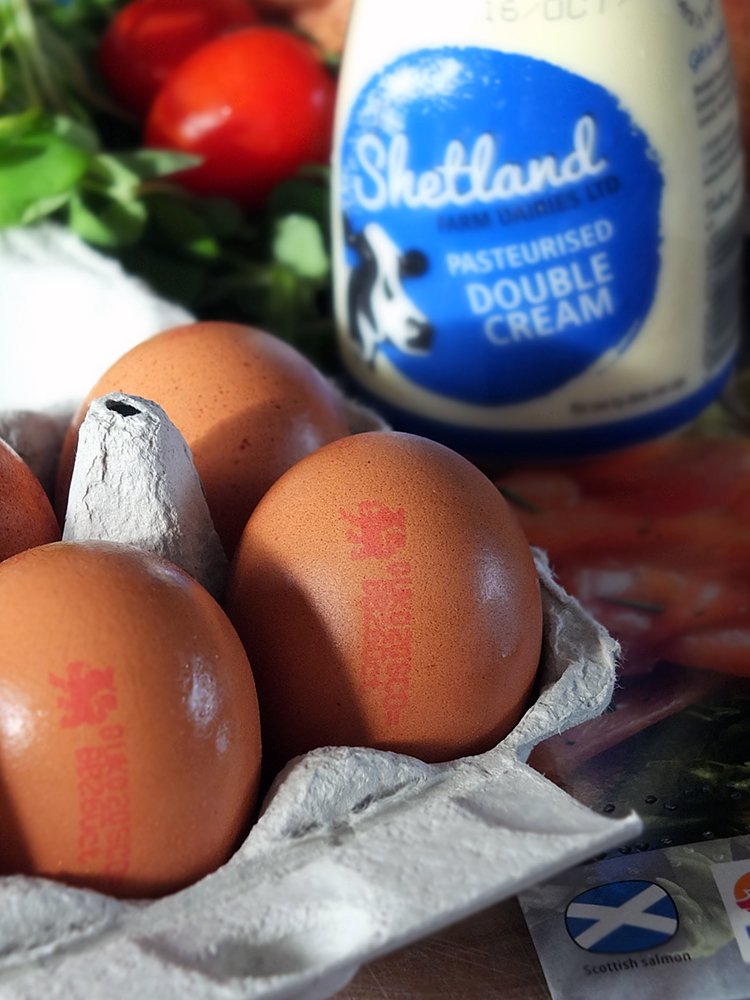 You might have heard about British Lion Eggs recently in the news. On the 11th of October the Food Standards Agency changed their advice about infants, children, pregnant women and the elderly eating raw or lightly cooked eggs that bear the British Lion mark, pictured above. Since the late 1980's it's been advised that these vulnerable groups don't consume raw or lightly cooked eggs due to the risk of salmonella, but after reviewing the scientific research the FSA has changed their advice to say that yes, British Lion mark eggs are safe.
Heather Hancock, Chairman of the Food Standards Agency, said:
"It's good news that now even vulnerable groups can safely eat UK eggs without needing to hardboil them, so long as they bear the British Lion mark. The FSA has thoroughly reviewed the scientific evidence about the safety of these eggs, and we're confident that we can now change our advice to consumers.

"The major reduction in the risk of salmonella in Lion eggs is testament to the work carried out by egg producers. The measures they've taken, from vaccination of hens through to improving hygiene on farms and better transportation, have dramatically reduced salmonella levels in UK hens."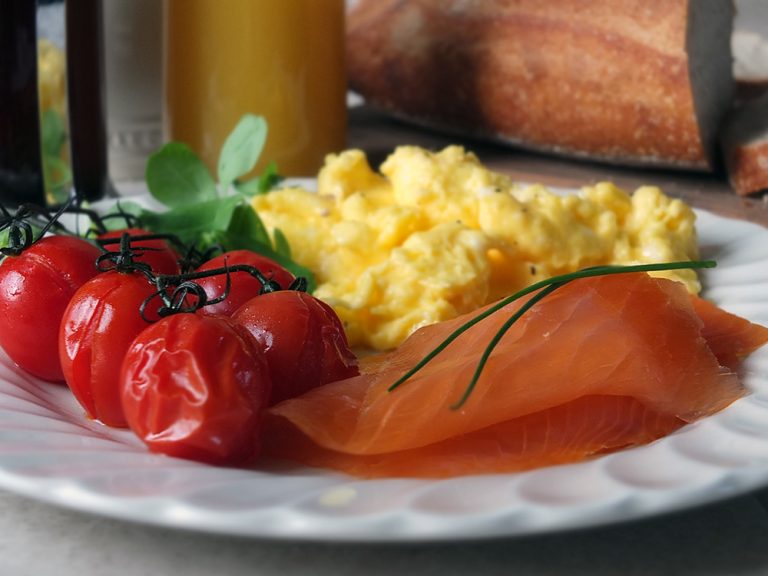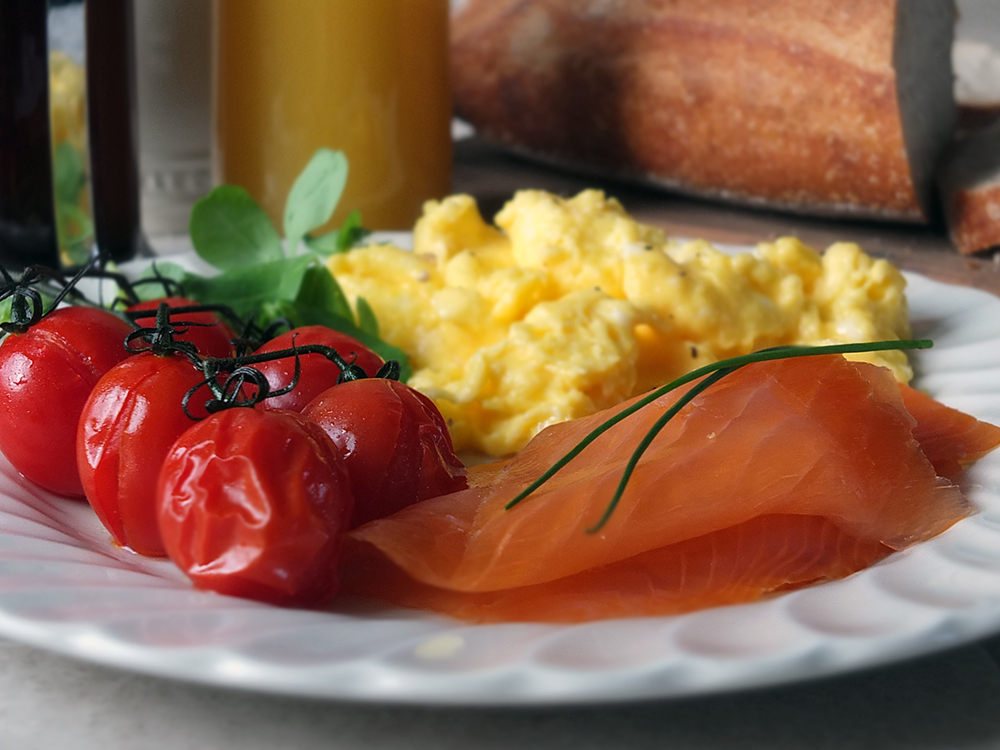 This news is great news for those who loved their runny poached eggs, soft boiled eggs and soldiers or soft-set scrambled eggs, like these ones I've been taught to make by my son.
Some background information – earlier on in the year I ate at a very fine restaurant in Ellon, just outside Aberdeen, and while chatting with the chef I asked him if he had any advice for young folk just starting out in the hospitality industry. My own teenage son has just left secondary school to pursue a career in said industry. He has dreams of opening his own restaurant one day. The chef's advice: just keep washing dishes until someone doesn't show up for work one day. Just wash the dishes, and learn by observing.
My son has a part-time job at a popular local cafe washing dishes while he studies. He came home from work one day really excited: "Mum, can you get some cream? I want to show you how to make the best scrambled eggs!"
The secret, he says, is cooking the eggs over a medium low heat, and pouring the cream straight into the pan once the butter has heated. Then, add the eggs, gently lift, fold and scrape and remove the eggs from the heat when the eggs still look wet. This is a very important step, he insists.
He'd learned this technique by watching the cafe chef make them over and over again, as they are a popular dish on their breakfast menu.
I've jazzed mine up by serving them with some beech and oak smoked salmon, some gorgeous, juicy roasted cherry tomatoes and a small handful of pea shoots.
What's your favourite egg breakfast recipe? Let me know in the comments!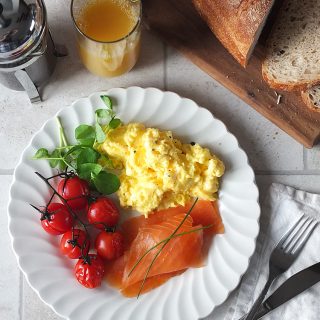 Lazy Sunday Morning Scrambled Eggs with Beech & Oak Smoked Scottish Salmon & Roasted Tomatoes
A quick and easy breakfast for one for those lazy Sunday mornings.
Print
Rate
Affiliate Links
This recipe card may contain affiliate ingredient and equipment links. As an Amazon Associate I earn from qualifying purchases.
Instructions
Preheat your oven to 180 C/ 160 C fan/gas 4 and place the cherry tomatoes on the vine on a baking tray. Drizzle with the olive oil and bake in the centre of the oven for 12-15 minutes.

Meanwhile, heat the butter in a small non-stick frying pan over a low-medium heat until it begins to foam.

Crack the eggs into a bowl and beat lightly.

Pour the double cream straight into the hot butter and pour over the beaten eggs.

Leave it for a few moments to cook over the low heat until it begins to form curds. Gently pull the egg mixture across the bottom of the pan with a spatula, lifting and folding as the mixture forms large, soft curds. The eggs will still look wet when they are finished as they will continue to cook for a few minutes even after removed from the heat.

Arrange the smoked salmon on your plate along with the roasted cherry tomatoes, scrambled eggs and pea shoots. Season well to taste and enjoy!
Environmental Information
THE GORING LUXURY EGG BREAKFAST RECIPES
Eggs en Cocotte with Smoked Haddock, Leeks & Chives
Smoked Salmon & Scrambled Eggs
Eggs Benedict with Homemade Hollandaise Sauce
Fine Herb Omelette with Smoked Salmon
Smoked Salmon & Double Cream Scrambled Eggs
OTHER EGG RECIPES YOU MIGHT LIKE
Soft Poached Eggs, Sweetcorn Frittas & Crispy Bacon
Eggs en Cocotte with Salmon & Leeks
Veggie Frittata
Potato Rosti Waffles with Poached Egg
Lemon Griddled Asparagus & Poached Egg on Toast with Golden Linseed & Pumpkins Seeds
Coconut & Honey Omelette
Baked Eggs
Make Ahead Sausage Egg Casserole
Masala Scrambled Eggs
Sausage Egg Breakfast Bites
Italian Scrambled Egg on Toast
This is a commissioned recipe for British Lion Eggs. Thank you for supporting the brands who make it possible for me to do what I love: mess up my kitchen and share recipe stories.
[color-box]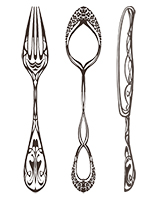 Have you made this recipe?
Take a photo and tag @tangoraindrop or use the hashtag #elizabethskitchendiary and share on Instagram and Twitter. It would make my day to see your creations!
[/color-box]