A recipe & review in collaboration with Nuts Pick.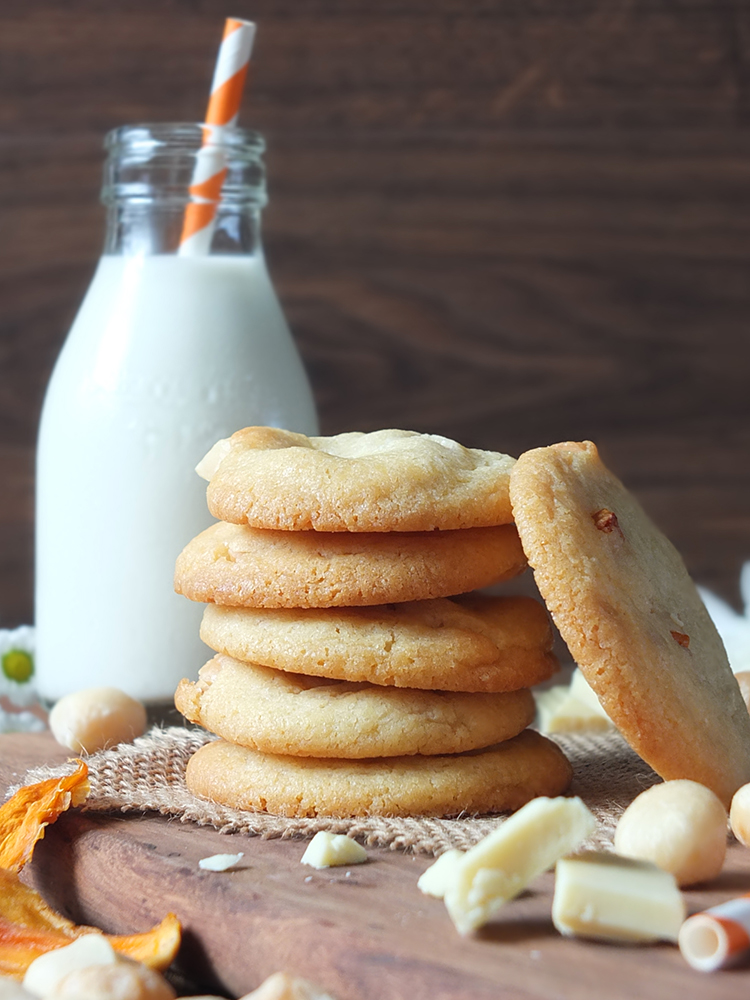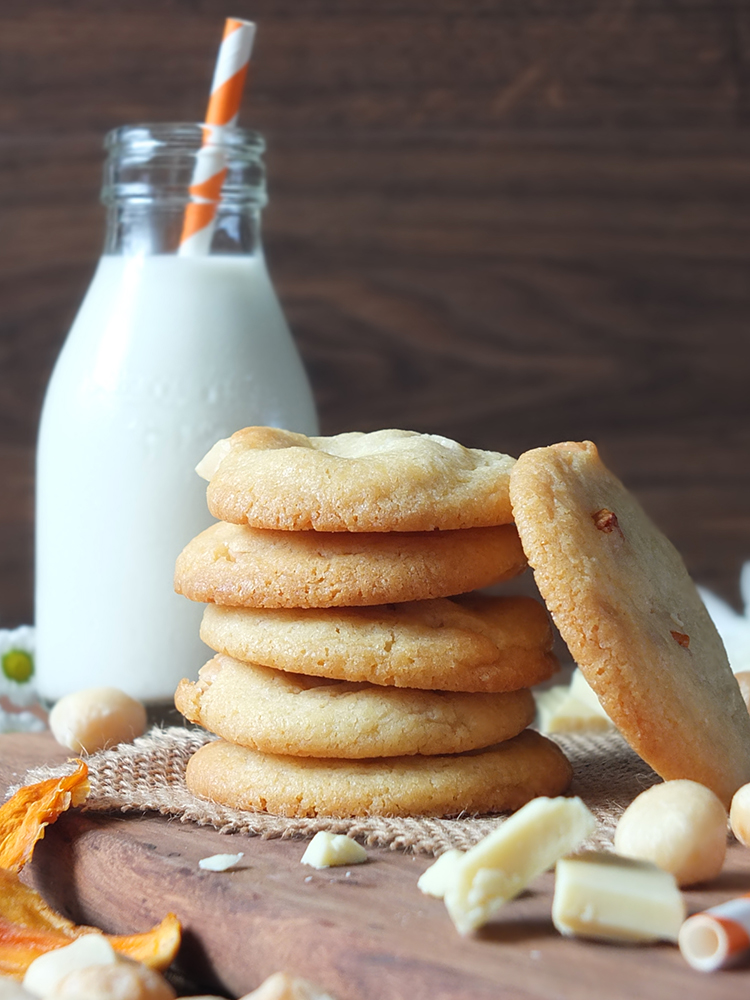 There's something very therapeutic about baking cookies. They're so easy to make and one can contentedly potter about the kitchen while each batch bakes, filling the house with the delicious aroma of freshly baked cookies.
We've got our regular family favourites: oatmeal raisin, chocolate chip and my own personal favourite, old-fashioned soft molasses cookies, but I do love experimenting with new flavours. When a parcel of dried fruit and nuts arrived the other day from Nuts Picks, I was immediately inspired to bake some roasted macadamia nut, mango and white chocolate cookies.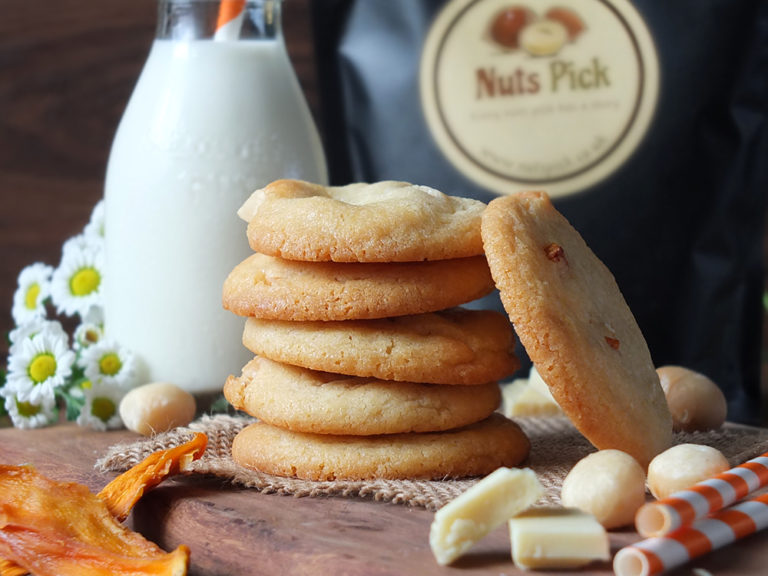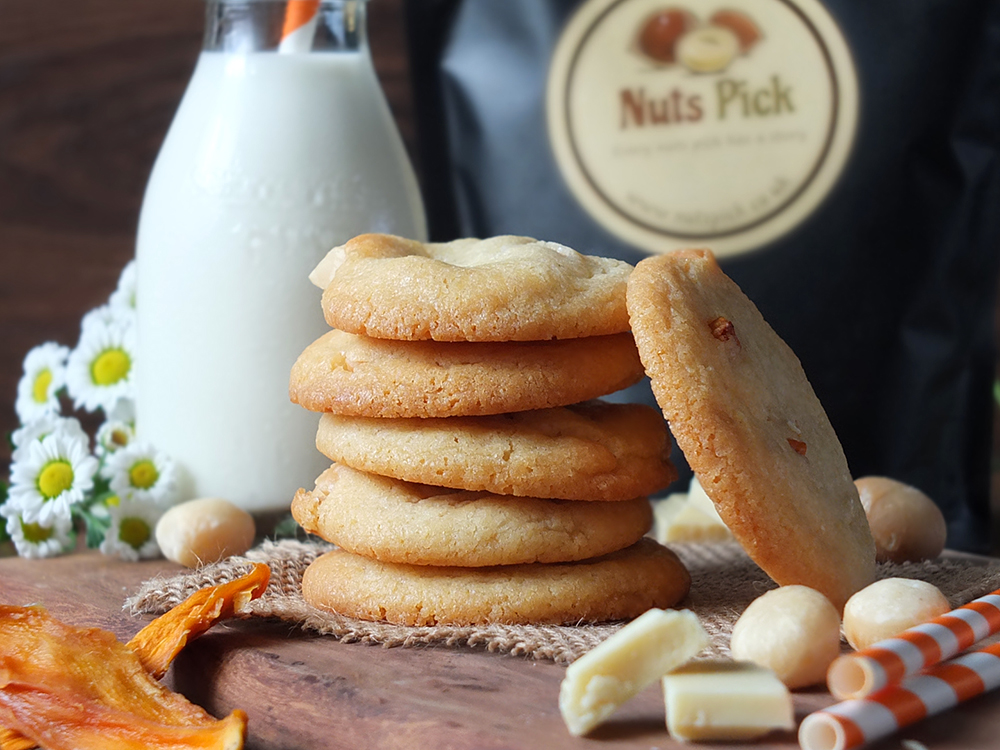 I started with a standard condensed milk cookie base as this gives cookies a lovely chewy centre and crunchy outer. Plus, it's really easy to make.
NUTS PICK – MACADAMIA NUTS AND MORE!
Nuts Pick are a west-London based company that provide freshly roasted nuts and dried fruits to customers. They freshly roast their handpicked nuts within 24 hours of you placing an order to ensure you get a fresh and delicious snack delivered straight to your door. Most of their products receive 5-star reviews from happy customers, and their range includes raw, salted, smoked and honey glazed nuts (almonds, macadamias, hazelnuts, etc.) as well as seasonal chocolate and yoghurt covered ones. Their dried fruit range includes dried mango strips (which I chopped finely to include in my recipe), apricots, strawberries, pineapple figs and Medjool dates.
Their nuts, roasted 24 hours before shipment, are packaged in stand-up resealable foil pouches which means they'll keep their freshness for longer at home. I really like this packaging as I find nuts packed in thin plastic bags tend to go stale quite quickly.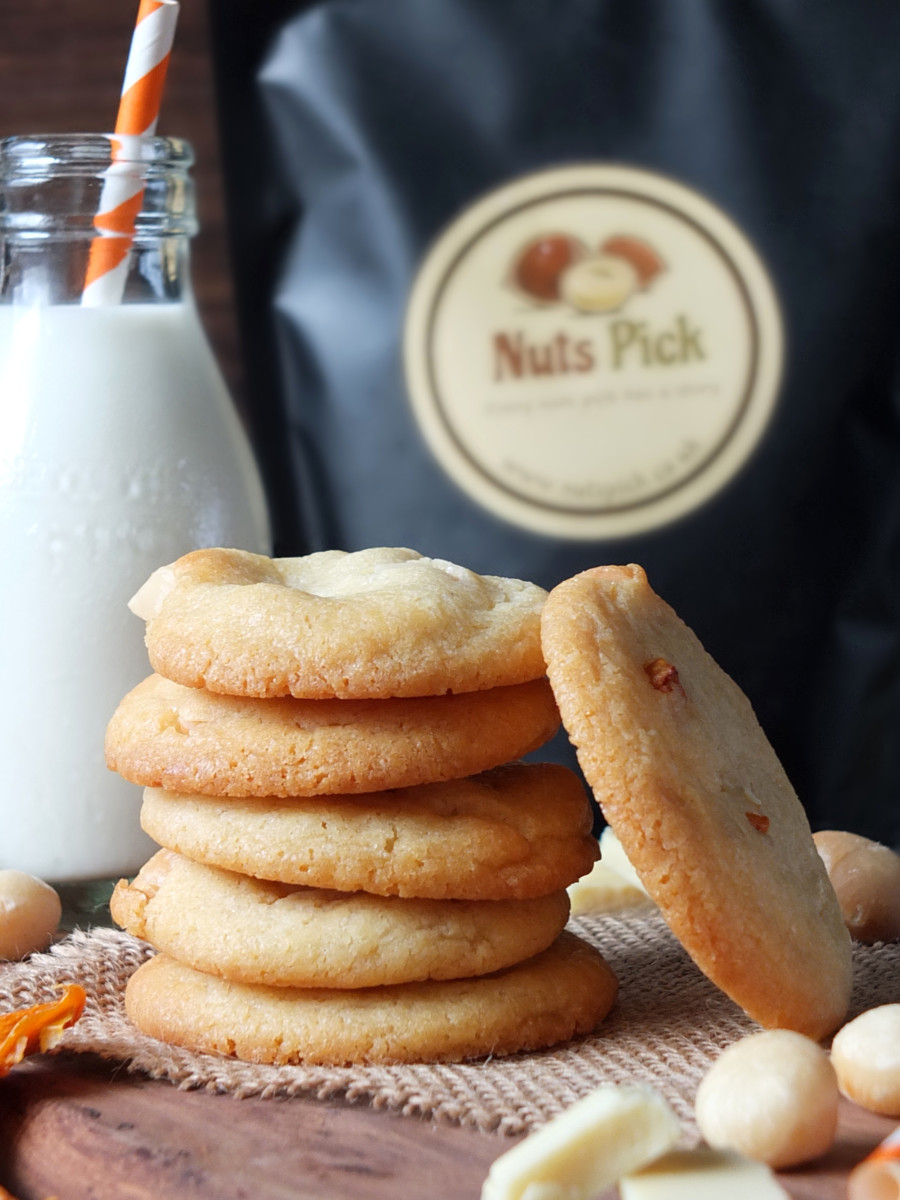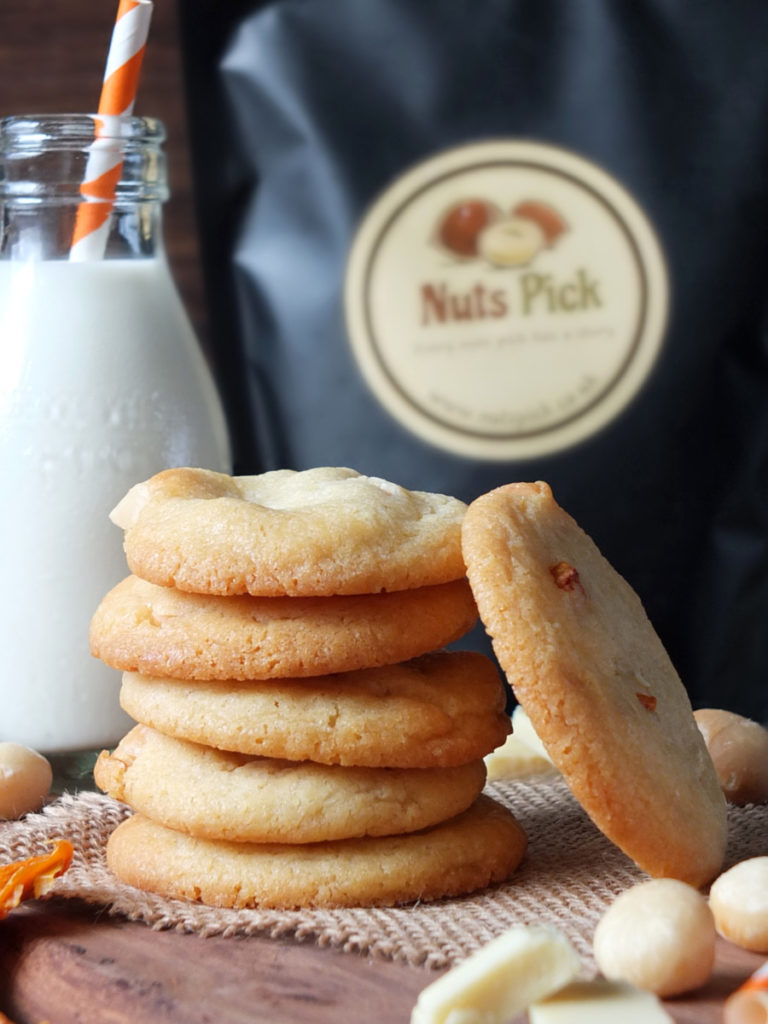 I was sent a selection of roasted nuts – unsalted whole macadamia nuts, roasted salted pistachios, honey roasted almond, honey roasted cashew and the dried mango slices. As far as the nuts go they're pretty awesome – they taste fresh with just the right amount of roasting and seasoning. The mango slices are still semi-soft too so they're perfect for snacking or using in your baking, like this cookie recipe.
Prices for their roasted nuts start from £3.50 for a 250-gram bag, with free delivery in the UK on orders over £12. If you're a nut fan, do check them out! You can also find them on Facebook, Twitter and Instagram.
Meanwhile, here's my rather delicious roasted macadamia, mango and white chocolate cookie recipe.
Enjoy! x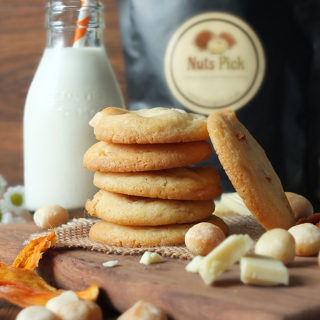 Macadamia, Mango & White Chocolate Cookies
Chewy on the inside, crunchy on the outside with the flavours of roasted macadamia nut, dried mango and white chocolate. A new family favourite!
Print
Rate
Affiliate Links
This recipe card may contain affiliate ingredient and equipment links. As an Amazon Associate I earn from qualifying purchases.
Instructions
Preheat oven to 180 C/ 160 C fan/ gas mark 4 and line a baking sheet with baking paper or a silicone baking mat.

Cream together butter and sugar until light and fluffy. Add the condensed milk and vanilla and cream together until well incorporated.

Using a wooden spoon, add the flour to form a soft dough.

Fold in the nuts, chocolate and mango. You can, at this stage, freeze the dough for later, or keep in the fridge for up to a week.

Pinch off pieces of cookie dough about the size of a walnut and arrange on the baking tray approximately 2 inches apart.

Bake in the centre of the oven for 12-15 minutes until golden.

Leave the cookies on the baking tray to cool for a few minutes before transferring to a wire rack to cool completely.

Make sure you allow the baking sheet to cool down between batches.

Store in an airtight container. Cookies will keep for several days.
Environmental Information
OTHER NUT RECIPES YOU MIGHT LIKE
Raw Chocolate & Clementine Mini Cheesecakes
Chewy Trail Mix Oatmeal Cookies
Chocolate Hazelnut Layer Cake
Ooey Gooey Gluten-Free Brownies
Torta Sbrisolona – an Italian Almond Cake
Plum Almond Crumble Cake
Pistachio & Coconut Cake with Rose Syrup
Classic Fruit & Nut Chocolate Fudge
Chocolate and Banana Nut Cake
Nutty Bourbon Brownies
7-Ingredient Coconut Pesto (uses almonds)
Savoury Cheese Log with Parsley & Pistachios
Coffee & Walnut Cupcakes with Honeycomb & Chocolate Sauce
Pistachio Chocolate Banana Sushi
Chocolate Eclairs with Cranberry & Pistachio
Coffee Candied Almonds
Chocolate Haggis (aka Shortbread & Whisky Fridge Cake)
Black Bean Chocolate Brownies with Pecans
This is a sponsored recipe post in collaboration with Nuts Pick, but as always, all thoughts and opinions expressed are our own. Thank you for supporting the brands who make it possible for me to do what I love: mess up my kitchen and share recipe stories.
[color-box]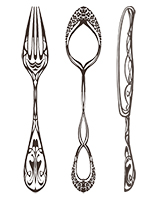 Have you made this recipe?
Take a photo and tag @tangoraindrop or use the hashtag #elizabethskitchendiary and share on Instagram and Twitter. It would make my day to see your creations!
[/color-box]