In collaboration with the Aruba Tourism Authority.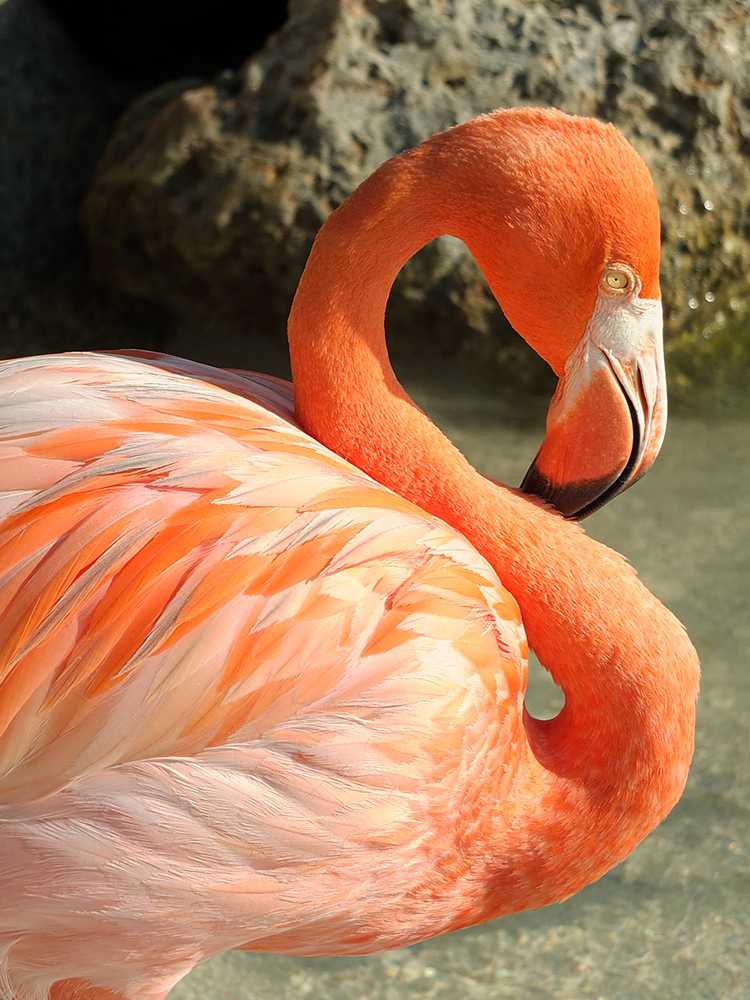 I have just returned from the most wonderful trip to the Dutch Caribbean! Blazing sun, white coral sand, warm sea, amazing food and pink flamingos! I can't wait to tell you all about all the exciting things I got up to on the island and all the gorgeous food I tasted, but first, as the flamingos on Aruba are such a popular tourist bucket-list destination I wanted to tell you all about how you can go and visit them yourself!
WHERE IS ARUBA?
Aruba is a tiny island 20 miles long and 6 miles wide located just 18 miles north of Venezuela. It is one of three small Caribbean islands that belong to the Netherlands. Along with Bonaire and Curacao, they form the Dutch Caribbean and they are a very popular tourist destination with over one million tourists visiting each year.
Aruba is located well below the hurricane belt, which means they don't get the hurricanes which have recently devasted much of the northern islands in the Caribbean Sea. It has a dry climate which means visitors can expect warm, sunny weather.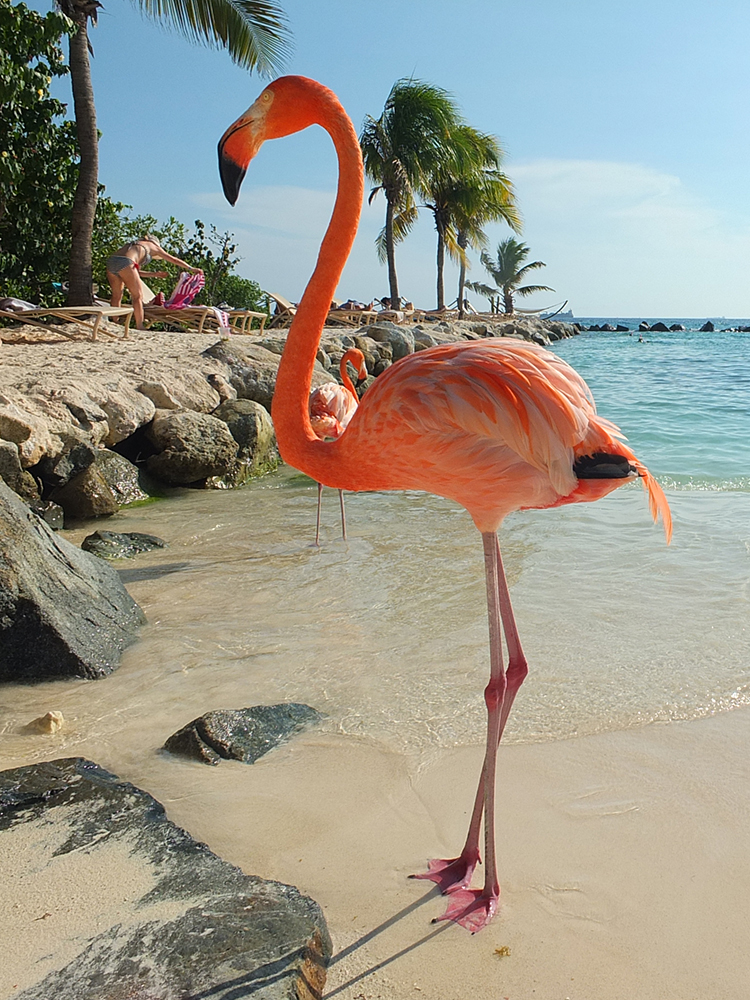 HOW TO VISIT FLAMINGO BEACH AT RENAISSANCE ARUBA
But you're here for the flamingos, aren't you! The only flamingos in Aruba live on a private island owned by the Renaissance Aruba Resort & Casino, so the easiest way to visit them is to stay the night (or two!) at the hotel. Hotel prices start from $168 USD with exclusive access to the island, or, if you're a non-guest, you can try to buy a day pass from the reception desk for $99 USD which includes lunch and a drink. Day passes are not always issued as it depends on how full the resort itself is, so I'd recommend staying at the hotel to guarantee access.
Access to the private island is usually from inside the resort along a canal, although this canal was closed while I was visiting.
The private island is only an eight-minute water-taxi ride away, with water taxis leaving every fifteen minutes.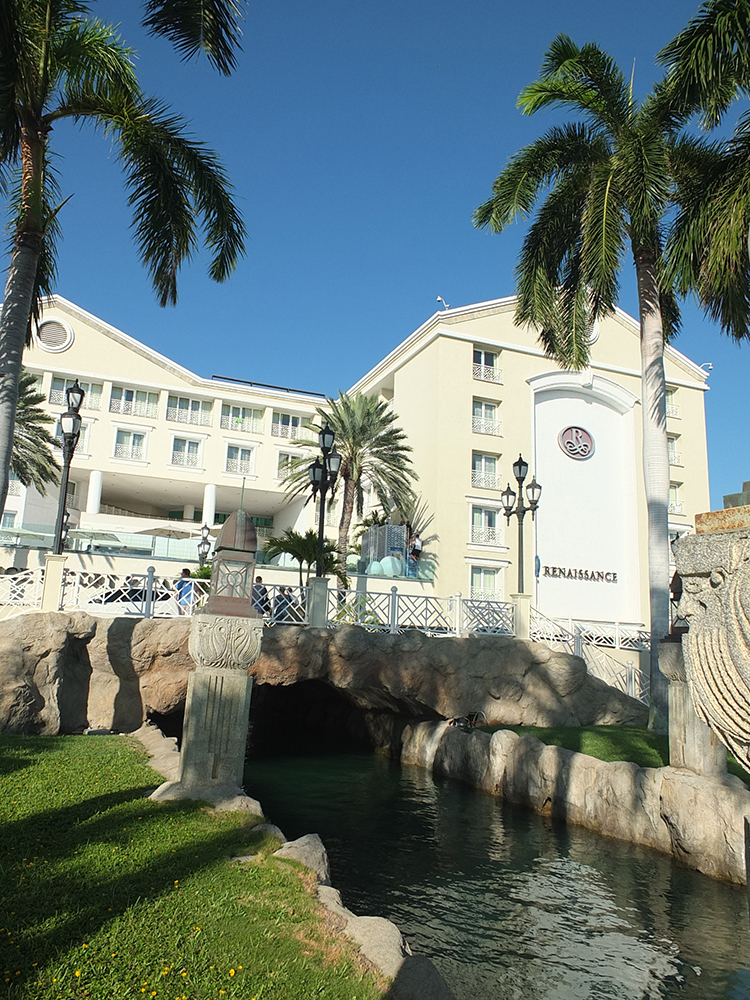 RENAISSANCE ARUBA RESORT & CASINO
The Renaissance Aruba Resort & Casino is located on the waterfront in Oranjestad, the cosmopolitan capital of the island. There are over 556 rooms divided between their family-friendly Renaissance Ocean Suites and the sophisticated adult-only Renaissance Marina Hotel, where I was hosted during my visit.
Note, when booking, to specify if you want a room with a balcony and a view as the less expensive rooms are situated with indoor views of the reception and bar area. You'll pay extra for a sea view (prices from $245 per night) or a view of the streets of Oranjestad (prices from $197).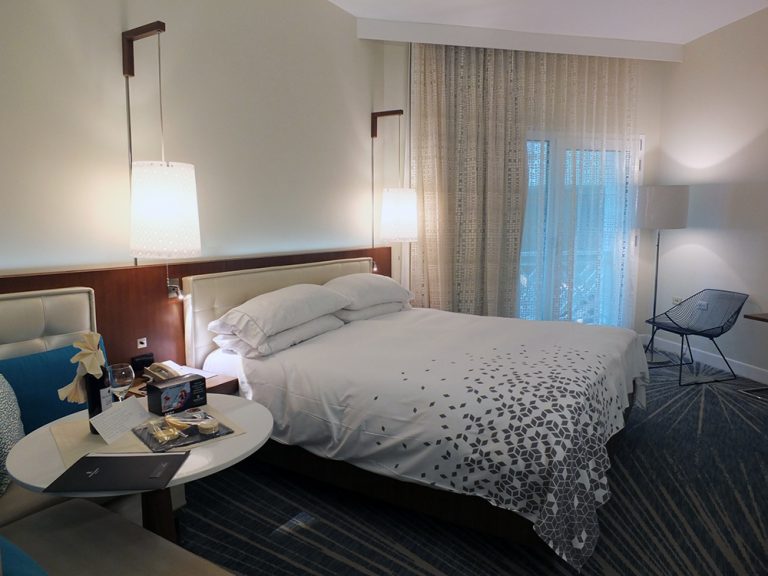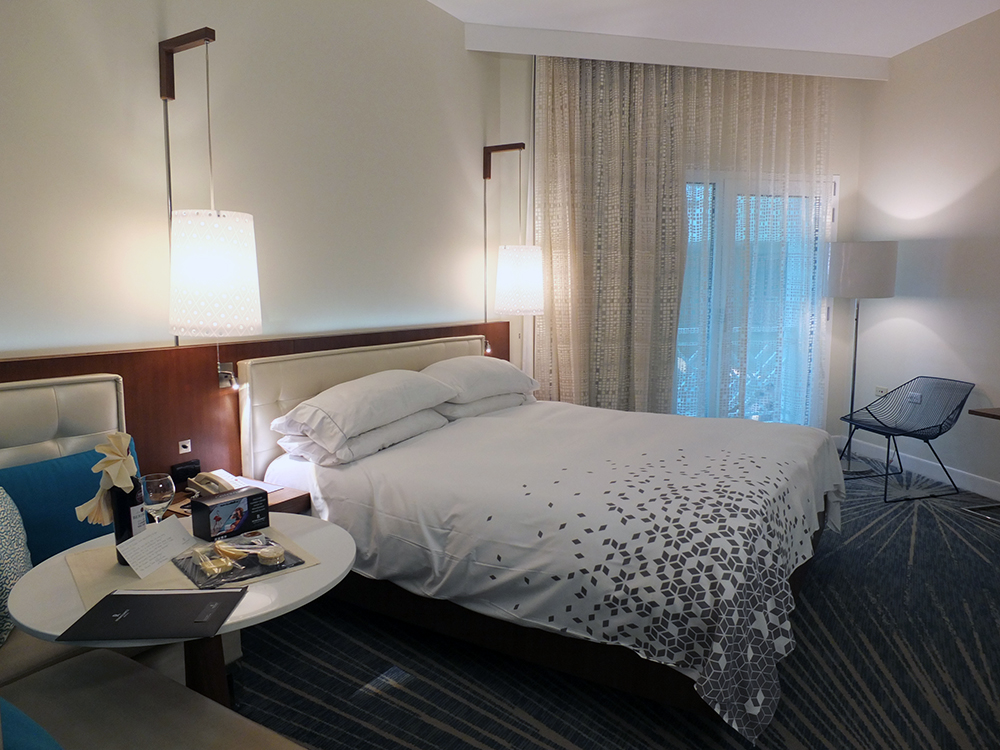 My room was very spacious and comfortable with literally the cosiest king sized bed I have ever slept in.  Facilities included coffee and tea making facilities, a mini fridge, iron and ironing board, a lounge area with a table plus an extra chair if needed, wifi, a wide screen television, a safe, bathrobe and slippers and a gorgeous rain-shower and plenty of toiletries.
The resort also boasts an extensive selection of luxury shopping, a spa, a casino and a fitness suite, for those of you who want to keep fit while holidaying.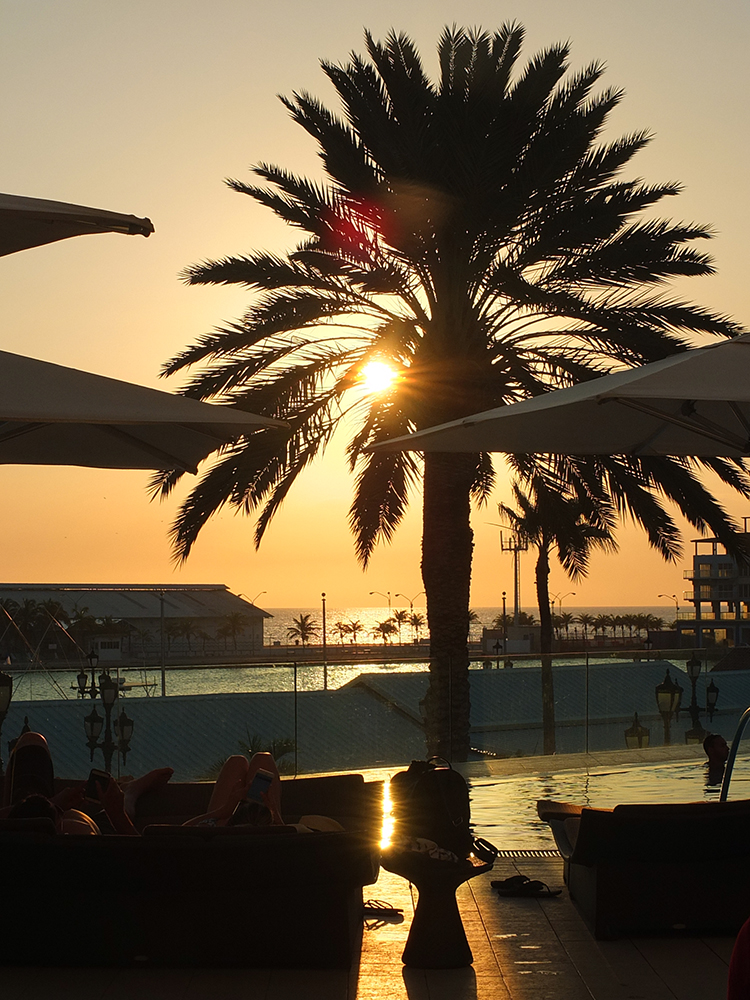 Just off the reception area, there is a bar and a balcony with an infinity pool and plenty of lounge chairs. A DJ plays music all day (and night!) while you can treat yourself to a cocktail or two and watch the sunset over the horizon.
For dining, you've got L.G. Smith's Steak and Chop House offering a signature fine dining experience (we ate here the first night we stayed) while their contemporary Aquarius restaurant offers buffet style or a la carte dining with a wide range of Caribbean cuisine for breakfast, lunch and dinner.
There is also the Papagayo Bar & Grill on the Private Island serving food and drink. Their signature cocktails are a must-try!
WHAT ELSE IS THERE ON THE PRIVATE ISLAND BESIDES FLAMINGOS?
The Private Island is divided into two areas – the adult only Flamingo Beach where you can lounge, sip cocktails and feed the flamingos who wander the beach or you can visit the family-friendly Iguana Beach where the wild iguanas roam freely. Keep an eye out for the bright blue Aruban whiptail endemic to Aruba.
You could also hire out one of the exclusive beach huts for the day, or treat yourself to a luxury massage in Spa Cove. Alternatively, just grab a hammock or a lounge chair and wile the hours away soaking up the sun! For pale-skinned folk like me, there are plenty of shaded areas available under the palm trees. Just don't forget your SPF 50!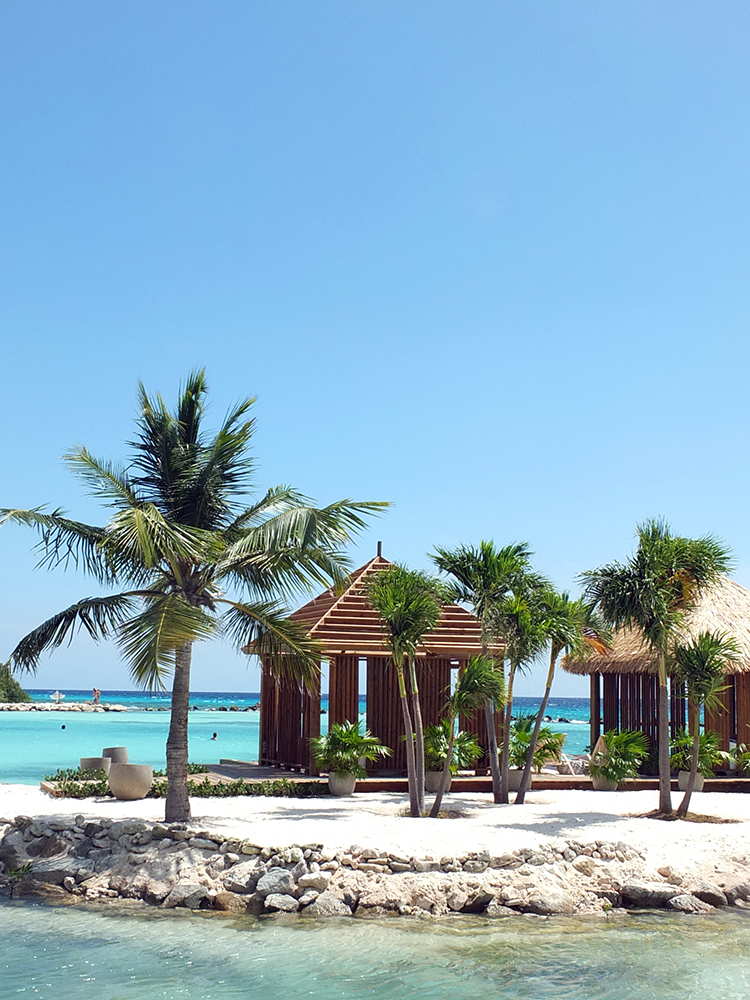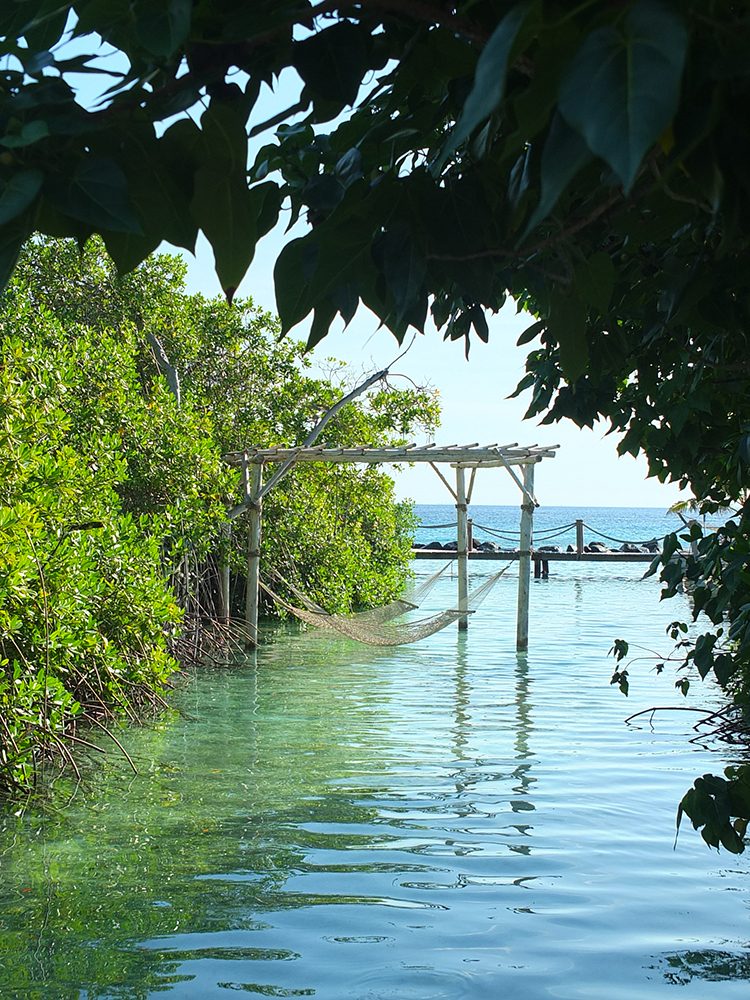 If you are wanting a little change of scenery there is a Nature Trail at the south end of the island past Flamingo Beach, but be warned, walking the path through the mangroves will make you a target for mosquitoes. I spotted a few hermit crabs and plenty of iguanas en route too.

HOW TO GET TO ARUBA FROM EUROPE
There are regular trans-Atlantic flights with KLM from Amsterdam to the Queen Beatrix International Airport in Aruba, just an eight-minute taxi drive from the Renaissance Aruba Hotel & Resort.
My flights with KLM were an absolute pleasure and the ten hour travel time passed away quickly with their onboard entertainment system (with a wide selection of movies and tv shows to choose from) and their excellent hospitality. The food was delicious, for aeroplane food, and we were well fed and wined/watered en route.
The Queen Beatrix Airport boasts a very advanced method of entering/leaving the country, so you don't have to worry about standing in long queues for ages. Try their HappyFlow checkout and see what I mean!
To find out more visit Aruba.com!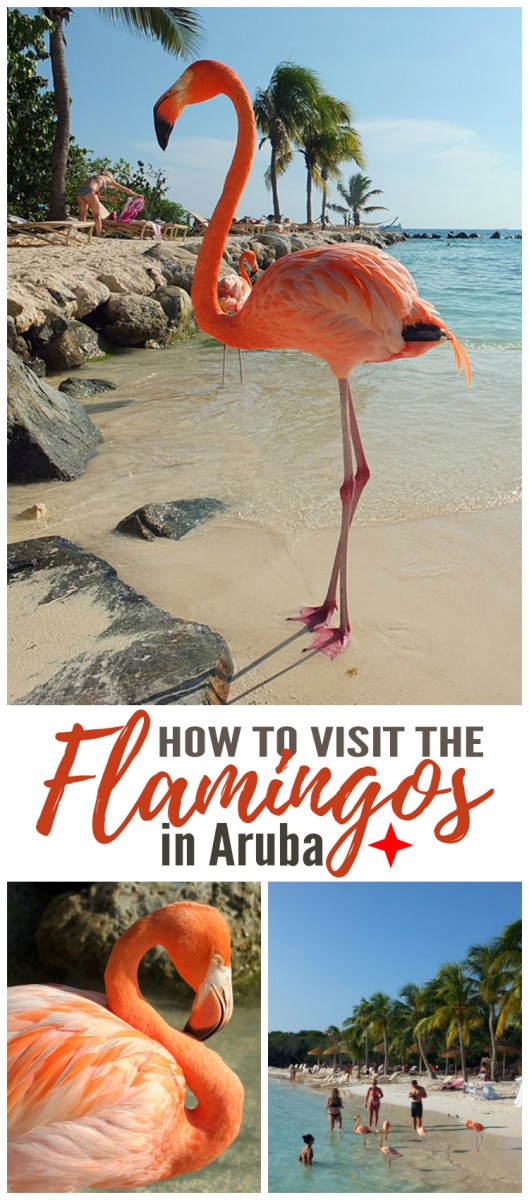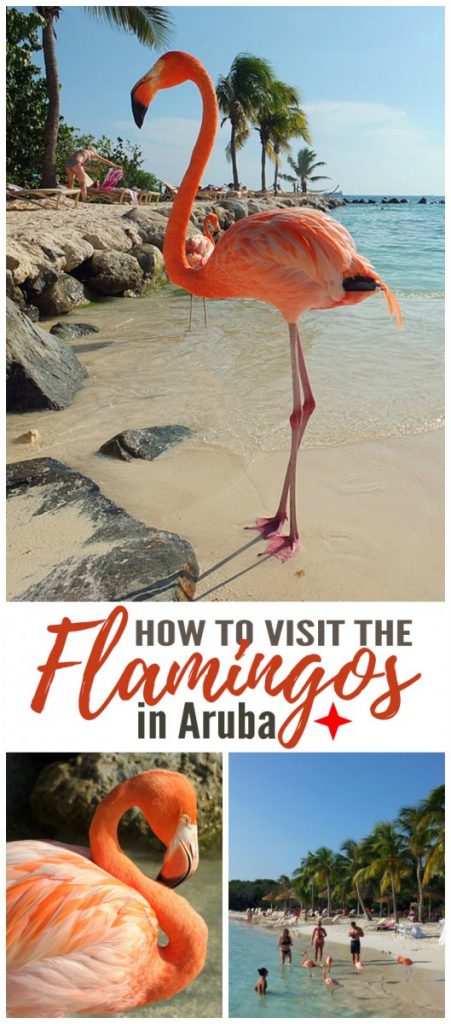 Elizabeth's Kitchen Diary was a guest of the Aruba Tourism Authority and the Renaissance Aruba Resort & Casino, although all thought and opinions expressed are our own.